When you think of affordable, does it take you back to your childhood?
Do you remember your mom making you wear your sister or brother's old clothes?
Most people think that North Carolina's cities are filled with a bunch of fancy shrimp and grits restaurants, snobby Tar Heel fans, and a plethora of wealthy tobacco plantation owners.
While all this might be true for some North Carolina cities, the NASCAR fans and BOGO lovers of North Carolina would beg to differ. North Carolina's cities have a lot to offer to all income levels; and surprisingly, it is actually extremely affordable. If you ask any North Carolinian, they will say hands down that North Carolina is one of the best states in the country. And in order to be one of the best, they have to have some of the nicest, most affordable places to call home, right?
Now, don't get your hand-me-downs in a bunch. Just because North Carolina is affordable, doesn't mean it's all Dollar Store 'cheap'. It means the cost of living is doable. And that means that you have more money to do the fun stuff that the Tar Heel State has to offer: like renting a summer beach house in the Outer Banks or taking a snowboarding trip to the Blue Ridge Mountains.
So, grab yourself some of great granny's sweet tea and a basket of hush puppies and read on to see where the cost of living is the lowest.
The 10 Most Affordable Places To Live In North Carolina
Yes, North Carolina is the best state for those looking for a little good 'ol fashioned, inexpensive fun.
It seems like North Carolinians are always on the go having fun around every turn. This fun happens because the Tar Heels know the value of a dollar. More importantly, they know the North Carolina cities where your dollar will go the furthest.
So, where is the cheapest place to call home in North Carolina? Well, after crunching the US Census median housing costs, median income, and overall cost of living data, Sawmills is the most affordable place to live in North Carolina.
If you care about home values, cost of living, and high quality of life, take a look at the list below to find the most affordable places in North Carolina, where, yes, you can have it all.
And if you already knew these places were cheap, check out some more reading about North Carolina and the cheapest places in the country:
The 10 Cheapest Places To Live In North Carolina For 2022
The most affordable city in North Carolina for 2022 is Sawmills. Kudos to the "Biggest Little Town in the Foothills'. They have held strong at number one from last year to become a Caldwell County gold star city.
Located in the northeastern corner of The Tar Heel State, agriculture and forestry have kept their economy moving in right direction. The median income in this town is around $55,296 with average home prices up around $114,700. Sawmills scored off our charts scoring an 8/10 on our affordability scale. They are the most affordable city when we looked at home price to income ratio.
You won't have to subsist on Jimmy Dean and ramen noodles to save money in Ayden, the second cheapest place in North Carolina. You will, however, have to get on board with eating tons of collard if you don't want to embarrass yourself at the Collard Festival's collard eating contest.
You can find plenty of places to rent for under $600/month in Ayden, so you can try the town out for a year to see if you like it without spending a fortune. The median home price in Ayden is 127,400 and the median income is $53,317, giving Ayden a solid ratio of home price to income.
Ayden wasn't even in the top 40 cheapest places to live in North Carolina last year, so this jump up to the #2 spot is quite impressive.
Where North Carolina State HWY 74 meets North Carolina State Hwy 177, is our third most affordable city in the Old North State: Hamlet. This little North Carolina gem is 12th when it comes to home price to income ratio. We are not surprised considering they have such a strong economy led by a railroad hub with an emphasis in manufacturing and warehousing.
Now if a job in manufacturing is not your thing, it seems there will always be a need for train conductors. And with a median household income close to $36,381, we're sure you'll find Hamlet super inviting and super affordable.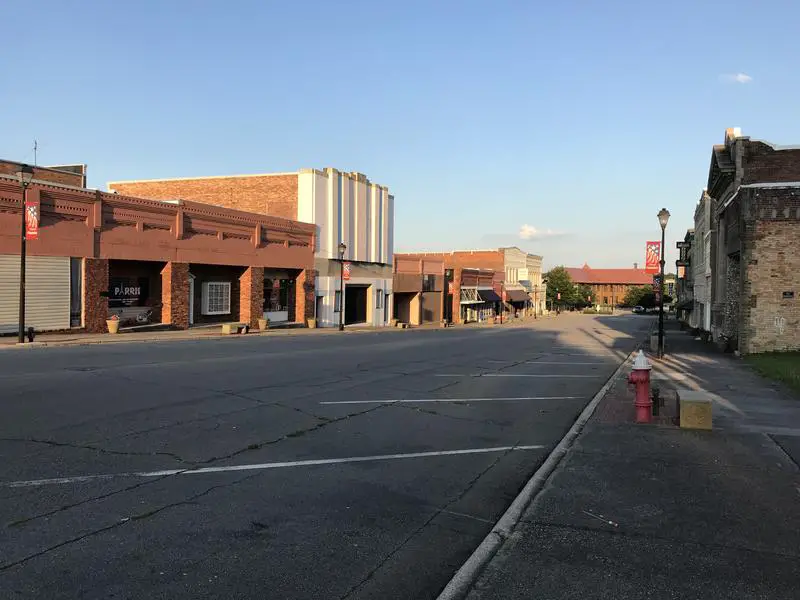 Marion, North Carolina's gateway to the West, is our fourth most affordable city in the Tar Heel State for 2022. Marion scored an 8/10 for affordability on our snackability scale, and we think it has something to do with the fact that their median income is pushing $41,117.
When residents aren't busy cheering on their hometown hero, Coach Roy Williams, during UNC's basketball season, they are working in one of Marion's very profitable industries that includes healthcare, education, and retail. If affordability equals happiness, we're pretty sure you'll want to call the city 'Where Main Street Meets the Mountains" your next happy home.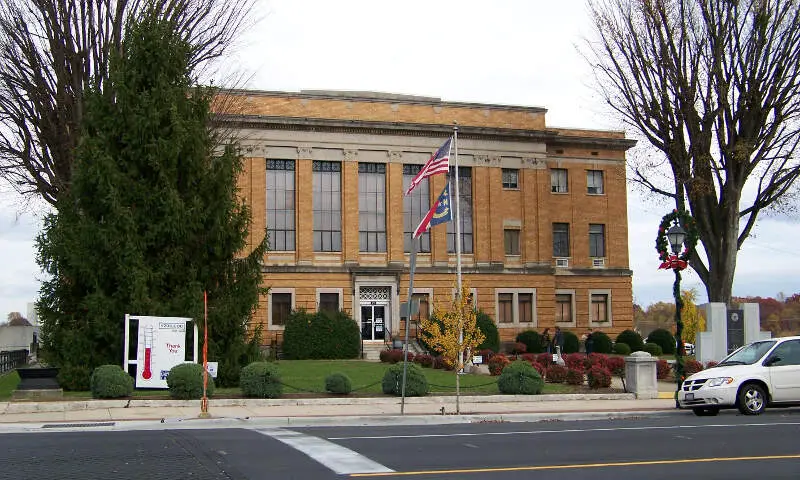 Eden is a city in Rockingham County, North Carolina in the Piedmont area of the U.S. state of North Carolina. The population was 15,527 at the 2010 census. From the late nineteenth century through much of the 20th, the city was a center of textile mills and manufacturing. The city was incorporated in 1967 through the consolidation of three separate towns: Leaksville, Spray, and Draper. The phone Area code is area code 336.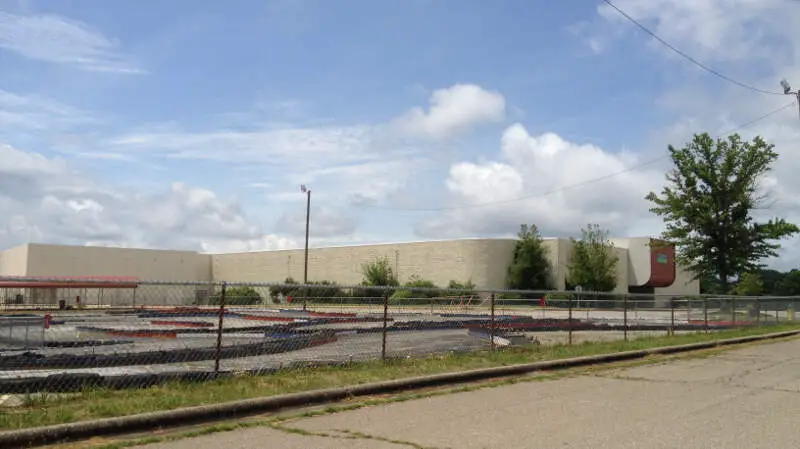 Located in Pitt County, Winterville ranks as the sixth cheapest cities in North Carolina. Home prices are pretty steep in Winterville, with a median price tag of $156,800. But Winterville also has plenty of high-paying jobs that'll make coming up with the cash seem like a piece of cake. In fact, for the ratio of home price to income, Winterville ranks as the fourth best in the state. Even if you decide to rent in Winterville, the income to rent ratio ranks as the #7.0 spot in North Carolina.
All this extra expendable income is part of the reason we named Winterville one of the best places to live in North Carolina.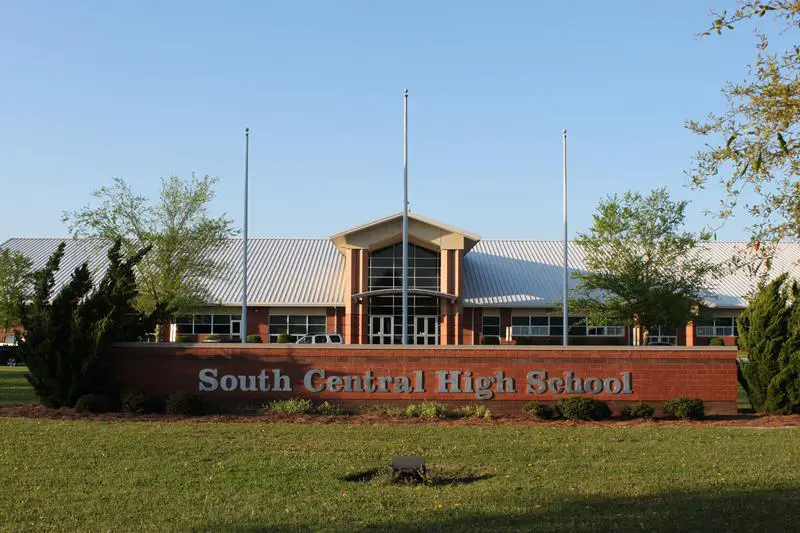 Just a stone's throw from Trinity is our seventh most affordable city in North Carolina: Archdale. You don't have to live on ramen noodles and the McDonald's dollar menu to afford this little North Carolina treasure. This city in Guilford/Randolph County is our 14th most affordable city for home ownership in line with median income.
Once a city with an agricultural-based economy, this Archdale has gravitated towards the traditional with most jobs, now, in manufacturing, healthcare, and tech services. We get why your city's motto is 'Crossroad of Progress'.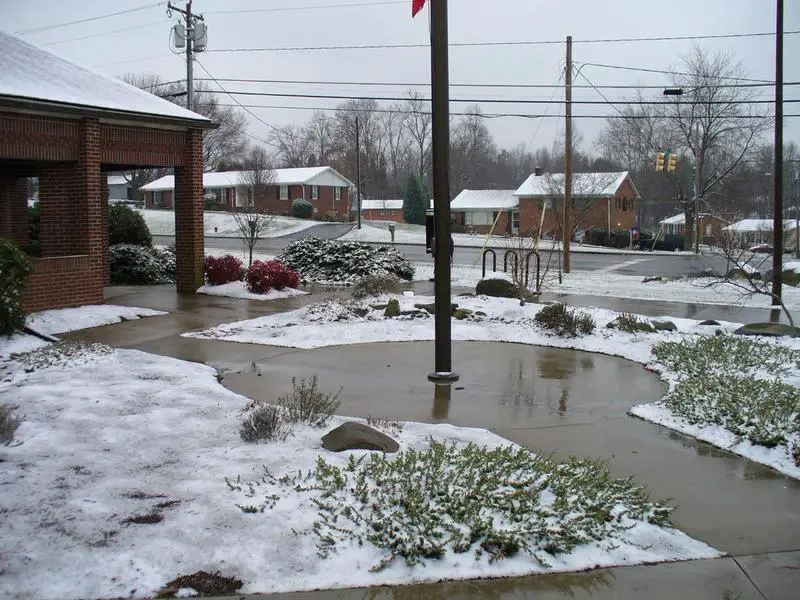 Newton ranks as the eighth most affordable city in North Carolina, mostly thanks to its relatively cheap homes. Folks in Newton earn a median income of $50,659 and pay $120,000 for homes on average. This gives Newton the seventh best ratio of home price to income in the state. Renting in Newton isn't as attractive, as the median rent is $800, which is fairly steep given the city's median income. In any case, with loads of parks to choose from, you can have fun in Newton without spending a dime.
Newton is located about 40 miles northwest of Charlotte.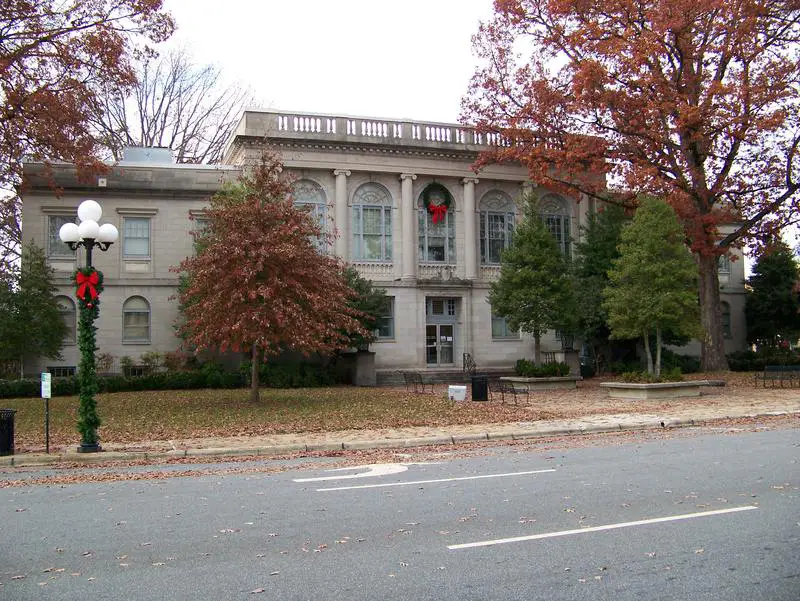 Rockingham is a city in Richmond County, North Carolina, United States named after the Marquis of Rockingham. The population was 9,558 at the 2010 census. It is the county seat of Richmond County. Rockingham is the home of Rockingham Speedway, formerly the North Carolina Speedway, which was a staple of the NASCAR schedule for nearly 40 years, before the race was discontinued in 2004.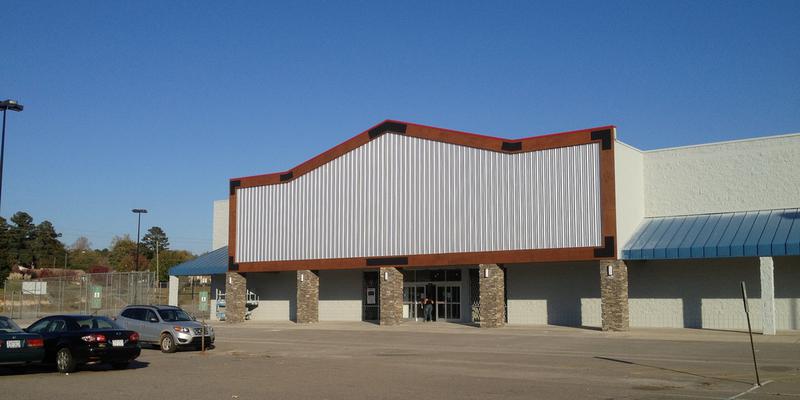 Gibsonville is a city in both Alamance County and Guilford County, U.S. state of North Carolina. Most of Gibsonville is situated in the Greensboro-Winston-Salem-High Point Combined Statistical Area while the eastern portion is in the Greensboro-High Point, North Carolina Metropolitan Statistical Area, encompassing all of Alamance County. According to 2010 Census, population of Gibsonville was 6,410.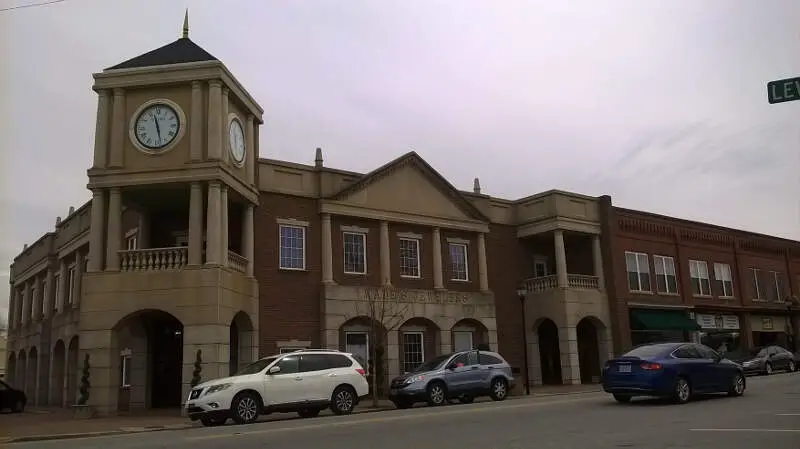 Source: Public domain
Cheapest Places To Live In North Carolina FAQs
The county in North Carolina with the lowest cost of living is Durham County. The average living wage in Durham County is $100,799 according to MIT data. Durham County has the lowest cost of living because it has relatively less expensive childcare and housing costs compared to North Carolina as a whole. Childcare costs $24,296 a year in Durham County for two children compared to the North Carolina average of $18,399. Housing costs, defined as a blend of the average rent and average mortgage payment, are $13,608 per year in Durham County compared to $11,412 on average in North Carolina.
The cost of living in North Carolina is 2.0% higher than the US average. According to MIT, the required living wage for a family of four with two working parents in North Carolina is $91,578 vs the national average for a family of four with two working parents of $89,744. The median income of a North Carolina household is $56,642.
The cheapest housing market in North Carolina is Roxboro. The average home value in Roxboro is $79,000, the lowest in the state. The average home value in North Carolina is $182,100, almost 2.3 times higher than Roxboro.
Methodology: How We Determined The Most Affordable Places To Live In The Tar Heel State For 2022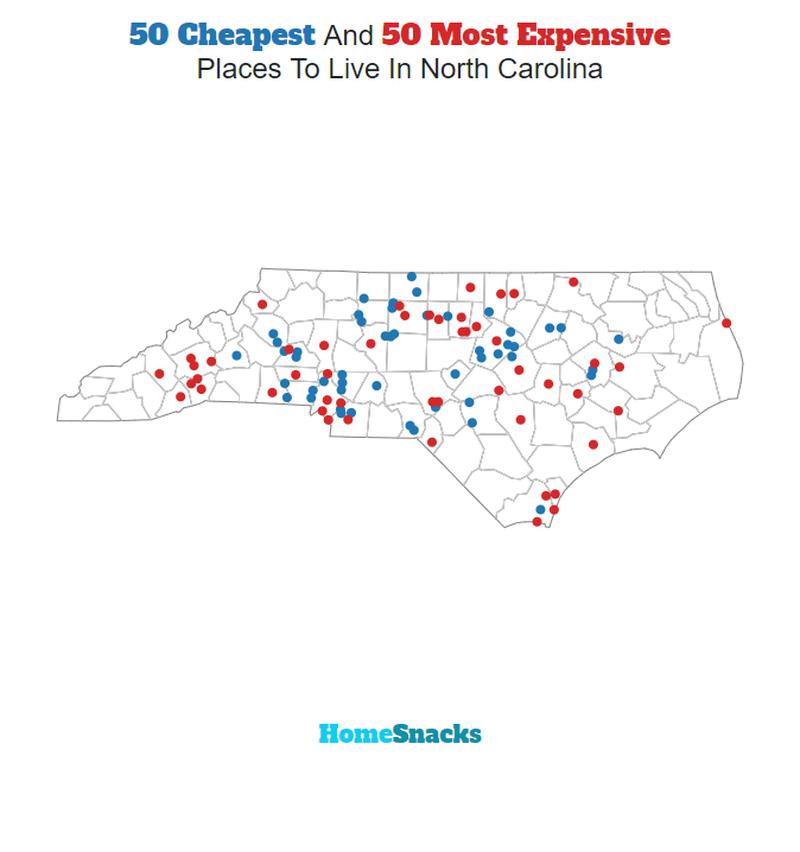 The two most important things to think about when it comes to being able to afford if you can live comes down to:
How much do money do I make?
How much do I have spend to live there?
You need to understand your costs in the context of how much money you make.
For example, if the median household earns $100,000 and spends $40,000 on housing it's actually cheaper to live there than a place with a median income of $50,000 and housing costs of $21,000. You might spend more on housing, but you have more money overall to play with.
With that example in mind, we derived several statistics from the latest Census American Community Survey 2016-2020 around incomes and costs. They are:
Median Home Price / Median Income (lower is better)
Median Income / Median Rent (Higher is better)
Median Home Price
We added simply median home price because high home prices generally correlate with higher expenses for all costs related to homes (heating, electricity, etc).
You can then compare these metrics in each of the places in North Carolina to figure out which is the least expensive.
What you are left with is a "Cost of Living Index" by taking the average rank of each of these metrics for each city.
So we used that cost of living index in order to rank all of the 135 places in North Carolina that have more than 5,000 people.
The place with the lowest cost of living in North Carolina according to the data is Sawmills. You can download the data here.

Summary: There You Have It Mr. Or Mrs. North Carolina Cheapskate
If you're looking at the cost of living numbers in North Carolina, this is an accurate list of the most affordable places to live in North Carolina for 2022.
Here's a look at the most expensive cities in North Carolina according to the data:
Boone
Woodfin
Asheville
For more North Carolina reading, check out:
The Most Affordable Places To Live In North Carolina
Editor's Note: We updated this article for 2022. This is our ninth time ranking the cheapest places to live in North Carolina.