Editor's Note: We updated this article for 2021. This is our seventh time ranking the cheapest places to live in West Virginia.
Article Table Of Contents   
(Skip to section)
Three new cities moved into the most affordable places to call home in West Virginia according to our HomeSnacks 2021 report.
How did we determine West Virginia's most affordable places? We consulted West Virginia's most recent Census data on cost of living.
The competition was fierce to say the least. Many of the Mountain State's top ten most affordable places boast great home prices, safe neighborhoods, and good jobs. Any one of these West Virginia places would be a great place to enjoy life while saving money. Not only does living in West Virginia's most affordable places free up cash for your overall cost of living, it provides extra money for the fun 'West Virginia' things to do and see. Like, rafting The Gorge in Lansing or scoring tickets to the West Virginia State Fair in Lewisburg.
Now, don't get it twisted; just because these West Virginia places are affordable, doesn't mean they're unsafe. It's actually quite the opposite. When you save money on your cost of living, you have more money to spend on your home, keeping your community safe, and providing funds for necessary programs. So, it's definitely not lost on us that some of West Virginia's most affordable places are also some of its safest places.
Have we piqued your curiosity? If so, take a look below at our list of West Virginia's most affordable places.
The 10 Most Affordable Places To Live In West Virginia
It's simple economics, folks. When you choose to live in one of West Virginia's most affordable places, you're choosing to live where your West Virginia dollar will go the furthest. And that, friends, makes perfect sense.
So, what's the most affordable place to live in West Virginia for Grafton? Drum roll... the number one most affordable place to live in West Virginia is Grafton.
To see how your city compared, take a look at the list below. And if you don't see you're favorite there, head to the bottom.
And if you already knew these places were cheap, check out some more reading about West Virginia and the cheapest places in the country:
The 10 Cheapest Places To Live In West Virginia For 2021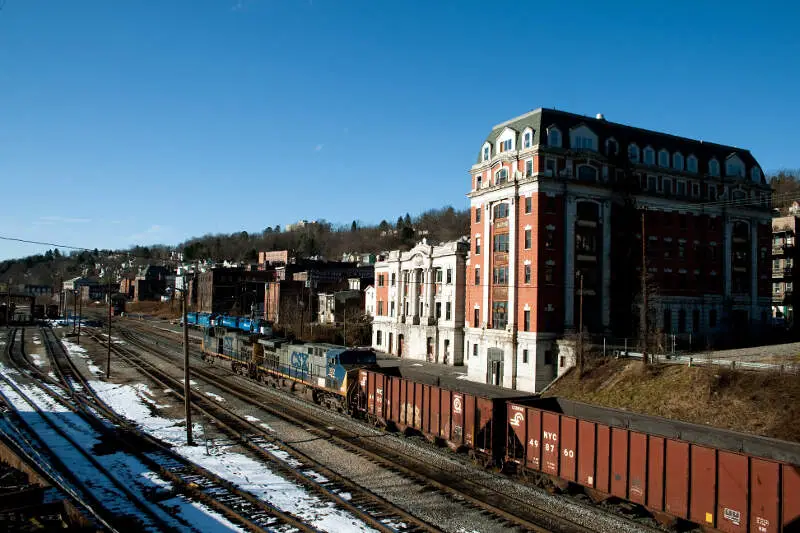 Located in the foothills of the Allegheny Mountains, Grafton ranks as our most affordable West Virginian city for 2021. If you're looking for dirt-cheap housing, then Grafton is the place for you. A median home price of $78,500 is the cheapest in the state, and a median rent of $551/month is the lowest you'll see on this list.
In fact, the rent in Grafton is nearly half the average rent in West Virginia, a state already known for affordable rent. In any case, once you get to Tygart Lake State Park and start fishing or kayaking on the 10-mile lake, we're pretty sure that financial worries will be the last thing on your mind.

Welcome to Weirton, the second least expensive to call home in the Mountain State. At a median price of $94,800, Weirton has the seventh cheapest homes in West Virginia. But that's not the most important point here; it's that, with a median income of $49,496, Weirton residents pay the smallest proportion of their salaries on homes. On top of that, Weirton has the sixth best rent to income ratio statewide. Weirton also scored a 8/10 on our overall SnackAbility scale, with an emphasis on good schools, solid amenities, and on being one of the safest places in West Virginia. All that for some of the lowest prices in West Virginia. Sounds like a bargain to me!
Weirton is about 45 minutes west of Pittsburgh.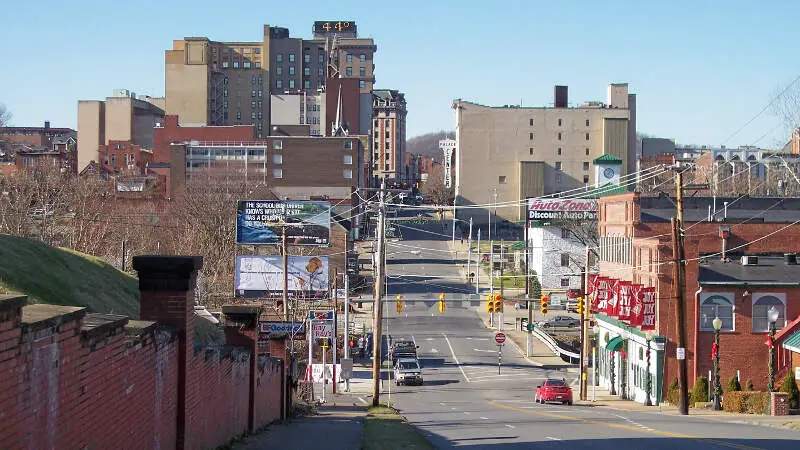 Kicking off our list of most affordable places to live in West Virginia is Clarksburg, a small city in the north-central part of the state. If you're looking to settle down in West Virginia for the long-haul, Clarksburg has you covered with the fourth cheapest homes for sale in West Virginia, with a median price of $86,200.
Thanks to a median income of $43,518, Clarksburg residents enjoy the second best home price to income ratio in the state. Clarksburg's rent to income ratio is also safely in the top ten, with a median rent of $744/month. Just be sure that you come to Clarksburg with your party-face on, because this city has five festivals a year, celebrating everything from ethnic heritages to Jesus.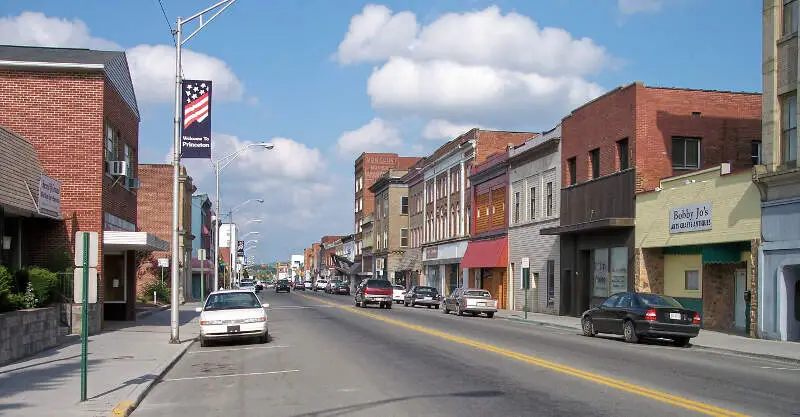 If you're a single guy or gal looking for an affordable place to find love in West Virginia, Princeton might just be the place for you. That's because, in addition to being the fourth cheapest city to live statewide, Princeton is also one of the best cities for singles in West Virginia, thanks to awesome date-night options like catching a show at the Chuck Mathena Center. Buying a home in Princeton will set you back about $93,700, which, combined with a median income of $42,025 gives the city the fifth best home price to income ratio in West Virginia.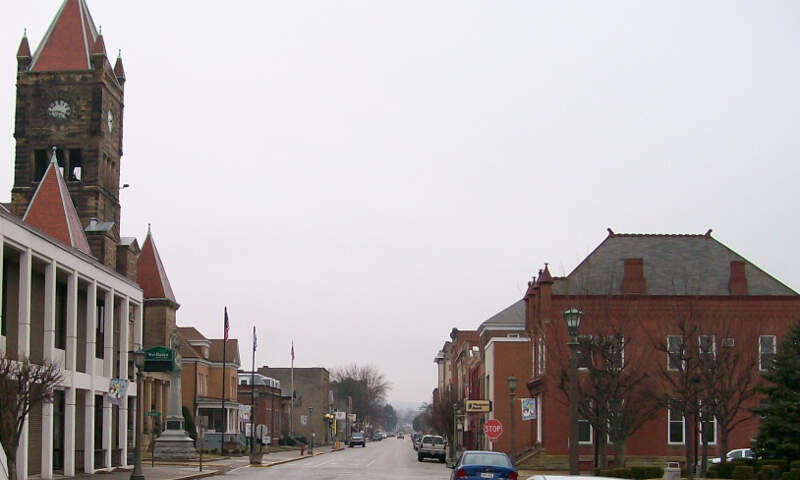 Located along the Ohio River in northern West Virginia, New Martinsville ranks as the fifth most affordable place in the state for 2021. We don't think folks in New Martinsville need any convincing that they live in one of the cheapest states in America. Not when they can get a house for $96,000 or an apartment for $731/month. New Martinsville is affordable for both renters and buyers, but buyers have a slight edge, thanks to the city's standing as the fourth easiest place to pay off the mortgage statewide.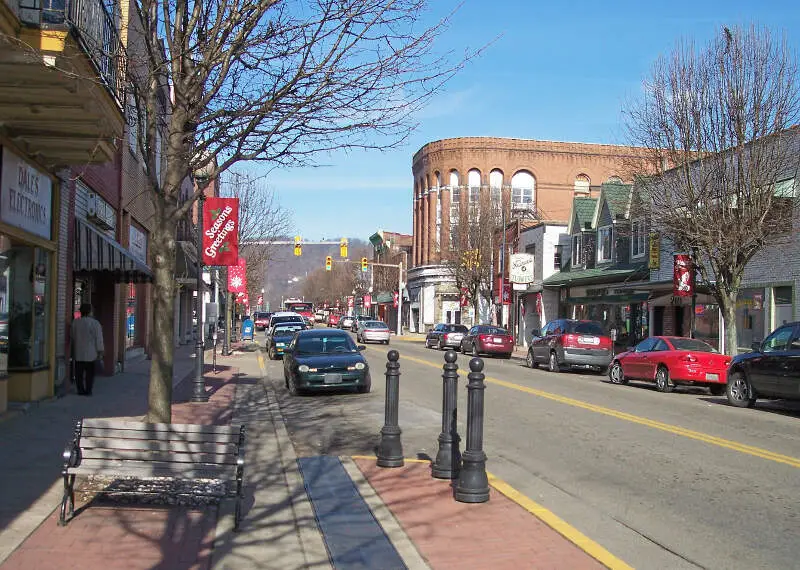 Moundsville is built along the Ohio River, just across the water from the state of Ohio, in the northernmost part of West Virginia. For a town of just 8,486 people, it provides access to a lot of interesting architecture. There's the gothic West Virginia State Penitentiary, first built in 1876 and closed down in 1995. Meanwhile, a 25-minute drive will take you to America's Taj Mahal, Prabhupada's Palace of Gold.
But the main attraction for the residents of Moundsville? It ranks as the number 6 most affordable places to put down roots in West Virginia.
The cost of living comes in at 80% of the overall national average. That value mostly derives from the rock-bottom housing market. The median home price sits at $81,100, the second lowest mark in the state. Rents are equally cheap. You can score a rental for a median price of $597 per month.
True, median incomes are low in the area. That figure comes in at just $34,701. But in context, Moundsville still provides excellent value. It has the number 9.0 best home price-to-income ratio in West Virginia.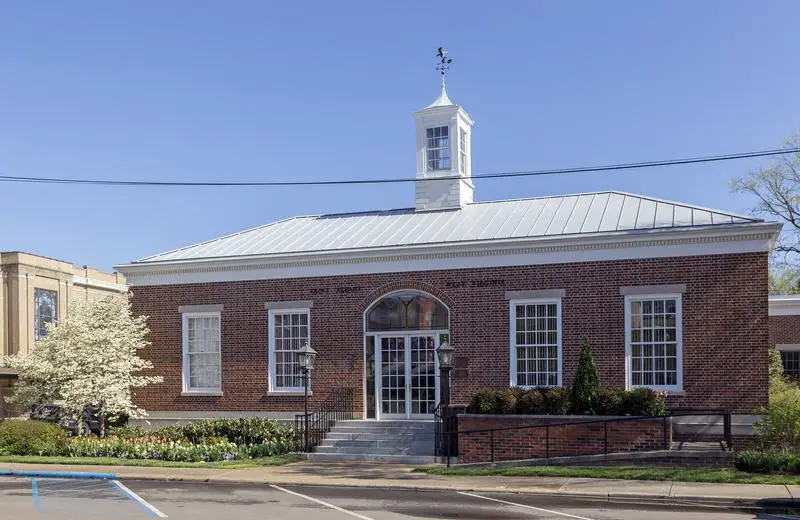 We finish of our list of cheapest places in West Virginia in St. Albans, a city about a half hour west of Charleston. St. Albans is safely in the top ten for housing to income ratios, both for renters and buyers. That's with a median home price of $113,300 and a median rent of $768/month. That does give St. Albans the most expensive rent and second most expensive homes on this list. However, a median income of $50,755 means that slightly pricier housing in St. Albans is no big deal for the city's residents.
To take full advantage of St. Albans' affordability, don't miss out on all the free annual events at St. Albans City Park.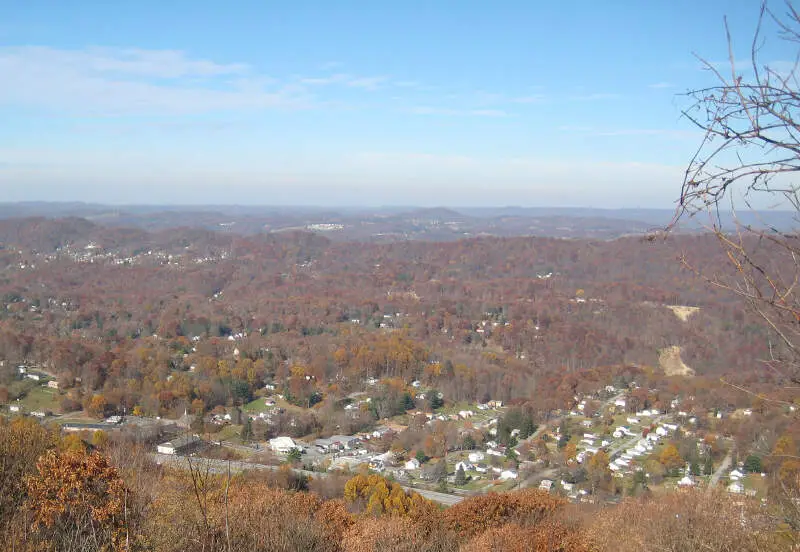 Bluefield comes in as the eighth cheapest place to call home in West Virginia, thanks to super low prices on housing. How low are we talking here? Well, at $84,100, Bluefield has the third least expensive homes for sale in the state. And a sub-$600/month rent gives Bluefield the second lowest rent on this list. If you want to rise above the stress of personal finance, we recommend a visit to East River Mountain Overlook for stunning views of Mercer County.
Bluefield is in the southern part of the state, on the Virginia border.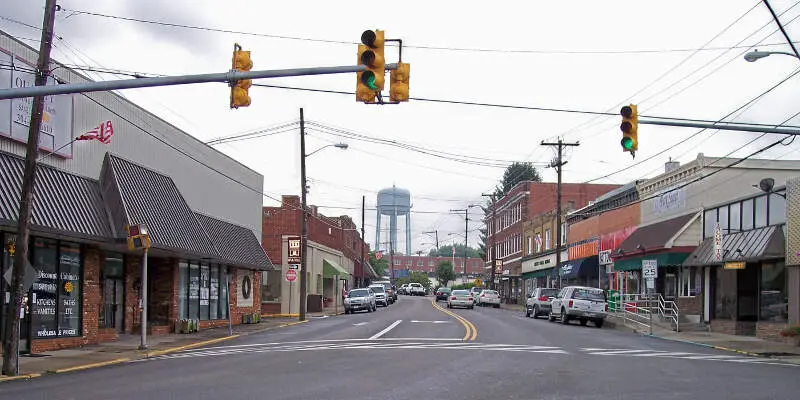 Located an hour southeast of Charleston, Oak Hill ranks as the ninth most affordable city in West Virginia. Oak Hill is one of the best places to raise a family in West Virginia, so if you're just starting off with some new kiddos, Oak Hill is a great, affordable option. Especially when you can get a home here for the ninth cheapest price in the state, with a median price of $97,200. And for adventure-seekers, white-water rafting on Lower New River is a must-do experience.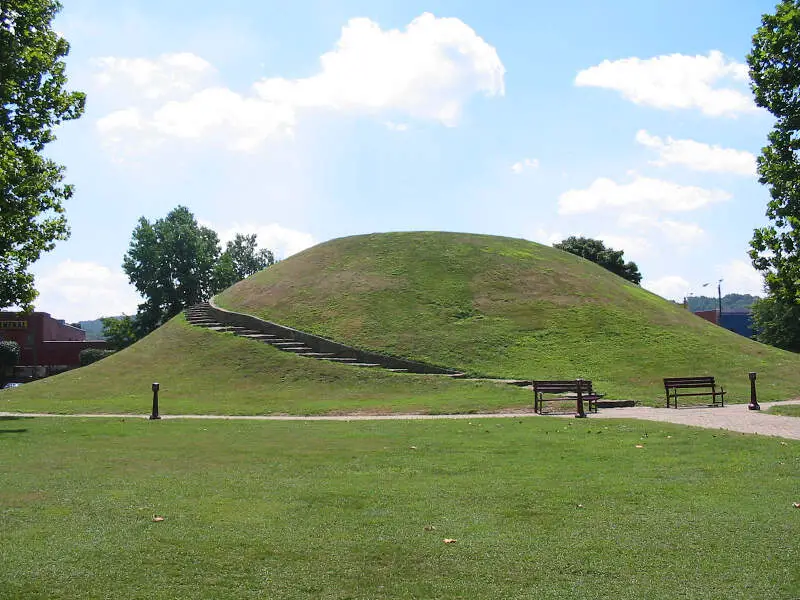 Source: Public domain
How We Determined The Most Affordable Places To Live In The Mountain State For 2021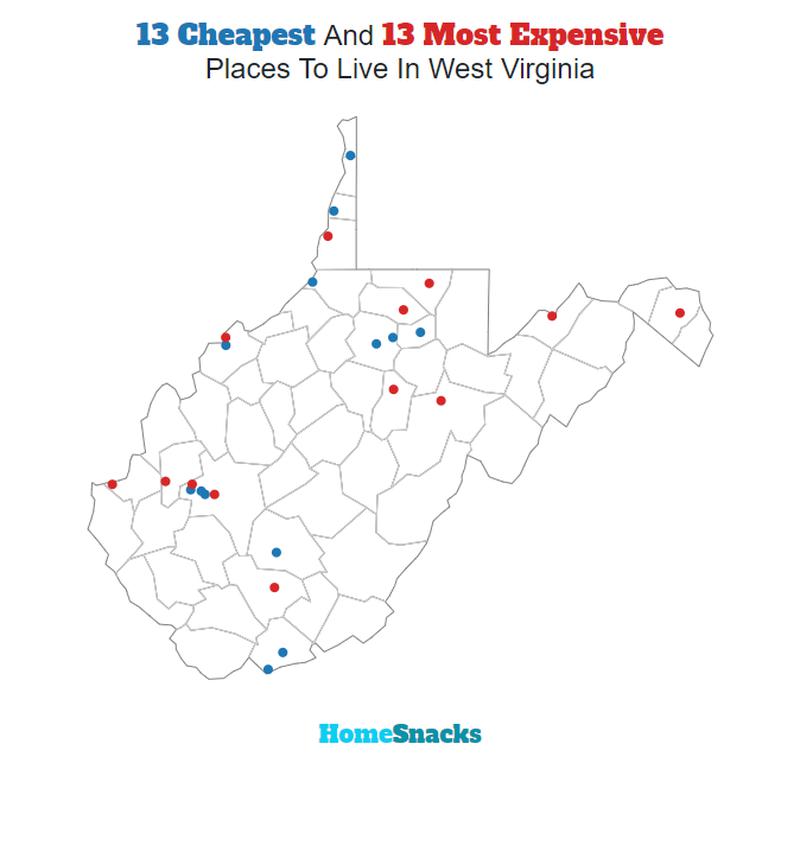 The two most important things to think about when it comes to being able to afford if you can live comes down to:
How much do money do I make?
How much do I have spend to live there?
You need to understand your costs in the context of how much money you make.
For example, if the median household earns $100,000 and spends $40,000 on housing it's actually cheaper to live there than a place with a median income of $50,000 and housing costs of $21,000. You might spend more on housing, but you have more money overall to play with.
With that example in mind, we derived several statistics from the latest Census American Community Survey 2015-2019 around incomes and costs. They are:
Median Home Price / Median Income (lower is better)
Median Income / Median Rent (Higher is better)
Median Home Price
We added simply median home price because high home prices generally correlate with higher expenses for all costs related to homes (heating, electricity, etc).
You can then compare these metrics in each of the places in West Virginia to figure out which is the least expensive.
What you are left with is a "Cost of Living Index" by taking the average rank of each of these metrics for each city.
So we used that cost of living index in order to rank all of the 27 places in West Virginia that have more than 5,000 people.
The place with the lowest cost of living in West Virginia according to the data is Grafton. You can download the data here.

There You Have It Mr. Or Mrs. West Virginia Cheapskate
If you're looking at the cost of living numbers in West Virginia, this is an accurate list of the most affordable places to live in West Virginia for 2021.
Here's a look at the most expensive cities in West Virginia according to the data:
Morgantown
Martinsburg
Charleston
For more West Virginia reading, check out:
The Most Affordable Places To Live In West Virginia