The 10 Safest Cities In West Virginia For 2020
We used data and science to determine the places in West Virginia where everyone sleeps safe and sound.

Editor's Note: This article has been update for 2020. This is our sixth time rankings the safest places to live in West Virginia.
Swipe left for slideshow. Article continues below.
Article Table Of Contents
(Skip to section)
Safe country roads.take me safely home...to one of the safest places in West Virginia...
Now, John Denver did not have to worry about the safest places in West Virginia, because he lived in the crazy safe Aspen, Colorado; but, that's not realistic for the majority of us, and that's why HomeSnacks created a list of the safest places in the Mountain State for 2020
How did we do it? We consulted the numbers. In total, we analyzed 31 cities. We looked at important factors like property crimes and violent crimes per capita for every place with over 2,000 residents.
While there are some dangerous places in this Appalachian state, West Virginia does have a lot of safe places to be proud of as well; and lucky for you, HomeSnacks is here to tell you where the safest places in West Virginia are located for 2020.
We also discovered that West Virginia has a ton of safe places for every stage of life and for every budget. For instance, Morgantown is safe for singles, Bridgeport is safe for families, and Grafton is safe for people looking to retire.
Want to know more? We suggest you grab a plate of fried chicken 'n cornbread, a bottle of moonshine, find a sunny spot in the Blue Ridge Mountains, and read on.
Here are the 10 safest cities to live in West Virginia for 2020:
Yes, West Virginia is filled with happy Mountaineers, happy people, and super safe, happy places to live, but there can be only one number one safest place to live in West Virginia, and that would be Wellsburg.
We are not at all surprised. Wellsburg has great schools, great neighborhoods, and great programs in place to make sure your family, and the things that matter to you most, stay safe.
If you want to see how West Virginia's other amazing safe places faired, take a look at the list below. And if you don't see your favorite there, head to the bottom.
For more reading on safe places to live in and around West Virginia, check out:
The 10 Safest Cities In West Virginia For 2020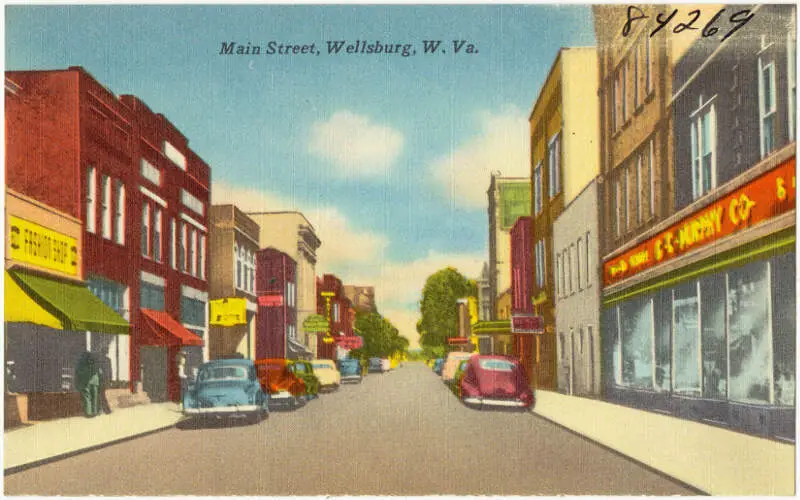 Source: Public domain
Located in the northern part of the state, just across the Ohio River from Ohio, Wellsburg ranks as the safest place in the Mountain State. Wellsburg had just one violent crime in 2018, giving the city a violent crime rate ten times lower than the national average. So you don't need to take self-defense classes before going for a jog at Brooke Hills Park.
Wellsburg also had the fourth lowest rate of property crime in the state, with only 22 instances occurring all year. Wellsburg also got solid scores on our snackability scale for affordability, jobs, and amenities, making it an all-around sweet place to call home.

Weirton is the ideal destination when you're trying find that true West Virginia feel with small city vibes. This is definitely one of the reasons it has held strong from last year to be our second safest city in "the WV".
It might not be Beverly Hills, but this little town with a vibrant downtown scene, unforgettable summer festivals, and year-round fun is just as notable and just as safe. Probably why it's one of the most populous towns in West Virginia's northern panhandle region. This city, on the Ohio River, is known for its low crime and A+ education rating. There is a sense of true community in this little village in Hancock County.
Weirton is the kind of place where packages from Amazon won't get stolen from your front porch when you're not home. But, hey, what do you expect from this safe city that is "The Gateway to the Valley."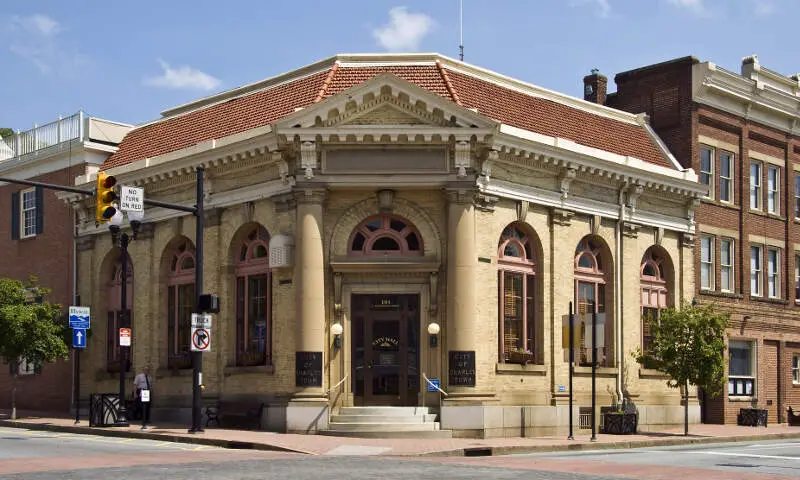 Where West Virginia State Road 9 meets West Virginia State Road 340 is Charles Town (not to be confused with Charleston). This town, known for its bootlegging stories from the late 1800s, is our thirdsafest city in West Virginia 2020.
All bootlegging aside, Charles Town is also known for its safe, family friendly atmosphere. There is a ton of stuff to do in this little town of 6,000 residents in the tiny tip of Jefferson County. They have a boat load of places to shop and dine, and their immaculate parks provide the backdrop for safe, friendly games of basketball, volleyball, and tennis for all ages.
So grab the fam, pack up the pick-up, and get moving so you don't miss out on any of their safe, family friendly, activities scheduled for 2020.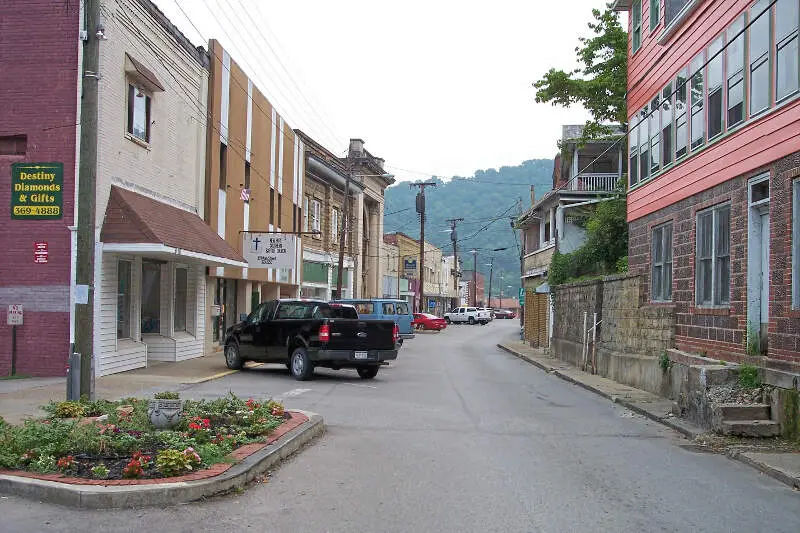 Located about 30 miles south-southwest of Charleston, Madison is the fourth safest city in West Virginia. While Madison only had the 15th lowest rate of property crime in the state, the city didn't have a single instance of violent crime in 2018.
Madison is a former coal town, which you can learn more about at the Coal Heritage Museum. Without this dangerous profession being the main driver of Madison's economy, it's truly an all-around safe spot to call home.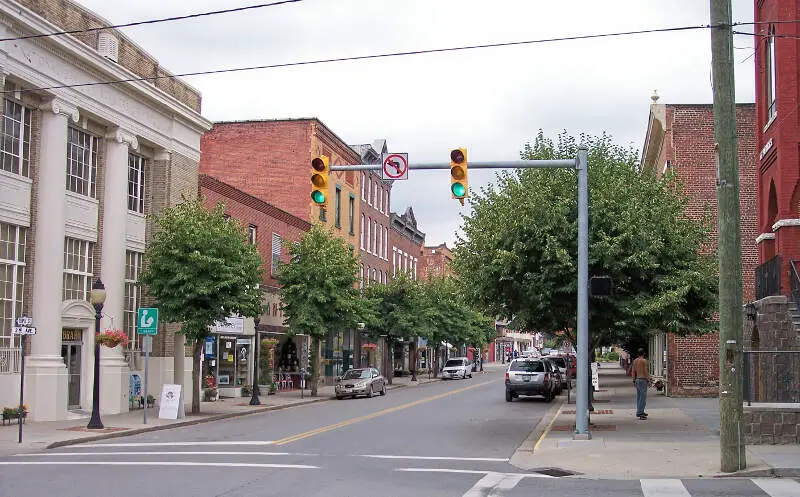 Located in the southern part of the state in Summers County, Hinton ranks as the fifth safest city in West Virginia.
Like Wellsburg, Hinton only had one violent crime in 2018, but Hinton's slightly smaller size makes the per capita rate a teensy bit less impressive. Hinton also averaged less than one property crime a week, giving the city the 13th lowest rate of this type of crime statewide. If you still want a safe way to get a thrill, you can go whitewater adventure at Bluestone State Park. Just be sure all your valuables are secure before you get in the raft!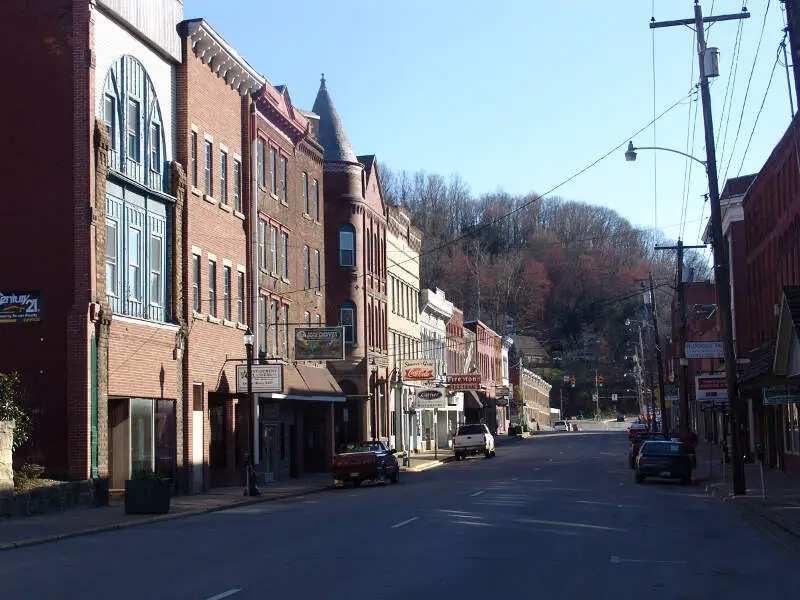 Source: Public domain
Located in central Lewis County, Weston ranks as the sixth safest city in West Virginia. Weston is a bit of an oddity in terms of safety; the city actually had more violent crimes than property crimes in 2018. Weston had a property crime rate about 15 times lower than the national average, giving the city the lowest rate in West Virginia. With a property crime rate so low, it's unlikely that anyone will pull a heist at the the Museum of American Glass in Weston.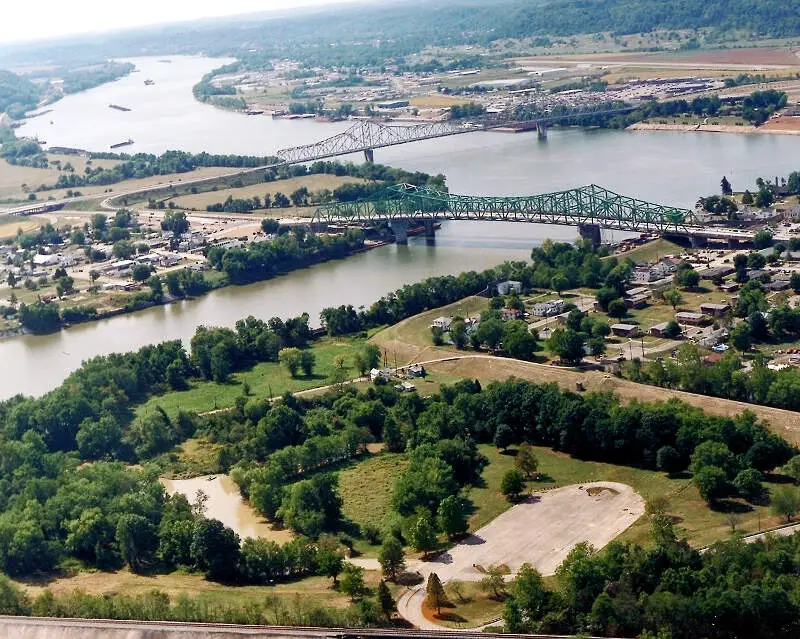 Source: Public domain
Located on the confluence of the Ohio and Kanawha Rivers in the western part of the state, Point Pleasant is indeed a pleasant place for those looking to avoid crime. Point Pleasant had the eighth lowest rate of violent crime in the state, with residents facing a 1 in 1,031 chance of being the victim of violence in 2018.
While Point Pleasant's Tu-Endie-Wei State Park commemorates a battle fought by frontiersmen in the 18th century, it's unlikely to be the scene of more violence in the future. The property crime rate is also the 12th lowest in West Virginia, making Point Pleasant an all-around safe place to call home.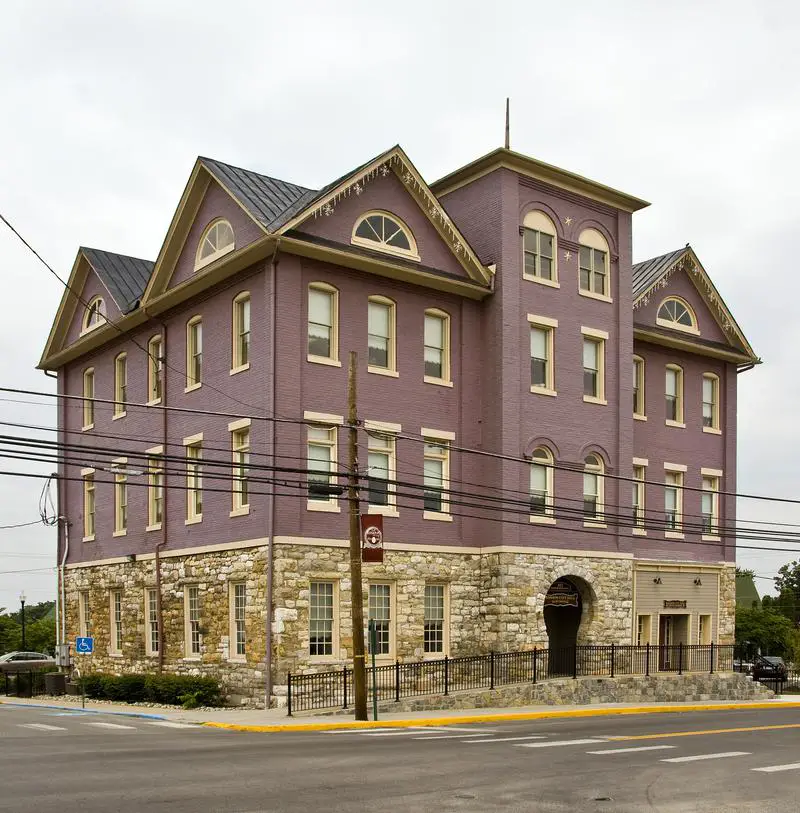 No one is going to hold you for a ransom in Ranson, West Virginia. In fact, it's the eighth safest place in the state. Ranson had the second lowest incidence of property crime in West Virginia in 2018, with a rate about four times lower than the national average. That's good news for folks heading home with a pocket full of winnings after a day at Hollywood Casino. If Ranson can get its slightly less impressive violent crime rate down over the next year, expect it to jump even higher up this list.
Ranson is located in Jefferson County in the eastern part of the state.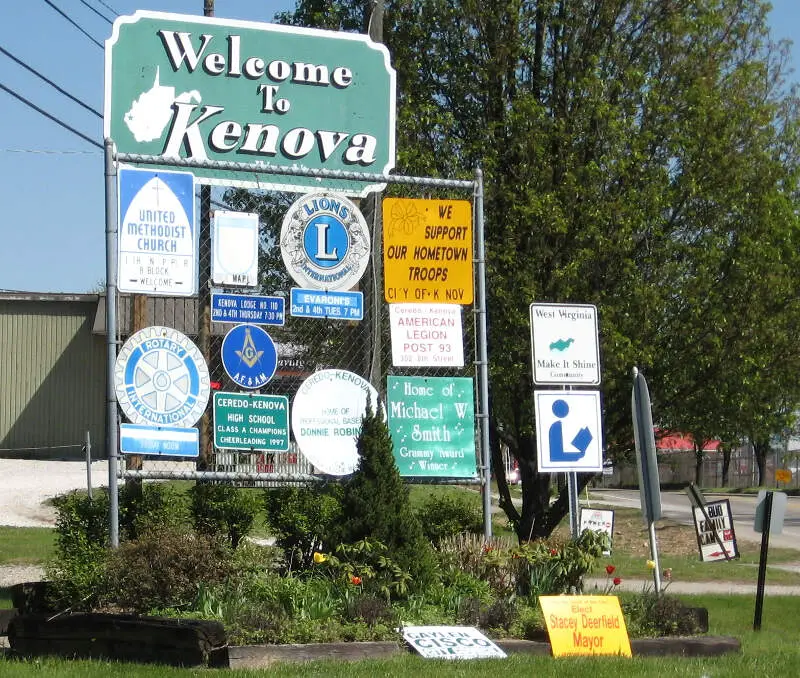 Source: Public domain
Located across the Ohio River from Kentucky, Kenova ranks as the ninth safest city in West Virginia. Kenova averaged just one violent crime every other month, giving the city the 14th lowest rate of violent crime in the state. Kenova also had about half as much property crime as the national average, so if you lose your wallet at Virginia Point Park, it'll likely turn up in your mailbox by the end of the day.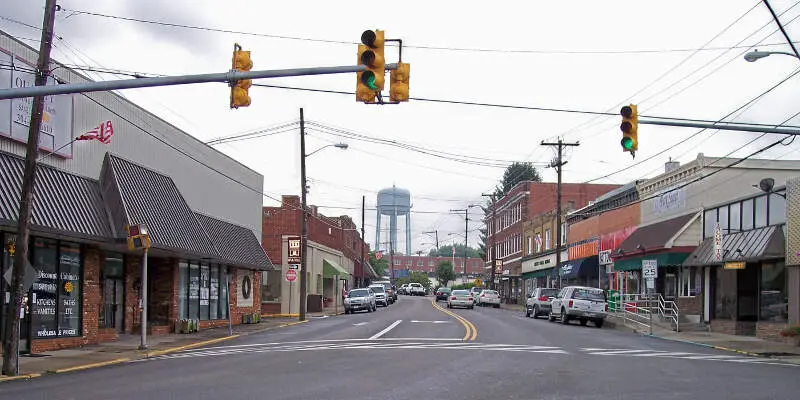 Slap a fluorescent orange safety jacket on this little village in West Virginia's southern coalfields and call them safe. Our tenth safest city, Oak Hill, is known for its scenic location, low taxes, and job opportunities. Afterall, it is the home to West Virginia's booming coal mining industry.
'The Hill' is a family friendly, safe Fayette County town just North of the Summit Bechtel Reserve that boasts convenient restaurants and stores and an occasional summer festival or two. It's a great place to raise a family. Word on the street is that young professionals are starting to take notice and move their direction. So don't wait, because the word is out.
How we calculated the safest cities in West Virginia for 2020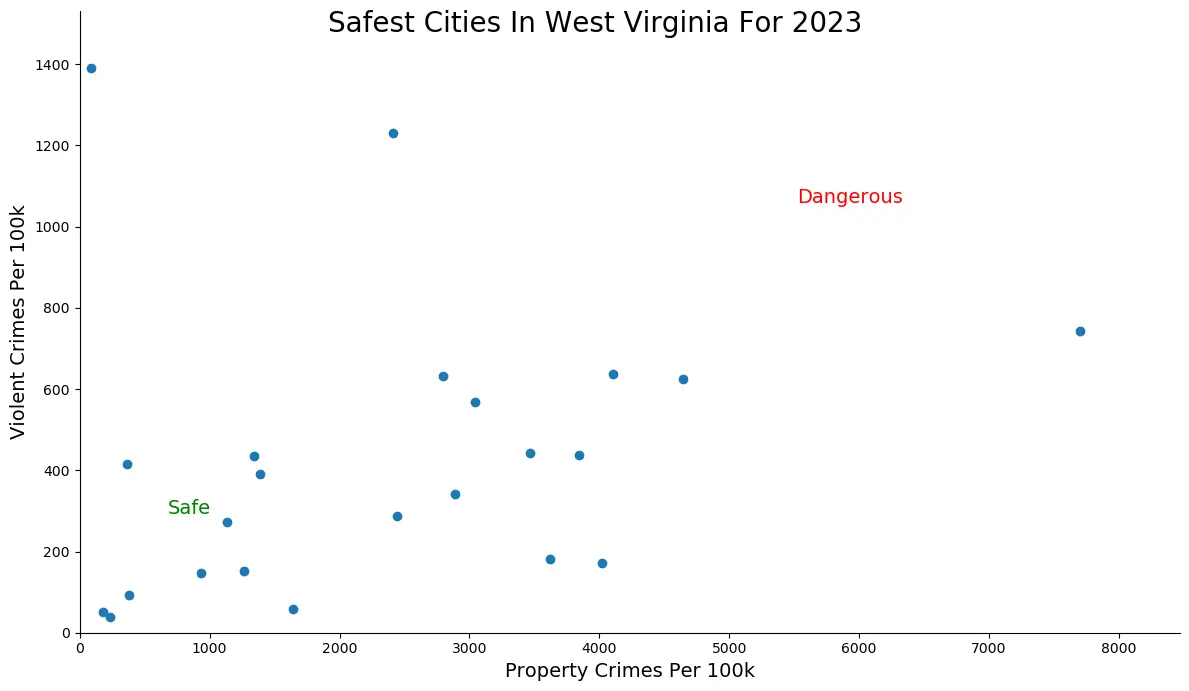 While there are surveys and public polls on what cities in a state are the safest, we didn't want to rely on speculation and opinion. Instead, we looked at the hard numbers from the FBI's most recent report of crime (Published Sept 2019) in West Virginia.
Specifically, we analyzed the
FBI's Uniform Crime Report
which summarizes the number of property crimes and violent crimes in each city per year. We used two criteria:
Violent crimes per capita (murders, assaults, rapes, armed robberies)
Property crimes per capita (thefts, burglaries, motor vehicle thefts)
For example, there were a total of 23 crimes committed in Wellsburg which had a reported population of 2,560. That means the number of crimes per capita is 0.009 which translates into a 1 in 111 chance of being the victim of a crime.
We only looked at cities that have populations of more than 2,000 people reported to the FBI in 2018, the last reporting year. This left us with a total of 31 of the biggest cities in West Virginia to rank.
We ranked each city for each criteria from 1 to 31 where 1 in any particular category is the safest.
Next, we averaged each places two criteria to create a Safety Index. We crowned the place with the lowest overall Safety Score "The Safest Place In West Virginia" with any ties going to the bigger city. You can download the data here.
The safest city in West Virginia, based on our criteria, is Wellsburg. The most dangerous city in West Virginia? Beckley, where residents had a 1 in 16 chance of being the victim of a crime.
Note: This report is not an analysis of the effectiveness of local police departments, nor does it reflect the fact that people from out of town may come into a community and cause a crime. It simply looks at where crimes occurred most frequently, based on a city's population.
There You Have It - The Safest Cities In The Mountain State
Looking at the data, you can tell that Wellsburg is as safe as they come, according to science and data.
But as most West Virginia residents would agree, almost every place here has its safe and not safe parts. So just make sure you're informed ahead of time.
Here's a look at the most dangerous cities in West Virginia according to the data:
Beckley
Charleston
Dunbar
For more reading, check out:
Breaking Down Crime In The Safest And Most Dangerous Cities In West Virginia
Share on Facebook
Chris Kolmar has been in the real estate business for almost ten years now. He originally worked for Movoto Real Estate as the director of marketing before founding HomeSnacks.
He believes the key to finding the right place to live comes down to looking at the data, reading about things to do, and, most importantly, checking it out yourself before you move.
If you've been looking for a place to live in the past several years, you've probably stumbled upon his writing already.
You can find out more about him on LinkedIn.