The 10 Safest Cities In Kansas For 2020
We used data and science to determine the places in Kansas where everyone sleeps safe and sound.

Editor's Note: This article has been update for 2020. This is our sixth time rankings the safest places to live in Kansas.
Swipe left for slideshow. Article continues below.
Article Table Of Contents   
(Skip to section)
Except for maybe a petty property crime here and there, Kanas is safe.
Lawrence, Kansas has the Jayhawks for protection, Kansas City has the Chiefs, but what about the rest of the state? Well, you're in luck: HomeSnacks has created a list of the safest places in The Sunflower State for 2020. You know, the Kansas places where good schools, good jobs, and good people are the reason the communities and neighborhoods in Kansas' top ten safest places are SAFE.
Now, it doesn't hurt that there are about 266 sworn police officers per 100,000 residents, or that there are safe places for every stage of life and every budget. For instance, Derby is super safe for singles, Leawood is great for families, and for those looking to retire, you should definitely give Shawnee a look.
But, the question still remains, how did we determine the safest places in Kansas? We consulted the numbers. In total, we analyzed 41 cities. We looked at important factors like property crimes and violent crimes per capita for every place with over 5,000 residents.
We discovered that Kansas is super safe, but The Free State does have some pretty dangerous places too; and this folks, is where you'll find the state's violent crime. So, before you throw a dart on the map of Kansas to choose your next place to call home, we suggest you look at our list of safest places below: there might be some that surprise you.
Here are the 10 safest cities to live in Kansas for 2020:
Yes, in Kansas, you "Kan" have it all; and it begins with a super safe place to live.
So, what city is the safest place to live in Kansas for 2020? Well, according to the most recent FBI data we crunched, Valley Center is the safest place to live in The Jayhawker State. It's not surprising considering Valley Center scored a 9/10 snackability safety score with an emphasis on jobs and education.
Check out the rest of our not so naughty, very safe Kansas cities to see how your city ranked. And if you don't find your favorite there, head to the bottom.
For more reading on safe places to live in and around Kansas, check out:
The 10 Safest Cities In Kansas For 2020
Valley Center's slogan should be "Where It's Happening". Not only are they a super cool, super safe city in the Arkansas River Valley of Sedgwick County, they have a boat load of burger shacks, and three stores where you can legally buy guns.
More importantly, VC scored a strong 8/10 safety ranking with an emphasis on available jobs and education. We think they are definitely deserving of our safest city in Kansas for 2020.
Tonganoxie may have a funny name, but the city is dead serious when it comes to safety. And the dedication shows; Tonganoxie wasn't even in the top 10 safest cities in Kansas last year, but now it's nearly the safest city in the whole state. Tonganoxie has an especially low property crime rate compared with the rest of Kansas, not to mention experiencing only a handful of violent crimes in the last year of available data.
I mean, nobody here has the time to commit crimes with all the activities you can do at Chieftain Park. Weird name notwithstanding, Tonganoxie really deserves this silver medal in safety.
Tonganoxie is a part of the Kansas City metro area.
Basehor is an affluent Kansas City-burb and it's our third safest city in Kansas for 2020.
You won't hear guns a-poppin' and see fists flying unless maybe there is a scuffle over a putt on one of the areas many golf courses. This city in Leavenworth County offers a Kansas City vibe with a laid back suburban feel. There's a true sense of community in Basehor, and education is a top priority.
So grab the family, pack the truck, and get a-moving soon so you don't miss out any of their safe, family friendly activities scheduled for 2020.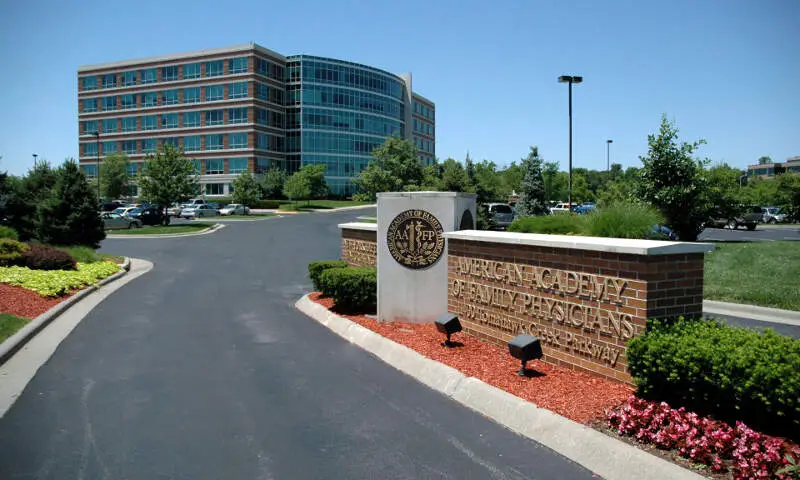 Source: Public domain
With a little over 35,000 residents, the superb quality of life in this little city just outside of Kansas City, is the reason that it is our fourthsafest city in Kansas for 2020. The residents claim that Leawood is where "Your problems will be smaller, You burdens will be few, For Friends are made for helping, And that's just what they do."
We think this is definitely why they scored a whopping 10/10 on our snackablity scale with an 8.5/10 safety score. They are always looking out for each other. The rest of Kansas could learn a lot from Leawood.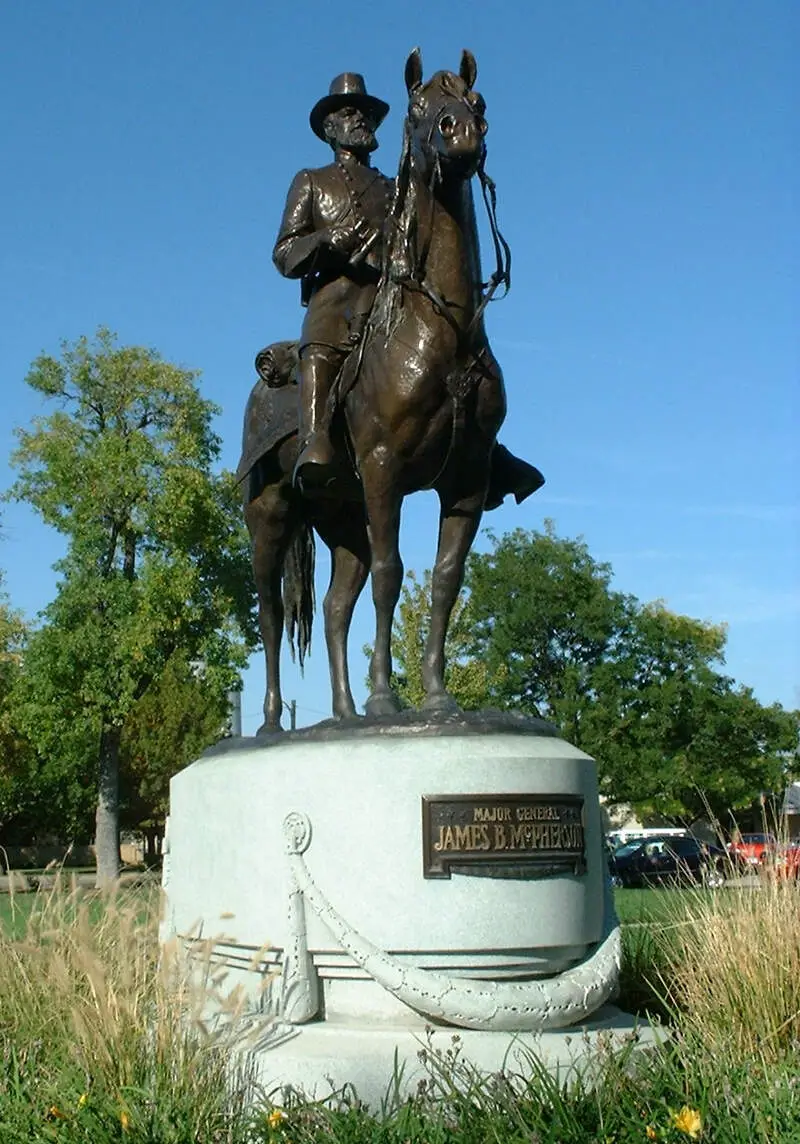 I'm surprised McPherson didn't make this list sooner -- it's consistently a top ten place to live in Kansas, which means it's safety record is very strong.
So strong is that safety record that the city had the lowest rate of property crime statewide -- a very solid achievement. In addition to having a property crime rate that ranks amongst the best, it also has an Opera House that could give any bigger city a run for its money. And that's a figure of speech of course -- no one around here has to be afraid of running from crime.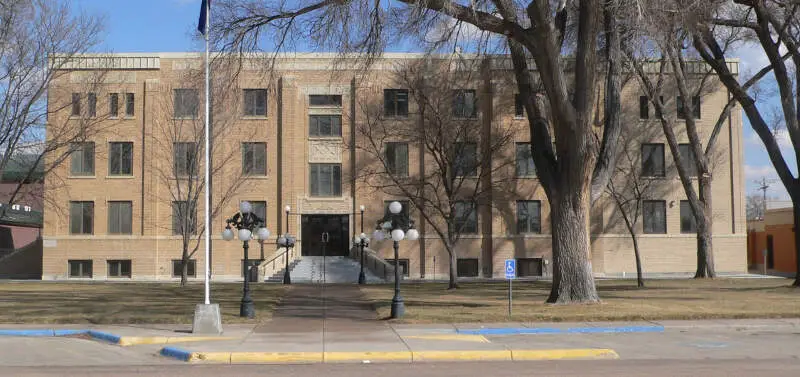 Source: Public domain
It might not be Oz, but this little city with a vibrant melting pot of corn and soybean farmers, unforgettable summer festivals, and endless fun, is just as notable and just as safe. Probably why it's one of the most populous cities in Grant County, and definitely why it's our sixth safest city in Kansas for 2020.
Ulysses is the kind of place where one can safely cruise the roads on ATVs, lawnmowers, and trucks with gun racks. It's also the kind of place where packages from Amazon won't get stolen from your front porch. But if they do, it was probably an Iowa Hawkeyes' fan. Hey Iowa, this is Jayhawk country!
Bel Aire's gold star qualities like the non-existent number of crimes per 100,000 residents, their large number of educated residents, and just their overall safety standards, speaks volumes. With close to 8,000 residents, the superb quality of life in this little village in Sedgwick County is the reason that it is our seventhsafest city in The Sunflower State for 2020
Bel Aire is the kind of place that you can sleep safe and sound and leave the doors unlocked while out and about. Good work Bel Aire!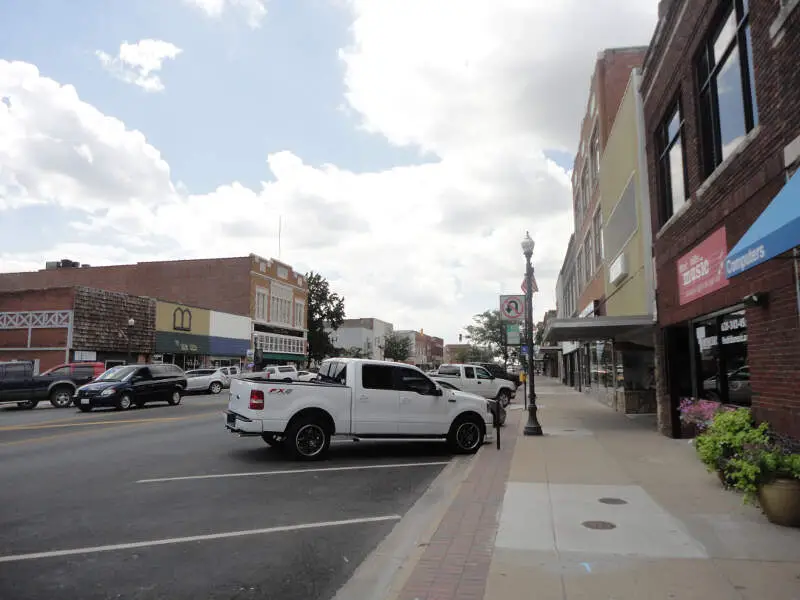 Located between Wichita and Topeka, Emporia is a happening city in its own right. Plus, it's safer than either of those cities! Emporia ranked better in violent crime than in property crime, but it's not exactly like pickpockets run the city.
And even if you were to misplace your wallet, you could always head over to Emporia Zoo for free.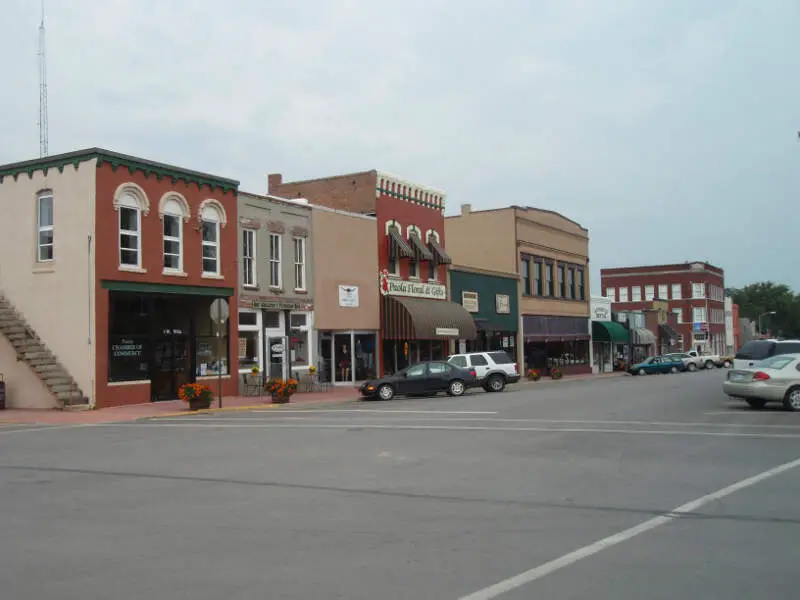 Paola may only rank as the eighth safest city in Kansas overall, but it has more impressive accolades than that. Paola is the most improved city on this list compared with the previous year's data. On top of that, Paola has the lowest rate of violent crime statewide, with an incidence of violent crime about 5 times lower than the U.S. national average.
So paddle about in Lake Miola or grab a glass of vino at NightHawk Winery, knowing that your odds of meeting face to face with a villain are quite slim.
Paola is about an hour south of Kansas City and an hour southeast of Topeka.

A part of the Kansas City metropolitan area, Lenexa has plenty of wholesome activities that keep residents from a life of crime. Checking out the dazzling festive lights at Sar-Ko Aglow or grabbing a pint at Limitless Brewing are just a few things that come to mind of the top of the head.
Lenexa has a better property crime rank than many other cities ranked higher on this list, but unfortunately Lenexa suffers a bit more violent crime than those cities. With a little work in that department, Lenexa could easily jump a few ranks in a year's time.
How we calculated the safest cities in Kansas for 2020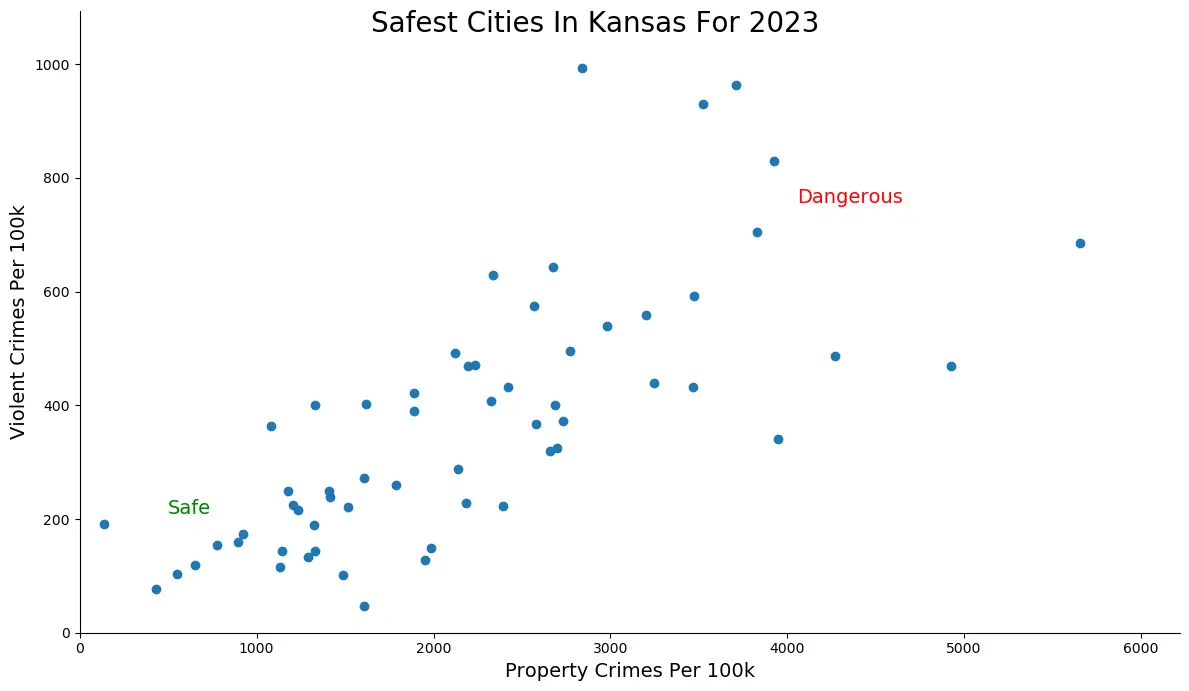 While there are surveys and public polls on what cities in a state are the safest, we didn't want to rely on speculation and opinion. Instead, we looked at the hard numbers from the FBI's most recent report of crime (Published Sept 2019) in Kansas.
Specifically, we analyzed the
FBI's Uniform Crime Report
which summarizes the number of property crimes and violent crimes in each city per year. We used two criteria:
Violent crimes per capita (murders, assaults, rapes, armed robberies)
Property crimes per capita (thefts, burglaries, motor vehicle thefts)
For example, there were a total of 89 crimes committed in Valley Center which had a reported population of 7,370. That means the number of crimes per capita is 0.0121 which translates into a 1 in 82 chance of being the victim of a crime.
We only looked at cities that have populations of more than 5,000 people reported to the FBI in 2018, the last reporting year. This left us with a total of 41 of the biggest cities in Kansas to rank.
We ranked each city for each criteria from 1 to 41 where 1 in any particular category is the safest.
Next, we averaged each places two criteria to create a Safety Index. We crowned the place with the lowest overall Safety Score "The Safest Place In Kansas" with any ties going to the bigger city. You can download the data here.
The safest city in Kansas, based on our criteria, is Valley Center. The most dangerous city in Kansas? Wichita, where residents had a 1 in 14 chance of being the victim of a crime.
Note: This report is not an analysis of the effectiveness of local police departments, nor does it reflect the fact that people from out of town may come into a community and cause a crime. It simply looks at where crimes occurred most frequently, based on a city's population.
There You Have It - The Safest Cities In The Sunflower State
Looking at the data, you can tell that Valley Center is as safe as they come, according to science and data.
But as most Kansas residents would agree, almost every place here has its safe and not safe parts. So just make sure you're informed ahead of time.
Here's a look at the most dangerous cities in Kansas according to the data:
Wichita
Independence
Coffeyville
For more reading, check out:
Breaking Down Crime In The Safest And Most Dangerous Cities In Kansas

Share on Facebook
Chris Kolmar has been in the real estate business for almost ten years now. He originally worked for Movoto Real Estate as the director of marketing before founding HomeSnacks.
He believes the key to finding the right place to live comes down to looking at the data, reading about things to do, and, most importantly, checking it out yourself before you move.
If you've been looking for a place to live in the past several years, you've probably stumbled upon his writing already.
You can find out more about him on LinkedIn.