Editor's Note: We updated this article for 2020. This is our sixth time ranking the best cities for families in Pennsylvania.
Swipe left for slideshow. Article continues below.
Article Table Of Contents
(Skip to section)
Want to know where there is no shortage of rugrats to hang out with your rugrats in the Keystone State? Look here. Yes, HomeSnacks has done every parent looking to move to this Mid-Atlantic state a favor by creating a list of the best places for families in Pennsylvania for 2020 and listing them below.
And because our goal here at HomeSnacks is to look at the latest trends and provide our readers with the most current data to compile our lists, we looked at the most recent Census for places in Pennsylvania with at least 10,000. This left us with 51 Pennsylvania places that any family would be lucky to call home. We also looked at how many households have children and how close a place is to one of the state's biggest cities. This research led us to multiple conclusions. One, there are currently 12.8 million people, 1.4 million families with 2.6 million children: that's plenty of little people to keep your little people entertained. Secondly, if you currently live close to Pittsburgh, Lancaster, and Philadelphia, our data says that your family is living their best life.
And, folks, it's no mystery that families are flocking to Pennsylvania because it is so safe: it's currently one of the safer states in America. So, we are not at all surprised that many of Pennsylvania's best places for families are also the state's safest.
More importantly, if you're looking for places in Pennsylvania with lots of kiddos, safe neighborhoods and schools, and boatloads of fun, keep reading.
These are the best cities to raise a family in Pennsylvania for 2020:
We analyzed 51 cities in Pennsylvania and determined which cities are the best of the best for families based on our family-friendliness factors. What makes a city family-friendly, you might ask? Easy: low crime, good schools, and fun things to do.
So which city reigned supreme as the best place for families? Easton, Pennsylvania. Located just outside Allentown and near enough to Philadelphia and New York City for weekend trips, this town is a winner for families.
Interested to see what makes each city so great families? Read on to learn more about our methodology and a detailed look at our top 10.
Check out some more reading about Pennsylvania and the best places for families in the country:
The 10 Best Places To Raise A Family In Pennsylvania For 2020

Source: Public domain
Easton is a city in and the seat of Northampton County, Pennsylvania, United States. The city's population was 26,800 as of the 2010 census. Easton is located at the confluence of the Delaware River and the Lehigh River, roughly 55 miles north of Philadelphia and 70 miles west of New York City.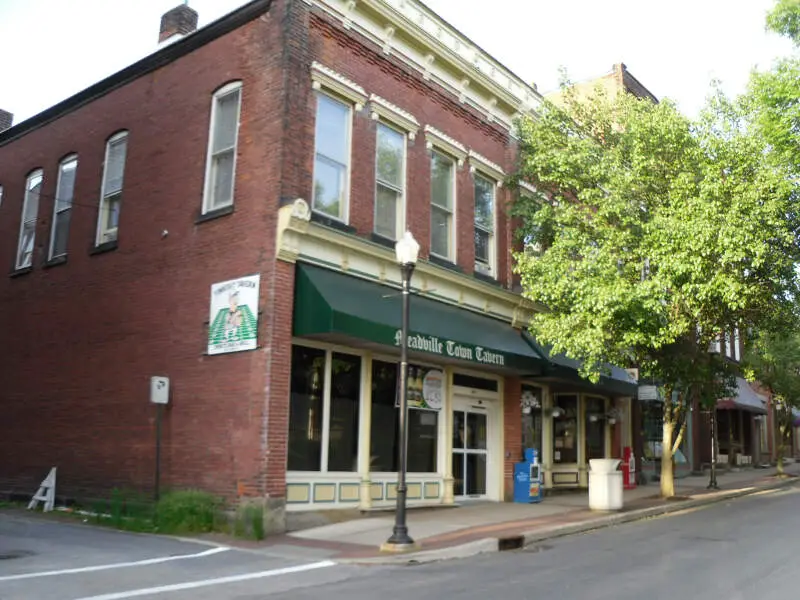 Meadville is a city in and the county seat of Crawford County, Pennsylvania, United States. The city is within 40 miles of Erie, Pennsylvania and within 90 miles of Pittsburgh, Pennsylvania. It was the first permanent settlement in northwest Pennsylvania. The population was 13,388 at the 2010 census. The city of Meadville is the principal city of the Meadville, PA Micropolitan Statistical Area. As well as one of two cities, the other being Erie, that make up the larger Erie-Meadville, PA Combined Statistical Area.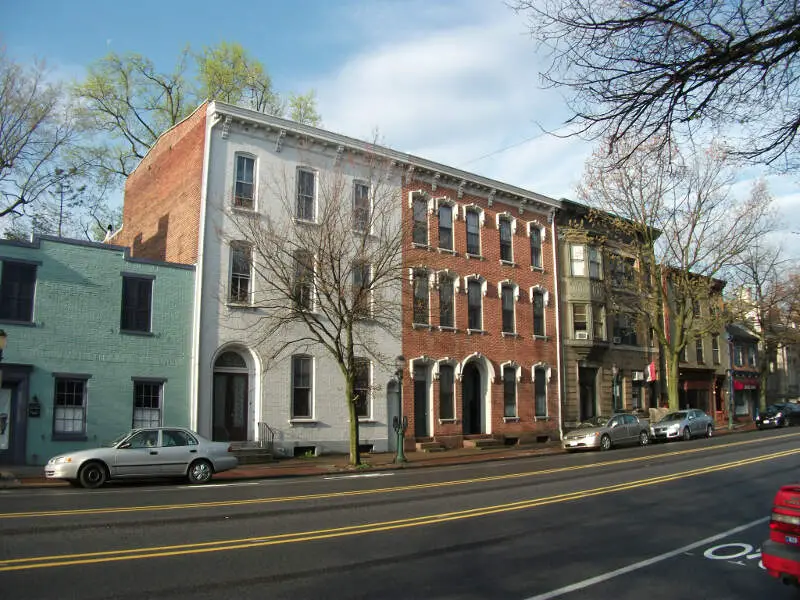 Carlisle is a borough and the county seat of Cumberland County, Pennsylvania, United States. The name is locally pronounced as in British English with emphasis on the second syllable. Carlisle is located within the Cumberland Valley, a highly productive agricultural region. As of the 2010 census, the borough population was 18,682; the estimated population as of 2014 was 18,916. Including suburbs in the neighboring townships, 37,695 live in the Carlisle urban cluster. Carlisle is an exurb of Harrisburg, Pennsylvania, to the east.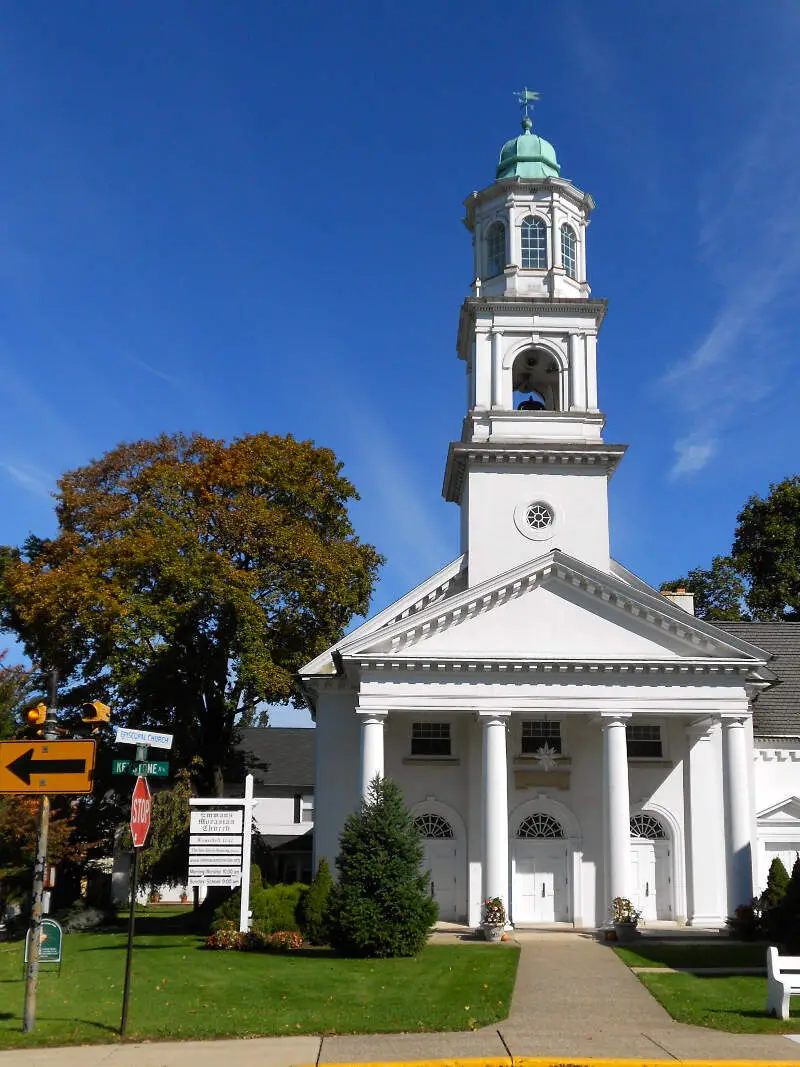 Source: Public domain
Emmaus is a borough in Lehigh County, Pennsylvania, in the United States. It is located 5 miles southwest of Allentown, Pennsylvania, in the Lehigh Valley region of the state. It also lies 50 miles north of Philadelphia, Pennsylvania's largest city, and 20 miles west of the Delaware River. Emmaus is located in the Allentown-Bethlehem-Easton, PA-NJ Metropolitan Statistical Area, which is also included in the New York City-Newark, New Jersey, NY-NJ-CT-PA Combined Statistical Area.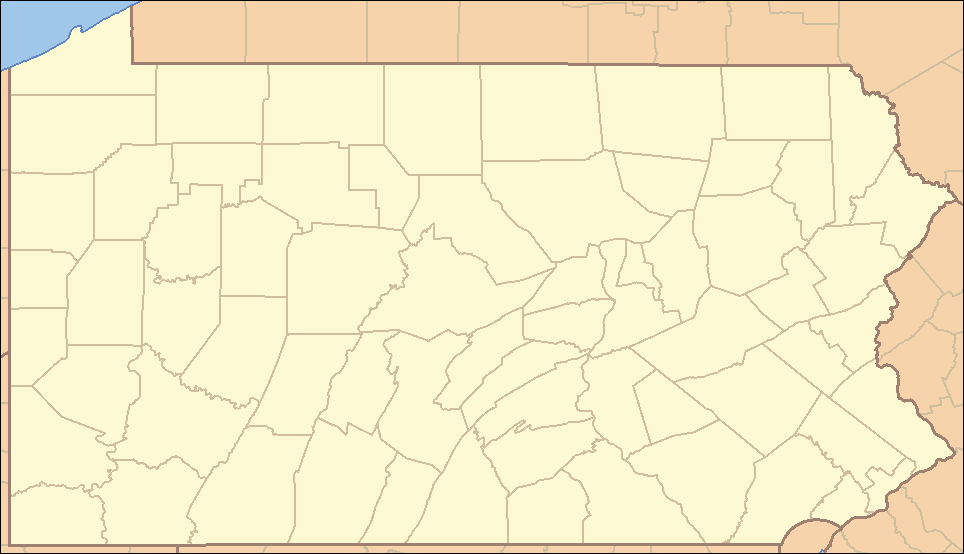 Lansdale is a borough in Montgomery County, Pennsylvania, 28 miles northwest of Philadelphia. Early in the 20th century, its industries included agricultural implement works, a canning factory, foundries, brickyards, a silk mill, and manufacturers of cigars, stoves, shirts, rope, iron drain pipe, and glue. In 1900, 2,754 people lived here; in 1910, 3,551; and in 1940, 9,316 people were inhabitants of Lansdale. The population was 16,269 at the time of the 2010 census.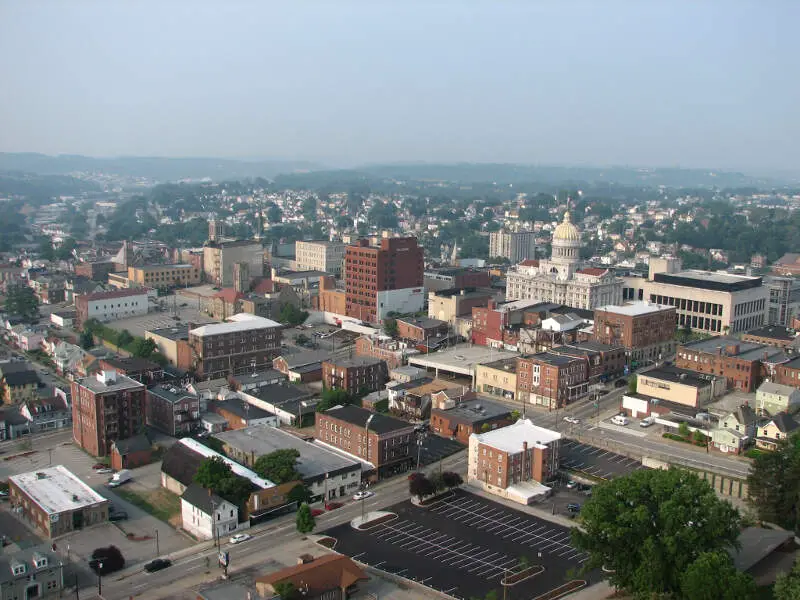 Greensburg is a city in and the county seat of Westmoreland County, Pennsylvania, United States, and a part of the Pittsburgh Metro Area. The city lies within the Laurel Highlands and the ecoregion of the Western Allegheny Plateau. The city is named after Nathanael Greene, a major general of the Continental Army in the American Revolutionary War. The population was 14,892 at the 2010 census.

Phoenixville is a borough in Chester County, Pennsylvania, United States, 28 miles northwest of Philadelphia, at the junction of French Creek with the Schuylkill River. It is located in the Philadelphia Metro Area. The population is 16,440 as of the 2010 Census.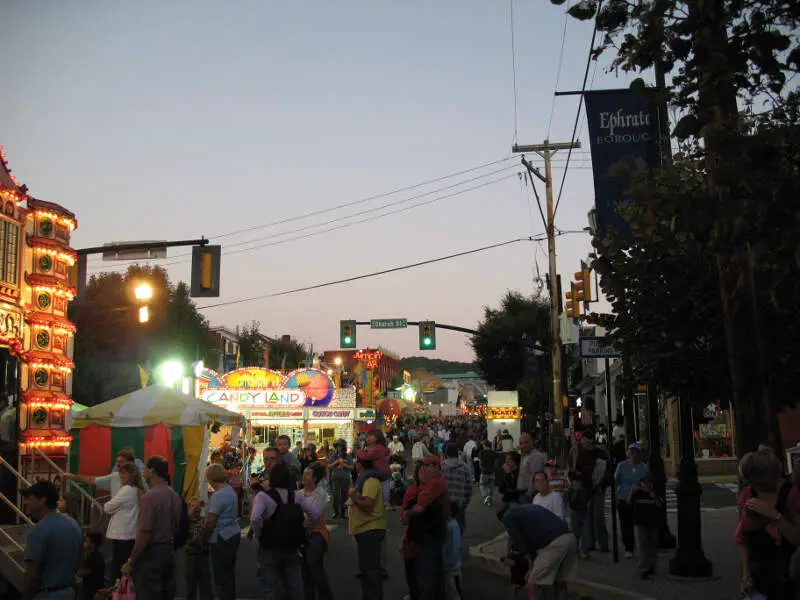 Ephrata is a borough in Lancaster County, Pennsylvania, United States, 38 miles south east of Harrisburg and about 57 miles west by north of Philadelphia. It is named after Ephrath, a biblical town in what is now Israel. Ephrata's sister city is Eberbach, Germany, the city where its founders originated. In its early history, Ephrata was a pleasure resort and an agricultural community.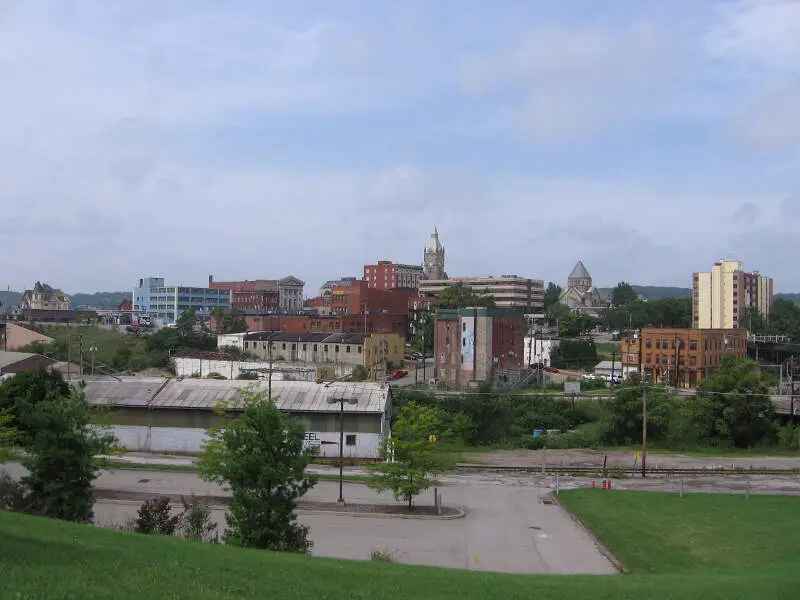 Source: Public domain
Butler is a city and the county seat of Butler County in the U.S. state of Pennsylvania. It is located 35 miles north of Pittsburgh and part of the Pittsburgh metropolitan area. As of the 2010 census, the city population was 13,757. Butler was named the 7th best small town in America by Smithsonian magazine in May 2012.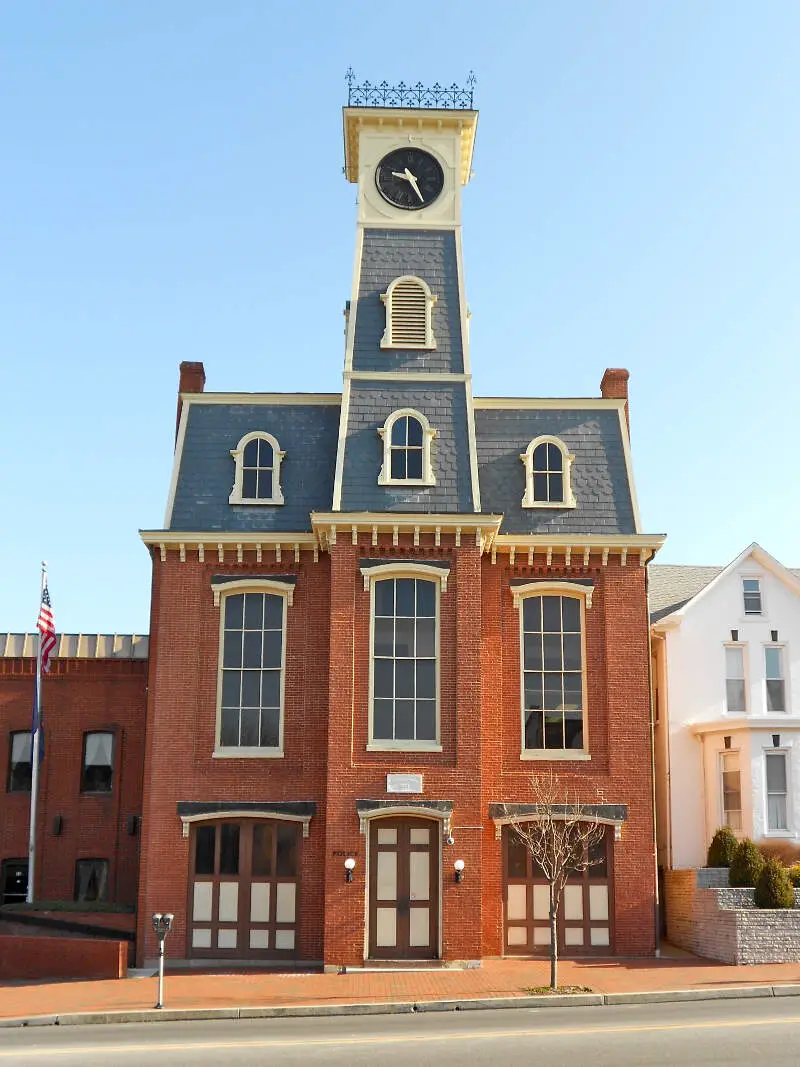 Source: Public domain
Waynesboro is a borough in Franklin County, Pennsylvania, on the southern border of the state. Waynesboro is in the Cumberland Valley between Hagerstown, Maryland, and Chambersburg, Pennsylvania. It is part of Chambersburg, PA Micropolitan Statistical Area, which is part of the Baltimore-Washington metropolitan area. It is 2 miles north of the Mason-Dixon line and close to Camp David and the Raven Rock Mountain Complex.
How do you determine which place is best for families in Pennsylvania anyways?
To give you the places in Pennsylvania which are best for families, we have to look at a handful of metrics. Of course, we want to measure the type of people who live in each city, and make some assumptions about what's family-friendly and what isn't.
So we researched the internet for a database that contains all that information.
How we crunched the family friendly numbers for the Keystone State
We threw a lot of criteria at this one in order to get the best, most complete results possible. Using U.S. Census data produced for the state of Pennsylvania, we looked at every single city in the state. We paid particular attention to:
Crime (Both violent and property)
Quality of local schools
Distance to a major city without necessarily being in it
% of households with children
Family-friendly amenities nearby (museums, libraries and colleges)
We then gave each city a Family Score.
The higher the score, the better the city is for families. We also limited our results to cities with populations over 10,000 people. For Pennsylvania, that meant a total of 51 cities. You can download the data here.
There You Have It - The Best Places To Raise A Family In Pennsylvania
If you're looking for a breakdown of cities in Pennsylvania ranked by criteria that most would agree make a place a great spot for families, this is an accurate list.
Here's a look at the best cities for singles Pennsylvania according to the data:
Hermitage
McKeesport
Philadelphia
For more pennsylvania reading, check out:
Where Are The Best Places For Families In Pennsylvania?
| Rank | City | Population |
| --- | --- | --- |
| 1 | Easton, PA | 27,100 |
| 2 | Meadville, PA | 12,949 |
| 3 | Carlisle, PA | 19,116 |
| 4 | Emmaus, PA | 11,361 |
| 5 | Lansdale, PA | 16,579 |
| 6 | Greensburg, PA | 14,377 |
| 7 | Phoenixville, PA | 16,815 |
| 8 | Ephrata, PA | 13,802 |
| 9 | Butler, PA | 13,182 |
| 10 | Waynesboro, PA | 10,842 |