Editor's Note: Data has been updated for 2022. This is our ninth time ranking the best Hayward suburbs.
Article Table Of Contents   
(Skip to section)
Big city living isn't for everyone--but at the same time, urban areas certainly have their perks.
There's the culture, the food, the arts, the food, the energy, and you know, the food. But there are drawbacks. There's traffic, expensive parking, expensive housing--pretty much, expensive everything, depending on which big city you're looking at.
But that's where the suburbs come in--they have all of the benefits of being near big cities, without actually having to be big cities.
Of course, not all suburbs of Hayward are created equally, which is precisely why we set out to find the best ones. So without further ado...
Here are the 10 best suburbs to live around Hayward for 2022:
What's the best suburb of Hayward? Los Altos ranks as the best suburb of Hayward for 2022 based on the most recent Census and FBI data. If you happen to be a resident of Los Altos, you're probably not too surprised to find it on the top our list.
We'll tell you what makes each of these 10 Hayward 'burbs better than the rest--but first, a bit about our methodology.
Note: This result may differ from our state wide data as we did not include commute times and crime for this analysis to allow for a larger selection of suburbs.
Feel free to check out some more reading about California:
The 10 Best Hayward Suburbs To Live For 2022
Los Altos is always mentioned as one of the best suburbs in the Hayward area. We'll tell you the good about "Awesome Los Altos."
Everyone here is rich; families average $240,094 a year, which is the 8th highest in the Hayward region. And only 3.59% are out of work. Homes average more than $2,000,001 each.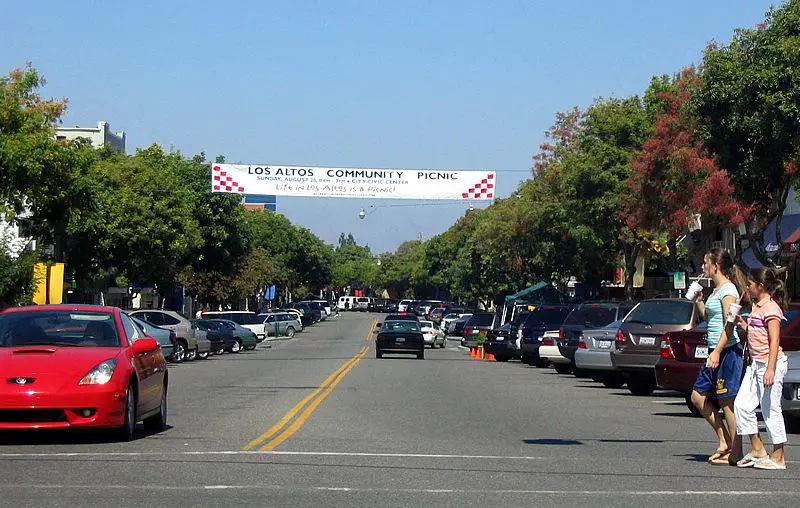 Piedmont is the second best 'burb we looked at near Hayward for 2022.
It ranks 3rd for incomes in the area and only 1.2% of residents lack insurance, good for 9th best.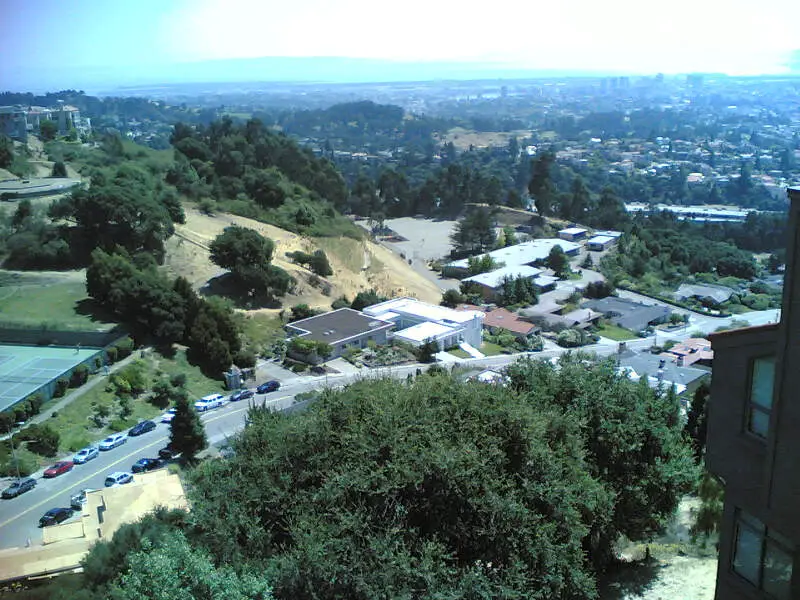 Here in Belvedere, it's really safe, and residents are just about as rich as you'll see in the Hayward metro area.
The bad side? Schools are more crowded, and the cost of living puts a large part of the city out of reach for most families.
But price is based on demand and a lot of people want to live in Belvedere.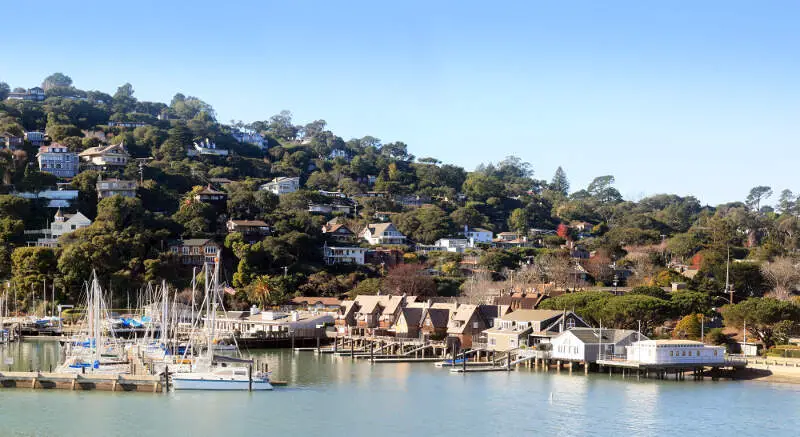 Los Altos Hills ranks as the 4th best suburb of Hayward for 2022.
You won't find many better places to raise your kids in the region than in Los Altos Hills and the schools are some of the best around.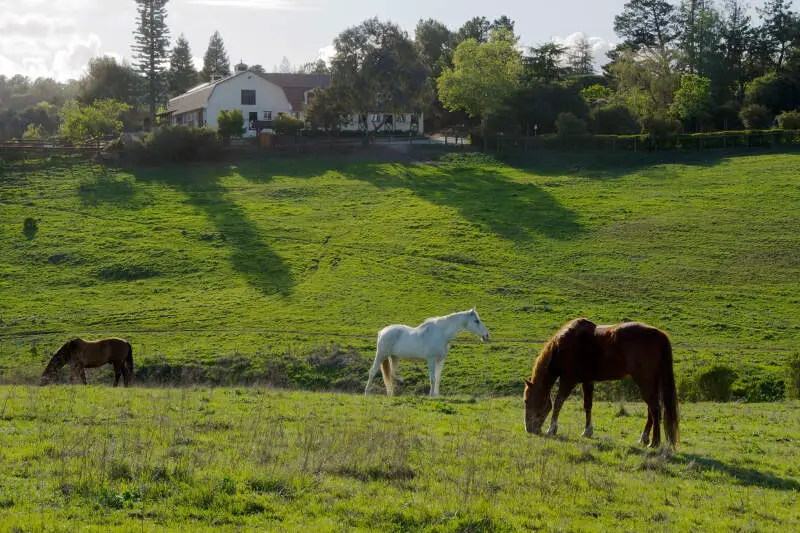 Source: Public domain
Coming in as the fifth best is Orinda.
Orinda gets kudos for having the 23rd most expensive homes in the Hayward area, where houses sell for an average of $1,515,500. However, the cost of living here is among the highest in the area.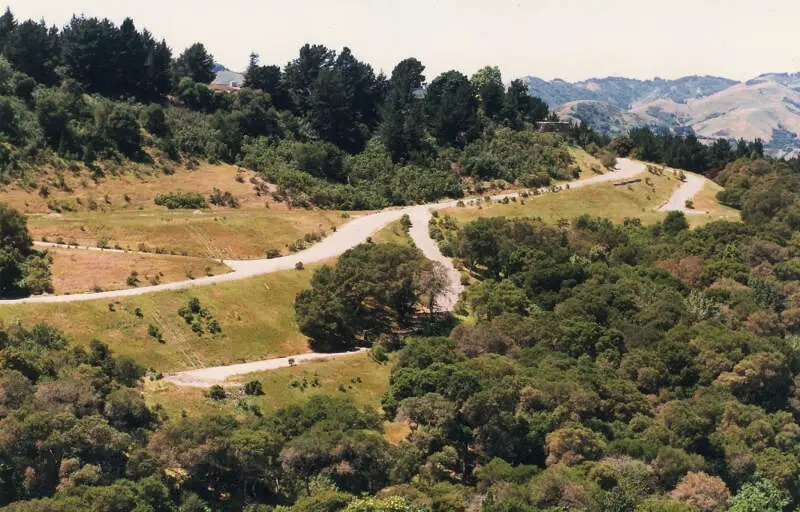 Monte Sereno is proud of its 6th place finish on this list. And here's why.
Most residents have great jobs and the unemployment rate sits at 3.21% which is 12th best in the area.
According to online reports, Monte Sereno is quickly becoming one of the more affluent suburbs in the Hayward area, meaning you need to get in soon.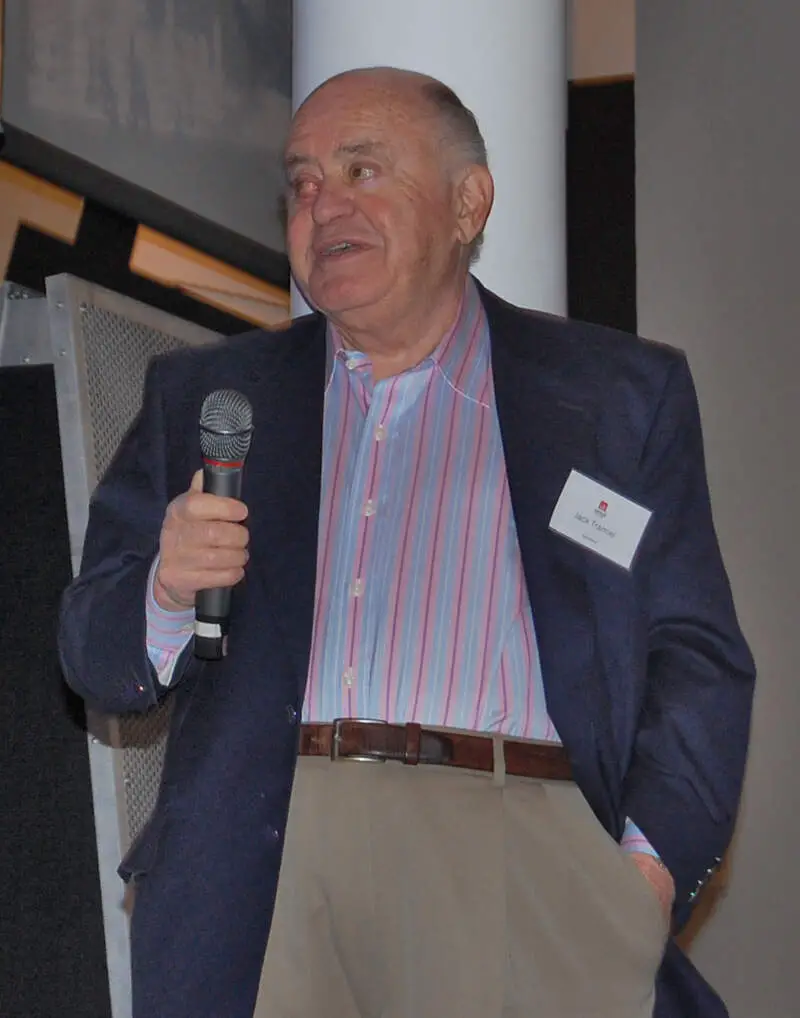 The 7th best suburb on our list goes to Hillsborough.
Hillsborough schools are some of the best in the region, and crime is really low. The cost of living makes it a lot more desirable for many families, especially first-time home buyers.
And, it's only 14.6 miles to downtown, which is a good thing.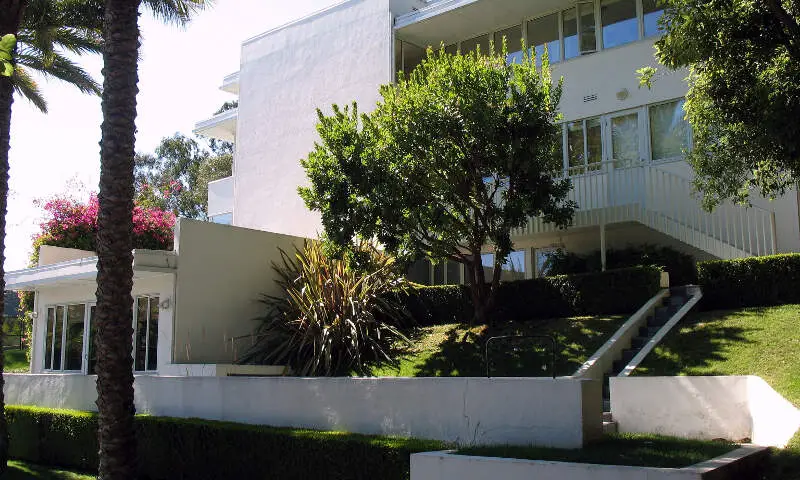 San Carlos is growing quickly, and for a good reason. Crime is far below average, and most residents are gainfully employed. Even the cost of living is reasonable.
A solid 1.57% of people lack insurance, good for 11th in the area.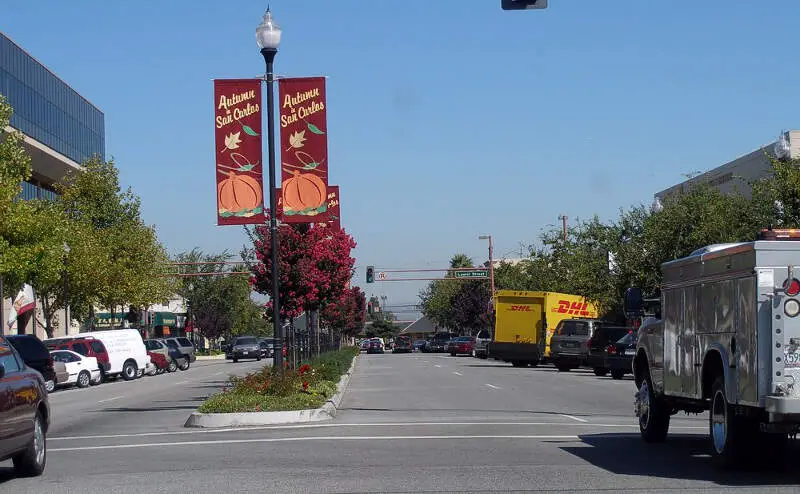 Is 'Everything Better In Atherton?'
Almost.
It placed 9th on our list thanks to the fact that it's really expensive to live here, but the schools are great, so you get what you pay for in that regard.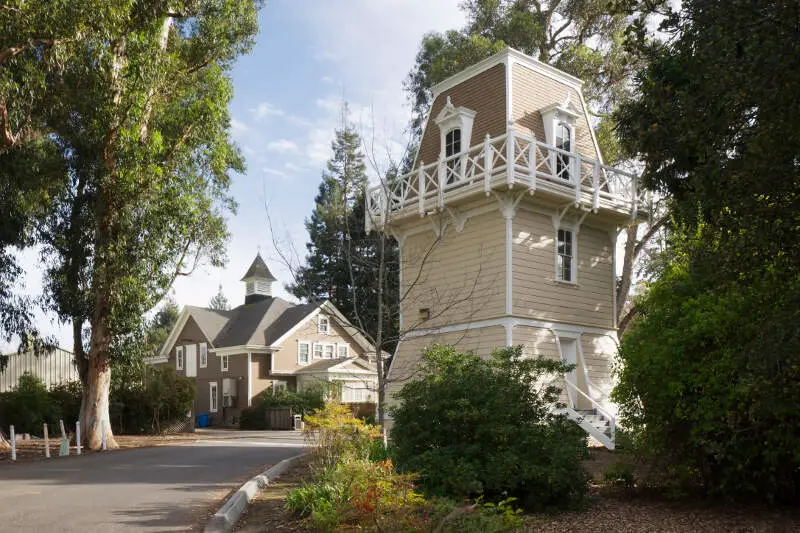 Source: Public domain
And rounding out the top ten for 2022 is Woodside.
This city is far above average in every category, and the best part? It's far more affordable than the other cities listed above. So, you get a big bang for your buck here.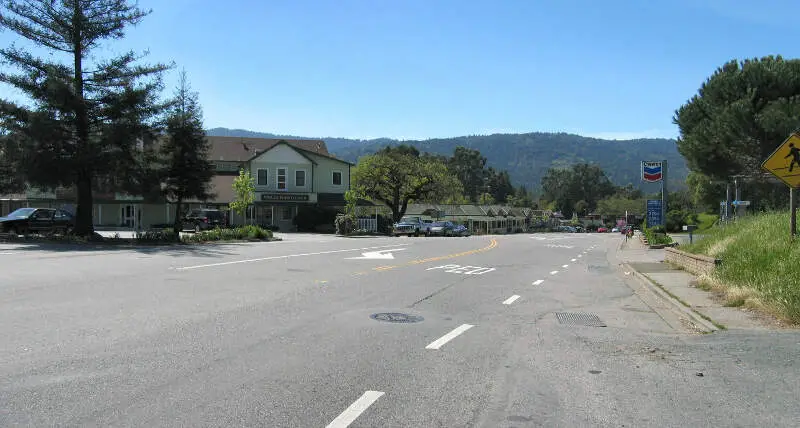 Methodology: How We Determined The Best Suburbs Around Hayward for 2022
Figuring out the best suburbs around Hayward was pretty simple; we just needed to list several things that people like, and then find out which cities have the most of those things.
We threw a lot of criteria at this one in order to get the best, most complete results possible:
Low unemployment rate
High Median household incomes
Population density (lots of things to do)
High home values
A lot of college educated people
Low poverty
High rate of insured families
Then we used the newest American Community Survey data for 2016-2020 to research each suburb.
FYI: We defined a suburb as being within 30 miles of Hayward.
Additionally, we limited the analysis to places that have over 2,000 people. This left us with a grand total of 66 suburbs to evaluate around Hayward.
We ranked each place with scores from 1 to 66 in each category, where 1 was the "best.
Next, we averaged the rankings for each place to create a quality of life index.
And finally, we crowned the city with the best quality of life index the "Best Suburb near Hayward." We're lookin' at you, Los Altos. You can download the data here.
Read on below to learn more about what it's like to live in the best of the best. Or skip to the end to see the list of all the suburbs ranked from best to worst.

Summary: Welcome to the Best Hayward 'Burbs of 2022
We said it once and we'll say it again--life in the big city isn't for everyone. At least not all the time.
So if you're hankering for some of the amenities of a larger city like Hayward, but don't want to deal with the drawbacks, one of these suburbs might just be for you.
For more California reading, check out:
Detailed List Of The Best Hayward Suburbs
| Rank | City | Population |
| --- | --- | --- |
| 1 | Los Altos, CA | 30,878 |
| 2 | Piedmont, CA | 11,454 |
| 3 | Belvedere, CA | 2,246 |
| 4 | Los Altos Hills, CA | 8,496 |
| 5 | Orinda, CA | 19,461 |
| 6 | Monte Sereno, CA | 3,511 |
| 7 | Hillsborough, CA | 11,608 |
| 8 | San Carlos, CA | 29,647 |
| 9 | Atherton, CA | 7,060 |
| 10 | Woodside, CA | 5,593 |
| 11 | Portola Valley, CA | 4,568 |
| 12 | Tiburon, CA | 9,167 |
| 13 | Cupertino, CA | 59,799 |
| 14 | Saratoga, CA | 31,084 |
| 15 | Los Gatos, CA | 31,943 |
| 16 | Lafayette, CA | 25,949 |
| 17 | Burlingame, CA | 30,071 |
| 18 | Palo Alto, CA | 67,973 |
| 19 | Danville, CA | 44,933 |
| 20 | Menlo Park, CA | 35,211 |
| 21 | San Ramon, CA | 81,344 |
| 22 | Clayton, CA | 11,585 |
| 23 | Sunnyvale, CA | 152,569 |
| 24 | Belmont, CA | 26,963 |
| 25 | Pleasanton, CA | 79,975 |
| 26 | Dublin, CA | 63,856 |
| 27 | Millbrae, CA | 22,998 |
| 28 | Sausalito, CA | 7,177 |
| 29 | Moraga, CA | 16,896 |
| 30 | Mountain View, CA | 80,104 |
| 31 | Mountain View, CA | 80,104 |
| 32 | Mountain View, CA | 80,104 |
| 33 | Mountain View, CA | 80,104 |
| 34 | Campbell, CA | 42,891 |
| 35 | Fremont, CA | 234,829 |
| 36 | Albany, CA | 20,145 |
| 37 | Livermore, CA | 91,763 |
| 38 | Pacifica, CA | 38,663 |
| 39 | Santa Clara, CA | 126,723 |
| 40 | Emeryville, CA | 11,679 |
| 41 | Milpitas, CA | 75,182 |
| 42 | San Bruno, CA | 44,663 |
| 43 | San Mateo, CA | 103,619 |
| 44 | Newark, CA | 48,148 |
| 45 | Pleasant Hill, CA | 34,903 |
| 46 | South San Francisco, CA | 66,878 |
| 47 | Walnut Creek, CA | 69,836 |
| 48 | Half Moon Bay, CA | 12,583 |
| 49 | Alameda, CA | 79,827 |
| 50 | Martinez, CA | 38,397 |
| 51 | Berkeley, CA | 123,065 |
| 52 | Hercules, CA | 26,090 |
| 53 | Brentwood, CA | 63,013 |
| 54 | El Cerrito, CA | 25,280 |
| 55 | Daly City, CA | 107,197 |
| 56 | Brisbane, CA | 4,645 |
| 57 | East Palo Alto, CA | 29,448 |
| 58 | San Jose, CA | 1,029,409 |
| 59 | Pinole, CA | 19,343 |
| 60 | San Leandro, CA | 90,489 |
| 61 | Concord, CA | 129,227 |
| 62 | Oakland, CA | 422,575 |
| 63 | San Pablo, CA | 30,959 |
| 64 | Antioch, CA | 111,468 |
| 65 | Pittsburg, CA | 71,723 |
| 66 | Richmond, CA | 110,051 |