Editor's note: This is not investment advice and we are not financial advisers. Article updated for 2020.
Swipe left for slideshow. Article continues below.
Article Table Of Contents
(Skip to section)
There's a the age old question everyone thinks about when they decide to move to a city in Utah:
Should I buy a place or rent? Well, we aren't here today to solve that problem for you exactly. We are just assuming you'll do the right thing and a buy a place. And while we are happy to tell you the best place to live in Utah, this analysis is going to tackle the question of the best place to buy a house as an investor. That is we are going to try and determine the up and coming cities in the Beehive State.
To do that we are going to look at places in Utah that are growing faster than average, but where home prices are below average. In every day terms, the "deals". The best deal in Utah at the moment? That would be Sunset according to our analysis.
Here's a look at the top ten places to buy a home in utah for 2020:
What's the best place to buy a home in Utah for 2020? According to our analysis, would the the ideal place to buy a home looking into the future.
The methodology that wen't into this can be a bit complicated, so we'll break it down for you in as much detail as we can below. If you're not worried about finding a deal on good places to live, check out the most expensive places to live in utah and, for those of you on a budget, the cheapest places to live in utah.
For more Utah reading, check out:
The 10 Best Cities To Buy A House In Utah For 2020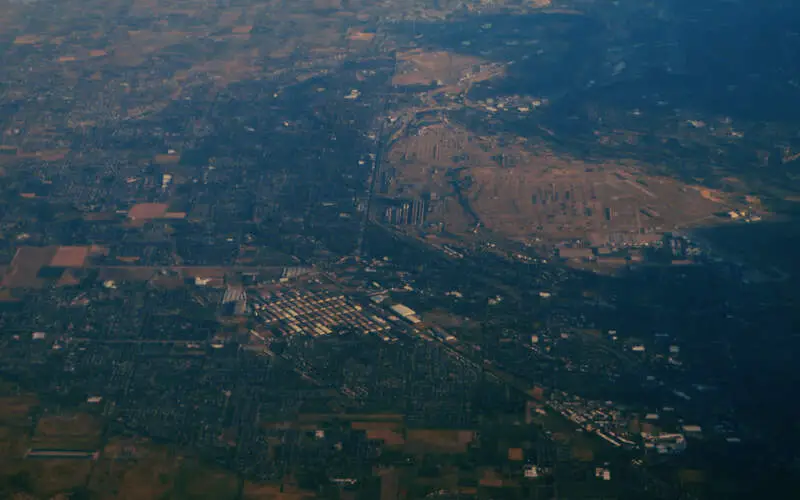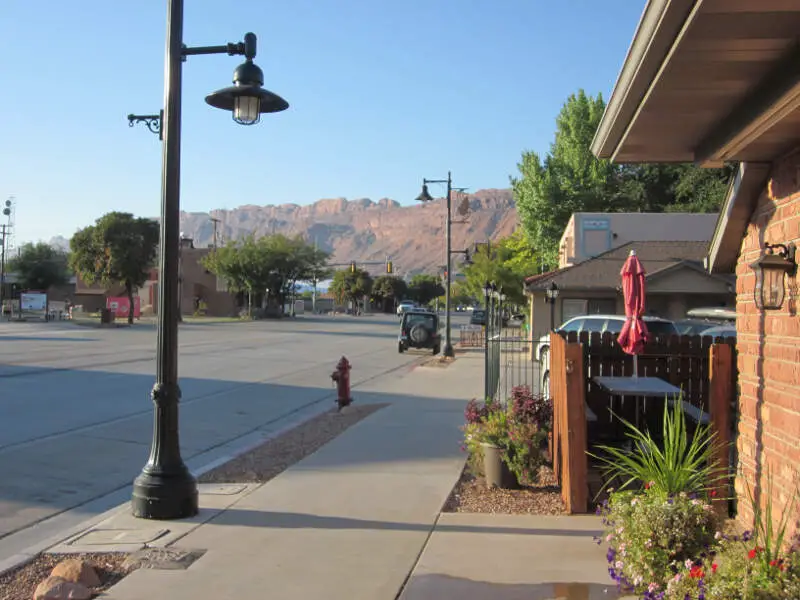 The Biblical name Moab refers to an area of land located on the eastern side of the Jordan River. Some historians believe the city in Utah came to use this name because of William Pierce, the first postmaster, believing that the biblical Moab and this part of Utah were both "the far country".:16 However, others believe the name has Paiute origins, referring to the word moapa, meaning "mosquito". Some of the area's early residents attempted to change the city's name, because in the Christian Bible, Moabites are demeaned as incestuous and idolatrous. One petition in 1890 had 59 signatures and requested a name change to "Vina".:50 Another effort attempted to change the name to "Uvadalia". Both attempts failed.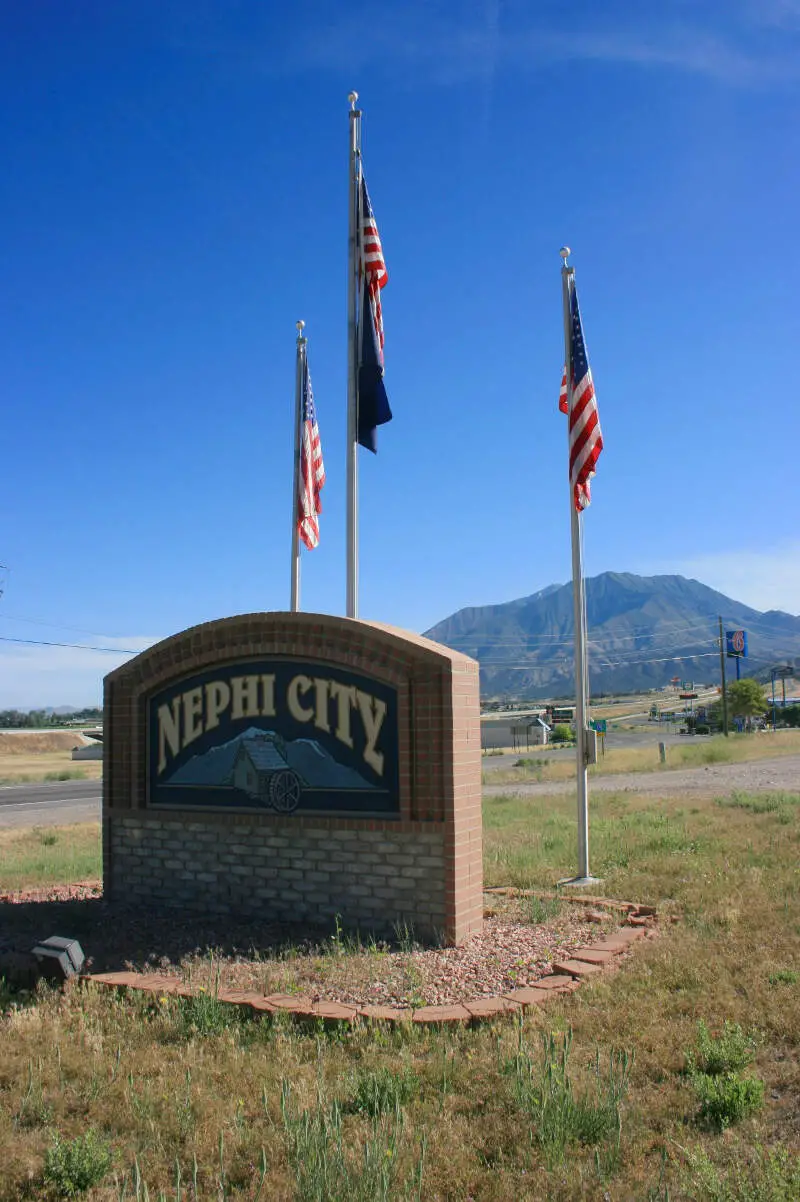 Before the area was settled, the site along Salt Creek was first a camping place along the Old Mormon Road to Southern California. When Mormon settlers established their settlement in 1851 it too was called, Salt Creek. It retained that name until 1882 when the town and its post office became Nephi.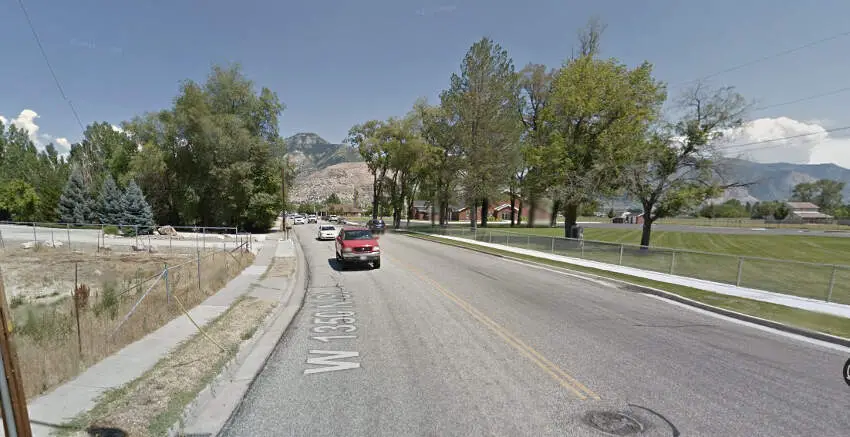 Source: Wikipedia
The earliest recorded history of the area now known as Harrisville relates a double tragedy: In 1850 Urban Stewart built the first house in what was to become Harrisville. It was constructed of logs and was located about 300 yards to the southwest of where the Harrisville chapel of The Church of Jesus Christ of Latter-day Saints was later constructed. Stewart had planted a garden and watched over it with care. On the night of September 16, 1850, Stewart heard rustling out in his corn patch and saw a moving object, which he fired at, killing Chief Terikee, of the Shoshone people. The Indians retaliated by killing a white man named Campbell, a transient employee of Farr's Mill, and Stewart had to leave the country. The Indians were intent on destroying the Weber County settlement. When the LDS Church authorities sent 150 men to help secure the Weber colony, Terikee's band took the body of their chief and retreated northward.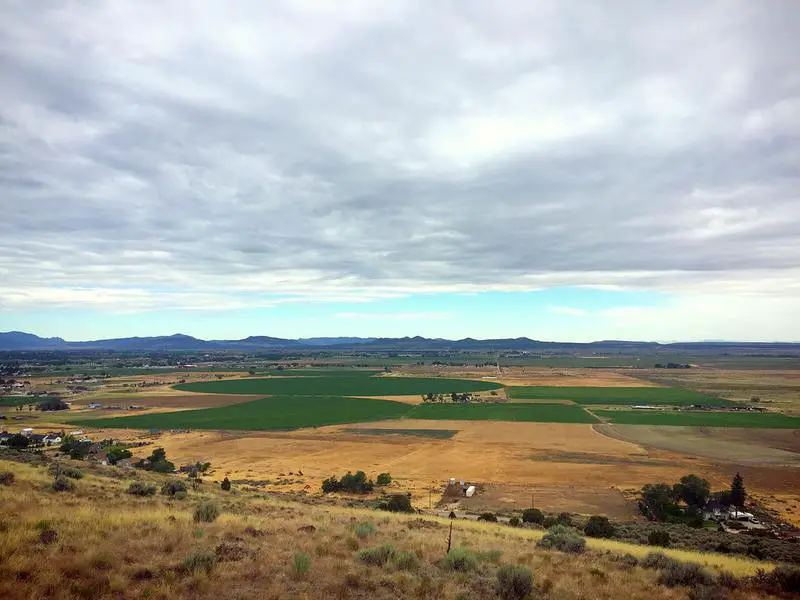 Enoch was founded by Joel H. Johnson. It was originally known as Johnson's Springs and Fort Johnson.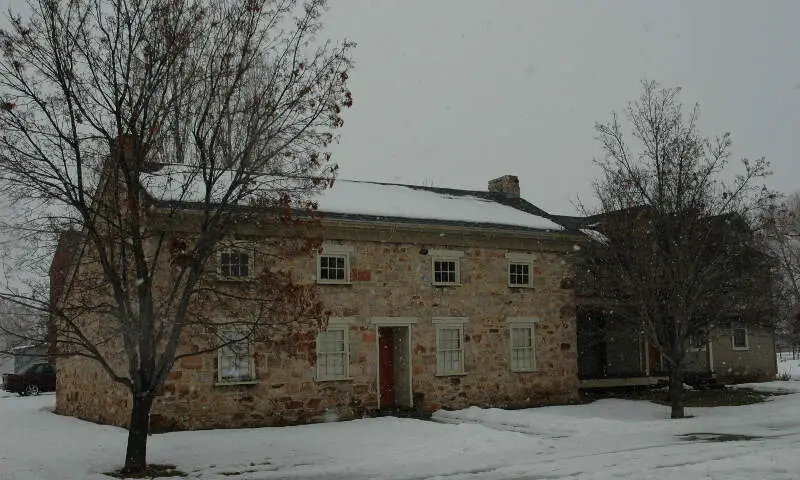 The Salt Lake Valley settlement began when wagon trains of members of The Church of Jesus Christ of Latter-day Saints began arriving in 1847. By 1858, farmers from the then-settled towns of Lehi and Kay's Creek, looking for a new place to homestead, began considering the area now known as Plain City. On 17 March 1859, led by Lorin Farr, a group arrived to begin homesteading. Soon after arriving, the group surveyed a townsite and assigned building lots. The town layout used an organized grid system of blocks and streets, originally six blocks north-to-south and three blocks east-to-west. Each block was 5 acres in area, divided into 4 lots. The first settlers were allowed their choice in selection of a lot.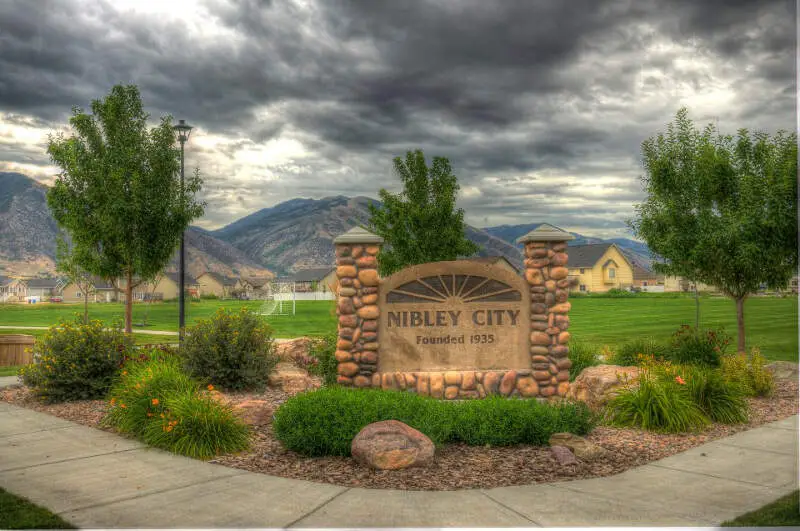 Cache Valley was occupied by the Shoshone Indians prior to its settlement by Mormon Pioneers. Trappers arrived in Cache Valley in 1824 under the leadership of John Weber of the Rocky Mountain Fur Company. Several trapping companies operated in the valley during the next 20 years. During that time, the beaver and bison were virtually eliminated.
Farr West City is located on the north end of Weber County. It is bordered on the east by Pleasant View and by Harrisville, on the south by Slaterville, and on the west by Plain City, and was first settled by Mormon pioneers. In 1858 Joseph Taylor settled in the area that later became Farr West. In 1868 the area was included as a part of Harrisville when a precinct was organized. On 30 November 1890 western Harrisville was organized into a separate LDS ward and given the name Farr West in honor of Lorin Farr, former president of the Weber LDS stake, and Chauncey W. West, who had served as presiding bishop of Weber County, and who was the son-in-law of Abraham Hoagland. The name echoes "Far West", an important early Mormon settlement in frontier Missouri.
How do you determine the best places to buy a home in utah for 2020?
We were in real estate for almost five years and have been working on this site for another three. Suffice is to say, we've put a lot of thought into what goes into finding a good place to buy a home.
So all that thinking has come to this moment where we get to spell out how we'd approach finding an up-and-coming place to live in Utah. Put differently, the analysis will try to find places in Utah with undervalued homes relative to pent up demand.
To do that we looked at the most recent American Community Survey Census data for 2014-2018 and compared it to the previous vintage (2012-2016). Specifically, we used the following criteria:
Y-o-Y Change In Population (People want to live here)
Y-o-Y Change In Median Home Prices (People are willing to pay for it)
Home Prices Relative To The State Average (It's still kinda cheap)
We want places that are growing, have seen home prices increase in recent years, and are still "cheap" for Utah with the following caveats:
So of the 0 cities and towns in Utah, only 85 places made it through our initial filters to even be considered.
We then ranked each place from 1 to 85 for the criteria mentioned above with 1 being the best for that criteria. We averaged the rankings to create a "best place to buy" index with the place having the lowest index being the best. You can download the data here.
Turns out that Sunset is the best potential gem in the not-so-rough in the Beehive State.
Read on for more on these places.

There You Have It - The Best Places To Purchase A House In utah for 2020
There's our analysis of the best places to buy a house in Utah. And, to be clear, we aren't necessarily saying these places are the best places to live, just that it looks like they might be in a couple of years based on the data.
In fact, every place in the following table meets our criteria, so even though it may not look super long, remember we started off with all 0 places in the state.
So if we'd could rent or buy in these cities, we'd definitely buy.
For more utah reading, check out:
Detailed List Of The Best Places To Buy A Home In Utah