Arkansas is known for its great BBQ, fried catfish, some pretty nice people, and super great, super affordable places to live.
What does the most affordable place to live in Arkansas look like? Well, after crunching data from the US Census in terms of median housing costs, median income, and overall cost of living for cities with over 5,000 residents, HomeSnacks has uncovered the top ten most affordable places in Arkansas for 2019.
Word on the street is that Arkansans don't know what unemployment is. Arkansas is below the national unemployment rate at 3.7%. They have six Fortune 500 companies that help keep the Natural State employed and affordable. For instance, Bentonville is home to Walmart and we can thank Springdale for Tyson Chicken Nuggets. And if you know anything about economics, good jobs increase median incomes which translates to most people being able to live in most of Arkansas' cities. That's a good thing because Arkansas has a lot to offer. They have hip millennial cities like Bentonville and cool college cities like Fayetteville.
More importantly, if you choose to live in one of Arkansas' most affordable places, you will save money for the fun things that this southern gem has to offer. Like, scoring tickets to Fayetteville's Bikes, Brews and BBQ Festival or a day trip to Hot Springs Garvan Woodland Gardens.
Want to know more? Keep reading as we unravel Arkansas' most affordable places to live.
The 10 Most Affordable Places To Live In Arkansas
Are we surprised that some of Arkansas most affordable cities are also Arkansas' top 50 biggest cities? Not at all. We don't blame the good people of Arkansas for wanting to move to where their dollar goes the furthest.
So, where's the most affordable place to live in Arkansas for 2021? That would be De Queen.
To see how your city compared, take a look at the list below. And if you don't see you're favorite there, head to the bottom.
And if you already knew these places were cheap, check out some more reading about Arkansas and the cheapest places in the country:
The 10 Cheapest Places To Live In Arkansas For 2021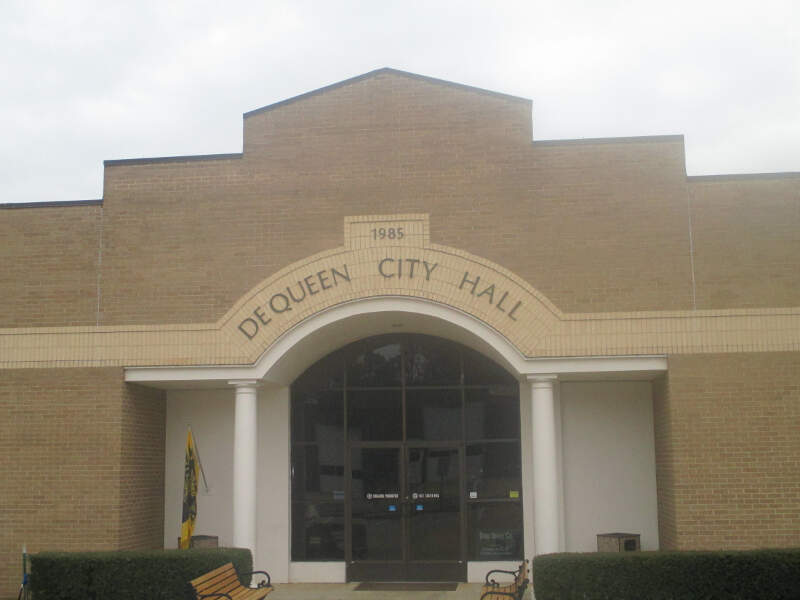 You'll have no trouble believing you're living in one of the states with the lowest rent in America when you rent in De Queen. Not when you can snag a place for just $605/month. De Queen is about equally affordable for those looking to buy a home, with a median price tag of $81,000. You'll also never lack for sweet fishing and hunting oppotunities with Pond Creek right in your backyard.
De Queen is located in southwestern Arkansas, near the Oklahoma border.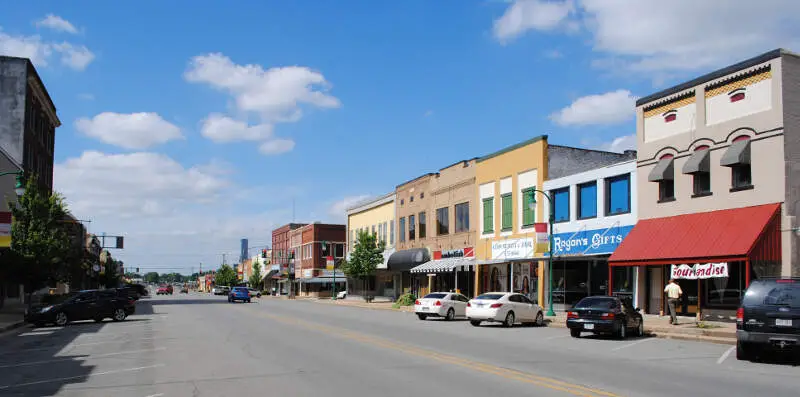 As you probably guessed from its name, Stuttgart, Arkansas, has a connection to Germany. Its founder was a German immigrant who named the town in the late 1800s. The town got a boost soon after from the railroad. These days, it's more than a stopover for the train. It ranks as the number 2 most affordable place to live in Arkansas.
Positioned in the east-central part of the state, Stuttgart is about an hour outside of Little Rock, the state's largest city and its capital. The town, with its population of 8,720 residents, is also home to the World Championship Duck Calling Contest.
It's easy to afford a home in Stuttgart. The median income in town is $46,227 and the median home value sits at $95,100. That gives the area the number 3.0 home price-to-income ratio in Arkansas.
Even if you're not looking to buy, you can find deals. The median rent in the area comes in at $663 per month. The overall cost of living comes in at about 15% below the national average.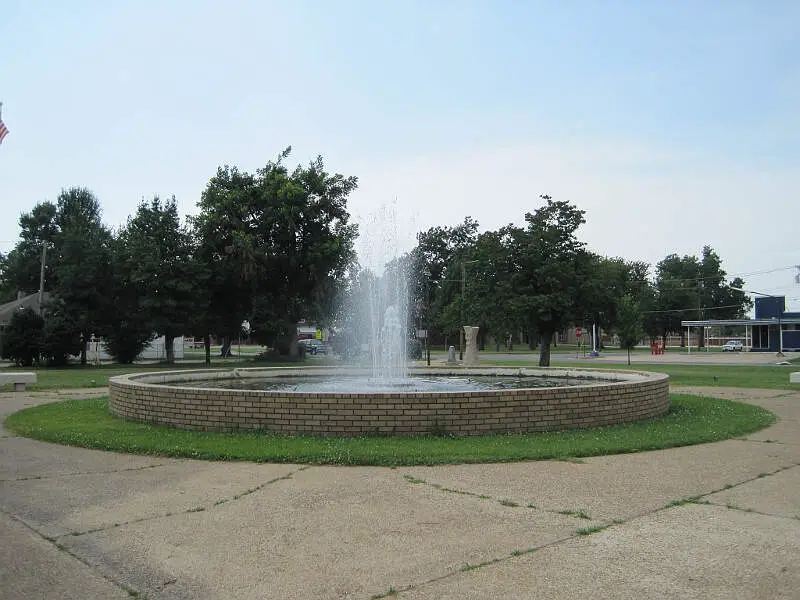 Blytheville stands in the northeast corner of Arkansas, close to the border with Tennessee. It was founded in the late 1800s, with forestry and cotton providing early economic boosts to the area. The town lies in a rural region close to the Mississippi River. As a result, Blytheville provides its 14,011 residents a rustic air and access to plenty of outdoor activities.
And Blythevillians can get these benefits at a low cost. The town represents one of the cheapest places to live in all of Arkansas.
The median income is relatively small, coming in at just $38,765. However, it's easy to stretch a dollar in the area. The median home price comes in at $79,400. At the same time, rents in the area have a median value of $639. The general cost of living is less than 80% of the U.S. average.
Yes, Blytheville is an affordable place to raise a family. But there are challenges as well. Along with the economic troubles, the area suffers a high crime rate, more than 170% above the national standard.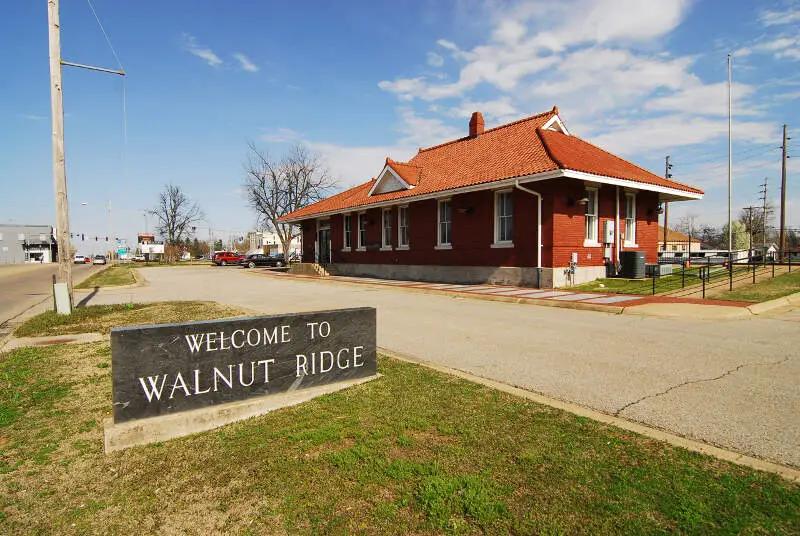 If you're already living in Walnut Ridge, kudos on your financial prowess, because you're living in the fourth most affordable place in Arkansas for 2021. Walnut Ridge is located along "Rock n' Roll" Highway 67, and honors its ties to the music's history with the outdoor guitar walk park and the annual Beatles at the Ridge music festival.
So if you're a Rock n' Roll enthusiast who's also into getting the best deal, Walnut Ridge might be the place for you. The city has the 12th best home price to income ratio in Arkansas.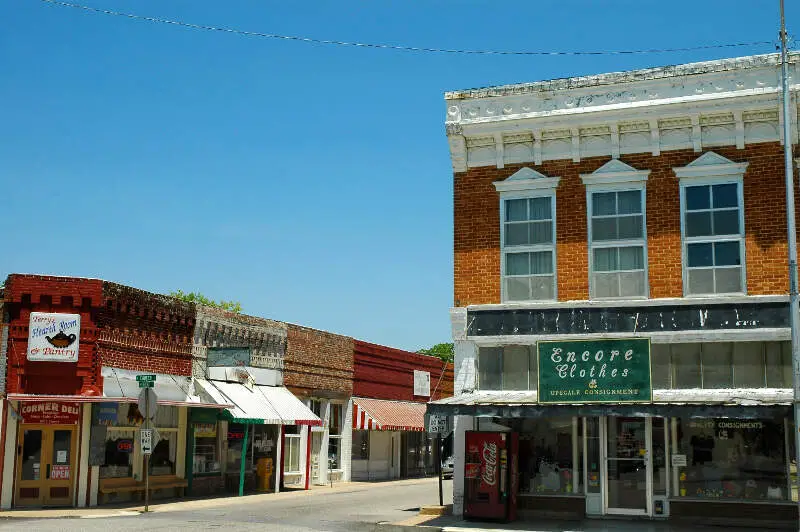 While the top two cities on this list have the affordability-edge for home-buyers, bronze-medalist Berryville stands out as one of the premium places to rent in Arkansas. At a median rent of $583/month, rent in Berryville is roughly half as expensive as the average rent in Arkansas. It's also the lowest price on rent you'll see on this list. Combined with a median income of $48,678, and Berryville has the fifth best rent to income ratio in Arkansas. Berryville is also home to Cosmic Cavern, one of the must-see natural sights of northwestern Arkansas.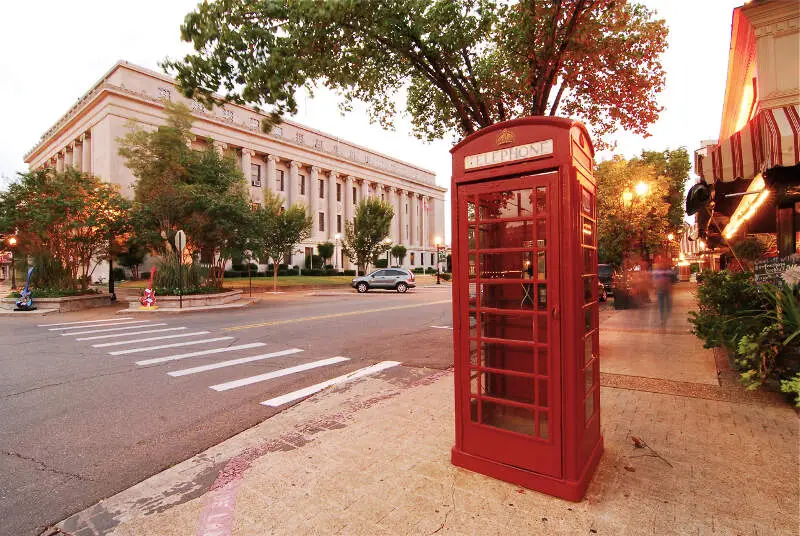 The cultural and business center of south-central Arkansas, El Dorado ranks as the sixth cheapest city to live in the state.
El Dorado might not be a land of untold riches like in the legends, but if you're a lover of the arts, this city is as good as gold. Between MusicFest every year and the Murphy Arts District throughout the year, you'll never have to wait long to catch a show in El Dorado. In any case, you'll have plenty of money left over for tickets if you're living in El Dorado, because residents pay the seventh smallest proportion of their income on homes statewide.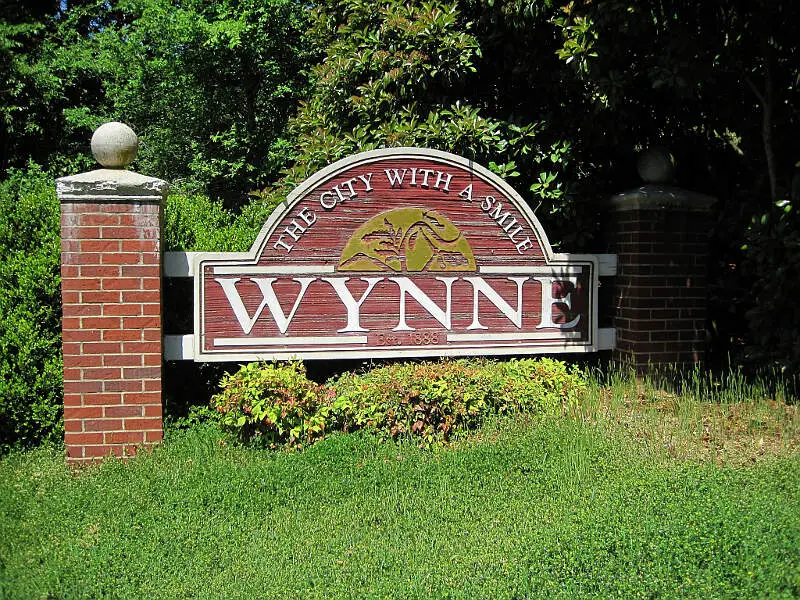 Located in eastern Arkansas, Wynne ranks as the seventh least expensive place to live in the state. Folks in Wynne pay the fifth smallest proportion of their income on homes statewide, thanks to a median home price of $89,900 and a median income of $43,442. And if you're into outdoors activities, there's no shortage of cheap or free things to do at Village Creek State Park. Heck, if your commute takes you along Crowley's Ridge Scenic Parkway, you won't even have to leave the car to take in all the natural beauty on offer in Wynne.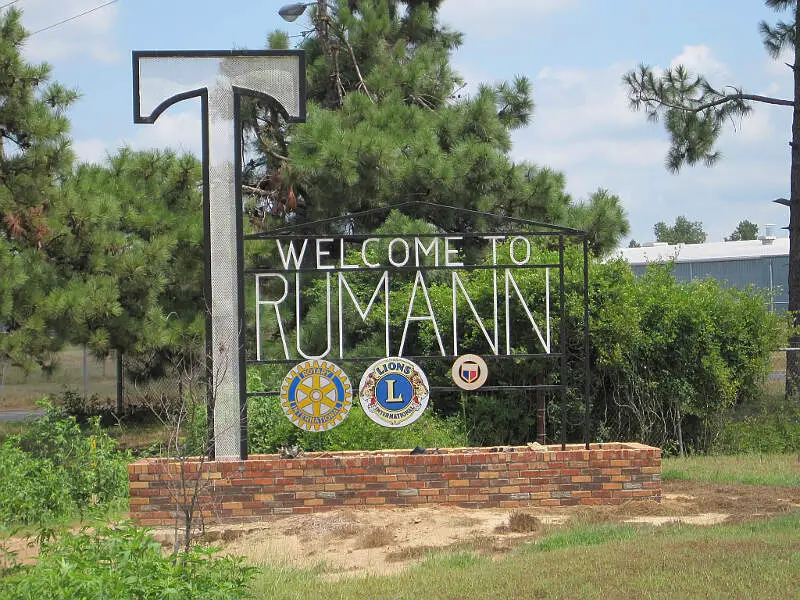 A suburb of Jonesboro, Trumann ranks as the eighth most affordable city to live in Arkansas. Folks in Trumann pay the 15th smallest percentage of their income on homes statewide, so you'll have plenty of cash left over to take advantage of all there is to do in Trumann. At $656/month, Trumann also has quite affordable rent, but remains slightly more attractive for those buying a home.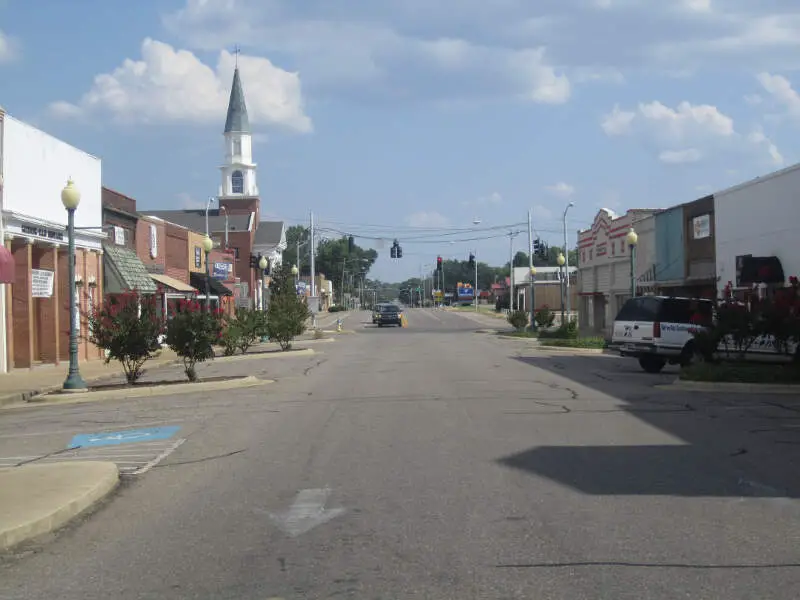 You may have heard of Hope, Arkansas. For such a small town, it has had a big historical impact. It served as the birthplace of President Bill Clinton. These days, it has another distinction: it's the number 9 spot in Arkansas in terms of affordability.
Bill Clinton had a famously hardscrabble childhood growing up in Hope, a town located in a rural area in the southwestern part of the state. Economic times in the community aren't much better today. Residents have to make due with a median income of $37,832 and deal with an unemployment rate of 4.63%.
Still, the people of Hope at least get a lot for their money. The median home value sits at $77,900. That's the sixth lowest figure in all of Arkansas. Rents are similarly low, with the median value coming in at $697 per month. The general cost of living is less than 80% the U.S. standard.
The schools in Hope are solid. Safety is an issue though, with a crime rate almost twice the national average.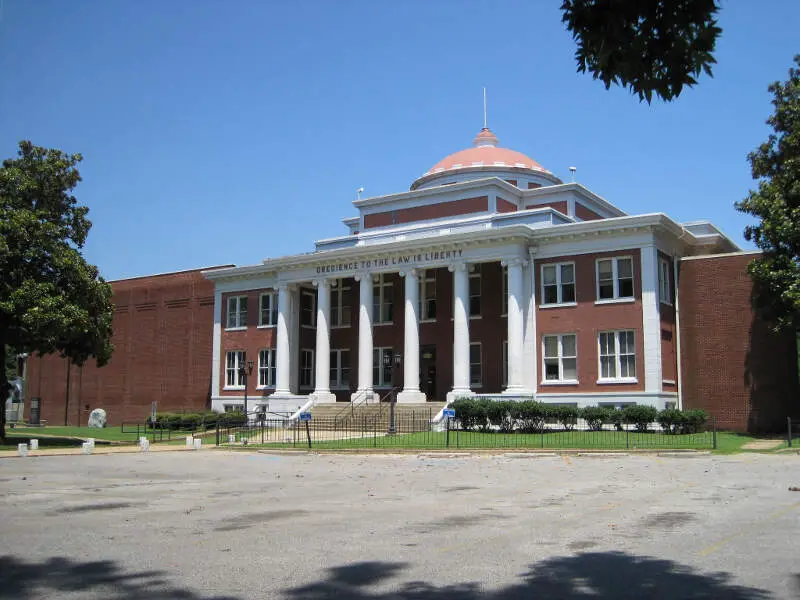 Marion is located in the far eastern part of the state, near the Mississippi River. In fact, Marion serves as a kind of suburb to Memphis, just over the water in Tennessee. Even with this proximity to a big city, this community of 12,404 people keeps some of its small-town charm. In fact, it's the number 10 most affordable place in Arkansas to put down roots.
Thanks to its attraction to commuters, incomes in the area are relatively high. The median income sits at $73,459. The unemployment rate comes in at 6.81%.
It's easy to find affordable housing with that cash. The median home value stands at $153,900 and the median rent is $859. Those numbers are relatively high for Arkansas, but in context they give a lot of value. With the relatively high wages in the area, Marion boasts the number 2.0 best income-to-rent ratio in the state. Overall, the cost of living in town is about 15% below the national standard.
Marion also has a long cultural history. Settlement began even before the area became part of the U.S. Fans of music and food can head over to Memphis to spend a night on the town. Meanwhile, history buffs can check out the Sultana Disaster Museum, commemorating a notorious Civil War steamship disaster that took place nearby.
How We Determined The Most Affordable Places To Live In The Natural State For 2021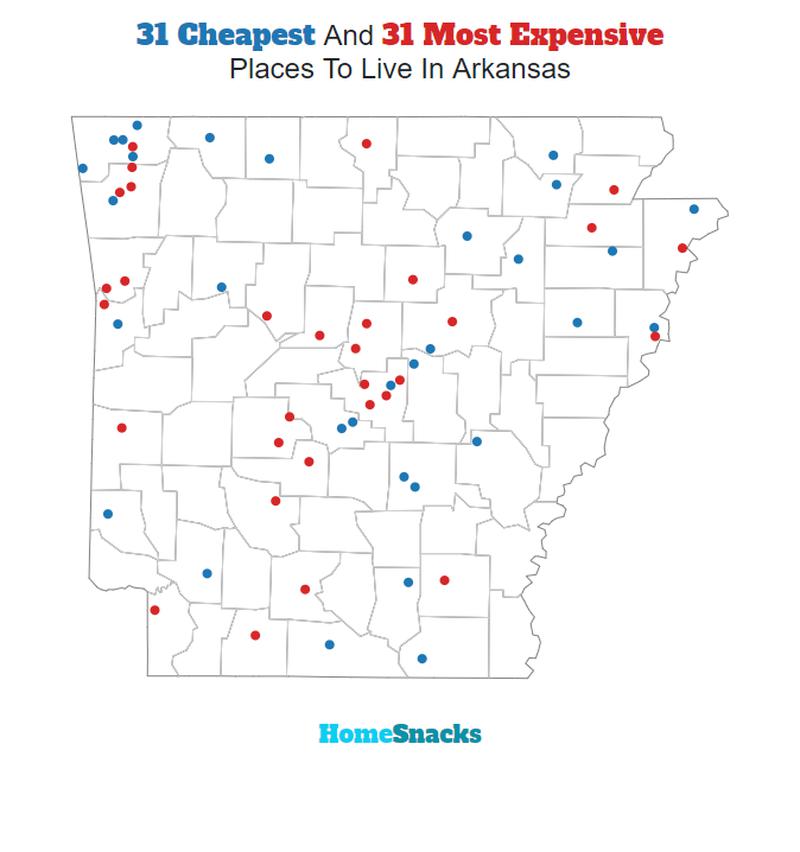 The two most important things to think about when it comes to being able to afford if you can live comes down to:
How much do money do I make?
How much do I have spend to live there?
You need to understand your costs in the context of how much money you make.
For example, if the median household earns $100,000 and spends $40,000 on housing it's actually cheaper to live there than a place with a median income of $50,000 and housing costs of $21,000. You might spend more on housing, but you have more money overall to play with.
With that example in mind, we derived several statistics from the latest Census American Community Survey 2015-2019 around incomes and costs. They are:
Median Home Price / Median Income (lower is better)
Median Income / Median Rent (Higher is better)
Median Home Price
We added simply median home price because high home prices generally correlate with higher expenses for all costs related to homes (heating, electricity, etc).
You can then compare these metrics in each of the places in Arkansas to figure out which is the least expensive.
What you are left with is a "Cost of Living Index" by taking the average rank of each of these metrics for each city.
So we used that cost of living index in order to rank all of the 63 places in Arkansas that have more than 5,000 people.
The place with the lowest cost of living in Arkansas according to the data is De Queen. You can download the data here.

There You Have It Mr. Or Mrs. Arkansas Cheapskate
If you're looking at the cost of living numbers in Arkansas, this is an accurate list of the most affordable places to live in Arkansas for 2021.
Here's a look at the most expensive cities in Arkansas according to the data:
Fayetteville
Conway
Little Rock
For more Arkansas reading, check out:
The Most Affordable Places To Live In Arkansas
Editor's Note: We updated this article for 2021. This is our seventh time ranking the cheapest places to live in Arkansas.