The 10 Safest Cities In Arkansas For 2021
We used data and science to determine the places in Arkansas where everyone sleeps safe and sound.

Editor's Note: This article has been update for 2021. This is our sixth time rankings the
safest places to live in Arkansas
. All the data comes from the
FBI's Crime In The USA 2019 report.
Article Table Of Contents   
(Skip to section)
Arkansas is famous for many reasons: Walmart's headquarters in Bentonville, the fried catfish in Dardanelle, and some super fun, super safe places to live.
And, here, at HomeSnacks, we wanted to know just how safe is Arkansas? More importantly, where, exactly, are the safest cities in The Natural State? So, we consulted the numbers. In total, we analyzed 62 cities with over 5,000 residents. We looked at important factors like property crimes and violent crimes per capita for every place from Rogers to Crossett.
Moreover, if you choose one of Arkansas' safest places to live, you'll get to experience the South's tastiest BBQ and fried okra, the best toe-tapping bluegrass, and some of the country's most diverse geography. Heck, there's a reason Arkansas' notables like President Clinton and Billy Bob Thornton, and Alice Walton have been singing the praises of places like Hope, Hot Springs, and Newport for years: these are not only some of the best places in the state, they are some of Arkansas' safest.
We suggest that you crank some Johnny Cash, grab a basket of fresh fried catfish bites, and read on as we divulge the safest places in Arkansas for 2021.
Here are the 10 safest cities to live in Arkansas for 2021:
So, what city is the safest place to live in Arkansas for 2021? Well, according to the most recent FBI data we crunched, Cave Springs is the safest place to live in The Land of Opportunity. It's not surprising considering Cave Springs scored a 9/10 snackability safety score with an emphasis on jobs and education.
Check out the rest of our not so naughty, very safe Arkansas cities to see how your city ranked. And if you don't find your favorite there, head to the bottom.
For more reading on safe places to live in and around Arkansas, check out:
The 10 Safest Cities In Arkansas For 2021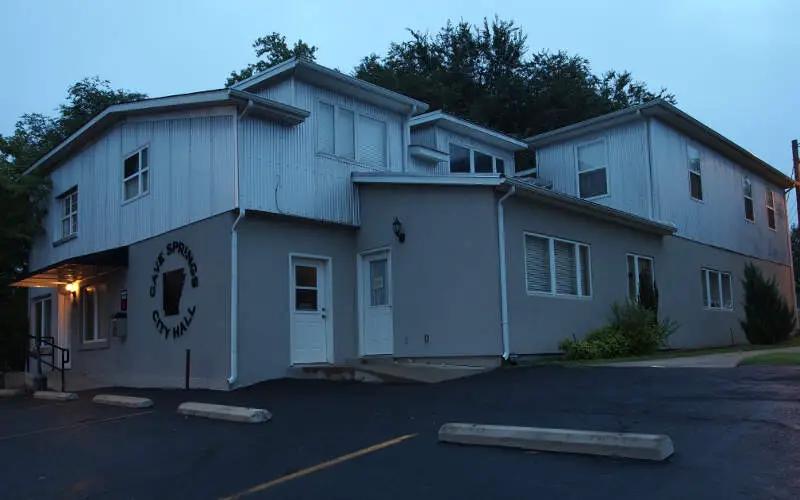 You can find Cave Springs in the northwestern-most corner of Arkansas, near the borders of Oklahoma, Missouri, and Kansas. The community, a suburb of Fayetteville, is also a short drive from the Ozark National Forest. All this gives Cave Springs the character of a crossroads: an easy drive into a larger city, a stopping-off point for travelers, and launching pad for fishing and camping activities.
Luckily, all the people passing through Cave Springs can go about their business with little worry. The community of 5,580 people is the number 1 safest spot in Arkansas. Only a handful of criminal acts were reported in the area. It had 20 property crimes being during a year and only a scant 3 violent crimes.
All told, the area ended up with a per-capita crime rate of 412/100k people. That's the safest best of any population center in Arkansas.
Don't let the greenbrier vines at the city's entrance deter you: Greenbrier, Arkansas is safe. It's so safe that it made the number 2 spot on our safest places to live in Arkansas for 2021 list.
Located just North of Little Rock, the only crimes that might happen in this bedroom community are ketchup on your grits or wearing a cheap knockoff brand of Carhartt overalls.
There's a true sense of community in this quaint town in central Arkansas. The residents, here, look out for each other. Greenbrier's gold star qualities like the non-existent number of crimes, their large number of educated residents, and just their overall safety standards, are the reason it has placed in the top ten for several years. Yes, Greenbrier, you truly offer a better life.
With a 5,660 residents, the superb quality of life in this little village in Faulkner County is the reason that it is our number 2 safest city in Arkansas for 2021.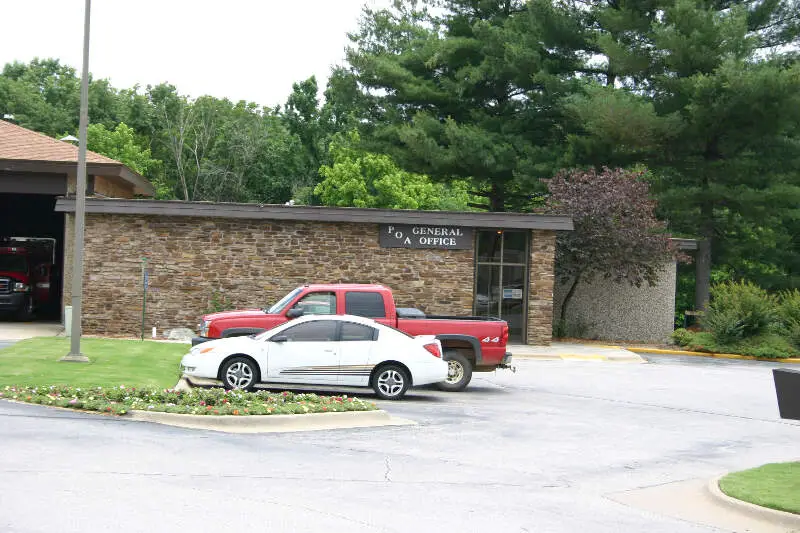 Source: Public domain
Welcome to our third safest city in the Wonder State: Bella Vista. Once a retirement community, this city in Benton County owes its safety ranking to its Property Owners Association. They make their residents keep everything clean and safe. Why does Bella Vista have a POA? Well, when you have to keep numerous parks, clubhouses, swimming pools, six golf courses, seven lakes, tennis courts..you get the point, safe, it takes some money.
Bella Vista is every outdoor enthusiasts dream with extensive hiking and biking trails, lush forests, and valleys and creeks. To be safe, just make sure you wear an orange vest when your out and about because we wouldn't want a hunter to mistake you for a deer.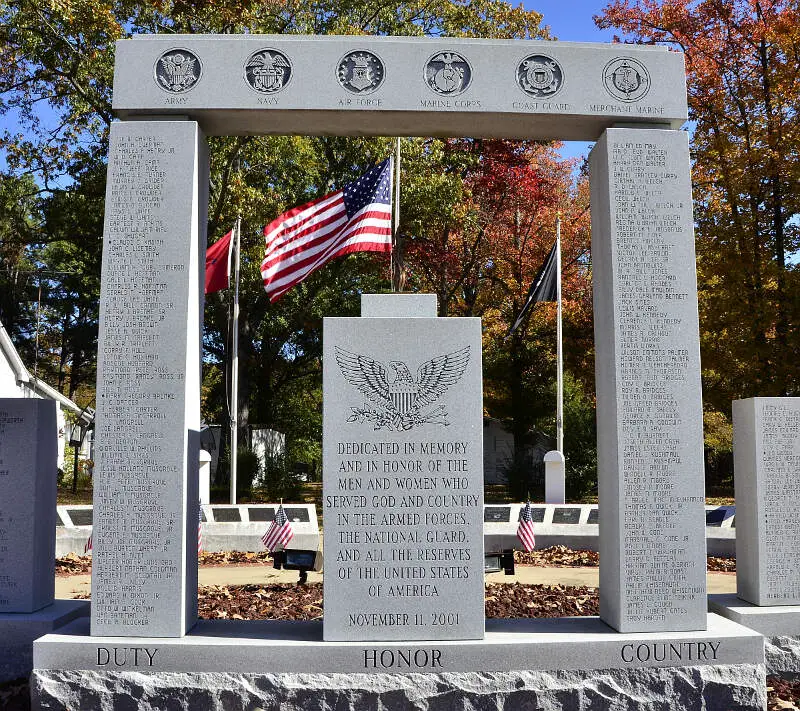 Where Arkansas State Road 530 meets Arkansas State Road 270 is White Hall. This city in Jefferson County boast one of the highest median household incomes and is our fourth safest city in Arkansas.
Home to the Pine Bluff Arsenal, yes we said arsenal, this town is also known for its safe, family friendly atmosphere. There is a ton of stuff to do in this little town with only 5,014 residents in the middle of Arkansas. They have plenty of places to shop and dine, and their immaculate parks provide the backdrop for safe, friendly games of basketball, volleyball, and tennis for all ages.
White Hall is the kind of place where one can safely cruise the roads on tractors, ATVs, and horses. It's also the kind of place where packages from Amazon won't get stolen from your front porch. If they do, however, it was probably an unruly wild boar; and take it from us, you should pick your battles.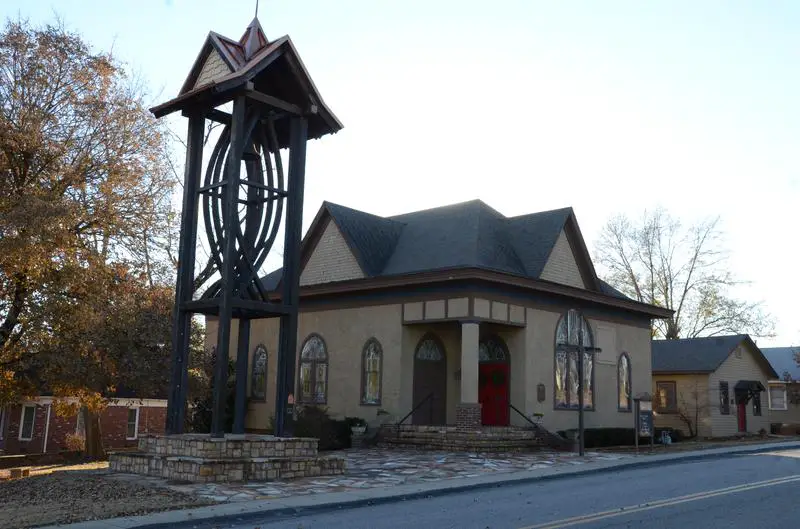 Greenwood is the ideal destination when you're trying find that true Arkansas heritage and small city vibes. We're not sure if it's where the bobcats roam, but we do know that it's safe enough to let your children roam. And this is definitely one of the reasons it's hanging strong as our fifth safest city in The Land of Opportunity.
Greenwood is known for its strong housing market, unbreakable economy, and overall affordability. One thing we do know for sure, however, is that there is a true sense of safety and community in this little village in Sebastian County.
Greenwood's motto is 'Feels Like Home," and we would have to agree. This city in central Arkansas offers a safe environment with small town charm that packs a big punch. Not literally, of course. No fighting happens here; that wouldn't be safe. Not to mention, there are a lot of hunters, here.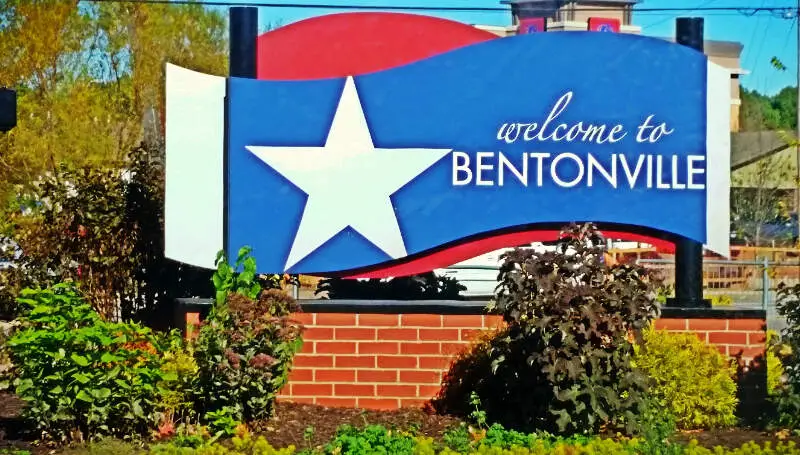 It might not be Little Rock, but this little town with a vibrant downtown scene, unforgettable summer festivals, and year-round fun is just as notable and just as safe. Probably because it's home to the Fortune 500 companies, Walmart, Tyson Foods, and JB Hunt. And definitely why it is our sixth safest city in Arkansas.
It's not a surprise considering this northwest Arkansas' city scored a 9/10 snackability rating with an emphasis on education and affordability. It's a great place to raise a family. And word on the street is that young professionals are starting to take notice and move Bentonville's direction. So don't wait, because the word is out.
This safe city nestled inside Benton County, that draws its cultural influences from the Midwest, West, and the South boasts top notch restaurants, one of kind stores, 22 parks, and over 50 miles of trails. Safe and healthy: good work Bentonville! We know why you are Arkansas' ninth largest city.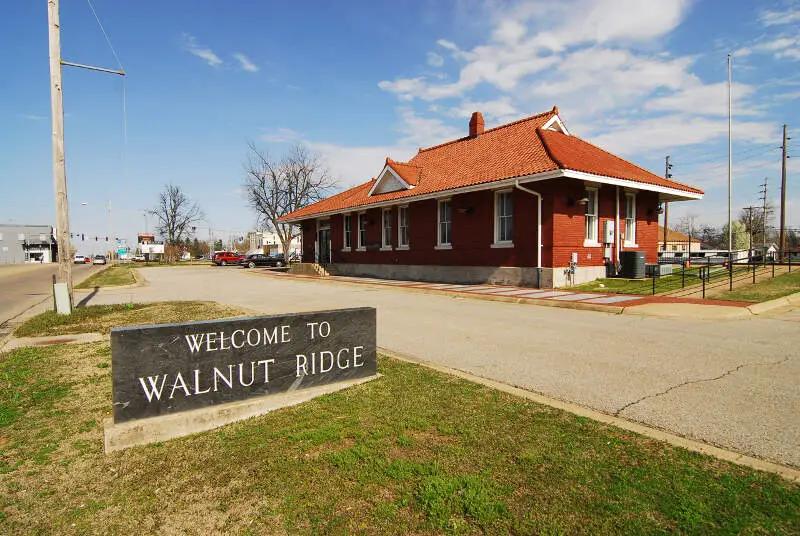 The smallest city to make this list, Walnut Ridge has a whole lot going for it in terms of safety. For starters, the community didn't have a single robbery in the last year of data, so it's a pretty good place to misplace your valuables.
So go nuts at Beatles Fest, an annual concert that commemorates the time the British band stopped in Walnut Ridge for a couple of days. In a place as safe as Walnut Ridge, you really can "imagine all the people living life in peace."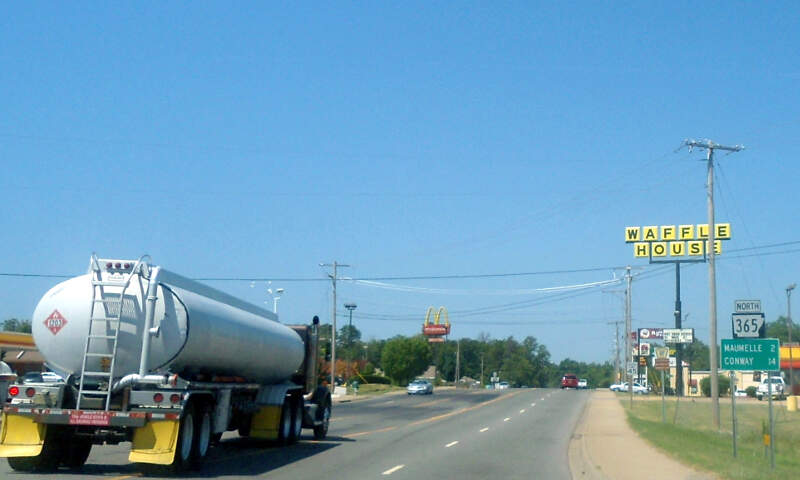 This true-to-definition Arkansas city is our eighth safest city. Maumelle's a place where work and play meet in this affluent city in Pulaski County. Maumelle's small town charm delivers big opportunities to all that are searching for a safe, not scary, place to call home. Heck, they scored a whopping 9/10 on our snackability scale with education and job opportunities leading the charge.
Maumelle's slogan should be: "Where It's Happening". They have Lake Willastein and Lake Valencia, several bicycles trails and wooden bridges, and they boast the longest pedestrian bridge in North America. We think that definitely shouts love for their residents.
So, if safe, family friendly, economically sound communities, that are happening, is your cup of tea, you better hurry because Maumelle's homes are selling like hotcakes.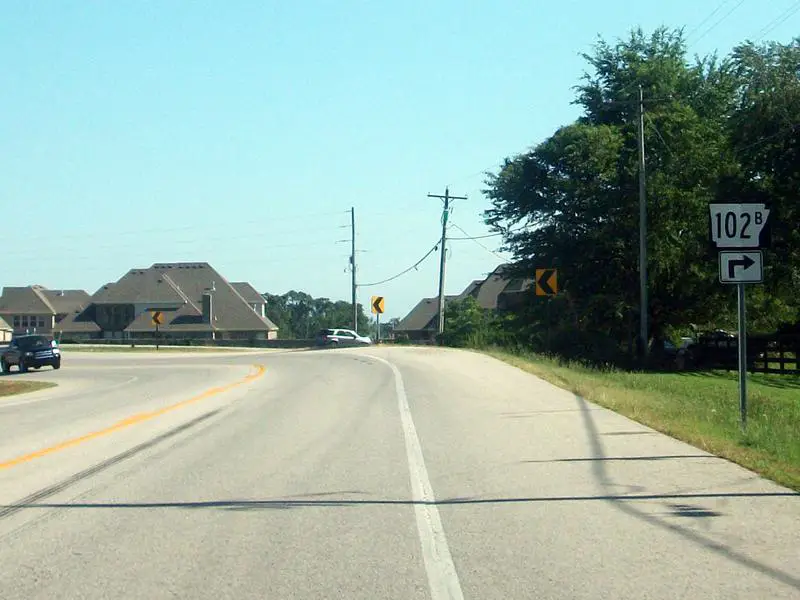 Once a railroad stop and a fruit orchard community, Centerton is now at the center of it all. Not just because it made our list, of course, but because it's so safe.
Centerton has been holding strong on our top 10 list for the last couple of years. So, it's no surprise that it's our ninth safest city in Arkansas.
Located in The Natural State's extreme northwest corner, Centerton is truly "Arkansas at Its Best." With the help of their famous McKissick Springs and their steady growth in the city's economy, education and hospitality, Centerton was able to score 8/10 in safety and an 8.5/10 in affordability. Affordable and welcoming! Good work Centerton.
So flip on your moving truck hazards, put on your fluorescent orange safety vest, grab the kids, and move your life to Centerton, Arkansas. Take if from us, that would be the safe thing to do.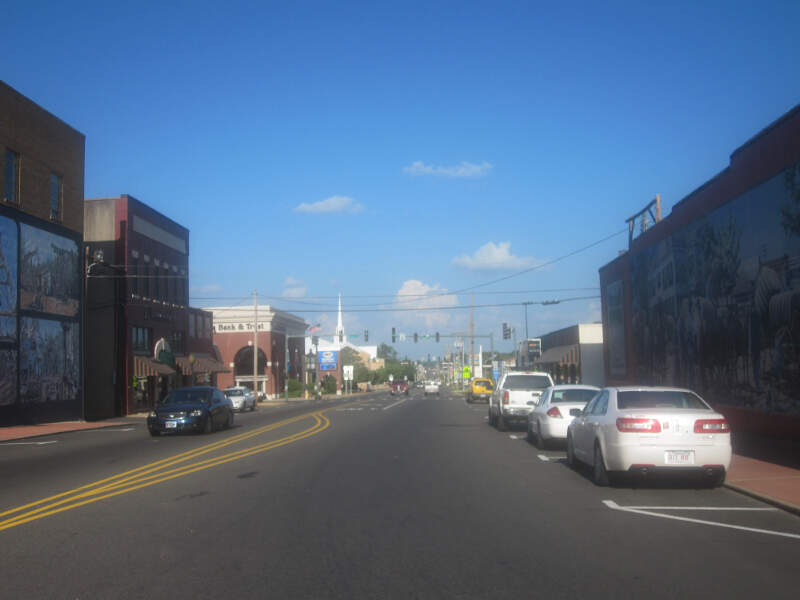 Founded in the 1800s as an agricultural community, Magnolia received a boost during the middle of the 20th century thanks to the discovery of oil nearby. A regionally important city located in the southern part of the state, Magnolia is also a well-known tourist spot.
You might find yourself in the area for the Magnolia Blossom Festival in May. And if magnolia blossoms aren't your thing, you might still want to check out the event, if only for the World Championship Steak Cookoff that takes place there every year.
If you do show up for some of world's best-cooked steaks, don't be afraid to walk around at night. Along with its other attractions, Magnolia happens to be the number 10 safest place in Arkansas. With a population of 11,440, it reported just 295 property crimes and 14 violent crimes during the year.
How we calculated the safest cities in Arkansas for 2021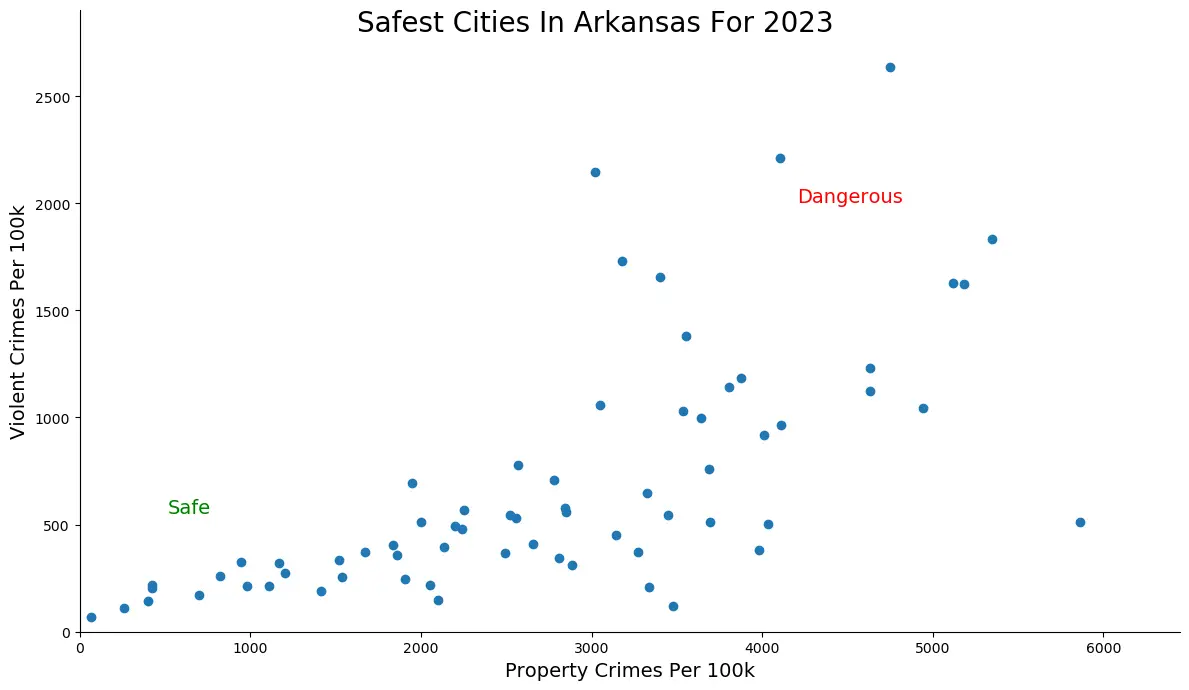 While there are surveys and public polls on what cities in a state are the safest, we didn't want to rely on speculation and opinion. Instead, we looked at the hard numbers from the FBI's most recent report of crime (Published Sept 2020) in Arkansas.
Specifically, we analyzed the
FBI's Uniform Crime Report
which summarizes the number of property crimes and violent crimes in each city per year. We used two criteria:
Violent crimes per capita (murders, assaults, rapes, armed robberies)
Property crimes per capita (thefts, burglaries, motor vehicle thefts)
For example, there were a total of 23 crimes committed in Cave Springs which had a reported population of 5,580. That means the number of crimes per capita is 0.0041 which translates into a 1 in 242 chance of being the victim of a crime.
We only looked at cities that have populations of more than 5,000 people reported to the FBI in 2019, the last reporting year. This left us with a total of 62 of the biggest cities in Arkansas to rank.
We ranked each city for each criteria from 1 to 62 where 1 in any particular category is the safest.
Next, we averaged each places two criteria to create a Safety Index. We crowned the place with the lowest overall Safety Score "The Safest Place In Arkansas" with any ties going to the bigger city. You can download the data here.
The safest city in Arkansas, based on our criteria, is Cave Springs. The most dangerous city in Arkansas? Little Rock, where residents had a 1 in 13 chance of being the victim of a crime.
Note: This report is not an analysis of the effectiveness of local police departments, nor does it reflect the fact that people from out of town may come into a community and cause a crime. It simply looks at where crimes occurred most frequently, based on a city's population.
There You Have It - The Safest Cities In The Natural State
Looking at the data, you can tell that Cave Springs is as safe as they come, according to science and data.
But as most Arkansas residents would agree, almost every place here has its safe and not safe parts. So just make sure you're informed ahead of time.
Here's a look at the most dangerous cities in Arkansas according to the data:
Little Rock
Helena-West Helena
West Memphis
For more reading, check out:
Breaking Down Crime In The Safest And Most Dangerous Cities In Arkansas

Share on Facebook
Chris Kolmar has been in the real estate business for almost ten years now. He originally worked for Movoto Real Estate as the director of marketing before founding HomeSnacks.
He believes the key to finding the right place to live comes down to looking at the data, reading about things to do, and, most importantly, checking it out yourself before you move.
If you've been looking for a place to live in the past several years, you've probably stumbled upon his writing already.
You can find out more about him on LinkedIn.