You don't get named the Tennessee 'Tight'-ans if you're not located in a state that's affordable. And folks, there are plenty of affordable cities in The Volunteer State.
Yes, learning the value of the dollar is important, but you don't want to stress about it daily when looking for an affordable Tennessee neighborhood, a job that will make your momma proud, the best bathtub Tennessee moonshine, and that good 'ol fashioned hometown Tennessee appeal.
Most people think that Tennessee cities are only filled with a bunch of fancy Nashville country singers, people who walk, not run, in Memphis, and a bunch of Chattanooga Moon Pie fanatics. And if you ask any Tennessean, they will say that their corner of the country capital of the world is the best. Heck, there's a reason people like Elvis and Dolly set up shop here.
While we think it has a little something' to do with the great Tennessee people and good country Tennessee livin', the economically savvy in Tennessee know that to be truly be the best, the state must have the nicest, most affordable places to call home.
Tennessee cities have a lot to offer to all income levels; and surprisingly, there are cities in this great state that won't break your bank. So, grab yourself a slice of pecan pie and some Tennessee Whiskey, and read on.
Tennessee's strong economy, gold star housing prices, and average cost of living make its cities very desirable. So one can imagine how difficult it was for us to narrow down the cities in Tennessee that won't break your bank; but also, don't scream Dollar Store cheap.
Drum roll… .what is the most affordable city in Tennessee for 2021? Break out the whiskey and moonshine and give a warm, hearty 'Bless Your Heart' cheers to Milan, the cheapest place in Tennessee!
And if you care about home values, cost of living, and gold star quality of life, take a look at the list below to see where your Tennessee salary will let you live like a true country star.
And if you already knew these places were cheap, check out some more reading about Tennessee and the cheapest places in the country:
The 10 Cheapest Places To Live In Tennessee For 2021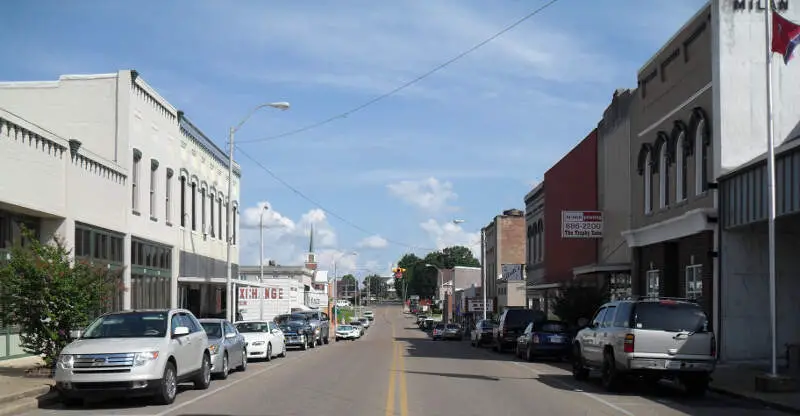 Our tour of Tennessee's most affordable places takes us to Milan, a city of 7,672 located 25 miles north of Jackson. Milan is known for its innovations in farming, which are on full display at the West Tennessee Agricultural Museum.
These days, though, Milan has a much more diverse economy. Milan's downtown is a mix of locally-owned boutiques and shops and national chains, and has received awards for its development and upkeep. There's also the relatively new tradition of the Fall Festival, complete with food trucks, live entertainment, games, and shopping.
The overall cost of living in Milan is about 16% lower than the national average, but in terms of housing, it's much cheaper. Homes in Milan have a median price of $106,000, up 5% from last year. Milan's median household income is also up 5% from last year to $43,509.
If you want to give Milan a try before committing to a mortgage, the barrier to entry is incredibly low; the median rent here is just $678.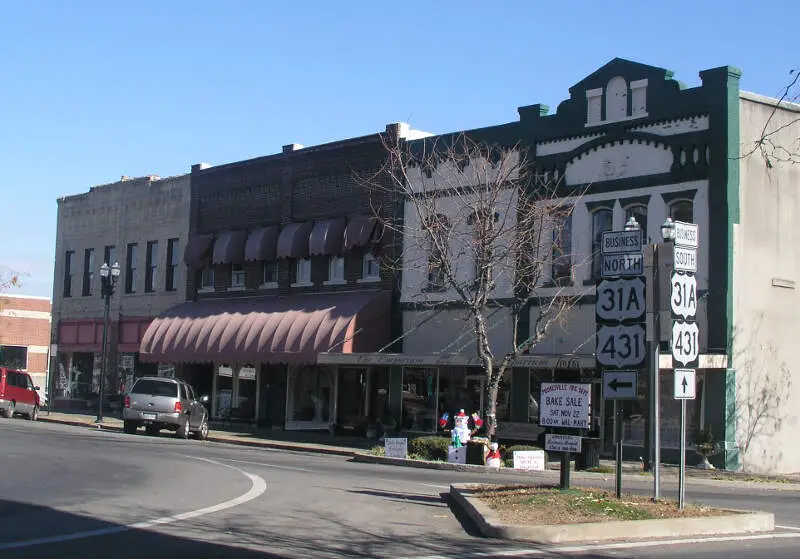 If you head 50 miles South of Nashville and stop 52 miles North of Huntsville, Alabama–right smack dab in the middle Tennessee–you will land in our second most affordable place, Lewisburg.
Lewisburg's big claim to fame, outside of being our third cheapest place to buy a home, is that they are truly "The Center of Southern Middle of Tennessee."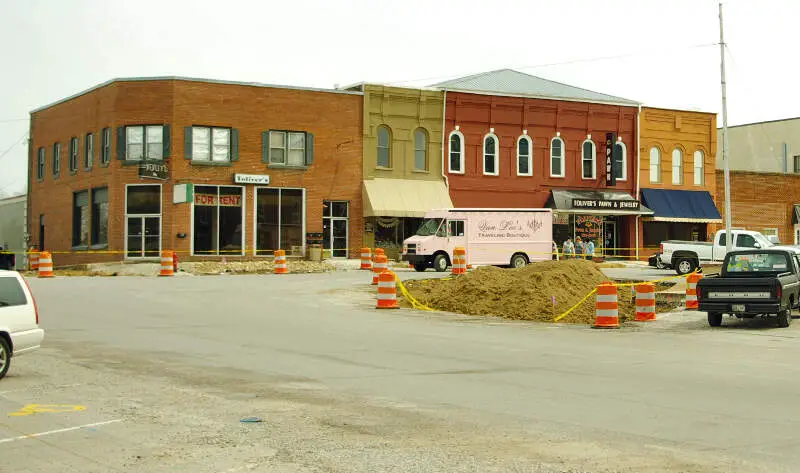 If you've ever been to the Bonnaroo Music Festival, you know that there are many reasons to pack up a moving truck and move to Manchester in Coffee County.
However, we think that the main reason that you should move to Tennessee's third least expensive city is that the median income here is $50,009 making it the 17th most affordable place to buy a home.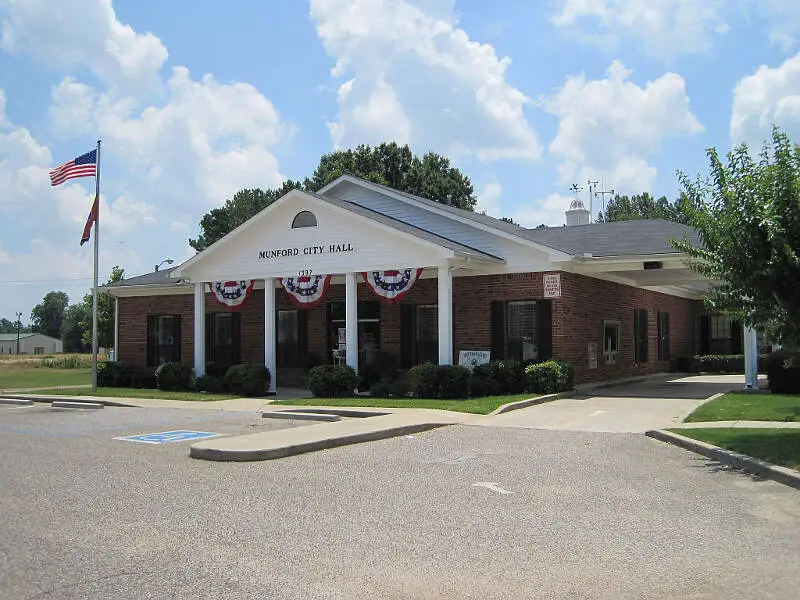 If you know you want to move to Tennessee, but you don't quite have the funds to buy a home, you should definitely give Munford a look. This city in Tipton County is the fifth cheapest in terms of income to rent ratio.
We have a feeling, however, that after you experience Munford's low cost of living you will change your rental situation to a permanent one, and Munford will need to add one more to their current population of 6,034 happy residents.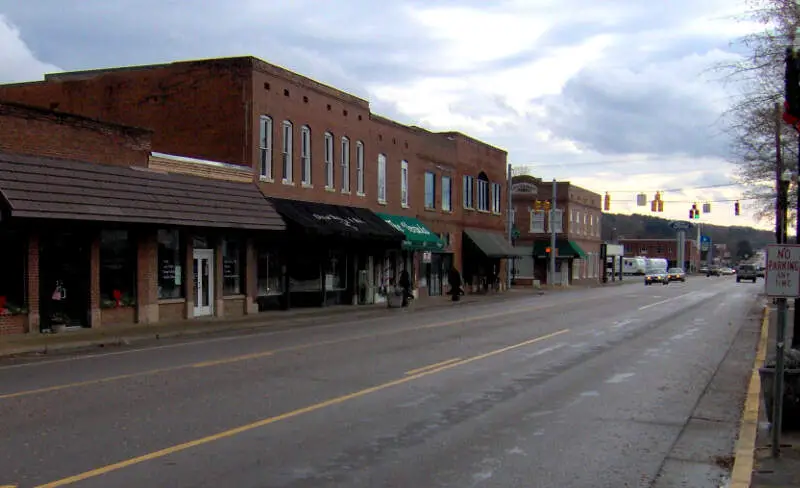 If you want to buy your forever home in Tennessee's fifth cheapest place to live, Dunlap, you're going to have to make at least $41,458/year. But don't worry, this city in Sequatchie County scored an 8/10 on our SnackAbility index for jobs and the current unemployment rate in this Tennessee gem is well below the national average.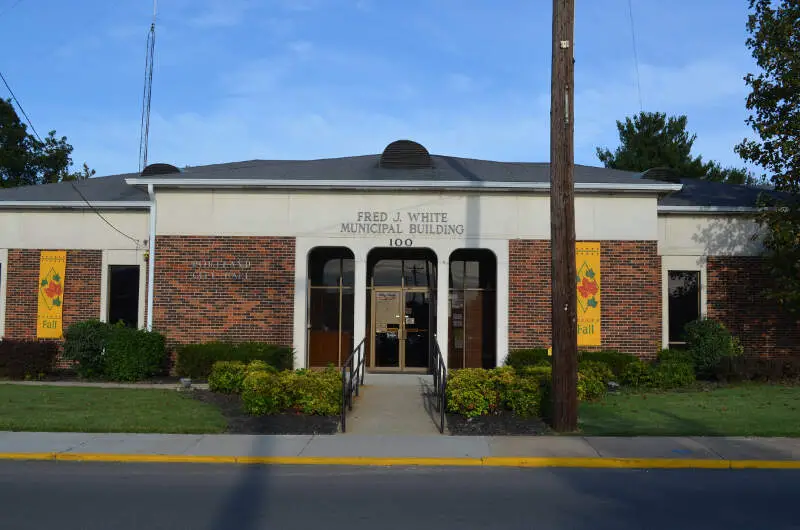 And bringing up the rear is Tennessee's sixth cheapest place to live, Portland. You've probably heard of Portland already because this Tennessee city is always in the headlines. They are one of Tennessee's best cities for singles, one of the state's best cities for families, and now they're on the map for being one of the most affordable.
And, folks, we just think they're bees knees because they are the 16th best place in Tennessee for home price to income ratio.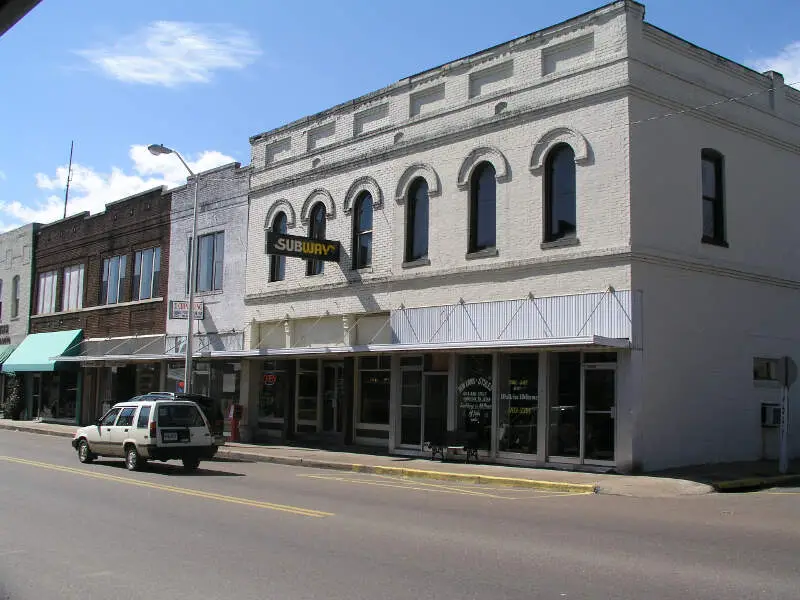 Henderson is a city of 6,289 located a half-hour southeast of Jackson. Freed-Hartman University is an anchor of the Henderson community, with about 2,000 students in total.
The median rent in Henderson is $630, while a home will only set you back around $109,300. Not too shabby for a median household income of $38,654.
Nature-lovers don't have to spend a dime to have a good time in Henderson because the gorgeous Chickasaw State Park is right in your backyard. Besides hiking and camping, you can also rent rowboats and pedal boats for the charming Lake Placid.
Henderson is also incredibly safe, with an overall crime rate 30% below the statewide average. Additionally, the cost of living in Henderson is cheap, with housing costs 21% lower than your typical Tennessee city.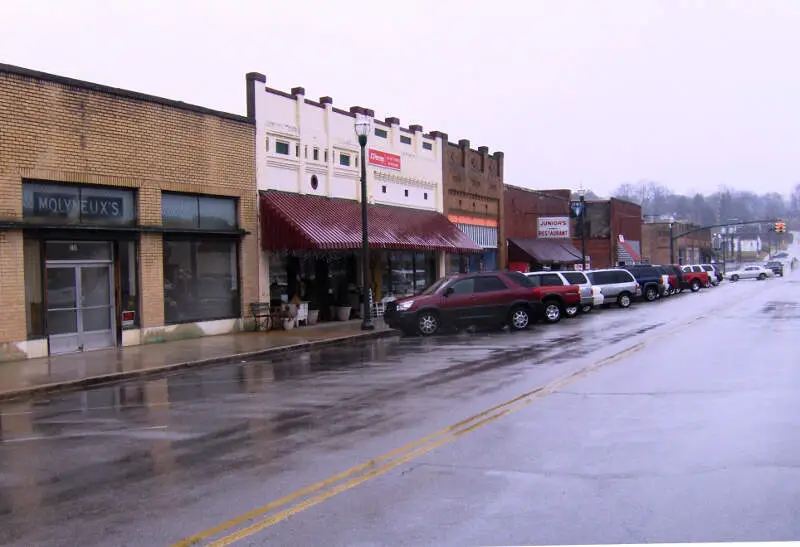 Rockwood is not only our eighth most affordable city in The Volunteer State, the locals call it "The Place to be in Tennessee." And that, folks, is because of the great people that live here and the fact that they are the 13th most affordable place to buy a home.
Located just off the 40 along the Clinch River, Rockwood is a must see for anyone looking to relocate to Tennessee.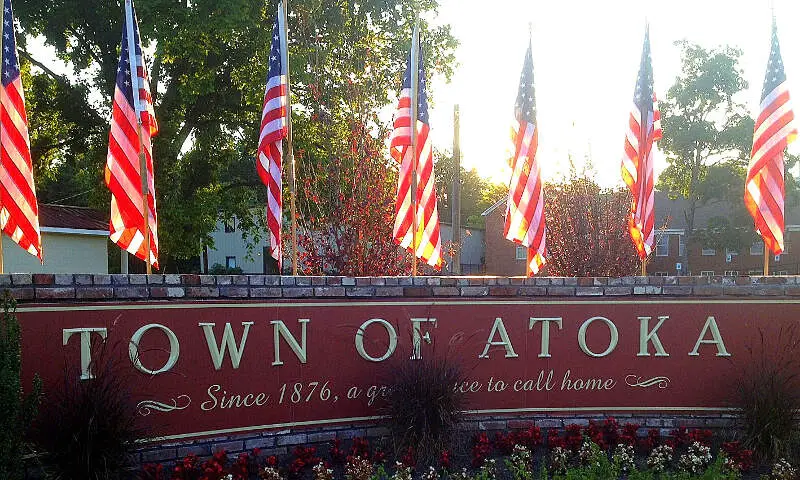 Is there anything Atoka can't do? We already named this charming little town one of the best Memphis suburbs, as well as one of the safest places in Tennessee.
The fact that Atoka is also mega-affordable is just icing on the cake as far as we're concerned. While housing costs are slightly higher than other places listed here, Atoka makes up for it with a high median income of $91,687 and super-low rates of unemployment and poverty. Not to mention that Atoka has some of the best schools around, with GreatSchools awarding the town an 8/10 score.
Besides that, Atoka has five great parks, several seasonal events, and a young, rapidly growing population.
The cost of living in Atoka is 9% lower than the national average, with things like groceries, healthcare, and services standing out as extra-cheap. Homes in Atoka sell for a median price of $195,200, while rent goes for around $1,186.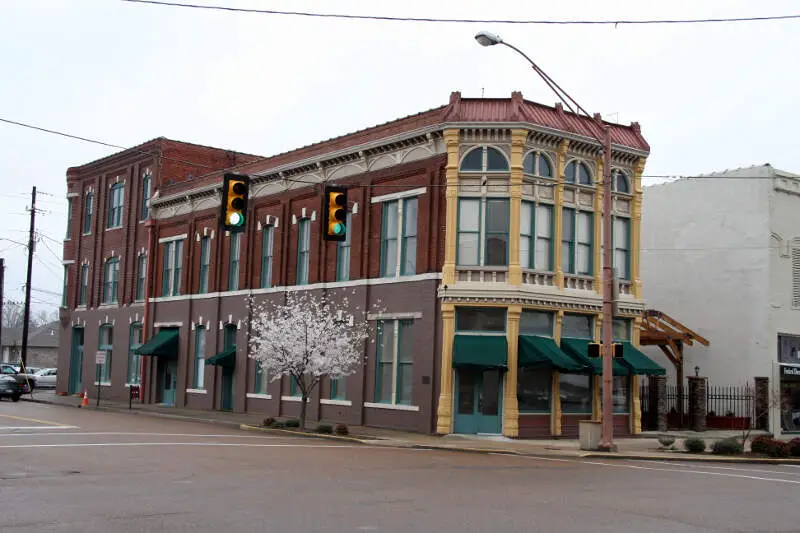 Source: Public domain
Located in the western part of the state, Dyersburg ranks as the tenth cheapest place to live in Tennessee. The overall cost of living in Dyersburg is 17% lower than the national average, but housing here is 42% cheaper than your typical American city.
You can find a place to rent in Dyersburg for $664 or less, and homes go for a median price of $105,800.
If you do decide to move here, definitely don't miss out on the Main Street Farmers Market, which goes on every Tuesday and Saturday and sometimes includes live bands and contests. It's alongside the Forked Deer River, so you can even show up by boat!
Dyersburg is also older than most surrounding cities, something you can certainly feel as you walk through the city's Historic Courthouse Square.
How We Determined The Most Affordable Places To Live In The Volunteer State For 2021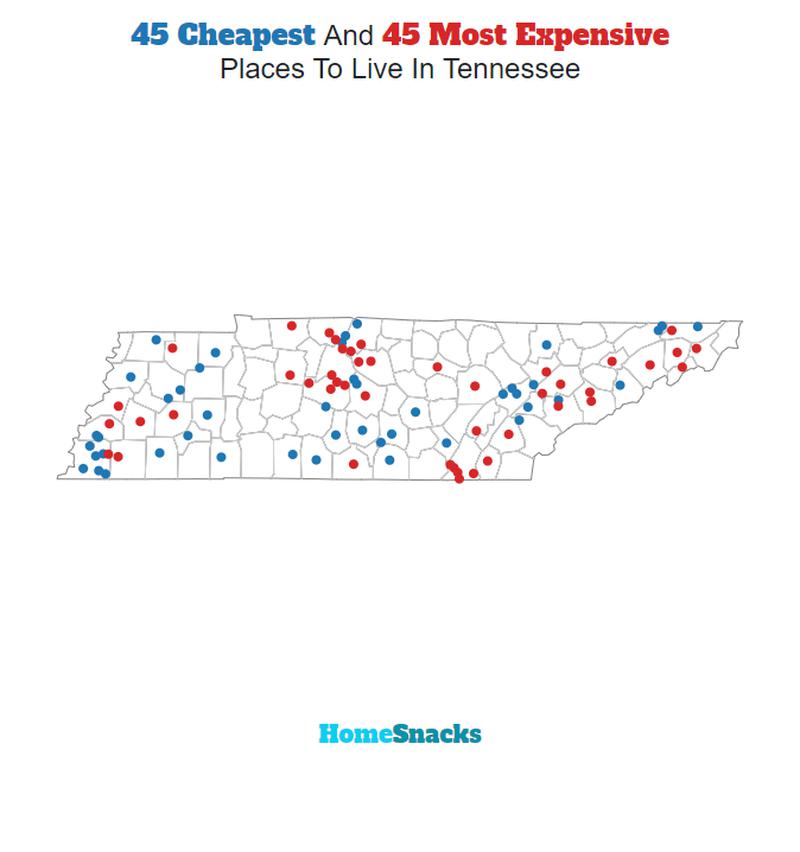 The two most important things to think about when it comes to being able to afford if you can live comes down to:
How much do money do I make?
How much do I have spend to live there?
You need to understand your costs in the context of how much money you make.
For example, if the median household earns $100,000 and spends $40,000 on housing it's actually cheaper to live there than a place with a median income of $50,000 and housing costs of $21,000. You might spend more on housing, but you have more money overall to play with.
With that example in mind, we derived several statistics from the latest Census American Community Survey 2015-2019 around incomes and costs. They are:
Median Home Price / Median Income (lower is better)
Median Income / Median Rent (Higher is better)
Median Home Price
We added simply median home price because high home prices generally correlate with higher expenses for all costs related to homes (heating, electricity, etc).
You can then compare these metrics in each of the places in Tennessee to figure out which is the least expensive.
What you are left with is a "Cost of Living Index" by taking the average rank of each of these metrics for each city.
So we used that cost of living index in order to rank all of the 98 places in Tennessee that have more than 5,000 people.
The place with the lowest cost of living in Tennessee according to the data is Milan. You can download the data here.

There You Have It Mr. Or Mrs. Tennessee Cheapskate
If you're looking at the cost of living numbers in Tennessee, this is an accurate list of the most affordable places to live in Tennessee for 2021.
Here's a look at the most expensive cities in Tennessee according to the data:
Athens
Nashville
Thompson's Station
For more Tennessee reading, check out:
The Most Affordable Places To Live In Tennessee
Editor's Note: We updated this article for 2021. This is our seventh time ranking the cheapest places to live in Tennessee.