Editor's Note: We updated this article for 2020. This is our sixth time ranking the best cities for families in Maryland.
Swipe left for slideshow. Article continues below.
Article Table Of Contents
(Skip to section)
Want to know where your family can have the best of the best that Maryland has to offer? HomeSacks is going to tell you.
That's right, If you can picture your family crabbing in Aberdeen, strolling the promenade in Potomac, or spending the day at the Maryland Zoo in Baltimore, then you should choose one of Maryland's best places to raise a family to live. The trick, however, was narrowing down the best places for families to live in this Mid-Atlantic gem, And lucky for you, HomeSnacks has done it again. We've created the ultimate guide to the best places for families in Maryland for 2020 and you can find it below.
But first, how did we do it? We consulted the US Census on places in the Old Line State with more than 5,000 residents. We looked at several factors: crime, education, family friendly activities, and the percent of households that currently have children. We ended up with 29 family friendly Maryland places that any family would be lucky to call home.
Now, we're not just any national ranking website. We've been researching and ranking states and cities based on all types of criteria for the last five years. We've had more than ten million people read our published articles and we've been featured in hundreds of media outlets for our best of the best rankings, including this Maryland Patch feature. So, yes, we know what we're talking about. Want to know more? We suggest you take a look below at HomeSnacks' list of Maryland's top ten most family friendly places: we've taken the guessing out of the equation.
These are the best cities to raise a family in Maryland for 2020:
Maryland currently has 1.9 million families, and that number is expected to increase over the next ten years; and that folks, is because the state has a ton of awesome "Maryland" stuff to do, 90 Blue Ribbon schools, and local universities like the University of Maryland in College Park keep showing up on U.S. News' 'Best College' lists year after year.
No need to flip a coin and gamble with your family's happiness if you take a look at our list. There can only be one number one best place to raise your family in Maryland and that would be, La Plata.
To see how your favorite place in Maryland compared, take a look at the list below; and if you don't see it there, head to the bottom.
Check out some more reading about Maryland and the best places for families in the country:
The 10 Best Places To Raise A Family In Maryland For 2020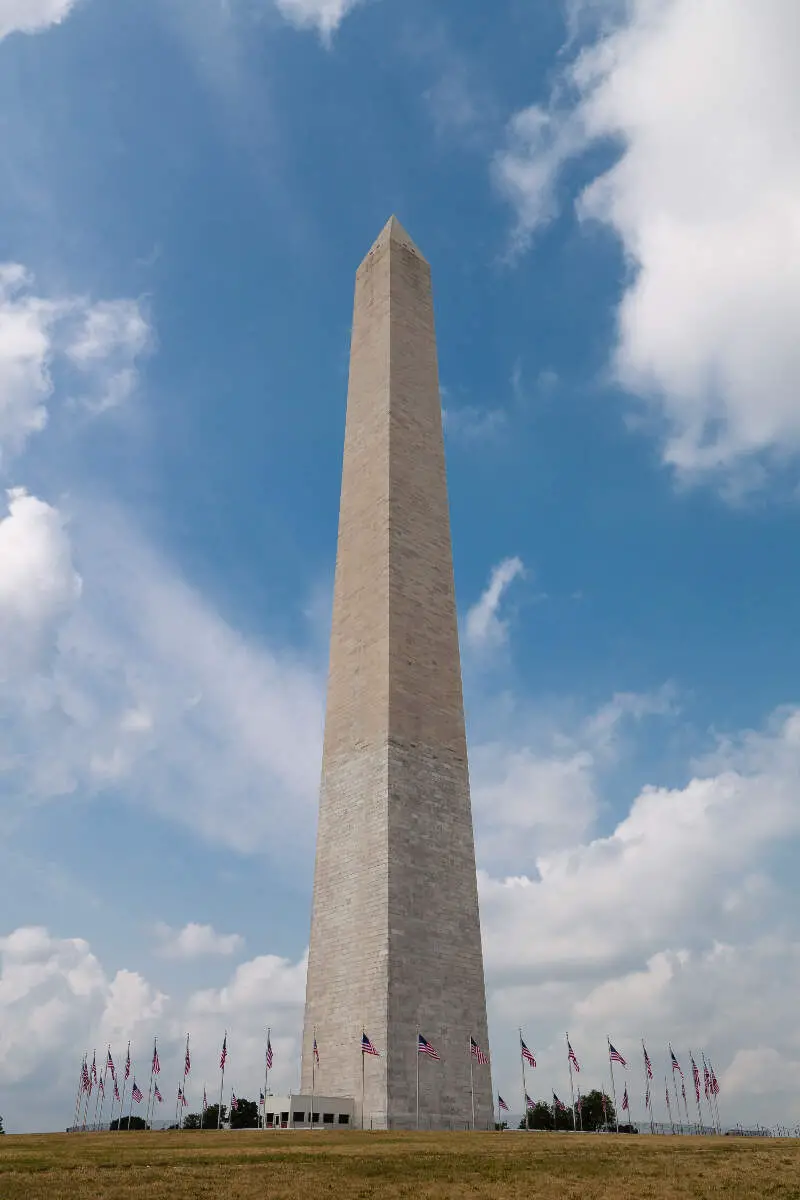 La Plata is a town in Charles County, Maryland, United States. The population was 8,753 at the 2010 census. It is the county seat of Charles County.
Glenarden is a city in Prince George's County, Maryland, United States. The population was 6,000 at the 2010 census.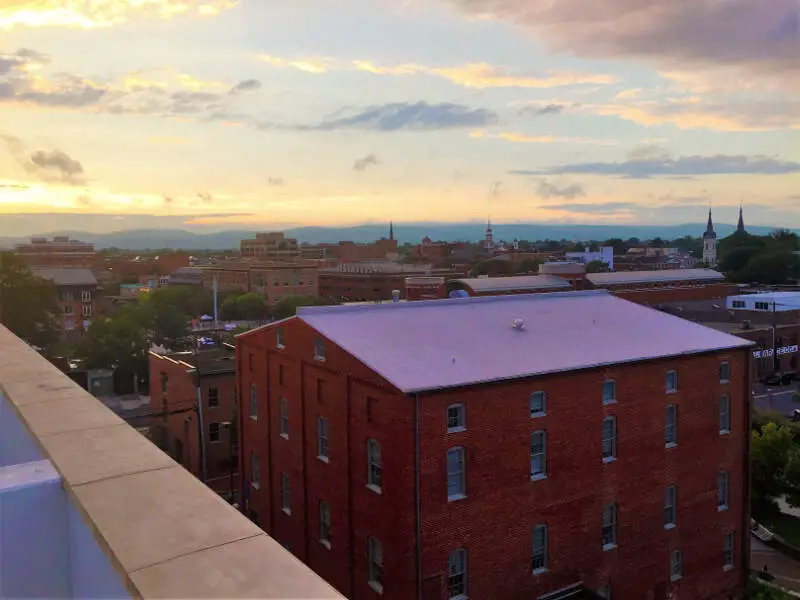 Frederick is a city and the county seat of Frederick County in the U.S. state of Maryland. It is part of the Baltimore-Washington Metropolitan Area. Frederick has long been an important crossroads, located at the intersection of a major north-south Indian trail, and east-west routes to the Chesapeake Bay, both at Baltimore and what became Washington, D.C. and across the Appalachian mountains to the Ohio River watershed. It is a part of the Washington-Arlington-Alexandria, DC-VA-MD-WV Metropolitan Statistical Area, which is part of a greater Washington-Baltimore-Arlington, DC-MD-VA-WV-PA Combined Statistical Area. The city's population was 65,239 people at the 2010 United States Census, making it the second-largest incorporated city in Maryland, behind Baltimore. Frederick is home to Frederick Municipal Airport, which primarily accommodates general aviation traffic, and to the county's largest employer U.S. Army's Fort Detrick bioscience/communications research installation.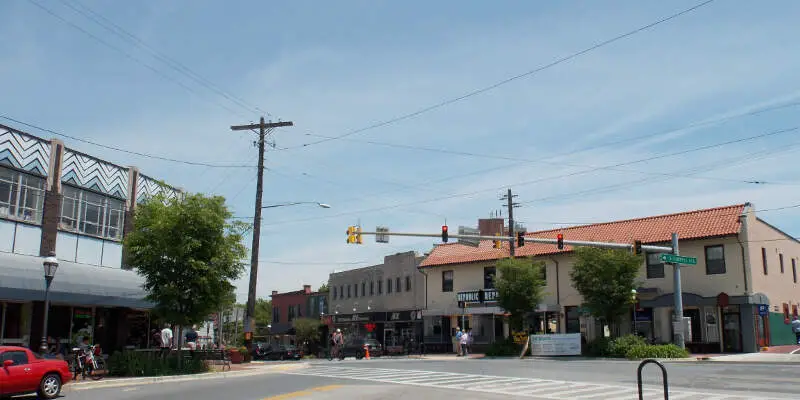 Takoma Park is a city in Montgomery County, Maryland. It is a suburb of Washington, D.C., and part of the Washington metropolitan area. Founded in 1883 and incorporated in 1890, Takoma Park, informally called "Azalea City", is a Tree City USA and a nuclear-free zone. A planned commuter suburb, it is situated along the Metropolitan Branch of the historic Baltimore and Ohio Railroad, just northeast of Washington, D.C., and it borders the neighborhood of Takoma, Washington, D.C. It is governed by an elected mayor and six elected councilmembers, who form the city council, and an appointed city manager, under a council-manager style of government. The city's population was 16,715 at the 2010 national census.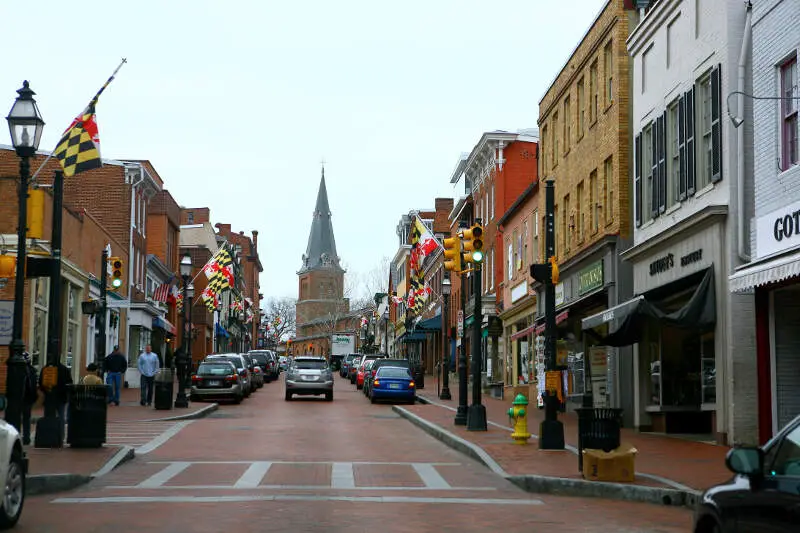 Annapolis is the capital of the U.S. state of Maryland, as well as the county seat of Anne Arundel County. Situated on the Chesapeake Bay at the mouth of the Severn River, 25 miles south of Baltimore and about 30 miles east of Washington, D.C., Annapolis is part of the Baltimore-Washington metropolitan area. Its population was measured at 38,394 by the 2010 census.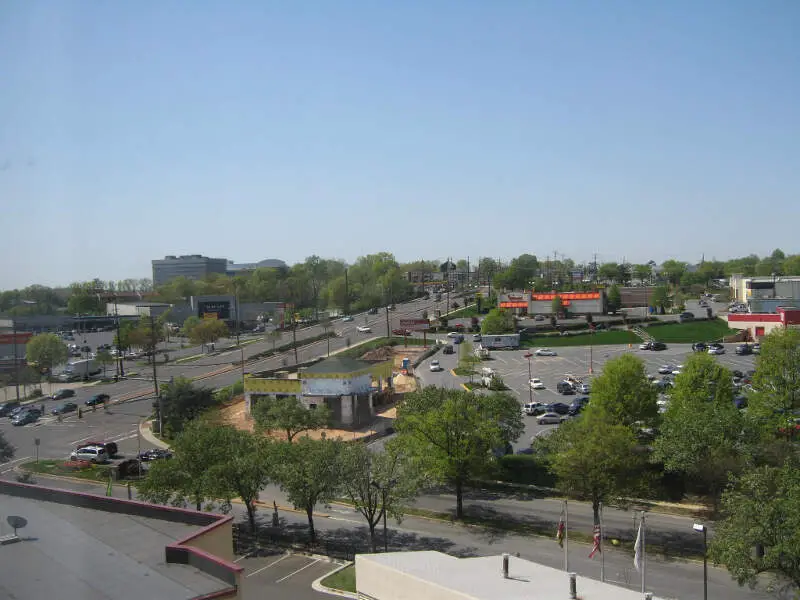 New Carrollton is a city located in central Prince George's County, Maryland, in the United States. As of the 2010 U.S. Census, the population was 12,135. New Carrollton is located 12 miles east of central Washington, D.C.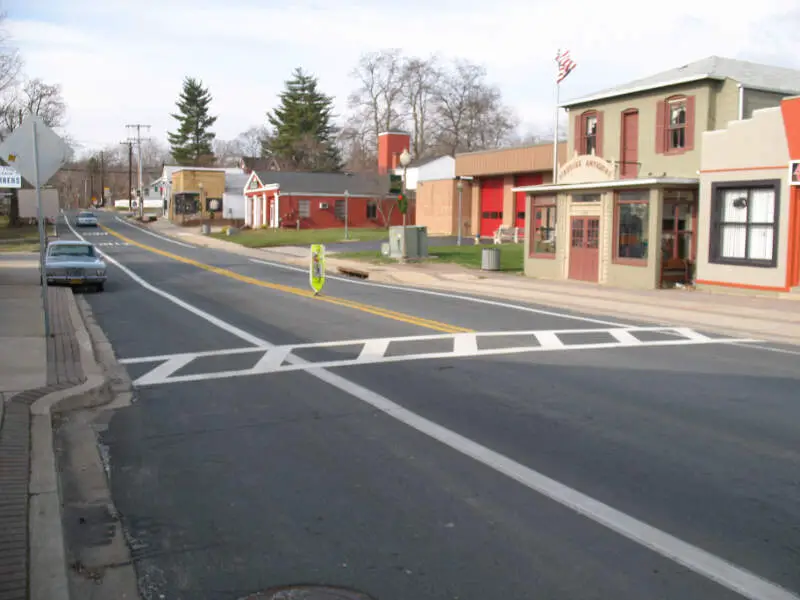 Bowie is a city in Prince George's County, Maryland. The population was 54,727 at the 2010 U.S. Census. Bowie has grown from a small railroad stop to the largest municipality in Prince George's County, and the fifth most populous city and third largest city by area in the U.S. state of Maryland. In 2014 CNN Money ranked Bowie 28th in its Best Places to Live in America list.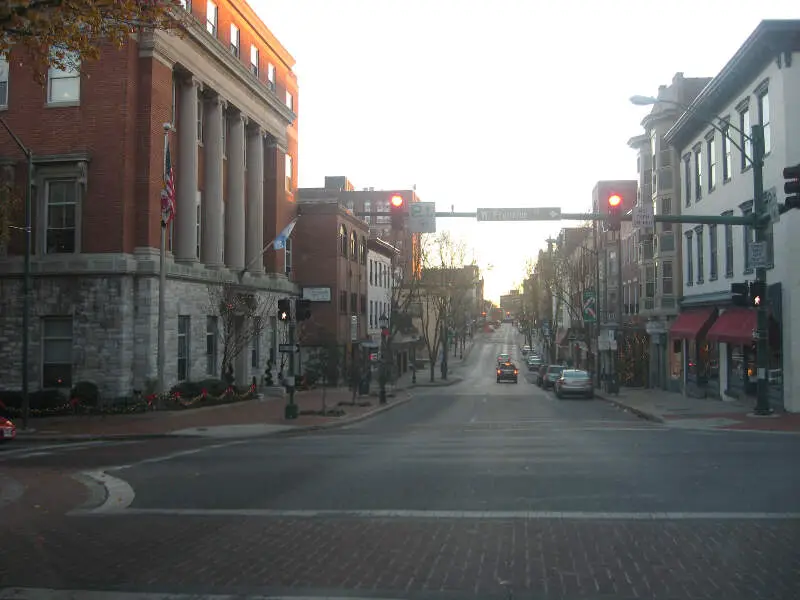 Source: Public domain
Hagerstown is a city in Washington County, Maryland, United States. It is the county seat of Washington County. The population of Hagerstown city proper at the 2010 census was 39,662, and the population of the Hagerstown-Martinsburg Metropolitan Area was 269,140. Hagerstown ranks as Maryland's sixth largest incorporated city.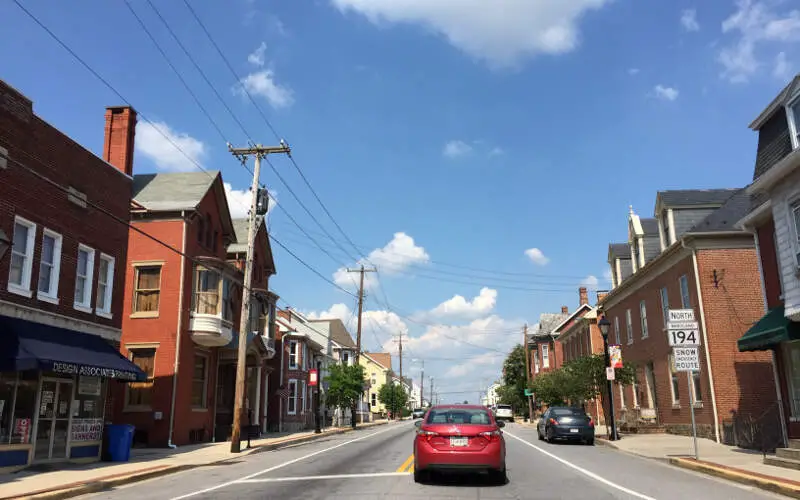 Taneytown is a town in Carroll County, Maryland, United States. The population was 6,728 at the 2010 census. Taneytown was founded in 1754. Of the town, George Washington once wrote, "Tan-nee town is but a small place with only the Street through wch. the road passes, built on. The buildings are principally of wood." Taneytown has a history museum that displays the history of the town for visitors and citizens to see. The Bullfrog Road Bridge was listed on the National Register of Historic Places in 1978.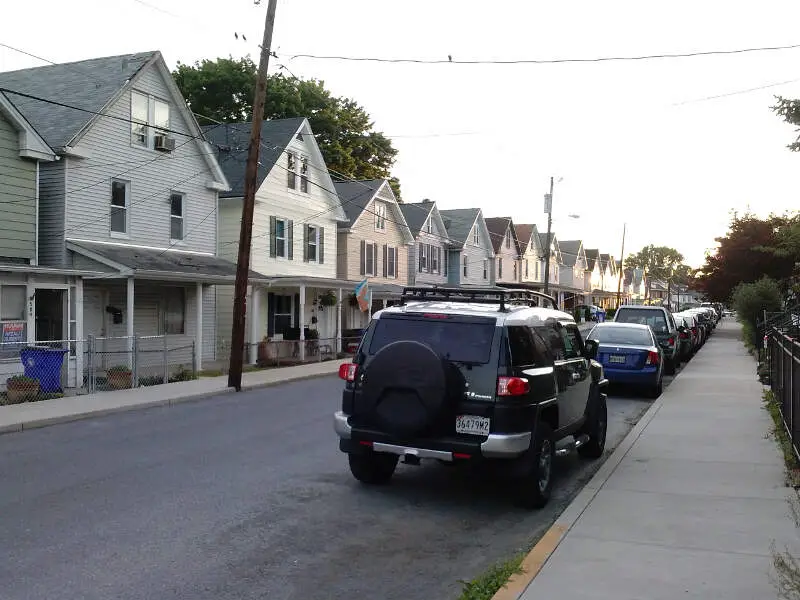 Source: Public domain
Brunswick is a city in Frederick County, Maryland, United States at the Maryland/Virginia border. The population was 5,870 at the 2010 census.
How do you determine which place is best for families in Maryland anyways?
To give you the places in Maryland which are best for families, we have to look at a handful of metrics. Of course, we want to measure the type of people who live in each city, and make some assumptions about what's family-friendly and what isn't.
So we researched the internet for a database that contains all that information.
How we crunched the family friendly numbers for the Old Line State
We threw a lot of criteria at this one in order to get the best, most complete results possible. Using U.S. Census data produced for the state of Maryland, we looked at every single city in the state. We paid particular attention to:
Crime (Both violent and property)
Quality of local schools
Distance to a major city without necessarily being in it
% of households with children
Family-friendly amenities nearby (museums, libraries and colleges)
We then gave each city a Family Score.
The higher the score, the better the city is for families. We also limited our results to cities with populations over 5,000 people. For Maryland, that meant a total of 29 cities. You can download the data here.
There You Have It - The Best Places To Raise A Family In Maryland
If you're looking for a breakdown of cities in Maryland ranked by criteria that most would agree make a place a great spot for families, this is an accurate list.
Here's a look at the best cities for singles Maryland according to the data:
Fruitland
Aberdeen
Cambridge
For more maryland reading, check out:
Where Are The Best Places For Families In Maryland?
| Rank | City | Population |
| --- | --- | --- |
| 1 | La Plata, MD | 9,252 |
| 2 | Glenarden, MD | 6,170 |
| 3 | Frederick, MD | 70,166 |
| 4 | Takoma Park, MD | 17,622 |
| 5 | Annapolis, MD | 39,147 |
| 6 | New Carrollton, MD | 12,932 |
| 7 | Bowie, MD | 58,368 |
| 8 | Hagerstown, MD | 40,186 |
| 9 | Taneytown, MD | 6,774 |
| 10 | Brunswick, MD | 6,193 |