Editor's Note: We updated this article for 2020. This is our sixth time ranking the best places to live in Maryland.
Article Table Of Contents
(Skip to section)
There's nothing crabby about Maryland except for maybe their 'all you can eat blue crab specials'. The people here are super nice and some of the best places in America are nestled inside Maryland's Mid-Atlantic borders.
And, you don't have to do a Google scavenger hunt to find them. HomeSnacks has used science to create a list of the top ten best places in Maryland for 2020. We looked at 37 places and rated them according to median home prices, median household incomes, education, and safety.
The competition was fierce to say the least. Our top ten best places really brought their A-game. We can thank some of Maryland's best places for Marriott Hotels, The Discovery Channel, and Perdue Farms. And we can thank the other half for higher education institutions like John Hopkins and University of Maryland for educating the future of those companies.
Whether you want to be a Chesapeake Bay crabber, a Potomac Housewife, or you just want to live like Maryland royalty, there's a place on our top ten list for you.
Have we piqued your curiosity? If so, head on down to our list of the top ten best places to live in The Old Line State.
The 10 Best Places To Live In Maryland For 2020
All great jobs and super smart Marylanders aside, the best places on our list are the best because the people in these places take affordable homes, high incomes, and safe neighborhoods very seriously.
However, there can only be one number one best place to live in Maryland. What is the best place to live in Maryland? According to the data we looked at, that would be Mount Airy. We are not at all surprised. Mount Airy has great people, amazing parks, gold star restaurants, and great shopping.
To see Maryland's other best of the best places, take a look below. And if you don't find it there, head to the bottom.
If you're looking for something more national, check out the best states in America or the best places to live in America.
For more Maryland reading, check out:
The 10 Best Places To Live In Maryland For 2020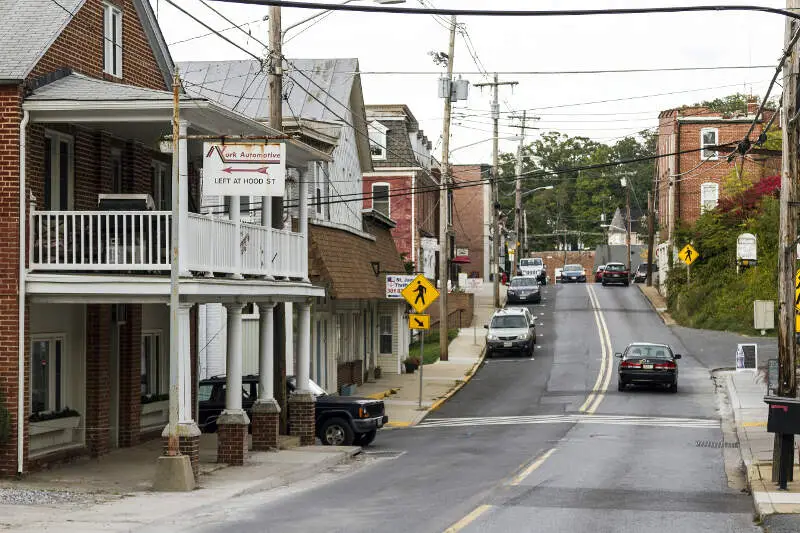 Life can be difficult, choosing the best place to live doesn't have to be. So, if your thinking about living in Maryland, think about Mount Airy first as it's the #1 best place to live in the Old Line State for 2020. Yes, this Mid Atlantic marvel located between Baltimore and Frederick just off the I-70 in the Four-County Area, scored high marks on our SnackAbility scale for quality of life indicators like job opportunities, affordable housing, and education.
In terms of affordability, Mount Airy's median home price is the 6th highest in the state at $368,500. However, don't let this deter you, Mount Airy has the lowest unemployment rate at 3.1%, so you just need to find a job that will help you earn the city's median income, $117,341/year, to offset your overall cost of living. On a side note, health services are less expensive here than the rest of the state and 98.2 of this small town's 9,395 residents have health insurance.
Mount Airy is super safe, but if we could give one piece of advice, make sure to set a little cash aside from your salary to splurge on a reliable car as Mount Airy scored a 2/10 for longer commute times.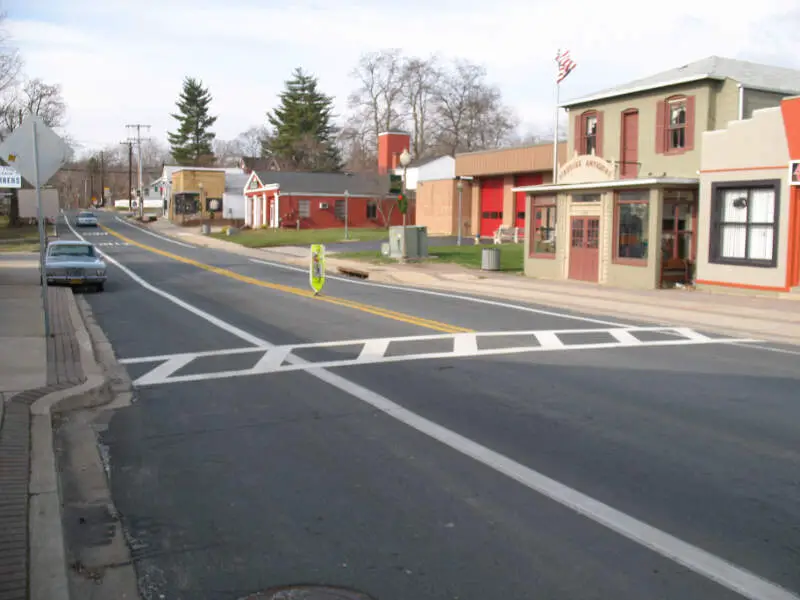 Much like the game of Monopoly, Maryland's 2nd best place to live, Bowie rose to fame in the mid 19th Century after the Baltimore and Potomac Railroads were purchased by Pennsylvania Railroad making Bowie one of the wealthiest places to live in the country. Well folks, things haven't changed, Bowie is still one of the richest places in Bowie and it's 58,368 residents are showing no signs of slowing down.
Bowie's motto is "Growth, Unity, and Progress," and their numbers prove that they're winning at the game of LIFE. First of all, they scored one of the highest SnackAbility scores on our list (9/10) with an emphasis on--but not limited to--cost of living, education, and amenities.
The median home prices for a home in Bowie are less expensive than the rest of the state at $326,900 and the combined household median_income is $112,444/year. Bowie has great schools and the people here are pretty smart--out of the 58,368 residents, over 30% have their Master's. However, the best part about living in Bowie is that you will be the halfway point between Washington D.C. to the west and Annapolis and the Chesapeake Bay to the east. So, basically, you will never run out of things to do.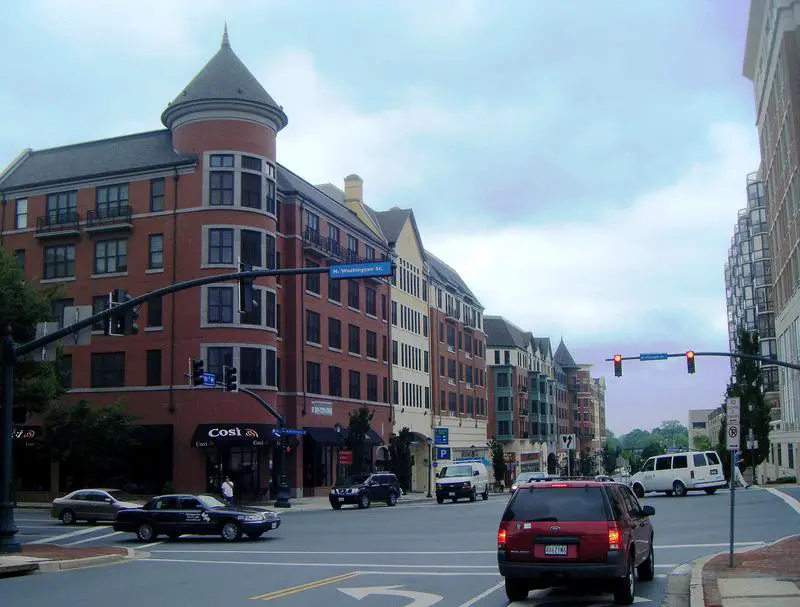 Located just 30 minutes north of Washington D.C., Maryland's 3rd best place to live, Rockville, is at the core of the I-270 Technology Corridor which is home to numerous software and biotechnology companies and federal government institutions.
So, if you are wondering why the median home price here is the 2nd highest in the state at $521,700 this is one of the reasons. The other, the very educated people here demand high salaries ($105,376/year) and being that Rockville is one of the fastest growing cities in Maryland, that demand trickles down into the economy. Incidentally, high demand has also increased Rockville's cost of living. If you choose this upscale Maryland city as your home, expect to pay a bit more for groceries, transportation, and utilities.
And if you were wondering about Rockville's education system, you can stop. Not only do the majority of Rockville's 67,062 residents have some sort of degree, the city itself houses 12--count them--12 National Blue Ribbon Schools. Plain and simple, folks, Rockville is 'the bees knees'.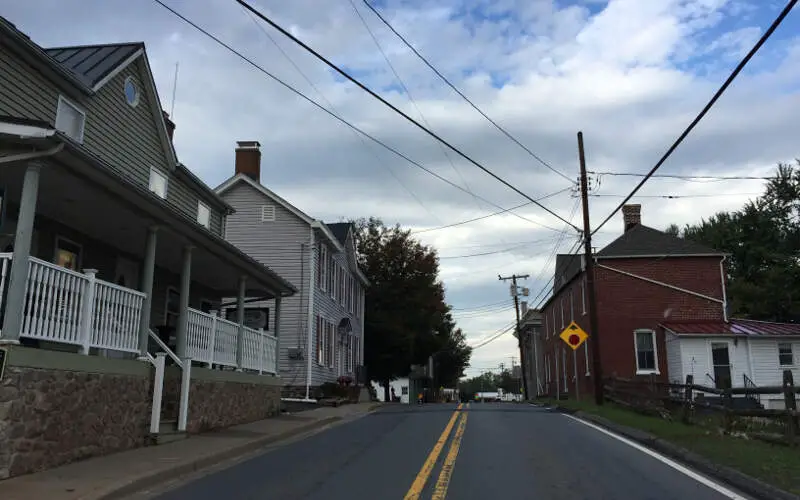 Balancing affordable living, a low crime rate and keeping a great place to live great is what Maryland's 4th best place to live, Poolesville, does best. Yes, this small town of 5,170 residents in "Little America" has all of the bells and whistles. In fact, Poolesville received high scores on our SnackAbility scale for job opportunities, housing, education, and amenities. If you guessed that the locals here work hard based on the city's current unemployment rate of 3.7, you guessed right. The poverty level here is well below the state and national level as well.
The median home price in Poolesville is the 3rd best price in Maryland with a $445,400 price tag, and the locals make upwards of $170,093/year to offset the city's overall cost of living. This leaves all kinds of extra money to enjoy the fun day-life and nightlife that Poolesville offers. Matter fact, we hear that biking the Potomac Heritage National Scenic Trail is a must do.
And, folks, the people here are smart--they knew that if they lived in one of the least expensive places in Maryland that they would save money. So, we were not at all surprised to find Poolesville to be one of the richest cities in the state, too.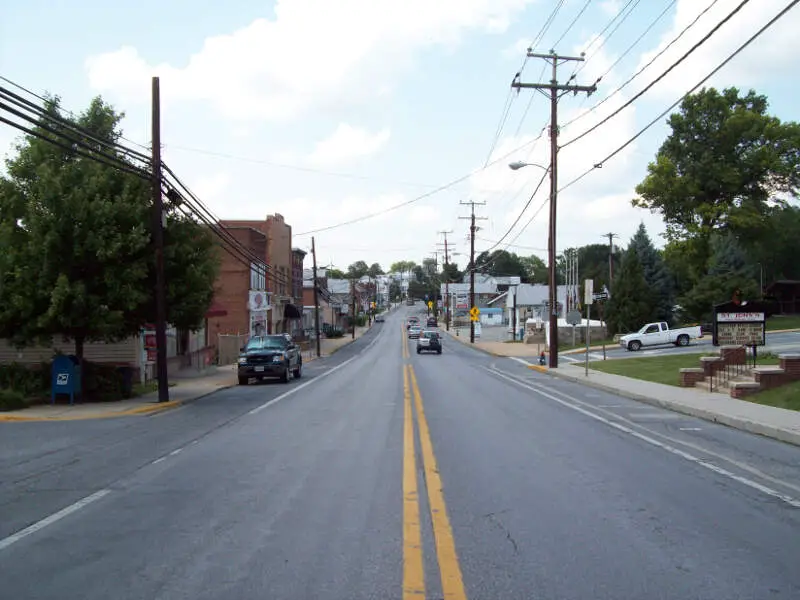 Source: Public domain
Want to know what it's like to be able to bike some of the best trails and sip some of the best wine without leaving your city limits? Well, you can do this and more in Maryland's 5th best place to live, Hampstead. Not to mention, you can do it at a fraction of the cost as Hampstead is super affordable.
Yes the cost of living here is less than the state average. Living expenses like groceries, housing, and utilities are such a deal, it's like they are practically giving services away. If you want to buy a home in Hampstead instead of rent, do. Hampstead has the 5th best median home price at $246,300 and the combined household median income is $75,286/year.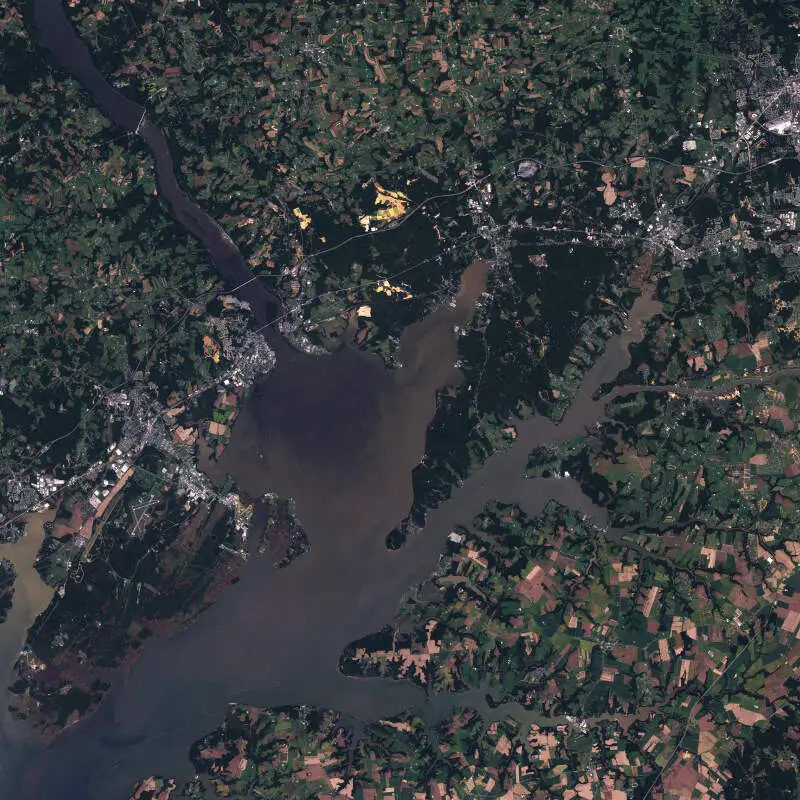 Source: Public domain
If you choose to buy your forever home in Maryland's 6th best place to live, Havre De Grace, you will be gifted quality healthcare, a low overall cost of living, and a low crime rate (there were only 249 recorded at the time of this report). Yes, Havre De Grace is more than just a smartly designed community, it's a smart choice.
Havre De Grace is the 6th best place to buy a house with a median home price tag of $289,200. The majority of residents who work (which is a lot considering the unemployment rate here is 8.6%) here earn a great salary at $74,335/year. Most importantly, If you choose to call Havre De Grace home, you will find friendly people, great schools (Havre de Grace High School is a National Blue Ribbon School), and a citywide desire to keep residents happy, healthy, and protected.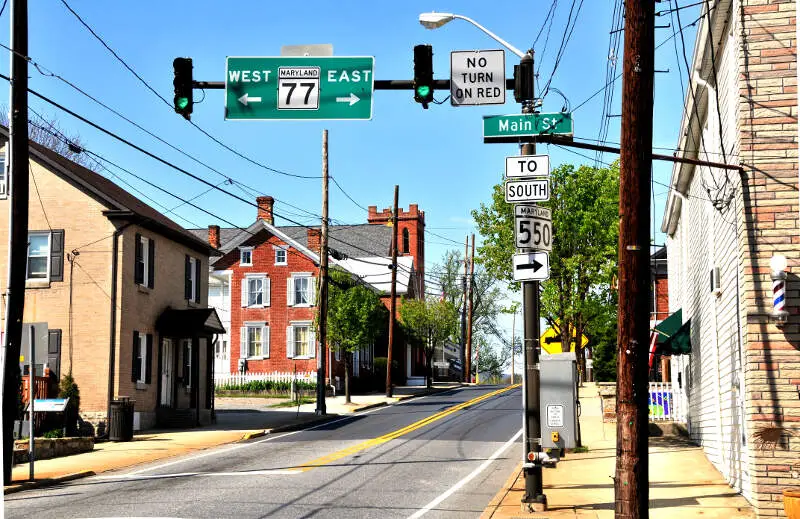 Like a fine Boordy Vineyards Dry Red Blend, the 7th best place to live in Maryland, Thurmont, keeps getting better with time.
The current cost of living in Thurmont is 0.9x lower than the state's index of 121. The crime rate here is below the national average as well. To put this in perspective, there were only 47 committed here this past year and a majority of them were property related.
Don't let lack of knowledge halter your decision to move to the Thurmont, instead take a look at the numbers posted here to make an informed decision.
Maryland's 8th best place to live, Glenarden, is the epitome of thoughtfully planned communities and charming neighborhoods nestled in the overflow trees from Old National Pike District Park.
Glenarden's motto is "A City on the Move," and, foks, that's just what is happening here as the city continues to make headlines for its low cost of living and low crime rate. And, that's not all. Glenarden scored a 9/10 on our SnackAbility scale with indicators like jobs, safety, and education leading the way.
Yes, if you want to buy a home here, you can get one for $267,000; and if you need a job, the city's job opportunities are endless and the unemployment rate here is 6.9%. But, if you were worried about moving your family to a great place with great schools, wonder no more: Glenarden is one of the best places in the state for families.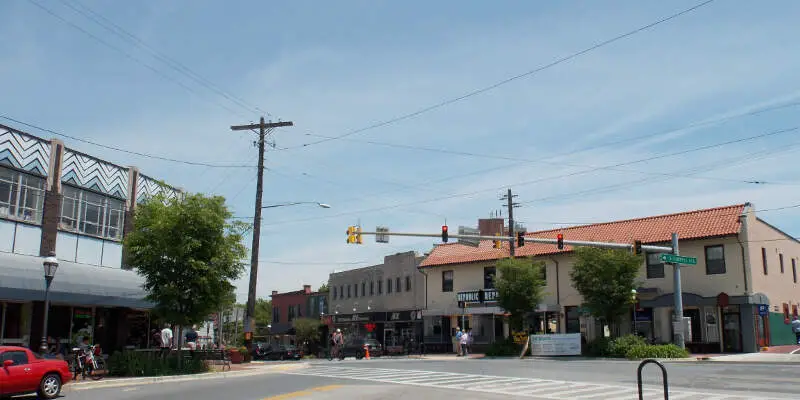 If you are looking for love, Takoma Park is not only Maryland's 9th best place to live, it's one of Little America's best cities for singles.
Located slightly northeast of the United State's capitol, this is a bedroom community for Washington D.C. commuters. And in true political fashion, Takoma Park has figured out a way to "trim the fat" for things like cost of living, home prices, and commute times. Yes, living expenses like groceries and transportation are well below the state average. Takoma Park did score a 3/10 for commute times on our SnackAbility scale, but keep in mind that most people don't drive in this area, they take the Metro.
In terms of home prices, you will pay $555,000; but just think, if you need to commute into D.C. daily, can you really put a price on convenience and location? Not to mention, real estate here is on the rise, so look at it as an investment.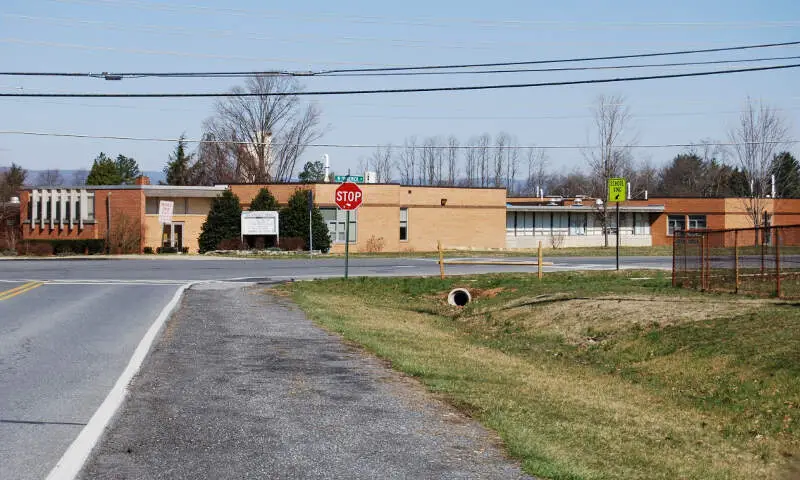 Source: Public domain
When you look at the science and data, Walkersville is well deserving of the ranking, "10th best place to live in the Free State." And if you don't act now, there might not be real estate left in this small Maryland town of 6,095 residents, because it's pretty popular. So popular, that there aren't as many job opportunities like the rest of our top ten. In fact, the unemployment rate here is the 7th highest in the state at 4.3% and the poverty level is teetering at 7.7%.
However, if you do get a chance to buy some real estate in Walkersville's market, be prepared to the pay the 16th median home price of $284,800--which isn't too bad, but to cover Walkersville's overall cost of living you're going to have to make at least $84,824/year.
Mapping The Best And Worst Places To Live in Maryland
The Pressing Question: Size
Before we even started to collect data, we had to answer a tough question: Is it fair to pit Annapolis with a population of 39,147 against places with a population of 18?
We firmly decided no, that just isn't fair.
So to create our ranking, we broke places to live into three tiers:
Cities -- Populations over 5,000
Towns -- Populations between 1,000 and 5,000
Small Towns -- Populations below 1,000
This left us with 37 cities, 120 towns, and 139 small towns.
We then decided, no matter how much anyone loves their town, the best cities to live in Maryland have more of everything and therefore you need to have over 5,000 people to truly be 'the best'.
Now we also realize that city living might not be your cup of tea, so we ran the following analysis on towns and then again for small towns.
You can see those two top tens at the bottom of the post.
How We Calculated The Best Cities To Live In Maryland
Now that we had our set of cities, it was time to rank them.
We ranked each place in Maryland across a number of criteria from one to 37, with one being the best.
We then took the average rank across all criteria, with the city posting the lowest overall score being crowned the winner of the title "Best Place To Live In Maryland".
The criteria we looked at were:
Median Home Values
Median Income
Population Density (Higher better)
Unemployment Rate
Commute Time
Crime
Education Levels
Health Insurance Coverage
Poverty rates
Sources of criteria include the New Census Data and FBI Crime Data. You can download the data here.
After the dust settled, what was the best place to live in Maryland? That would be Mount Airy.
If your city or town isn't among the top 10, jump down to the bottom of the post to see a detailed chart of the best places in Maryland.
Otherwise, buckle up for a ride down good living lane with Mount Airy at the end of the cul-de-sac.

Wrapping Up The Best Places When It Comes To Living In Maryland
If you're looking at areas in Maryland with the best economic situations, where there's lower than average crime, and a lot to do, this is an accurate list.
Mount Airy made a strong showing to take in the overall number one spot for the best place to live in Maryland for 2020.
Best Towns To Live In Maryland
Chevy Chase Village (Pop. 2,030)
Chevy Chase (Pop. 2,948)
Somerset (Pop. 1,215)
Brookmont (Pop. 3,810)
Garrett Park (Pop. 1,058)
Cabin John (Pop. 1,958)
Kensington (Pop. 2,111)
Middletown (Pop. 4,460)
Herald Harbor (Pop. 2,620)
Friendship Heights Village (Pop. 4,730)
Best Small Towns To Live In Maryland
Martin's Additions (Pop. 912)
Chevy Chase Section Three (Pop. 733)
Chevy Chase View (Pop. 935)
North Chevy Chase (Pop. 498)
Chevy Chase Section Five (Pop. 641)
Glen Echo (Pop. 334)
Nanticoke (Pop. 443)
Tolchester (Pop. 284)
Highland (Pop. 950)
Beaver Creek (Pop. 296)
If you're curious enough, here are the worst places to live in Maryland according to the data:
Cambridge (Pop. 12,401)
Elkton (Pop. 15,675)
Salisbury (Pop. 32,536)
For more Maryland reading, check out:
Where Are The Best Places To Live In Maryland?
| Rank | City | Population |
| --- | --- | --- |
| 1 | Mount Airy | 9,395 |
| 2 | Bowie | 58,368 |
| 3 | Rockville | 67,062 |
| 4 | Poolesville | 5,170 |
| 5 | Hampstead | 6,340 |
| 6 | Havre De Grace | 13,555 |
| 7 | Thurmont | 6,563 |
| 8 | Glenarden | 6,170 |
| 9 | Takoma Park | 17,622 |
| 10 | Walkersville | 6,095 |