The 10 Safest Cities In Maryland For 2020
We used data and science to determine the places in Maryland where everyone sleeps safe and sound.

Editor's Note: This article has been update for 2020. This is our sixth time rankings the safest places to live in Maryland.
Swipe left for slideshow. Article continues below.
Article Table Of Contents   
(Skip to section)
Maryland is famous for many reasons: the beaches in Annapolis, the crab cakes in Baltimore, and some super fun, super safe places to live.
And, here, at HomeSnacks, we wanted to know just how safe is Maryland? More importantly, where, exactly, are the safest cities in The Old Line State? So, we consulted the numbers. In total, we analyzed 36 cities with over 5,000 residents. We looked at important factors like property crimes and violent crimes per capita for every place from Salisbury on Maryland's Eastern Shore to Cumberland in the state's northwest corner.
Moreover, if you choose one of Maryland's safest places to live, you'll get to experience the Mid-Atlantic's tastiest blue crab, some of the most quintessential main streets, and the country's oldest history. Heck, there's a reason Maryland notables like Edward Norton, Toni Braxton, and Kathie Lee Gifford, have been singing the praises of places like Columbia, Severn, and Bowie for years: these are not only some of the best places in the state, they are some of Maryland's safest.
We suggest that you crank some Good Charlotte, grab a basket of fresh blue crab cakes, and read on as we divulge the safest places in Maryland for 2020.
Here are the 10 safest cities to live in Maryland for 2020:
So, what city is the safest place to live in Maryland for 2020? Well, according to the most recent FBI data we crunched, Ocean Pines is the safest place to live in Little America. It's not surprising considering Ocean Pines scored a 9/10 snackability safety score with an emphasis on jobs and education.
Check out the rest of our not so naughty, very safe Maryland cities to see how your city ranked. And if you don't find your favorite there, head to the bottom.
For more reading on safe places to live in and around Maryland, check out:
The 10 Safest Cities In Maryland For 2020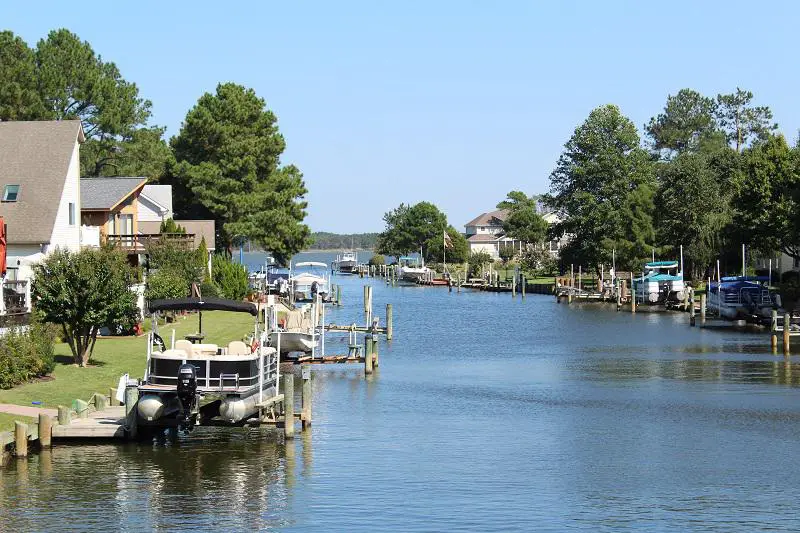 Source: Town of Ocean Pines
Ocean Pines is the ideal destination when you're trying to find that true Maryland feel with safe, small city vibes and big city pride. This is definitely one of the reasons it has held strong in the top three to be our safest city in Maryland.
Ocean Pines' gold star qualities like the non-existent number of crimes per 100,000 residents, their large number of educated residents, and their A+ social and economic infrastructure, speaks volumes.
It might not be Baltimore, but this little beach city with a vibrant art scene, five star restaurants, unforgettable summer festivals, and endless fun, is just as notable and just as safe. Probably why it's one of the most populous cities on the Atlantic side of Maryland.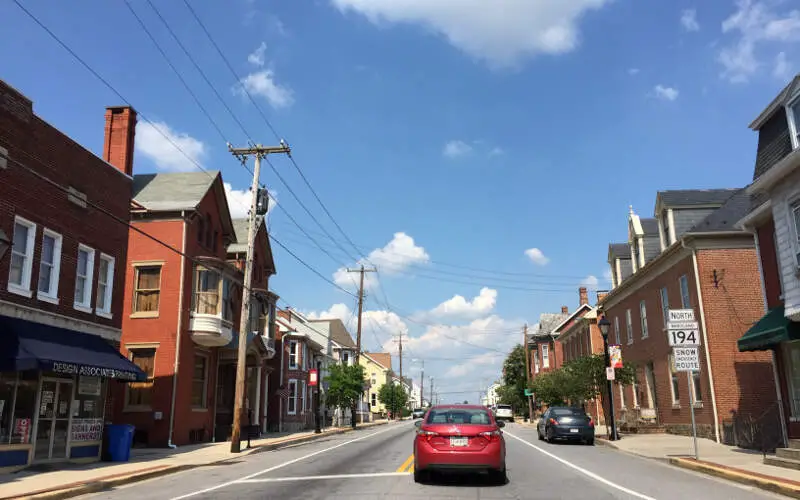 Where Maryland Highway 194 meets Maryland Highway 140 is Taneytown. They take safety seriously in 'Taney'. So serious that their efforts moved them up to become our safest city in Maryland for 2020.
Located in Maryland's northern region, Taneytown offers a safe environment with small town charm that packs a big punch. Not literally, of course. No fighting happens in Carroll County; that wouldn't be safe. Unless, of course, you're wearing a Colts jersey; and then, we're pretty sure no one would be able to guarantee your safety.
Taneytown is also known for its safe, family friendly atmosphere. There is a ton of stuff to do in this little city of close to 8,000 residents. They have a boat load of places to shop and dine, and play. Their immaculate parks, provide the backdrop for safe, friendly games of basketball, volleyball, and soccer for all ages.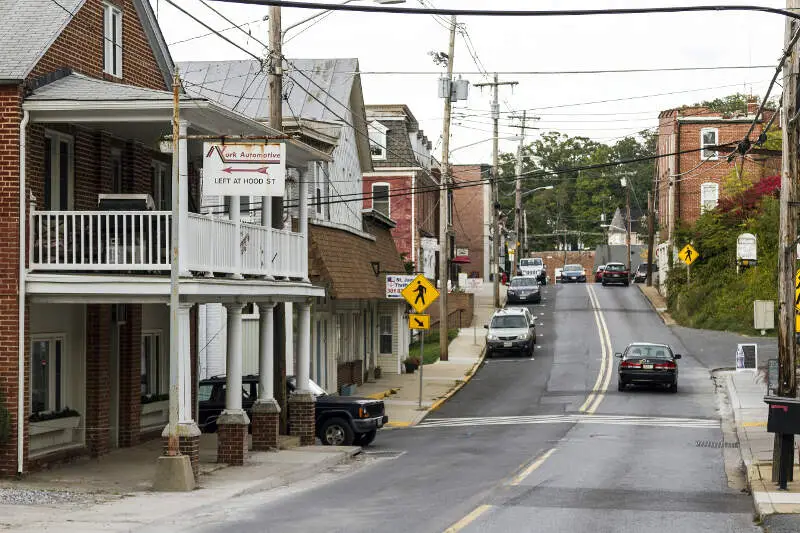 Mount Airy may be short on crime, but it certainly isn't short on wine. In a town of under 10,000, Mount Airy has THREE vineyards (Dragonfly Winery, Loew Vineyards, and Black Ankle Vineyards), so you'll never go thirsty for vino. With all that booze around, you'd think drunken hooliganism would be a lot more prevalent, but Mount Airy averaged only one violent crime per season in the last year of available data. Combine that with a stellar property crime rate, and you've got yourself the fourth safest town in Maryland.
Mount Airy is a part of both the Baltimore and Washington metro areas (but it sure is safer than either).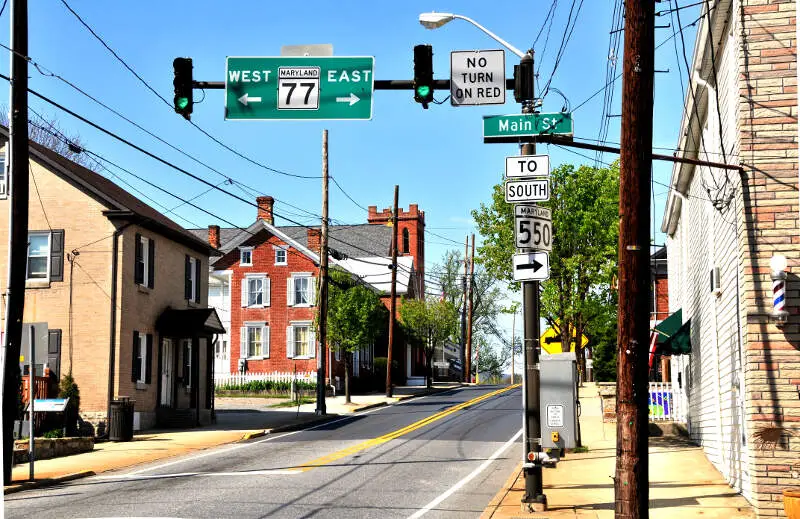 No this is not a suburb of Washington, D.C., but Thurmont, Maryland is just as safe and just as cool. It's so safe that it made the number 4 spot on our Safest Places to Live in Maryland 2020 list.
Located on Maryland's northern border, the only crimes that might happen in this city of 6,500 residents is someone dips their crab cake in ranch or someone is caught wearing a Redskins jersey.
When Thurmont's residents aren't busy spying on Camp David or checking on their neighbors, they are busy running around adding those "Your Children Live Here" signs to the community. Good work Thurmont.
There really is a true sense of community in this quaint town in Frederick county. Thurmont's gold star qualities like the non-existent number of crimes, their large number of educated residents, and just their overall safety standards.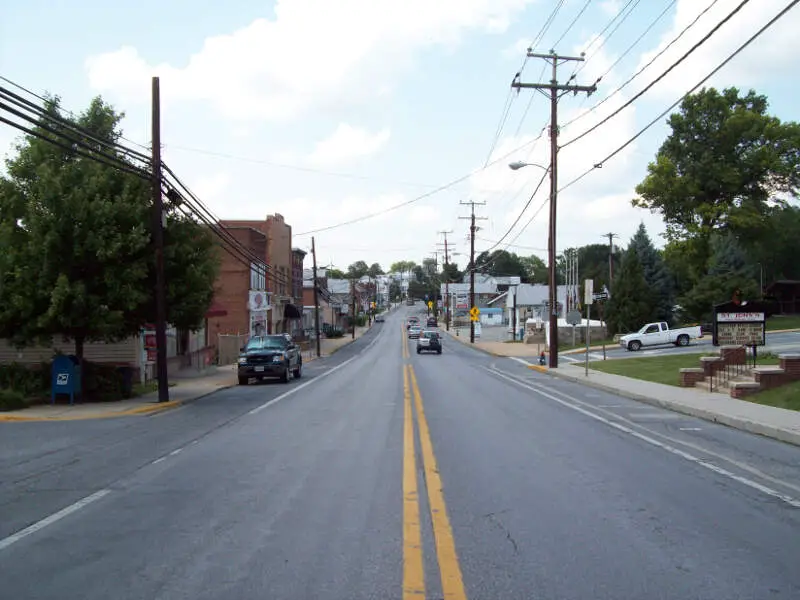 Source: Public domain
Boy, oh boy does Hampstead have a lot going for it. What with a perfect 10/10 snackability score, a low cost of living, and now the title of fifth safest town in Maryland. It's hard to think of anything wrong with Hampstead really. Hampstead averaged exactly 1 crime per week in the last year of available data, so it's probably a pretty uneventful place to be a detective.
But for everyone else, kick back with a nice Ruhlman Brewery ale and enjoy the sanctuary of Hampstead.
It might not be Barney Fife's Mayberry, or maybe it is, but this safe, little Prince George County city with a vibrant community, quiet neighborhoods, and hardworking residents is just as notable and just as safe. And it is definitely why Glenarden is our sixth safest city in Maryland.
It doesn't end there, folks. This little Maryland gem, scored a strong 9/10 on our snackability scale. They scored an 8/10 for job opportunities and an 8/10 for number of educated residents. I think it's safe to say they're the poster city for the rest of the state. And word on the street, young professionals are starting to take notice and move Glenarden's direction. So don't wait, because the word is out.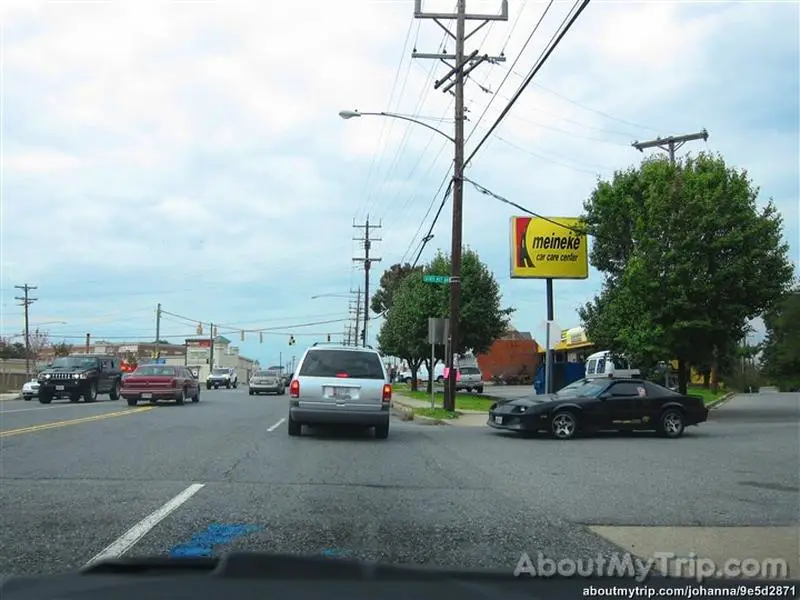 In District Heights they love their proximity to Washington, D.C., their parks, their safe neighborhoods, and their downtown with rich American history.
This little piece of Maryland heaven in has every right to be our seventh safest city in 'Little America,' for 2020. They scored off the charts on our snackability scale with an emphasis on education; and of course, safety.
District Heights is so safe, that the only crime here is a bad haircut or dipping your crabcake in ketchup. Its small city charm delivers big opportunities to all that are searching for a safe place to call home. They claim to be more then prepared to show you the good 'ol hometown pride that makes the East Coast famous and safe. Yes, it's that safe and friendly, folks.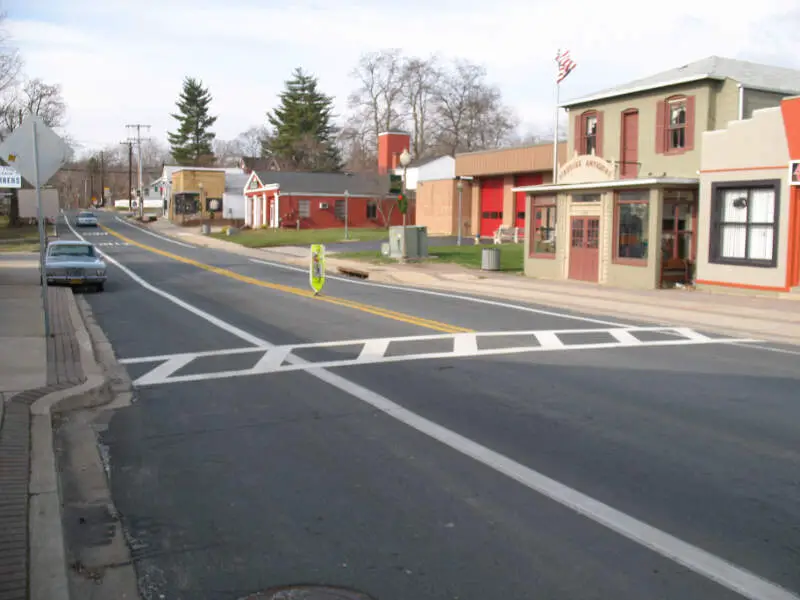 Of course Bowie is safe. It's the home to Bowie State University. You wouldn't send your college kids just anywhere, right? Probably why they also have a large number of educated residents, and probably why they are our eighth safest city in Maryland. Safe and smart?! Good work Bowie!
This is the quintessential Maryland city located just East of Washington, D.C. Not surprising, they received an 8/10 safety score and an 9/10 amenities score. The neighborhoods are safe and there's a ton of stuff to do.
Whether it's betting on horses, strolling their bustling downtown, or buying crab at the local seafood shop, nothing says safe like a community that creates opportunities to get to know anything and everything about each other. Just make sure you take the trash out in proper attire because someone is always watching, and you wouldn't want to make the front page of the Bowie Blade News.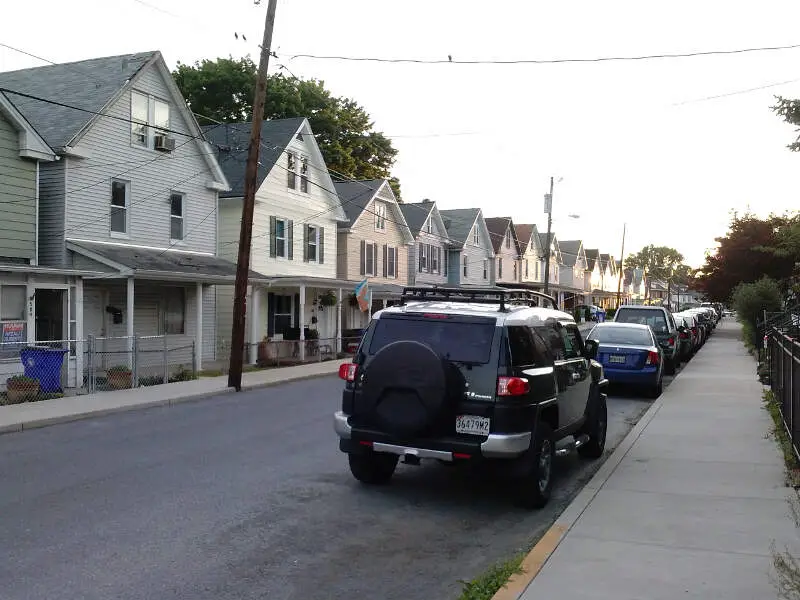 Source: Public domain
Brunswick is a super consistent place: it has the eighth lowest rate of property crime and eighth lowest rate of violent crime in Maryland, giving it the ninth place ranking overall.
And for those into the world's safest hobby (model trains), Brunswick has just the place for you. Judging by the fact that Brunswick averages just one violent crime per month, I'd say your day is unlikely to go off the rails in Brunswick.
Brunswick is just over the Potomac River from Virginia.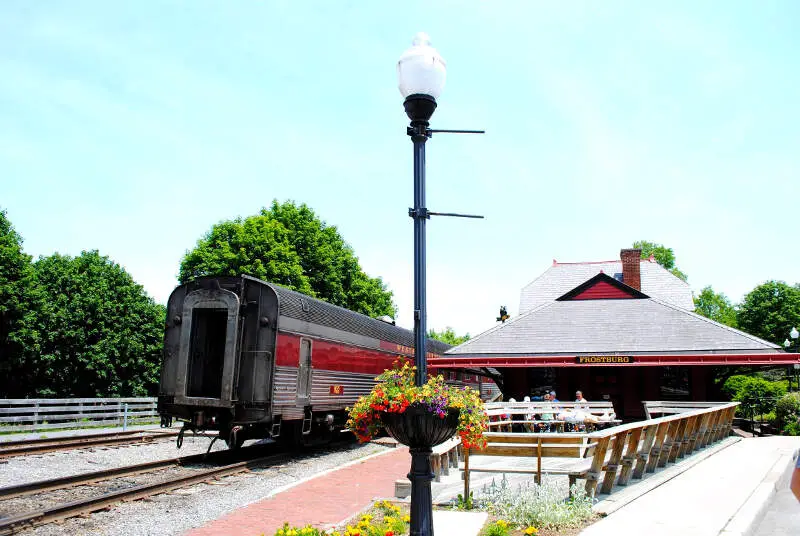 Frostburg, located in the Allegheny Mountains on the eastern slope of Big Savage Mountain is our tenth safest city in Maryland. Don't let the words frost and savage scare you, it's really safe here. This little city river city is super family friendly and virtually crime free. It's one of the safest places to call home on our list.
Frostburg's overall HomeSnacks snackability score was off the hook: a straight up 7/10! Not surprising, considering their safety rating is an 8/10 and percentage of educated residents is 8/10. Busy people = less naughty people. If that doesn't say safe, we don't know what does.
Keep making' the Old Line State proud, Frostburg. We all could learn a lot from this Allegany County city.
How we calculated the safest cities in Maryland for 2020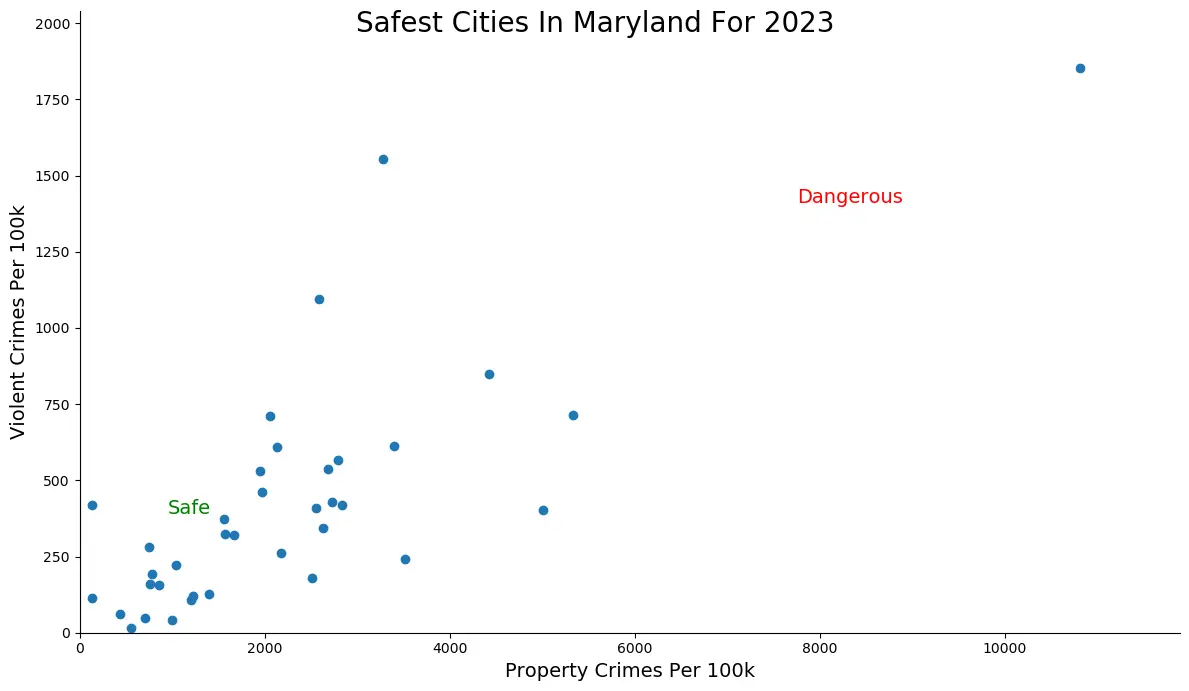 While there are surveys and public polls on what cities in a state are the safest, we didn't want to rely on speculation and opinion. Instead, we looked at the hard numbers from the FBI's most recent report of crime (Published Sept 2019) in Maryland.
Specifically, we analyzed the
FBI's Uniform Crime Report
which summarizes the number of property crimes and violent crimes in each city per year. We used two criteria:
Violent crimes per capita (murders, assaults, rapes, armed robberies)
Property crimes per capita (thefts, burglaries, motor vehicle thefts)
For example, there were a total of 66 crimes committed in Ocean Pines which had a reported population of 12,244. That means the number of crimes per capita is 0.0054 which translates into a 1 in 185 chance of being the victim of a crime.
We only looked at cities that have populations of more than 5,000 people reported to the FBI in 2018, the last reporting year. This left us with a total of 36 of the biggest cities in Maryland to rank.
We ranked each city for each criteria from 1 to 36 where 1 in any particular category is the safest.
Next, we averaged each places two criteria to create a Safety Index. We crowned the place with the lowest overall Safety Score "The Safest Place In Maryland" with any ties going to the bigger city. You can download the data here.
The safest city in Maryland, based on our criteria, is Ocean Pines. The most dangerous city in Maryland? Ocean City, where residents had a 1 in 7 chance of being the victim of a crime.
Note: This report is not an analysis of the effectiveness of local police departments, nor does it reflect the fact that people from out of town may come into a community and cause a crime. It simply looks at where crimes occurred most frequently, based on a city's population.
There You Have It - The Safest Cities In The Old Line State
Looking at the data, you can tell that Ocean Pines is as safe as they come, according to science and data.
But as most Maryland residents would agree, almost every place here has its safe and not safe parts. So just make sure you're informed ahead of time.
Here's a look at the most dangerous cities in Maryland according to the data:
Ocean City
Elkton
Cambridge
For more reading, check out:
Breaking Down Crime In The Safest And Most Dangerous Cities In Maryland

Share on Facebook
Chris Kolmar has been in the real estate business for almost ten years now. He originally worked for Movoto Real Estate as the director of marketing before founding HomeSnacks.
He believes the key to finding the right place to live comes down to looking at the data, reading about things to do, and, most importantly, checking it out yourself before you move.
If you've been looking for a place to live in the past several years, you've probably stumbled upon his writing already.
You can find out more about him on LinkedIn.