Welcome to the Old Line State: where the North, South, East, and West meet at the Mason Dixon line in Maryland (pronounced "Mer-lin".)
Maryland wants you to call one of its many affordable cities home. This blue state screams affordability. They practically give money away, here. So much that it's almost like they are paying YOU to live here.
Maryland's affordable cities really 'bring it'. Hip millennial cities like Baltimore and North Bethesda have multiple opportunities for young professionals to make the 'dolla holla'. Cities like Ocean City North and South provide inexpensive staycations. And Chesapeake Bay cities like Rock Hall and Deale provide an opportunity to offset your grocery bill with crabbing and fishing out your back door.
And with a statewide median income close to $73,000/year, who wouldn't want a piece of the Chesapeake Bay State-pie. Heck, it's no wonder Maryland's poverty rate is the lowest in the country or that its unemployment rate is down around 4 percent. If you want to live the American dream without a hefty Park Place price tag, look no further than Maryland. More importantly, take a look below at our top affordable cities in Maryland list for 2022.
We suggest you grab yourself a plate of Old Bay dusted blue crab cakes, a bag of Utz chips, a flavored snowball and read on.
The 10 Most Affordable Places To Live In Maryland
Where in Maryland can you find the most affordable place to live? The most affordable place to live in Maryland is Brunswick based on cost of living adjusted for incomes.
If you ask any Marylander, they will say, hands down, that their city is the best. Heck, there's a reason Little America is the 19th most populous in the country.
And, yes, we think it has a little something to do with the great people, strong jobs in defense and aerospace, government by proximity, and health care; not mention, just good 'ol clean Maryland livin'. But, to the economically savvy, to truly be the best, the state must have the nicest, most affordable places to call home. #TheMostBangForYourBuck
So, if you care about home values, cost of living, and gold star quality of life, take a look at the list below to see where your Maryland dollar will let you live like a Baltimore Raven on a crabber's salary.
And if you already knew these places were cheap, check out some more reading about Maryland and the cheapest places in the country:
The 10 Cheapest Places To Live In Maryland For 2022
When it comes to living on the cheap in Maryland, there's basically nowhere better than Brunswick. The city may not have the cheapest homes or lowest rent in the state, but taken as a proportion of income, Brunswick has some of the most affordable housing statewide. Brunswick residents are paid quite well, with a median income of $84,133, which more than covers the median home price of $245,000 with plenty left to spare.
When you're walking aronud the historic district sampling wine and chocolate, you'll have an extra appreciation for Brunswick's ritzy atmosphere costing so little.
Brunswick is located on the north bank of the Potomac River, across from Virginia.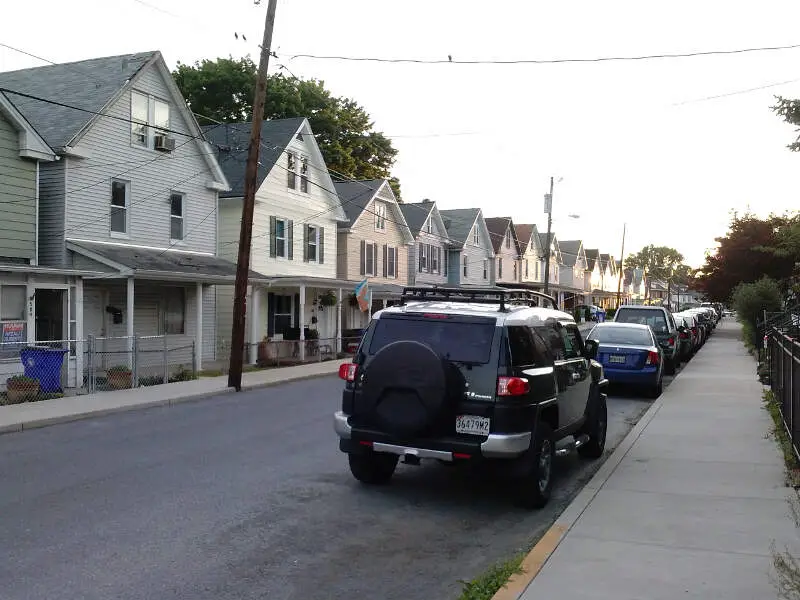 Source: Public domain
Cumberland's motto is "Come for a Visit, Stay for Life," and that might just happen to you after you realize how inexpensive the city really is. Cumberland's population has been slowly diminishing in recent years, which is great news for newcomers who can buy the cheapest homes in Maryland. And if you're a cyclist, you'll have all the free entertainment you'll ever need journeying through the Great Allegheny Passage.
While the rent in Cumberland is the cheapest you'll see on this list at at $693/month, that's not what earned Cumberland the #2 spot on this list. It's really because at a median price of $104,200 for homes and a median income of $40,888 for residents, the city has the best home price to income ratio in the state.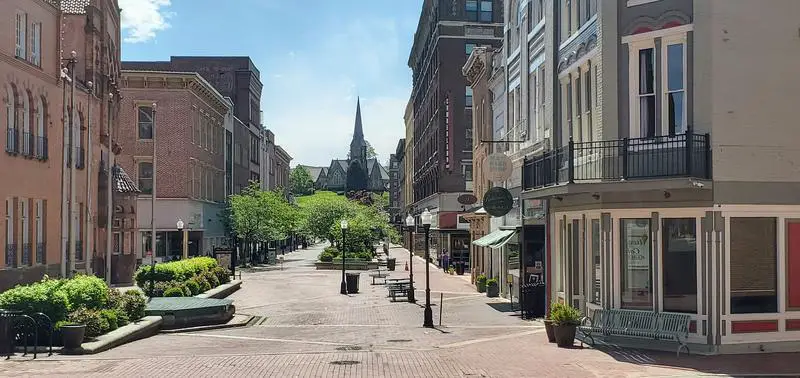 The Northeast is notorious for sky-high costs of living and at times, Maryland, can be no exception. However, that's not the case in Aberdeen. This community is only a 45-minute drive from Baltimore and is an affordable option for those who commute to bigger cities.
Unlike in pricier areas, the median home value here is only $192,400. A price tag that is affordable for those bringing in Aberdeen's median household income of $66,481. If your budget is tighter, the area's median rent rate of $1,062 isn't bad too.
The community doesn't just have family-friendly prices either, it also has plenty of family-friendly fun, like catching a baseball game at Ripken Stadium. And residents don't have to worry too much about whether or not they'll be able to afford tickets to the next game either, considering that Aberdeen has a 3.0% unemployment rate.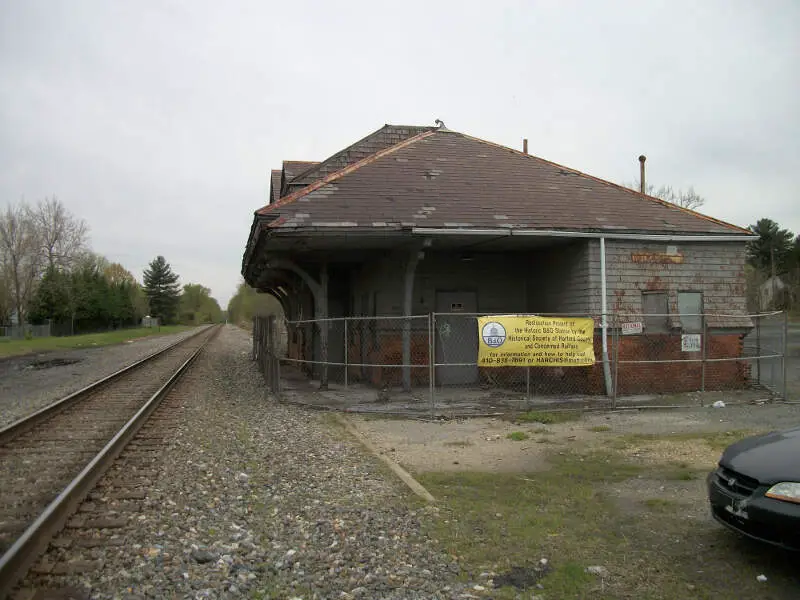 Located about 30 miles north of Baltimore, Hampstead ranks as the fourth most affordable place in Maryland. Life is extra cheap for renters in Hampstead, who enjoy the second best rent to income ratio in the state. Hampstead residents earn a median income of $75,392 and pay a median home price of $245,700, which puts Hampstead just outside of the top ten for best home price to income ratio in Maryland.
Whether you're renting or buying, living in Hampstead won't break the bank. Especially when you can hang out at a different park every day of the week without spending a dime.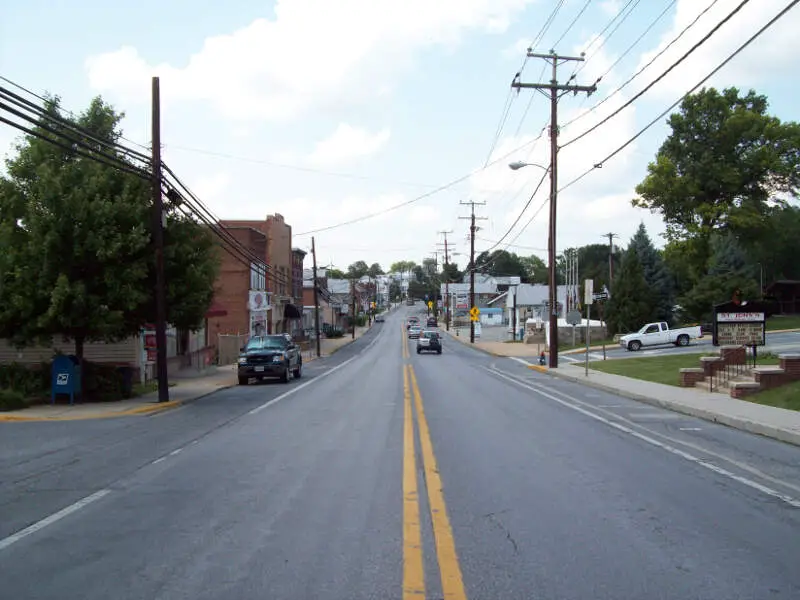 Source: Public domain
Located about 20 minutes north of Frederick, Thurmont comes in as the fifth least expensive place in Maryland. Thurmont is the fifth most economical place to rent in the state, with rent costing about $1,024/month on a median income of $83,654. The median price of a home in Thurmont is also quite affordable at $263,900. Not to mention that between swimming at Cunningham Falls State Park and hiking at Catoctin Mountain, Thurmont has plenty to do for folks on a budget.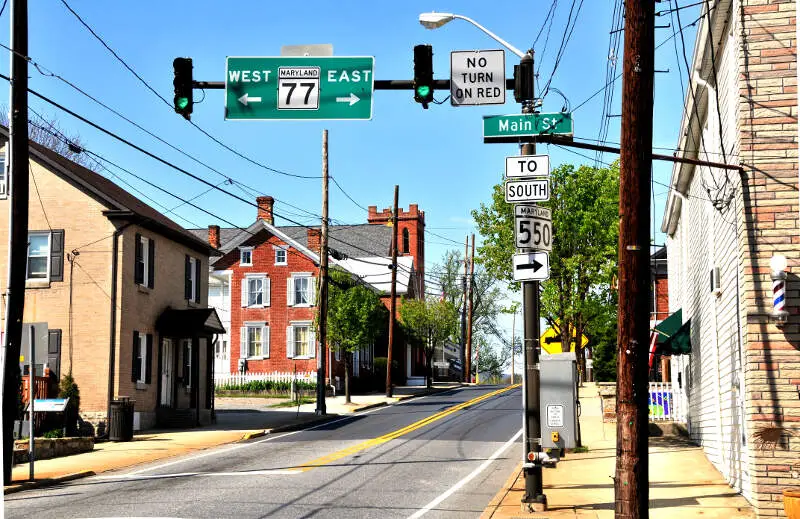 Less than 10 miles northeast of Frederick sits our sixth most affordable place to live in Maryland, Walkersville. An area known for its historic Walkersville Southern Railroad attraction, which takes riders along track built in 1872 by the Pennsylvania Railroad.
While the cost of living has surely changed since then, Walkersville still offers a high quality of life with a relatively low price tag. Residents earn a healthy median household income of $107,781. And those who decide to stay in the town long-term can expect a market of homes with an affordable median value of $323,100. The community of 6,306 actually has the sixth best home price to household income ratio in the state.
On top of its financial benefits, Walkersville is also one of the best places to live in Maryland.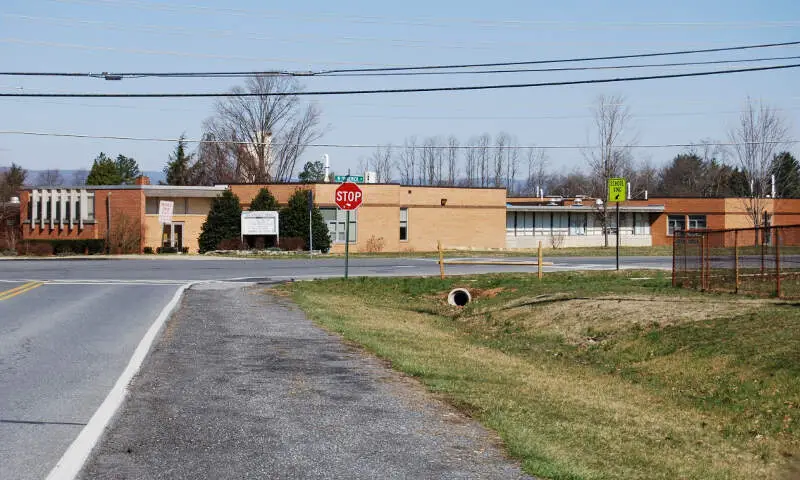 Source: Public domain
At first glance, Poolesville's affordability might not be super apparent. I mean, at $520,800, Poolesville has the highest median home price on this list by a wide margin. And with a median rent of $2,125, Poolesville is the only city on this list where renters pay more than the average rent in Maryland. But when you remember that Poolesville is also the richest city in Maryland, with residents earning a median income of $183,700, and the city's affordability really becomes plain.
Poolesville residents pay the smallest proportion of their income towards housing of anywhere in the state, for both renting and buying.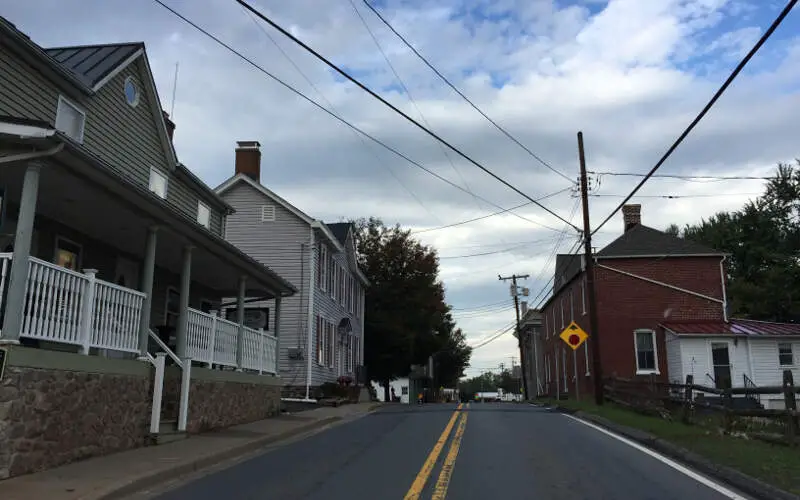 Cheap living and college students practically go hand in hand so it's fitting that, Frostburg, our eighth most affordable place to live in Maryland is also where Frostburg State University is located.
We're sure the area's median rent rate of $730 is popular with pupils and long-term residents alike. The rate also happens to be the second best in Maryland. A rank that makes jumping into homeownership slightly less appealing. However, those who do put down roots here reap financial benefits as well. The area also ranks highly for its median home value, nabbing the No. 2.0 spot for best in the state.
And for all that money burning a hole in your pocket, Frostburg has a decent number of ways for you to spend it. Activities available range from dishing out a few bucks to load up on gas and drive to the nearby scenic spot of Dans Rock Overlook to getting a round of drinks–and maybe a bottle of wine or two — for the gang at Toasted Goat Winery.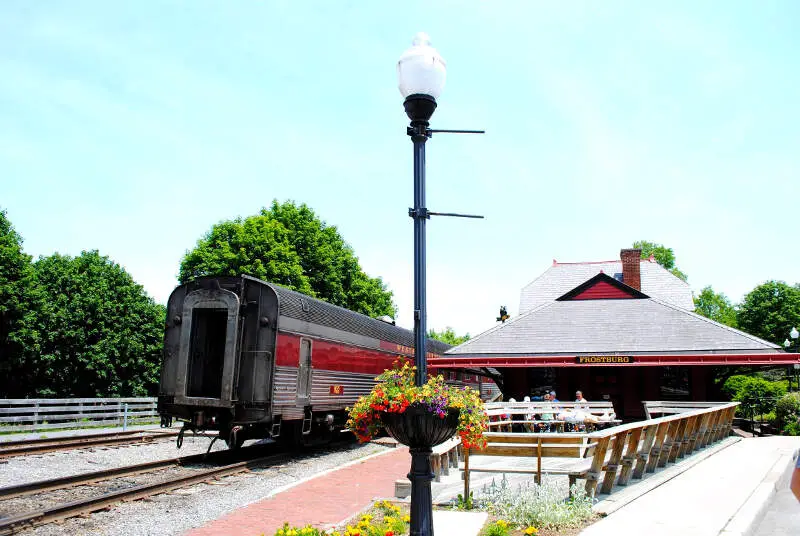 Taneytown is no stranger to the Homesnacks spotlight; we already named it the second safest place in Maryland, so finding out that you can live here for next to nothing is just icing on the cake. You wouldn't know that Maryland is one of the most expensive states in America living in Taneytown, where the median home price is $258,800 and the median income is $67,689.
Taneytown is located an hour northwest of Baltimore.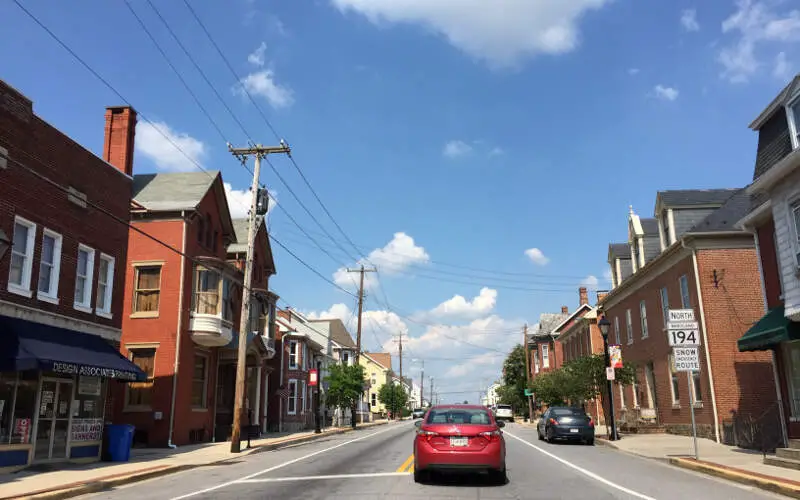 Mount Airy is a town about 25 minutes southeast of Frederick with plenty of perks. Not only did it land a spot on this list, we also named it one of the best places to live in Maryland.
In addition to the city's impressive grip on crime, it also has an unemployment rate of 2.17%. Residents are always happy when there are enough jobs to go around but they're ecstatic when those jobs pay well too, which is exactly what the employers of people here do. The median household income in Mount Airy is $123,750.
While the community's median home value of $387,800 may not be as competitive as those of other areas, a mortgage associated with it is still manageable. People here also have the luxury of taking advantage of the fourth best rent rate to household income ratio in Maryland. With all these reasons to celebrate calling Mount Airy home, residents might want to consider saying "cheers" to choosing a top-notch place to live with a glass of vino from one of the area's wineries like Black Ankle Vineyards.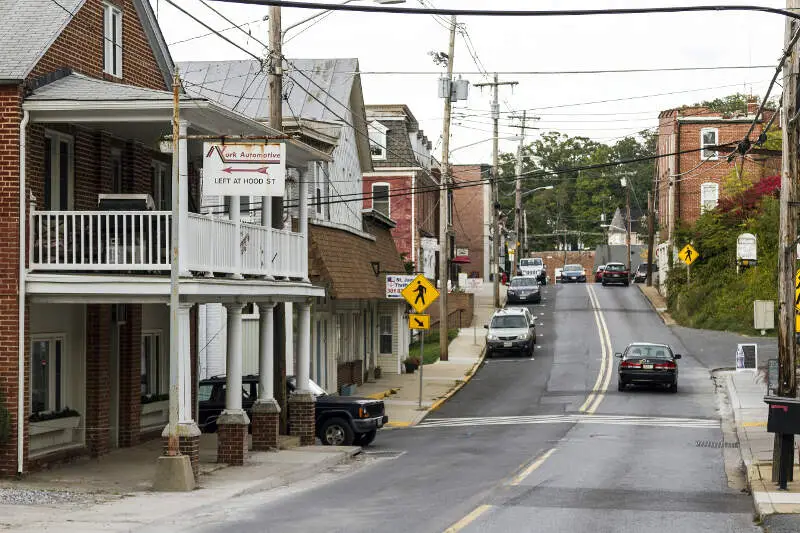 Cheapest Places To Live In Maryland FAQs
The county in Maryland with the lowest cost of living is Frederick County. The average living wage in Frederick County is $103,539 according to MIT data. Frederick County has the lowest cost of living because it has relatively less expensive childcare and housing costs compared to Maryland as a whole. Childcare costs $19,459 a year in Frederick County for two children compared to the Maryland average of $20,462. Housing costs, defined as a blend of the average rent and average mortgage payment, are $21,180 per year in Frederick County compared to $17,913 on average in Maryland.
The cost of living in Maryland is 12.5% higher than the US average. According to MIT, the required living wage for a family of four with two working parents in Maryland is $100,959 vs the national average for a family of four with two working parents of $89,744. The median income of a Maryland household is $87,063.
The cheapest housing market in Maryland is Cumberland. The average home value in Cumberland is $104,200, the lowest in the state. The average home value in Maryland is $325,400, almost 3.1 times higher than Cumberland.
Methodology: How We Determined The Most Affordable Places To Live In The Old Line State For 2022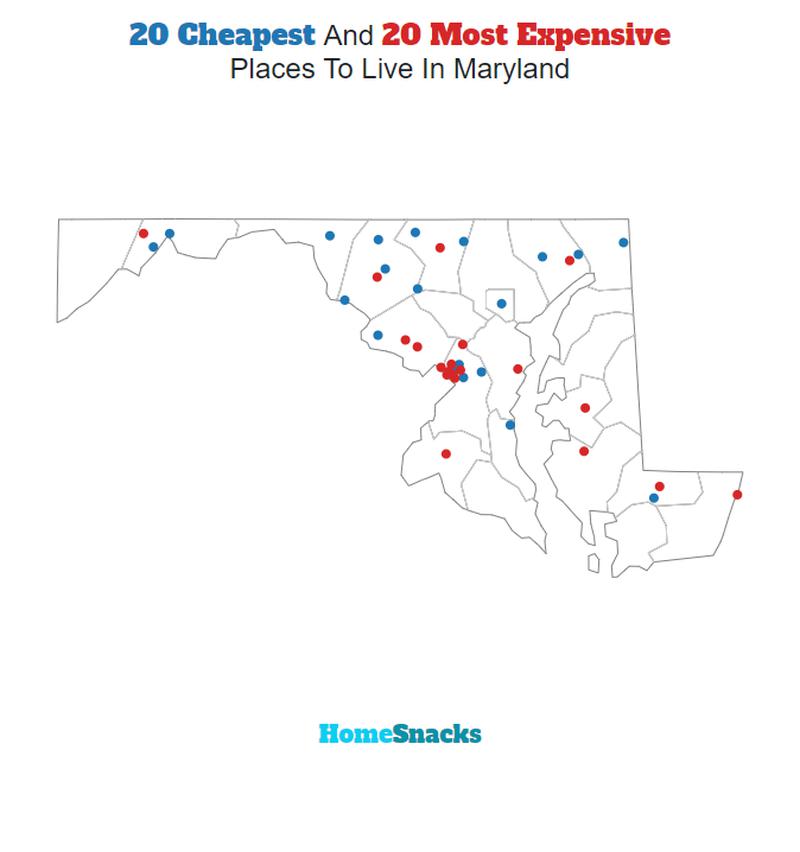 The two most important things to think about when it comes to being able to afford if you can live comes down to:
How much do money do I make?
How much do I have spend to live there?
You need to understand your costs in the context of how much money you make.
For example, if the median household earns $100,000 and spends $40,000 on housing it's actually cheaper to live there than a place with a median income of $50,000 and housing costs of $21,000. You might spend more on housing, but you have more money overall to play with.
With that example in mind, we derived several statistics from the latest Census American Community Survey 2016-2020 around incomes and costs. They are:
Median Home Price / Median Income (lower is better)
Median Income / Median Rent (Higher is better)
Median Home Price
We added simply median home price because high home prices generally correlate with higher expenses for all costs related to homes (heating, electricity, etc).
You can then compare these metrics in each of the places in Maryland to figure out which is the least expensive.
What you are left with is a "Cost of Living Index" by taking the average rank of each of these metrics for each city.
So we used that cost of living index in order to rank all of the 41 places in Maryland that have more than 5,000 people.
The place with the lowest cost of living in Maryland according to the data is Brunswick. You can download the data here.

Summary: There You Have It Mr. Or Mrs. Maryland Cheapskate
If you're looking at the cost of living numbers in Maryland, this is an accurate list of the most affordable places to live in Maryland for 2022.
Here's a look at the most expensive cities in Maryland according to the data:
Mount Rainier
College Park
Bladensburg
For more Maryland reading, check out:
The Most Affordable Places To Live In Maryland
Editor's Note: We updated this article for 2022. This is our ninth time ranking the cheapest places to live in Maryland.