The 10 Safest Cities In Connecticut For 2021
We used data and science to determine the places in Connecticut where everyone sleeps safe and sound.

Editor's Note: This article has been update for 2021. This is our sixth time rankings the
safest places to live in Connecticut
. All the data comes from the
FBI's Crime In The USA 2019 report.
Article Table Of Contents   
(Skip to section)
Don't worry, you won't get cut in Connecti-cut: it's super safe.
All jokes aside, we think they must be doing something right in Connecticut in terms of safety: 3.5 million residents can't be wrong, right?
Yes, there really are super safe places in The Constitution State, but you're going to have to know how to navigate the state's property and violent crime heat map to find Connecticut's best of the best in terms of safety because the state does have some dangerous places. And that's where HomeSnacks comes in, folks. We took a look at the FBI data on crime for places in Connecticut with more than 7,000 residents and created a list of the safest places to live in The Nutmeg State for 2021.
Our research led us to multiple conclusions. One, Connecticut is one of the oldest states in the country, so they've had plenty of time to get safety right. Two, they are one of the wealthiest states in the country, so they have plenty of extra cash to fund the programs that make a difference. And, third, you should probably take a look at our list of Connecticut's safest places below before you make ANY decisions. There might be some on that list that surprise you.
Incidentally, we discovered that there are safe places throughout the state for every budget. Yes, it's not too difficult to get your hands on safe family friendly places like Greenwich, quintessential Norman Rockwell-esque places like Cheshire Village, and places like East Hampton for professionals just starting out.
So, want to know where can live in Connecticut where you don't have to worry about thieves stealing packages from your porch when you're not home? Keep reading.
Here are the 10 safest cities to live in Connecticut for 2021:
Connecticut does have beautiful, mild summers, but super snowy winters; so for many, the burning question is: what is it about Connecticut that makes its residents happy to call it home?
We'll tell you, point blank, Connecticut is super safe; and this is especially evident in Connecticut's number one safest place to live, Weston.
If you want to see how Connecticut's other amazing safe places faired, take a look at the list below. And if you don't see your favorite there, head to the bottom.
For more reading on safe places to live in and around Connecticut, check out:
The 10 Safest Cities In Connecticut For 2021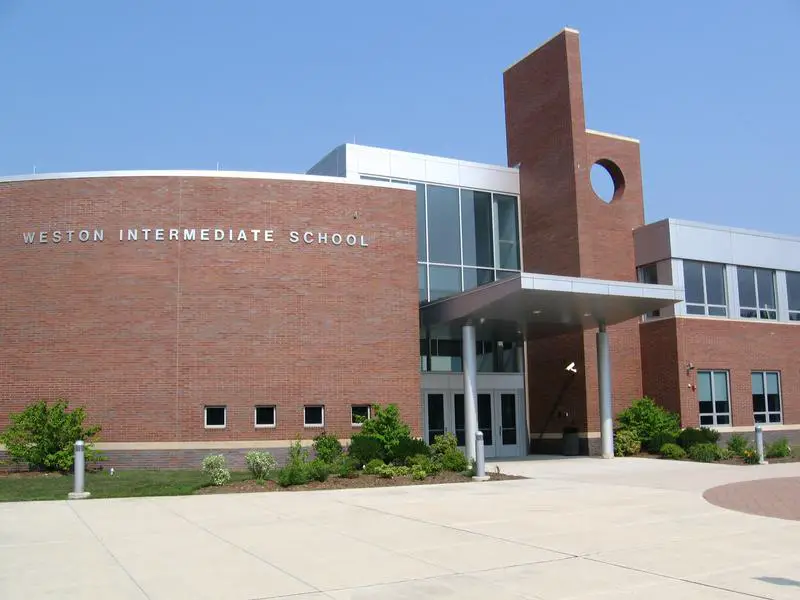 Source: Public domain
Population: 10,254
Rank Last Year: 1 (No Change)
Violent Crimes Per 100k: 0 (second safest)
Property Crimes Per 100k: 146 (safest)
More on Weston: 
While nearly 20% of Weston's workforce commutes to New York each day, residents can rest easy knowing that their hometown is much, much safer than their work city. There's no reason to be spooked by the Devil's Den Preserve, because when you're in Weston, you're in the place that experienced ZERO violent crimes in the last year of data.
Earning the gold medal for safety is a big achievement for Weston, which last year was just shy of making the list of top 10 safest cities in Connecticut with an 11th place finish. But when you have 0 violent crimes and the second lowest rate of property crime in an already super safe state, you know you're winning.
Population: 18,087
Rank Last Year: 5 (Up 3)
Violent Crimes Per 100k: 0 (second safest)
Property Crimes Per 100k: 359 (fifth safest)
More on Madison: 
The last of the three places with no violent crimes in the last report year is Madison. It just so happens to have the highest property crime rate amongst the top three in Connecticut.
At this point if felt weird that three places had no violent crimes, so we went directly to the data to double check. And our data was correct; these three cities did not report any violent crimes and there were no special notes, so we accurately reflect the data as shown by the FBI.
Even if you don't want to trust the FBI for some reason, take Bill Clinton's word for it as he called it an "especially old and beautiful" favorite during his time at Yale. If a president says this place is awesome, it must be safe.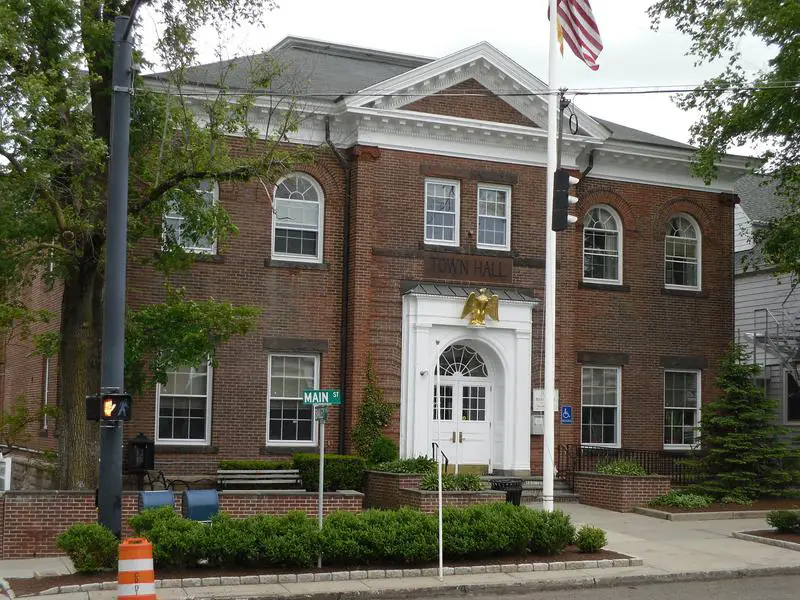 The second of three towns without any violent crime in the last reporting year is Ridgefield -- the third safest place to live in Connecticut.
The property crime rate here isn't anything to be embarrassed by as it ranks fourth safest in the state. So you can leave your door unlocked, your babies unattended, and wallet on the ground and nothing bad will happen.
Actually, maybe forget about that second one -- keep an eye on babies generally.
Ridgefield is a town in Fairfield County near the New York Border.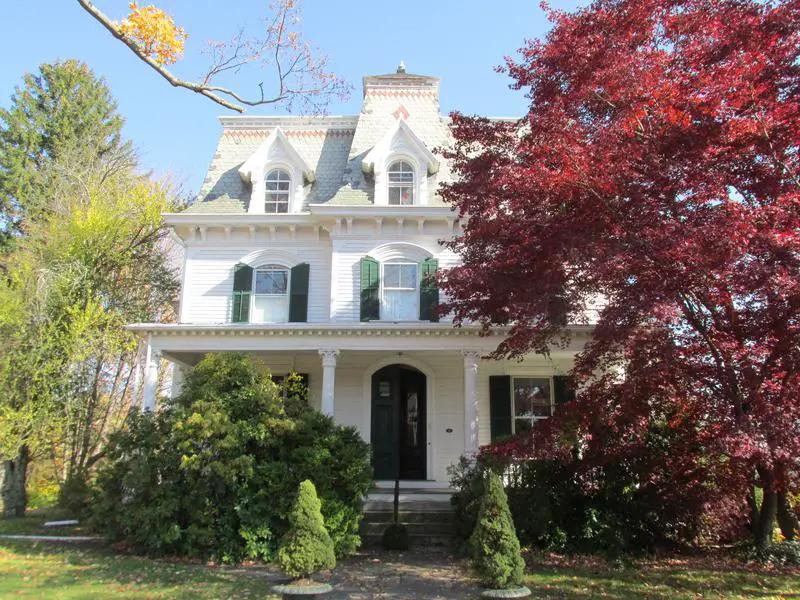 Population: 27,795
Rank Last Year: 9 (Up 5)
Violent Crimes Per 100k: 21 (13th safest)
Property Crimes Per 100k: 205 (second safest)
More on Newtown: 
Newtown comes in as the ninth safest place in Connecticut, with an especially low rate of property crime that ranks as the sixth lowest in the state. I mean, honestly, anywhere you can go on a hike with a mini llama sounds pretty darn safe to me.
Newtown only had 6 violent crimes during the last year of available data, which is actually the same number as #8 Greenwich. However, Newtown's smaller size makes it place a couple places behind Greenwich, but safely in the top ten.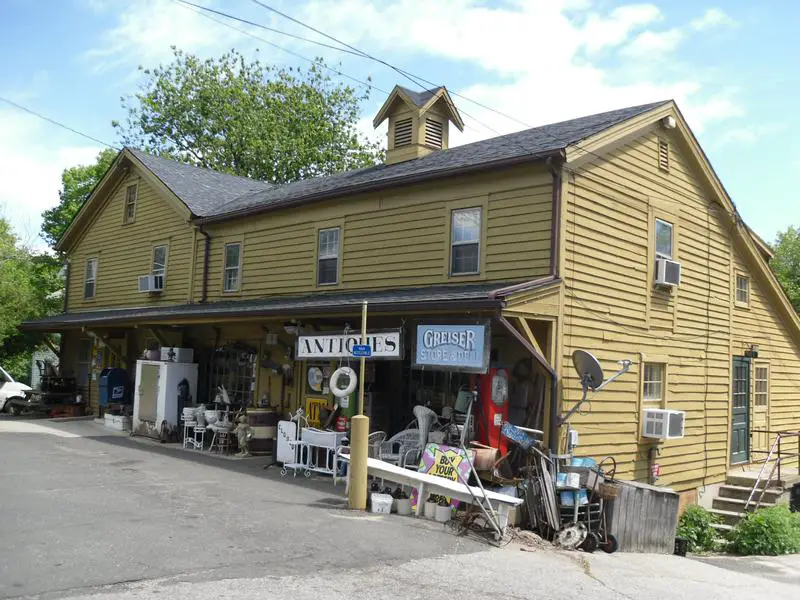 Population: 7,519
Rank Last Year: 3 (Down 2)
Violent Crimes Per 100k: 0 (second safest)
Property Crimes Per 100k: 558 (14th safest)
More on Easton: 
Although it battles every year for it, Easton failed to take the top spot as the safest place to live in Connecticut for 2021 according to the most recent FBI data, instead placing third this year. The city is one of three towns in Connecticut that didn't have any reported violent crime -- no murders, no robberies, and no pushing old grannies for one whole year.
Add that to the lowest property crime rate in the state -- and 20x lower than the national average -- and you have a super safe place to live. The most dangerous thing in town? The Route 59 bridge in Easton, which carries more than 10,000 cars and trucks every day over the Mill River, has a substructure rated in critical condition by state safety inspectors. So maybe watch out for that.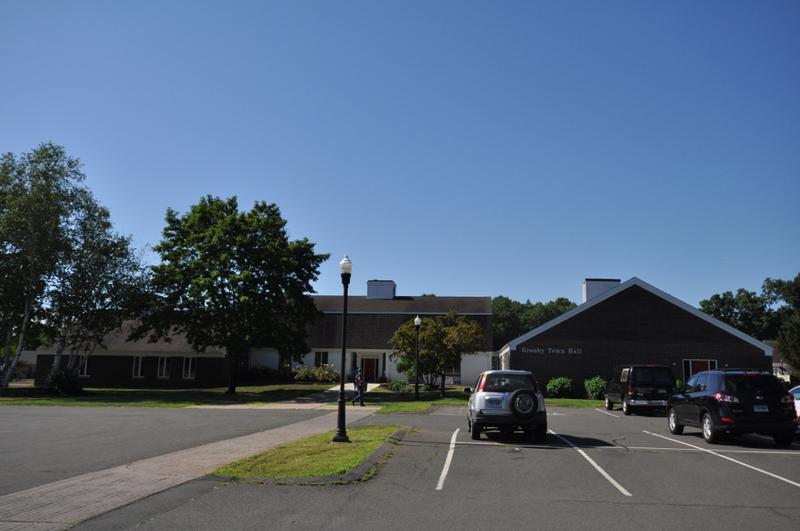 Population: 11,386
Rank Last Year: 18 (Up 12)
Violent Crimes Per 100k: 0 (second safest)
Property Crimes Per 100k: 562 (15th safest)
More on Granby: 
Isn't it grand to see Granby here in the top ten safest places in Connecticut.
According to Wikipedia, Granby is a rural town, located in the foothills of the Litchfield Hills of the Berkshires, besides the suburban natured center, the outskirts of town are filled with dense woods and rolling hills and mountains.
Sounds like a fortified castle upon a hill that no evil doer could possibly even enter. And it turns out that leads to only having 3 burglaries and 3 car thefts -- proof that it's very safe indeed.
And those numbers would make sense given it's ranking here.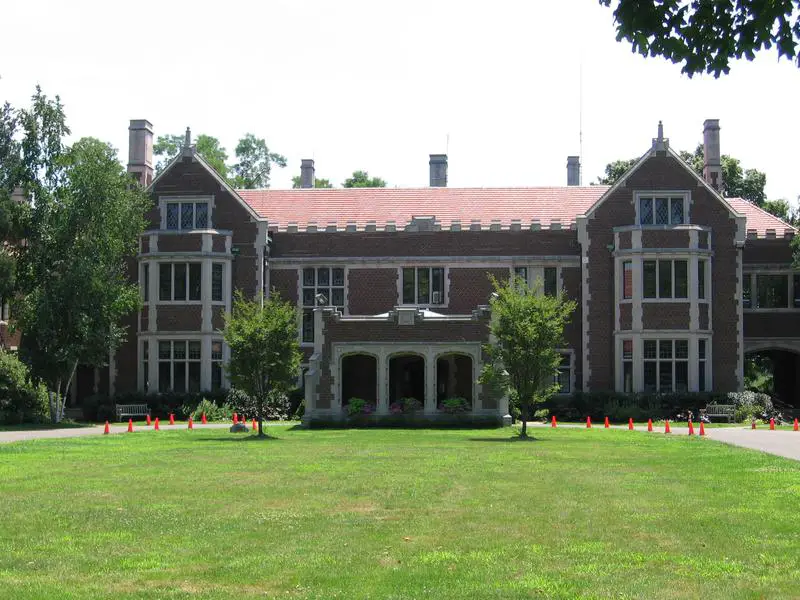 Source: Public domain
Population: 20,268
Rank Last Year: 4 (Down 3)
Violent Crimes Per 100k: 9 (sixth safest)
Property Crimes Per 100k: 498 (12th safest)
More on New Canaan: 
Everyone knows that the best Canaan is New Canaan, which just so happens to be the safest Canaan in Connecticut. It's hard to keep saying how safe these places in Connecticut really are, but when the seventh place town only has 9 violent crimes per 100,000 people, that's insanely safe.
Furthermore, the city has a property crime rate 10x better than the national average and it's not even in the top three in Connecticut. Safe to say, it's super safe here. New Canaan is located outside of Norfolk on the New York state border.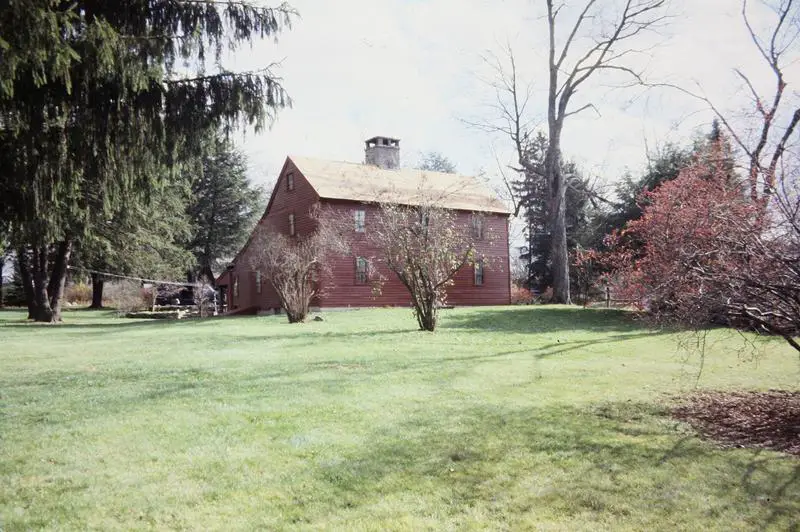 Population: 19,466
Rank Last Year: 19 (Up 11)
Violent Crimes Per 100k: 15 (tenth safest)
Property Crimes Per 100k: 431 (ninth safest)
More on Monroe: 
Location is everything in real estate, right? Well, Monroe, Connecticut, is situated at the crossroads of few major urban areas. Most importantly, it's about an hour and a half outside of New York City, making it a perfect home for commuters to the Big Apple. At the same time, Monroe sits about an hour from the state capital of New Haven.
Along with this great location, Monroe has other attributes that make it a wonderful place to raise a family. At the top of this list: safety. Monroe reported just 3 violent crimes in a community of 19,466 people. That equates to a per-capita rate of 15/100k people - the tenth safest best pace in the state.
Monroe also suffered just 84 property crimes over the course of the reporting year. All told, these figures make the area the number 8 safest spot in Connecticut.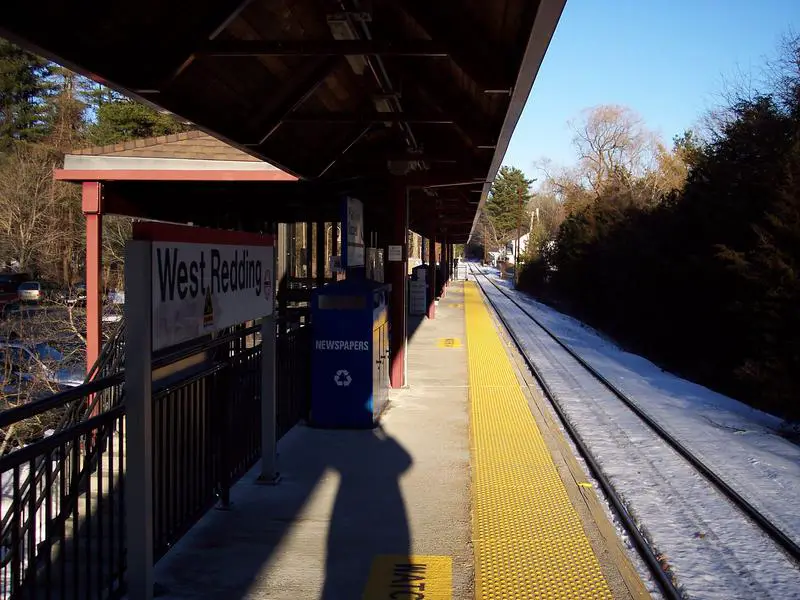 Population: 9,120
Rank Last Year: 7 (Down 2)
Violent Crimes Per 100k: 21 (16th safest)
Property Crimes Per 100k: 383 (sixth safest)
More on Redding: 
It's a testament to just how safe Connecticut is as a whole that Redding is only ranked as the seventh safest place in the state. Redding has a property crime rate nearly 8 times lower than the national average, which earns it the third place ranking statewide for that category. Add to that a mere two reported violent crimes in the last year of data, and you've got a recipe for success.
Honestly, Redding is as safe as the wolves and bears at Collis P. Huntington State Park, which, by the way, are statues. In what's becoming a trend, Redding is also located in the southwestern part of Connecticut.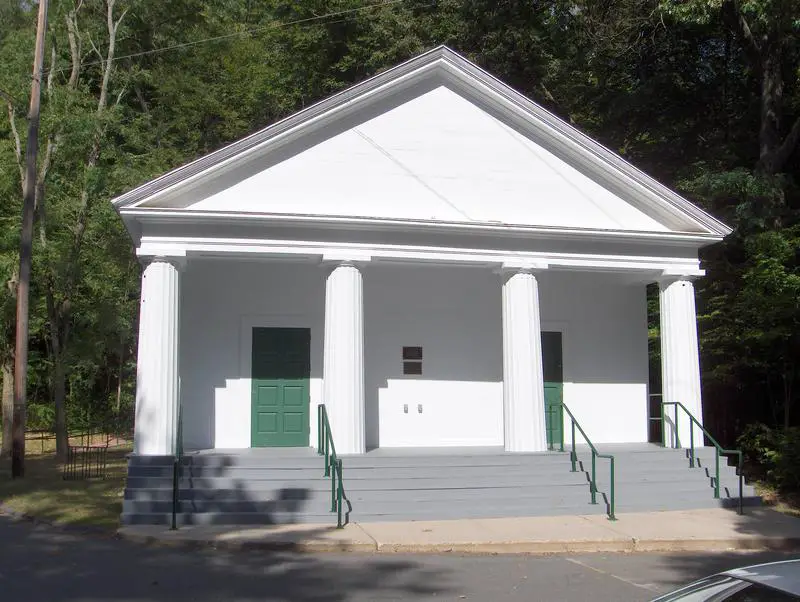 Population: 25,169
Rank Last Year: 11 (Up 1)
Violent Crimes Per 100k: 11 (seventh safest)
Property Crimes Per 100k: 580 (16th safest)
More on Simsbury: 
Simsbury, a town of some 25,000 people, ranks as the tenth safest city in the Nutmeg State.
It has a top ten finish for violent crimes in Connecticut and ranks int the top 20% for property crimes.
Simsbury is no stranger from these types of lists as it has appeared on many Time and Money lists as a best place to live in country, nevermind just Connecticut. There are great schools, affordable housing, and, of course, little to no crime -- all making for a great combination to call home.
Simsbury is another suburb right outside of Hartford.
How we calculated the safest cities in Connecticut for 2021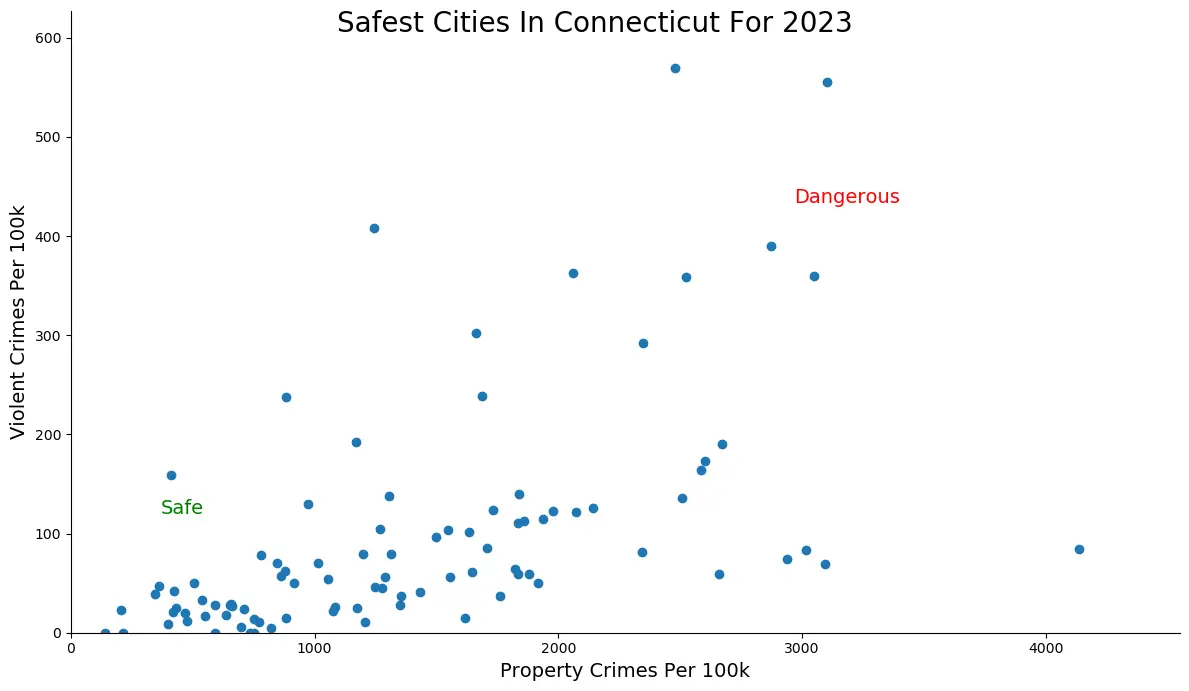 While there are surveys and public polls on what cities in a state are the safest, we didn't want to rely on speculation and opinion. Instead, we looked at the hard numbers from the FBI's most recent report of crime (Published Sept 2020) in Connecticut.
Specifically, we analyzed the
FBI's Uniform Crime Report
which summarizes the number of property crimes and violent crimes in each city per year. We used two criteria:
Violent crimes per capita (murders, assaults, rapes, armed robberies)
Property crimes per capita (thefts, burglaries, motor vehicle thefts)
For example, there were a total of 15 crimes committed in Weston which had a reported population of 10,254. That means the number of crimes per capita is 0.0015 which translates into a 1 in 683 chance of being the victim of a crime.
We only looked at cities that have populations of more than 7,000 people reported to the FBI in 2019, the last reporting year. This left us with a total of 93 of the biggest cities in Connecticut to rank.
We ranked each city for each criteria from 1 to 93 where 1 in any particular category is the safest.
Next, we averaged each places two criteria to create a Safety Index. We crowned the place with the lowest overall Safety Score "The Safest Place In Connecticut" with any ties going to the bigger city. You can download the data here.
The safest city in Connecticut, based on our criteria, is Weston. The most dangerous city in Connecticut? New Haven, where residents had a 1 in 21 chance of being the victim of a crime.
Note: This report is not an analysis of the effectiveness of local police departments, nor does it reflect the fact that people from out of town may come into a community and cause a crime. It simply looks at where crimes occurred most frequently, based on a city's population.
There You Have It - The Safest Cities In The Constitution State
Looking at the data, you can tell that Weston is as safe as they come, according to science and data.
But as most Connecticut residents would agree, almost every place here has its safe and not safe parts. So just make sure you're informed ahead of time.
Here's a look at the most dangerous cities in Connecticut according to the data:
New Haven
Hartford
Waterbury
For more reading, check out:
Breaking Down Crime In The Safest And Most Dangerous Cities In Connecticut

Share on Facebook
Chris Kolmar has been in the real estate business for almost ten years now. He originally worked for Movoto Real Estate as the director of marketing before founding HomeSnacks.
He believes the key to finding the right place to live comes down to looking at the data, reading about things to do, and, most importantly, checking it out yourself before you move.
If you've been looking for a place to live in the past several years, you've probably stumbled upon his writing already.
You can find out more about him on LinkedIn.