Article Table Of Contents   
(Skip to section)
Oregon is best known for its forests, mountains, farms, and beaches.
The Beaver State also has some of the best cities to call home.
The love the residents have for their state is evident on every license plate. "We love Dreamers," "Things Look Different Here," and "Pacific Wonderland," are just a few of the bold statements Oregonians boast about their state on a daily basis. Who wouldn't be in love in with a state where you can ski and surf both in the same day.
Oregon has every type of city for every type of person. Hip millennial cities like Portland, hippie tree huggin' cities like Bend, and coastal cities like Coos Bay are great places to find work, raise families, and just plain enjoy life.
And if that doesn't seal the deal, check out our stories, Best States to Raise a Family and Best States to Retire: Oregon crushes the competition.
Whether you are an Oregon State Beaver fan, or an Oregon Ducks fan, or just a fan of Oregon's 0% sales tax, there is a city in Oregon for you. How did we determine the best places to live in Oregon? Grab a chunk of Tillamook cheese and a Kriek from Cascade Brewing and read on.
The 10 Best Places To Live In Oregon For 2022
Oregon cities are known for their quirky, avant-garde culture, iconic coffee shops, local flare, and farm to table restaurants. And, don't get us started on their gold star recycling programs and cutting edge transportation.
Needless to say, it was very difficult to narrow down 74 of Oregon's best places to live to just ten.
What city is the best place to live in Oregon for 2022? Well according to the US Census and FBI data we crunched, Sherwood is the best place to live in Oregon if you care about home values, low crime, and a high quality of life.
We also looked at facts like low unemployment rates, education, and available housing to individually analyze the cities. Below are the top ten best places to live in Oregon based on our calculations.
If you're looking for something more national, check out the best states in America or the best places to live in America.
For more Oregon reading, check out:
The 10 Best Places To Live In Oregon For 2022
This Sherwood might not be protected by Robin Hood, but it does have one of the lowest crime rates in Oregon: and this, folks, is one of the reasons it's the best place to live in The Beaver State. This, and so much more.
Sherwood scored low in only two categories on our SnackAbility scale–diversity and commute times. On the flipside, Sherwood's high marks in jobs, housing, education, and amenities definitely make up for slightly longer commute times from one of the most beautiful places in the Pacific Northwest to anywhere in the United States. We're pretty sure when you strip down the numbers and realize that the median home price in Sherwood is only $426,400 and that the combined household income here is upwards of $107,537/year, an extra couple of minutes to PortlandPortland will feel like a walk in the park.
Speaking of parks, did we mention that this is one of the best places in Oregon for families? Yes, not only is Sherwood a short distance from the Pacific Coast, it has 15 parks inside its city limits–picture yourself biking Pioneer Park or taking the family dog to play at the Sherwood Dog Park. In terms of education, Sherwood has one of the highest graduation rates and one of the greatest percentages of students in the state who go to college.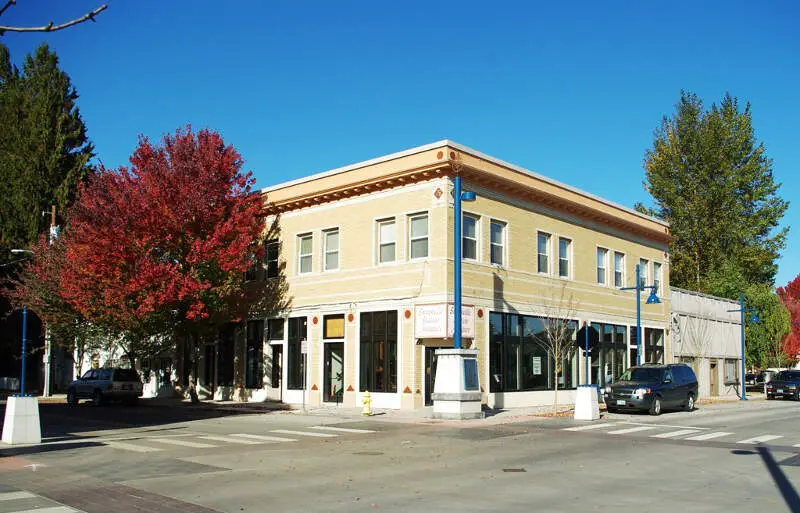 Source: Public domain
If Oregon had a best city 'Walk of Fame," Lake Oswego would already have a spot front and center as this place in Clackamas County continues to be the #2 best place to live in Oregon year after year.
Lake Oswego's multiple intriguing features such as a lake in the middle of the town (hence the name), its cost of living, and low crime rate, have made this place the envy of anyone who doesn't currently live here–at least this is what the city's 39,476 residents are saying…..
So, when we crunched the city's SnackAbility numbers, we were not surprised to find that the people who live here make a combined household income of $114,444/year. And, folks, you will need this type of cash if you want to be able to afford the #2 highest median home price in the state. However, with the 24th lowest unemployment rate at 4.3% should put your mind and your wallet at ease. You will also sleep well at night knowing that Lake Oswego is one of the safest places in the state.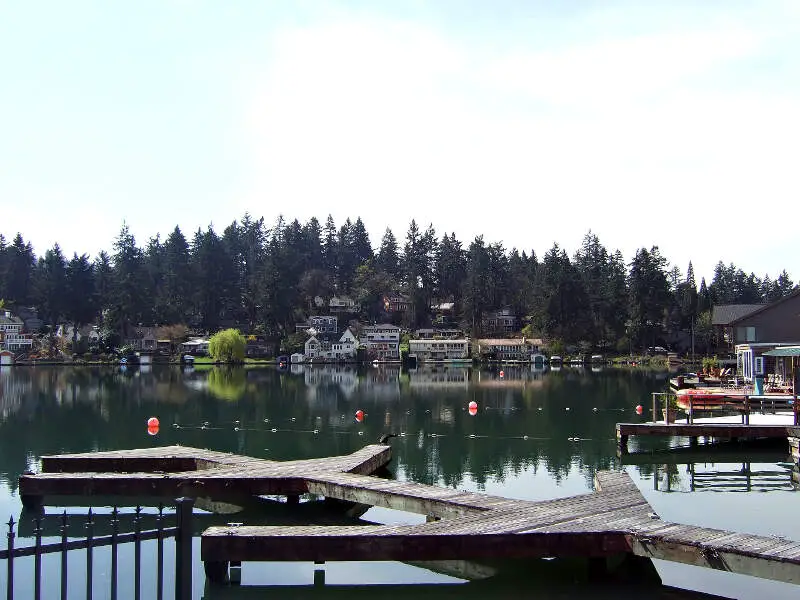 Go ahead, check out the rest of Oregon, but the 3rd best place to live in the state, West Linn, knows that when you're done traveling The Beaver State's concrete rivers you will choose to settle down inside its city limits. How does West Linn know? Well, it has consistently been putting up some of the best numbers in the state for safety and education. In fact, it scored a perfect 10/10 on our Snackbility Scale.
West Linn is definitely not one of the cheapest places in the state, but economic trends tell us that if you want a place with a low crime rate (we're talking 63% below the national average safe) and great schools (Bolton Middle School and West Linn High School are both National Blue Ribbon Schools) your cost of living is going to be quite a bit more. Like, the 2nd highest median home price in the state at $528,600 more. And, if keeping up with the "West Linn Joneses" is your shtick, just know that you're going to have to make at least $119,415/year.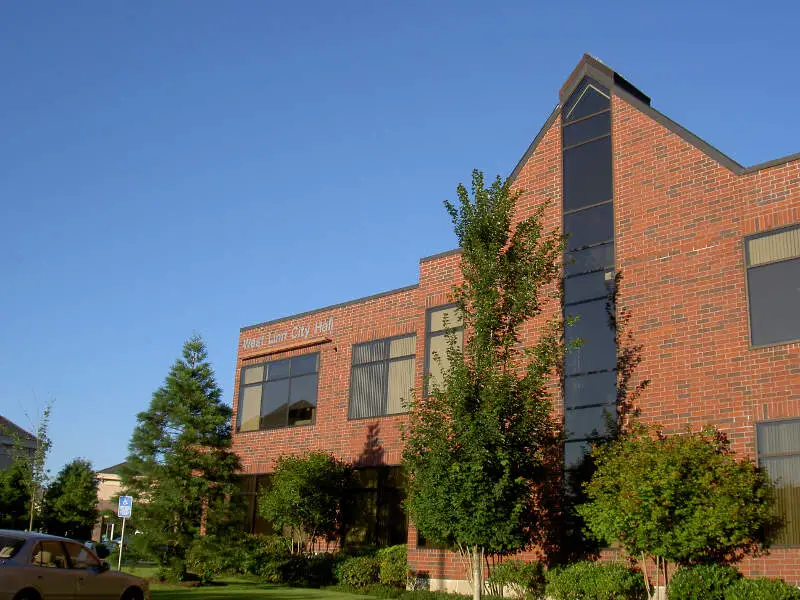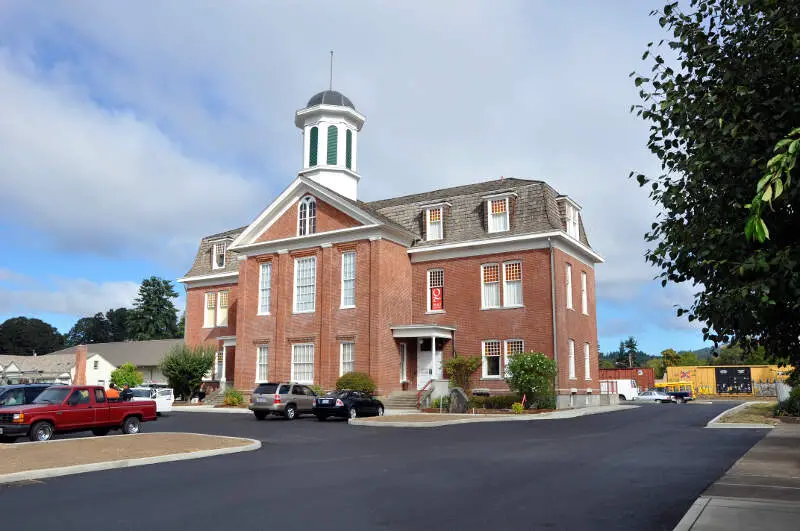 If it's time to uproot your family with a little spring cleaning, start with a move to Oregon's 5th best place to live, Tigard. To be honest, we wouldn't be at all surprised to see CNN call Tigard one of the best places to live in the United States with the consistent numbers it puts up year after year.
Why Tigard, you ask? Well, here's the latest scoop. For one, it's pretty safe in here. In fact, if it weren't for a couple of larceny and property crimes Tigard's crime rate would be one of the lowest on our list. In terms of Tigard's cost of living, all major services–including health, groceries, and utilities are in line with the state average except for housing. Yes, Tigard has the 8th highest median home price in the state at $431,700 and the median income here is $86,757/year.
Tigard's walkable downtown has unique shopping and an extensive list of things to keep you and your family safely entertained for days. So, explore Tigard's downtown for some daytime fun and hit its nightlife circuit when you're not busy padding your bank account.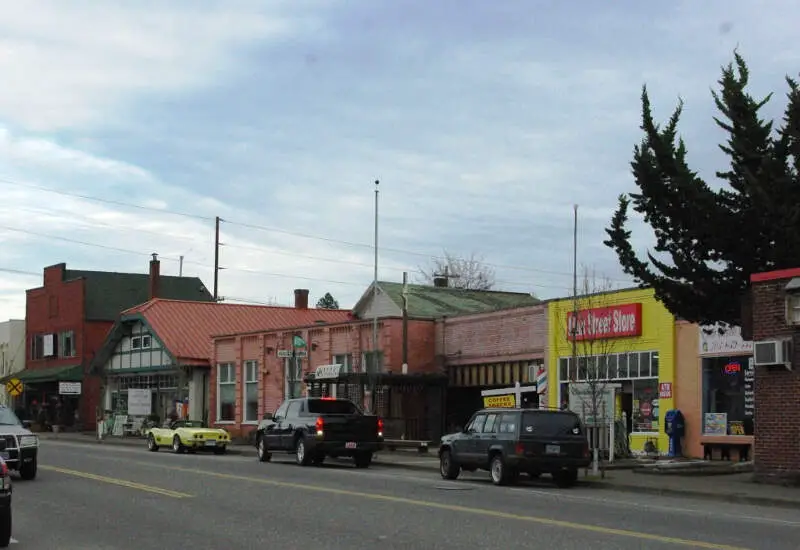 Source: Public domain
Another Portland-burb, Milwaukie is the 6th best place to live in Oregon.
Located along the banks of the Willamette River, The Dogwood City of the West keeps cranking out the numbers in the right direction. Milwaukie is not only one of the safest places on our list with its low crime rate (there were only 342 crimes reported this past year and a large majority of them were property related), it meets and exceeds expectations for its overall cost of living. When we looked at the city's median cost for things like health services, groceries, housing, and utilities, we found that Milwaukie's numbers are right in line with the rest of the state. In fact, if you want to buy a home in Milwaukie you can get one for $357,100–it is the 16th best place to buy a home in Oregon. The 21,086 residents here also make a lot of money–we're talking a median household income of $70,037/year.
Milwaukie also scored a 9/10 for amenities on our SnackAbility scale. Top attractions here include–but, are definitely NOT limited to– the year-round fun that can be found at the Kronberg Multi-Use Park. Just think of all the money you'll save on gas by biking to work!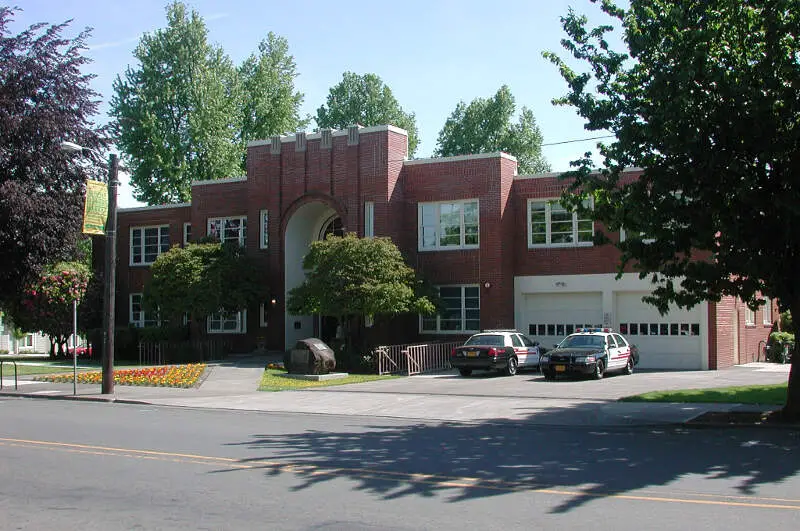 Scappoose, your 7th best place to live in Oregon ranking is well deserved based on the numbers. In fact, the current crime rate is 60% less than the national average making the city one of the safest places in the state as well. The overall cost of living in Scappoose, however, is slightly higher than the state's average, but the housing cost managed to slip under the national average. Surprisingly, it has the 28th best median home price in the state and the 7,436 residents make a decent median income at $79,375/year.
And all that money its residents are saving on housing costs, in turn, frees up money to invest into the economy as well as more money to experience the fun stuff that Scappoose has to offer. Like, hiking, biking, or kayaking the Scappoosse Bay River Trail or a weekend trying out new camping equipment along the Columbia River.
Hey Scappoose, keep your eye on the prize–you keep moving up the ranks like you are and maybe next year you'll be number one.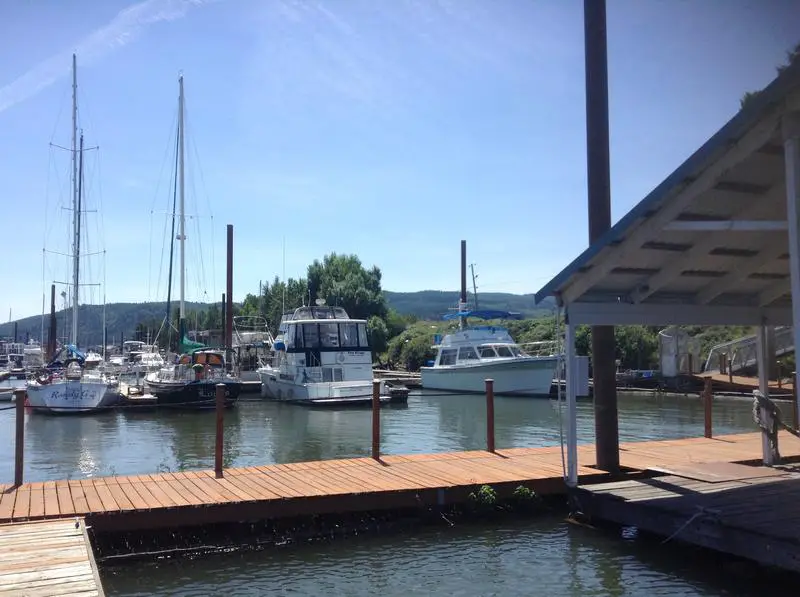 Your ticket to Oregon's 8th best place to live, Tualatin, is right here. This small town in The Beaver State consistently ranks high on many lists and this is why: one, the crime rate here is 10% below the state average. Simply put, there were only 790 crimes recorded at the time of this report. And, two, the cost of living in Tualatin also has a new look–the city's main services like groceries and utilities are comparable to Oregon's overall numbers. However, if you are looking to buy a home out of the gate, you will pay the 5th highest price in the state at $443,400.
Like many of the places that made our top ten list, Tualatin is also one of Oregon's best places to raise a family. The city's school district spends more money per student than most districts and it seems to be paying off as their Byrom Elementary School is a National Blue Ribbon School and their high school graduation rate is one of the highest in the state.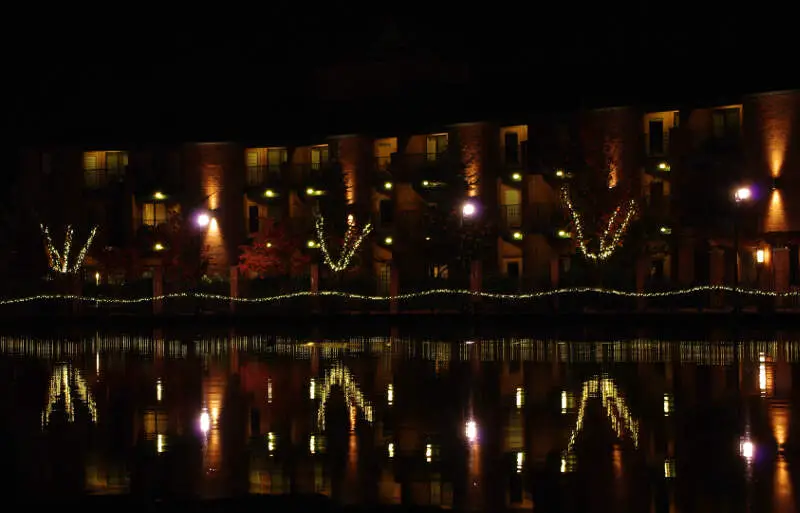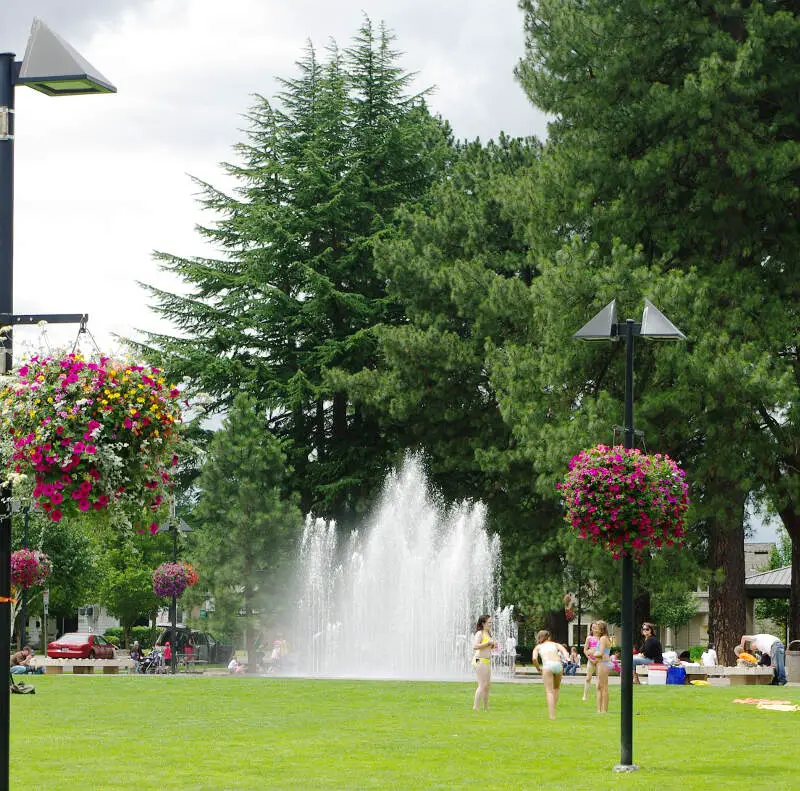 Source: Public domain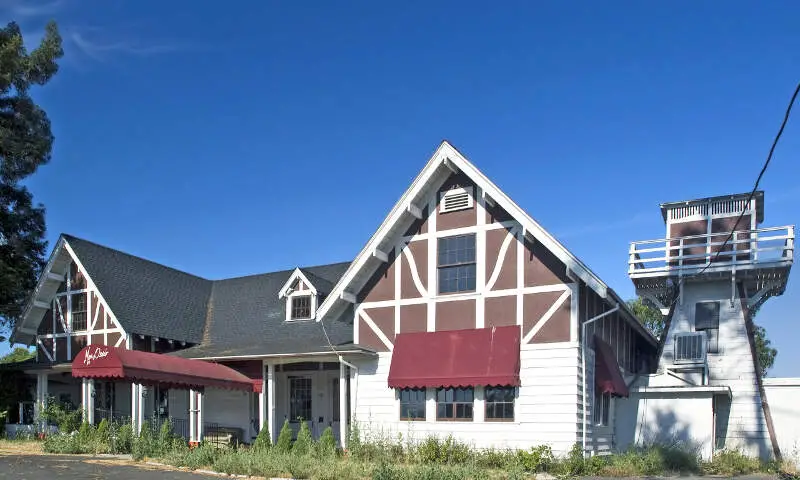 Mapping The Best And Worst Places To Live in Oregon
The Pressing Question: Size
Before we even started to collect data, we had to answer a tough question: Is it fair to pit Salem with a population of 171,806 against places with a population of 18?
We firmly decided no, that just isn't fair.
So to create our ranking, we broke places to live into three tiers:
Cities — Populations over 5,000
Towns — Populations between 1,000 and 5,000
Small Towns — Populations below 1,000
This left us with 74 cities, 107 towns, and 123 small towns.
We then decided, no matter how much anyone loves their town, the best cities to live in Oregon have more of everything and therefore you need to have over 5,000 people to truly be 'the best'.
Now we also realize that city living might not be your cup of tea, so we ran the following analysis on towns and then again for small towns.
You can see those two top tens at the bottom of the post.
Methodology: How We Calculated The Best Cities To Live In Oregon
Now that we had our set of cities, it was time to rank them.
We ranked each place in Oregon across a number of criteria from one to 74, with one being the best.
We then took the average rank across all criteria, with the city posting the lowest overall score being crowned the winner of the title "Best Place To Live In Oregon".
The criteria we looked at were:
Median Home Values
Median Income
Population Density (Higher better)
Unemployment Rate
Commute Time
Crime
Education Levels
Health Insurance Coverage
Poverty rates
Sources of criteria include the New Census Data and FBI Crime Data. You can download the data here.
After the dust settled, what was the best place to live in Oregon? That would be Sherwood.
If your city or town isn't among the top 10, jump down to the bottom of the post to see a detailed chart of the best places in Oregon.
Otherwise, buckle up for a ride down good living lane with Sherwood at the end of the cul-de-sac.

Summary: The Best Places When It Comes To Living In Oregon
If you're looking at areas in Oregon with the best economic situations, where there's lower than average crime, and a lot to do, this is an accurate list.
Sherwood made a strong showing to take in the overall number one spot for the best place to live in Oregon for 2022.
Best Towns To Live In Oregon
Banks (Pop. 1,688)
Jacksonville (Pop. 2,845)
King City (Pop. 3,599)
Eagle Crest (Pop. 1,630)
Stafford (Pop. 1,945)
Sublimity (Pop. 2,845)
North Plains (Pop. 2,072)
Yamhill (Pop. 1,174)
Durham (Pop. 1,417)
Dundee (Pop. 3,203)
Best Small Towns To Live In Oregon
Rivergrove (Pop. 438)
Cloverdale (Pop. 297)
Tetherow (Pop. 349)
Tumalo (Pop. 602)
St. Paul (Pop. 389)
Black Butte Ranch (Pop. 343)
Neskowin (Pop. 177)
Riverside (Pop. 152)
Bayside Gardens (Pop. 662)
Adair Village (Pop. 933)
If you're curious enough, here are the worst places to live in Oregon according to the data:
Madras (Pop. 6,934)
Sweet Home (Pop. 9,763)
Ontario (Pop. 11,031)
For more Oregon reading, check out:
Where Are The Best Places To Live In Oregon?
| Rank | City | Population |
| --- | --- | --- |
| 1 | Sherwood | 19,745 |
| 2 | Lake Oswego | 39,476 |
| 3 | West Linn | 26,764 |
| 4 | Philomath | 5,143 |
| 5 | Tigard | 54,149 |
| 6 | Milwaukie | 21,086 |
| 7 | Scappoose | 7,436 |
| 8 | Tualatin | 27,601 |
| 9 | Beaverton | 98,567 |
| 10 | Central Point | 18,648 |
| 11 | Bend | 97,032 |
| 12 | Eagle Point | 9,316 |
| 13 | Hillsboro | 108,026 |
| 14 | Gladstone | 12,316 |
| 15 | Keizer | 39,408 |
| 16 | Happy Valley | 22,049 |
| 17 | Newberg | 23,676 |
| 18 | Forest Grove | 24,847 |
| 19 | Creswell | 5,445 |
| 20 | Molalla | 9,224 |
| 21 | Silverton | 10,426 |
| 22 | Corvallis | 58,612 |
| 23 | Ashland | 21,138 |
| 24 | Talent | 6,553 |
| 25 | Brookings | 6,475 |
| 26 | Hood River | 7,745 |
| 27 | Wilsonville | 24,413 |
| 28 | Sandy | 11,319 |
| 29 | Independence | 10,178 |
| 30 | Troutdale | 16,433 |
| 31 | Monmouth | 10,411 |
| 32 | Dallas | 16,612 |
| 33 | Portland | 650,380 |
| 34 | Florence | 9,037 |
| 35 | Canby | 17,860 |
| 36 | Cornelius | 12,767 |
| 37 | Seaside | 6,811 |
| 38 | La Grande | 13,380 |
| 39 | Albany | 54,442 |
| 40 | Warrenton | 5,635 |
| 41 | Winston | 5,444 |
| 42 | Sutherlin | 8,060 |
| 43 | Mcminnville | 34,466 |
| 44 | Stayton | 8,199 |
| 45 | St. Helens | 13,779 |
| 46 | Fairview | 9,382 |
| 47 | North Bend | 9,708 |
| 48 | Pendleton | 16,685 |
| 49 | Grants Pass | 37,938 |
| 50 | Milton-Freewater | 7,044 |
| 51 | Eugene | 170,457 |
| 52 | Newport | 10,767 |
| 53 | Sheridan | 6,122 |
| 54 | Lebanon | 17,144 |
| 55 | Astoria | 9,929 |
| 56 | Gresham | 110,456 |
| 57 | Redmond | 31,359 |
| 58 | Medford | 82,098 |
| 59 | Springfield | 62,729 |
| 60 | Roseburg | 23,237 |
| 61 | Woodburn | 26,008 |
| 62 | Salem | 171,806 |
| 63 | The Dalles | 15,518 |
| 64 | Tillamook | 5,308 |
| 65 | Hermiston | 17,512 |
| 66 | Cottage Grove | 10,302 |
| 67 | Umatilla | 7,215 |
| 68 | Veneta | 5,010 |
| 69 | Coos Bay | 16,326 |
| 70 | Klamath Falls | 21,509 |
| 71 | Prineville | 10,429 |
| 72 | Madras | 6,934 |
| 73 | Sweet Home | 9,763 |
| 74 | Ontario | 11,031 |
Editor's Note: We updated this article for 2022. This is our ninth time ranking the best places to live in Oregon.