When it comes to the cheapest places to live in Oregon, most people envision places with high-end vegan eateries, elitist Portlanders, and affluent nature enthusiasts.
Affordable living in the Beaver State is far from this stereotype.
To find the cheapest places to live in Oklahoma, we use Saturday Night Science and Census data on home prices, incomes, and cost of living. Real estate is a critical factor in the cost of living, and Oregon has plenty of cities where cheap, quality homes are available.
So, let's start a real estate version of Oregon Trail, where we'll substitute dollars saved for dysentery.
---
Table Of Contents: Top Ten | Methodology | Table | FAQs | Summary
---
The 10 most affordable places to live in Oregon
What is the cheapest place to live in Oregon? Milton-Freewater is the cheapest place to live in Oregon after crunching data from the US Census in terms of median housing costs, median income, and overall cost of living,
If you care about home values, cost of living, and high quality of life, grab a vegan spinach smoothie and read on.
Check out some more reading about Oregon and the cheapest places in the country:
The 10 Cheapest Places To Live In Oregon For 2023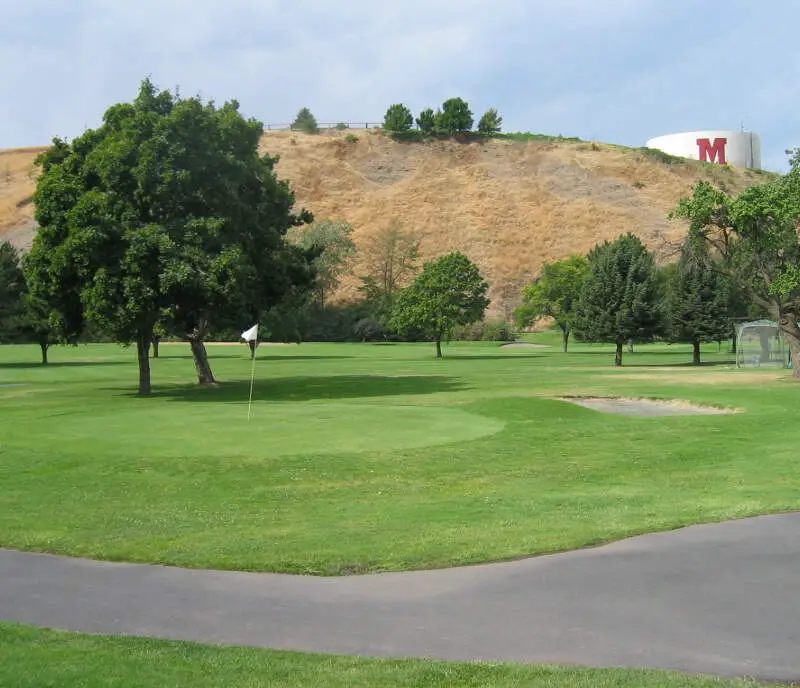 We're kicking off our tour of Oregon's most affordable cities with Milton-Freewater, a city of 7,143 in Umatilla County, a place renowned for its wine.
Before you think Milton-Freewater has nothing going on besides drinking, keep in mind it's also a naturally beautiful place to live. There are hiking trails and campgrounds at Harris Park, so you'll always be able to get into the great outdoors with ease.
The overall cost of living in Milton-Freewater is 25% below the statewide average, but in terms of housing, it's nearly half as expensive. Milton-Freewater enjoys the cheapest median rent and third cheapest median home prices in Oregon.
Your typical Milton-Freewater home sells for $156,200, while rent goes for around $635. And it's not like things are cheap in Milton-Freewater just because the local economy is bad. On the contrary, Milton-Freewater has a low unemployment rate, and the median household income is $48,250.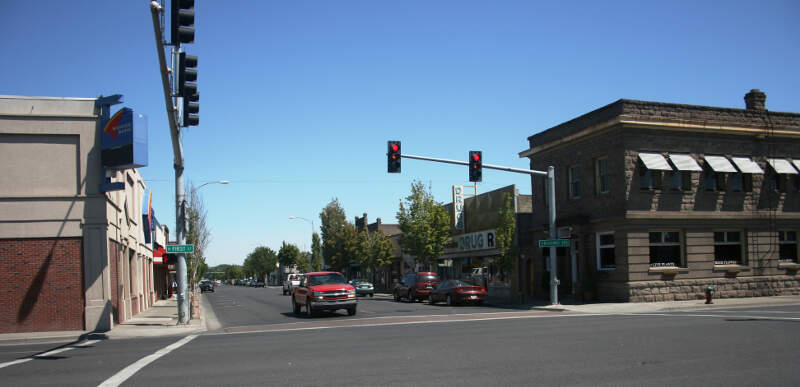 A close neighbor of Umatilla, Hermiston ranks as the second least expensive city in Oregon.
Like Umatilla, Hermiston has plenty of outdoor recreation activities to keep you busy on a budget. As far as jobs, the city's main industries are food processing and distribution, so if you've got experience in the field, it should be no sweat locking down a job in Hermiston. Hermiston has strong affordability numbers across the board, but really stands out in terms of inexpensive rent. At a median rent of $885, Hermiston residents pay less than half the average rent in Oregon and the pay the sixth smallest percentage of their income on rent statewide.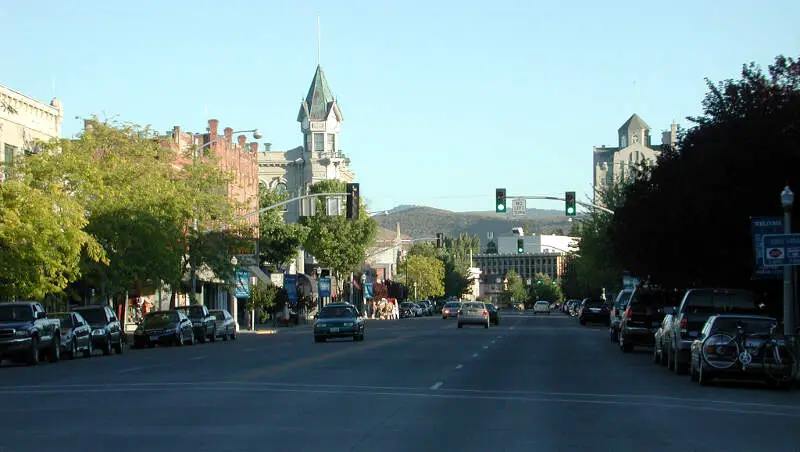 Baker City ranks as the third least expensive city in Oregon, with the fourth cheapest homes on the market statewide. Homes in Baker City go for a median price of $169,500. Combine that with a median income of $46,721, and Baker City has the seventh best home price to income ratio in Oregon.
And if you always died playing the Oregon Trail computer game as a kid, you can pick up some tips on surviving at the Oregon Trail Interpretive Center.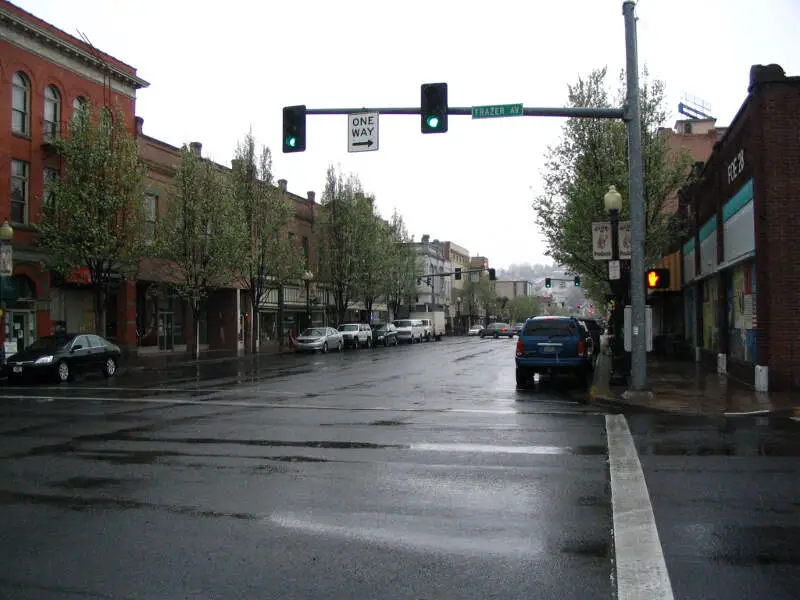 Source: Public domain
Pendleton is yet another Umatilla County city to make the cut as one of the cheapest places to live in Oregon. Buying a home in Pendleton will set you back about $206,100, which on an income of $58,093 is no sweat at all. Pendleton also has the eighth best rent to income ratio in the state, so if you're not ready to commit to a mortgage, Pendleton still has you covered.
Not to mention that if you're a rodeo competitor, you'll alway have a side gig ready for you at the Pendleton Round Up rodeo.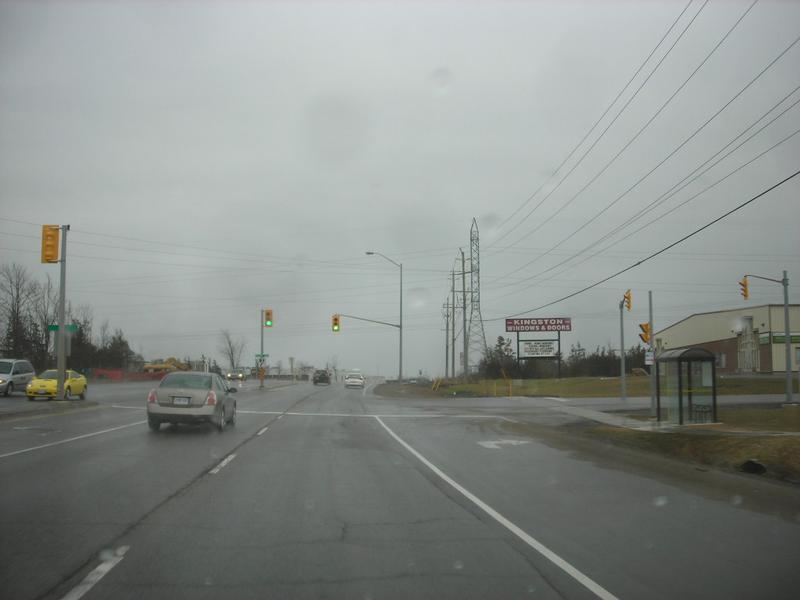 Oregon might be one of the states with the highest rent in America, but apparently Ontario hasn't gotten the memo. The median rent in Ontario is a measly $693, which is far below the national and statewide average. But that's not really why Ontario is on this list. It's because the city has the cheapest homes in Oregon, with a median price tag of $145,300. Taken with Ontario's median income of $42,568, and the city is safely in the top ten in Oregon for home price to income ratio.
Ontario is located in eastern Oregon, about an hour northwest of Boise, Idaho.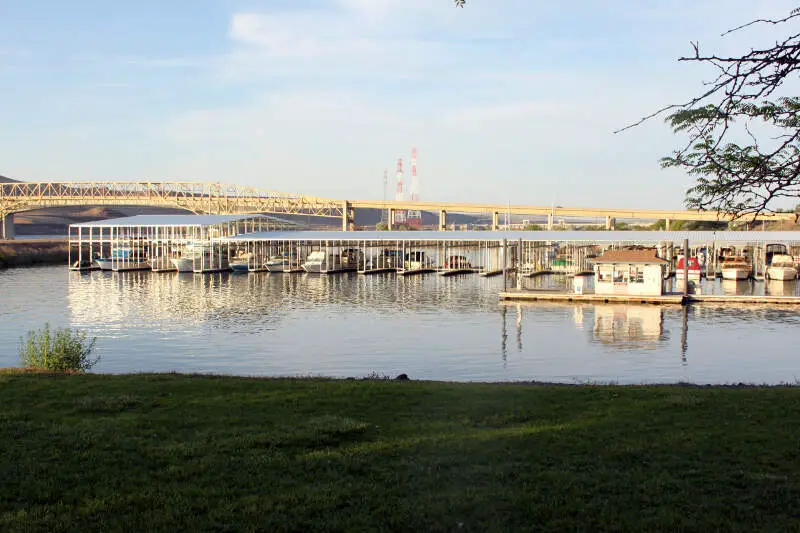 Oregon might not be the cheapest state in America, but try telling that to the folks in Umatilla. Homes in Umatilla go for the second lowest prices in the state, and nowhere in Oregon will you pay a smaller percentage of your income on housing.
And you'll get that quintessential Oregon outdoors-goodness at Hat Rock State Park, complete with trails, a pond for fishing, and resident eagles. Sounds like a good deal to me. The median home price in Umatilla is $156,000 and the median income is $51,790. Umatilla is also incredibly affordable for renters; with a median rent of $872/month, the city has the cheapest rent you'll find anywhere on this list.
That doesn't mean that Umatilla has skimped on safety though. In fact, it's the second safest place in Oregon.
Umatilla is located in the northeastern part of Oregon, across the Columbia River from Washington.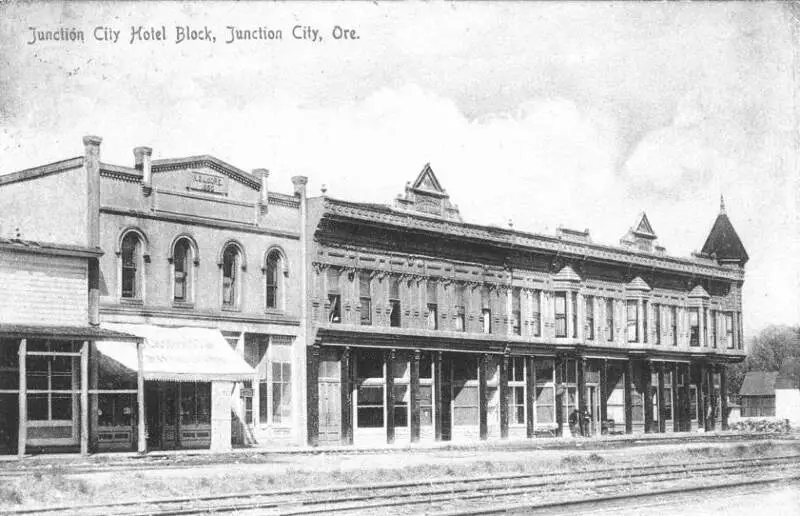 Source: Public domain
Junction City is an excellent choice for those seeking an affordable and enjoyable place to call home in Oregon. With a median home value of $247,000 and a median rent of $696, it is easy to see why this city ranks among the most affordable places to live in the state.
Junction City offers a small-town feel while close to larger cities like Eugene. Residents can enjoy local attractions such as the Scandinavian Festival, the historic district, and numerous parks and trails. There's also the Highway 36 "52-Mile Yard Sale" in late June, where yard sales span the length of Oregon Route 36.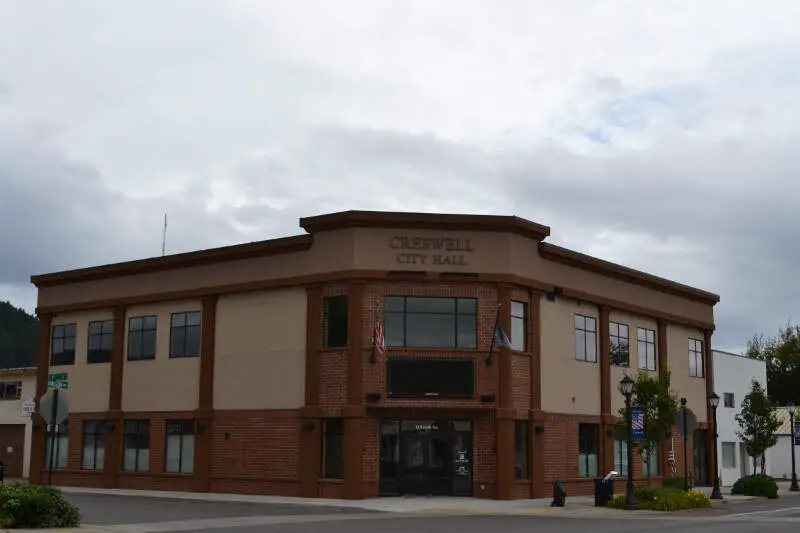 You'll have a hard time believing that you're living in one of the most expensive states in America if you call Creswell home. Homes in Creswell go for the second highest price on this list, with a median price tag of $283,100. However, because Creswell residents earn a median income of $78,974, the city is still safely in the top ten statewide in terms of home price to income ratio. Creswell does have the highest median rent on this list at $1,171, but it's still quite reasonable for Oregon.
Creswell is located just south of Eugene.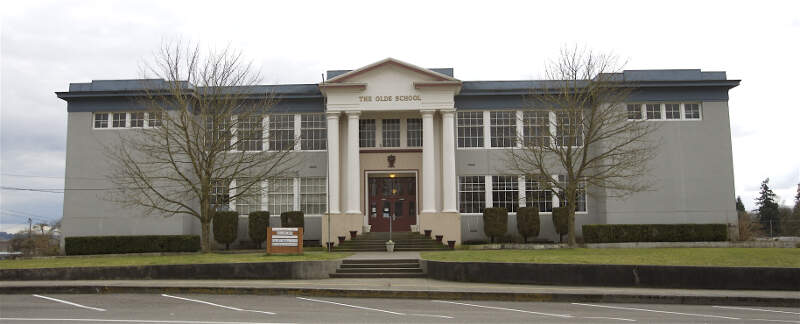 St. Helens is an excellent option for those looking for an affordable place to live in Oregon. The town has a median home value of $251,000 and a median rent of $1,077.
Located on the confluence of four rivers near Portland, St. Helens is a picturesque town with stunning views of the Columbia River, Mount St. Helens, and Mount Hood. You can enjoy outdoor activities such as hiking, camping, kayaking, and birdwatching and explore the historic riverfront district with its quaint shops and restaurants.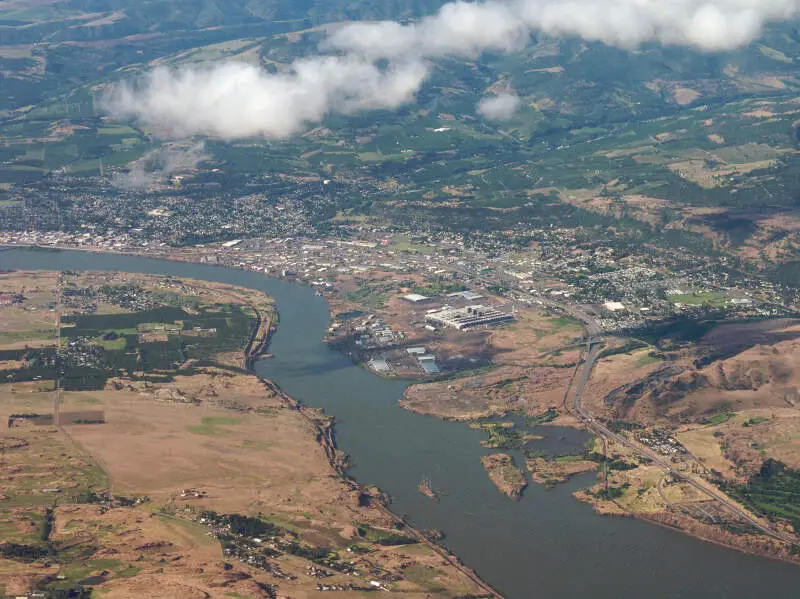 Located along the beautiful Columbia River with easy access to outdoor recreation, The Dalles offers an enjoyable lifestyle at an affordable price. Housing costs are much lower than in other cities in the state, and incomes come in relatively high for the price of housing.
Living in The Dalles doesn't mean sacrificing quality of life, either. The city boasts a low unemployment rate of 7.36, meaning residents have plenty of job opportunities. Additionally, the median income in The Dalles is $56,598, providing a decent living standard for those who call it home.
Cheapest places to live in Oregon FAQs
The county in Oregon with the lowest cost of living is Clackamas County. The average living wage in Clackamas County is $100,740 according to MIT data. Clackamas County has the lowest cost of living because it has relatively less expensive childcare and housing costs compared to Oregon as a whole. Childcare costs $16,564 a year in Clackamas County for two children compared to the Oregon average of $15,236. Housing costs, defined as a blend of the average rent and average mortgage payment, are $18,432 per year in Clackamas County compared to $15,603 on average in Oregon.
The cost of living in Oregon is 7.0% higher than the US average. According to MIT, the required living wage for a family of four with two working parents in Oregon is $96,003 vs the national average for a family of four with two working parents of $89,744. The median income of a Oregon household is $65,667.
The cheapest housing market in Oregon is Ontario. The average home value in Ontario is $121,600, the lowest in the state. The average home value in Oregon is $336,700, almost 2.8 times higher than Ontario.
Methodology: How we determined the most affordable places to live in the Beaver State for 2023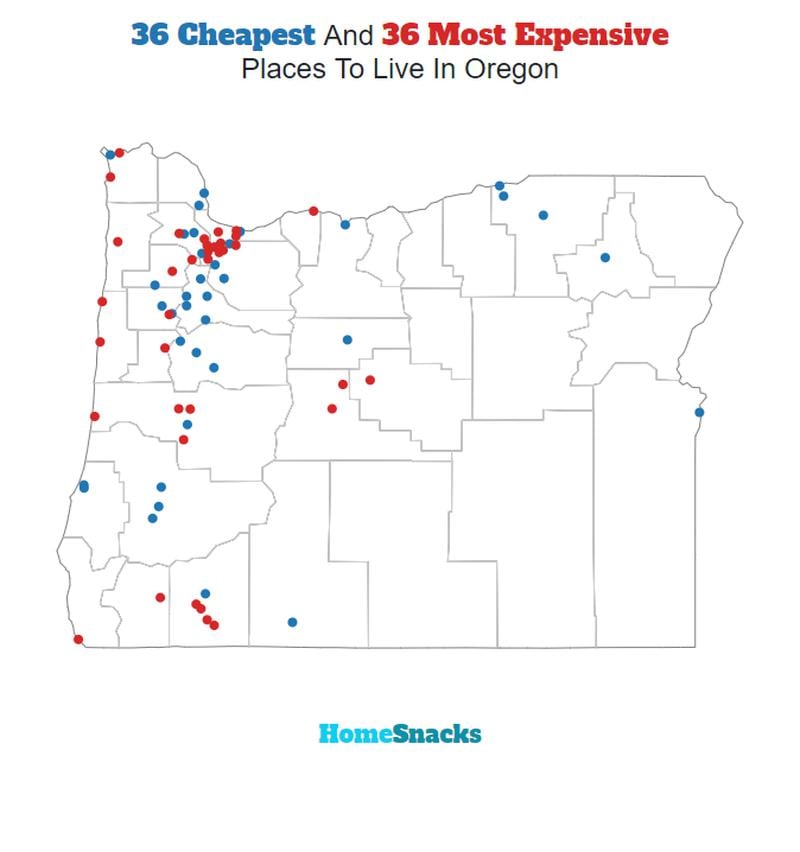 Determining affordability for places in Oregon boils down to two factors:
How much money do I make?
How much does it cost to live here?
You need to understand your costs in the context of how much money you make to determine affordability. For example, imagine a place in Oregon where median incomes are $100,000 and housing costs $200,000 to buy. That's more affordable than living in a place with a median income of $50,000 where houses cost $101,000. The ratio of income to home prices is higher in the first example.
With that logic in mind, we derived several cost of living statistics from the latest Census American Community Survey 2017-2021 for Oregon. The cost of living statistics are:
Median Home Price / Median Income (lower is better)
Median Rent / Median Income (lower is better)
Median Home Price
You can include median home price as a stand alone variable because high home prices generally correlate with higher costs for all goods and services (heating, electricity, food, etc). You then compare these cost of living metrics for each place in Oregon to figure out which is the least expensive.
We aggregate those rankings into a "Cost of Living Index" for each city in Oregon. The "Cost of Living Index" allows you to rank all of the 77 places in Oregon that have more than 5,000 people from least expensive to most expensive.
The place in Oregon with the lowest cost of living according to the data is Milton-Freewater.
We updated this article for 2023. This reports reflects our tenth time ranking the cheapest places to live in Oregon.

Oregon Affordabilility Summary
This is an accurate list of the most affordable places to live in Oregon for 2023, if you're looking at the cost of living numbers in Oregon.
Here's a look at the most expensive cities in Oregon according to the data:
Bend
Corvallis
Seaside
For more Oregon reading, check out:
Cheapest Places To Live In Oregon
| Rank | City | Population | Median Income | Home Prices | Rent | Home Price To Income | Rent To Income |
| --- | --- | --- | --- | --- | --- | --- | --- |
| 1 | Milton-Freewater | 7,143 | $48,250 | $156,200 | $635 | 3.2x | 0.16x |
| 2 | Hermiston | 19,141 | $60,971 | $193,800 | $885 | 3.2x | 0.17x |
| 3 | Baker City | 9,998 | $46,721 | $169,500 | $713 | 3.6x | 0.18x |
| 4 | Pendleton | 16,861 | $58,093 | $206,100 | $853 | 3.5x | 0.18x |
| 5 | Ontario | 11,465 | $42,568 | $145,300 | $693 | 3.4x | 0.2x |
| 6 | Umatilla | 7,224 | $51,790 | $156,000 | $872 | 3.0x | 0.2x |
| 7 | Junction City | 6,718 | $58,017 | $247,000 | $696 | 4.3x | 0.14x |
| 8 | Creswell | 5,625 | $78,974 | $283,100 | $1,171 | 3.6x | 0.18x |
| 9 | St. Helens | 13,808 | $67,839 | $251,000 | $1,077 | 3.7x | 0.19x |
| 10 | The Dalles | 15,942 | $56,598 | $238,500 | $881 | 4.2x | 0.19x |
| 11 | North Bend | 10,224 | $58,200 | $254,700 | $889 | 4.4x | 0.18x |
| 12 | Philomath | 5,353 | $70,806 | $278,500 | $1,189 | 3.9x | 0.2x |
| 13 | Central Point | 18,948 | $73,534 | $293,500 | $1,184 | 4.0x | 0.19x |
| 14 | Sandy | 12,383 | $88,775 | $347,000 | $1,315 | 3.9x | 0.18x |
| 15 | Winston | 5,591 | $49,433 | $187,400 | $974 | 3.8x | 0.24x |
| 16 | Albany | 55,776 | $65,587 | $271,100 | $1,104 | 4.1x | 0.2x |
| 17 | La Grande | 13,212 | $44,868 | $187,400 | $862 | 4.2x | 0.23x |
| 18 | Coos Bay | 15,921 | $48,233 | $211,900 | $864 | 4.4x | 0.21x |
| 19 | Sweet Home | 9,716 | $47,229 | $177,500 | $1,016 | 3.8x | 0.26x |
| 20 | Cottage Grove | 10,569 | $52,994 | $236,000 | $924 | 4.5x | 0.21x |
| 21 | Scappoose | 7,871 | $86,528 | $339,800 | $1,424 | 3.9x | 0.2x |
| 22 | Troutdale | 16,353 | $85,131 | $351,500 | $1,342 | 4.1x | 0.19x |
| 23 | Tillamook | 5,183 | $48,117 | $201,900 | $976 | 4.2x | 0.24x |
| 24 | Brookings | 6,706 | $72,273 | $331,000 | $1,041 | 4.6x | 0.17x |
| 25 | Dallas | 16,663 | $60,511 | $276,800 | $1,014 | 4.6x | 0.2x |
| 26 | Eagle Point | 9,600 | $73,159 | $296,600 | $1,325 | 4.0x | 0.22x |
| 27 | Sutherlin | 8,429 | $43,750 | $188,100 | $900 | 4.3x | 0.25x |
| 28 | Warrenton | 6,123 | $65,258 | $289,700 | $1,110 | 4.4x | 0.2x |
| 29 | Keizer | 39,119 | $68,460 | $300,700 | $1,161 | 4.4x | 0.2x |
| 30 | Happy Valley | 23,442 | $131,980 | $559,300 | $1,807 | 4.2x | 0.16x |
| 31 | Stayton | 8,199 | $65,813 | $310,700 | $1,002 | 4.7x | 0.18x |
| 32 | Independence | 9,850 | $65,019 | $260,400 | $1,320 | 4.0x | 0.24x |
| 33 | Roseburg | 23,551 | $47,921 | $214,900 | $924 | 4.5x | 0.23x |
| 34 | Molalla | 10,060 | $74,718 | $333,900 | $1,206 | 4.5x | 0.19x |
| 35 | Canby | 18,078 | $83,948 | $385,700 | $1,230 | 4.6x | 0.18x |
| 36 | Springfield | 62,138 | $54,503 | $250,800 | $1,036 | 4.6x | 0.23x |
| 37 | Klamath Falls | 21,710 | $42,047 | $203,800 | $823 | 4.8x | 0.23x |
| 38 | Madras | 7,381 | $43,722 | $227,500 | $821 | 5.2x | 0.23x |
| 39 | Woodburn | 25,877 | $54,330 | $241,300 | $1,123 | 4.4x | 0.25x |
| 40 | Redmond | 33,160 | $70,129 | $319,900 | $1,251 | 4.6x | 0.21x |
| 41 | West Linn | 27,173 | $124,098 | $572,000 | $1,765 | 4.6x | 0.17x |
| 42 | Newberg | 25,108 | $81,210 | $357,900 | $1,415 | 4.4x | 0.21x |
| 43 | Salem | 174,193 | $62,185 | $289,500 | $1,125 | 4.7x | 0.22x |
| 44 | Gladstone | 12,017 | $83,214 | $365,100 | $1,479 | 4.4x | 0.21x |
| 45 | Sherwood | 20,281 | $104,651 | $454,400 | $1,791 | 4.3x | 0.21x |
| 46 | Veneta | 5,199 | $53,885 | $248,600 | $1,070 | 4.6x | 0.24x |
| 47 | Hillsboro | 105,909 | $91,540 | $386,700 | $1,664 | 4.2x | 0.22x |
| 48 | Lebanon | 18,150 | $48,889 | $221,900 | $1,078 | 4.5x | 0.26x |
| 49 | Astoria | 10,166 | $58,709 | $330,700 | $941 | 5.6x | 0.19x |
| 50 | Cornelius | 12,893 | $72,917 | $330,000 | $1,384 | 4.5x | 0.23x |
| 51 | Tualatin | 27,821 | $97,931 | $466,200 | $1,498 | 4.8x | 0.18x |
| 52 | Forest Grove | 25,767 | $73,499 | $370,900 | $1,185 | 5.0x | 0.19x |
| 53 | Tigard | 54,750 | $93,532 | $456,500 | $1,479 | 4.9x | 0.19x |
| 54 | Silverton | 10,402 | $69,612 | $344,000 | $1,202 | 4.9x | 0.21x |
| 55 | Oregon City | 37,160 | $85,193 | $411,500 | $1,409 | 4.8x | 0.2x |
| 56 | Monmouth | 10,735 | $54,310 | $279,700 | $1,045 | 5.2x | 0.23x |
| 57 | Prineville | 10,611 | $44,167 | $235,900 | $965 | 5.3x | 0.26x |
| 58 | Florence | 9,353 | $50,615 | $269,300 | $1,028 | 5.3x | 0.24x |
| 59 | McMinnville | 34,224 | $58,692 | $311,500 | $1,123 | 5.3x | 0.23x |
| 60 | Lake Oswego | 40,390 | $120,585 | $691,700 | $1,811 | 5.7x | 0.18x |
| 61 | Newport | 10,305 | $52,897 | $299,300 | $1,014 | 5.7x | 0.23x |
| 62 | Medford | 84,894 | $57,424 | $307,200 | $1,113 | 5.3x | 0.23x |
| 63 | Grants Pass | 38,902 | $49,355 | $281,300 | $986 | 5.7x | 0.24x |
| 64 | Milwaukie | 21,108 | $73,351 | $388,700 | $1,346 | 5.3x | 0.22x |
| 65 | Beaverton | 97,466 | $82,380 | $419,600 | $1,515 | 5.1x | 0.22x |
| 66 | Fairview | 10,439 | $65,604 | $328,600 | $1,401 | 5.0x | 0.26x |
| 67 | Talent | 6,256 | $41,337 | $246,900 | $1,131 | 6.0x | 0.33x |
| 68 | Lincoln City | 9,655 | $49,297 | $279,900 | $1,078 | 5.7x | 0.26x |
| 69 | Hood River | 8,210 | $69,429 | $433,400 | $1,212 | 6.2x | 0.21x |
| 70 | Portland | 647,176 | $78,476 | $462,800 | $1,406 | 5.9x | 0.21x |
| 71 | Eugene | 173,278 | $55,776 | $337,200 | $1,134 | 6.0x | 0.24x |
| 72 | Gresham | 114,164 | $61,826 | $347,600 | $1,321 | 5.6x | 0.26x |
| 73 | Ashland | 21,348 | $63,641 | $494,700 | $1,175 | 7.8x | 0.22x |
| 74 | Wilsonville | 25,887 | $78,508 | $464,100 | $1,543 | 5.9x | 0.24x |
| 75 | Seaside | 7,058 | $41,488 | $339,600 | $928 | 8.2x | 0.27x |
| 76 | Corvallis | 59,407 | $58,315 | $387,200 | $1,205 | 6.6x | 0.25x |
| 77 | Bend | 97,042 | $74,253 | $462,400 | $1,531 | 6.2x | 0.25x |