When you think of affordable, does it take you back to your college days?
Eating ramen noodles by the gallons and checking the couch cushions for extra coinage are just a few of the survival strategies that made life more affordable, then. Yes, learning the value of the dollar is important, but you don't want to stress about it daily when looking for a great place to live, good food, and low cost of living.
Well, you don't have to look any further if you choose Oregon to plant your roots. The Beaver State is one of the most affordable in the country.
Most people think that Oregon cities are filled with a bunch of fancy vegan restaurants, snobby Portlanders, and a plethora of wealthy outdoor enthusiasts. While all this might be true for some Oregon cities, the hippies and health nuts of this Pacific Northwestern state would beg to differ. Oregon's cities have a lot to offer to all income levels; and surprisingly, there are cities in millenial-land that are actually extremely affordable.
If you ask any Oregonian, they will say hands down that The Beaver State is the best state in the country. Heck, there's a reason Oregon is the 26th most populous state in the US of A. And, yes, we think it has a little something to do with the great weather and mountains. But, to the economically savvy, to truly be the best, the state must have the nicest, most affordable places to call home. #TheMostBangForYourBuck
So, grab yourself a vegan spinach smoothie and some tree bark, and read on.
The 10 Most Affordable Places To Live In Oregon
It's simple economics, folks. The less you have to spend on bills and taxes, the more you will have to spend on things that matter: like your home, good food, and just overall good fun.
What does the cheapest city to live in Oregon look like? Well, after crunching data from the US Census in terms of median housing costs, median income, and overall cost of living, Hermiston is the cheapest place to live in Oregon.
If you care about home values, cost of living, and high quality of life, take a look at the list below to find the most affordable places in Oregon, where, yes, you can have it all.
And if you already knew these places were cheap, check out some more reading about Oregon and the cheapest places in the country:
The 10 Cheapest Places To Live In Oregon For 2022
A close neighbor of Umatilla, Hermiston ranks as the first least expensive city in Oregon.
Like Umatilla, Hermiston has plenty of outdoor recreation activities to keep you busy on a budget. As far as jobs, the city's main industries are food processing and distribution, so if you've got experience in the field, it should be no sweat locking down a job in Hermiston. Hermiston has strong affordability numbers across the board, but really stands out in terms of inexpensive rent. At a median rent of $793, Hermiston residents pay less than half the average rent in Oregon and the pay the fifth smallest percentage of their income on rent statewide.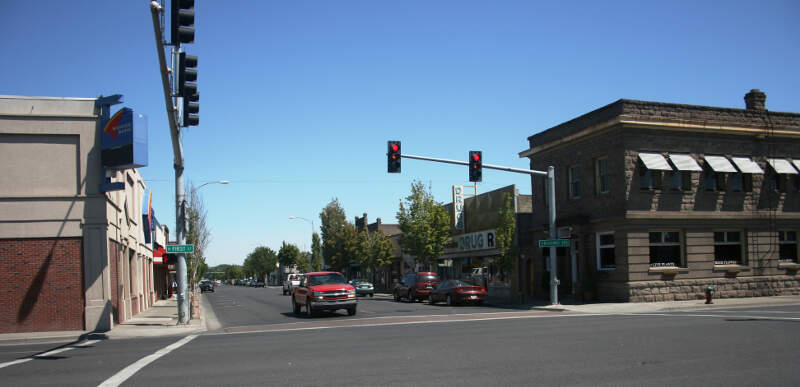 We're kicking off our tour of Oregon's most affordable cities with Milton-Freewater, a city of 7,044 in Umatilla County, a place renowned for its wine.
Before you think Milton-Freewater has nothing going on besides drinking, keep in mind it's also a naturally beautiful place to live. There are hiking trails and campgrounds at Harris Park, so you'll always be able to get into the great outdoors with ease.
The overall cost of living in Milton-Freewater is 25% below the statewide average, but in terms of housing, it's nearly half as expensive. Milton-Freewater enjoys the cheapest median rent and second cheapest median home prices in Oregon.
Your typical Milton-Freewater home sells for $131,800, while rent goes for around $586. And it's not like things are cheap in Milton-Freewater just because the local economy is bad. On the contrary, Milton-Freewater has a low unemployment rate, and the median household income is $39,028.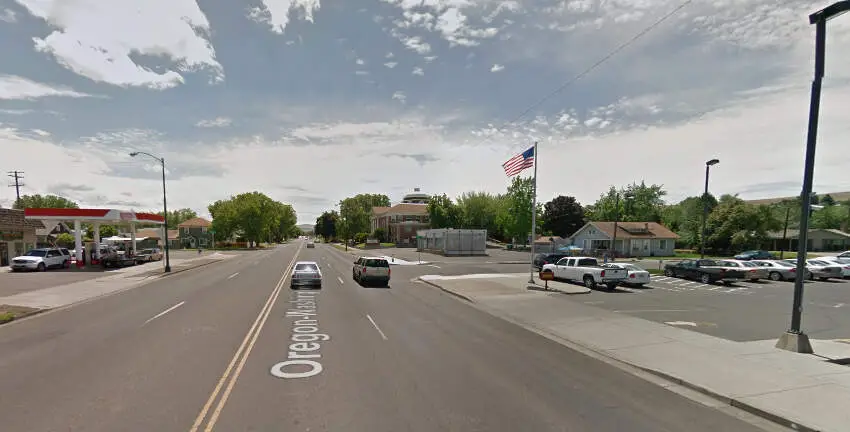 Source: Wikipedia
Baker City ranks as the third least expensive city in Oregon, with the fifth cheapest homes on the market statewide. Homes in Baker City go for a median price of $161,800. Combine that with a median income of $46,607, and Baker City has the ninth best home price to income ratio in Oregon.
And if you always died playing the Oregon Trail computer game as a kid, you can pick up some tips on surviving at the Oregon Trail Interpretive Center.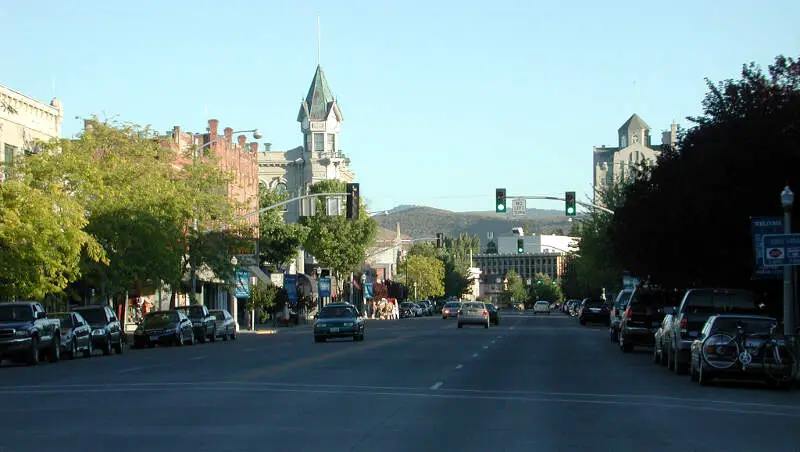 Oregon might not be the cheapest state in America, but try telling that to the folks in Umatilla. Homes in Umatilla go for the fourth lowest prices in the state, and nowhere in Oregon will you pay a smaller percentage of your income on housing.
And you'll get that quintessential Oregon outdoors-goodness at Hat Rock State Park, complete with trails, a pond for fishing, and resident eagles. Sounds like a good deal to me. The median home price in Umatilla is $158,200 and the median income is $48,677. Umatilla is also incredibly affordable for renters; with a median rent of $772/month, the city has the cheapest rent you'll find anywhere on this list.
That doesn't mean that Umatilla has skimped on safety though. In fact, it's the second safest place in Oregon.
Umatilla is located in the northeastern part of Oregon, across the Columbia River from Washington.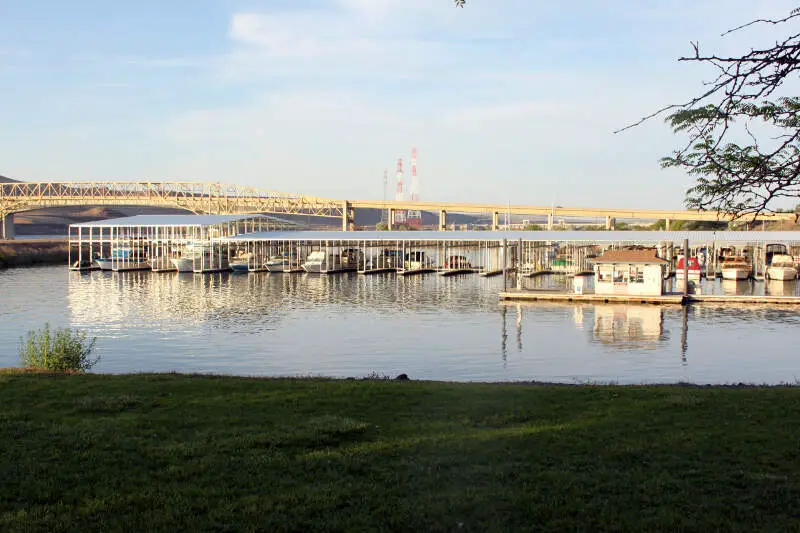 Pendleton is yet another Umatilla County city to make the cut as one of the cheapest places to live in Oregon. Buying a home in Pendleton will set you back about $193,800, which on an income of $54,834 is no sweat at all. Pendleton also has the eighth best rent to income ratio in the state, so if you're not ready to commit to a mortgage, Pendleton still has you covered.
Not to mention that if you're a rodeo competitor, you'll alway have a side gig ready for you at the Pendleton Round Up rodeo.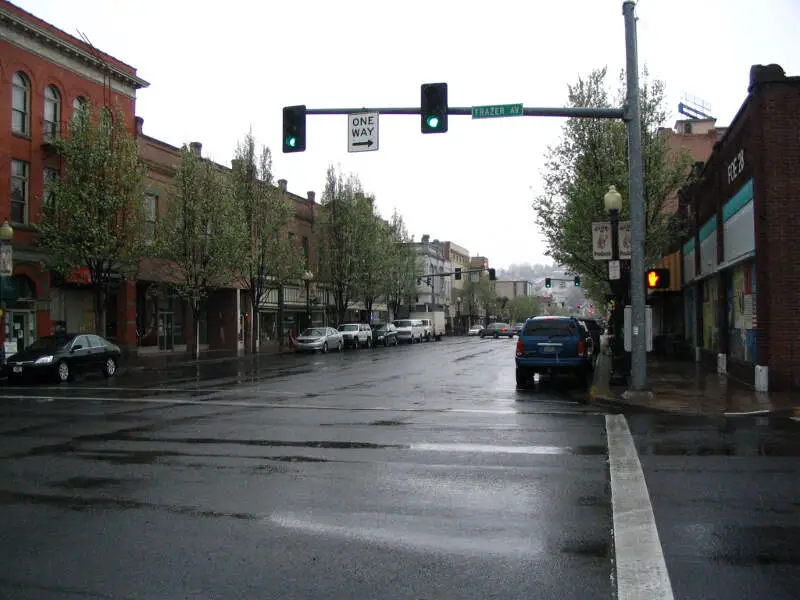 Source: Public domain
Located in the southwestern part of the state on Coos Bay, North Bend ranks as the sixth cheapest city in Oregon.
There are few places better for ATVing than North Bend's Oregon Dunes, so definitely give that a go if you have the chance.
North Bend's higher median income of $59,577 helps offset some slightly higher housing prices, with the median home going for $228,700 and a median rent of $857. All in all, it's North Bend is one of the places you'll pay the smallest percentage of your income on housing, regardless if you're renting or buying.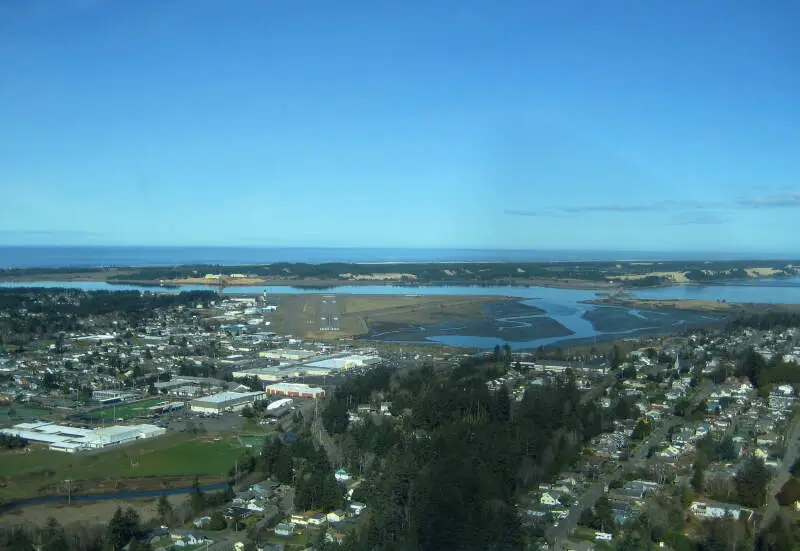 Located at the bottom of Marys Peak, the highest point in the Oregon Coast Range, right outside of Corvallis is Philomath. Residents of Philomath enjoy the mild climate of the Mid-Willamette Valley along with plenty of affordable things to do including climbing Marys Peak.
Rent in Philomath is cheaper than the statewide average, with a median price of $1,044. If you decide to move here long term, the median home price in Philomath is $264,900. The median income in Philomath is $77,938. Furthermore, crime is basically non-existent in town, so not is only Philomath cheap, it's also one of the safest places in Oregon.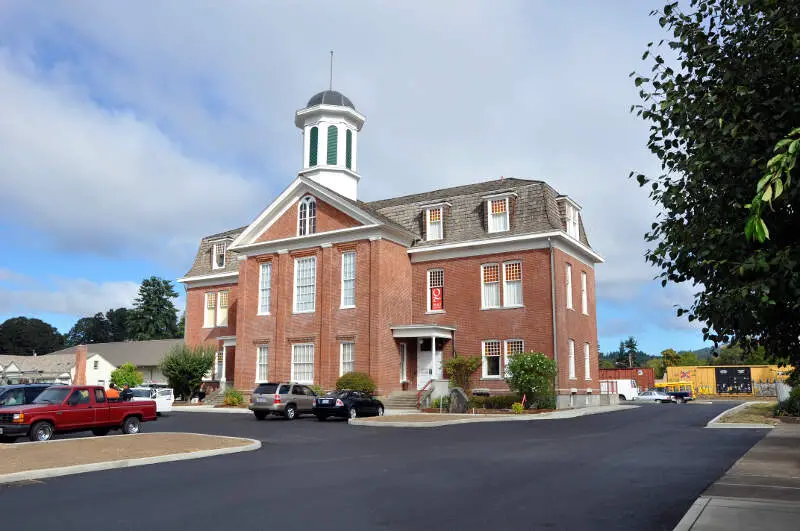 Junction City is a city in Lane County, Oregon, United States. Its population was 5,392 at the 2010 census.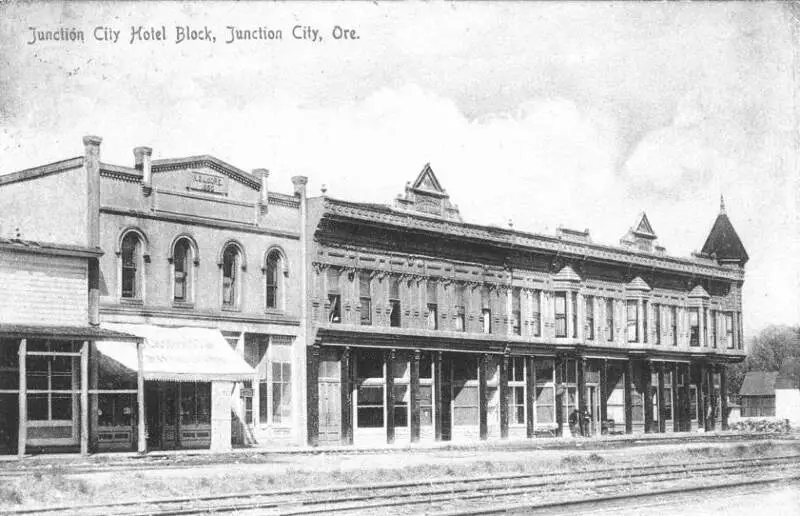 Source: Public domain
You'll have a hard time believing that you're living in one of the most expensive states in America if you call Creswell home. Homes in Creswell go for the second highest price on this list, with a median price tag of $240,600. However, because Creswell residents earn a median income of $72,305, the city is still safely in the top ten statewide in terms of home price to income ratio. Creswell does have the highest median rent on this list at $1,116, but it's still quite reasonable for Oregon.
Creswell is located just south of Eugene.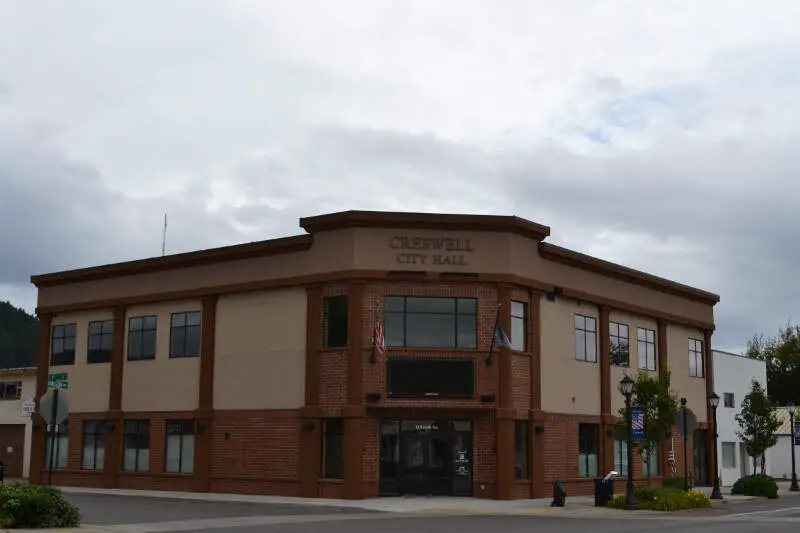 Oregon might be one of the states with the highest rent in America, but apparently Ontario hasn't gotten the memo. The median rent in Ontario is a measly $671, which is far below the national and statewide average. But that's not really why Ontario is on this list. It's because the city has the cheapest homes in Oregon, with a median price tag of $121,600. Taken with Ontario's median income of $35,917, and the city is safely in the top ten in Oregon for home price to income ratio.
Ontario is located in eastern Oregon, about an hour northwest of Boise, Idaho.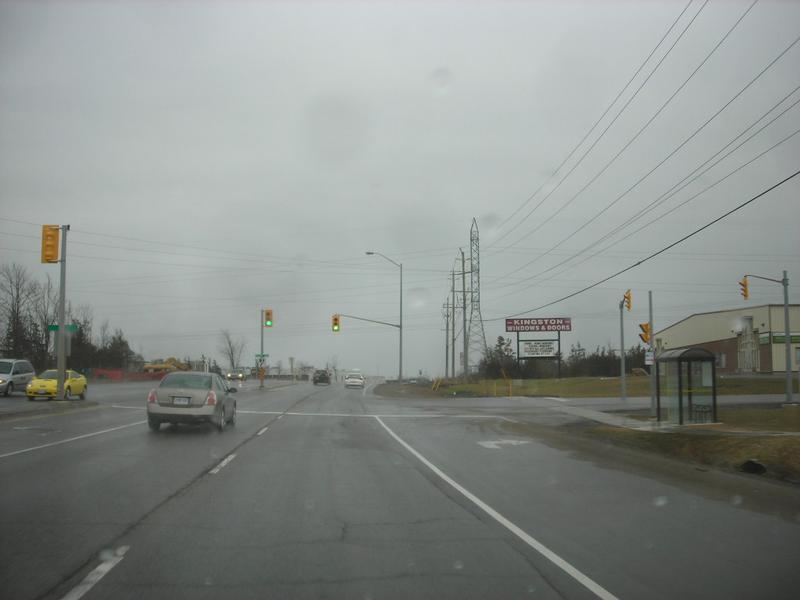 Cheapest Places To Live In Oregon FAQs
The county in Oregon with the lowest cost of living is Clackamas County. The average living wage in Clackamas County is $100,740 according to MIT data. Clackamas County has the lowest cost of living because it has relatively less expensive childcare and housing costs compared to Oregon as a whole. Childcare costs $16,564 a year in Clackamas County for two children compared to the Oregon average of $15,236. Housing costs, defined as a blend of the average rent and average mortgage payment, are $18,432 per year in Clackamas County compared to $15,603 on average in Oregon.
The cost of living in Oregon is 7.0% higher than the US average. According to MIT, the required living wage for a family of four with two working parents in Oregon is $96,003 vs the national average for a family of four with two working parents of $89,744. The median income of a Oregon household is $65,667.
The cheapest housing market in Oregon is Ontario. The average home value in Ontario is $121,600, the lowest in the state. The average home value in Oregon is $336,700, almost 2.8 times higher than Ontario.
Methodology: How We Determined The Most Affordable Places To Live In The Beaver State For 2022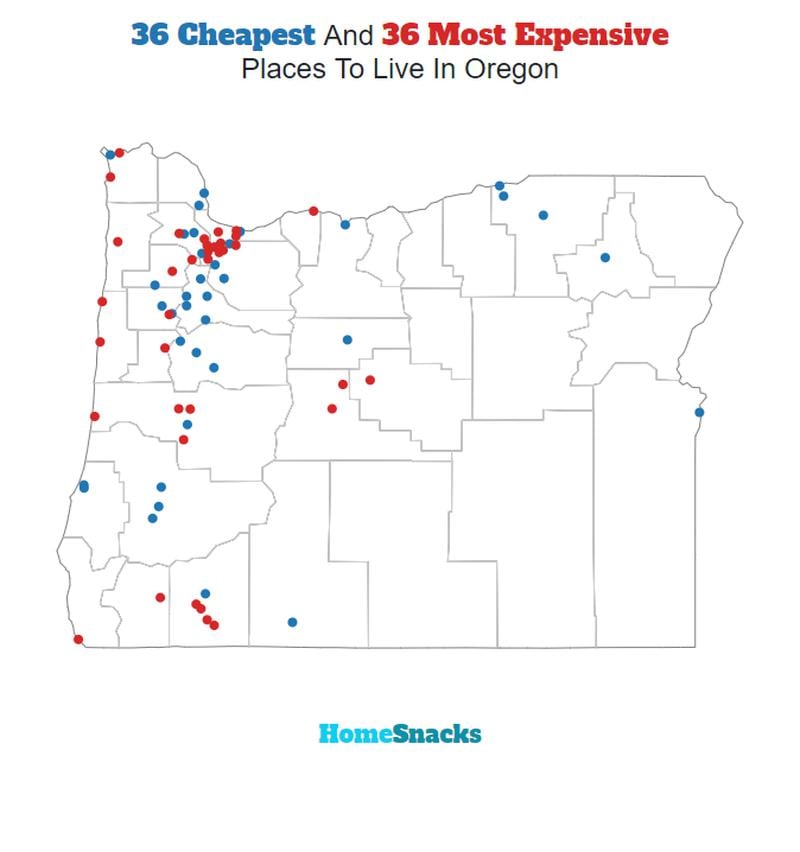 The two most important things to think about when it comes to being able to afford if you can live comes down to:
How much do money do I make?
How much do I have spend to live there?
You need to understand your costs in the context of how much money you make.
For example, if the median household earns $100,000 and spends $40,000 on housing it's actually cheaper to live there than a place with a median income of $50,000 and housing costs of $21,000. You might spend more on housing, but you have more money overall to play with.
With that example in mind, we derived several statistics from the latest Census American Community Survey 2016-2020 around incomes and costs. They are:
Median Home Price / Median Income (lower is better)
Median Income / Median Rent (Higher is better)
Median Home Price
We added simply median home price because high home prices generally correlate with higher expenses for all costs related to homes (heating, electricity, etc).
You can then compare these metrics in each of the places in Oregon to figure out which is the least expensive.
What you are left with is a "Cost of Living Index" by taking the average rank of each of these metrics for each city.
So we used that cost of living index in order to rank all of the 78 places in Oregon that have more than 5,000 people.
The place with the lowest cost of living in Oregon according to the data is Hermiston. You can download the data here.

Summary: There You Have It Mr. Or Mrs. Oregon Cheapskate
If you're looking at the cost of living numbers in Oregon, this is an accurate list of the most affordable places to live in Oregon for 2022.
Here's a look at the most expensive cities in Oregon according to the data:
Corvallis
Seaside
Ashland
For more Oregon reading, check out:
The Most Affordable Places To Live In Oregon
Editor's Note: We updated this article for 2022. This is our ninth time ranking the cheapest places to live in Oregon.