The 10 Safest Cities In Oregon For 2021
We used data and science to determine the places in Oregon where everyone sleeps safe and sound.

Editor's Note: This article has been update for 2021. This is our sixth time rankings the
safest places to live in Oregon
. All the data comes from the
FBI's Crime In The USA 2019 report.
Article Table Of Contents   
(Skip to section)
Hold a second.
Need to finish looking through these numbers while we get off our fixed gear, sip our craft brew, and scarf down our avocado toast.
Sounds like the Oregon dream to me.
And what's the occasion you might ask? Why we just determined the safest places in Oregon to call home for the sixth time. Yep, the sixth time. This was actually one of the very first articles we ever wrote on this site, so it brings back some good memories.
But enough about us, you're here to learn about the safest cities in Oregon and that's what we're going to do -- take a look at the property crime and violent crime rates of the biggest places to live around Oregon. And just like the total lack of sales tax in Oregon, the numbers you see here are directly from the FBI's crime data for 58 Oregon cities with a population of more than 5,000 without any unexpected changes at the cash register.
And we won't sugar coat the results. No fake news or added ingredients, just organic, grass fed data. And while other sites might think that they can give you good stuff, remember that we at HomeSnacks are the hipsters of ranking cities -- doing it since before it was cool. Just don't expect to see Portland on the list; while it's awesome and weird, it's the Portland suburbs that are safe.
Here are the 10 safest cities to live in Oregon for 2021:
If you're looking for a safe and sound place to call home in the Beaver state where you can leave your doors open at night and not worry, these places should top your wish list.
What's the safest place to live in Oregon? According to the most recent FBI data, Molalla ranks as the safest place in Oregon on a property and violent crime rate basis -- for the second year in a row no less.
So buckle up your seat belt, look both ways, and follow along as we show you how we determined the safest cities in Oregon and than take a detailed drive through the top ten. And remember, you have to let someone else pump your gas in Oregon, or you'll be adding on to the crime statistics for your city.
For more reading on safe places to live in and around Oregon, check out:
The 10 Safest Cities In Oregon For 2021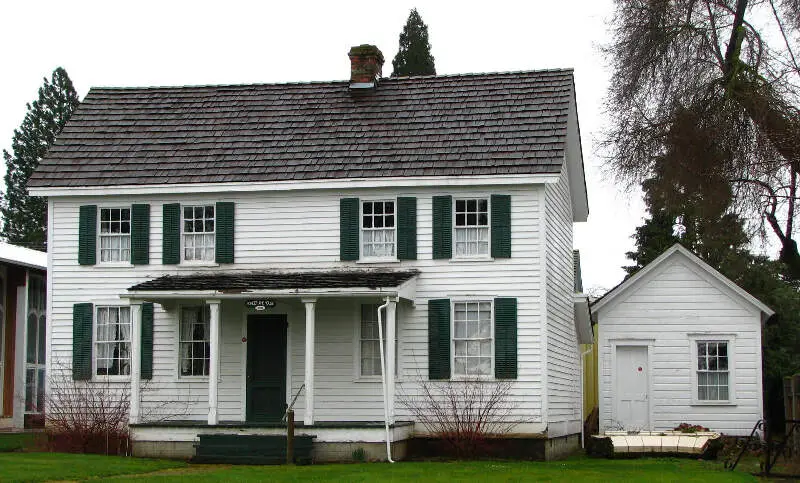 Molalla comes in as the safest city in Oregon overall, with the fourth safest rate of violent crime in the state. Molalla had five times less violent crime than the national average, which works out to about one violent crime every other month. So you don't need Batman watching over you when you're strolling through Feyrer Park.
Molalla is just 45 minutes south of Portland.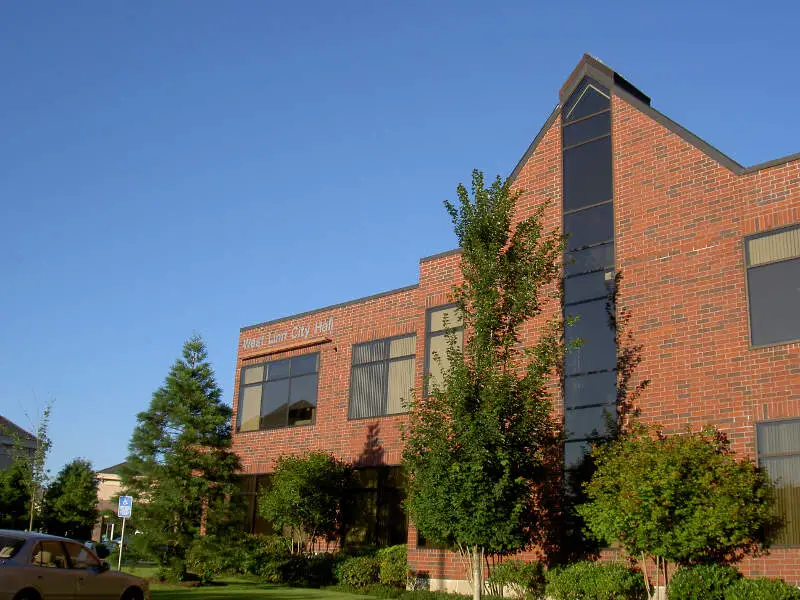 West Linn is an affluent suburb of Portland that has a penchant for safety.
You don't have to worry about purse-snatchers in Mary S. Young Park, because West Linn has the third safest rate of property crime in Oregon. And the city averaged only two violent crimes per month in 2019. Be warned, though; the city ranked as the third richest in Oregon in 2019, so you'll want to be making big bucks to enjoy the safe streets of West Linn.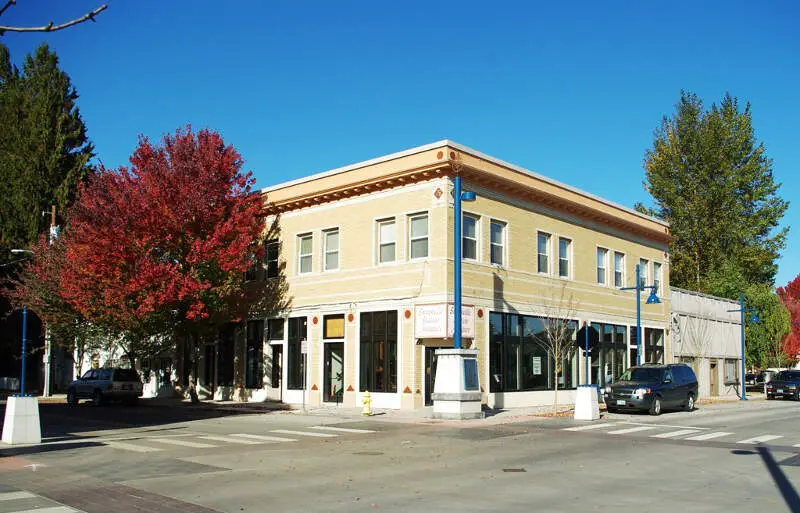 Source: Public domain
The very first article I wrote for this site back in early 2015 featured Sherwood prominently -- it was a top three best place to live in Oregon for that year.
And now, it ranks as the third safest city in Oregon -- at least the third appearance I can remember on this list over the past five plus years.
Located southwest of Portland, the city has the sixth safest lowest violent crime rate in the state. A solid economy and a better than average poverty rate probably help to keep crime rates low here.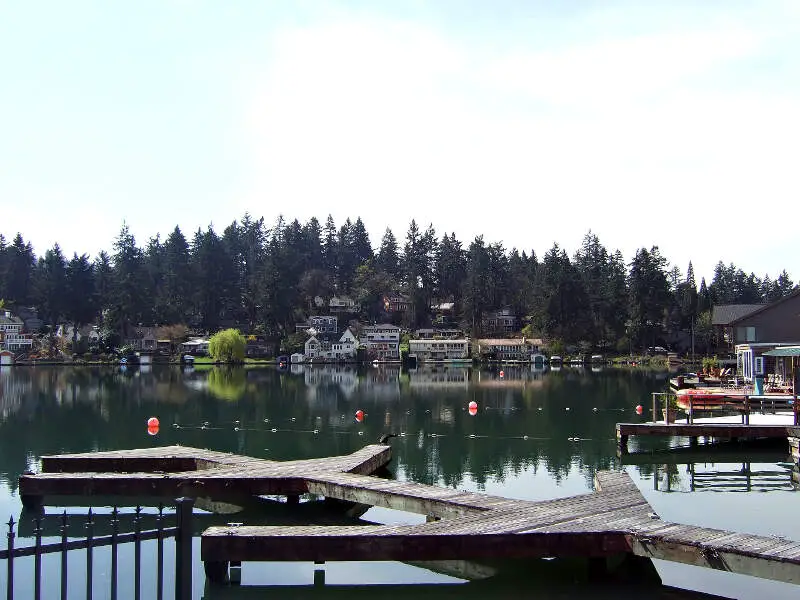 A suburb of Portland, Lake Oswego is no stranger to our lists. In addition to moving up on our ranking of the safest places to live in Oregon to number one this year, it also ranked as the best place to live in Oregon for 2018.
But there's a slight catch to living a place this awesome -- cost. It's one of the richest cities in Oregon which translates to a median income close to $90,000 and median home prices around $500,000.
Another possible reason it has the second lowest violent crime rate in the state? Clackamas County is secretly how to Kris Kringle. I dunno, just saying.

Source: Public domain
Another smallerish city, Scappoose breaks into the top ten safest for the second time this year and that's actually kind of a big deal for it. You see, Scappoose has been finishing just outside the top ten for years in our rankings.
It has ranked 11th for safest, 19th for best, and low 20s for richest last year. But today, it's Scappoose turn in the sun thanks to a big reduction in property crime for 2021. The city of some, would you believe, 7,000 people is located in what is essentially Washington State on the western side of Oregon.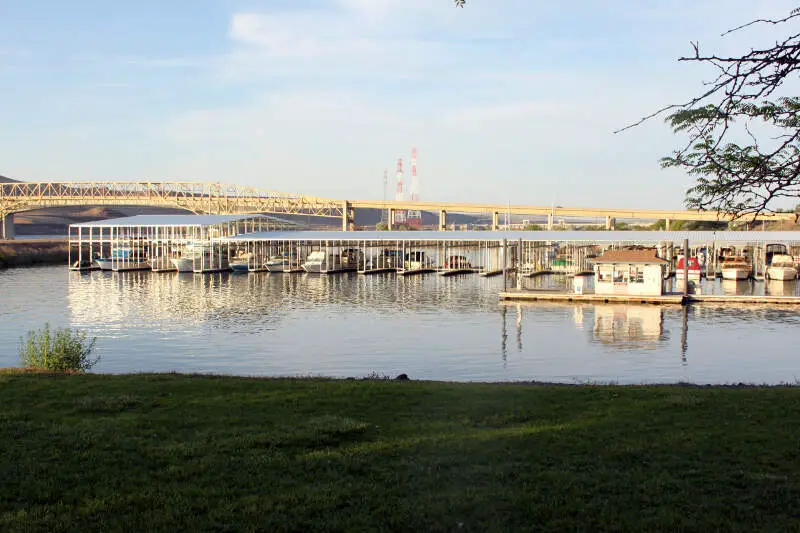 Jumping up several spots this year Umatilla boasts an incredibly low property crime rate. And interestingly, it's economy isn't nearly as strong as the others on this list, but it still manages to keep crime low.
At just a tick over 7,000 people, it could be that everyone in town is friends. And you'd never steal from your friends would you?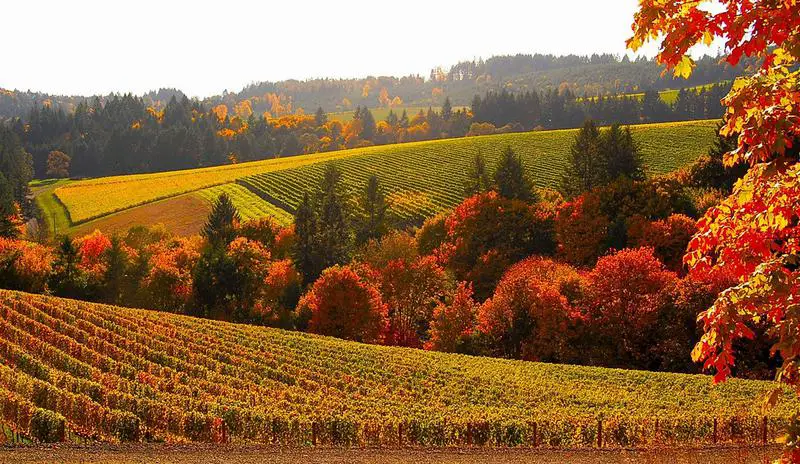 Living in Newberg-Dundee is pretty sweet if you like to pair your safety with a fine wine. What with Owen Roe, Rex Hill, and The Four Graces vineyards all calling Newberg-Dundee home, you can be sure that a wino will never have cause to complain here.
Newberg-Dundee experienced less than one violent crime a week in 2019 and had the tenth safest rate of property crime in Oregon. So you can be fairly certain that nobody's going to swipe your Amazon packages from outside your door.
Newberg-Dundee is about 25 miles southwest of Portland.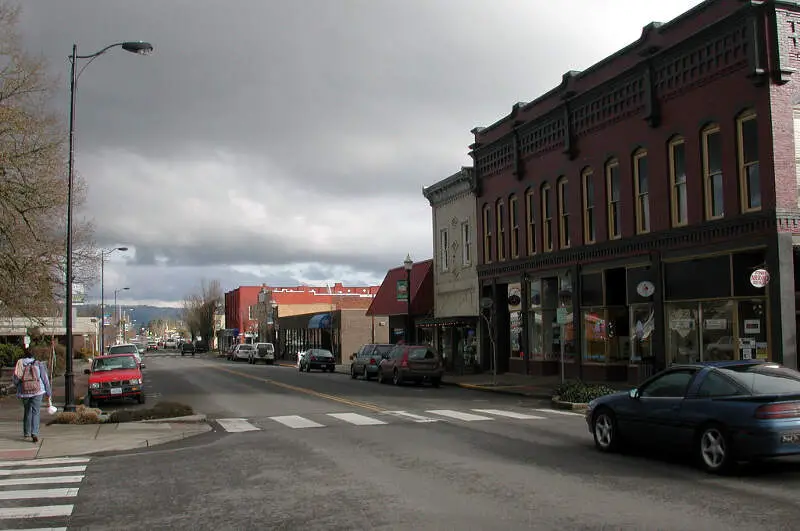 Monmouth is monumentally safe, at least when it comes to places to live in Oregon.
The city had a seventh place finish for both property and violent crimes which drove it up seven spots from last year. Is that a coincidence? Probably, but it would be more exciting if it was some higher level cause.
One of the first places not located right on border of the water or Washington state, Monmouth is part of the Salem Metropolitan Statistical Area. The thing to do in town to stay safe? Grab a glass of wine from one of the many vineyards.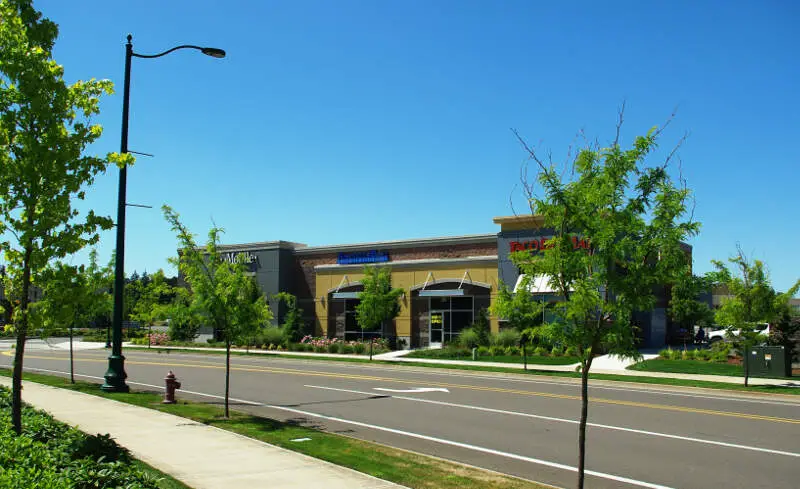 We named Keizer one of Salem's best suburbs, and crime played a big part in that decision. The cost of living is relatively high in Keizer, and homes sell for a moderate $260200.
Kaizer's property crime rate is the 12th safest lowest in the state, and the violent crime per capita rate is a measly 152/100k people.
Oregon may not have a major league team, but baseball fans of Keizer rejoice that their city is home to the Volcanoes, a San Francisco Giants affiliate.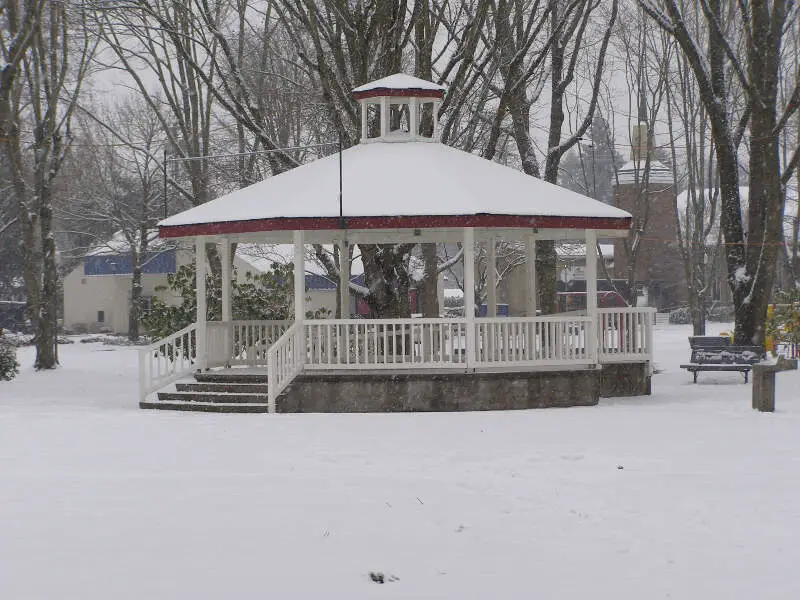 Source: Public domain
Canby can be one of the safest places in Oregon this year if it just puts it's mind to it. The city seems to move a spot from year to year, but managed to finish as the tenth safest overall this year. That placement is thanks to a fifth safest place finish for property crime rates.
That safety ranking also leads Canby to be a great place to live -- scoring a 9 on our SnackAbility score and in the top 15% of cities country wide.
And this isn't a psychic's report to swindle you, it's based on the cold hard data.
How we calculated the safest cities in Oregon for 2021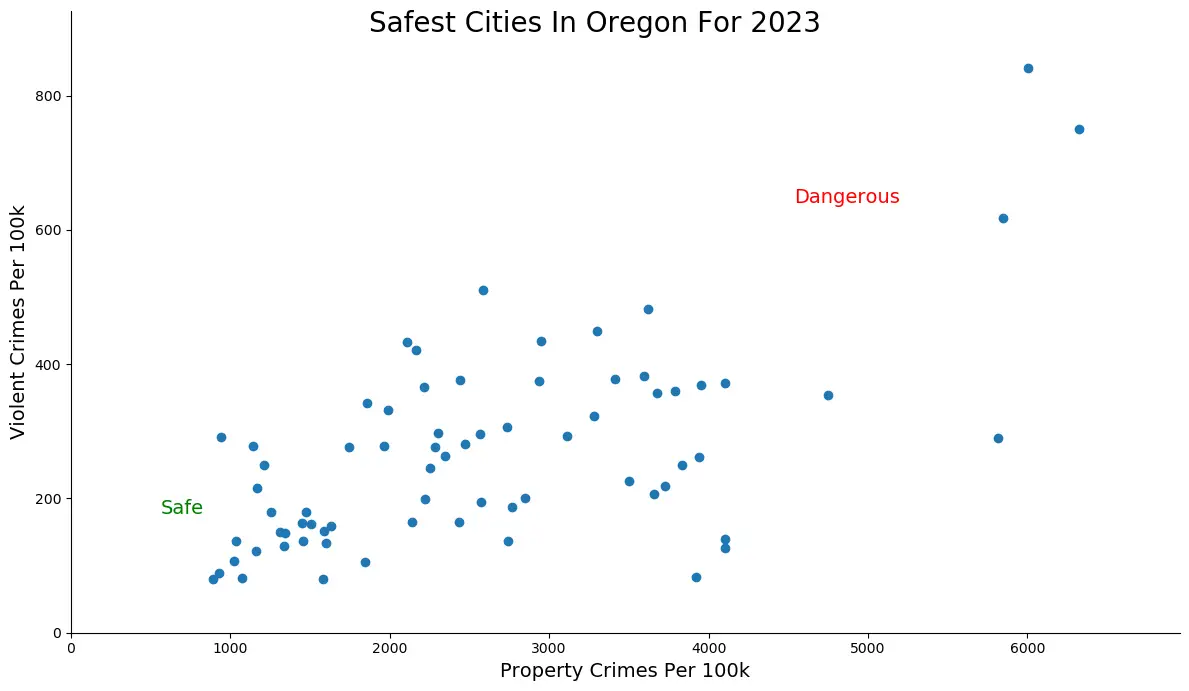 While there are surveys and public polls on what cities in a state are the safest, we didn't want to rely on speculation and opinion. Instead, we looked at the hard numbers from the FBI's most recent report of crime (Published Sept 2020) in Oregon.
Specifically, we analyzed the
FBI's Uniform Crime Report
which summarizes the number of property crimes and violent crimes in each city per year. We used two criteria:
Violent crimes per capita (murders, assaults, rapes, armed robberies)
Property crimes per capita (thefts, burglaries, motor vehicle thefts)
For example, there were a total of 76 crimes committed in Molalla which had a reported population of 9,328. That means the number of crimes per capita is 0.0081 which translates into a 1 in 122 chance of being the victim of a crime.
We only looked at cities that have populations of more than 5,000 people reported to the FBI in 2019, the last reporting year. This left us with a total of 58 of the biggest cities in Oregon to rank.
We ranked each city for each criteria from 1 to 58 where 1 in any particular category is the safest.
Next, we averaged each places two criteria to create a Safety Index. We crowned the place with the lowest overall Safety Score "The Safest Place In Oregon" with any ties going to the bigger city. You can download the data here.
The safest city in Oregon, based on our criteria, is Molalla. The most dangerous city in Oregon? Ontario, where residents had a 1 in 14 chance of being the victim of a crime.
Note: This report is not an analysis of the effectiveness of local police departments, nor does it reflect the fact that people from out of town may come into a community and cause a crime. It simply looks at where crimes occurred most frequently, based on a city's population.
There You Have It - The Safest Cities In The Beaver State
Looking at the data, you can tell that Molalla is as safe as they come, according to science and data.
But as most Oregon residents would agree, almost every place here has its safe and not safe parts. So just make sure you're informed ahead of time.
Here's a look at the most dangerous cities in Oregon according to the data:
Ontario
Portland
Warrenton
For more reading, check out:
Breaking Down Crime In The Safest And Most Dangerous Cities In Oregon

Share on Facebook
Chris Kolmar has been in the real estate business for almost ten years now. He originally worked for Movoto Real Estate as the director of marketing before founding HomeSnacks.
He believes the key to finding the right place to live comes down to looking at the data, reading about things to do, and, most importantly, checking it out yourself before you move.
If you've been looking for a place to live in the past several years, you've probably stumbled upon his writing already.
You can find out more about him on LinkedIn.