Do you live in one of the happiest places in Ohio?
According to a recent Harris poll, only a third of Americans say they are truly happy. That's too bad, considering that Americans – especially folks in Ohio – don't really have it too bad, in the grand scheme of things.
But, we were curious – which Ohio cities might be the most happiest? We're about to find out, using science and data.
After analyzing the largest cities, we gleefully present the happiest places in Ohio:
Beavercreek
Westerville
Springboro
Upper Arlington
Dublin
Mason
Gahanna
Perrysburg
Hilliard
Hudson
Read on below to see how we crunched the numbers and how your town ranked. If you have a smile on your face, you probably live in one of these cities.
There's also a chart towards the bottom that has the detailed stats on the top 20 happiest Ohio cities.
Oh, and by the way, East Cleveland is the most miserable city in Ohio. Sadly, Cleveland is 2nd.
How do you decide if a city in Ohio is happy or not?
In order to rank the happiest places in Ohio, we had to determine what criteria makes people happy. It isn't a stretch to assume that happy people earn great salaries, are relatively stress free, have a stable home life and live where the weather is nice.
So we scraped the internet for those criteria, and it spit out the answer. Like magic.
How we crunched the numbers
We threw a lot of criteria at this one in order to get the best, most complete results possible. Using FBI crime data, the government census, Bureau of Labor Statistics, Sperling's Best Places, and Twitter, this is the criteria we used, looking at the state's 50 largest cities:
Percentage of residents with a college degree
Average commute times
Employment rates
Cost of living
Crime
Sunny days
% of married couples
% of home owners
For geo-located Tweets, we used #happy.
There's a chart below the quick summary of the top 20 happiest cities in Ohio.
1. Beavercreek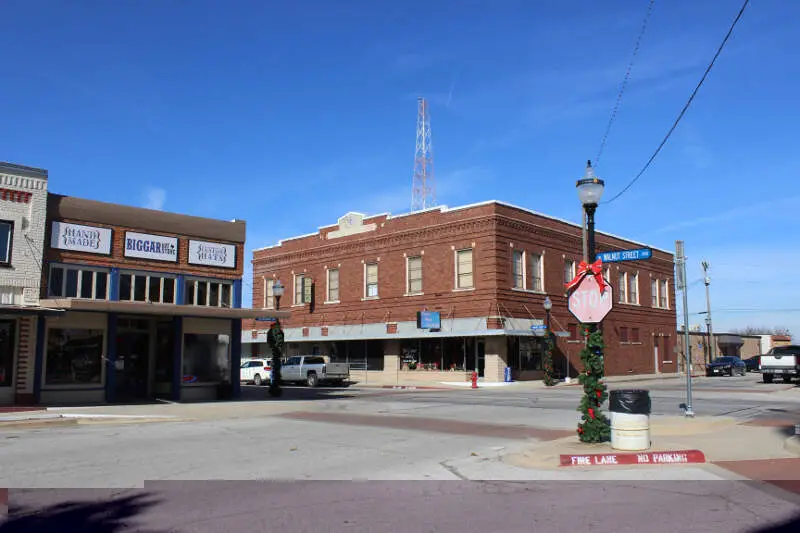 The Greene Town Center Mall, Beavercreek, OH. Wikipedia
Population: 45,104
College degrees: 13th most
Unemployment rate: 10th lowest
It was close, but Beavercreek, a Dayton suburb, is apparently the happiest place in the state of Ohio. Let's see why.
First off, it would be hard to find a smarter and happily employed number of people than those in Beavercreek. Only 4% of the people here are without jobs, and 76% have college degrees. We're arguing that job security goes a long way towards happiness.
So does feeling safe. Crime is in the bottom 15% here (22nd lowest overall).
72% of the people in Beavercreek own their own homes, and 6 in 10 are happily married.
It doesn't get much better than that, overall. The only knock? The cost of living here is really high. But they can afford it – families average about $75,000 a year in annual incomes.
Beavercreek has been on many 'top' lists before, including Money Magazine's 'Top 100 Places To Live in America.'
Other Highlights
Springboro: This affluent suburb smack dab between Cincinnati and Dayton has the highest population of married people in the state, at 69%. Springboro also ranks 5th in annual incomes, and 11th in the most sunny days in the state, each year. You get sunshine on your shoulders for 179 days a year here.
That's a lot for Ohio.
Upper Arlington: This Columbus suburb has it made in so many ways. How can you not be happy when you earn huge sums of money? Families border on $100,000 a year each year, and hardly everyone has a job and a college degree.
It's also the 2nd most expensive place to live in the state. We're sure lots of people will argue that they're perfectly fine with their small city lifestyle.
Cleveland is pretty miserable: Many of the 400,000 residents of Cleveland are most likely pretty sad. They rank dead last in employment (8.4% are out of work), and it's the 3rd most dangerous place in Ohio. Plus, you see sunshine less than half the year.
The other C's: Cincinnati ranks as the 15th most miserable and Columbus is about right in the middle. Dayton is even sadder than Cincinnati, according to the data.
There You Have It
Like we said earlier, trying to determine the happiest cities in Ohio is usually a subjective matter. But if you're analyzing cities where people are not stable, where it's dangerous and the weather is bad, this is an accurate list.
If you're curious enough, here are the most miserable cities in OH, according to science: East Cleveland, Cleveland, Youngstown, Warren, Euclid.
Here's a link to the complete data chart.

The 20 happiest cities in Ohio, with detailed information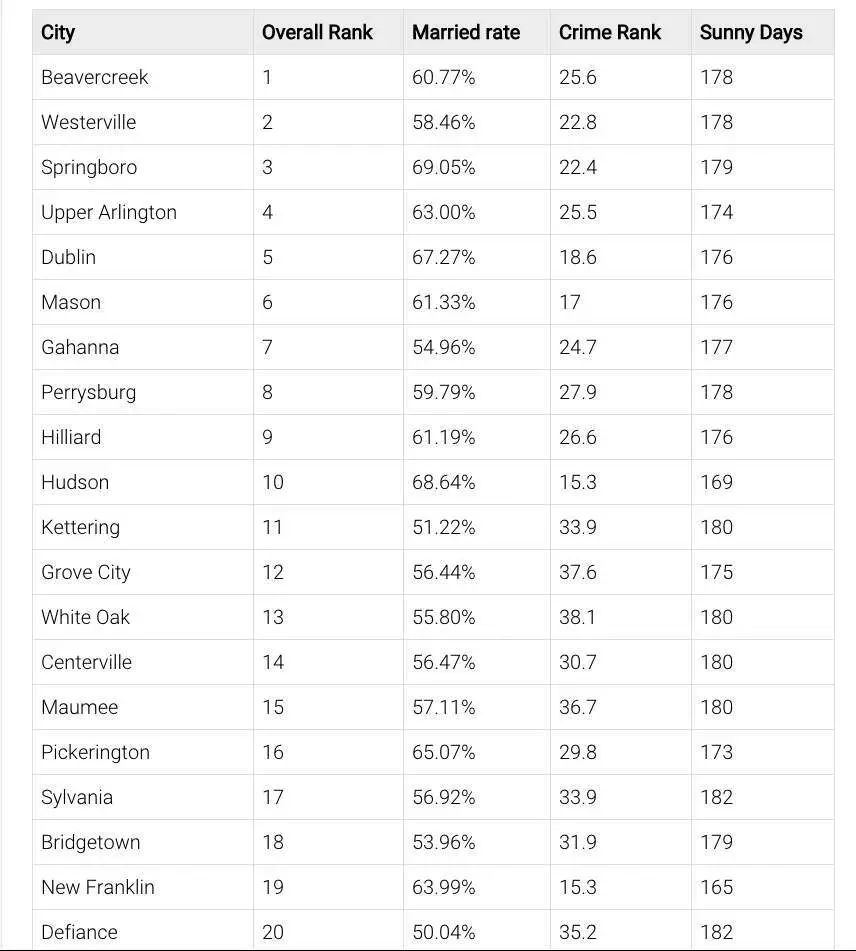 We also wrote about the
10 Drunkest Cities In Ohio
if you want another light-hearted study.