You don't have to become the next quarterback of the Cincinnati Bengals to live in most cities in Ohio. There are many cities in the Buckeye State that scream affordable.
Yes, learning the value of the dollar is important, but you don't want to stress about it daily when looking for a gold star Ohio neighborhood, awesome Ohio goetta, or amazing quality of life in Ohio. Now don't sweat it you're looking for that Ohio big city vibe, the kind we find in Ohio's king cities like Cincinnati, Cleveland, or Columbus, and you don't see it on our top ten most affordable cities in Ohio in 2021 list.
We recommend you look a little deeper because there are plenty of other stylish, amazing, happening, affordable Ohio cities wanting you to call them home. If you ask any Ohioan, they will say, hands down, that their city is the best. Heck, there's a reason 'The Heart of it All' is the sixth most populous state in the country. While we definitely think it has a little something to do with the great people of the state; we know that to the economically savvy, to truly be the best, the state must have the nicest, most affordable places to call home.
Now just because a city is affordable, does not make them boring. There are many cities on our list with amazing parks, quaint downtowns, and/or exploding art scenes.
So grab some Skyline Chili and a cold Yuengling, and read on.
The 10 Most Affordable Places To Live In Ohio
It's simple economics, people. The less you have to spend on bills, the more you will have to spend on things that matter: like your home, good food, and just overall good fun.
So, what does the most affordable place to live in Ohio look like? Well, after crunching data from the US Census in terms of median housing costs, median income, and overall cost of living for cities with over 5,000 residents, Martins Ferry wins the box of Buckeye chocolates.
If you care about home values, cost of living, and high quality of life, take a look at the list below to find the most affordable places in Ohio, where your salary will let you live like Midwest royalty.
And if you already knew these places were cheap, check out some more reading about Ohio and the cheapest places in the country:
The 10 Cheapest Places To Live In Ohio For 2021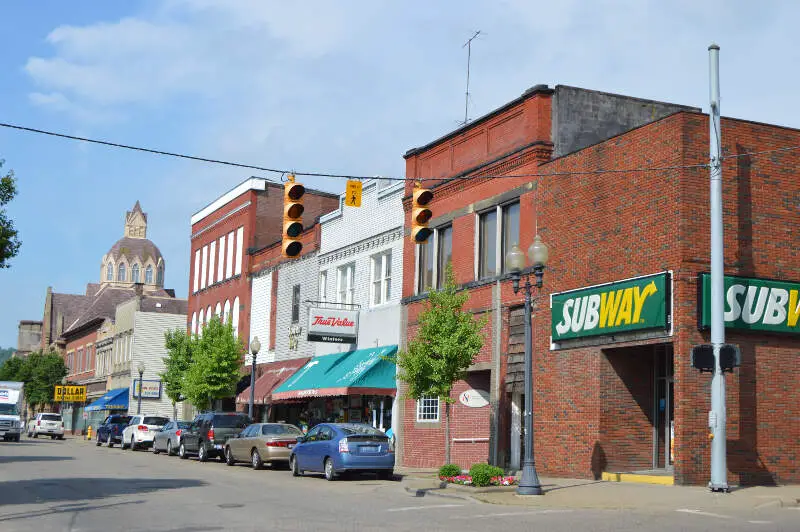 Source: Public domain
Martins Ferry is the most affordable city in Ohio, thanks to the low price tag on housing. With a median home price of $70,900 and a median income of $42,348, Martins Ferry has the most impressive home price to income ratios of any city on this list. Meaning you'll have plenty of extra cash to play with at the Wheeling Island casino. On the flip side, the income to rent ratio in Martins Ferry is the worst of any city on this list, so it's a good idea to buy instead of rent here.
Martins Ferry is located across the Ohio River from Wheeling, West Virginia.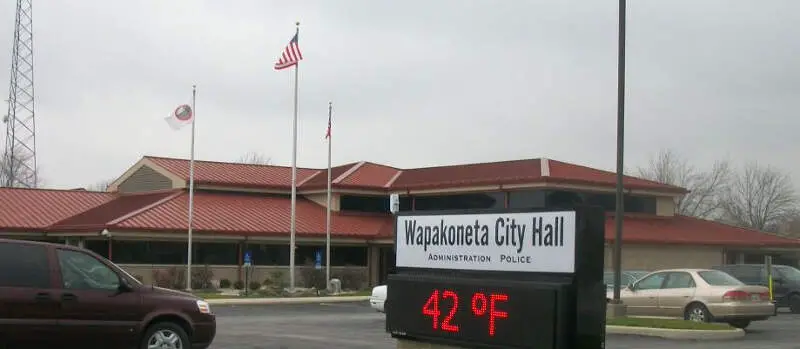 Coming in as the second most affordable place in Ohio is Wapakoneta, a city located about 60 miles north of Dayton. The cost of rent and the median income in Wapakoneta are almost identical to those in Bellevue, but a slightly higher median home price of $107,900 makes Wapakoneta slightly more expensive overall.
Your savings will grow pretty quickly in Wapakoneta, and you shouldn't be afraid to dream big here. Wapakoneta's native son Neil Armstrong, made it to the moon, so keep that in mind if your money-saving goals seem like an unachievable dream.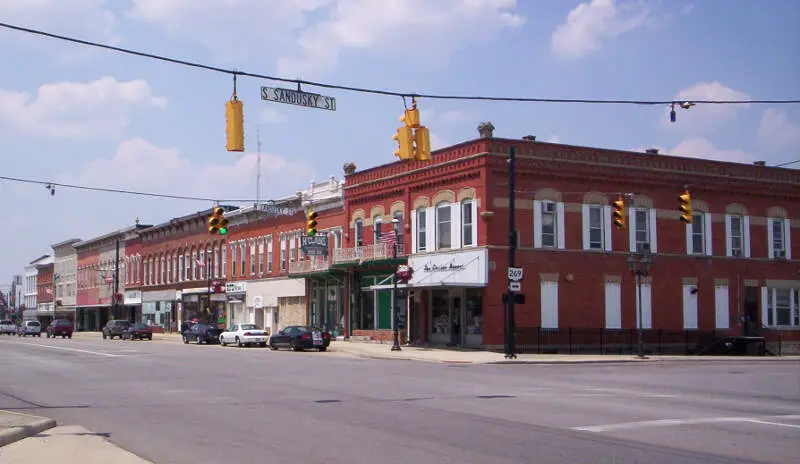 If you want to live like a king or queen without breaking the bank, there's nowhere better in Ohio than Bellevue. Heck, you can even mine for gems at Seneca Caverns to supplement your already substantial savings potential. Median rent in Bellevue is an incredibly cheap $701/month, which is even impressive when you're living in one of the most affordable states in the country. And while buying a home in Bellevue isn't crazy cheap, it is when you take into account how much Bellevue residents earn. With a median income of $54,464 and a median home price of $99,600, Bellevue has the 16th lowest ratio of home price to income in the state.
Bellevue is located between the cities of Cleveland and Toledo.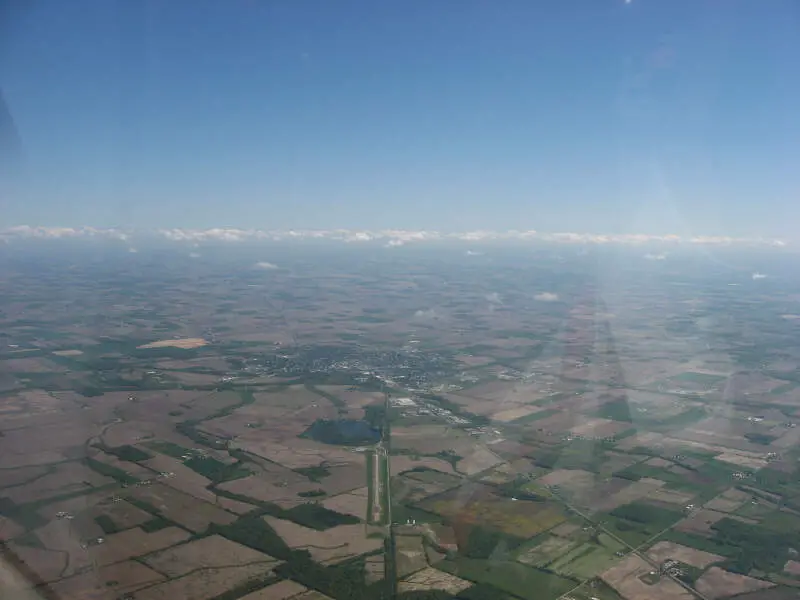 Source: Public domain
Located between Columbus and Toledo, Kenton is the fourth most affordable city in Ohio. Kenton makes this list because it has the 17th lowest ratio of home price to income in the state. Kenton residents pay a median price of $75,300 for homes and earn a median income of $40,613. While the median rent in Kenton seems low at $608, it'll take up a higher proportion of your paycheck than if you choose to buy. If you spend your free time hiking around Lawrence Woods, you'll have plenty of extra cash either way.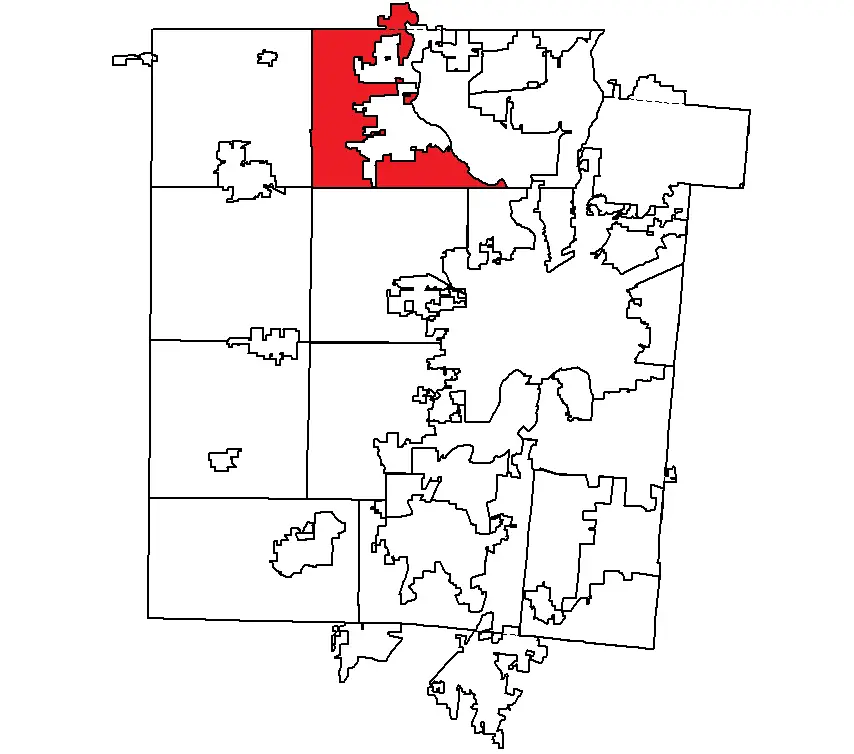 A suburb of Dayton, Clayton is the most populous city on this list.
Housing is a bit pricier in Clayton than the cities we've already looked at, but the city makes up for it by having a better-paid populace. Folks in Clayton earn a median income of $74,437 and the median home price is $135,000, which gives Clayton the 15th ratio of home price to income ratio in the state and the best ranking of any city on this list. On top of that, Clayton has the best income to rent ratio of any city on this list. You'll need a pretty well-paying job to really feel that Clayton is inexpensive, but the city scored an 8/10 on the jobs portion of our snackability scale, so we don't see that as being a problem.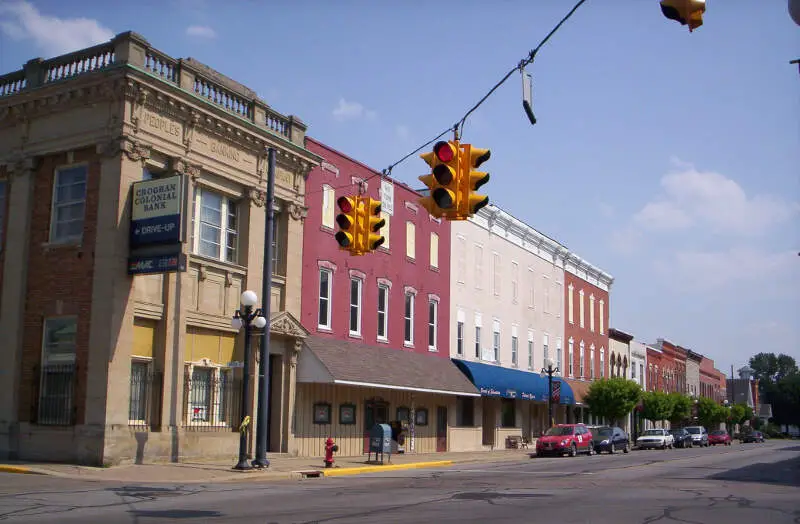 Located about 45 miles southeast of Toledo, Clyde ranks as the sixth least expensive place in Ohio for 2021.
The overall cost of living in Clyde is 13% lower than the national average, but in terms of housing, it's 40% cheaper here. Homes in Clyde sell for a median price of $99,300, while your typical rental is sub-$800.
Not too shabby when you consider that the median household income here is $53,489. With an overall SnackAbility score of 8/10, you can be confident in Clyde's job numbers, safe streets, and other perks.
For example, there's the annual Clyde Fair to look forward to at the end of each summer. And as long as the weather's good, there's always the Sleepy Hollow Golf Course, which offers excellent food in addition to a great course.
Source: Public domain
Situated about 60 miles east-northeast of Columbus, Coshocton ranks as the seventh most affordable place to live in Ohio. Coshocton's a place where you get a big bank for your buck.
Between Historic Roscoe Village for shopping and dining experiences and canal boat rides, the Three Rivers Wine Trail, which includes six wineries and a brewery, and the Antique & Unique Shopping Trail, there's truly something for everyone in Coshocton. And that's not even getting into all the free or cheap events that go on all year.
That type of high quality of life combined with a low cost of living is a rare find in our world. In particular, housing is far cheaper in Coshocton than in the country or even Ohio.
Homes in Coshocton have a median price of $82,200, while rent is the 15th cheapest in Ohio at $629. The median income here is $42,767, and the unemployment rate is fairly low. Oh, and the average commute time here is short, so you'll even save a bit on gas.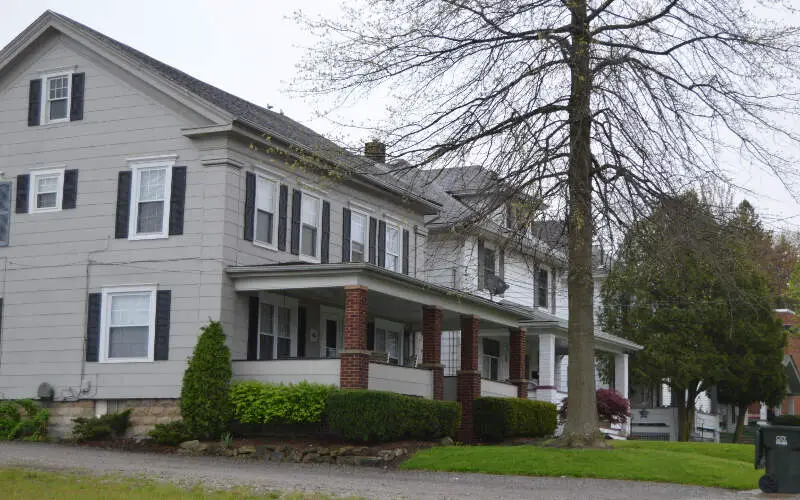 Source: Public domain
Hubbard's motto is "where opportunity begins" and boy is that accurate. Rent goes for around $677/month in Hubbard, so if you split it with a roommate or two, your monthly coffee budget might outstrip your housing costs. The median home price in Hubbard is 99,900 and the median income is $50,829, giving Hubbard only a slightly worse ratio of home price to income than the cities above. If you're really trying to maximize your savings in Hubbard, there are plenty of things to do for free, like hiking around McGuffey Wildlife Preserve.
Hubbard is a suburb of Youngstown.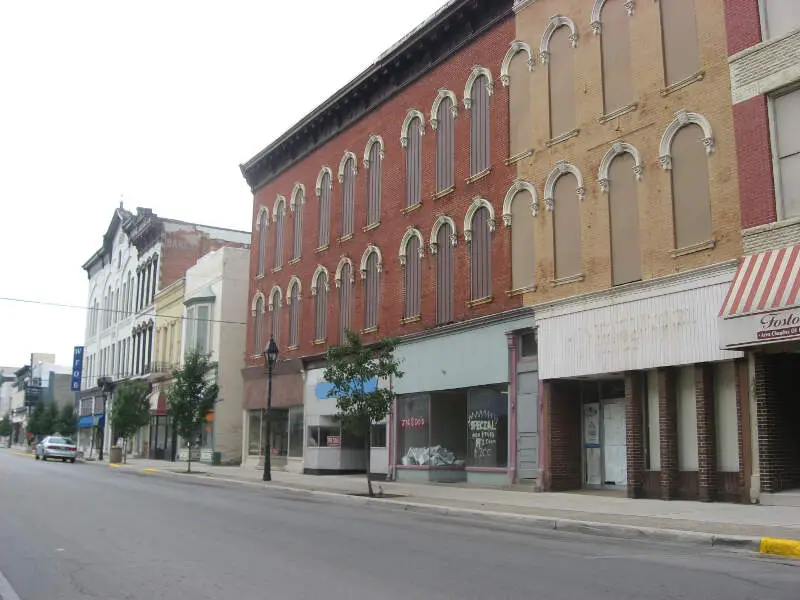 Source: Public domain
Situated between Toledo and Columbus, Fostoria is a lot more affordable than either of the bigger cities. If you're interested in the local heritage, Fostoria has a rich history of glass production — natural gas was discovered there during the 19th century, something you can learn more about at the local Glass Museum.
Fostoria also has several great local parks, chief among them being Fostoria Railpark, a favorite for train-watching.
The overall cost of living in Fostoria is 18% lower than the national average, but housing in Fostoria costs 42% what your average American city does. The median home price in Fostoria is only $66,600, and rent is under $700 in most places.
Not to mention that with a median household income of $39,688, these housing costs are relatively easy to keep pace with.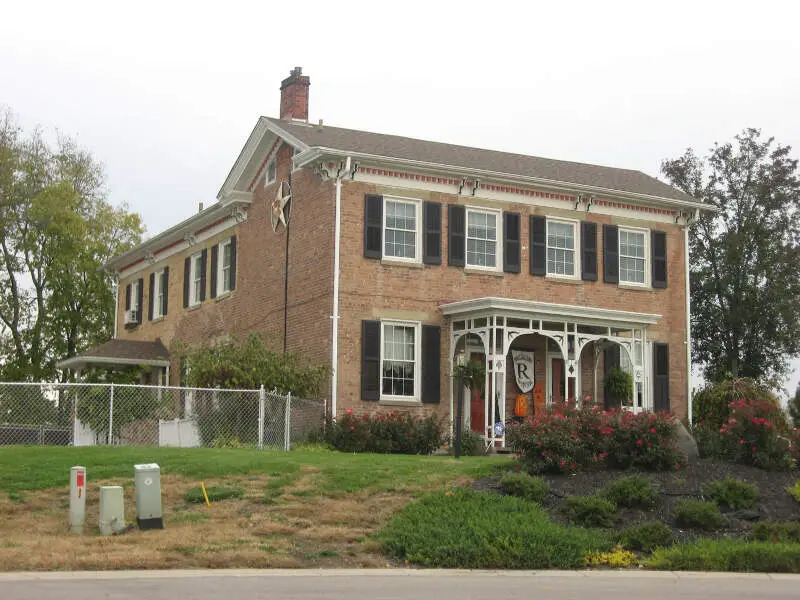 Source: Public domain
At $136,900, Trenton has one of the most expensive median home prices on this list. However, because residents of Trenton earn a median income of $77,739, the city has the tenth best ratio of home price to income in the Ohio. And though the median rent may seem steep at $957, it's still about 33% less than the statewide average in an already cheap state.
Trenton is located just west of Middletown in the southwestern part of the state.
How We Determined The Most Affordable Places To Live In The Buckeye State For 2021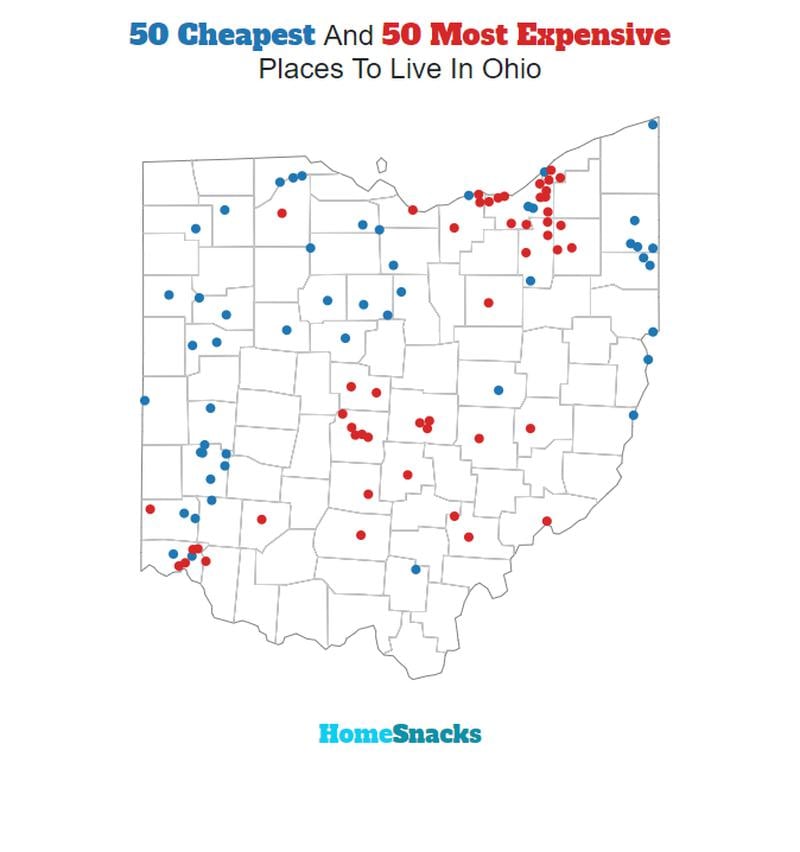 The two most important things to think about when it comes to being able to afford if you can live comes down to:
How much do money do I make?
How much do I have spend to live there?
You need to understand your costs in the context of how much money you make.
For example, if the median household earns $100,000 and spends $40,000 on housing it's actually cheaper to live there than a place with a median income of $50,000 and housing costs of $21,000. You might spend more on housing, but you have more money overall to play with.
With that example in mind, we derived several statistics from the latest Census American Community Survey 2015-2019 around incomes and costs. They are:
Median Home Price / Median Income (lower is better)
Median Income / Median Rent (Higher is better)
Median Home Price
We added simply median home price because high home prices generally correlate with higher expenses for all costs related to homes (heating, electricity, etc).
You can then compare these metrics in each of the places in Ohio to figure out which is the least expensive.
What you are left with is a "Cost of Living Index" by taking the average rank of each of these metrics for each city.
So we used that cost of living index in order to rank all of the 251 places in Ohio that have more than 5,000 people.
The place with the lowest cost of living in Ohio according to the data is Martins Ferry. You can download the data here.

There You Have It Mr. Or Mrs. Ohio Cheapskate
If you're looking at the cost of living numbers in Ohio, this is an accurate list of the most affordable places to live in Ohio for 2021.
Here's a look at the most expensive cities in Ohio according to the data:
Oxford
Beachwood
Athens
For more Ohio reading, check out:
The Most Affordable Places To Live In Ohio
Editor's Note: We updated this article for 2021. This is our seventh time ranking the cheapest places to live in Ohio.