You don't have to become the next quarterback of the Cincinnati Bengals to live in most cities in Ohio. There are many cities in the Buckeye State that scream affordable.
Yes, learning the value of the dollar is important, but you don't want to stress about it daily when looking for a gold star Ohio neighborhood, awesome Ohio goetta, or amazing quality of life in Ohio. Now don't sweat it you're looking for that Ohio big city vibe, the kind we find in Ohio's king cities like Cincinnati, Cleveland, or Columbus, and you don't see it on our top ten most affordable cities in Ohio in 2022 list.
We recommend you look a little deeper because there are plenty of other stylish, amazing, happening, affordable Ohio cities wanting you to call them home. If you ask any Ohioan, they will say, hands down, that their city is the best. Heck, there's a reason 'The Heart of it All' is the sixth most populous state in the country. While we definitely think it has a little something to do with the great people of the state; we know that to the economically savvy, to truly be the best, the state must have the nicest, most affordable places to call home.
Now just because a city is affordable, does not make them boring. There are many cities on our list with amazing parks, quaint downtowns, and/or exploding art scenes.
So grab some Skyline Chili and a cold Yuengling, and read on.
It's simple economics, people. The less you have to spend on bills, the more you will have to spend on things that matter: like your home, good food, and just overall good fun.
So, what does the most affordable place to live in Ohio look like? Well, after crunching data from the US Census in terms of median housing costs, median income, and overall cost of living for cities with over 5,000 residents, Wellston wins the box of Buckeye chocolates.
If you care about home values, cost of living, and high quality of life, take a look at the list below to find the most affordable places in Ohio, where your salary will let you live like Midwest royalty.
And if you already knew these places were cheap, check out some more reading about Ohio and the cheapest places in the country:
The 10 Cheapest Places To Live In Ohio For 2022
Wellston is a city in Jackson County, Ohio, United States, in the southeastern part of the state. The population was 5,663 at the 2010 census.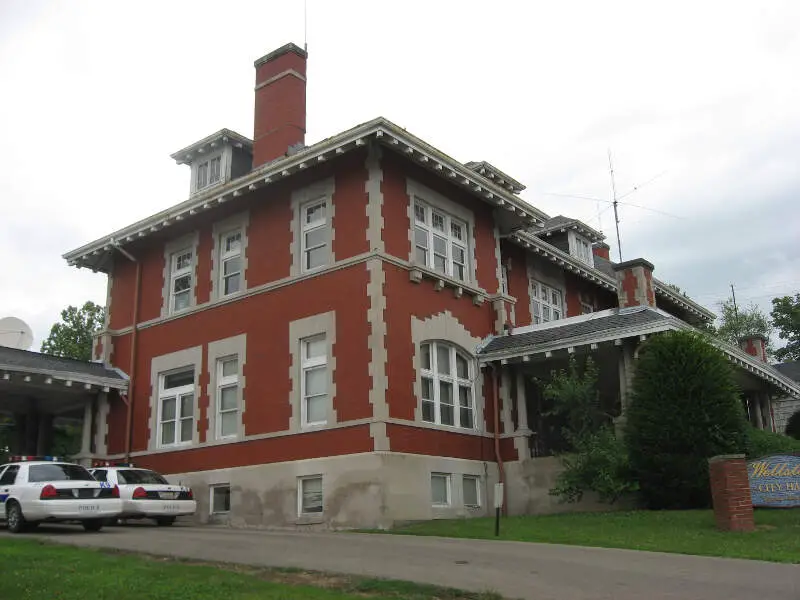 Source: Public domain
Situated about 60 miles east-northeast of Columbus, Coshocton ranks as the second most affordable place to live in Ohio. Coshocton's a place where you get a big bank for your buck.
Between Historic Roscoe Village for shopping and dining experiences and canal boat rides, the Three Rivers Wine Trail, which includes six wineries and a brewery, and the Antique & Unique Shopping Trail, there's truly something for everyone in Coshocton. And that's not even getting into all the free or cheap events that go on all year.
That type of high quality of life combined with a low cost of living is a rare find in our world. In particular, housing is far cheaper in Coshocton than in the country or even Ohio.
Homes in Coshocton have a median price of $83,800, while rent is the 15th cheapest in Ohio at $634. The median income here is $46,034, and the unemployment rate is fairly low. Oh, and the average commute time here is short, so you'll even save a bit on gas.
Source: Public domain
Another Youngstown suburb, Girard, ranks as the third cheapest city in Ohio. The median rent in Girard is $642, giving Girard the lowest rent on this list in a state already known for having super low rent prices. The median income in Girard is $44,315 and the median home price is $80,700, giving Girard the 11th best ratio of home price to income in the state.
Girard wasn't even in the top 20 most affordable cities in Ohio in 2019, so this #3 ranking in 2022 is quite the feat.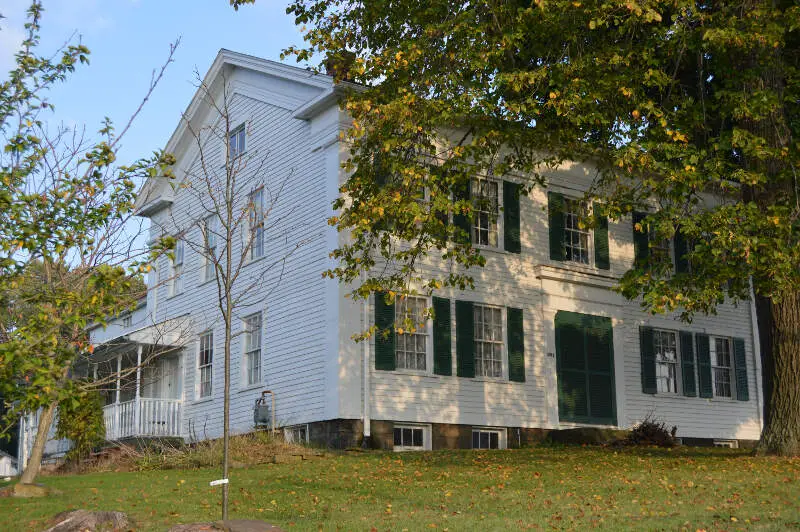 Source: Public domain
Situated between Toledo and Columbus, Fostoria is a lot more affordable than either of the bigger cities. If you're interested in the local heritage, Fostoria has a rich history of glass production — natural gas was discovered there during the 19th century, something you can learn more about at the local Glass Museum.
Fostoria also has several great local parks, chief among them being Fostoria Railpark, a favorite for train-watching.
The overall cost of living in Fostoria is 18% lower than the national average, but housing in Fostoria costs 42% what your average American city does. The median home price in Fostoria is only $66,000, and rent is under $700 in most places.
Not to mention that with a median household income of $42,131, these housing costs are relatively easy to keep pace with.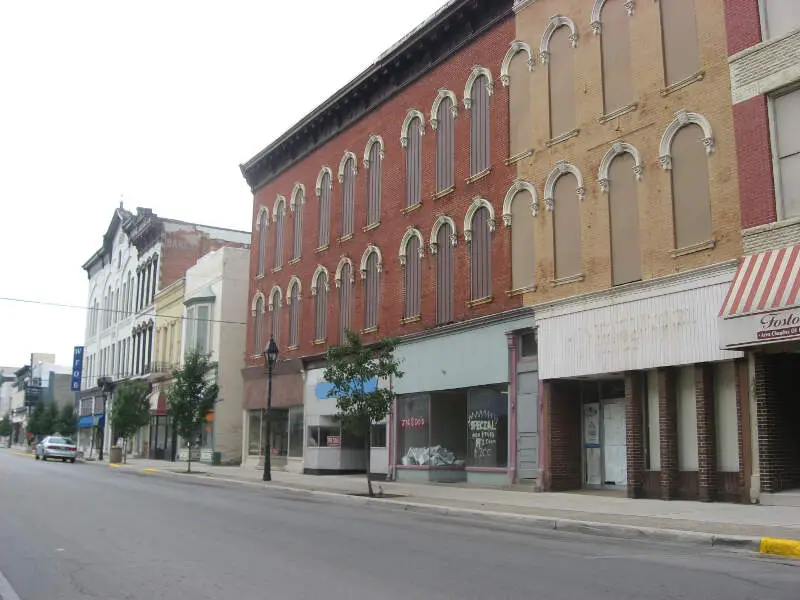 Source: Public domain
If you want to live like a king or queen without breaking the bank, there's nowhere better in Ohio than Bellevue. Heck, you can even mine for gems at Seneca Caverns to supplement your already substantial savings potential. Median rent in Bellevue is an incredibly cheap $713/month, which is even impressive when you're living in one of the most affordable states in the country. And while buying a home in Bellevue isn't crazy cheap, it is when you take into account how much Bellevue residents earn. With a median income of $53,874 and a median home price of $101,400, Bellevue has the 22nd lowest ratio of home price to income in the state.
Bellevue is located between the cities of Cleveland and Toledo.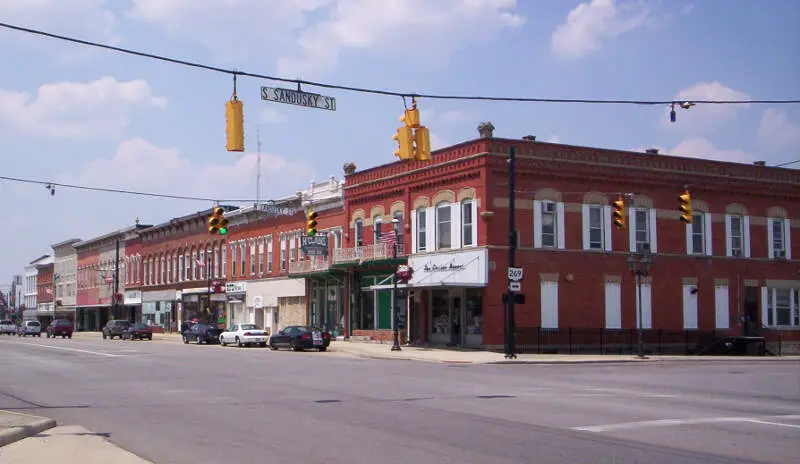 St. Marys is a city in Auglaize County, Ohio, United States. The population was 8,332 at the 2010 census. It is included in the Wapakoneta, Ohio, Micropolitan Statistical Area.
Toronto is the second-largest city in Jefferson County, Ohio, United States, along the Ohio River. The population was 5,091 at the 2010 census. It is part of the Weirton-Steubenville, WV-OH Metropolitan Statistical Area.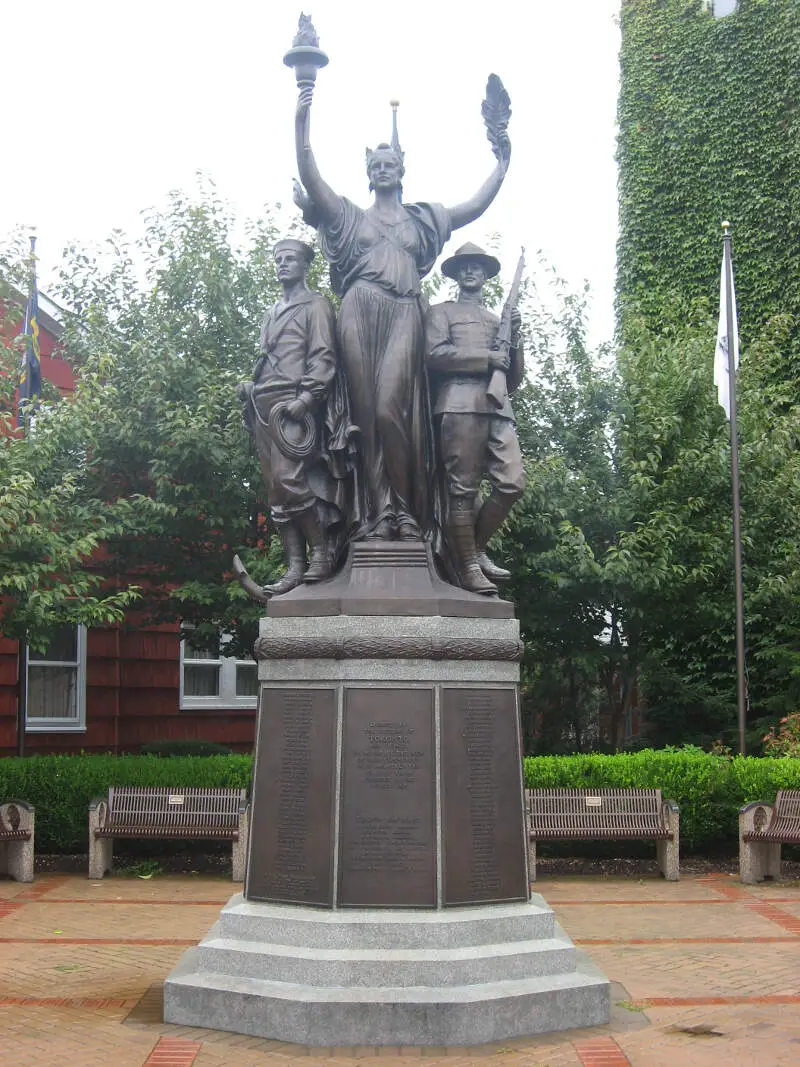 Source: Public domain
Willard is a city in Huron County, Ohio, United States. The population was 6,236 at the 2010 census. Willard is served by the Willard Memorial Library.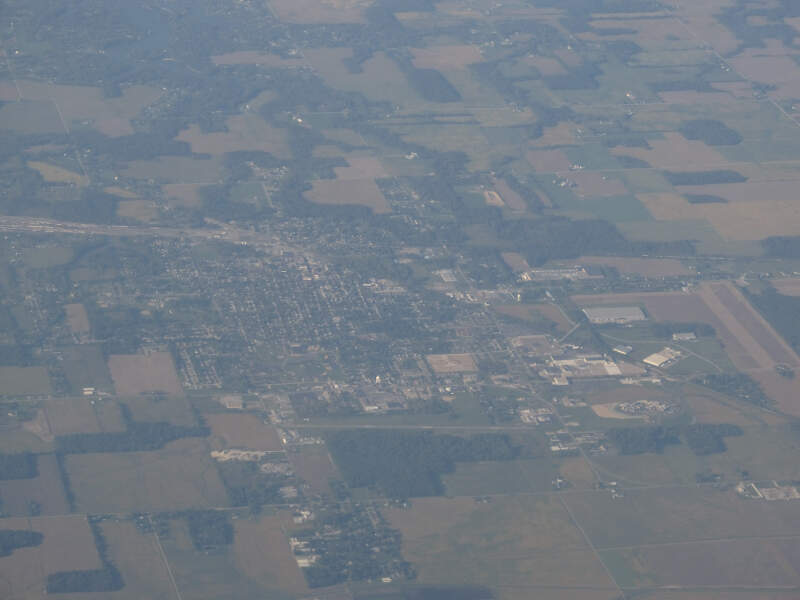 Located in northeastern Ohio along Lake Eerie, Conneaut ranks as the ninth cheapest city in the state. With the beach and boardwalk at Conneaut Township Park, it's easy to live the high life on a budget in Conneaut. Folks in Conneaut earn a median income of $47,685 and pay a median price of $95,000 for homes. That gives Conneaut the 40th best home price to income ratio in Ohio. While the median rent in Conneaut is only $632, it's still more economical to buy then rent here, taken as a proportion of income.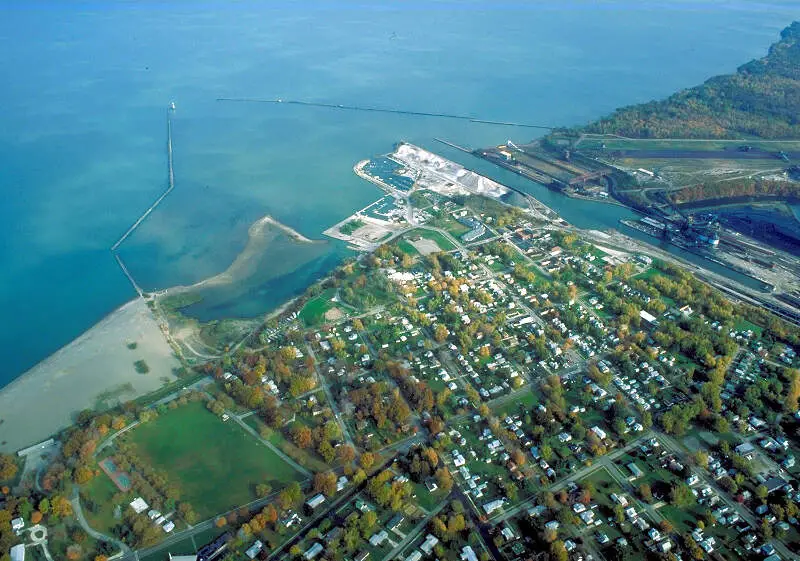 Source: Public domain
Van Wert is a city in and the county seat of Van Wert County, Ohio, United States. The municipality is located in northwestern Ohio. The population was 10,846 at the 2010 census. It is the principal city of and is included in the Van Wert Micropolitan Statistical Area, which is included in the Lima-Van Wert-Wapakoneta, Ohio Combined Statistical Area. Van Wert is named for Isaac Van Wart, one of the captors of Major John Andr in the American Revolutionary War. A center of peony cultivation, Van Wert has hosted the annual Van Wert Peony Festival on and off since 1902. Van Wert is home to the first county library in the United States, the Brumback Library. It also has a thriving community art center the Wassenburg Art Center and the award-winning Van Wert Civic Theatre. The home office of Central Insurance Companies is located in Van Wert.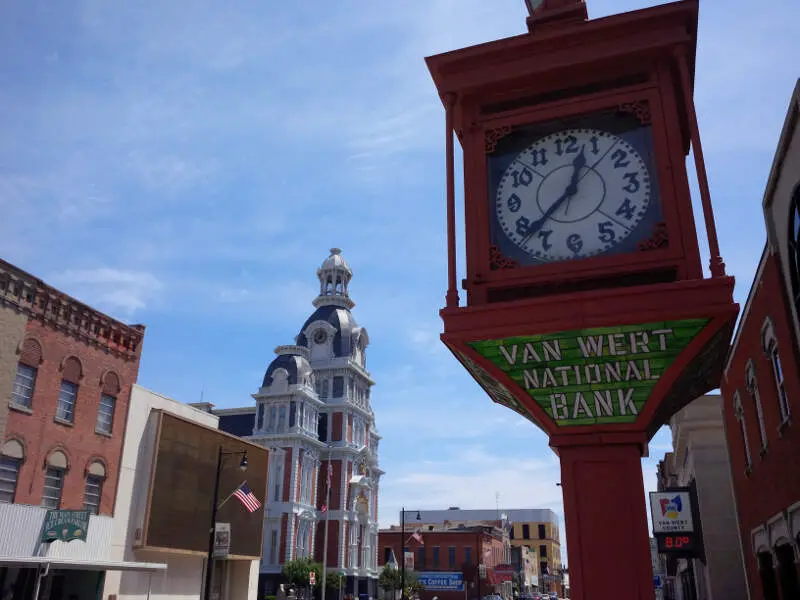 Source: Public domain
Cheapest Places To Live In Ohio FAQs
The county in Ohio with the lowest cost of living is Gallia County. The average living wage in Gallia County is $80,340 according to MIT data. Gallia County has the lowest cost of living because it has relatively less expensive childcare and housing costs compared to Ohio as a whole. Childcare costs $12,687 a year in Gallia County for two children compared to the Ohio average of $19,242. Housing costs, defined as a blend of the average rent and average mortgage payment, are $8,808 per year in Gallia County compared to $10,291 on average in Ohio.
The cost of living in Ohio is 0.3% lower than the US average. According to MIT, the required living wage for a family of four with two working parents in Ohio is $89,500 vs the national average for a family of four with two working parents of $89,744. The median income of a Ohio household is $58,116.
The cheapest housing market in Ohio is Youngstown. The average home value in Youngstown is $46,900, the lowest in the state. The average home value in Ohio is $151,400, almost 3.2 times higher than Youngstown.
Methodology: How We Determined The Most Affordable Places To Live In The Buckeye State For 2022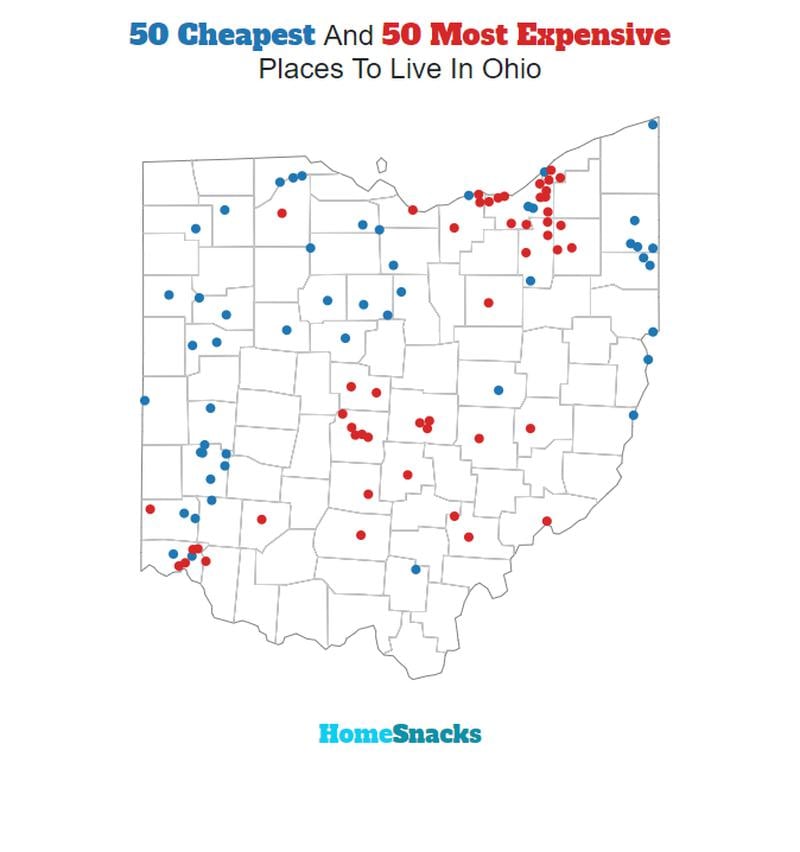 The two most important things to think about when it comes to being able to afford if you can live comes down to:
How much do money do I make?
How much do I have spend to live there?
You need to understand your costs in the context of how much money you make.
For example, if the median household earns $100,000 and spends $40,000 on housing it's actually cheaper to live there than a place with a median income of $50,000 and housing costs of $21,000. You might spend more on housing, but you have more money overall to play with.
With that example in mind, we derived several statistics from the latest Census American Community Survey 2016-2020 around incomes and costs. They are:
Median Home Price / Median Income (lower is better)
Median Income / Median Rent (Higher is better)
Median Home Price
We added simply median home price because high home prices generally correlate with higher expenses for all costs related to homes (heating, electricity, etc).
You can then compare these metrics in each of the places in Ohio to figure out which is the least expensive.
What you are left with is a "Cost of Living Index" by taking the average rank of each of these metrics for each city.
So we used that cost of living index in order to rank all of the 252 places in Ohio that have more than 5,000 people.
The place with the lowest cost of living in Ohio according to the data is Wellston. You can download the data here.

Summary: There You Have It Mr. Or Mrs. Ohio Cheapskate
If you're looking at the cost of living numbers in Ohio, this is an accurate list of the most affordable places to live in Ohio for 2022.
Here's a look at the most expensive cities in Ohio according to the data:
Athens
Beachwood
Oxford
For more Ohio reading, check out:
The Most Affordable Places To Live In Ohio
Editor's Note: We updated this article for 2022. This is our ninth time ranking the cheapest places to live in Ohio.