Do you live in one of the happiest places in North Carolina?
According to a Harris Poll taken in October of 2015, only a third of Americans say they are truly happy. That's too bad, considering that Americans – especially folks in North Carolina – don't really have it too bad, in the grand scheme of things.
But, we were curious – which North Carolina cities might be the happiest? We're about to find out, using science and data.
After analyzing the largest cities, we gleefully present the happiest places in North Carolina:
Apex
Holly Springs
Morrisville
Harrisburg
Cary
Knightdale
Lewisville
Summerfield
Clemmons
Stallings
Read on below to see how we crunched the numbers and how your town ranked. If you have a smile on your face, you probably live in one of these cities.
There's a chart below the quick summary with the top 25 happiest cities in North Carolina, and more detailed statistics.
Oh, and by the way, sadly, Laurinburg is the saddest city in the Tar Heel State.
How do you decide if a city in North Carolina is happy or not?
In order to rank the happiest places in North Carolina, we had to determine what criteria makes people happy. It isn't a stretch to assume that happy people earn great salaries, are relatively stress free, have a stable home life and live where the weather is nice.
So we scraped the internet for those criteria, and it spit out the answer. Like magic.
How we crunched the numbers
We threw a lot of criteria at this one in order to get the best, most complete results possible. Using FBI crime data, the government census, Bureau of Labor Statistics, Sperling's Best Places, and Twitter, this is the criteria we used, looking at the state's 50 largest cities:
Percentage of residents with a college degree
Average commute times
Employment rates
Cost of living
Crime
Sunny days
% of married couples
% of home owners
For geo-located Tweets, we used #happy.
1. Apex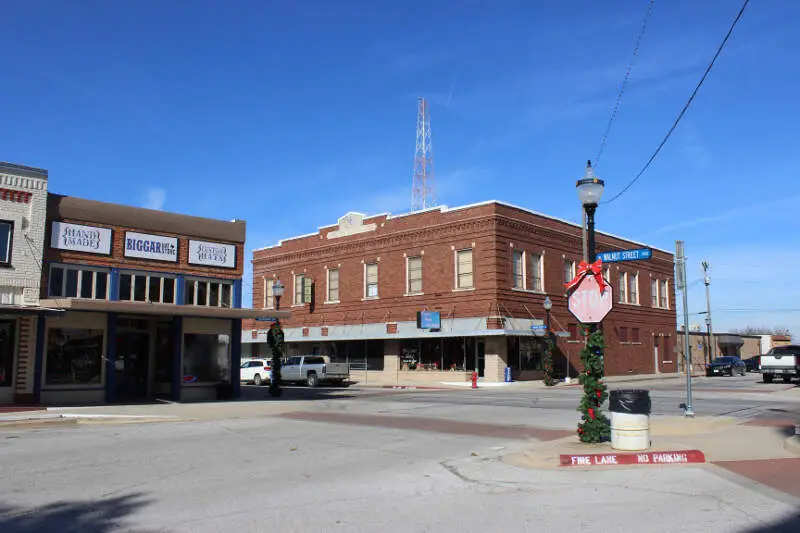 Downtown Apex.
Population: 43,589
College degrees: 2nd most
Sunny days: Most in NC
It was close, but Apex narrowly beat out Holly Springs as the happiest place in the state. Let's see why.
First of all, most North Carolina residents have heard time and time again how 'great' Apex is. It's on all sorts of lists for 'Best Places to Live in America' to 'Best Places to Raise Kids.' But when you look at the numbers, you can see why a majority of the people here are truly happy.
Money doesn't buy happiness. But it does buy you peace of mind and the freedom to do the things you're passionate about. Families in Apex bring in about $90,000 a year, which is the 3rd highest in the state.
And, does sunshine on your shoulders really make you happy? Apex must just have someone looking down on them from above. According to the NOAA, there are more sunny days in Apex than anywhere else in the state. They get to see the sun for about 221 days a year.
Other factors that make Apex a land of smiles and hugs: Nearly 90% of the population graduated from college, and crime is the 11th lowest in the state.
No wonder the population is exploding here. Everyone wants to be around happy people.
Other Highlights
Holly Springs: This affluent suburb located a short drive from Apex has some really happy home owners. More than 71% of the people here are married, and 83% own their own home. Both are 2nd in the state. There's something to be said for coming home to a loving, happy home every night.
Durham: Bull City wound up somewhere in the middle. The unemployment rate in Durham is the 10th lowest in the state (4.4%), and Durham is 4th for sunshine. What do they have to be sad about? Crime is in the top 8%, and only 43% of the residents of Durham are married.
Perhaps they're waiting to settle down. But loneliness can cause depression.
Nearby Chapel Hill fared well in a lot of happy categories, but the high cost of living might weigh on folks. Additionally, much of the population in Chapel Hill doesn't own a home or have a spouse. There's 'college happy' and 'adult happy.'
Charlotte: They're relatively happy in Charlotte, when you look at the numbers. Income levels are higher than average, as are the number of homeowners and sunny days. Crime isn't even in the top 20.
However, commute times are some of the highest in the state, meaning less happy time with the wife and kids every day.
The state capital, Raleigh, is about as happy as Charlotte, the data shows. Most people have jobs here, but many aren't married, and the cost of living is high.
Sad on the fringes: Many of the most miserable cities in North Carolina lie on the edges of the state line, including Elizabeth City, Eden, Henderson and Lumberton.
There You Have It
Like we said earlier, trying to determine the happiest cities in North Carolina is usually a subjective matter. But if you're analyzing cities where people are not stable, where it's dangerous and the weather is bad, this is an accurate list.
If you're curious enough, here are the most miserable cities in NC, according to science: Laurinburg, Elizabeth City, Lincolnton, Henderson, Kinston.
Complete data chart for mobile users
Here's a link to the complete data chart for mobile users. Desktop users are able to see a breakout chart below.
We also wrote about the 10 Drunkest Cities In North Carolina if you want another light-hearted study.

The 25 happiest cities in North Carolina, with detailed information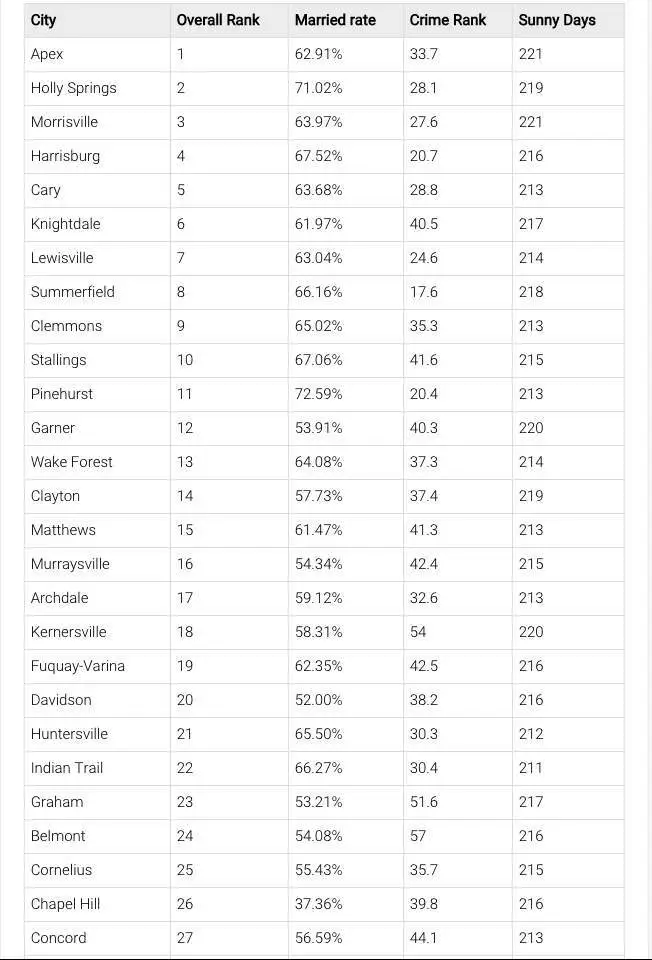 Below is the desktop version, with more detailed stats. Mobile users can click on the link above for the complete statistics.