Welcome to the happiest places in North Carolina.
Using Saturday Night Science and data, we determined the cities and towns with the most rainbows, butterflies, puppies, and unicorns.
You know, the places where people have jobs, white-picked fences, and friendly neighbors – unicorn cities.
After analyzing the 136 largest cities, we happily present the happiest cities in the Tar Heel State.
---
Table Of Contents: Top Ten | Methodology | Summary | Table
---
The 10 Happiest Places In North Carolina
Read on below to see how we crunched the numbers and how your town ranked. If you have a smile on your face, you probably live in one of these cities.
Oh, and by the way, Siler City is the most miserable place in North Carolina.
For more North Carolina reading, check out:
The 10 Happiest Places In North Carolina For 2023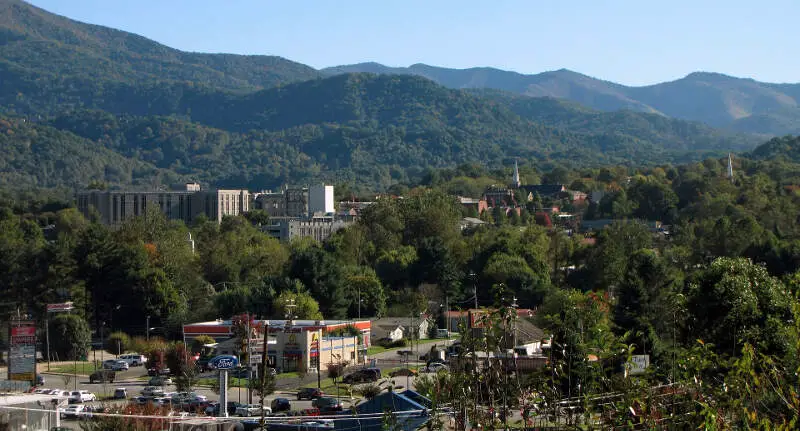 Waynesville is by far the happiest place in the state of North Carolina. Let's see why.
First off, having a solid family life is a good indication of how happy someone is. Lots of the residents of Waynesville aren't missing out on love; more than 24% of them are married. Plus, the average commute time here is only about 18 minutes each way. That means a lot more time with the spouse and kids.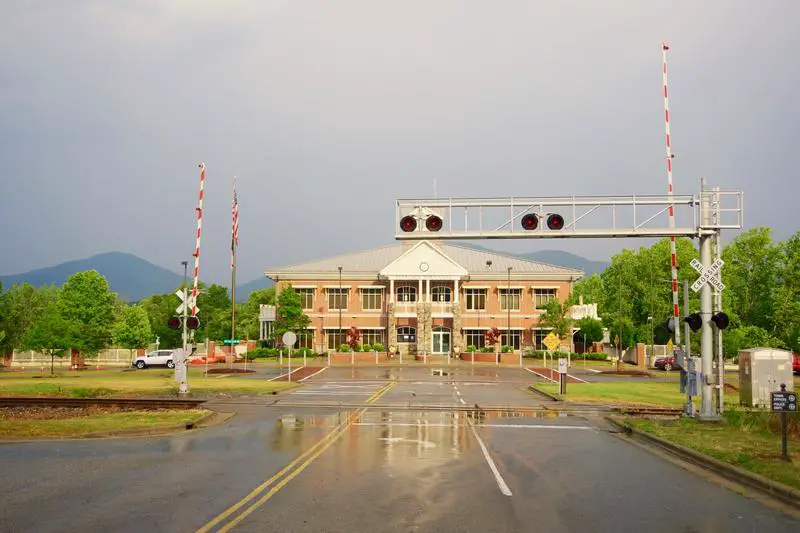 Things look to be pretty pleasant in Fletcher. Crime is really low here, and the percentage of married residents (27%) mean there's lots of stability at home.
In addition to those factors, there is a thriving amount of community involvement. Studies have shown that a key factor to happiness is when people volunteer, especially in their own neighborhoods.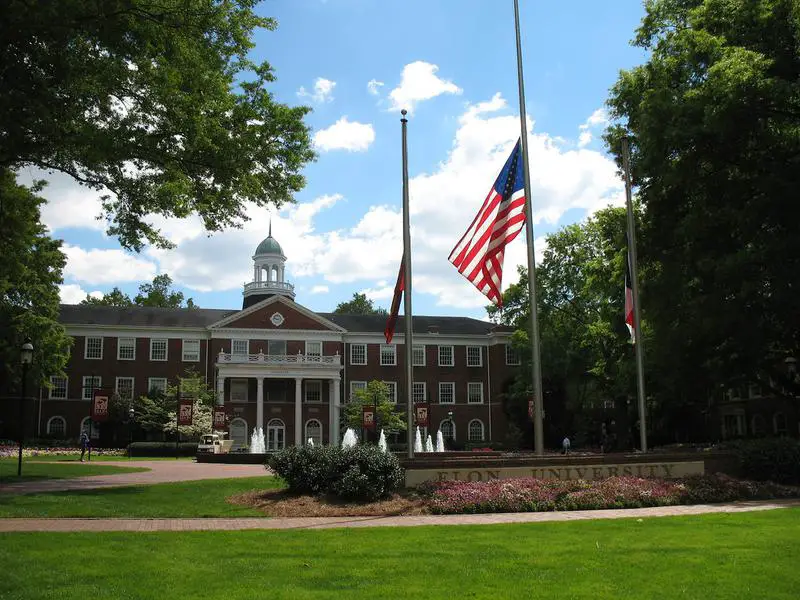 The people who live in Elon have a lot going for them. 54% of them have college degrees, and they command some of the highest salaries in NC. 14% of the people here are married.
Most of these all tops in the entire state.

Asheville is where you can bet there are lots of smiley and happy people all over town. Crime is essentially something that just doesn't happen here very often. And when you can let your guard down and relax a little, the lack of stress really makes a difference.
Same goes on the job front. Only 4.0% of residents here are out of work. Sounds like there are jobs for just about everyone who wants one. Which must be a good feeling to have.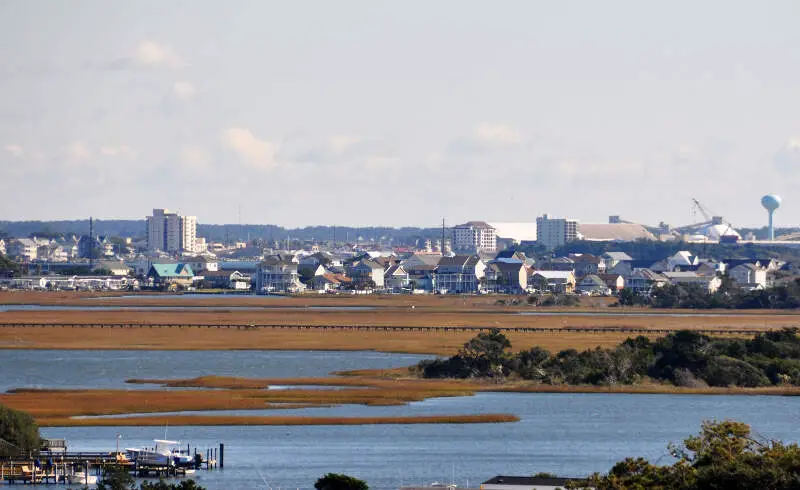 If you want to see a bunch of happy people, go to Morehead City. It seriously looks like something out of a commercial.
They have a 18 minute commute time, which means lots more time with the kids.
For those who say that money doesn't buy happiness, you're half right. Studies have shown that people are happy up to a certain point when it comes to annual salaries, somewhere around $72,000 a year. After that, it doesn't matter how much you make, you're not going to be much happier.
The residents of Hendersonville have that covered. Plus about 13% of households are married.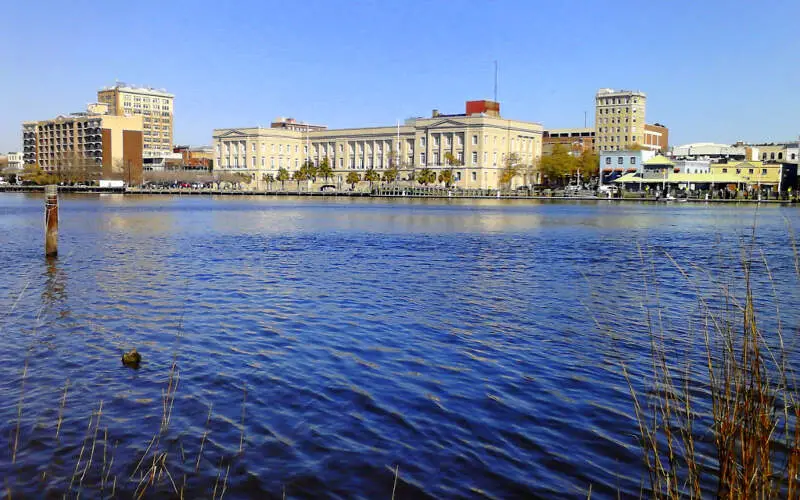 Most of the people in Wilmington have to be 'plum' happy. True happiness is 'Home Sweet Home' with your kids and spouse, being reminded to do chores, run errands and fold the clothes right.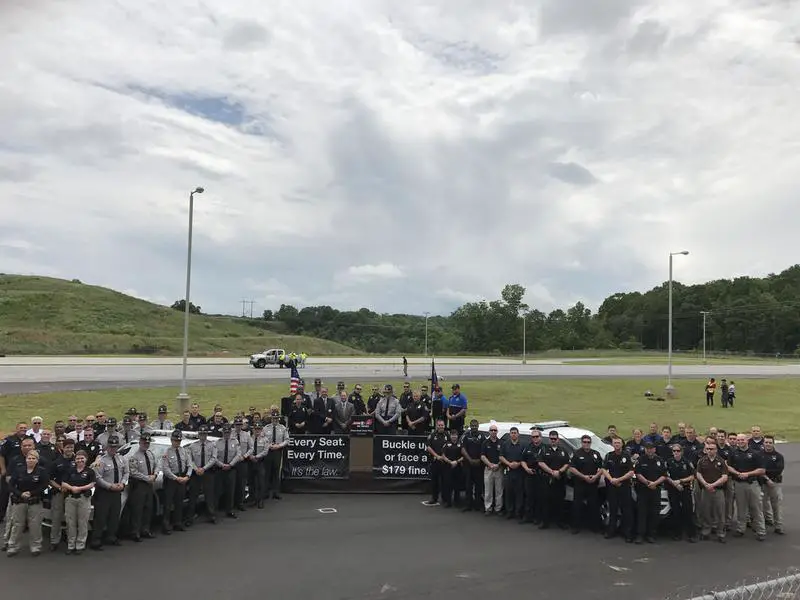 Less than 2.6% of the residents in Woodfin are jobless, which is just about as low as you'll see.
Incomes are steady, and commute times are really low as well. That really takes away the stress factors that stop folks from relaxing and enjoying their 'down time' to do the little things that matter: Walks in the park, time alone with a book and extra face time with the children.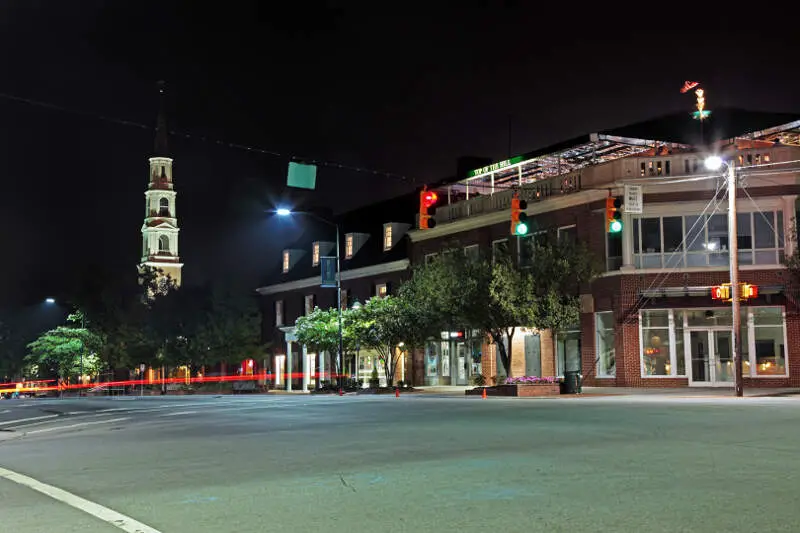 About 79% of residents in Chapel Hill, NC have a college degree. While we've all heard the saying, 'Ignorance is bliss,' our argument is: Ignorance is also broke.
Not only are most of the residents of Chapel Hill smart, they're safe, too.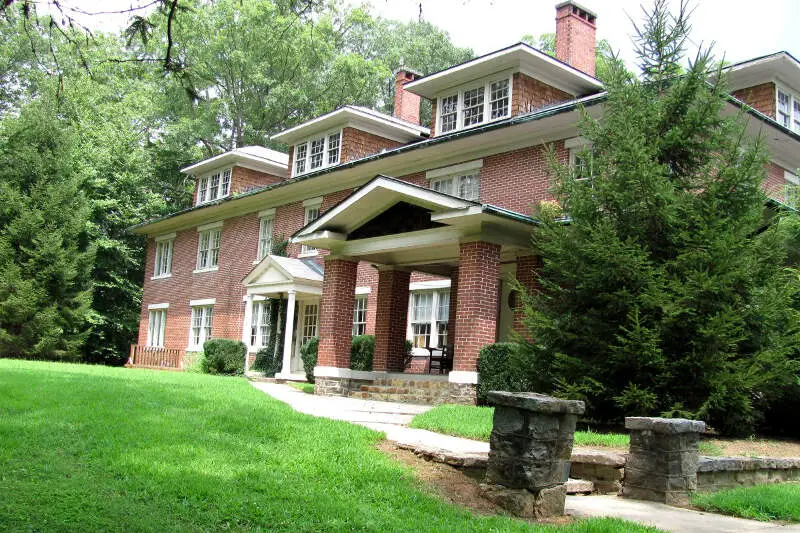 In Brevard, most of the population is married, and most own their own homes.
The commute times (17 minutes each way) might eventually start to turn the corners of those smiles sideways.
But for now, it's all roses in Brevard.
Methodology: How We Measured The Happiest Cities In The Tar Heel State
To rank the happiest places in North Carolina, we had to determine what criteria make people happy. It isn't a stretch to assume that happy people earn great salaries, are relatively stress-free, and have a stable home life.
So we went to the Census's American Community Survey 2017-2021 report for the happy criteria, added some Saturday Night Science, and generated the answer.
Here are the criteria we used to measure happiness:
Percentage of residents with a college degree
Average commute times
Unemployment rates
Cost of living
% of married couples
% of families with kids
Poverty rate
After we decided on the criteria, we gathered the data for the 136 places in North Carolina with over 5,000 people.
We then ranked each place from one to 136 for each of the seven criteria, with a score of one being the happiest.
Next, we averaged the seven rankings into a Happy Index for each place with the lowest overall Happy Index "earning" the title "Happiest City In North Carolina."
If you'd like to see the complete list of cities, happiest to saddest, scroll to the bottom of this post to see the unabridged chart.
We updated this article for 2023, and it's our tenth time ranking the happiest cities in North Carolina.
There You Have It – The Happiest Cities In North Carolina
As we said earlier, trying to determine the most miserable cities in North Carolina is usually a subjective matter.
But if you're analyzing cities where people are not stable, where you're stuck in traffic, and no one spent the time to go to college, then this is an accurate list.
If you're curious enough, here are the most miserable cities in North Carolina, according to science:
Siler City
Zebulon
Monroe
For more North Carolina reading, check out:
Happiest Cities In North Carolina For 2023
| Rank | City | Population | Poverty Level | Median Home Value | % Married | % Kids |
| --- | --- | --- | --- | --- | --- | --- |
| 1 | Waynesville, NC | 10,087 | 19.5% | $174,700 | 24.0% | 22.84% |
| 2 | Fletcher, NC | 7,935 | 9.0% | $248,500 | 27.0% | 22.33% |
| 3 | Elon, NC | 11,059 | 24.5% | $304,800 | 14.0% | 27.29% |
| 4 | Asheville, NC | 93,272 | 12.4% | $319,400 | 12.0% | 20.16% |
| 5 | Morehead City, NC | 9,535 | 12.7% | $295,300 | 19.0% | 23.9% |
| 6 | Hendersonville, NC | 14,878 | 15.1% | $217,200 | 13.0% | 16.86% |
| 7 | Wilmington, NC | 115,976 | 18.8% | $279,900 | 15.0% | 18.56% |
| 8 | Woodfin, NC | 7,771 | 14.8% | $284,900 | 11.0% | 17.04% |
| 9 | Chapel Hill, NC | 60,920 | 19.6% | $454,300 | 5.0% | 26.4% |
| 10 | Brevard, NC | 7,712 | 14.3% | $257,700 | 16.0% | 20.47% |
| 11 | Boone, NC | 18,055 | 55.3% | $272,500 | 6.0% | 12.48% |
| 12 | Summerfield, NC | 11,026 | 7.4% | $387,500 | 21.0% | 34.68% |
| 13 | Black Mountain, NC | 8,386 | 4.6% | $264,900 | 15.0% | 18.08% |
| 14 | Tarboro, NC | 10,733 | 24.5% | $132,800 | 26.0% | 26.76% |
| 15 | Oak Island, NC | 8,252 | 9.5% | $284,400 | 25.0% | 10.75% |
| 16 | Mount Airy, NC | 10,547 | 29.3% | $160,100 | 23.0% | 25.99% |
| 17 | Smithfield, NC | 11,168 | 30.0% | $165,800 | 22.0% | 27.5% |
| 18 | Oak Ridge, NC | 7,461 | 3.8% | $406,300 | 28.0% | 39.16% |
| 19 | Washington, NC | 9,754 | 30.6% | $158,100 | 28.0% | 26.47% |
| 20 | Carrboro, NC | 21,237 | 12.1% | $396,800 | 5.0% | 25.88% |
| 21 | Gibsonville, NC | 8,684 | 9.4% | $200,700 | 31.0% | 34.68% |
| 22 | Kernersville, NC | 26,376 | 11.5% | $208,200 | 21.0% | 24.98% |
| 23 | Greenville, NC | 87,815 | 26.2% | $163,500 | 15.0% | 26.36% |
| 24 | Durham, NC | 279,106 | 13.5% | $264,100 | 12.0% | 26.94% |
| 25 | New Bern, NC | 31,058 | 19.1% | $167,600 | 15.0% | 25.03% |
| 26 | Mills River, NC | 7,082 | 3.5% | $306,300 | 24.0% | 27.85% |
| 27 | Morganton, NC | 17,389 | 27.0% | $158,400 | 19.0% | 30.18% |
| 28 | Shelby, NC | 21,564 | 19.0% | $143,700 | 23.0% | 23.85% |
| 29 | Southern Pines, NC | 15,156 | 10.1% | $301,200 | 14.0% | 22.02% |
| 30 | Raleigh, NC | 462,219 | 12.1% | $285,400 | 12.0% | 27.66% |
| 31 | Cramerton, NC | 5,190 | 2.9% | $231,800 | 34.0% | 29.36% |
| 32 | Leland, NC | 22,794 | 4.3% | $273,000 | 17.0% | 22.98% |
| 33 | Lewisville, NC | 13,413 | 10.4% | $225,600 | 29.0% | 34.85% |
| 34 | Clemmons, NC | 21,032 | 5.4% | $253,400 | 24.0% | 29.12% |
| 35 | Trinity, NC | 6,981 | 11.9% | $149,600 | 34.0% | 29.05% |
| 36 | Carolina Beach, NC | 6,456 | 8.9% | $394,000 | 19.0% | 16.26% |
| 37 | Archdale, NC | 12,117 | 7.3% | $147,500 | 29.0% | 25.89% |
| 38 | Clinton, NC | 8,124 | 27.7% | $133,600 | 23.0% | 31.07% |
| 39 | St. James, NC | 6,199 | 2.8% | $473,700 | 6.0% | 2.5% |
| 40 | King, NC | 7,258 | 5.3% | $170,200 | 35.0% | 29.68% |
| 41 | Pinehurst, NC | 17,250 | 4.2% | $338,900 | 12.0% | 18.13% |
| 42 | Walke, NC | 5,626 | 9.7% | $154,300 | 30.0% | 30.39% |
| 43 | Belmont, NC | 14,442 | 14.8% | $262,200 | 20.0% | 32.81% |
| 44 | Hickory, NC | 42,831 | 16.7% | $199,100 | 18.0% | 28.58% |
| 45 | Davidson, NC | 14,644 | 6.5% | $478,000 | 9.0% | 32.92% |
| 46 | Kill Devil Hills, NC | 7,541 | 7.5% | $278,000 | 12.0% | 17.26% |
| 47 | Pineville, NC | 10,317 | 13.1% | $254,300 | 7.0% | 33.37% |
| 48 | Rockingham, NC | 9,200 | 28.7% | $107,100 | 25.0% | 27.56% |
| 49 | Wendell, NC | 9,847 | 8.6% | $226,400 | 20.0% | 28.19% |
| 50 | Dunn, NC | 8,616 | 23.2% | $142,900 | 24.0% | 26.87% |
| 51 | Winston-Salem, NC | 247,917 | 19.0% | $158,600 | 16.0% | 28.55% |
| 52 | Morrisville, NC | 28,824 | 4.1% | $358,800 | 5.0% | 38.85% |
| 53 | Goldsboro, NC | 33,214 | 24.1% | $135,900 | 19.0% | 26.83% |
| 54 | Cary, NC | 171,603 | 5.7% | $404,300 | 9.0% | 38.23% |
| 55 | Cherryville, NC | 6,044 | 15.1% | $149,800 | 39.0% | 39.36% |
| 56 | Matthews, NC | 29,417 | 4.6% | $299,900 | 14.0% | 31.8% |
| 57 | Weddington, NC | 12,851 | 2.1% | $549,200 | 17.0% | 49.89% |
| 58 | Mint Hill, NC | 26,236 | 7.9% | $313,900 | 21.0% | 32.32% |
| 59 | Roanoke Rapids, NC | 15,294 | 20.4% | $110,500 | 24.0% | 30.33% |
| 60 | Cornelius, NC | 30,925 | 6.6% | $371,100 | 10.0% | 30.09% |
| 61 | Hillsborough, NC | 9,342 | 7.6% | $321,000 | 15.0% | 29.41% |
| 62 | Winterville, NC | 10,336 | 6.4% | $169,300 | 30.0% | 34.97% |
| 63 | Oxford, NC | 8,658 | 24.0% | $143,800 | 24.0% | 26.39% |
| 64 | Greensboro, NC | 295,483 | 17.4% | $169,100 | 14.0% | 30.49% |
| 65 | High Point, NC | 113,148 | 14.6% | $167,900 | 18.0% | 32.02% |
| 66 | Newton, NC | 13,081 | 10.3% | $120,700 | 25.0% | 27.76% |
| 67 | Unionville, NC | 6,634 | 6.1% | $263,000 | 44.0% | 33.17% |
| 68 | Lumberton, NC | 19,186 | 31.1% | $112,300 | 20.0% | 33.63% |
| 69 | Burlington, NC | 56,563 | 17.2% | $145,000 | 19.0% | 27.21% |
| 70 | Elizabeth City, NC | 18,466 | 21.2% | $150,700 | 19.0% | 26.91% |
| 71 | Charlotte, NC | 864,871 | 11.6% | $258,000 | 10.0% | 30.25% |
| 72 | Conover, NC | 8,393 | 12.0% | $171,900 | 23.0% | 41.42% |
| 73 | Wilson, NC | 47,914 | 21.3% | $150,000 | 23.0% | 30.9% |
| 74 | Williamston, NC | 5,221 | 29.4% | $97,900 | 32.0% | 31.18% |
| 75 | Sawmills, NC | 5,053 | 19.3% | $150,600 | 34.0% | 31.62% |
| 76 | Stokesdale, NC | 5,895 | 8.0% | $250,900 | 24.0% | 45.85% |
| 77 | Albemarle, NC | 16,318 | 23.9% | $136,900 | 27.0% | 30.75% |
| 78 | Reidsville, NC | 14,463 | 28.5% | $112,600 | 23.0% | 28.02% |
| 79 | Kinston, NC | 19,888 | 27.9% | $97,400 | 18.0% | 23.4% |
| 80 | Statesville, NC | 27,777 | 19.6% | $167,700 | 18.0% | 32.9% |
| 81 | Mocksville, NC | 5,714 | 26.3% | $159,600 | 16.0% | 32.51% |
| 82 | Salisbury, NC | 35,258 | 23.7% | $156,300 | 22.0% | 32.59% |
| 83 | Rocky Mount, NC | 54,375 | 18.9% | $114,400 | 23.0% | 27.06% |
| 84 | Gastonia, NC | 79,483 | 14.4% | $178,800 | 23.0% | 32.48% |
| 85 | Fuquay-Varina, NC | 33,135 | 11.6% | $303,400 | 15.0% | 42.8% |
| 86 | Graham, NC | 16,793 | 23.7% | $150,900 | 21.0% | 32.25% |
| 87 | Nashville, NC | 5,626 | 18.8% | $148,800 | 28.0% | 37.19% |
| 88 | Aberdeen, NC | 8,333 | 7.4% | $212,200 | 16.0% | 33.39% |
| 89 | Mooresville, NC | 48,431 | 8.2% | $260,300 | 11.0% | 38.15% |
| 90 | Laurinburg, NC | 15,242 | 33.2% | $108,600 | 21.0% | 30.15% |
| 91 | Kings Mountain, NC | 10,775 | 20.7% | $150,500 | 22.0% | 24.24% |
| 92 | Garner, NC | 30,859 | 8.4% | $236,600 | 17.0% | 30.47% |
| 93 | Angier, NC | 5,312 | 9.6% | $170,800 | 19.0% | 28.68% |
| 94 | Lenoir, NC | 18,205 | 17.1% | $119,700 | 26.0% | 27.07% |
| 95 | Apex, NC | 58,066 | 3.3% | $371,200 | 11.0% | 46.01% |
| 96 | Wadesboro, NC | 5,079 | 37.1% | $70,100 | 22.0% | 26.15% |
| 97 | Butner, NC | 8,295 | 14.0% | $170,000 | 27.0% | 37.21% |
| 98 | Bessemer City, NC | 5,452 | 12.7% | $113,200 | 23.0% | 27.67% |
| 99 | Holly Springs, NC | 40,198 | 4.1% | $383,400 | 13.0% | 56.61% |
| 100 | Fayetteville, NC | 208,497 | 19.1% | $138,800 | 11.0% | 29.64% |