The 10 Safest Cities In North Carolina For 2020
We used data and science to determine the places in North Carolina where everyone sleeps safe and sound.

Editor's Note: This article has been update for 2020. This is our sixth time rankings the safest places to live in North Carolina.
Swipe left for slideshow. Article continues below.
Article Table Of Contents   
(Skip to section)
North Carolina is best known as the Tar Heel State, but many are familiar with other famous North Carolinian fun facts.
Like the number of fun things to do, see, and eat: the Outer Banks, the Blue Ridge Mountains, NASCAR, college basketball, and BBQ just to name a few.
But what parts are the safest to live? We ranked The Tar Heel State 28th in public safety. The Tar Heels like to think that Barney Fife had something to do with that. However, while not every city in North Carolina can be compared to Mayberry, there is a lot of competition.
There is some pretty good pig pickin' in the Tar Heel State and it wouldn't be right if we didn't mention the BBQ battle between Western and Eastern North Carolina. East says vinegar based is best and the West says they'll stick to their red sauce. We'll let you be the judge. And when a Tar Heel needs something cold to wet their whistle after their favorite BBQ, they don't need to look any further than one of North Carolina's finest craft beers. It is to no avail that the Tar Heel State boasts the largest number of craft breweries in the American South with more than 260 breweries. No complaints here.
Well, when it comes to safety, we looked at the data on violent and property crimes per capita in North Carolina. So, grab yourself a glass of fresh sweet tea and enjoy some deep porch sittin' and read on.
Here are the 10 safest cities to live in North Carolina for 2020:
What city is the safest place to live in North Carolina for 2020? Well according to the FBI data we crunched, Holly Springs is the safest place to live in North Carolina if you care about low crime.
I'm sure it is no surprise to the residents of Holly Springs that they ranked number one. It is, however, very crowded at the top: the list of safe and comfortable places to live in North Carolina is quite long.
So, read on to see how we crunched the numbers and how your city compared to the top ten.
Note:
Lumberton and several other mainstays on this list did not report data to the FBI last year, so they will not appear in the data.
For more reading on safe places to live in and around North Carolina, check out:
The 10 Safest Cities In North Carolina For 2020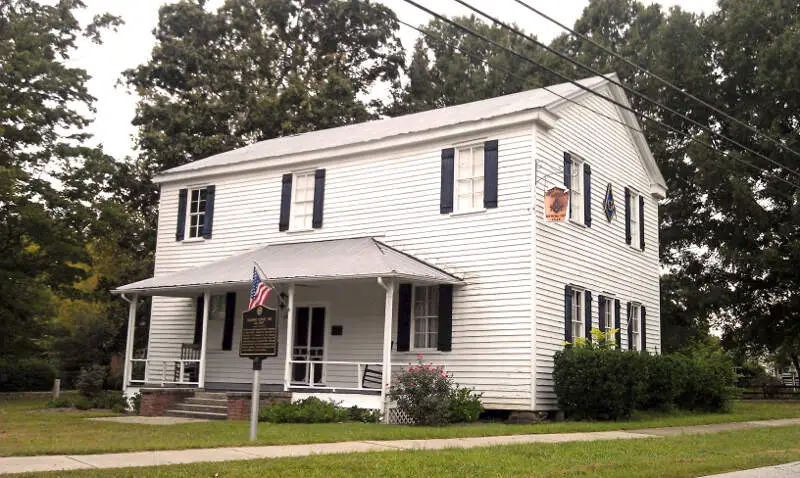 Holly Springs has reclaimed the throne after being dethroned for the first time in a couple of years last year -- it ranks as the safest city in North Carolina.
A slight decrease in violent crimes did the trick and it's still WAY safe to live here compared to most every other place in NC. And the property crime rates are still super low. As a forebear of places to come, Holly Springs is a suburb of Raleigh right in the middle of the state. By the end of this article, you'll have read a line similar to that many times over.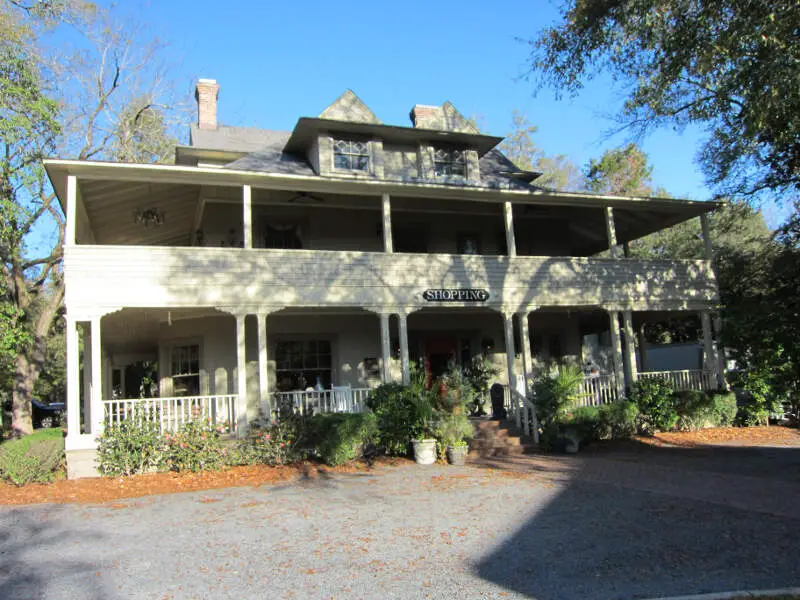 Welcome to Pinehurst, the second safest place to live in North Carolina for 2020.
Pinehurst managed to just miss out on Holly Springs this year and claim the number 2 overall spot in the Tarheel State thanks to the lowest property crime rate and lowest violent crime rate in the state.
So you know what that means? You can leave your car unlocked and doors open when you go out for your daily round of golf. And make sure to stop in at Betsy's for a crepe. I literally drive an hour each way at least twice a year to eat breakfast there -- it's awesome.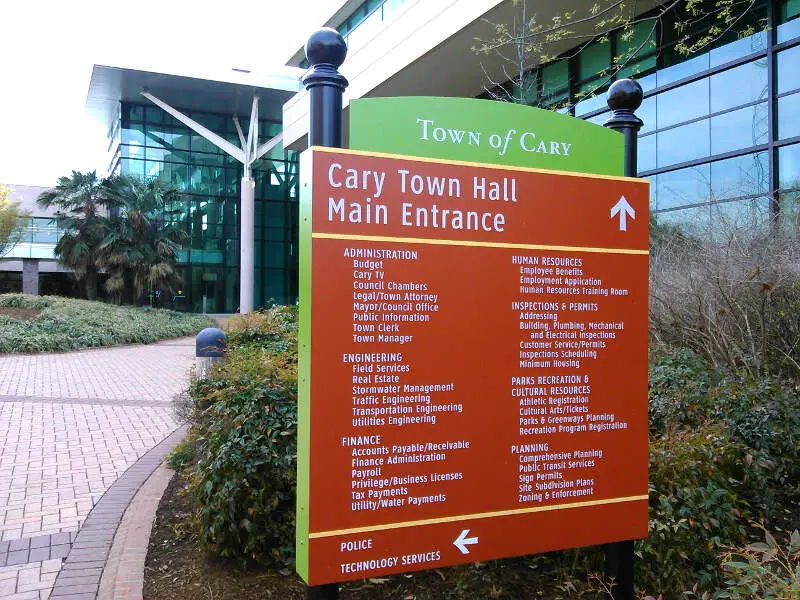 Speaking of pricey places -- Cary is basically as pricey as they come in North Carolina (which isn't all that pricey compared to the rest of the country) -- but well, well worth it.
Cary ranked as our best place to live in North Carolina for 2018 and finished in the top ten nationally. It's also one of the most expensive places in the state. But all those money signs equal safety as Cary has one of the lowest property crime rates you'll find and a top ten violent crime rate.
Located Southwest of Raleigh, it's probably the nicest 'burb around. Make sure to stop by La Farm bakery -- I love the monkey bread, but most people rave about the white chocolate baguettes.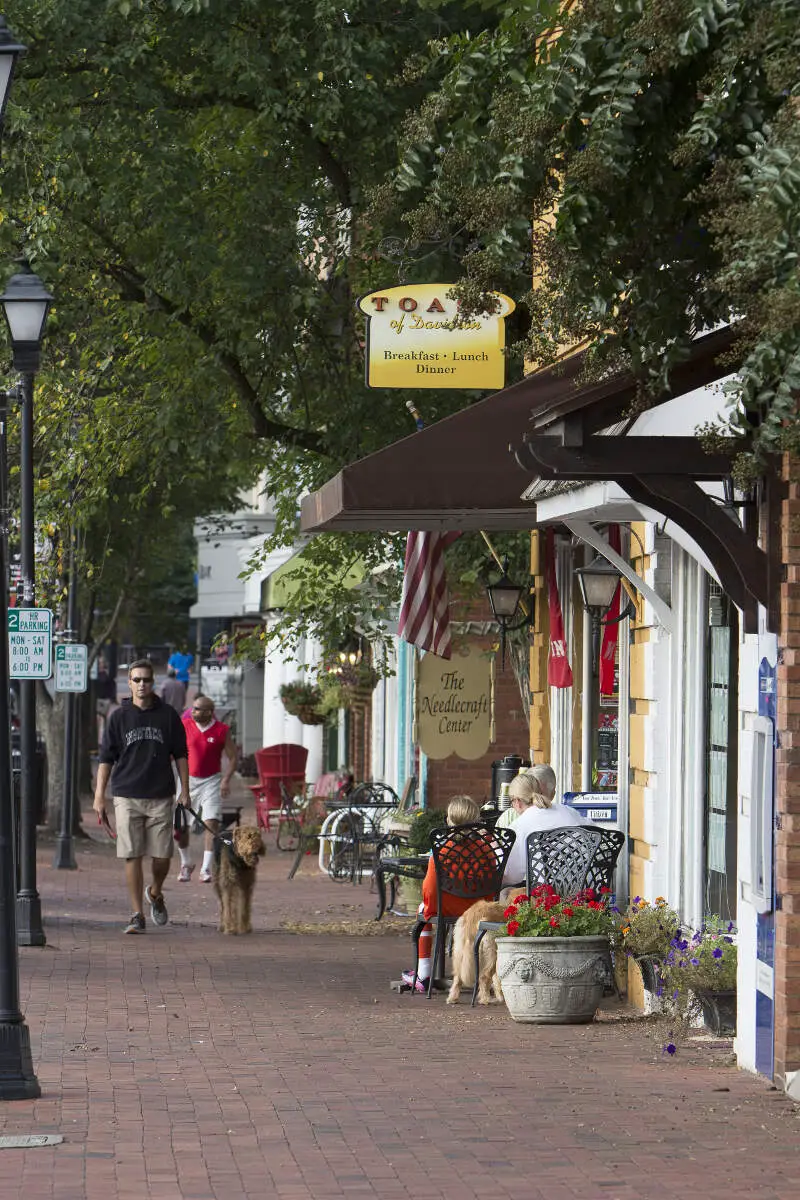 Let me say that I'm totally biased in favor of Davidson -- it's an awesome little college town on the north side of Charlotte. I suggest you spend a day walking around campus, eating on main street, and just taking it all in.
IMO, it's the ideal place to live in the state based on my six plus years living here. And, since it places fourth here, you also know it's safe. It has a top safety rating for both violent and property crime.
So pack your bags and feel confident in your move to Davidson -- if you can afford the price of entry to this safe haven.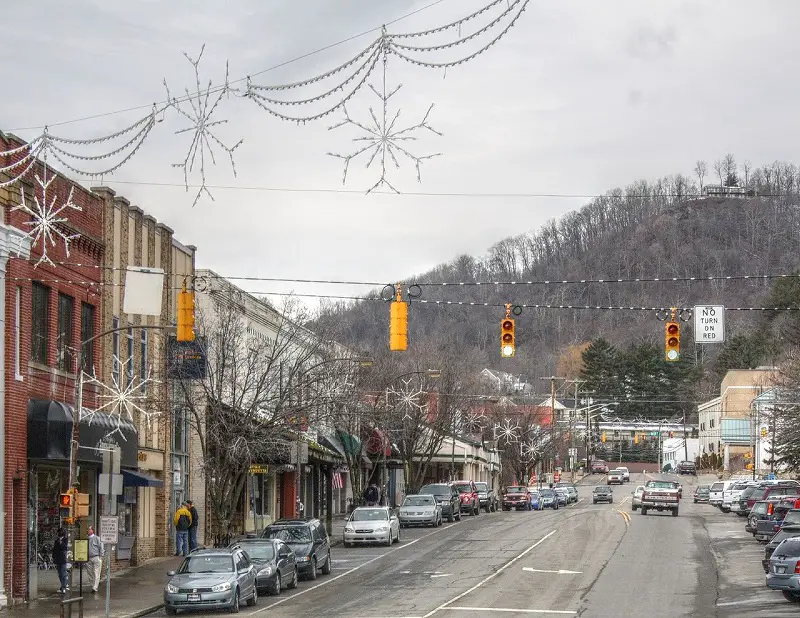 We already named Boone the best city for singles in 2019 in North Carolina, so the fact that you can enjoy looking for love in a safe environment is just a bonus. Boone had the fourth lowest rate of violent crime in the state, with residents facing a 1 in 1,084 of being the victim of violence -- a rate substantially lower than the national average. As long as you don't break a leg on Appalachian Ski Mountain, you should be totally safe in Boone.
Boone is located in the north-western part of North Carolina in the mountains.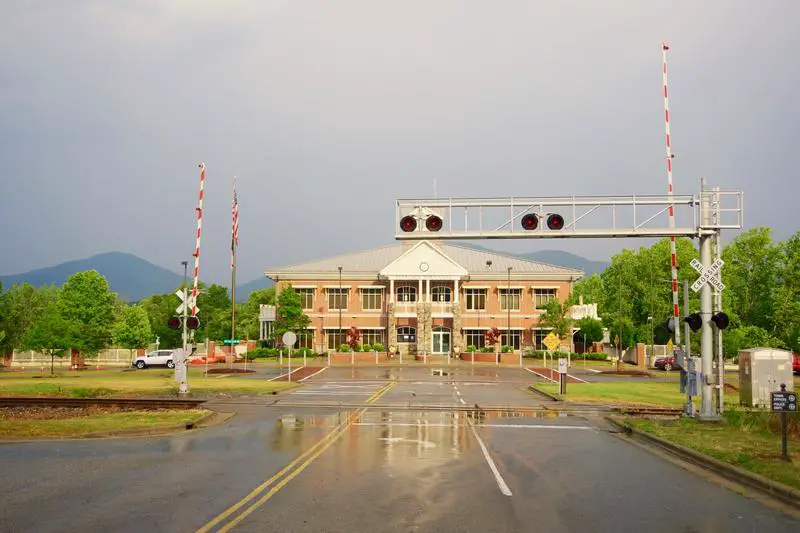 Stopping the streak of Raleigh suburbs is Fletcher, a safe town on the west side of the state.
Unlike all those fancy burbs, you can actually afford to live here. And that's great news because it has the second lowest violent crime rate in the state which helped propel it into the top ten for the second time.
Interestingly, compared to other states, North Carolina's safest cities are really stable from year to year.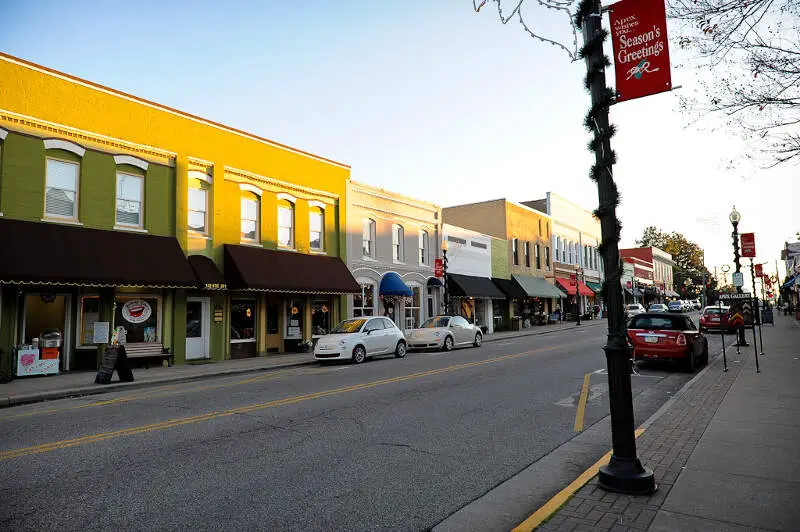 Source: Public domain
While you might think Apex has the apex of living, it always seem to be just a notch behind Cary in our rankings.
And while Cary is the probably the nicest 'burb around, Apex might give it a run for its money in some ways.
The city of some 40,000 plus people has less violent crime, but a bit more property crime than it's neighbor. It also costs a bit less to live here, doesn't rank quite as high on our other rankings, and has a longer commute to Raleigh.
Some might call Apex UNC-Chapel Hill to Cary's Duke.
Just saying.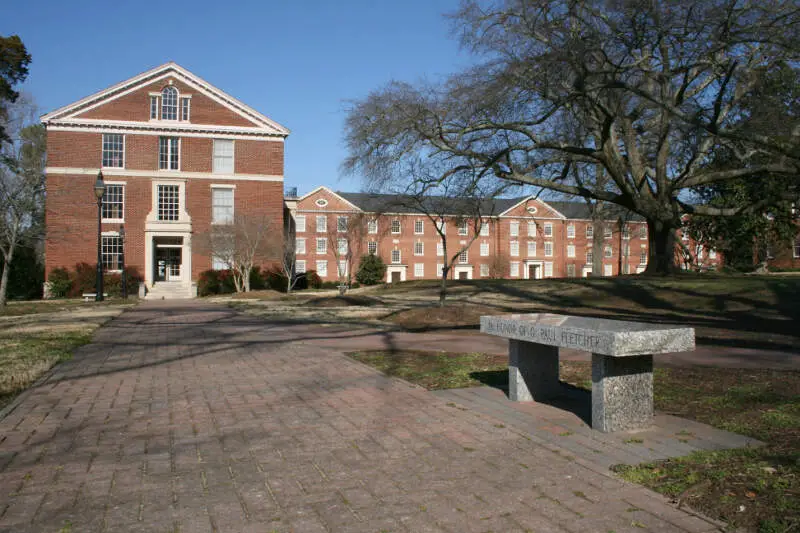 Wake Forest's population has been increasing at a rate of about 5% a year since 2010, and it's not hard to see what all the buzz is about. The city recently ranked as one of the best places to live in North Carolina, thanks in part to its stellar crime numbers. Wake Forest had the eighth lowest rate of property and tenth lowest rate of violent crime in the state. With both crime rates being far below the national average and great amenities like those at Joyner Park, Wake Forest's 9/10 score on our overall snackability scale makes a lot of sense.
Wake Forest is just a half hour north of North Carolina's capital, Raleigh.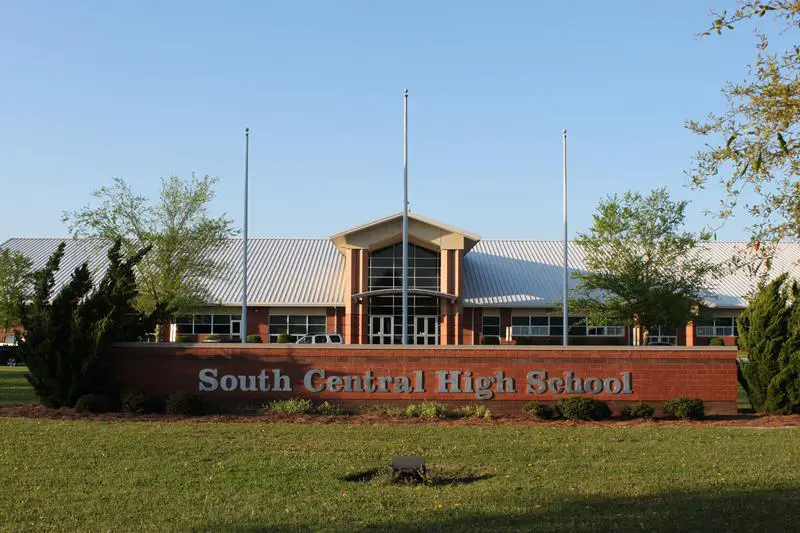 Winterville may have a chilly name, but rest assured that it's a warm place to call home. Winterville experienced less than half as much violent and property crime as the national average in 2018, meaning residents don't have to worry about an assault or a mugging at Winterville Recreation Park. In terms of statewide comparisons, Winterville was more impressive in terms of property crime, with the third lowest rate in the North Carolina.
Winterville is located in the east-central part of the state.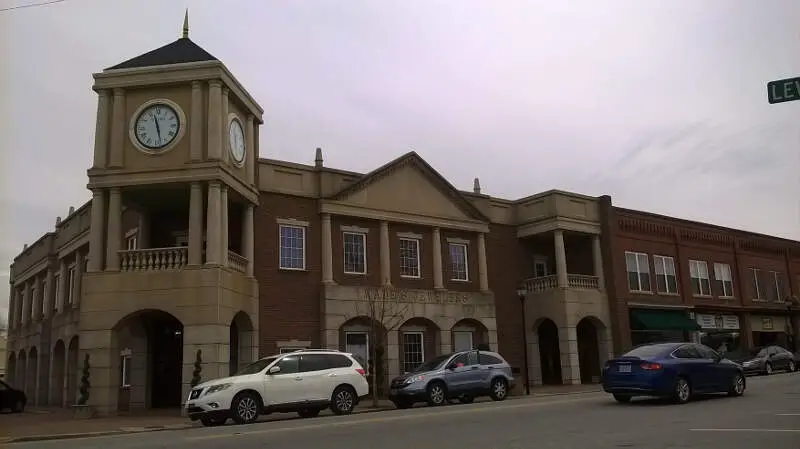 Source: Public domain
Located 15 miles east of Greensboro, Gibsonville is the tenth safest city in North Carolina. Gibsonville averaged just one violent crime and six property crimes a month in 2018, with crime rates far below the statewide average. Gibsonville had the fourth lowest rate of property crime in the state, so if you return from a picnic at Moricle Park sans wallet, don't worry -- it'll probably be in your mailbox before the day is through. Gibsonville jumped up 15 spots from last year to achieve its #10 ranking this year.
How we calculated the safest cities in North Carolina for 2020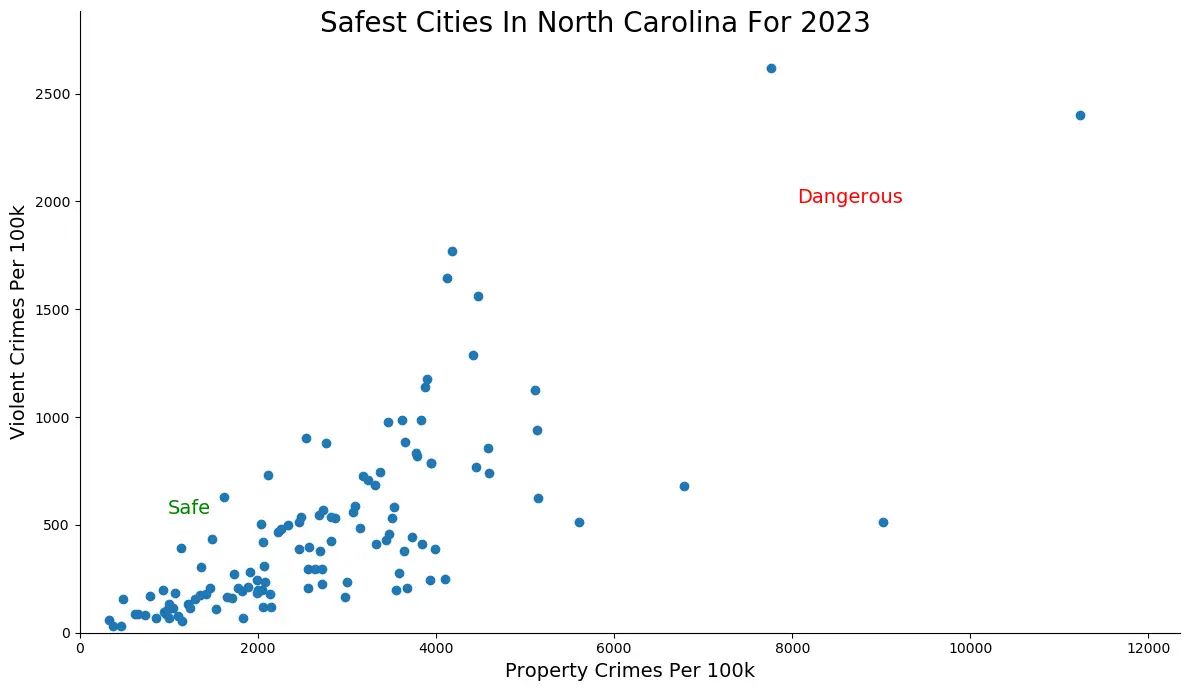 While there are surveys and public polls on what cities in a state are the safest, we didn't want to rely on speculation and opinion. Instead, we looked at the hard numbers from the FBI's most recent report of crime (Published Sept 2019) in North Carolina.
Specifically, we analyzed the
FBI's Uniform Crime Report
which summarizes the number of property crimes and violent crimes in each city per year. We used two criteria:
Violent crimes per capita (murders, assaults, rapes, armed robberies)
Property crimes per capita (thefts, burglaries, motor vehicle thefts)
For example, there were a total of 286 crimes committed in Holly Springs which had a reported population of 37,008. That means the number of crimes per capita is 0.0077 which translates into a 1 in 129 chance of being the victim of a crime.
We only looked at cities that have populations of more than 5,000 people reported to the FBI in 2018, the last reporting year. This left us with a total of 74 of the biggest cities in North Carolina to rank.
We ranked each city for each criteria from 1 to 74 where 1 in any particular category is the safest.
Next, we averaged each places two criteria to create a Safety Index. We crowned the place with the lowest overall Safety Score "The Safest Place In North Carolina" with any ties going to the bigger city. You can download the data here.
The safest city in North Carolina, based on our criteria, is Holly Springs. The most dangerous city in North Carolina? Whiteville, where residents had a 1 in 10 chance of being the victim of a crime.
Note: This report is not an analysis of the effectiveness of local police departments, nor does it reflect the fact that people from out of town may come into a community and cause a crime. It simply looks at where crimes occurred most frequently, based on a city's population.
There You Have It - The Safest Cities In The Tar Heel State
Looking at the data, you can tell that Holly Springs is as safe as they come, according to science and data.
But as most North Carolina residents would agree, almost every place here has its safe and not safe parts. So just make sure you're informed ahead of time.
Here's a look at the most dangerous cities in North Carolina according to the data:
Whiteville
Henderson
Kinston
For more reading, check out:
Breaking Down Crime In The Safest And Most Dangerous Cities In North Carolina

Share on Facebook
Chris Kolmar has been in the real estate business for almost ten years now. He originally worked for Movoto Real Estate as the director of marketing before founding HomeSnacks.
He believes the key to finding the right place to live comes down to looking at the data, reading about things to do, and, most importantly, checking it out yourself before you move.
If you've been looking for a place to live in the past several years, you've probably stumbled upon his writing already.
You can find out more about him on LinkedIn.