When you think of affordable states in America, what usually comes to mind? The Southern states, of course. From Virginia to Louisiana, these states are known to be beautiful. and cheap.
Georgia, a southern state, and the state of peaches is one of the cheapest states in America.
In Georgia, you have famous cities like Savannah, where you can drink a beer in public while walking down the riverfront and see fireworks set off across the water. You can take a quick drive to South Carolina on your way to Hilton Head and eat some good BBQ in Bluffton. Hilton Head has a unique boardwalk with willow trees hanging low along the edges of the beach. In the winter, you can come to walk along isolated portions of the beach, making a quiet getaway.
If you are missing the hustle and bustle of the city, Atlanta is full of nightlife, business, and research institutions like Emory.
Loving Georgia already like we do? Wherever you live, you will probably find that an apartment in Georgia is cheaper than New York City or San Francisco. Living in the South has some major perks and the low cost of living is one of them. (Don't forget the great hospitality, charm, and food). Let's take a look at what cities in Georgia are the most affordable in a state that is so affordable, to begin with.
The 10 Most Affordable Places To Live In Georgia
What is the cheapest place to live in Georgia? After cranking the numbers for the 129 largest cities in Georgia to find the cheapest city in Georgia for 2021, we came up with Eatonton as the cheapest.
If you want to live near all the action in Georgia, it turns out you can do that on the cheap. Most of the cheapest places in Georgia are in the surrounding regions of Atlanta and Savannah. No matter where you live in this state, your wallet will be happier compared to the big megacities like New York.
Curious to see how we crunched the numbers? Read on to learn about our methodology and to learn more about our top ten most affordable cities in Georgia.
And if you already knew these places were cheap, check out some more reading about Georgia and the cheapest places in the country:
The 10 Cheapest Places To Live In Georgia For 2021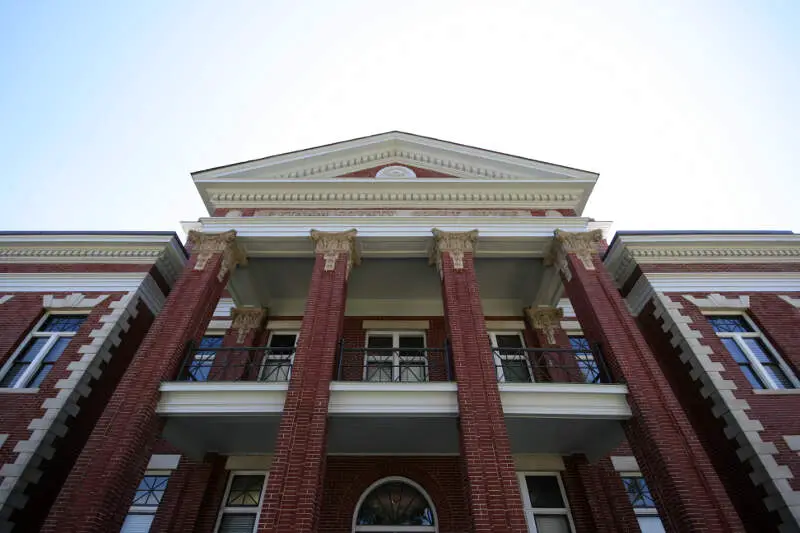 Eatonton is a great town for those who don't want high rent prices to eat up all of your hard earned savings. Eatonton is located between Augusta, Macon, and Atlanta so you can have a peaceful weekday refuge after a weekend out at the larger cities.
Eatonton is also nestled up against the Piedmont National Wildlife Refuge, so you can also take beautiful hikes in your free time.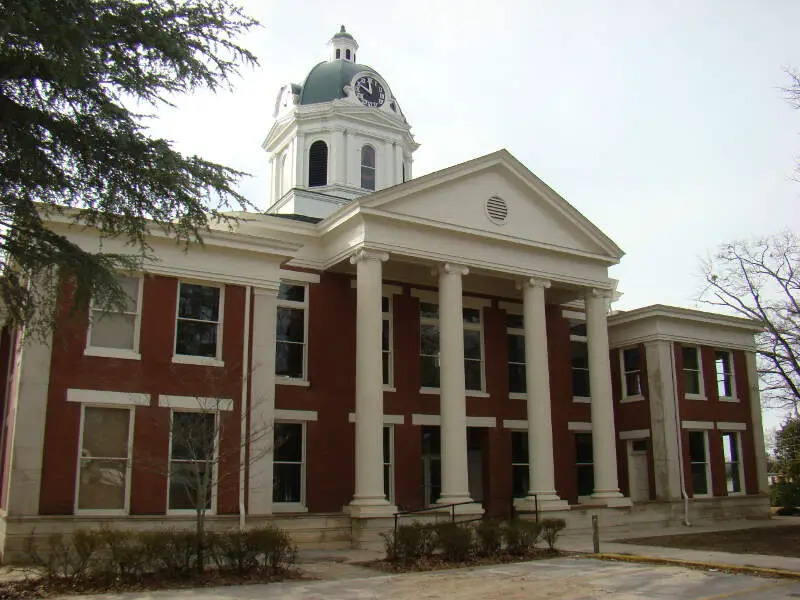 Love trees and mountains? Then Toccoa might be the perfect place for you to move. Toccoa is nestled up by the Nantahala and Chattahoochee National Forests. You can live in a beautiful town that is also super cheap.
In addition to that, you can easily visit top locations like Asheville, North Carolina, and Greenville, South Carolina.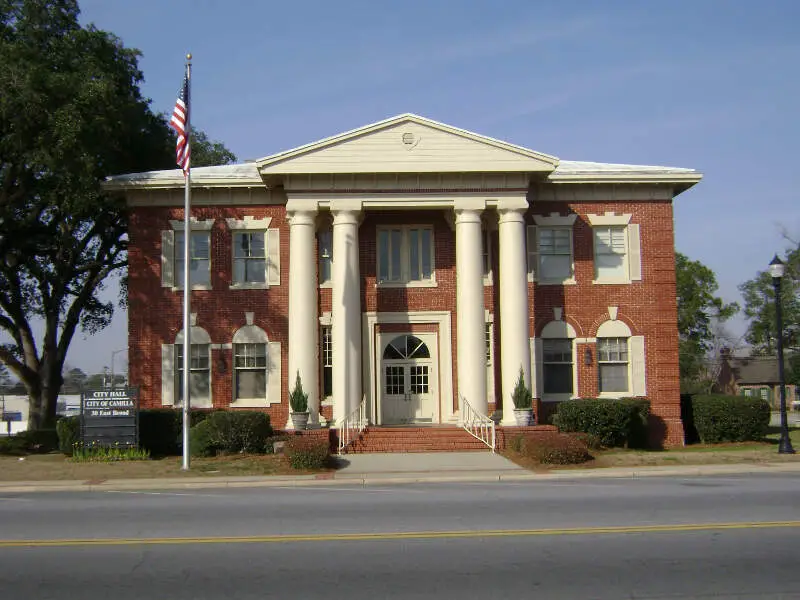 Next up comes Camilla, Georgia. Although this town comes last on our list, don't underestimate its affordability. You can rent apartments for under $400 a month in Camilla. Is that possible where you live now? We didn't think so.
Camilla is also home to famous NFL player Danny Copeland of the Washington Redskins.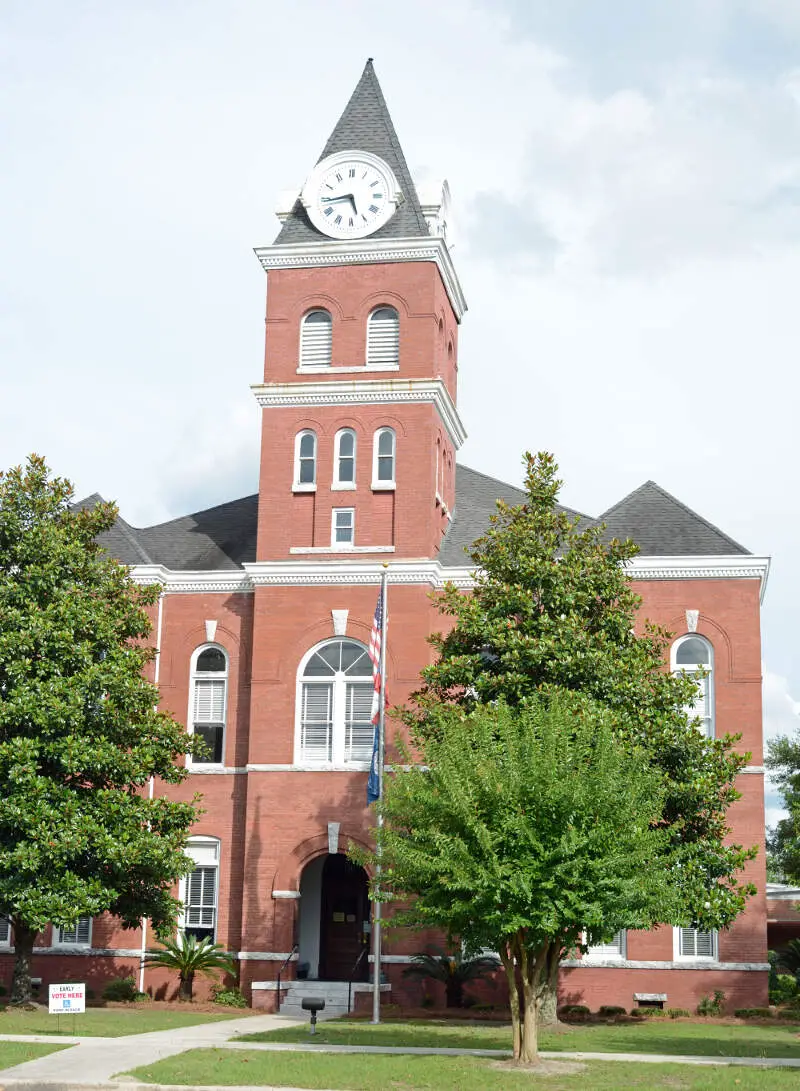 Situated some 65 miles southwest of Savannah, Jesup ranks as the fourth cheapest place to live in Georgia for 2021.
The overall cost of living score in Jesup is 12% lower than the national average, so you won't spend as much on things like groceries, utilities, or housing here. Speaking of housing, you can get a place to rent in Jesup for $642, and the median home value is $99,700.
The median household income in Jesup is $39,933, which represents a 12% increase from last year. As for fun things to do, Jesup has several options. For history buffs, the Doctortown Civil War Battlefield is right in your backyard.
Additionally, Jesup is home to Georgia's oldest drive-in theatre, so you never have to wonder what to do with yourself over the weekend here.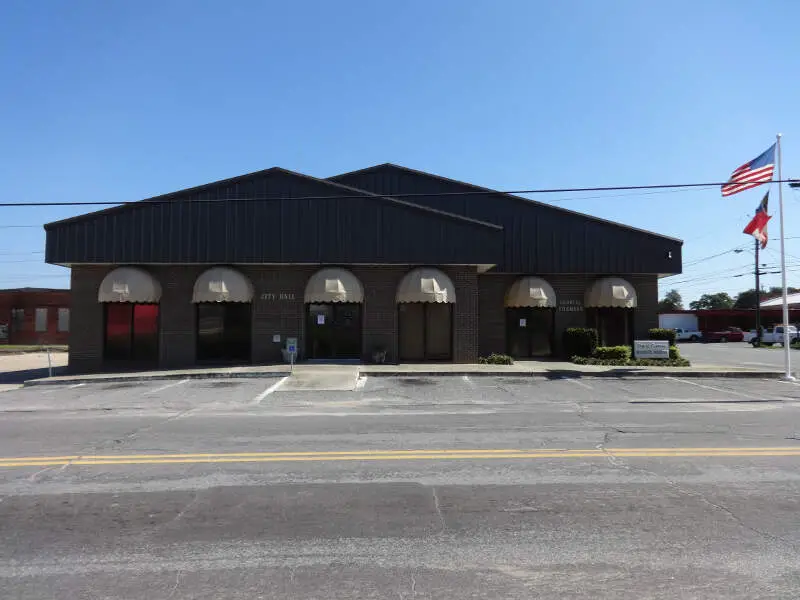 The fifth most affordable city in Georgia is Eastman, Georgia. When you are looking for the most affordable place in Georgia, look no further because Eastman easily takes the cake on this one. Located an hour outside of Macon, Eastman is perfect families looking for a small town vibe with a larger urban center nearby for weekend trips. Plus, Eastman is cheap.
What else could you ask for?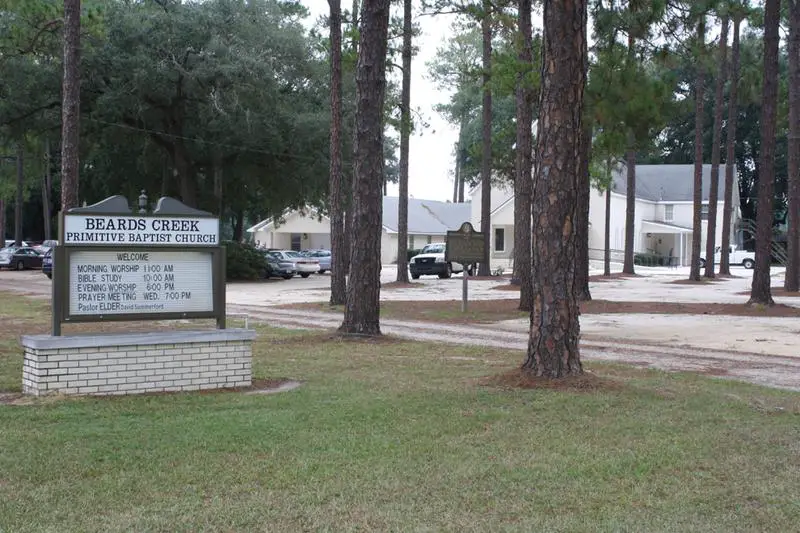 Up next on our list of Georgia's most affordable spots is Glennville, a city of 5,066 located an hour and some change west of Savannah. If you're looking for free things to do in the area, Jack Hill State Park is only twenty minutes up the road in Reidsville. It's a Georgia favorite for picnics, golfing, and fishing.
If you want a taste of the finer things in life while you're enjoying your affordable house, look no further than the Watermelon Creek Vineyard. Even if you're not into wine, they produce exceptional jams and preserves as well.
It's important to note that you don't have to sacrifice your security for affordability in Glennville because it featured on our list of the safest places in Georgia, with a crime rate 33% below the national average.
Additionally, the cost of living in Glennville is 13% less than the statewide average. And with Glennville boosting its employees by a whopping 22% since last year, you can expect the unemployment rate to drop off as well.
Glennville has the sixth lowest rent in Georgia, with a typical rental going for $597. With a median household income of $47,328, that's a very cheap deal. Houses in Glennville have a median price of $122,000 if you decide to make this your forever home.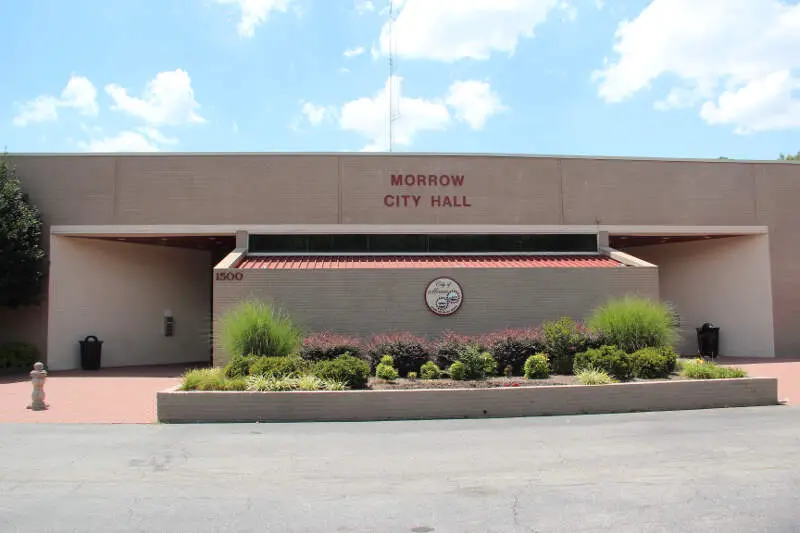 Source: Public domain
On the 'morrow, you could move to Morrow, Georgia, and save a killing. Morrow ranks seventh in our list of top affordable places in Georgia and for good reason: it is incredibly cheap. Morrow is located a quick drive from Atlanta so you can have a quiet small town life with the hustle and bustle of a large city when you crave it.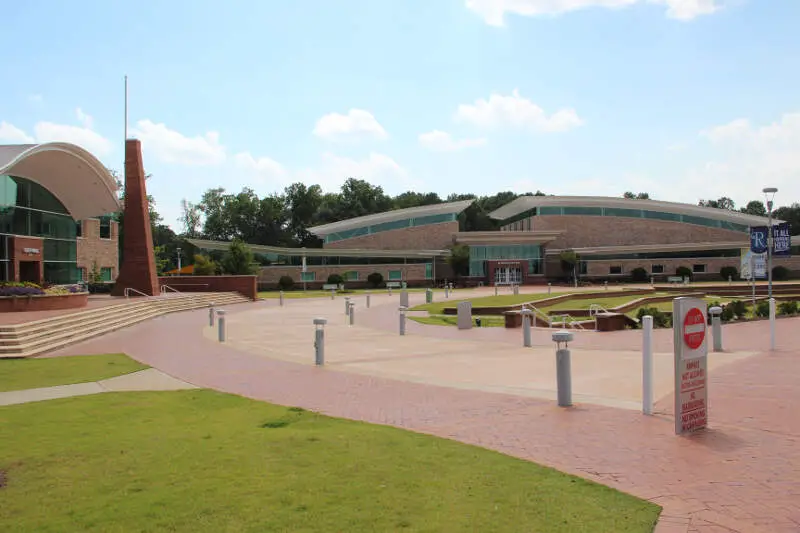 Source: Public domain
An Atlanta suburb with a penchant for good deals, Riverdale ranks as Georgia's eighth cheapest place to call home.
Part of what makes Riverdale so affordable is the fact that incomes are high relative to the cost of housing. The median household income in Riverdale is $50,145, while the median home price is only $101,300. On the other hand, rent is a bit steep compared to other cities on this list, so you'll feel the savings more if you buy instead.
Still, it's pretty nice to get a good deal for a high quality of life and still have Atlanta right down the road. In twenty minutes, you could be watching the Falcons play at Mercedes Benz Stadium, getting up close and personal with sharks at the Georgia Aquarium or relaxing in one of the nicest spots in the state, the Atlanta Botanical Garden.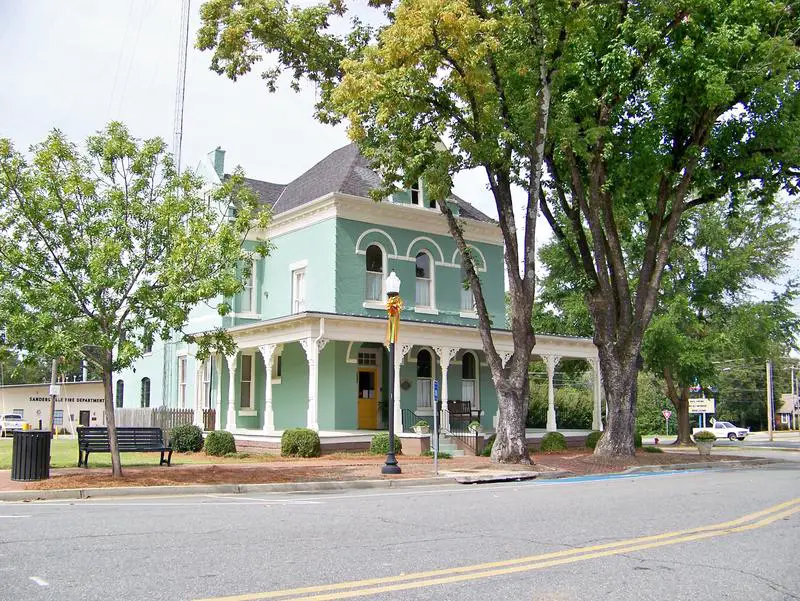 Sandersville is a city of 5,546 located about 60 miles southwest of Augusta. It's known as the Kaolin Capital of the World due to its vast deposits of kaolinite.
Locals celebrate their abundance of this important industrial mineral each year with the Kaolin Festival, but don't worry; it's not as boring as a bunch of gray rocks. It's more of a live entertainment, great food, and parade-type deal. Oh, and a Miss Kaolin event, of course.
Sandersville is especially attractive for renters who want to try out the area, seeing as the city has the second lowest median rent in all of Georgia at $530. But the The cost of living in Sandersville is very affordable across the board.
Homes in Sandersville sell for a median price of $92,700, and your typical household earns $33,297 each year. As far as the quality of the homes goes, well, Sandersville is chock-full of impressive and distinct architecture.

Ranking tenth on our list comes Commerce, Georgia. Commerce is a small town between Atlanta and Greenville, so it is a perfect location for anyone wanting to be close to cities with a lot of nightlife. Commerce is known as the hometown for country singer Bill Anderson and baseball player Chris Beck.
How We Determined The Most Affordable Places To Live In The Peach State For 2021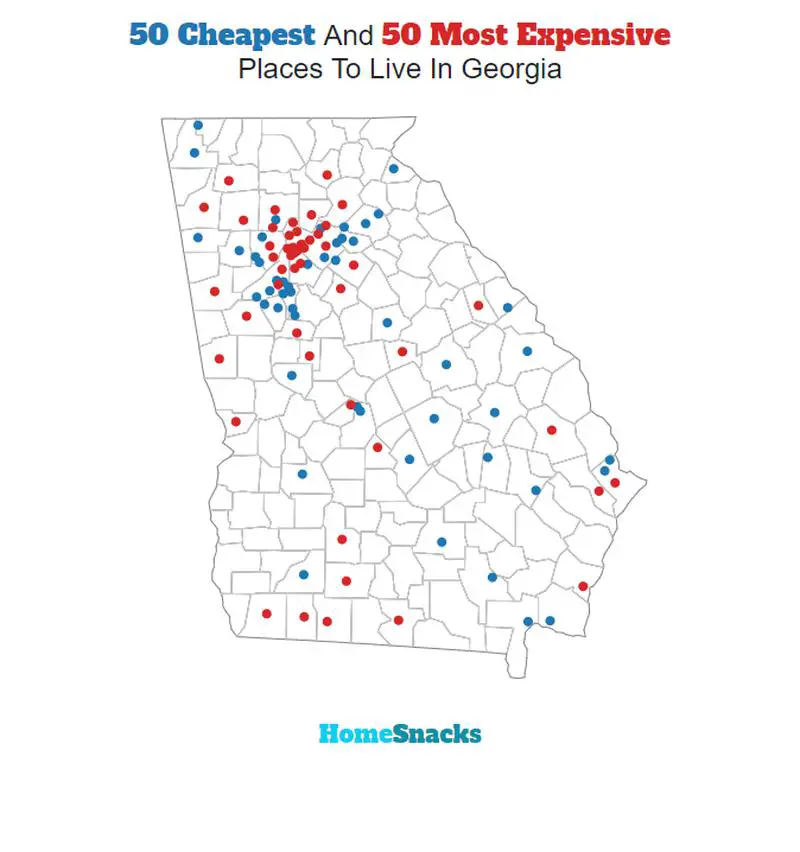 The two most important things to think about when it comes to being able to afford if you can live comes down to:
How much do money do I make?
How much do I have spend to live there?
You need to understand your costs in the context of how much money you make.
For example, if the median household earns $100,000 and spends $40,000 on housing it's actually cheaper to live there than a place with a median income of $50,000 and housing costs of $21,000. You might spend more on housing, but you have more money overall to play with.
With that example in mind, we derived several statistics from the latest Census American Community Survey 2015-2019 around incomes and costs. They are:
Median Home Price / Median Income (lower is better)
Median Income / Median Rent (Higher is better)
Median Home Price
We added simply median home price because high home prices generally correlate with higher expenses for all costs related to homes (heating, electricity, etc).
You can then compare these metrics in each of the places in Georgia to figure out which is the least expensive.
What you are left with is a "Cost of Living Index" by taking the average rank of each of these metrics for each city.
So we used that cost of living index in order to rank all of the 129 places in Georgia that have more than 5,000 people.
The place with the lowest cost of living in Georgia according to the data is Eatonton. You can download the data here.

There You Have It Mr. Or Mrs. Georgia Cheapskate
If you're looking at the cost of living numbers in Georgia, this is an accurate list of the most affordable places to live in Georgia for 2021.
Here's a look at the most expensive cities in Georgia according to the data:
College Park
Dahlonega
Thomasville
For more Georgia reading, check out:
The Most Affordable Places To Live In Georgia
Editor's Note: We updated this article for 2021. This is our seventh time ranking the cheapest places to live in Georgia.