Editor's Note: We updated this article for 2020. This is our sixth time ranking the best places to live in Georgia.
Article Table Of Contents
(Skip to section)
When you think of Georgia, what usually comes to mind?
Atlanta, sometimes referred to as "Hotlanta?" Peaches? Savannah?
Well, this Peach State is famous for more than a massive metropolis of a city and a bunch of ripe, delicious fruit. They also have some of the world's sweetest onions.
OK, OK, OK. Outside of fruit and vegetables, Georgia actually has a lot to offer and is one of the best places to live in the South.
For one, Georgia is incredibly cheap. In a recent article, we ranked the Top ten Cheapest Places to Live in Georgia. If you are wanting your money to go far, just move to Blakely, Georgia. But that may be all that you get there.
So what makes a city a great place to live? If you are in love with Southern sunshine, BBQ, and walks along Savannah's riverfront, Georgia may be the place to you but the real question is, where? Luckily, HomeSnacks has got the method of answering these questions down to a science. We have ranked the top ten best places to live in Georgia and took into account all the aspects of a good place to live: safety, cost of living, commute time, and even population density.
If you want to be where the action is, you have to be around where the people are. You also need to be able to afford it and not feel like you are endangering your life.
The 10 Best Places To Live In Georgia For 2020
What is the best place to live in georgia? Alpharetta ranked #1 on our top ten best places to live in Georgia for 2020. If you haven't heard of Alpharetta, Georgia, yet, then maybe you should.
Alpharetta continues to hold #1 since last year and we are not surprised. Nothing like an average salary of $93k a year to put a smile on your face.
So why didn't Atlanta, Hilton Head, or Savannah rank first?
Read on to learn more about the 122 cities we evaluated for this article and to learn more about how the best becomes the best.
If you're looking for something more national, check out the best states in America or the best places to live in America.
For more Georgia reading, check out:
The 10 Best Places To Live In Georgia For 2020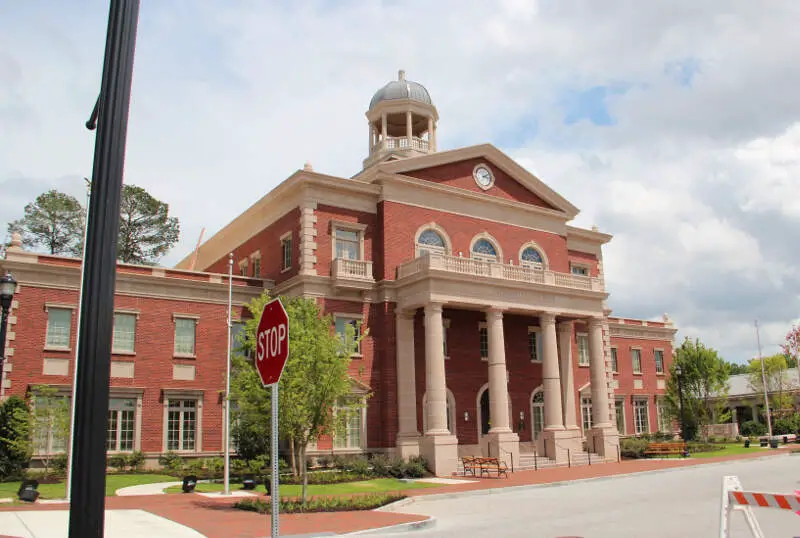 Source: Public domain
There aren't many things as sweet as a Georgia peach, but Georgia's best place to live, Alpharetta is pretty close.
Alpharetta is for the people who want to live to live the Atlanta lifestyle without paying Atlanta prices. This city of 64,672 residents in Fulton County has focused on the important stuff like, keeping their crime rate well below the state and national level and making education a priority, so that you can focus your time on living the Alpharetta dream. And that Alpharetta dream list usually includes making time to bike and hike the Big Creek Greenway and/or taking your family to Tybee Island for an Atlantic Coast beach vacation.
But, you're going to have to make $105,908/year to afford the cost of living in this sweet peach of a place. And, plan on paying upwards of $392,200 for a casa here as Alpharetta has the 6th highest home price in the state.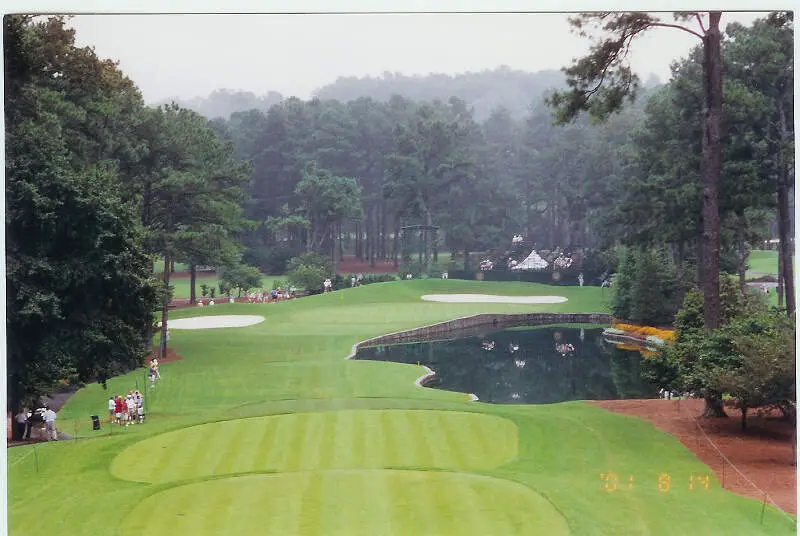 Source: Public domain
Georgia's 2nd Johns Creek should be called "Johns Golf Courses." Home of six big league golf courses and home prices around $382,400, you can imagine the HOAs and security surrounding this place. You'll be happy to know, everyone involved seems to be doing their job because the crime rate here is the 2nd in the state and 75% below the national average.
If you made a pros and cons list of why you should live in Johns Creek, your "con" column would probably be empty and your "pros" column would be filled with the following: it's one of the safest places in Georgia, it's one of the best places to raise a family in the state, and there's a bunch of cool stuff to do here. In fact, the perfect day in Johns Creek might be spent hitting the links during the day and spending the evening soaking up the night-life in one of the city's world class restaurants.
Folks, Johns Creek really does check all of the boxes.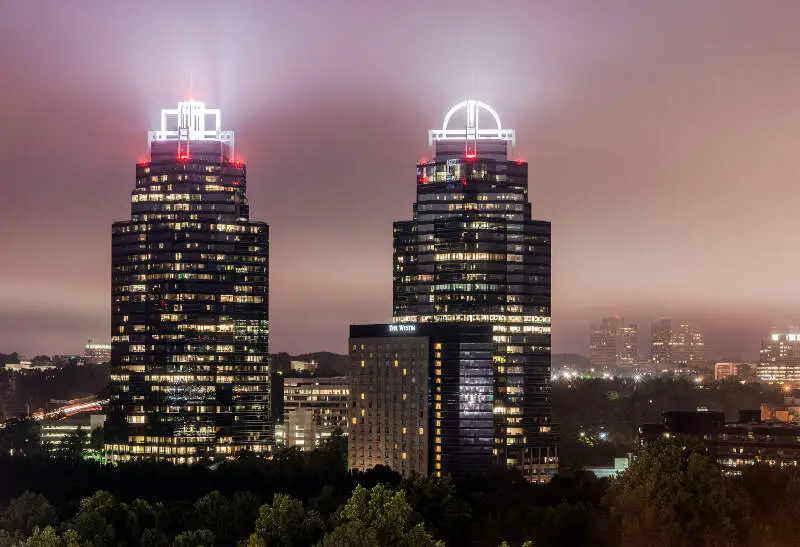 LIfe is pretty peachy keen in Georgia's 3rd best place to live, Sandy Springs. Sandy Springs is one of the biggest cities in the state, the biggest city to make our top ten list, and a Georgia city with one of the biggest personalities. Besides Sandy Springs' strong sense of community and well-defined neighborhoods, the 105,411 residents here can't find enough reasons to get together every year. If you decide to buy your forever home in Sandy Springs you'll be front and center to some super fun amenities like the annual Sandy Springs Artsapalooza and/or the Slingin' Wings Festival every March.
Located just minutes from Atlanta, Sandy Springs has over 950 acres of nature--it's "A Place Where You [Can] Put Your Phone Down & Enjoy Life Again." And we suggest that you don't take this motto lightly, you wouldn't want to miss out on one of the most snack worthy cities in the state. More importantly, we wouldn't want you to miss out on a city whose crime rate is 23% below the national average or a city that takes education seriously. Not only do 75% of the residents here have a college degree, the city itself holds one of the state's 13 Blue Ribbon Schools (Heards Ferry Elementary School).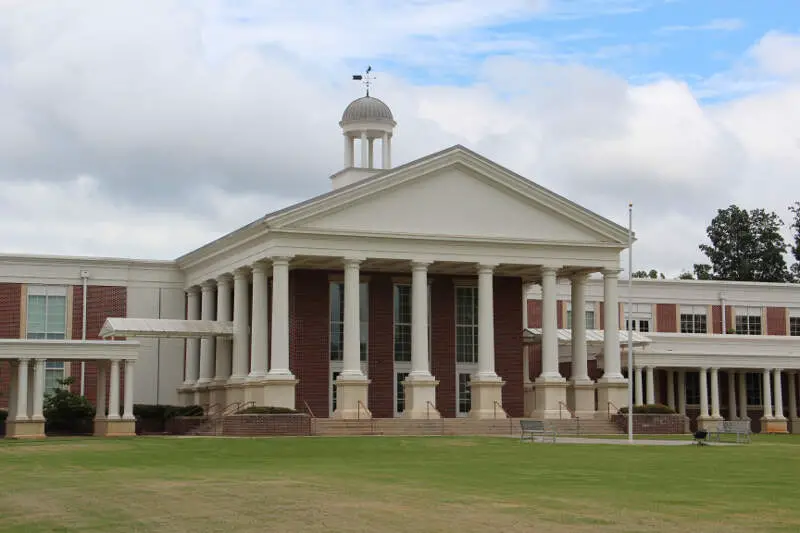 Source: Public domain
Not only is Milton the 4th best place to live in The Empire State of the South, it was "named best quality of life in Georgia." We were not surprised as Milton's job market is strong and the city's unemployment number (3.2%) is well below the national average. Milton's household income is $125,096 making it the highest in the state. In fact, this Atlanta suburb is one of the richest places in the state.
But, don't be afraid to look at rentals in Milton if dropping the median home price of $125,096 on a home right out of the gate is intimidating: rental property here is priced below the state's average at $1,335/month. Whatever you decide, just know that Milton takes your safety very seriously. The crime rate here is 70% below the national average making it one of the safest places in the state.
So, if quality of life, value, and a commitment to "expectations, promises, and community' are what you desire, then Milton is where you belong.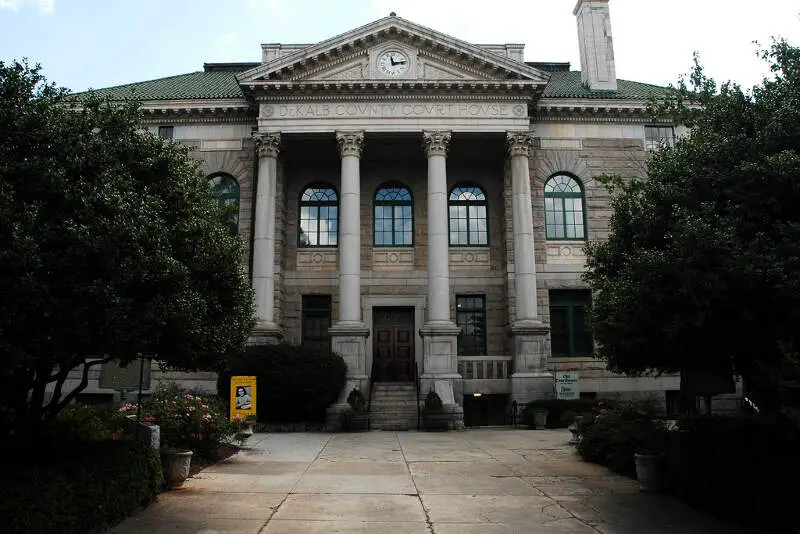 "Everything truly is greater in Decatur," and that is why this city is Georgia's 5th best place to live. But, a city's motto is just a motto if it doesn't have the numbers to back it. And, well, Decatur has the numbers.
This suburb of Atlanta has some of the highest home values in the state, and the median home price of $466,800 here is not slowing down the process. In fact, once a well priced home hits Decatur's hot real estate market, they are pending within days. This is because everyone wants a piece of Decatur's peach pie in the sky. Incidentally, this pie is attracting the largest numbers of youngsters (the median age in Decatur is 35) making it one of the best places for singles in the state.
A word to the wise in "[The] City of Homes, Schools, and Places of Worship," you're going to need a job that pays at least $93,039/year to offset Decatur's cost of living; and if you don't already have one, be prepared to battle Decatur's above average unemployment rate of 4.7%.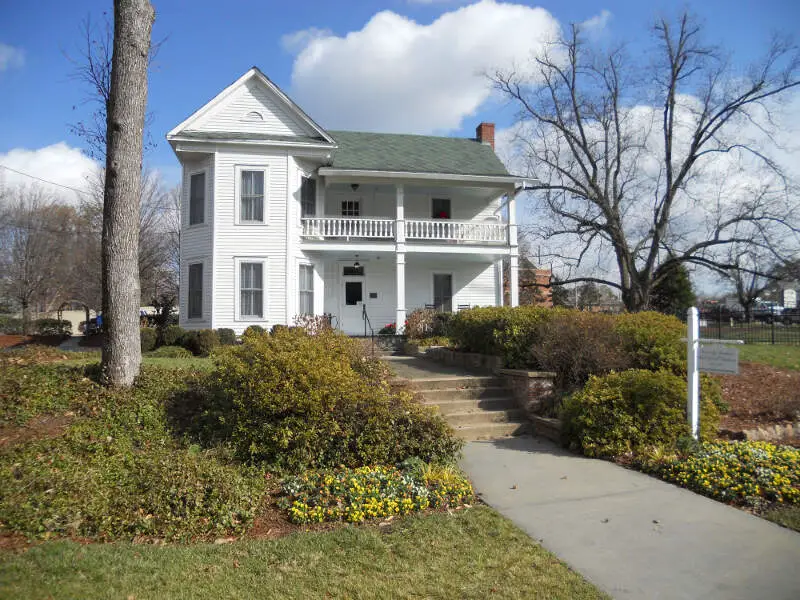 Dunwoody is by far one of the best places in Georgia--the 6th best place in this southern charm--and the numbers prove it. In fact, this suburb of Atlanta in DeKalb County scored a 9/10 on our SnackAbility scale with an emphasis on jobs, education, and amenities to name a few.
Dunwoody is a vibrant, exciting place, and its locally owned restaurants and boutiques make living here a one-of-a-kind experience and a year-round mecca of fun. It also doesn't hurt that the famous Brook Run Park is inside the city's limits or that you're in close proximity to Georgia State Perimeter College. And, you're going to want that education to "keep up with the 'smart' Jones" here: virtually every one of Dunwoody's adults has a college degree. (If we had a "smartest places in the United States" list, Dunwoody would probably be number one.)
If living in Dunwoody is starting to sound like the dream, pay careful attention to this: the unemployment rate here is the 16th lowest in the state and 45% of Dunwoody's working class earn a household income above $100,000/year.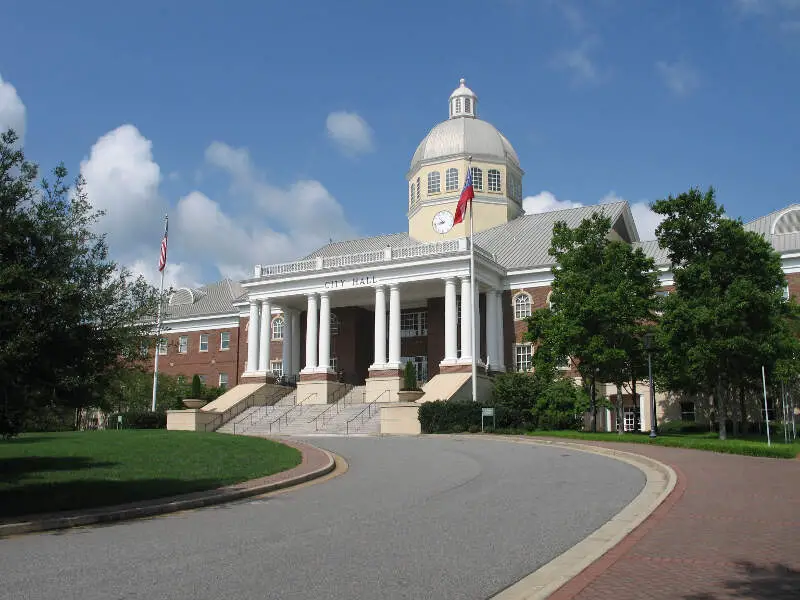 If you can't get "Georgia [off your] mind," it's probably because you just recently visited the state's 7th best place to live, the historic Roswell. While there, you probably noticed that Roswell has everything: it's a shopaholics paradise, an outdoor enthusiasts dream, and the historic district here will keep a true history buff entertained indefinitely.
But, we know those are not the only deciding factors when choosing where to live, so the following information should be quite valuable. One, Roswell has the 15th lowest unemployment rate in the state (3.3%). Two, plan for a job that makes the city's median household income, $93,006/year, so that you can afford the $355,900 median home price here. And three, after you get the first two locked in, be prepared to live like an Atlanta Housewife because you'll be living in one of the richest places in Georgia.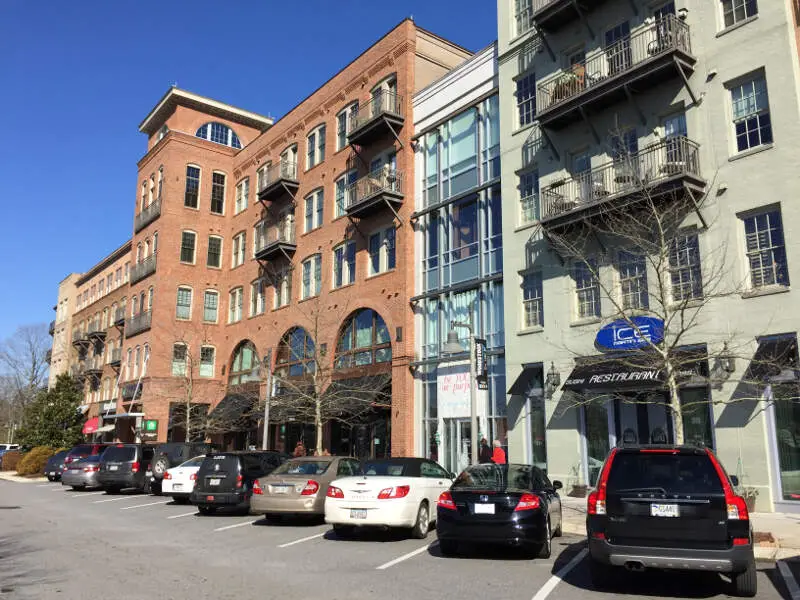 Source: Public domain
How do you get your hands on one of the fastest growing cities in Georgia? Well, you could start in the 8th best place to live in the Peach State, Woodstock.
You won't have to stop showering or live like a true hippie to be part of the "in crowd" in this Woodstock, but you will have get a job that pays at least $70,997/year if you want to settle into one of Woodstock's humble abodes at the median home price of $222,500. And lucky for you, Woodstock has the job market cornered with the 10th lowest unemployment rate in the state.
Incidentally, if you do find yourself wanting to camp now and again like a 1960s hippie, some of the best places in Woodstock are the Victoria Campground and the Camp Allatoona Aquatics Base. More importantly, whether it's camping or relaxing at home, you'll be able to rest easy knowing that Woodstock's crime rate is the 15th lowest in the state making this city one of the safest places in Georgia.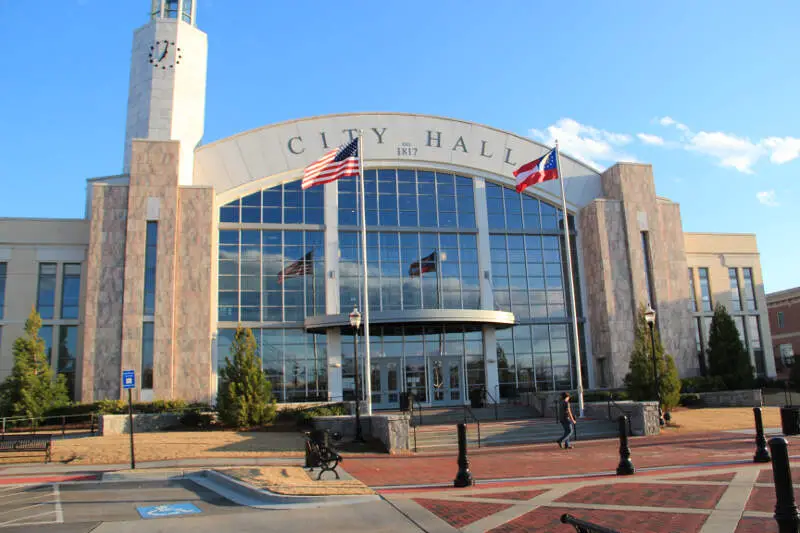 Source: Public domain
Suwanee has been defined by many as the "Crossroads of Past & Future." Matter of fact, what was once the training camp for the Atlanta Falcons is now the 9th best place to live in Georgia as well as one of the safest.
Suwanee is the only place in Gwinnett County to make our top ten list and it more than deserves to be here. And, this is why: it has the 12th unemployment rate in Georgia at 3.2%. And while it might be the least populated on our list with only 19,215 residents, all able bodied individuals here seem to be working hard as the poverty rate is well below the national average.
You'll also get the most "bang for your buck" in Suwannee. Yes, it might be one of the wealthiest places in Georgia, but you can score a home here for $292,900, and you only have to make $86,980/year to get your hands on this city's hot real estate market.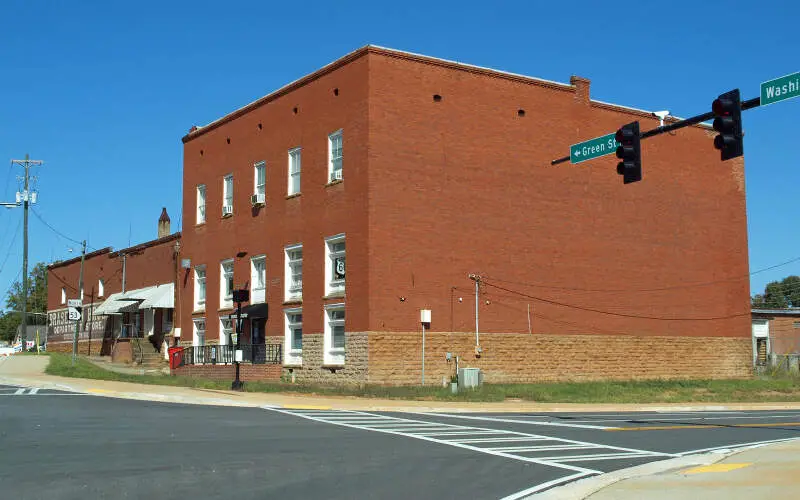 You'll be able to throw caution to the wind if you choose to live in Georgia's 10th best place to live, Braselton.
Located northeast of Atlanta, just after the I-985 and I-85 divide, Braselton is the smallest place on our top ten list. This city in Barrow County might only have 10,509 residents, but it put up some pretty big numbers this year: it's one of the safest places in the state, reporting a crime rate 77% below the national average. Folks, Braselton had the 1st number of crimes committed in the state and the majority of these offenses were property related. And that's not all, it also has the 1st unemployment rate in Georgia at 1.5%. Basically, if you don't have a job here, it's because you don't want one.
And when Braselton residents aren't making that big median income of $98,375/year to offset their cost of living, they can be found enjoying all things Braselton. Whether its enjoying a relaxing dinner at one of this small town's tastiest restaurants, sipping tea on Franklin Street, or meandering through the old Stone Mountain Grist Mill, this city is bursting with history and places to eat, sip, shop, and play.
Mapping The Best And Worst Places To Live in Georgia
The Pressing Question: Size
Before we even started to collect data, we had to answer a tough question: Is it fair to pit Atlanta with a population of 479,655 against places with a population of 18?
We firmly decided no, that just isn't fair.
So to create our ranking, we broke places to live into three tiers:
Cities -- Populations over 5,000
Towns -- Populations between 1,000 and 5,000
Small Towns -- Populations below 1,000
This left us with 122 cities, 198 towns, and 226 small towns.
We then decided, no matter how much anyone loves their town, the best cities to live in Georgia have more of everything and therefore you need to have over 5,000 people to truly be 'the best'.
Now we also realize that city living might not be your cup of tea, so we ran the following analysis on towns and then again for small towns.
You can see those two top tens at the bottom of the post.
How We Calculated The Best Cities To Live In Georgia
Now that we had our set of cities, it was time to rank them.
We ranked each place in Georgia across a number of criteria from one to 122, with one being the best.
We then took the average rank across all criteria, with the city posting the lowest overall score being crowned the winner of the title "Best Place To Live In Georgia".
The criteria we looked at were:
Median Home Values
Median Income
Population Density (Higher better)
Unemployment Rate
Commute Time
Crime
Education Levels
Health Insurance Coverage
Poverty rates
Sources of criteria include the New Census Data and FBI Crime Data. You can download the data here.
After the dust settled, what was the best place to live in Georgia? That would be Alpharetta.
If your city or town isn't among the top 10, jump down to the bottom of the post to see a detailed chart of the best places in Georgia.
Otherwise, buckle up for a ride down good living lane with Alpharetta at the end of the cul-de-sac.

Wrapping Up The Best Places When It Comes To Living In Georgia
If you're looking at areas in Georgia with the best economic situations, where there's lower than average crime, and a lot to do, this is an accurate list.
Alpharetta made a strong showing to take in the overall number one spot for the best place to live in Georgia for 2020.
Best Towns To Live In Georgia
Isle of Hope (Pop. 2,564)
Talahi Island (Pop. 1,454)
Lookout Mountain (Pop. 1,754)
Avondale Estates (Pop. 3,095)
Watkinsville (Pop. 2,872)
Berkeley Lake (Pop. 1,924)
Grayson (Pop. 3,008)
Cleveland (Pop. 3,750)
Thunderbolt (Pop. 2,606)
Gray (Pop. 3,281)
Best Small Towns To Live In Georgia
Dutch Island (Pop. 943)
Vernonburg (Pop. 120)
Moreland (Pop. 463)
Calvary (Pop. 106)
Sky Valley (Pop. 310)
Bishop (Pop. 271)
Woolsey (Pop. 178)
Franklin Springs (Pop. 889)
North High Shoals (Pop. 848)
Hiawassee (Pop. 887)
If you're curious enough, here are the worst places to live in Georgia according to the data:
Cedartown (Pop. 9,930)
Moultrie (Pop. 14,109)
Swainsboro (Pop. 7,347)
For more Georgia reading, check out:
Where Are The Best Places To Live In Georgia?
| Rank | City | Population |
| --- | --- | --- |
| 1 | Alpharetta | 64,672 |
| 2 | Johns Creek | 83,637 |
| 3 | Sandy Springs | 105,411 |
| 4 | Milton | 38,171 |
| 5 | Decatur | 23,054 |
| 6 | Dunwoody | 49,016 |
| 7 | Roswell | 94,257 |
| 8 | Woodstock | 30,362 |
| 9 | Suwanee | 19,215 |
| 10 | Braselton | 10,509 |