If you've never visited Elvis Preseley's birthplace in Tupelo or had gator bites in Gulfport, then you've not witnessed what the good people of MIssissippi already know; they have some of the best, most affordable fun in America.
Not only does Mississippi have a boatload of affordable fun, The Magnolia State has some of the most affordable places to call home.
And lucky for you, HomeSnacks is handing you the ultimate life hack: we've created a list of the top ten most affordable places Mississippi for 2021. Take a look at our list below, there might be some places that'll surprise you. But what's not surprising is the affordable, gold star quality of life in Mississippi; and that folks, comes with a price. If you want to live in one of Mississippi's most affordable places, you're going to have to find a good job. This shouldn't be too hard, Mississippi's unemployment rate is the lowest it's been in years. Coincidentally, Mississippi is super safe. It's one of the least dangerous states in the country. Probably because good 'ol fashioned southern hospitality is live and well in the delta.
So, want to know where the cheapest places in Mississippi are to live? Grab a frozen daiquiri, find a quiet spot by Mississippi River, and read on.
The 10 Most Affordable Places To Live In Mississippi
Ask any MIssissippian, they will say that their corner of the deep south is the most affordable. Heck, there's a reason The Hospitality State is the 34th most populous in the country.
Yes, we think it has a little something to do with the great people; however, to the economically savvy, to truly be the best, the state must have the nicest, most affordable places to call home.
What's the most affordable place to live in MIssissippi? The cheapest place to live in Mississippi would be Aberdeen according to the most recent Census data on incomes, rent, and home prices..
So, if you care about home values and cost of living, take a look at the list below.
And if you already knew these places were cheap, check out some more reading about Mississippi and the cheapest places in the country:
The 10 Cheapest Places To Live In Mississippi For 2021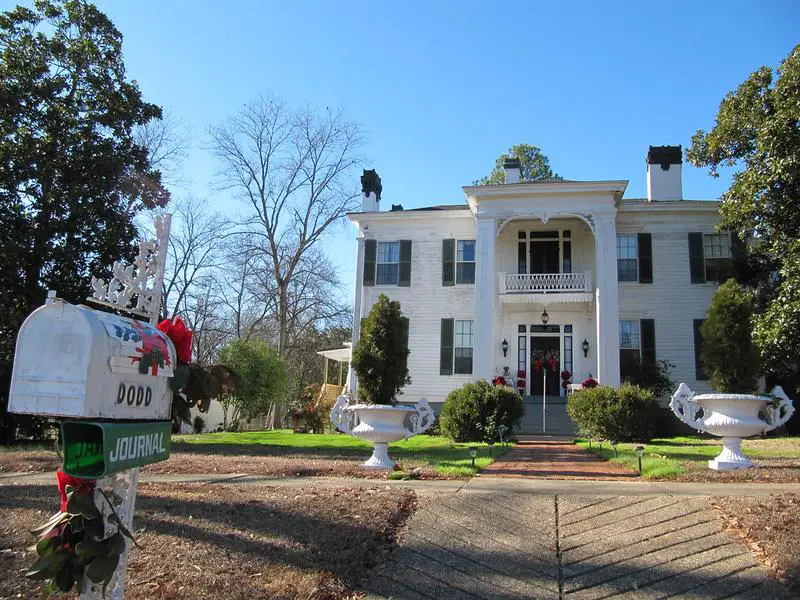 The absolute least expensive place in Mississippi is Aberdeen, a city in the northeastern part of the state. You'd be hard-pressed to find a cheaper home in Mississippi than in Aberdeen, where the median home price is $75,200. Aberdeen's population has been steadily going down in recent years, which is great for newcomers who get to enjoy the best home price to income ratio in the state. Fishers will also be pleased to hear about all the bass, crappie, and catfish up for grabs in Aberdeen Lake. Aberdeen's median income is $40,214, which is more than enough to pay the bills in the cheapest city in Mississippi.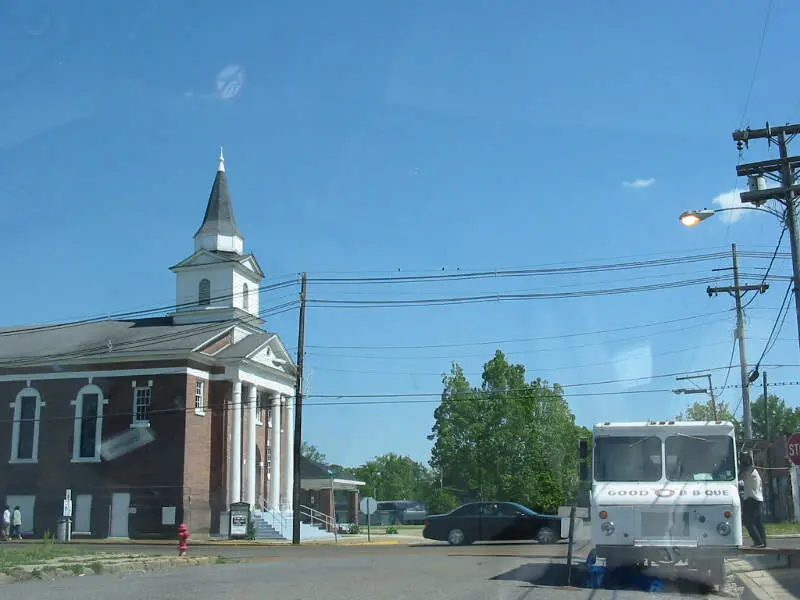 A city in the Mississippi Delta region, Clarksdale is a city with historic ties to the development of blues music in America. Blues musicians such as Ike Turner and Duke Ellington were hosted at the Riverside Hotel, a popular stop on the Mississippi Blues Trail. You'll certainly have no reason to sing the blues if you decide to buy a home in Clarksdale, where the median home price is the first in the state at $65,400. With residents earning a median income of $30,223, Clarksdale has the fifth best home price to income ratio in Mississippi.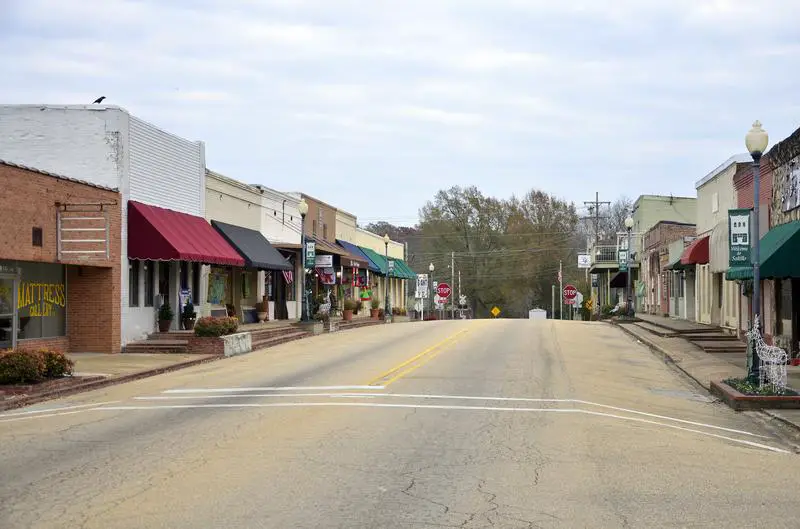 If the quiet life is for you, Saltillo, our third most affordable place to live in Mississippi, is calling your name. People are drawn to its small town appeal yet convenient proximity to Tupelo, with a portion of residents choosing to commute to the big city. We bet every time the latter checks their bank accounts, they are glad they chose a brief drive over a higher cost of living too.
Homes in Saltillo are well within reason with a median value of $129,100. Not to mention, the area has the second best home price to household income ratio in the state. On top of that, the community already has a median household income that is higher than most, coming in at $61,198.
And while it may be cheap to reside here, that does not mean you have to sacrifice your quality of life. You can hit the links at the Tupelo National Golf Club or spend the day fishing at the nearby Lake Lamar Bruce as well.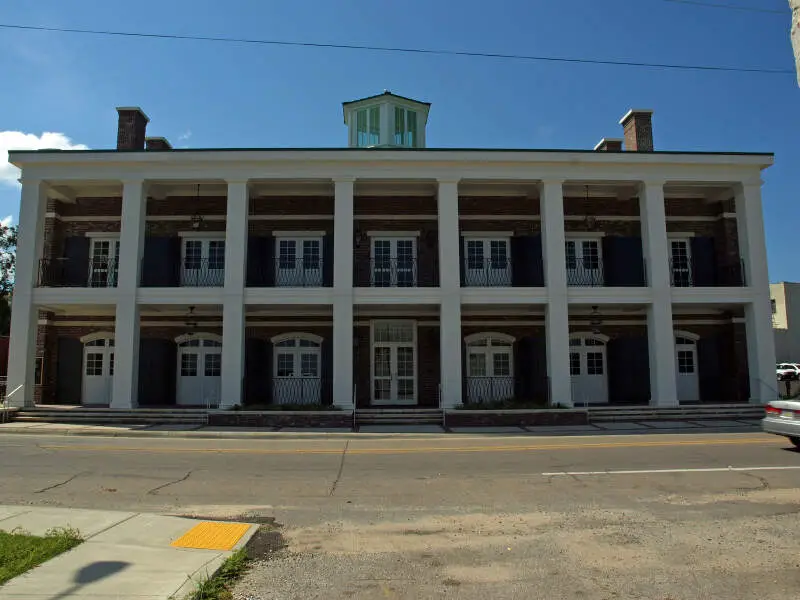 Up next on our list is Moss Point, just north of Pascagoula. The stunning natural surroundings on display at the Pascagoula River Audubon Center are not all this city has to be proud of. The community of 13,451 offers residents an overall cost of living score of only 85.0, compared to the US average of 100.
An affordable cost of living means the price of everything from groceries to transportation fits nicely into the budgets of Moss Point residents. That's good news since this community's median household income of $42,173 may not provide much wiggle room. Though, when houses in your area have a median value of just $90,800 and a mortgage to match, that could mean there's plenty of money left over to enjoy after paying the bills. It doesn't hurt that Moss Point has the fourth best home price to household income ratio in Mississippi either.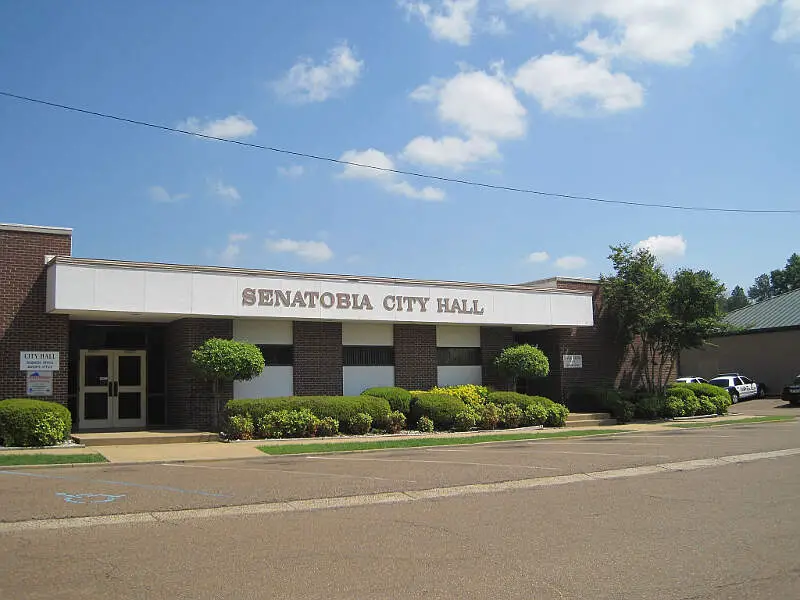 The tagline of Senatobia, our fifth most affordable place to live in Mississippi, is "The five star city" and when it comes to the low price tag associated with calling it home, we couldn't agree more.
The community has a median household income of $53,529, which still enables people here to live a high-quality lifestyle. Something you can get a feel for each year during Senatobia's famous Five Star City Fest, which highlights the downtown area and shows off some of the best local entertainment. In fact, the area has an overall cost of living score of just 82.0, whereas the nation's average is 100.
Housing is one of the categories included in the cost of living score and renters definitely do well here. The city has the fourth best rent rate to household income ratio in the state. Forgoing homeownership in favor of renting will only run you $704 here.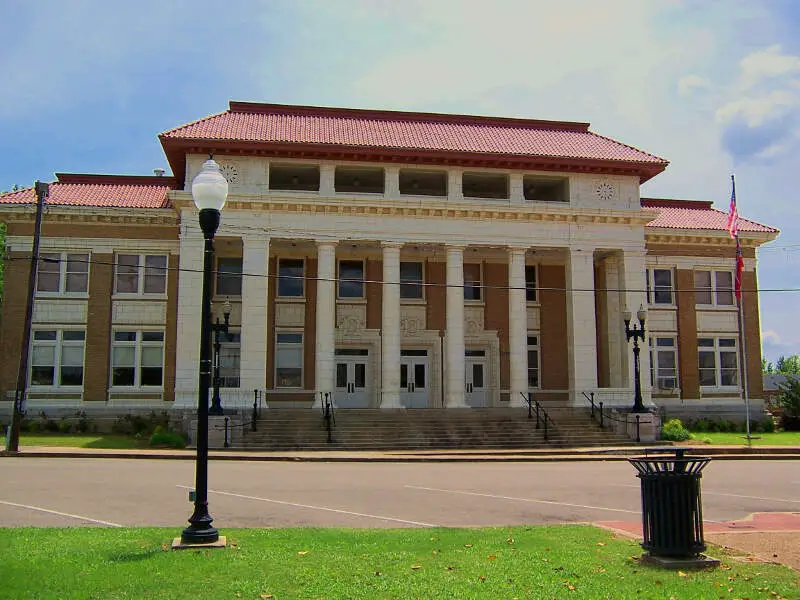 If you're lucky enough to have walked Mississippi's Tanglefoot Trail, you may have already passed through Pontotoc, a quickly growing city just west of Tupelo. One reason that Pontotoc is growing is that it's an absolute haven for renters. The median rent in Pontotoc is $714, and renters pay the eighth smallest portion of their income on rent statewide.
The median income in Pontotoc is $49,063 and the median home price is $128,100.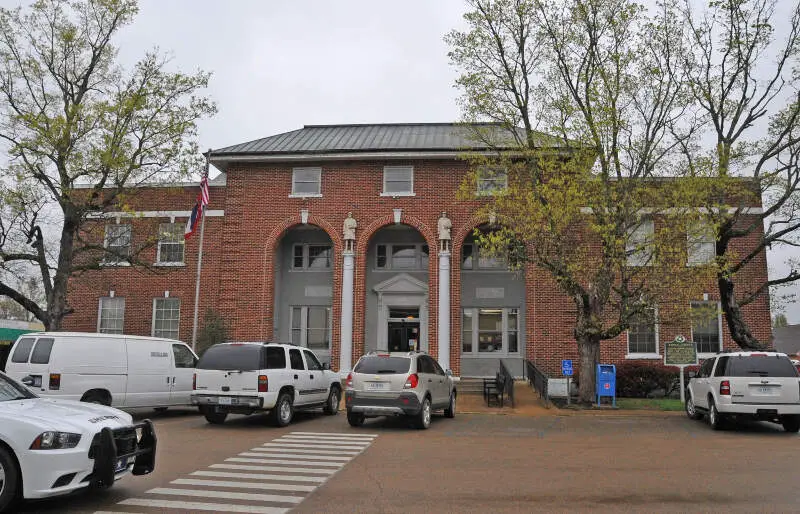 Ripley makes the cut as the seventh least expensive city in Mississippi thanks to being an excellent place for renters. The median rent in Ripley is a measly $599, and with residents earning a median income of $41,238, Ripley residents pay the sixth smallest portion of their income statewide on rent. If you'd rather settle down and buy rather than rent, a home will set you back about $116,000. With all that extra cash you'll have leftover, you can buy some seriously unique pieces at Ripley's First Monday Day Trades, one of the oldest flea markets in the country.
Ripley is located in hills region of northern Mississippi, a half hour south of the Tennessee border.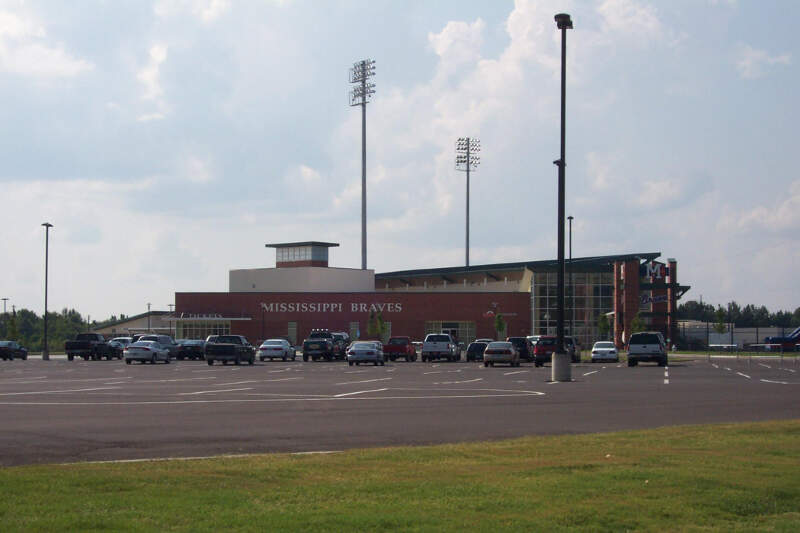 Source: Public domain
Just east of Jackson, sits Pearl. A city that is certainly a jewel for those looking for cheap living in Mississippi.
The median household income of this gem of a city may only be $49,944 but that doesn't mean people here are barely getting by. Lower price tags tend to work well with smaller budgets and the people of Pearl are in luck when it comes to that.
You can own a home here for only $120,700, the area's median home value and a steal compared to other parts of the country. And those who aren't quite ready to pull the trigger on a mortgage probably manage to cover the area's median rent rate of $881 fairly well.
Given the affordable cost of living, it's not surprising that one of the area's most popular places to hang out in provides plenty of free ways to unwind. A picnic in or stroll through Bright Park won't cost you a penny.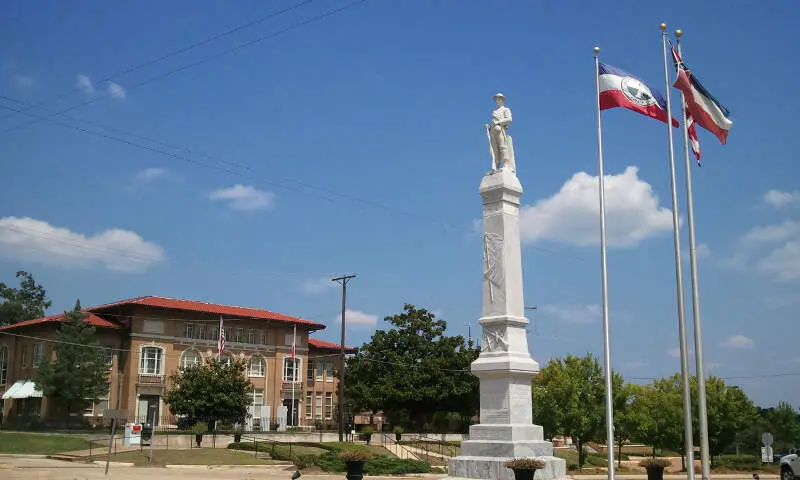 Brandon is a growing community that is adding big city amenities, like the Brandon Amphitheater, to its list of attractions. Luckily for residents, a higher cost of living does not appear to be following.
The city seems to be doing just fine economically and community members are certainly benefiting from it. The area has an unemployment rate of only 2.47%. The cherry on top of that is that people aren't stuck in low-paying jobs either, considering that the median household income is $78,573.
The income figure is one residents are probably happy about, given that the median home value in this area is on the higher side for Mississippi and comes in at $181,900. However, Brandon did manage to rank first in the state for best rent rate to household income ratio. So, it might make more financial sense for some people here to put off taking on a mortgage.
Like Diamondhead, housing in Byram is a bit on the expensive side for this list. However, because Byram's median income is also high at $66,641, residents don't pay as big a chunk of their earnings towards housing as elsewhere in the state. While a median home price of $141,700 may seem high, folks in Byram enjoy the third lowest home price to income ratio in Mississippi. Might we suggest using the extra cash you'll have on the freshest produce in town at the local farmer's market.
Byram is a southern suburb of Jackson.
How We Determined The Most Affordable Places To Live In The Magnolia State For 2021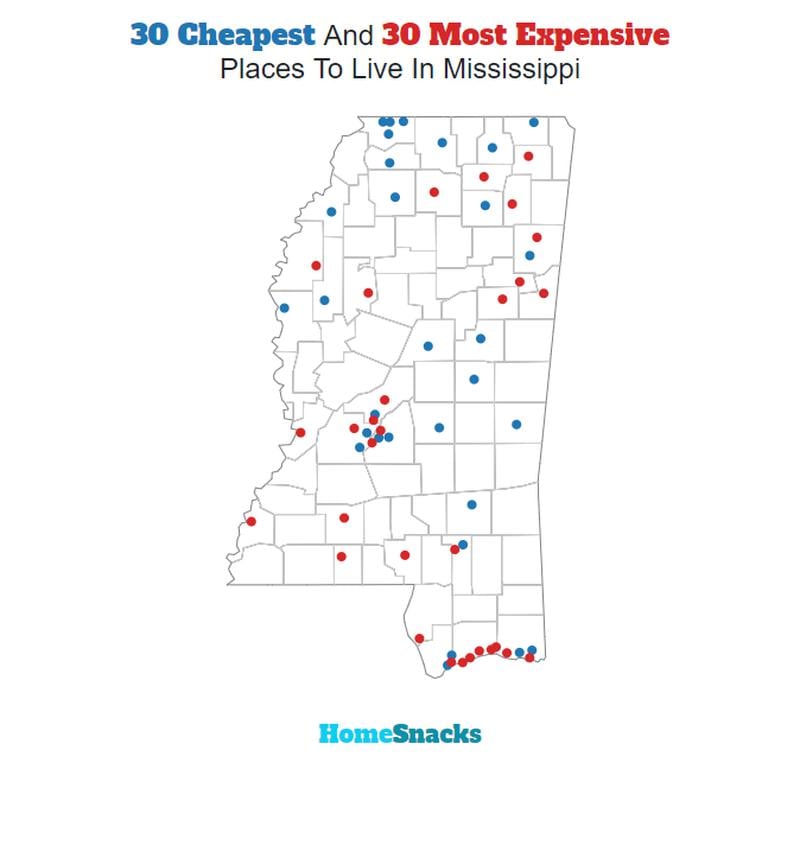 The two most important things to think about when it comes to being able to afford if you can live comes down to:
How much do money do I make?
How much do I have spend to live there?
You need to understand your costs in the context of how much money you make.
For example, if the median household earns $100,000 and spends $40,000 on housing it's actually cheaper to live there than a place with a median income of $50,000 and housing costs of $21,000. You might spend more on housing, but you have more money overall to play with.
With that example in mind, we derived several statistics from the latest Census American Community Survey 2015-2019 around incomes and costs. They are:
Median Home Price / Median Income (lower is better)
Median Income / Median Rent (Higher is better)
Median Home Price
We added simply median home price because high home prices generally correlate with higher expenses for all costs related to homes (heating, electricity, etc).
You can then compare these metrics in each of the places in Mississippi to figure out which is the least expensive.
What you are left with is a "Cost of Living Index" by taking the average rank of each of these metrics for each city.
So we used that cost of living index in order to rank all of the 63 places in Mississippi that have more than 5,000 people.
The place with the lowest cost of living in Mississippi according to the data is Aberdeen. You can download the data here.

There You Have It Mr. Or Mrs. Mississippi Cheapskate
If you're looking at the cost of living numbers in Mississippi, this is an accurate list of the most affordable places to live in Mississippi for 2021.
Here's a look at the most expensive cities in Mississippi according to the data:
Oxford
Starkville
Bay St. Louis
For more Mississippi reading, check out:
The Most Affordable Places To Live In Mississippi
Editor's Note: We updated this article for 2021. This is our seventh time ranking the cheapest places to live in Mississippi.