If you've never visited Elvis Preseley's birthplace in Tupelo or had gator bites in Gulfport, then you've not witnessed what the good people of MIssissippi already know; they have some of the best, most affordable fun in America.
Not only does Mississippi have a boatload of affordable fun, The Magnolia State has some of the most affordable places to call home.
And lucky for you, HomeSnacks is handing you the ultimate life hack: we've created a list of the top ten most affordable places Mississippi for 2022. Take a look at our list below, there might be some places that'll surprise you. But what's not surprising is the affordable, gold star quality of life in Mississippi; and that folks, comes with a price. If you want to live in one of Mississippi's most affordable places, you're going to have to find a good job. This shouldn't be too hard, Mississippi's unemployment rate is the lowest it's been in years. Coincidentally, Mississippi is super safe. It's one of the least dangerous states in the country. Probably because good 'ol fashioned southern hospitality is live and well in the delta.
So, want to know where the cheapest places in Mississippi are to live? Grab a frozen daiquiri, find a quiet spot by Mississippi River, and read on.
The 10 Most Affordable Places To Live In Mississippi
Ask any MIssissippian, they will say that their corner of the deep south is the most affordable. Heck, there's a reason The Hospitality State is the 34th most populous in the country.
Yes, we think it has a little something to do with the great people; however, to the economically savvy, to truly be the best, the state must have the nicest, most affordable places to call home.
What's the most affordable place to live in MIssissippi? The cheapest place to live in Mississippi would be Aberdeen according to the most recent Census data on incomes, rent, and home prices..
So, if you care about home values and cost of living, take a look at the list below.
And if you already knew these places were cheap, check out some more reading about Mississippi and the cheapest places in the country:
The 10 Cheapest Places To Live In Mississippi For 2022
The absolute least expensive place in Mississippi is Aberdeen, a city in the northeastern part of the state. You'd be hard-pressed to find a cheaper home in Mississippi than in Aberdeen, where the median home price is $81,200. Aberdeen's population has been steadily going down in recent years, which is great for newcomers who get to enjoy the best home price to income ratio in the state. Fishers will also be pleased to hear about all the bass, crappie, and catfish up for grabs in Aberdeen Lake. Aberdeen's median income is $42,257, which is more than enough to pay the bills in the cheapest city in Mississippi.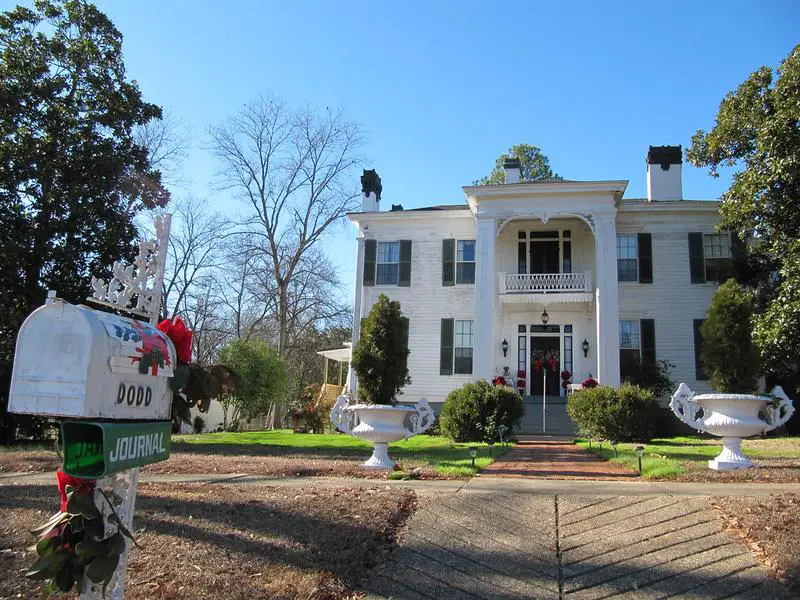 Located about 50 miles east of Jackson off of Route 20 is Forest our second cheapest place to live in mississippi for 2022. Because of its proximity to the interstate, several prominent companies have manufacturing and processing plants in town. Those companies include Koch Foods, Tyson Foods, and the Forest Packing Company. Additionally, Raytheon has a manufacturing center in Forest, which means the local economy offers diversity for would be residents.
On a cost of living basis, the town is over 20% cheaper than the national average with particular affordability in housing. The median home value comes in at a level of $98,500. However, the real deals come when you enter the rental market. The median rent in the area stands at $604. That counts as the ninth lowest mark in the state. Not to mention that Forest is also incredibly safe for families. A good deal all around.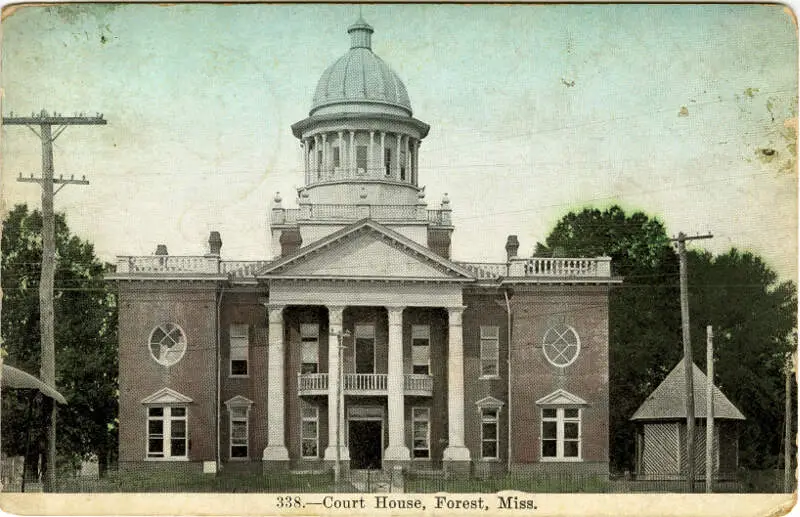 Source: Public domain
Ripley makes the cut as the third least expensive city in Mississippi thanks to being an excellent place for renters. The median rent in Ripley is a measly $512, and with residents earning a median income of $47,426, Ripley residents pay the smallest portion of their income statewide on rent. If you'd rather settle down and buy rather than rent, a home will set you back about $111,500. With all that extra cash you'll have leftover, you can buy some seriously unique pieces at Ripley's First Monday Day Trades, one of the oldest flea markets in the country.
Ripley is located in hills region of northern Mississippi, a half hour south of the Tennessee border.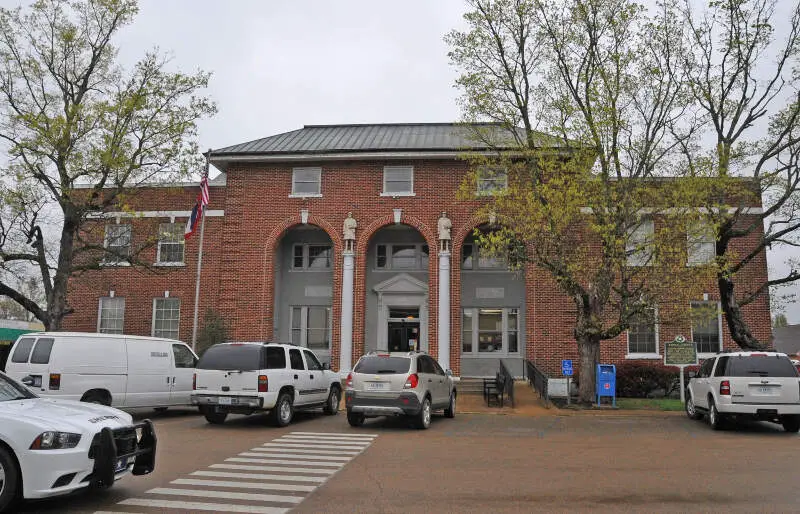 A city in the Mississippi Delta region, Clarksdale is a city with historic ties to the development of blues music in America. Blues musicians such as Ike Turner and Duke Ellington were hosted at the Riverside Hotel, a popular stop on the Mississippi Blues Trail. You'll certainly have no reason to sing the blues if you decide to buy a home in Clarksdale, where the median home price is the first in the state at $65,100. With residents earning a median income of $30,603, Clarksdale has the fourth best home price to income ratio in Mississippi.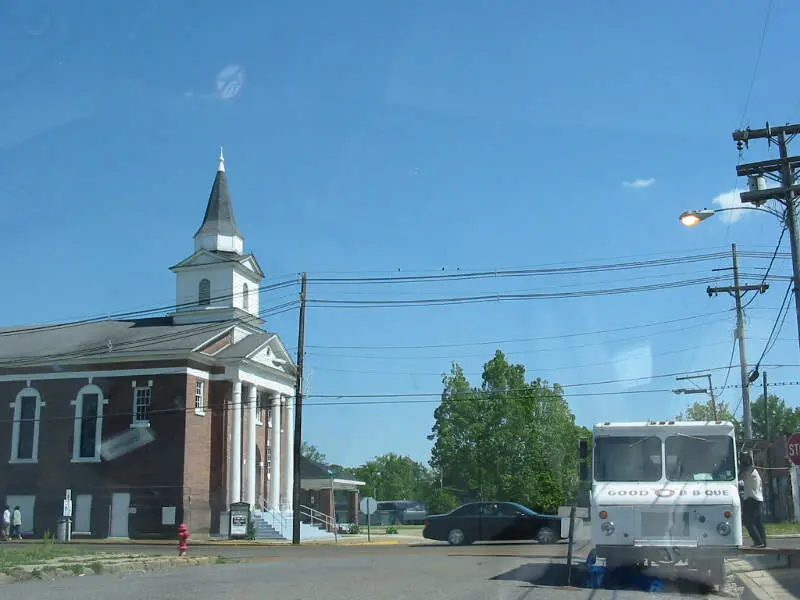 Located about 40 miles northwest of Meridian, Philadelphia, Mississippi is a heck of a lot cheaper than it's northern namesake. With a median rent of $753, Philadelphia is the least economical place to rent on this list. However, the city makes up for it by having the eighth cheapest homes in the state. Paying of a median mortgage of $88,300 on a median income of $39,472 is no sweat for Philadelphia residents. Since you're already lucky enough to live in the fifth most affordable city in Mississippi, we vote you let your luck ride at Philadelphia's Silver Star Casino. Even if you lose at the casino, you'll be winning big on housing costs.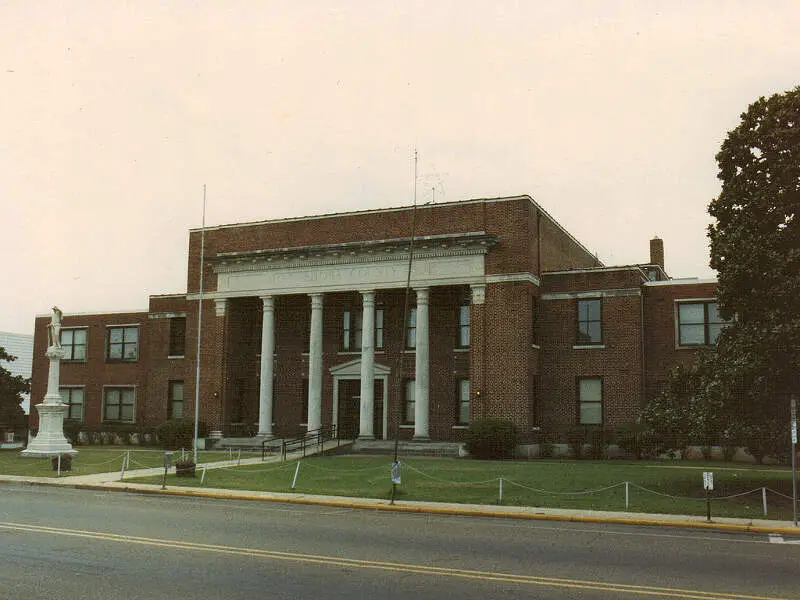 Up next on our list is Moss Point, just north of Pascagoula. The stunning natural surroundings on display at the Pascagoula River Audubon Center are not all this city has to be proud of. The community of 13,396 offers residents an overall cost of living score of only 85.0, compared to the US average of 100.
An affordable cost of living means the price of everything from groceries to transportation fits nicely into the budgets of Moss Point residents. That's good news since this community's median household income of $45,763 may not provide much wiggle room. Though, when houses in your area have a median value of just $96,400 and a mortgage to match, that could mean there's plenty of money left over to enjoy after paying the bills. It doesn't hurt that Moss Point has the second best home price to household income ratio in Mississippi either.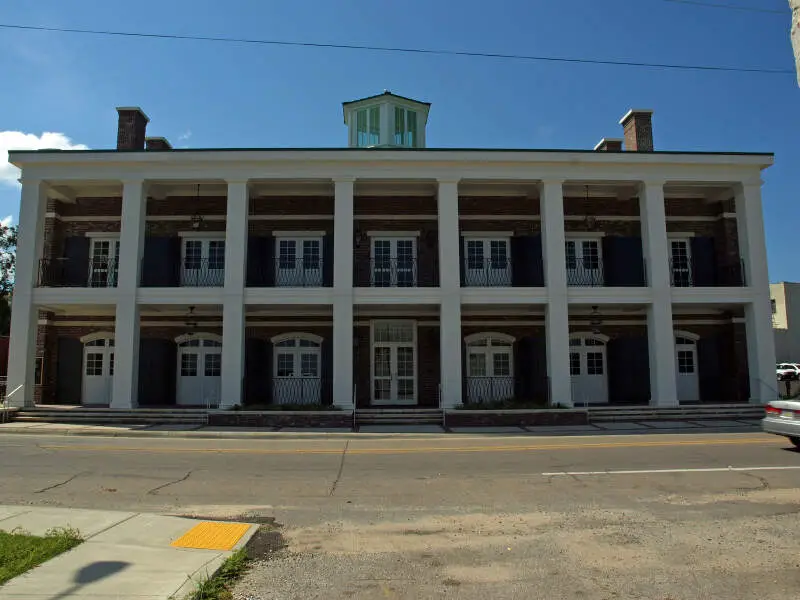 Greenwood is a city in and the county seat of Leflore County, Mississippi, located at the eastern edge of the Mississippi Delta, approximately 96 miles north of the state capital, Jackson, Mississippi, and 130 miles south of the riverport of Memphis, Tennessee. It was a center of cotton planter culture in the 19th century.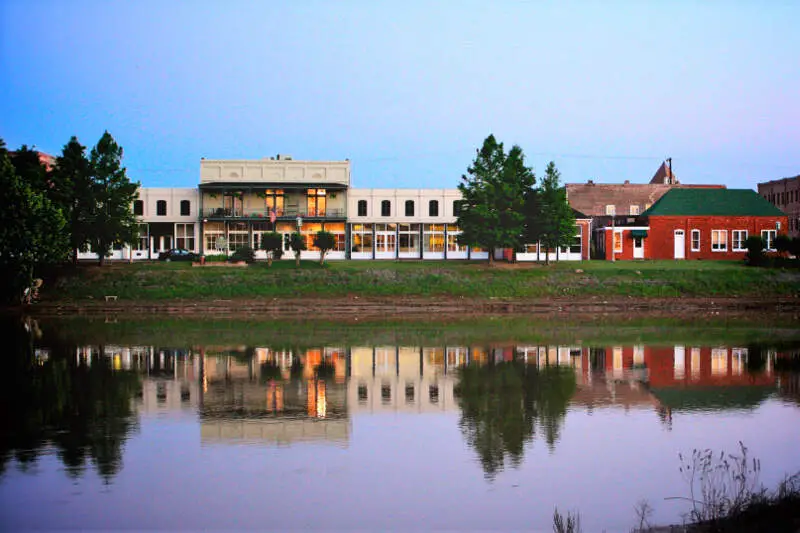 Holly Springs is a city in and county seat of Marshall County, Mississippi, United States at the border with southern Tennessee.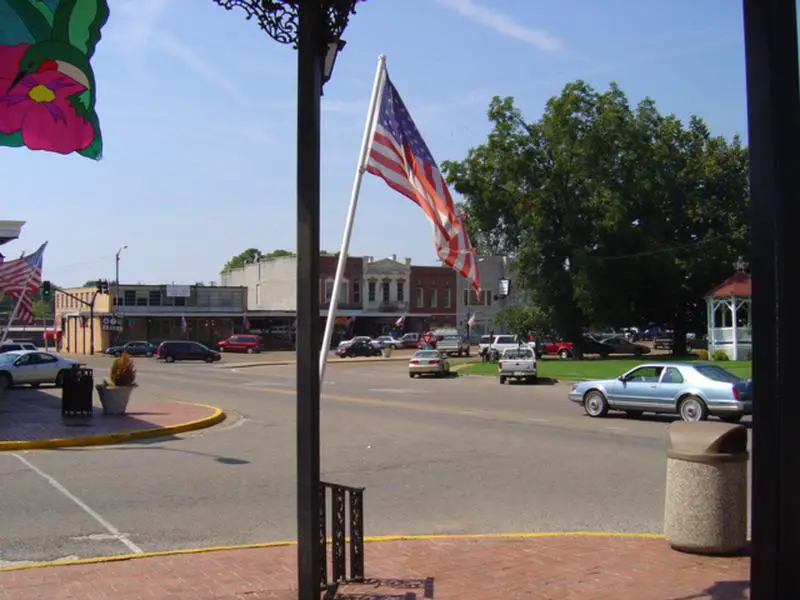 Petal is a city in Forrest County, Mississippi, along the Leaf River. It is part of the Hattiesburg, Mississippi Metropolitan Statistical Area. The population was 10,454 in the 2010 census.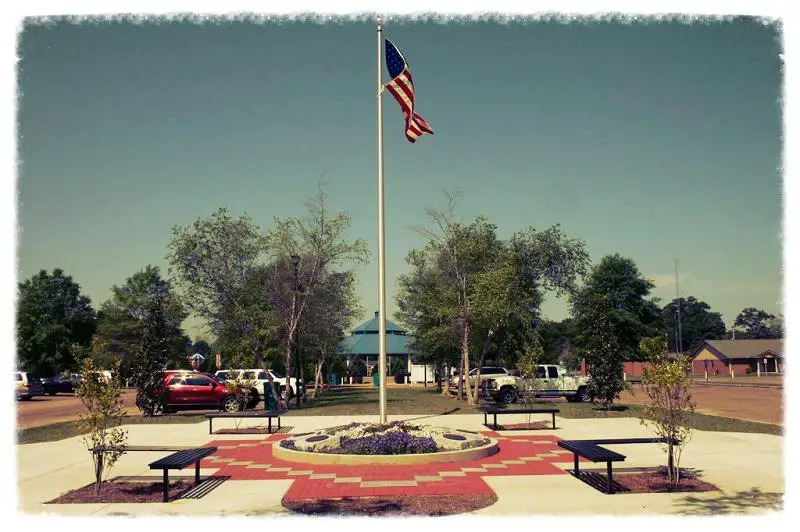 Like Diamondhead, housing in Byram is a bit on the expensive side for this list. However, because Byram's median income is also high at $67,318, residents don't pay as big a chunk of their earnings towards housing as elsewhere in the state. While a median home price of $142,300 may seem high, folks in Byram enjoy the third lowest home price to income ratio in Mississippi. Might we suggest using the extra cash you'll have on the freshest produce in town at the local farmer's market.
Byram is a southern suburb of Jackson.
Cheapest Places To Live In Mississippi FAQs
The county in Mississippi with the lowest cost of living is Holmes County. The average living wage in Holmes County is $72,424 according to MIT data. Holmes County has the lowest cost of living because it has relatively less expensive childcare and housing costs compared to Mississippi as a whole. Childcare costs $4,791 a year in Holmes County for two children compared to the Mississippi average of $10,663. Housing costs, defined as a blend of the average rent and average mortgage payment, are $8,208 per year in Holmes County compared to $9,444 on average in Mississippi.
The cost of living in Mississippi is 10.3% lower than the US average. According to MIT, the required living wage for a family of four with two working parents in Mississippi is $80,523 vs the national average for a family of four with two working parents of $89,744. The median income of a Mississippi household is $46,511.
The cheapest housing market in Mississippi is Clarksdale. The average home value in Clarksdale is $65,100, the lowest in the state. The average home value in Mississippi is $125,500, almost 1.9 times higher than Clarksdale.
Methodology: How We Determined The Most Affordable Places To Live In The Magnolia State For 2022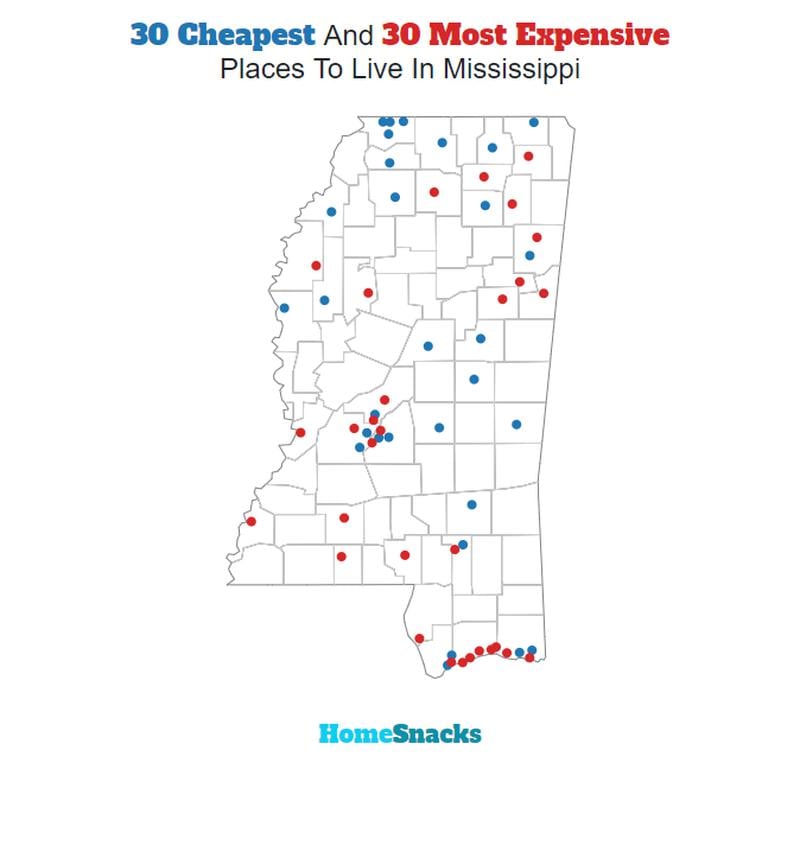 The two most important things to think about when it comes to being able to afford if you can live comes down to:
How much do money do I make?
How much do I have spend to live there?
You need to understand your costs in the context of how much money you make.
For example, if the median household earns $100,000 and spends $40,000 on housing it's actually cheaper to live there than a place with a median income of $50,000 and housing costs of $21,000. You might spend more on housing, but you have more money overall to play with.
With that example in mind, we derived several statistics from the latest Census American Community Survey 2016-2020 around incomes and costs. They are:
Median Home Price / Median Income (lower is better)
Median Income / Median Rent (Higher is better)
Median Home Price
We added simply median home price because high home prices generally correlate with higher expenses for all costs related to homes (heating, electricity, etc).
You can then compare these metrics in each of the places in Mississippi to figure out which is the least expensive.
What you are left with is a "Cost of Living Index" by taking the average rank of each of these metrics for each city.
So we used that cost of living index in order to rank all of the 64 places in Mississippi that have more than 5,000 people.
The place with the lowest cost of living in Mississippi according to the data is Aberdeen. You can download the data here.

Summary: There You Have It Mr. Or Mrs. Mississippi Cheapskate
If you're looking at the cost of living numbers in Mississippi, this is an accurate list of the most affordable places to live in Mississippi for 2022.
Here's a look at the most expensive cities in Mississippi according to the data:
Starkville
Oxford
Pass Christian
For more Mississippi reading, check out:
The Most Affordable Places To Live In Mississippi
Editor's Note: We updated this article for 2022. This is our ninth time ranking the cheapest places to live in Mississippi.