You don't have to launder drug money in the Ozarks to be able to live in most cities in Missouri: The Show Me State is affordable.
Yes, learning the value of the dollar is important, but you don't want to stress about it daily when looking for a safe, affordable Missouri neighborhood to call home, a great deal on a St.Louis-style pizza, or monthly living costs that won't break the bank. Missouri is the 18th most populous state in the country. And it is no surprise considering they have amazing jobs in agriculture, aerospace, tech, and beer. Yes, folks, Missouri is home to Anheuser-Busch. And i f you play your cards right, maybe your next mortgage payment can come from a great job with the King Of Beers.
Regardless, Missouri knows how to make the dolla' holla'. The median income for the state is up above $35,000. With all that income, you can make most Missouri cities doable. More importantly, you can spend the extra coin in your pocket on the fun things that Missouri offers: like a weekend in the Ozarks, season tickets to the Cardinals, and/or a riverboat cruise down the mighty Mississippi River.
You don't have to look any further in terms of affordability if you choose a down home Missouri city to call home. But you do have to read below to see what city on our top ten most affordable cities in Missouri for 2022 list best suits you.
So, grab a Busch Light and some Kansas City BBQ, and read on.
Missouri's strong economy, gold star housing prices, and average cost of living make its cities very desirable. So, one can imagine how difficult it was for us to narrow down the places in this Midwest flyover state where you can make ends meet.
The cheapest place to live in Missouri? That would be Richmond based on the cost of housing adjusted for incomes and cost of living. Richmond is our most affordable city in Missouri for 2022.
So, if you care about home values, cost of living, and high quality of life, take a look at the list below to find the most affordable places in Missouri, where your salary will let you live like Kansas City Royal-ty.
And if you already knew these places were cheap, check out some more reading about Missouri and the cheapest places in the country:
The 10 Cheapest Places To Live In Missouri For 2022
Richmond comes in as the cheapest city in Missouri thanks to being an equally affordable place for renters and home-buyers. When you're in Richmond, you'll know you're in the state with the lowest rent in America, because the median rent is a mere $629. The median income in Richmond is $57,188 and the median home price is $98,600, making the city one of the least affordable places for buyers on this list. In any case, you'll never run short of fun things to do for free in Richmond, which has over 60 acres of parks. Not too shabby for a city of only 5,622 people.
Richmond is located 40 miles east of Kansas City.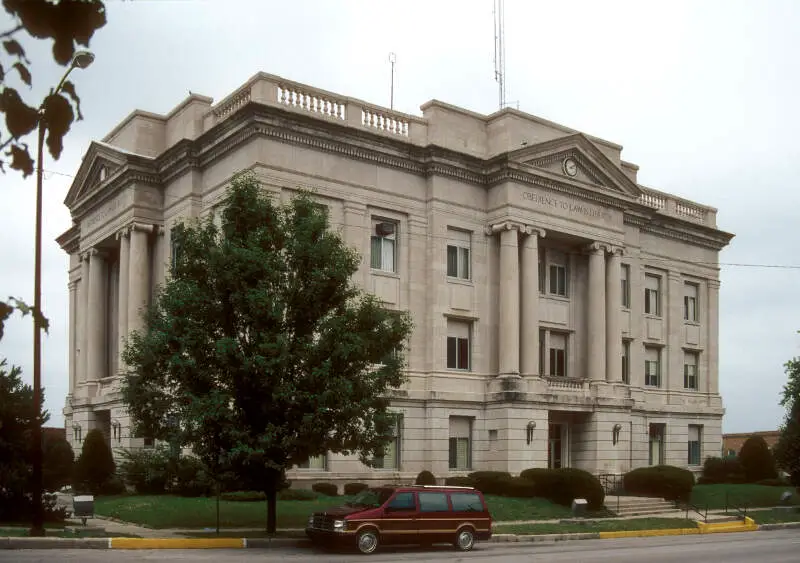 Ranking as our second most affordable city in Missouri is Trenton, a city in the north-central part of the state. For those looking to further their education, Trenton is home to North Central Missouri College, where in-state tuition is under $5,000. That's not the only sweet deal in Trenton, though. The median home price in Trenton is $92,200 and the median rent is $614, so housing of all sorts is available for cheap. Given the city's median income of $44,500, Trenton has a better home price to income ratio than rent to income ratio, but it's not a game-breaking difference.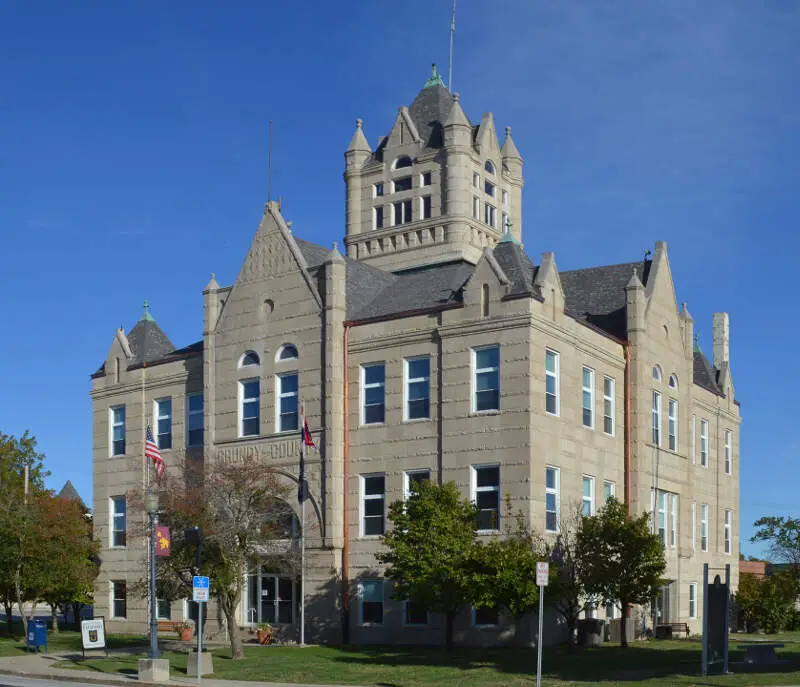 Kennett is a city in and the county seat of Dunklin County, Missouri, United States. The city is located in the southeast corner of Missouri, 4 miles east of Arkansas and 20 miles from the Mississippi River. It has a population of 10,932 according to the 2010 Census. It is the largest city in the Bootheel, a mostly agricultural area.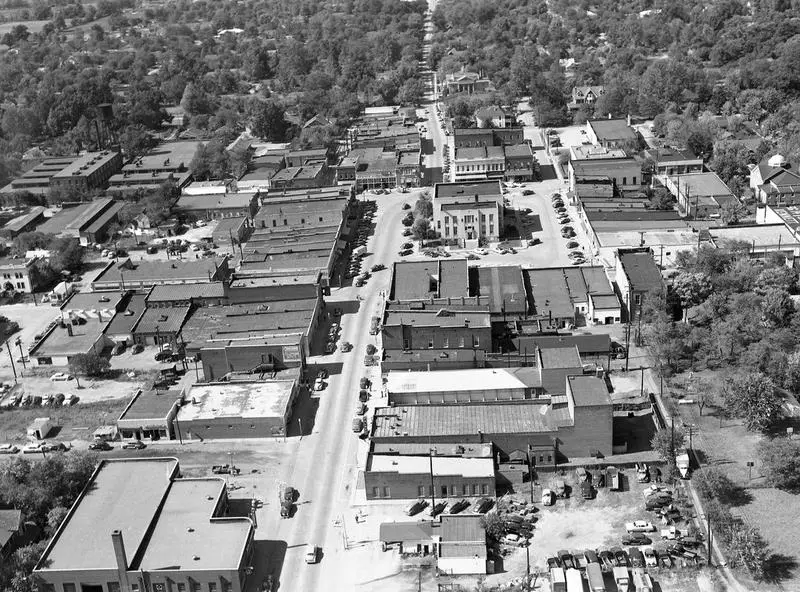 Located about 30 miles south of St. Louis, Pevely ranks as the fourth most affordable place in Missouri, which is a big feat when you consider that it wasn't even in the top 40 last year. At a median income of $66,155, Pevely is the richest city on this list. That more than makes up for Peveling having the most expensive homes on this list, with a median price tag of $138,600. And with a median rent of $729, it's actually slightly more economical to rent than buy in Pevely. And for those into archeology, paleontology, or just plain nature hikes, Mastodon State Historic Site is a good idea for a cheap day out.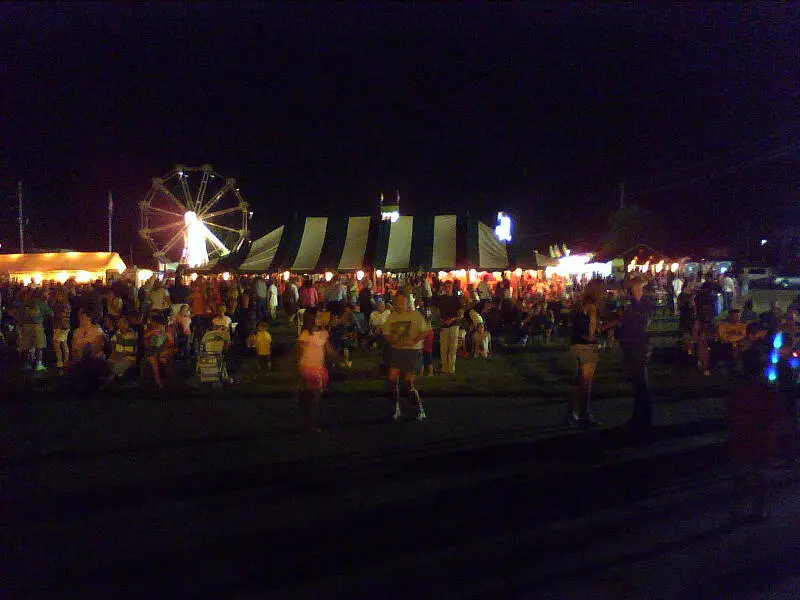 Source: Public domain
For those on a budget, Chillicothe is the greatest thing since sliced bread, which, it just so happens, was invented in Chillicothe.
The city also has the more modern distinction of being the fifth cheapest city in Missouri. The median home price in Chillicothe is $90,900 and the median income is $45,496, making it slightly more affordable for those buying a home than Trenton. However, Chillicothe got beat out by Trenton in terms of rent prices. Chillicothe is another north-central Missouri city.

A St. Louis suburb, St. Ann ranks as the sixth most affordable city in Missouri. St. Ann's median rent of $782 is a bit pricey, and keeps the city from achieving a higher rank on this list. However, with a median income of $47,994 and a median home price of $92,000, St. Ann has the seventh best home price to income ratio in the state. As a bonus, St. Ann is one of the best cities for singles in Missouri, so you can find the love of your life without breaking the bank here.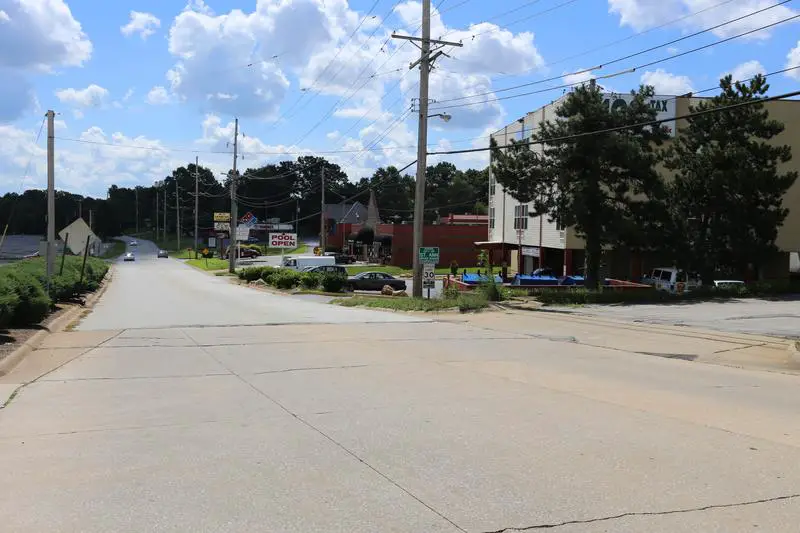 Located about 30 miles south of Kansas City off of Route 49 is Peculiar our seventh cheapest place to live in missouri for 2022. Besides being a short commute to Missouri's largest city, Peculiar offers residents a plethora of local parks and restaurants. This primarily residential town is great for families with low crime rates and a high quality of life.
On a cost of living basis, the town is over 10% cheaper than the national average with particular affordability in housing. Median home prices come in at $147,800. However, the real deals come when you enter the rental market. The median rent in Peculiar is $946. That is the 8lowest mark in the state. Not to mention that Forest is also incredibly safe for families. A good deal all around.
Mexico, formerly known as New Mexico, is a city in Audrain County, Missouri. The population was 11,543 at the 2010 census. It is the county seat, home to the Missouri Military Academy, and annually hosts the Miss Missouri Pageant. The micropolitan statistical area consists of Audrain County.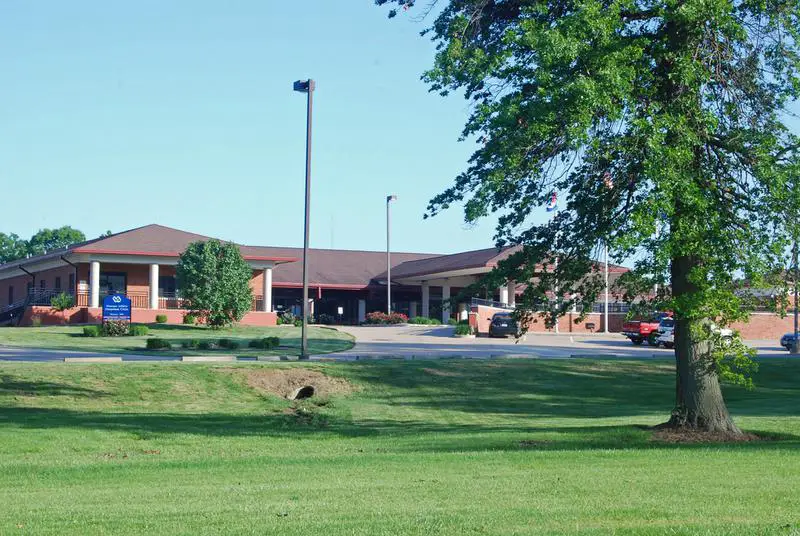 Willard is a city in Greene County, Missouri, United States. As of the 2010 census, the city population was 5,288. It is part of the Springfield, Missouri Metropolitan Statistical Area.
Homes in Webb City are the second most expensive you'll see on this list, but that doesn't stop the city from being tenth cheapest overall in Missouri. A home in Webb City goes for about $119,100 and the median income is $53,727, so it's no sweat paying off the mortgage here. We recommend you use your pockets full of extra cash at the local farmer's market for the freshest food in town.
Webb City is located in the southwestern part of the state, near the borders of Kansas and Oklahoma.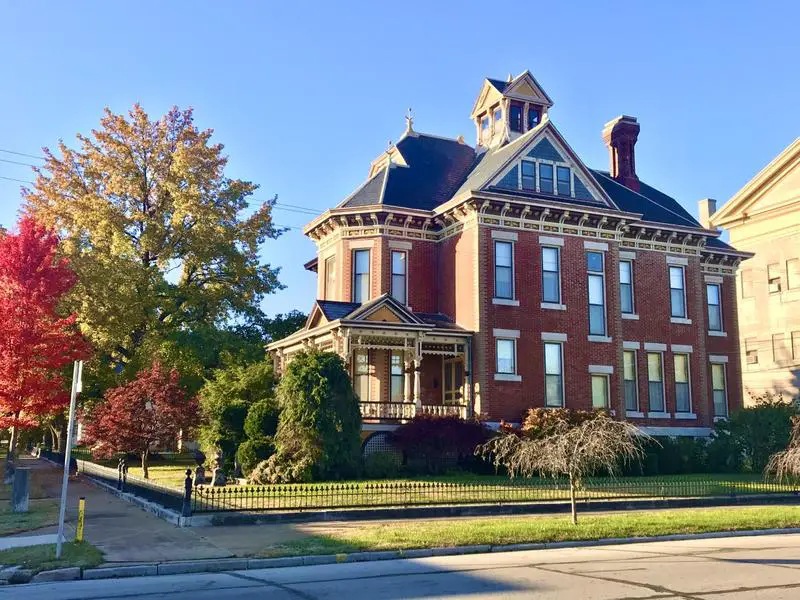 Cheapest Places To Live In Missouri FAQs
The county in Missouri with the lowest cost of living is Adair County. The average living wage in Adair County is $77,540 according to MIT data. Adair County has the lowest cost of living because it has relatively less expensive childcare and housing costs compared to Missouri as a whole. Childcare costs $7,243 a year in Adair County for two children compared to the Missouri average of $12,674. Housing costs, defined as a blend of the average rent and average mortgage payment, are $7,944 per year in Adair County compared to $10,297 on average in Missouri.
The cost of living in Missouri is 3.7% lower than the US average. According to MIT, the required living wage for a family of four with two working parents in Missouri is $86,410 vs the national average for a family of four with two working parents of $89,744. The median income of a Missouri household is $57,290.
The cheapest housing market in Missouri is Jennings. The average home value in Jennings is $62,500, the lowest in the state. The average home value in Missouri is $163,600, almost 2.6 times higher than Jennings.
Methodology: How We Determined The Most Affordable Places To Live In The Show Me State For 2022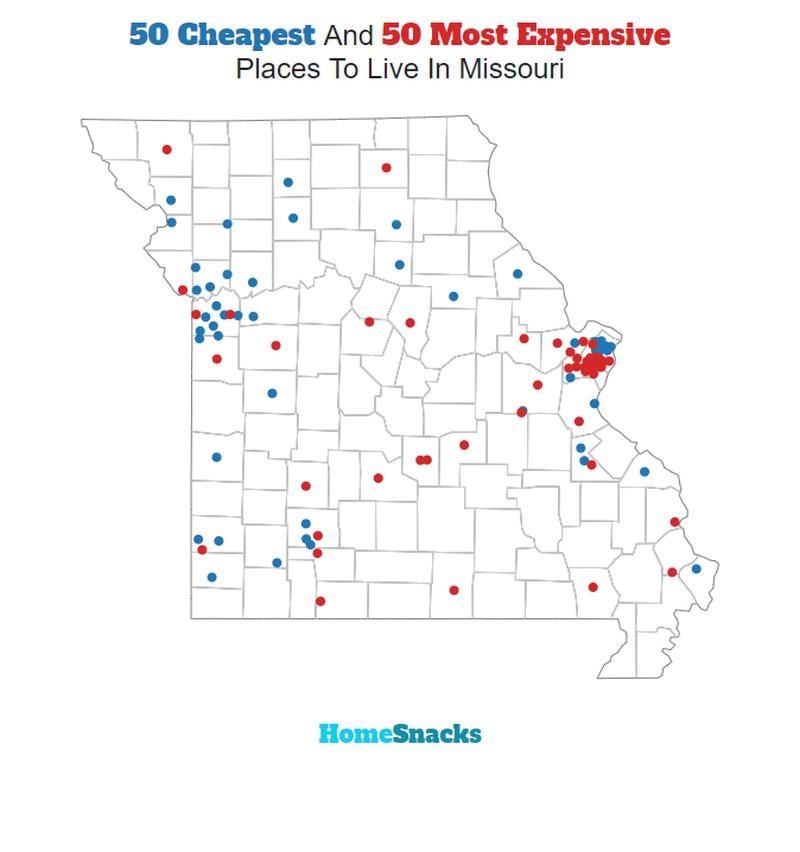 The two most important things to think about when it comes to being able to afford if you can live comes down to:
How much do money do I make?
How much do I have spend to live there?
You need to understand your costs in the context of how much money you make.
For example, if the median household earns $100,000 and spends $40,000 on housing it's actually cheaper to live there than a place with a median income of $50,000 and housing costs of $21,000. You might spend more on housing, but you have more money overall to play with.
With that example in mind, we derived several statistics from the latest Census American Community Survey 2016-2020 around incomes and costs. They are:
Median Home Price / Median Income (lower is better)
Median Income / Median Rent (Higher is better)
Median Home Price
We added simply median home price because high home prices generally correlate with higher expenses for all costs related to homes (heating, electricity, etc).
You can then compare these metrics in each of the places in Missouri to figure out which is the least expensive.
What you are left with is a "Cost of Living Index" by taking the average rank of each of these metrics for each city.
So we used that cost of living index in order to rank all of the 130 places in Missouri that have more than 5,000 people.
The place with the lowest cost of living in Missouri according to the data is Richmond. You can download the data here.

Summary: There You Have It Mr. Or Mrs. Missouri Cheapskate
If you're looking at the cost of living numbers in Missouri, this is an accurate list of the most affordable places to live in Missouri for 2022.
Here's a look at the most expensive cities in Missouri according to the data:
Sunset Hills
Weldon Spring
Branson
For more Missouri reading, check out:
The Most Affordable Places To Live In Missouri
Editor's Note: We updated this article for 2022. This is our ninth time ranking the cheapest places to live in Missouri.