Article Table Of Contents   
(Skip to section)
The Show Me State' has a lot to show. So we've decided to play their game and show you their top ten best place to live in Missouri for 2022.
Where the Midwest meets the South, right smack dab in the middle of America, you can find some of the nicest people, best Friday night tailgating, and some of the best cities in Missouri.
What does an awesome city in Missouri look like? It can look like just about anything. The 'Mother of the West' has cities like Cape Girardeau that hug the Mighty Mississippi, an Arch and a riverfront welcome you in St. Louis, and Missouri's Kansas City has the best BBQ.
So, whether you're floating the Black River, checkin' out Mark Twain State Park, or catching a show in Branson, you'll soon figure out why Missouri is the 18th most populous state in the country. Super fun, super safe cities aside, we're here to get down to what the BEST city in Missouri looks like.
So without further adieu, grab some BBQ, crack a King of Beers, find a sunny spot at Marty Byrde's Restaurant and read on as we unravel the top ten best Missouri cities for 2022.
The 10 Best Places To Live In Missouri For 2022
Whether you're a Kansas City Royals' fan or a Cardinal's fan, or just of fan of great Missouri cities, you're in the right place.
What does the best city in the "Cave State" look like? Well, after crunching data from the US Census in terms of median home prices and unemployment rates for cities with over 5,000 residents, Glendale is the best place to live in Missouri.
Take a look at the list below to see the cities that gave Glendale a run for their money. And if you don't see your favorite MIssouri city in the top ten, head to the bottom of the page.
If you're looking for something more national, check out the best states in America or the best places to live in America.
For more Missouri reading, check out:
The 10 Best Places To Live In Missouri For 2022
The results are in and for the second year in a row, Glendale is Missouri's best city. A small suburb of St. Louis, Glendale's motto is "residents' welfare above all else," which gets to the heart of what the city is all about. The crime rate in Glendale is about 75% lower than the national average and ranks as the 3rd lowest in Missouri. And if you do get banged up somehow, medical bills shouldn't sink you because 98.8% of residents have health coverage.
Poverty and unemployment rates are both extremely low in Glendale, sitting at 3.4% and 0.9% respectively, both of which rank in the top ten statewide. Of course, it's much easier to find good employment when you've got a solid education, which plays out in the super-smart Glendale. About three-quarters of residents have a college degree, with a whopping 40% having a master's degree or higher as well. Big degrees lead to big paychecks because Glendale's residents enjoy the 5th highest median household income in Missouri at $141,622/year. These big salaries are kind of a necessity when you consider that the cost of living in Glendale is about 30% higher than the statewide average. Housing costs alone are more than twice as expensive as your average city in Missouri, with homes going for around $415,900 and rent for roughly $1,428/month. 95% of Glendale buys instead of rents and with home prices increasing by about 5% annually, it does seem like a smart investment.
While Glendale doesn't have much in the way of entertainment on its own, its close proximity to St. Louis means you can be at nationally famous landmarks like the Gateway Arch in no time flat.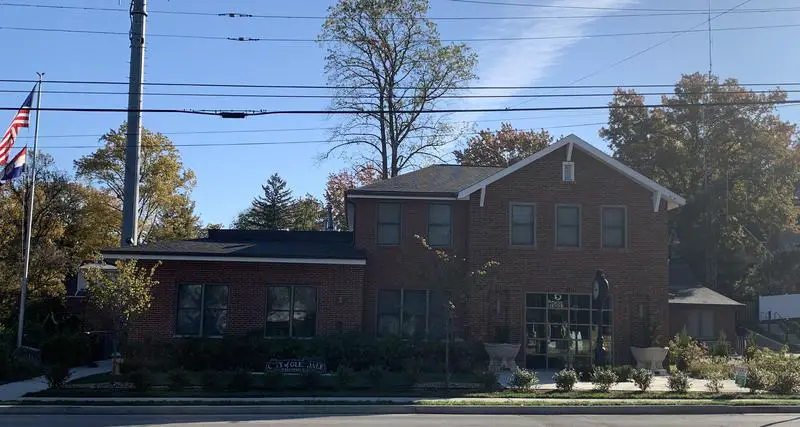 If you do you in Ladue, you'll be la-doing just fine. This affluent inner-ring suburb of St. Louis has a whole lot going for it. We'll start with the affluent part; Ladue is the richest place in Missouri, with residents bringing home around $242,792/year on average, the highest median household income in Missouri. Being hyper-wealthy helps offset a cost of living that outstrips the statewide average by 90%, with housing costs more than 325% higher than Missouri's average. Since having a good job or lots of money pretty much guarantees you'll have health insurance, it makes sense that Ladue has the 2nd highest rate of coverage in Missouri at 99.3%.
Rest assured that the taxes on all this cash go worthwhile projects. Like keeping Tilles Park a top-quality community space, especially during the Christmas season when it becomes a Winter Wonderland. Ladue also spends about 60% more per student than the statewide average, and that investment pays off in higher test scores and graduation rates, as well as three local schools winning a National Blue Ribbon Award for excellence. The investment in the city's future comes from a community that has first-hand experience with the importance of education. After all, 80% of adults in Ladue finished college and 45% of folks have a master's, PhD, or professional degree to boot.
Don't worry about finding a job in Ladue either; at 0.7%, Ladue has the 2nd lowest unemployment rate in Missouri. And very few are left in the dust of Ladue's money-storm, considering that the poverty rate of 1.9% is the 6th lowest in the state.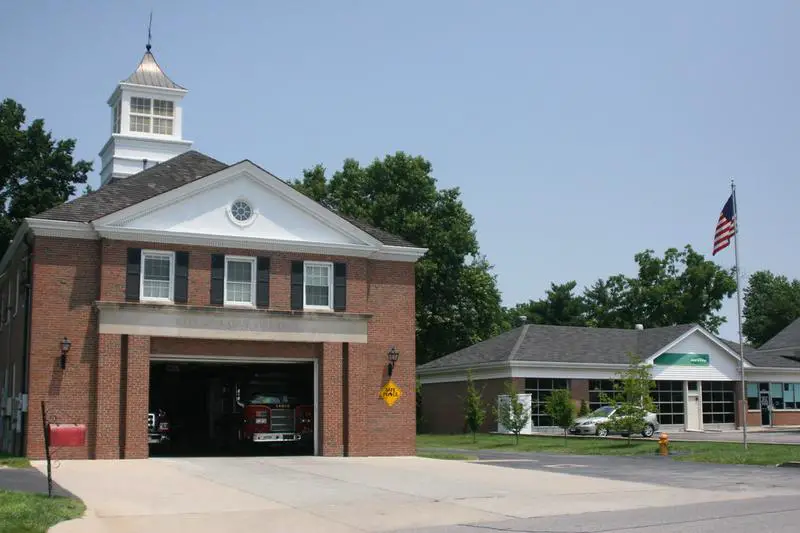 Clayton is a St. Louis suburb of 16,763 with an air of sophistication. High quality, locally-owned restaurants, bars, and cafes are found tucked between boutique shops, historic homes, and the gorgeous Shaw Park. Clayton hosts the St. Louis Art Fair and A Taste of Clayton, a festival of arts, music, and food, each year, so come ready to celebrate if you're moving to Clayton. Like other top cities on this list, the cost of living in Clayton is nothing to sneeze at, but we think having clean, safe streets filled with wholesome activities is worth every penny.
With a median age of 29, Clayton is the youngest city to make this list. That combined with the title of most densely populated city in Missouri means that Clayton is probably the most vibrant and dynamic place to be in the whole state. If you decide to buy a home in Clayton, it will set you back about $605,700. However, as a very young city, about 40% of the population chooses to rent instead and a typical rental price is $1,334/month, not much higher than the average rent in Missouri.
Last but not least, Clayton takes education about as seriously as you can. Clayton School District outspends your average Missouri city by 170% per student, has a very low student-teacher ratio of 11:1, a GreatSchools average rating of 8/10, three elementary schools with National Blue Ribbon Awards, and a high school that's won a College Success Award for two years running. There's really nowhere better to send your children to school in Missouri than Clayton.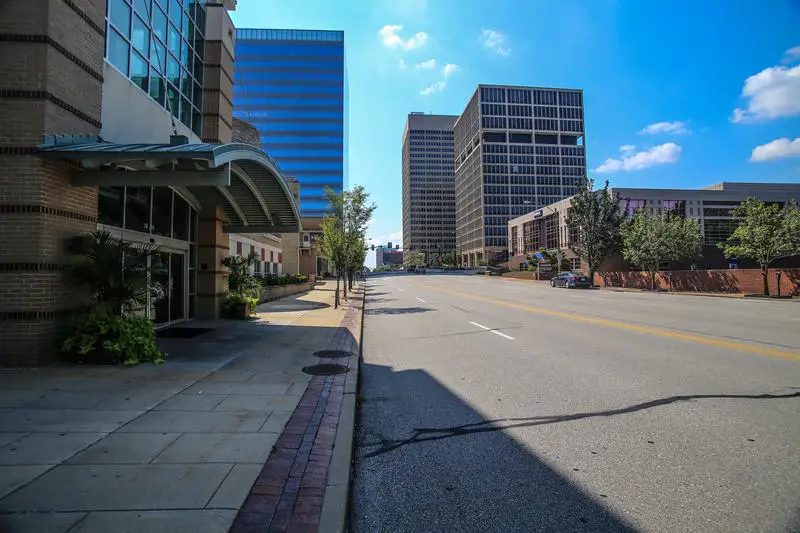 Town and Country is an affluent city of 11,109 located in western St. Louis County. Town and Country's high median age of 52 reflects how awesome a place it is for retirement. A quiet, green residential landscape doesn't offer much in the way of hustle and bustle, but Town and Country maintains all the essentials for a good life. It's one of the safest places in Missouri, with a total crime rate about half as high as the national average. Residents are well looked after in other ways, seeing as 98.5% of folks have health insurance, the 7th highest rate in Missouri.
Nearly 40% of Town and Country's adult population has a master's degree or higher, so you won't be dealing with dummies here. And everyone takes education pretty seriously, seeing as Town and Country has the 11th lowest high school dropout rate in Missouri. If you need some brushing up on your scientific prowess, the Myseum is a great place to start. This heavy focus on education has translated into the 2nd highest median household income in the state, so make sure you're earning about $202,974/year if you want to keep up with the Joneses here. Without that, you won't be able to afford the 2nd most expensive homes in Missouri, which go for a median price of $747,300. Even better than the big paychecks and the beautiful homes is the fact that both income and property values are growing at a rate of about 5% annually, so things seem to just keep getting better in Town and Country.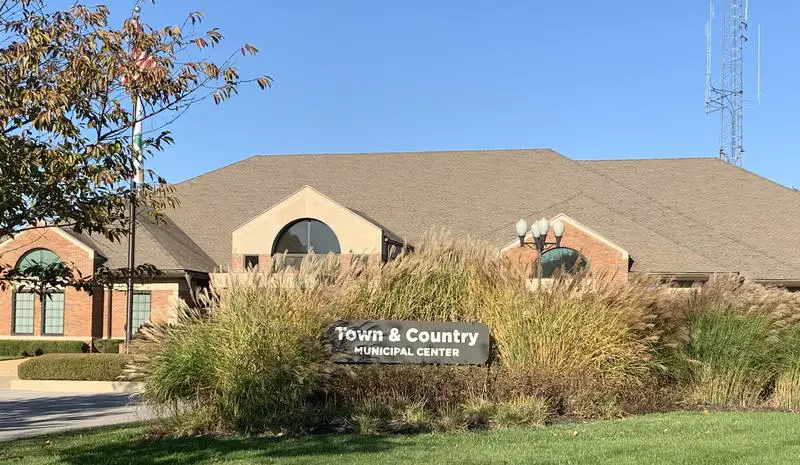 Des Peres is another great place to live in Missouri about 20 miles west of St. Louis off 270. It's a family friendly town with easy commutes to the city and surrounding major suburbs. The Des Peres Park is gorgeous, with a big duck pond, and several sports fields. And, I can tell you from personal experience, Bello's Bakery & Pastries has some of the best donuts in the area. There's also plenty of shopping around as the West County Mall is located in town.
Housing is 4th highest in the state, which means that a ton of people want to live here. And you can see that people are willing to pay for a piece of real estate as incomes are 3rd highest in the state too. Des Peres is part of the Kirkwood school system, which consistently ranks in the top five for Missouri. Add to that a low crime rate, and you have a perennial contender for best place to live in Missouri.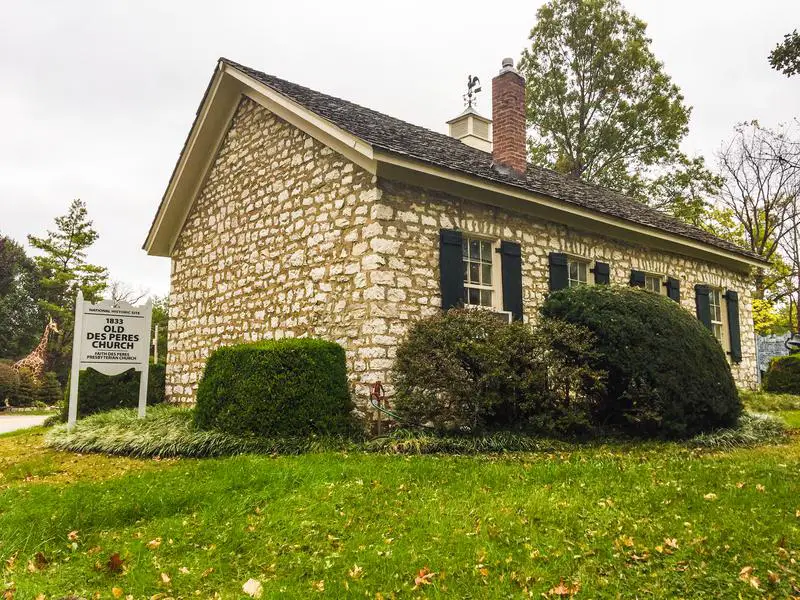 Ballwin is a southwestern suburb of St. Louis with a population of 30,177. While we've mostly been dealing with some undeniably pricey cities, the cost of living in Ballwin is only slightly higher than the national average, so it's a good balance of quality and affordability. Homes are the cheapest of anywhere on this list, with a median price tag of $277,100. That may explain why 80% of residents choose to buy instead of rent. You don't need a whole lot of property to have easy access to outdoor spaces in Ballwin either. If you're just looking for a bit of green in the middle of your day, Queeny Park is always a good option. But if you'd rather spend a full day following the winding Meramec River on foot or by mountain bike, then Castlewood State Park is where you'll want to be.
You won't have much to worry about in terms of criminal activity in Ballwin, seeing as the crime rate is about 70% lower than the national average and ranks as the 6th lowest of anywhere in Missouri. I'm no expert, but the fact that Ballwin also has the 22nd lowest poverty rate in the state at 4.0% may be a factor in the super-low crime rate.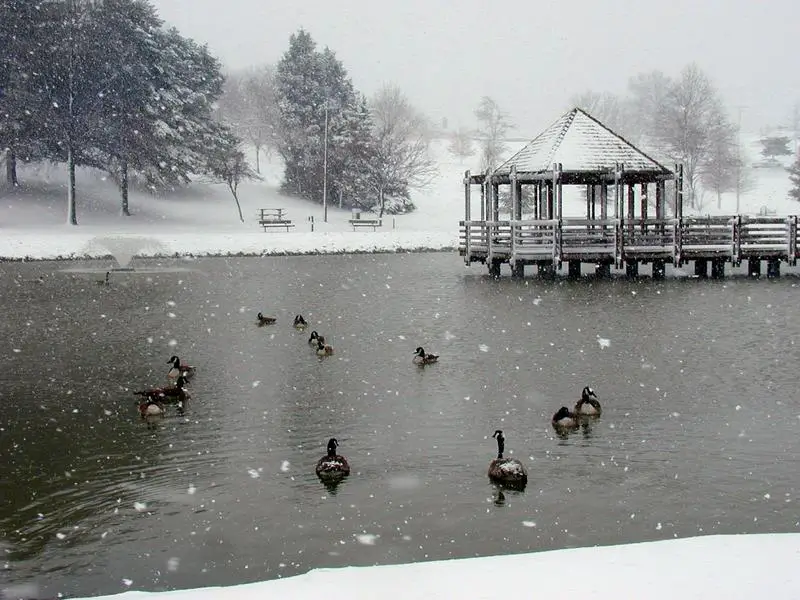 I am a little biased considering I live in Olivette, but I feel like it deserves its spot as the 7th best place to live in the Show Me State. After moving here in 2019 and having lived here through the Covid years, I can tell it's the kind of place you put down roots for a long time.
As a suburb of St. Louis, you have access to everything in the city without having to be in the city. There's no traffic and you can get downtown in under 20 minutes to catch a Cardinals game or visit the Arch. In town, there are great parks for kids including Stacey Park (my favorite), Villa Park, and Warson Park. There's also great Asian food on Olive less than 10 minutes away and Melinda at the Olivette Diner will make you feel like family.
On the numbers side of things, Olivette is part of the Ladue School District, the best in the state, but without Ladue home prices. There's basically no crime in town and the city ranks 23rd for incomes.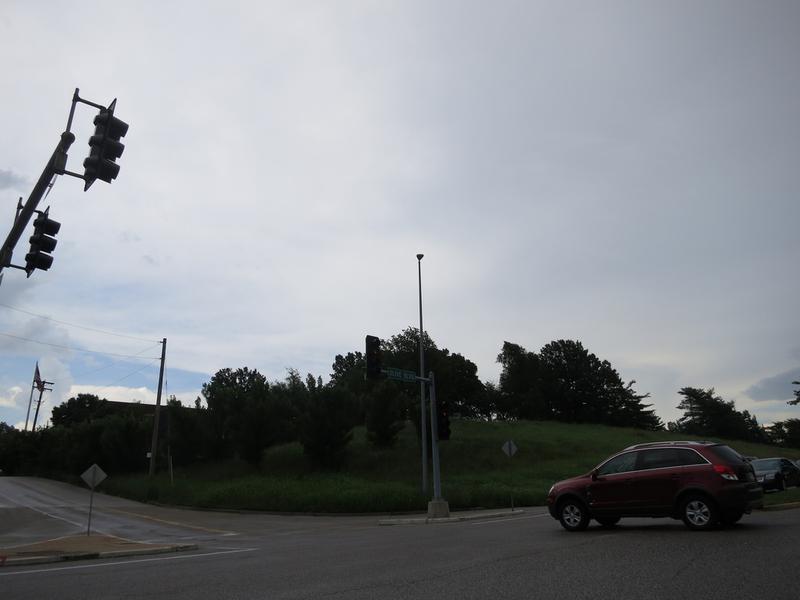 With a population of 47,603, Chesterfield is the most populous of the west St. Louis suburbs. Nicknamed "the City of Volunteers," Chesterfield's residents know how to pitch in to continually improve their community. The gorgeous Faust Park is a local favorite, especially if you have time to wander around the Butterfly House or take a ride on the carousel. The Chesterfield Amphitheatre is always putting on events and shopaholics will be delighted by the wide breadth of options at Chesterfield Mall.
In Chesterfield, crime is low, paychecks are high, and people generally have health insurance. Both of Chesterfield's high schools received a College Success Award from GreatSchools, so you know your kiddo(s) will be all set when it comes time to move into a dorm. Poverty and unemployment rates are both among the lowest in Missouri, sitting at 3.9% and 2.4% respectively. Homes in Chesterfield go for around $374,100, while a typical rental will set you back about $1,212/month. That's actually quite reasonable when you've got the 9th highest median household income in Missouri at $120,394/year.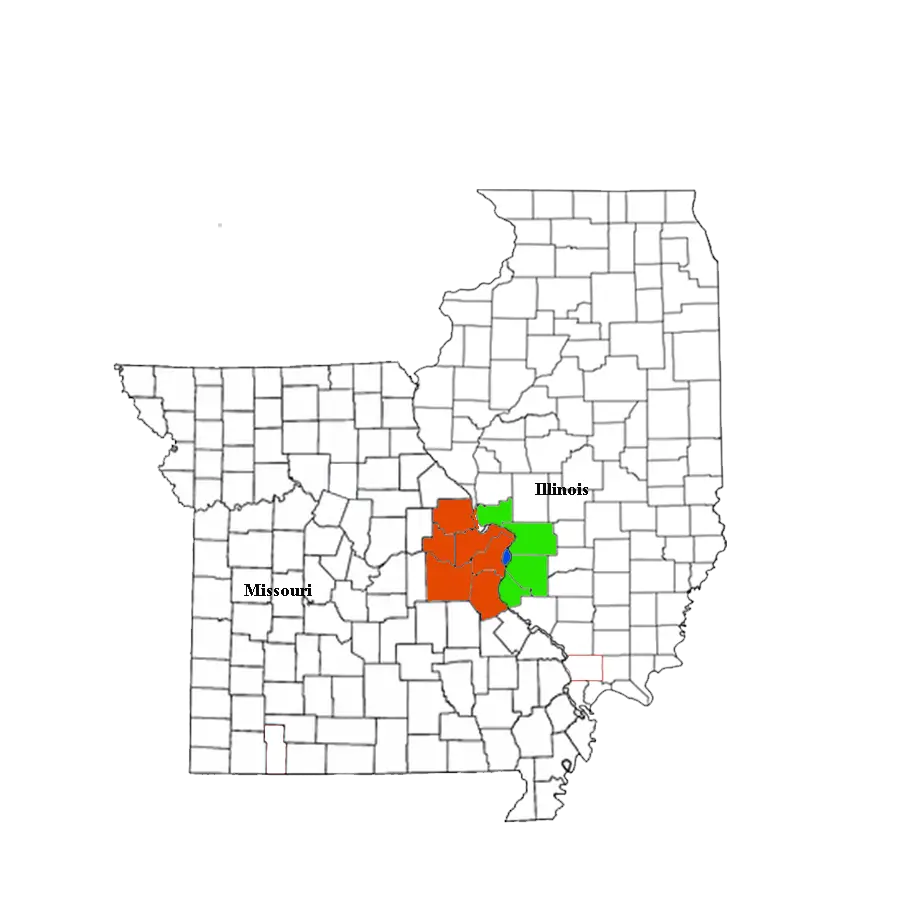 Source: Public domain
Creve Coeur is a city in western St. Louis County well-known for being a key node for technology, life and biosciences, and medical services. Residents of Creve Coeur enjoy the 16th highest median household income in Missouri at $95,699/year. The even better news? Household income went up by nearly 9% in the last year of available data, so you can expect Creve Coeur's income ranking to keep rising. The value of property isn't rising nearly as fast as income, with your typical Creve Coeur home already going for 5th most expensive price statewide at $443,700 and rent going for around $1,304/month.
The poverty level in Creve Coeur is a measly 4.5%, the 24th lowest in Missouri. That means everyone gets in on the economic success story in Creve Coeur. Creve Coeur is home to a lovely Antique Mall, but if you're a sports fan, chances are you're more likely to make the 20-minute drive to watch a Cardinals game at Busch Stadium.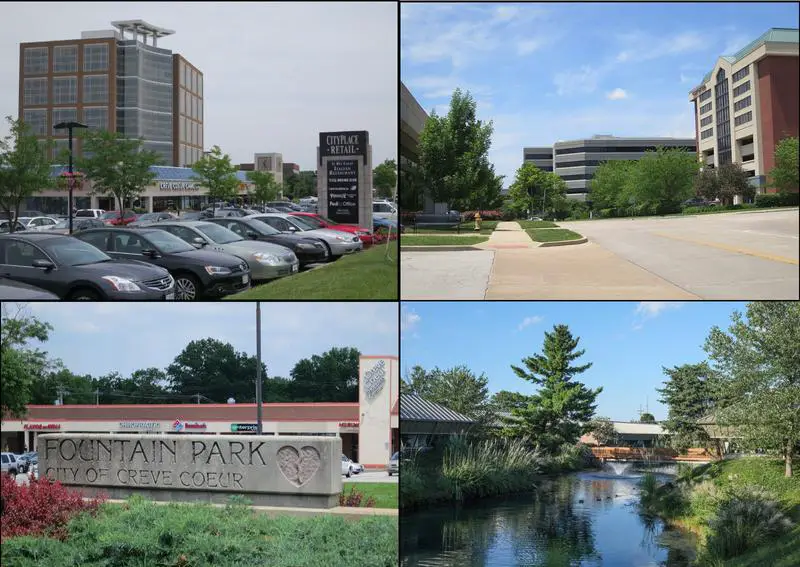 Another St. Louis suburb, Shrewsbury is probably the closest to downtown of any other place on the list. Not only that, it's also the closest to Balkan Treat Box, which is one of the best Turkish restaurants you'll find in the US (I know it's random, but I'm not kidding). A relative newcomer to this list, Shrewsbury offers a ton of things to do, affordable living, and, as you can tell by excitement in the previous sentence, quality eats.
The town is the most affordable on the list with home prices averaging about $193,400 per the most recent Census. Rents are equally affordable with rentals available for around 951/per month. The town is served by the Webster Groves School District, one of the best in St. Louis County.
Mapping The Best And Worst Places To Live in Missouri
The Pressing Question: Size
Before we even started to collect data, we had to answer a tough question: Is it fair to pit cities with populations over 100,000 against places with a population of 18?
We firmly decided no, that just isn't fair.
So to create our ranking, we broke places to live into three tiers:
Cities — Populations over 5,000
Towns — Populations between 1,000 and 5,000
Small Towns — Populations below 1,000
This left us with 127 cities, 230 towns, and 534 small towns.
We then decided, no matter how much anyone loves their town, the best cities to live in Missouri have more of everything and therefore you need to have over 5,000 people to truly be 'the best'.
Now we also realize that city living might not be your cup of tea, so we ran the following analysis on towns and then again for small towns.
You can see those two top tens at the bottom of the post.
Methodology: How We Calculated The Best Cities To Live In Missouri
Now that we had our set of cities, it was time to rank them.
We ranked each place in Missouri across a number of criteria from one to 127, with one being the best.
We then took the average rank across all criteria, with the city posting the lowest overall score being crowned the winner of the title "Best Place To Live In Missouri".
The criteria we looked at were:
Median Home Values
Median Income
Population Density (Higher better)
Unemployment Rate
Commute Time
Crime
Education Levels
Health Insurance Coverage
Poverty rates
Sources of criteria include the New Census Data and FBI Crime Data. You can download the data here.
After the dust settled, what was the best place to live in Missouri? That would be Glendale.
If your city or town isn't among the top 10, jump down to the bottom of the post to see a detailed chart of the best places in Missouri.
Otherwise, buckle up for a ride down good living lane with Glendale at the end of the cul-de-sac.

Summary: The Best Places When It Comes To Living In Missouri
If you're looking at areas in Missouri with the best economic situations, where there's lower than average crime, and a lot to do, this is an accurate list.
Glendale made a strong showing to take in the overall number one spot for the best place to live in Missouri for 2022.
Best Towns To Live In Missouri
Frontenac (Pop. 3,527)
Oakland (Pop. 1,649)
Warson Woods (Pop. 1,870)
Weatherby Lake (Pop. 1,900)
Fremont Hills (Pop. 1,006)
Rock Hill (Pop. 4,628)
Clarkson Valley (Pop. 2,638)
Pleasant Valley (Pop. 3,043)
Winchester (Pop. 1,505)
Grantwood Village (Pop. 1,013)
Best Small Towns To Live In Missouri
Country Life Acres (Pop. 135)
Crystal Lake Park (Pop. 518)
Shoal Creek Estates (Pop. 116)
Pasadena Park (Pop. 515)
Westwood (Pop. 289)
Weldon Spring Heights (Pop. 109)
Lake Tapawingo (Pop. 718)
Windsor Place (Pop. 451)
Lake Waukomis (Pop. 973)
Platte Woods (Pop. 430)
If you're curious enough, here are the worst places to live in Missouri according to the data:
Berkeley (Pop. 8,912)
Caruthersville (Pop. 5,518)
Jennings (Pop. 14,672)
For more Missouri reading, check out:
Where Are The Best Places To Live In Missouri?
| Rank | City | Population |
| --- | --- | --- |
| 1 | Glendale | 5,881 |
| 2 | Ladue | 8,631 |
| 3 | Clayton | 16,763 |
| 4 | Town And Country | 11,109 |
| 5 | Des Peres | 8,654 |
| 6 | Ballwin | 30,177 |
| 7 | Olivette | 7,837 |
| 8 | Chesterfield | 47,603 |
| 9 | Creve Coeur | 18,627 |
| 10 | Shrewsbury | 6,108 |
| 11 | Kirkwood | 27,772 |
| 12 | Dardenne Prairie | 13,385 |
| 13 | Crestwood | 11,859 |
| 14 | Greenwood | 6,067 |
| 15 | Battlefield | 6,375 |
| 16 | O'fallon | 88,132 |
| 17 | Cottleville | 5,439 |
| 18 | Lake St. Louis | 16,357 |
| 19 | St. Charles | 70,650 |
| 20 | Ellisville | 9,752 |
| 21 | Weldon Spring | 5,536 |
| 22 | Richmond Heights | 8,581 |
| 23 | Parkville | 7,122 |
| 24 | Brentwood | 7,986 |
| 25 | Eureka | 10,203 |
| 26 | Grain Valley | 14,261 |
| 27 | St. Peters | 57,536 |
| 28 | Wentzville | 40,407 |
| 29 | Kearney | 10,460 |
| 30 | Lee's Summit | 98,997 |
| 31 | Webster Groves | 22,906 |
| 32 | Blue Springs | 55,415 |
| 33 | Nixa | 22,086 |
| 34 | Maplewood | 8,073 |
| 35 | Troy | 12,457 |
| 36 | Maryville | 11,641 |
| 37 | Raymore | 21,676 |
| 38 | Washington | 14,052 |
| 39 | Savannah | 5,170 |
| 40 | Manchester | 18,102 |
| 41 | Smithville | 10,269 |
| 42 | Columbia | 122,659 |
| 43 | Willard | 5,567 |
| 44 | Odessa | 5,240 |
| 45 | Sunset Hills | 8,466 |
| 46 | Wildwood | 35,476 |
| 47 | Peculiar | 5,305 |
| 48 | Ozark | 20,216 |
| 49 | Gladstone | 27,365 |
| 50 | Liberty | 31,761 |
| 51 | Carl Junction | 8,202 |
| 52 | Warrensburg | 20,313 |
| 53 | Oak Grove | 8,278 |
| 54 | Belton | 23,568 |
| 55 | Maryland Heights | 26,996 |
| 56 | Perryville | 8,500 |
| 57 | Waynesville | 5,260 |
| 58 | Jackson | 14,893 |
| 59 | Cameron | 8,941 |
| 60 | Farmington | 18,792 |
| 61 | Pleasant Hill | 8,611 |
| 62 | Arnold | 21,144 |
| 63 | Pevely | 5,937 |
| 64 | St. Ann | 12,689 |
| 65 | Republic | 16,571 |
| 66 | Pacific | 6,780 |
| 67 | Festus | 12,054 |
| 68 | Marshfield | 7,425 |
| 69 | Florissant | 51,220 |
| 70 | Trenton | 5,679 |
| 71 | Excelsior Springs | 11,688 |
| 72 | Marshall | 12,920 |
| 73 | Chillicothe | 9,106 |
| 74 | St. Robert | 6,193 |
| 75 | Rolla | 20,273 |
| 76 | Cape Girardeau | 40,100 |
| 77 | Hazelwood | 25,222 |
| 78 | Bolivar | 11,000 |
| 79 | Raytown | 29,176 |
| 80 | Bowling Green | 5,259 |
| 81 | Boonville | 8,300 |
| 82 | Dexter | 7,867 |
| 83 | St. Joseph | 75,369 |
| 84 | Sikeston | 16,664 |
| 85 | Union | 11,931 |
| 86 | Monett | 9,035 |
| 87 | Hannibal | 17,312 |
| 88 | St. John | 6,369 |
| 89 | Bridgeton | 11,577 |
| 90 | Kirksville | 17,645 |
| 91 | Macon | 5,357 |
| 92 | Overland | 15,644 |
| 93 | Joplin | 50,580 |
| 94 | Black Jack | 6,930 |
| 95 | Branson | 11,526 |
| 96 | Independence | 117,139 |
| 97 | St. Louis | 304,709 |
| 98 | Fulton | 12,696 |
| 99 | Warrenton | 8,388 |
| 100 | Harrisonville | 10,084 |
Editor's Note: We updated this article for 2022. This is our ninth time ranking the best places to live in Missouri.