Article Table Of Contents   
(Skip to section)
When the good people of Iowa aren't rooting for their Huskies or gnawing on a fresh ear of sweet corn at the West Point Sweet Corn festival, they can be found maintaining some of the best places to live in the country.
While the whole place is downright lovely, some spots in the Hawkeye State deserve special attention for standing out as truly extraordinary. This is why HomeSnacks created a list of the top ten best places to live in Iowa for 2022.
Iowa has quite the mix of great places to call home. Cool college towns like Sioux Center, yuppie cities like West Des Moines, and quaint farm towns like Carroll are not only some of Iowa's best places to live, they're also some of the best places to raise a family.
We can also thank some of Iowa's best places for giving the rest of the country businesses like Casey's General Store, Winnebago, and Pella windows. Business is great in Iowa and the economy is strong: we're talking 2.4% unemployment strong. Iowa is also currently one of the least dangerous states. We're not at all surprised. Iowans are so busy making their corner of the country great, they don't have time to be naughty.
So where are these amazing places in Iowa where homes are affordable, jobs are secure, and neighborhoods are safe?
Grab a Maid Rite, some ice cold lemonade, and read on.
The 10 Best Places To Live In Iowa For 2022
Picture rolling hills, cornfields for miles, and good, wholesome Iowans, and you will know what it's like to live in Iowa's number on place.
Where is the best place to live in Iowa for 2022? According to the most recent FBI and Census data, that would be Asbury.
To see Iowa's other best of the best places to live, take a look below. And if you don't find your favorite there, head to the bottom.
If you're looking for something more national, check out the best states in America or the best places to live in America.
For more Iowa reading, check out:
The 10 Best Places To Live In Iowa For 2022
We're taking a drive out to eastern Iowa to reach our best place in the state, Asbury. A suburb of Dubuque, Asbury's local economy is quite small. But the residents who are working in Dubuque do quite well for themselves, seeing as Asbury has the 2nd highest median household income in Iowa at $104,565/year. Homes are also the 4th most expensive statewide in Asbury, with a median price of $263,800. That doesn't seem to be turning people off of Asbury though because a whopping 90% of the population opts to buy instead of rent. And with Asbury's population exploding by more than 40% since 2010, the housing market isn't showing any signs of slowing down.
Asbury also has the 4th lowest poverty level in Iowa at 4.2%. An incredibly high 98.4% of residents also have health insurance, the 3rd highest rate in the state. While Asbury itself doesn't have a whole lot going on in terms of entertainment, a short drive to Dubuque can get you to the Mississippi River Museum & Aquarium or the Dubuque Botanical Gardens any time you want.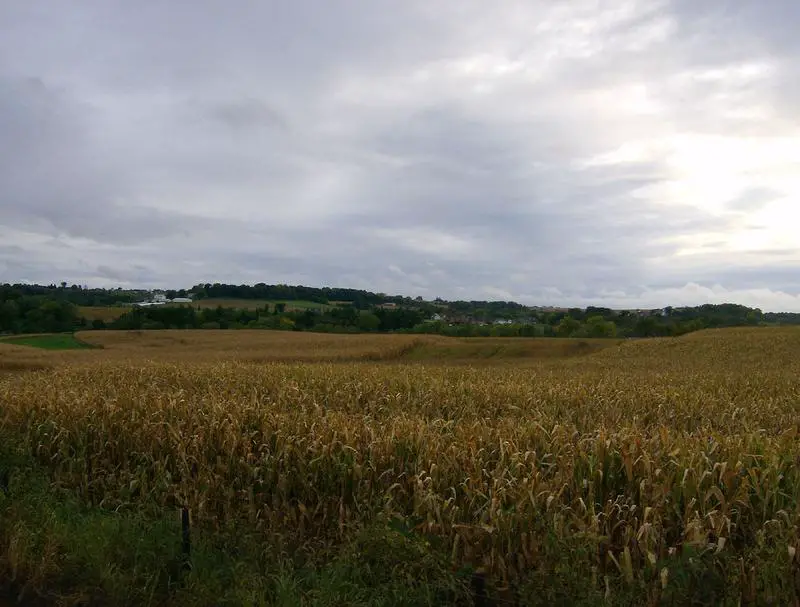 A big congratulations to Clive for holding onto the title of the best place to live in Iowa for the second year running. A western suburb of Des Moines, Clive stands out as an awesome city. For starters, there's nowhere in Iowa that has a higher median household income than Clive's $107,268/year. It's a good thing residents are paid so well in Clive because homes are also the 1st priciest in the state with a median cost of $284,800.
Clive also has the 11th lowest rate of violent crime in Iowa, so you never have to worry about a bar fight breaking out at the local 515 Brewing Co.. As for folks moving to Clive with kids, rest assured that they'll get all the resources they need because the city spends about 10% more per student than the statewide average. That's just one reason we named Clive amongst the best cities for families in Iowa. Having Des Moines just down the road is great for kid-friendly activities as well, but you don't have to struggle for parking in the big city to have a good day out; not when the Clive Aquatic Center is right in your neighborhood.
Clive also ranks as the 6th most densely-populated city in Iowa and the most densely populated place on this list. That means you'll always have plenty of action right at your doorstep.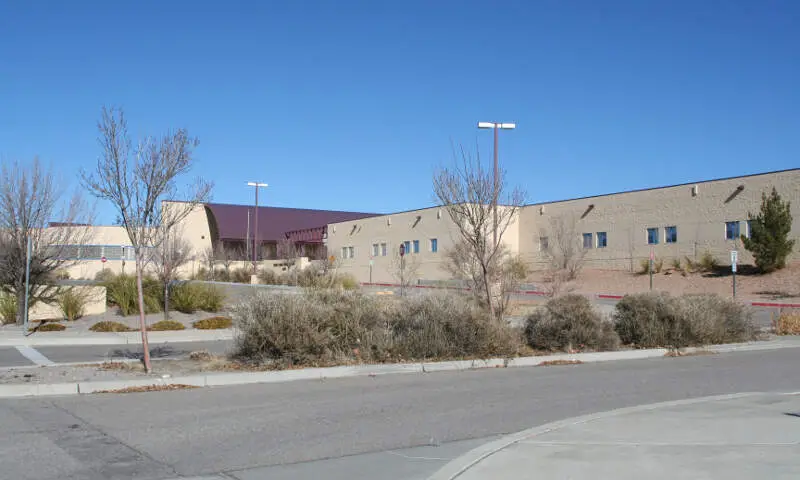 Source: Public domain
Urbandale is another Des Moines suburb located just west of the capital. With a population of 43,879, Urbandale is the most populous city we'll be covering on this list. It's a popular choice for those working in Des Moines looking to get away from the increased crime rates associated with the bigger city. Homes in Urbandale are the 6th most expensive in the state at $242,500. That doesn't seem to put people off though because nearly 80% of folks choose to buy instead of rent in Urbandale. Having the 3rd highest median household income in the state at $95,961/year certainly helps offset the cost.
The economy works for everyone in Urbandale as well. The unemployment rate is a measly 3.9% and the poverty level is the 11th lowest in Iowa at 5.4%.
Of course, being just 15 minutes from the heart of Des Moines comes with some great perks. Like being able to get the freshest goodies around at the Des Moines Farmer's Market and having ready access to all the events put on at the Iowa State Fairgrounds. And if you don't feel like looking for parking in Des Moines, there's always the option to catch a Buccaneers game closer to home.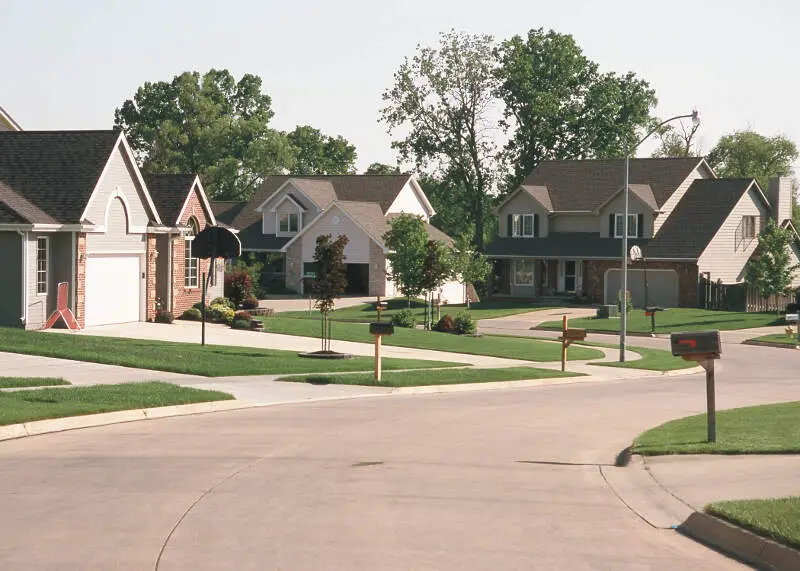 Source: Public domain
You would be hard-pressed to find an area more family friendly than Eldridge. This community located a little north of Davenport has almost everything a parent would want in a place to raise their children, including access to quality education. GreatSchools gives the area's Neil Armstrong Elementary School an 8/10 rating.
Moms and dads in Eldridge do not have to fret about how they are going to foot the bill for extracurricular activities either. The city's median household income of $81,150 should provide the financial wiggle room needed to cover the cost of gymnastics, piano lessons, and the like.
And for those oh-so-memorable family bonding moments like weekend camping trips, the more than 1,000 acres of Scott County Park should do the trick. Plus, Eldridge has the 8th lowest levels of total crime in the state, you can let your youngsters roam free with minimal worry.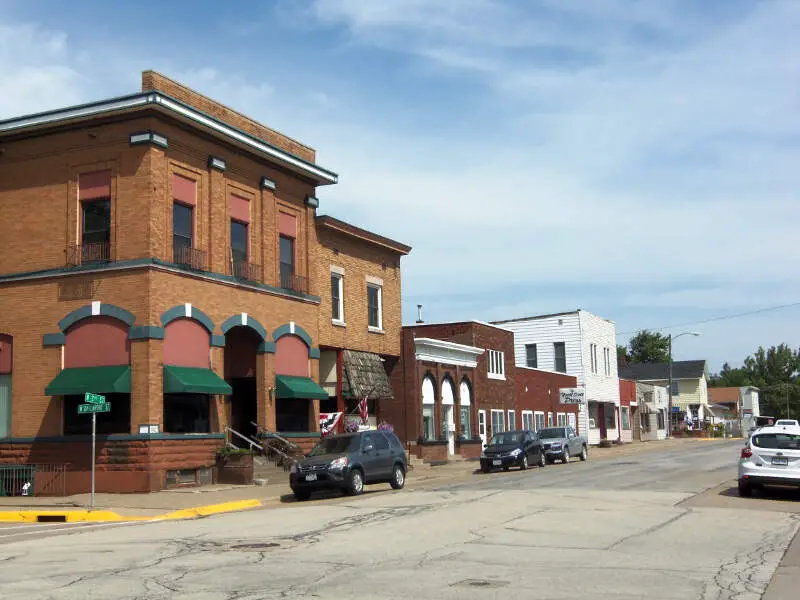 Next up on our tour of Iowa's best cities in Johnston, a northern suburb of Des Moines. GreatSchools gave Johnston's public schools an average score of 8/10, the best rating of anywhere on this list. The investment in youth pays off, because the high school dropout rate in Johnston is among the lowest in the state, while test scores and graduation rates are among the highest. This love of education transcends generations in Johnston, because over half the adult population finished college, and a whopping 20% have a master's degree, PhD, or professional degree.
History buffs with a military bent will find plenty to love at Johnston's Iowa Gold Star Military Museum, while those just looking for a do-nothing day will find solace at Saylorville Lake. At either venue, you won't have to worry about criminal activity, because Johnston had the 13th lowest crime rate in Iowa.
If you're trying to buy a home in Johnston, it'll cost you about $272,500, the 2nd highest price tag in the state. On the other hand, the median household income in Johnston is also the 6th highest in the state at $92,984/year, so if you can get salaries to match, the high price of housing shouldn't faze you much. Nor should medical bills, seeing as 97.3% of residents have health insurance, the 11th highest rate of places in Iowa.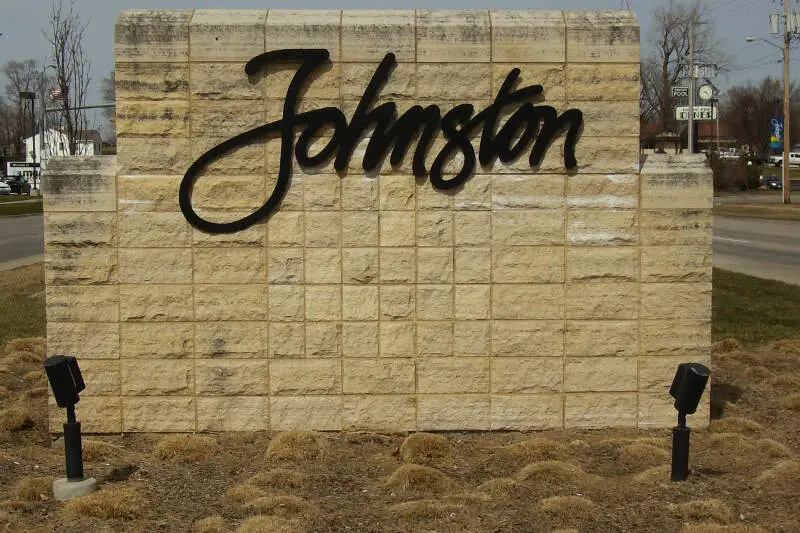 Head forty miles southeast of Des Moines and you will find Pella. If you dream of residing in Europe but that is not in the cards right now, this city founded by Dutch immigrants could be your next best option.
Pella offers many of the perks associated with life abroad. Some of the most notable being the high quality of life people who reside here can achieve thanks to a 1.4% unemployment rate and the lowest levels of poverty in Iowa.
That reliable paycheck means the area's $210,600 median home value is within reach. Parents will especially want to harness their purchasing power to land an abode zoned for Pella Middle School, which gets a 9/10 rating from GreatSchools.
Beyond providing its residents the opportunity to earn and learn their way to a better life, Pella also serves up a taste of Dutch culture — literally and figuratively. The city honors its roots through food, architecture, events and more. The area is even home to the Vermeer Windmill, the tallest working grain windmill in the United States.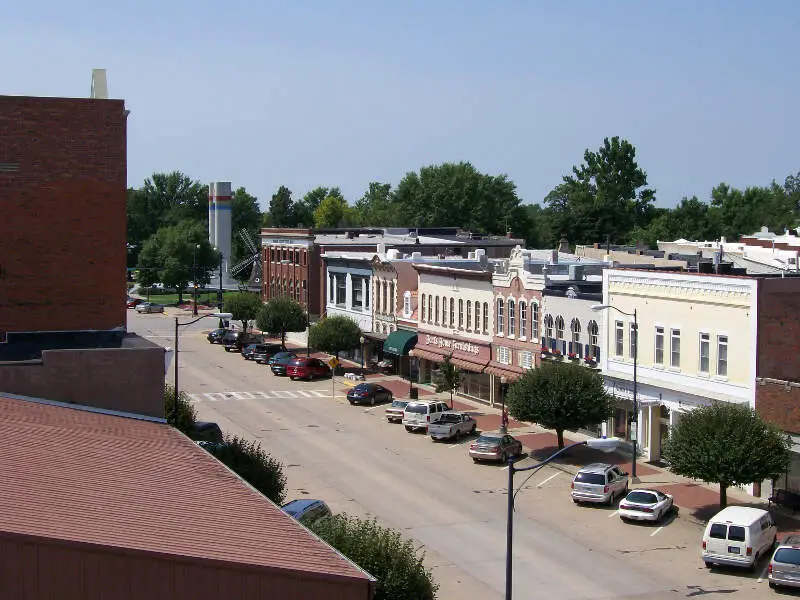 Decorah is the largest community of Winneshiek County in Iowa's northeast. While the top three places on this list have some hefty price tags, Decorah is the dream city for someone on a budget. The cost of living in Decorah is roughly 15% lower than the national average and the median home price is a reasonable $192,700.
Unemployment is low in Decorah and those with jobs enjoy the 10th shortest commute in the state at just 13 minutes. Schools are also top-notch and crime is low. In fact, Decorah had the 7th lowest crime rate in Iowa, with an especially low rate of violent crime.
There are plenty of attractions in Decorah, but we recommend Dunning Springs Park as the premier spot to get away from it all and relax for a few hours.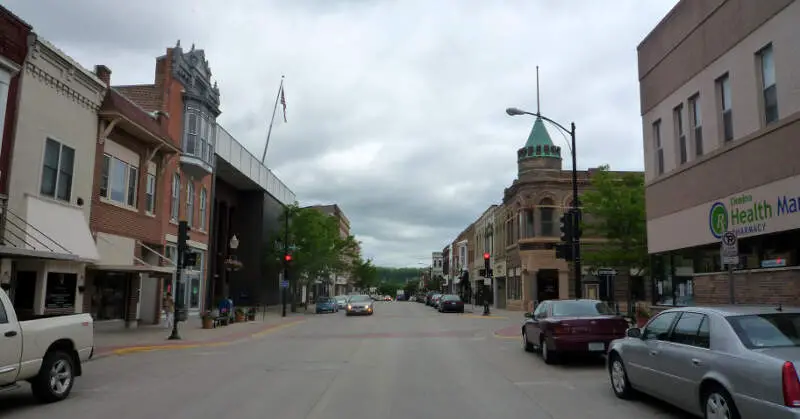 Located an hour north of Sioux City and south of Sioux Falls, the aptly named Sioux Center is the 8th best place to call home in Iowa. The unemployment rate in Sioux Center is the 2nd lowest in Iowa at 0.3%. If you're part of the mega-majority of employed residents, you also get the advantage of having the 6th shortest commute time in the state at just 12 minutes. That ought to help cut down on the everyday stress of traveling to and from work.
The median age in Sioux Center is a spritely 30, making it the youngest place to make this list. Don't let the young median age fool you, though; Sioux Center has the essentials down pat. In fact, it's the safest place in Iowa. On top of that, Sioux Center spends 60% more per student and has a student-teacher ratio 30% lower than the statewide average.
As for non-essentials, Sioux Center also has you covered with the Siouxnami Waterpark, home to the only aqua zipline in Iowa. For the more mature crowd, there's always a chance to get the Northwest Iowa Symphony Orchestra at Dordt University.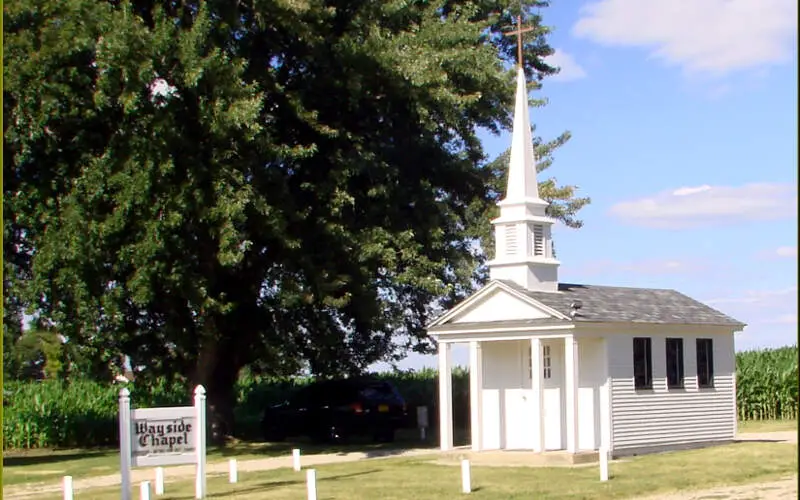 Carroll is a city of 9,823 located about an hour and a half northwest of Des Moines. Carroll is the oldest city to make this list, with a median age of 43. That experience comes in handy when making a successful city. The violent crime rate in Carroll is the 9th lowest in Iowa. If you do get banged up somehow, you shouldn't go bankrupt from medical bills, because 98.2% of residents have health insurance, the 6th highest rate in Iowa. As for other quality of life perks, Carroll residents enjoy the 2nd shortest commute time of anywhere in Iowa, with the trip to and from work taking an average of 10 minutes.
At $146,300, Carroll has the cheapest homes of cities that made this list. That means it's easier to get yourself started here than most places. Especially with a cost of living roughly 10% lower than the national average. There's a lot to love in Carroll that doesn't make it onto a stat sheet. Like the 30+ miles of biking trails, college baseball, great shopping downtown, and excellent local drink options for beer, wine, and whiskey lovers alike.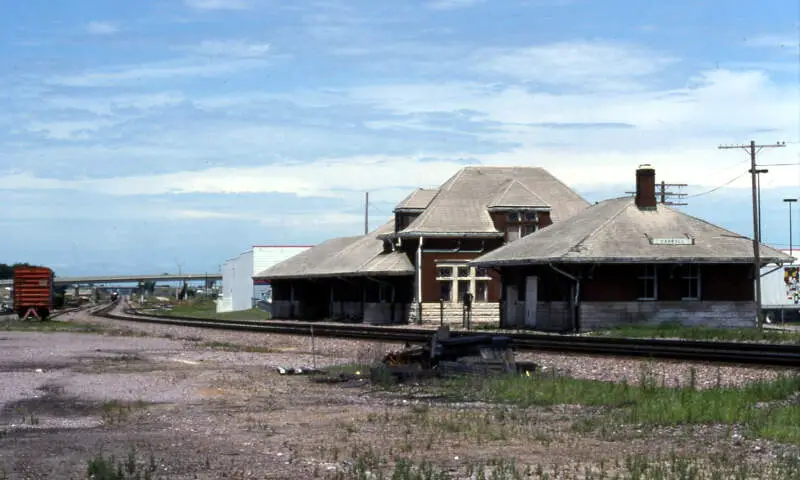 Bettendorf is a suburb of Davenport and a part of the Quad Cities area of eastern Iowa and western Illinois. Bettendorf is a great family city where around 20% of the population are younger than 18. Public schools consistently outshine the statewide average in test scores and Bettendorf's high school dropout rate is the 24th lowest in Iowa. Bettendorf's adults also love to learn, seeing as over half of them have a college degree and 20% have a master's degree or higher.
Staying in school pays off because Bettendorf's median household income is $85,404/year, the 10th highest in the state. As for family-friendly amenities, Bettendorf has you covered with the Family Museum of Art and Science.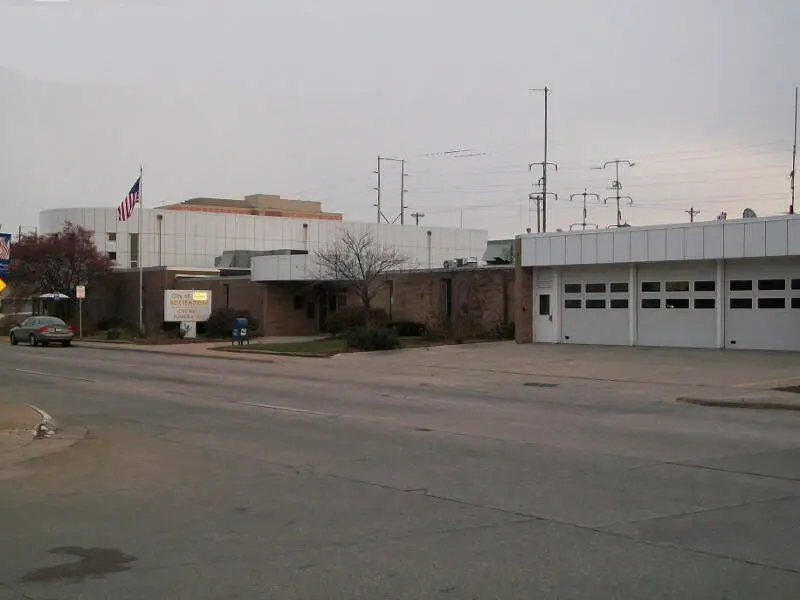 Source: Public domain
Mapping The Best And Worst Places To Live in Iowa
The Pressing Question: Size
Before we even started to collect data, we had to answer a tough question: Is it fair to pit Des Moines with a population of 215,408 against places with a population of 18?
We firmly decided no, that just isn't fair.
So to create our ranking, we broke places to live into three tiers:
Cities — Populations over 5,000
Towns — Populations between 1,000 and 5,000
Small Towns — Populations below 1,000
This left us with 74 cities, 213 towns, and 645 small towns.
We then decided, no matter how much anyone loves their town, the best cities to live in Iowa have more of everything and therefore you need to have over 5,000 people to truly be 'the best'.
Now we also realize that city living might not be your cup of tea, so we ran the following analysis on towns and then again for small towns.
You can see those two top tens at the bottom of the post.
Methodology: How We Calculated The Best Cities To Live In Iowa
Now that we had our set of cities, it was time to rank them.
We ranked each place in Iowa across a number of criteria from one to 74, with one being the best.
We then took the average rank across all criteria, with the city posting the lowest overall score being crowned the winner of the title "Best Place To Live In Iowa".
The criteria we looked at were:
Median Home Values
Median Income
Population Density (Higher better)
Unemployment Rate
Commute Time
Crime
Education Levels
Health Insurance Coverage
Poverty rates
Sources of criteria include the New Census Data and FBI Crime Data. You can download the data here.
After the dust settled, what was the best place to live in Iowa? That would be Asbury.
If your city or town isn't among the top 10, jump down to the bottom of the post to see a detailed chart of the best places in Iowa.
Otherwise, buckle up for a ride down good living lane with Asbury at the end of the cul-de-sac.

Summary: The Best Places When It Comes To Living In Iowa
If you're looking at areas in Iowa with the best economic situations, where there's lower than average crime, and a lot to do, this is an accurate list.
Asbury made a strong showing to take in the overall number one spot for the best place to live in Iowa for 2022.
Best Towns To Live In Iowa
Fairfax (Pop. 2,418)
Walford (Pop. 1,428)
Mount Vernon (Pop. 4,487)
Robins (Pop. 3,434)
Farley (Pop. 1,688)
Atkins (Pop. 1,713)
Dike (Pop. 1,309)
Roland (Pop. 1,312)
Ely (Pop. 2,133)
Gilbert (Pop. 1,183)
Best Small Towns To Live In Iowa
Westwood (Pop. 96)
Halbur (Pop. 243)
Lawton (Pop. 900)
Swisher (Pop. 846)
North Washington (Pop. 161)
Long Grove (Pop. 952)
Underwood (Pop. 808)
Orleans (Pop. 459)
Oakland Acres (Pop. 116)
Lambs Grove (Pop. 200)
If you're curious enough, here are the worst places to live in Iowa according to the data:
Ottumwa (Pop. 24,505)
Clinton (Pop. 25,290)
Centerville (Pop. 5,433)
For more Iowa reading, check out:
Where Are The Best Places To Live In Iowa?
| Rank | City | Population |
| --- | --- | --- |
| 1 | Asbury | 5,931 |
| 2 | Clive | 17,246 |
| 3 | Urbandale | 43,879 |
| 4 | Eldridge | 6,678 |
| 5 | Johnston | 22,077 |
| 6 | Pella | 10,279 |
| 7 | Decorah | 7,615 |
| 8 | Sioux Center | 7,592 |
| 9 | Carroll | 9,823 |
| 10 | Bettendorf | 36,214 |
| 11 | Ankeny | 64,744 |
| 12 | West Des Moines | 66,724 |
| 13 | Norwalk | 11,467 |
| 14 | Marion | 39,910 |
| 15 | North Liberty | 19,159 |
| 16 | Waukee | 22,598 |
| 17 | Coralville | 21,630 |
| 18 | Boone | 12,470 |
| 19 | Spirit Lake | 5,130 |
| 20 | Le Mars | 10,012 |
| 21 | Winterset | 5,309 |
| 22 | Altoona | 18,917 |
| 23 | Sheldon | 5,178 |
| 24 | Waverly | 10,172 |
| 25 | Nevada | 6,737 |
| 26 | Independence | 6,085 |
| 27 | Pleasant Hill | 9,959 |
| 28 | Knoxville | 7,154 |
| 29 | Grimes | 13,746 |
| 30 | Indianola | 15,921 |
| 31 | Mount Pleasant | 8,574 |
| 32 | Cedar Falls | 40,750 |
| 33 | Dubuque | 58,052 |
| 34 | Glenwood | 5,325 |
| 35 | Algona | 5,415 |
| 36 | Ames | 66,361 |
| 37 | Bondurant | 6,567 |
| 38 | Vinton | 5,075 |
| 39 | Cedar Rapids | 133,125 |
| 40 | Clear Lake | 7,594 |
| 41 | Grinnell | 9,069 |
| 42 | Spencer | 11,038 |
| 43 | Manchester | 5,011 |
| 44 | Hiawatha | 7,395 |
| 45 | Atlantic | 6,600 |
| 46 | Iowa Falls | 5,067 |
| 47 | Muscatine | 23,661 |
| 48 | Red Oak | 5,323 |
| 49 | Storm Lake | 10,508 |
| 50 | Fairfield | 10,327 |
| 51 | Clarinda | 5,371 |
| 52 | Creston | 7,754 |
| 53 | Newton | 15,160 |
| 54 | Oskaloosa | 11,727 |
| 55 | Estherville | 5,729 |
| 56 | Anamosa | 5,484 |
| 57 | Denison | 8,319 |
| 58 | Washington | 7,318 |
| 59 | Oelwein | 5,896 |
| 60 | Burlington | 24,858 |
| 61 | Davenport | 102,199 |
| 62 | Marshalltown | 26,957 |
| 63 | Des Moines | 215,408 |
| 64 | Perry | 7,660 |
| 65 | Maquoketa | 5,990 |
| 66 | Council Bluffs | 62,376 |
| 67 | Fort Dodge | 24,168 |
| 68 | Waterloo | 67,671 |
| 69 | Osceola | 5,160 |
| 70 | Keokuk | 10,225 |
| 71 | Fort Madison | 10,407 |
| 72 | Ottumwa | 24,505 |
| 73 | Clinton | 25,290 |
| 74 | Centerville | 5,433 |
Editor's Note: We updated this article for 2022. This is our ninth time ranking the best places to live in Iowa.