Swipe left for slideshow. Article continues below.
Do you live in one of the happiest places in Oregon?
According to a Harris Poll taken in October of 2015, only a third of Americans say they are truly happy. That's too bad, considering that Americans – especially folks in Oregon – don't really have it too bad, in the grand scheme of things.
But, we were curious – which Oregon cities might be the most happiest? We're talking about the places that have it all figured out. Where things are just peachy keen.
Using science and data, we can tell where everything is just fine and dandy, thank you very much.
After analyzing the largest cities, we gleefully present the happiest places in Oregon:
West Linn
Bethany
Lake Oswego
Sherwood
Happy Valley
The Dalles
Demascus
Central Point
Florence
Baker City
Read on below to see how we crunched the numbers and how your town ranked. If you have a smile on your face, you probably live in one of these cities where things are A-Ok.
Oh, and by the way, Lincoln City is the most miserable place in Oregon. Portland? 9th unhappiest.
How do you decide if a city in Oregon is happy or not?
In order to rank the happiest places in Oregon, we had to determine what criteria makes people happy. It isn't a stretch to assume that happy people earn great salaries, are relatively stress free, have a stable home life and live where the weather is nice.
So we scraped the internet for those criteria, and it spit out the answer. Like magic.
How we crunched the numbers
We threw a lot of criteria at this one in order to get the best, most complete results possible. Using FBI crime data, the government census, Bureau of Labor Statistics, Sperling's Best Places, and Twitter, this is the criteria we used, looking at the state's 50 largest cities:
Percentage of residents with a college degree
Average commute times
Employment rates
Cost of living
Crime
Sunny days
% of married couples
% of homeowners
For geo-located Tweets, we used #happy.
If you'd like to see the complete list of cities, there's a chart below the quick summary with the top 50 places.
1. West Linn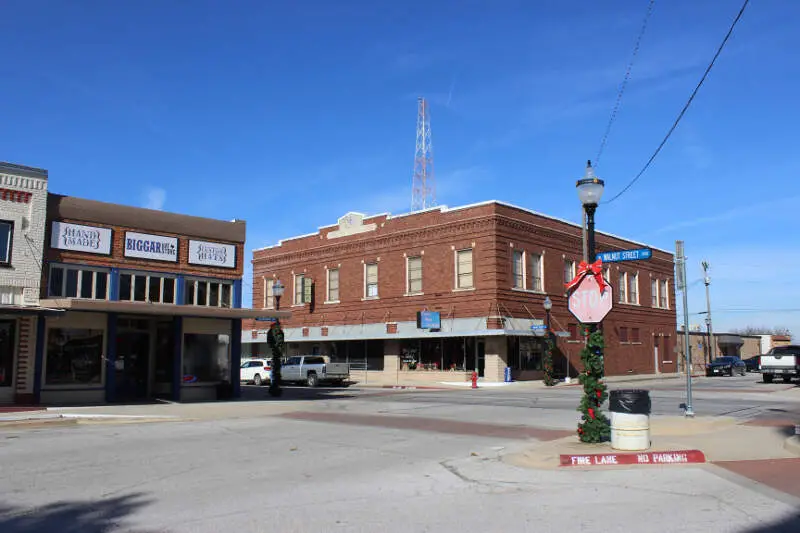 Wikipedia
Population: 25,394
College degrees: 3rd highest
Unemployment rate: 4th lowest
There are some smiling, happy people in West Linn, where it appears that things are out of sight. At least that's what the data says. Here's why:
87% of the population has a college degree, which is the 3rd highest rate in the state. And, only 5.3% of West Linn residents are unemployed. There's something to be said about having a steady job, when it comes to happiness.
Additionally, 2 in 3 West Linn residents is married, which is the 6th highest rate in the state. Now if they're happily married or not…we can't speculate on that.
2. Bethany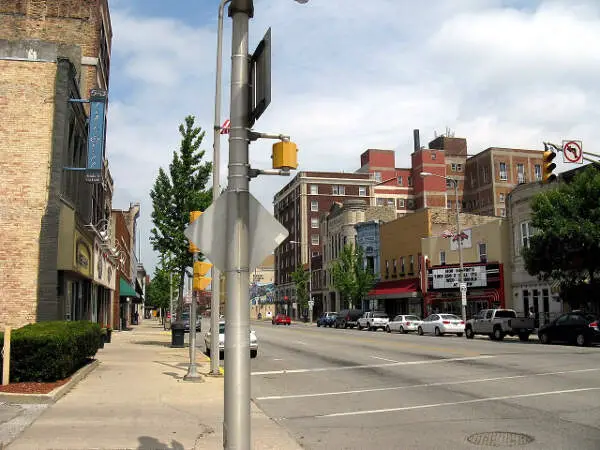 Source: Google Maps
Population: 20,505
College degrees: 87.4%
Incomes: Highest
Bethany is the bees knees, folks. Families in Bethany average about $107,000 a year in salaries. We're not speculating that money buys happiness, but what it does buy you is safety and the freedom to do what you want, when you want. And certainly, Bethany residents have that advantage over most other cities, considering they're the wealthiest in the state.
68% of Bethany folks are married, and most have solid jobs. Bethany is a CDP just outside of Portland.
3. Lake Oswego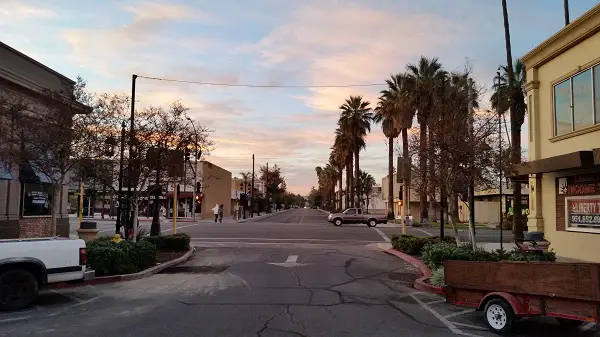 Source: Google Maps
Population: 36,814
College degrees: Most
Unemployment rate: Lowest
No city has more employed, smart people than Lake Oswego, so you can say they're kinda' the bomb diggity. Nearly 89% of the population finished college, and only 4.8% are out of work. We've all been there before – looking for a good job can really be a depressing moment in one's life.
Crime is also the 11th lowest in Oregon here.
4. Sherwood
Wikipedia
Population: 18,088
Crime: 8th safest
Incomes: 6th highest
Sherwood is on the southern fringes of Portland, where crime is far lower than in most other places in the state. Feeling safe certainly adds to a level of one's happiness.
Factor in great jobs and the fact that 78% of people in Sherwood own their own home, and you have a place of butterflies and rainbows.
Figuratively, of course.
5. Happy Valley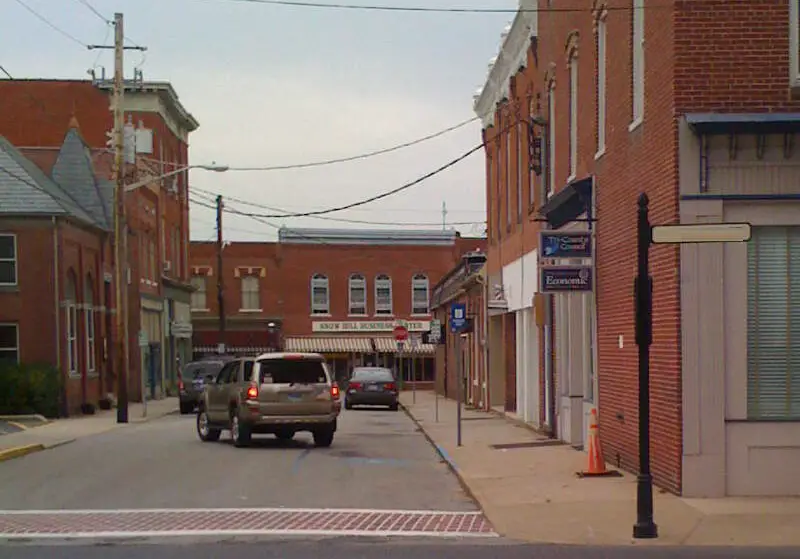 Source: Google Maps
Population: 14,050
Crime: 5th lowest
Incomes: 2nd highest
Married rate: Highest
Well the name says it all, folks. How does a city named Happy Valley not have lots of happy people in it?
The data proves it's true. Families hover in the $100,000 range each year, and it's the 5th safest place to raise kids. The married rate is 71%, and 76% of people own their own homes.
Frankly, you'd be hard pressed to find another place with such great statistics.
6. The Dalles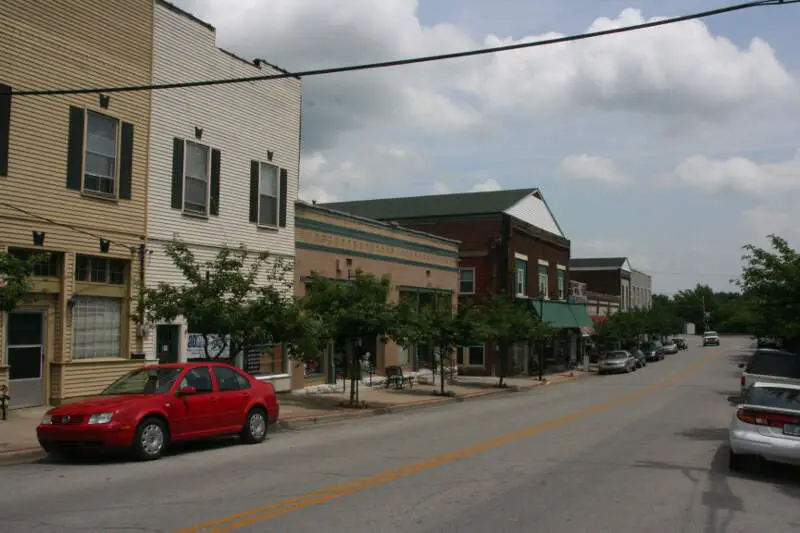 Source: Google Maps
Population: 13,357
Sunny days: 5th most
Commute times: 7th lowest
In Oregon, sunshine is certainly a valued thing. Here in The Dalles, you see the sun for an average of 177 days a year, which is one of the highest numbers in the state. It's been proven that sunshine does really make you happy.
In terms of time with the kids, residents here average only about 28 minutes a day going back and forth to work. That's really low for Oregon.
7. Demascus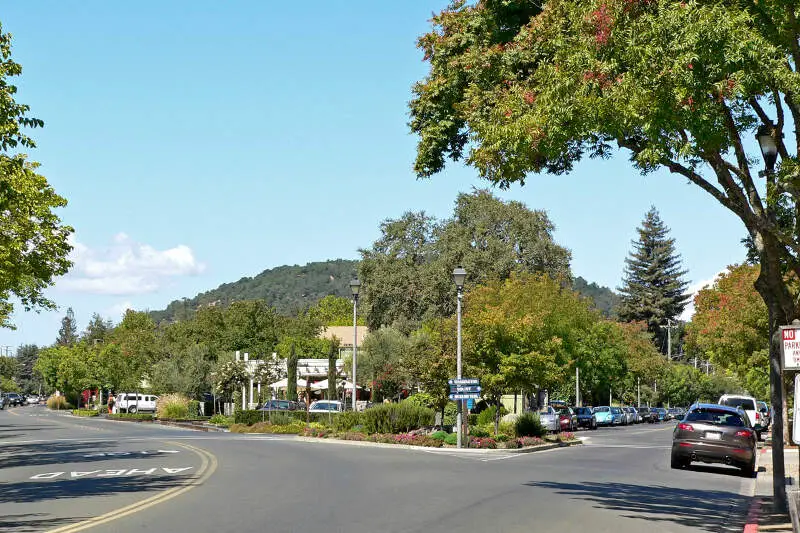 Source: Google Maps
Population: 10,529
Crime: 2nd lowest
Incomes: 3rd highest
Homeowners: Most
Demascus is just a super duper place. There isn't a place in Oregon that's safer, where residents earn more money and with the highest concentration of homeowners than in Demascus, a Portland suburb.
A whopping 90% of families own their own home. Home Sweet Home, indeed.
8. Central Point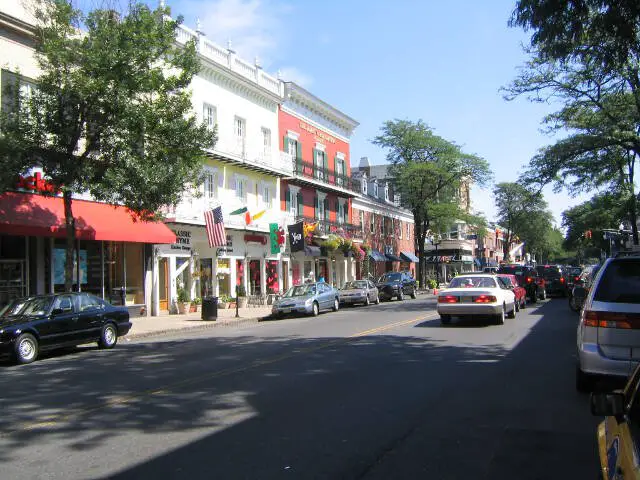 Source: Google Maps
Population: 17,078
Crime: 14th lowest
Sunny days: 3rd most
Sunshine on your shoulders in Central Point seems to be a regular thing. You get to see the sun for about 192 days a year. Only Klamath Falls and Altamont get more sun every year.
Plus, it's really safe in Central Point, a smallish city way down on I-5 north of Medford.
If there's a knock on Central Point, it might be its high unemployment rate of 8.9%, which is the 20th highest in The Beaver State.
9. Florence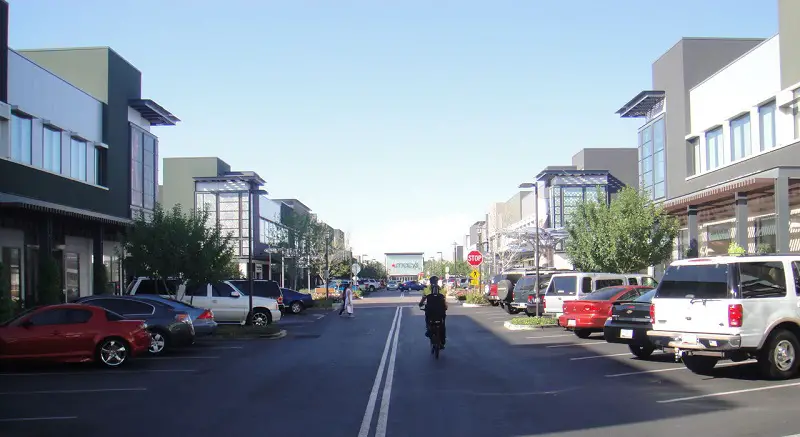 Wikipedia
Population: 8,412
Commute time: 4th lowest
Crime: 9th lowest
Who wouldn't be happy living along the coast with low commute times and a safe community? We're all jealous of the people in Florence, a teeny little haven along Highway 101 between Coos Bay and Newport. You might say things are hunky dory here.
You also get lots of sunshine here – at least for Oregon standards – 160 days a year. That's almost every other day!
10. Baker City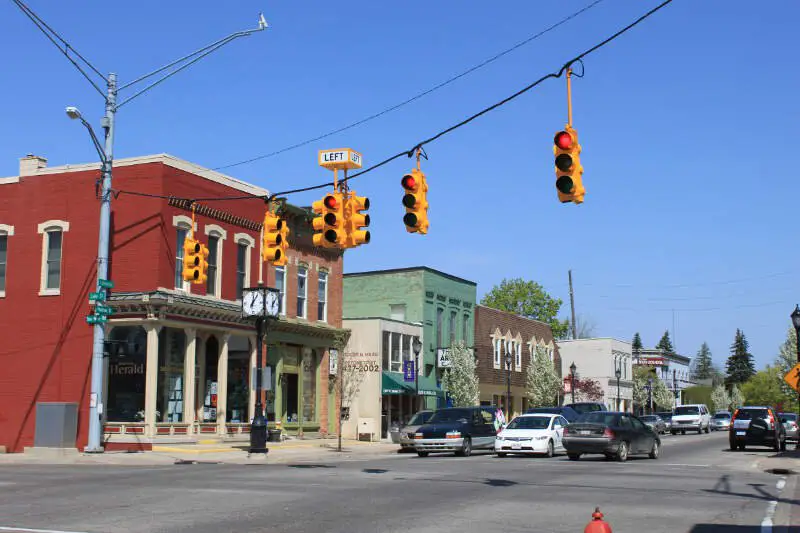 Wikipedia
Population: 9,900
Commute time: 3rd lowest
Cost of living: 3rd lowest
Baker City residents aren't nearly as gainfully employed as many other cities in Oregon. This city way out on I-84 on the eastern half of the state has a lot of other things going for it, though. It's safe, commute times are really low, and the cost of living is just about as low as you'll see in the state.
Happiness, indeed.
There You Have It
Like we said earlier, trying to determine the happiest cities in Oregon is usually a subjective matter. But if you're analyzing cities where people are not stable, where it's dangerous and the weather is bad, this is an accurate list.
Other cities of note: Corvallis, Eugene and Salem were all in the middle of the pack.
If you're curious enough, here are the most miserable cities in OR, according to science: Lincoln City, Gresham, Springfield, Seaside, Madras.
Here's a link to the complete data chart.
We also wrote about the 10 drunkest cities in Oregon if you want another light-hearted study.

The Happiest Cities In Oregon, with detailed information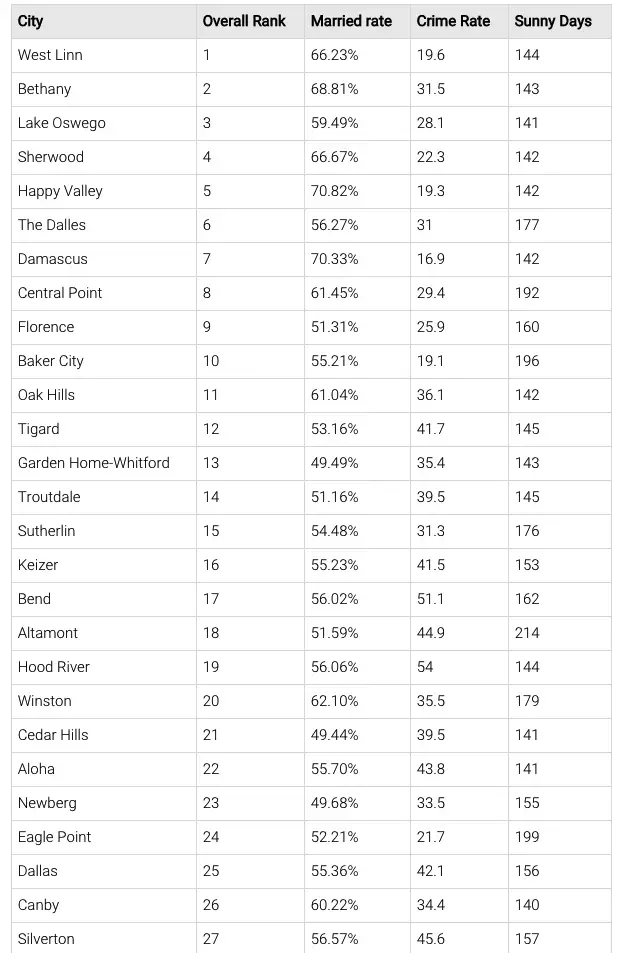 Desktop users, below is a chart of the happiest cities in OR from top to bottom: