Article Table Of Contents   
(Skip to section)
To truly know what it means to live where it's the best in the West, one must experience the super safe, super beautiful, super awesome, best state of Arizona.
Arizona is known for its beautiful deserts, gigantic canyons, and majestic mountains. And folks, it doesn't end there.
The good people Arizona are always looking out for each other. They have placed sprinklers all over the state to help with the 'dry heat'. They've taken the rattle out of their pesky rattlesnakes. And don't get us started on how they've trained the scorpions and tarantulas to steer clear of humans.
Whether you're a Northern Arizona Lumberjack fan or a University of Arizona Wildcats fan, or just a fan of great cities, great weather, and great people, there's a city in Arizona for you.
Arizona has every type of city for every type of person. Hip millennial cities like Phoenix, cowboy and cowgirl cities like Winslow, and college cities like Tucson are great places to find work, raise families, and just plain enjoy life.
How did we determine the best places to live in Arizona for 2022?
Grab a carne asada burrito and a cold Corona and read on.
The 10 Best Places To Live In Arizona For 2022
The cities in Arizona are known for their quirky "How the West Was Won,' western vibe with amazing local flare, and out-of-this-world Mexican restaurants.
And don't get us started on Arizona skies that go forever and sunshine that pulls even the grumpiest out of their slump.
Needless to say, it was very difficult to narrow down 53 of Arizona's best places to live to just ten.
What city is the best place to live in Arizona for 2022? Well according to the UC Census and FBI data we crunched, Paradise Valley is the best place to live in Arizona if you care about home values, low crime, and a high quality of life.
If you're looking for something more national, check out the best states in America or the best places to live in America.
For more Arizona reading, check out:
The 10 Best Places To Live In Arizona For 2022
We don't know about you, but anytime we see "Paradise" in a name we get pretty excited. And, folks, everyone should be excited about Arizona's #1 best place to live, Paradise Valley.
Located directly North of Scottsdale, this affluent, small town in Maricopa County scored a perfect 10/10 SnackAbility Score with an emphasis on jobs, homes, and great schools.
Paradise Valley has the 2nd unemployment rate on the list and the jobs that residents talk about at the neighborhood bar-be-ques require a degree. Matter of fact, if we had a "Smartest Places in Arizona" list Paradise Valley would probably be number one, too, as it has the largest number of residents with a Bachelors, Master, and/or Professional Degree on our list. You're also going to need that degree to make the household median income of $212,773/year to live comfortably because Paradise Valley has the 1st median home price in the state. In fact, be prepared to pay $1,663,200 to fit in here.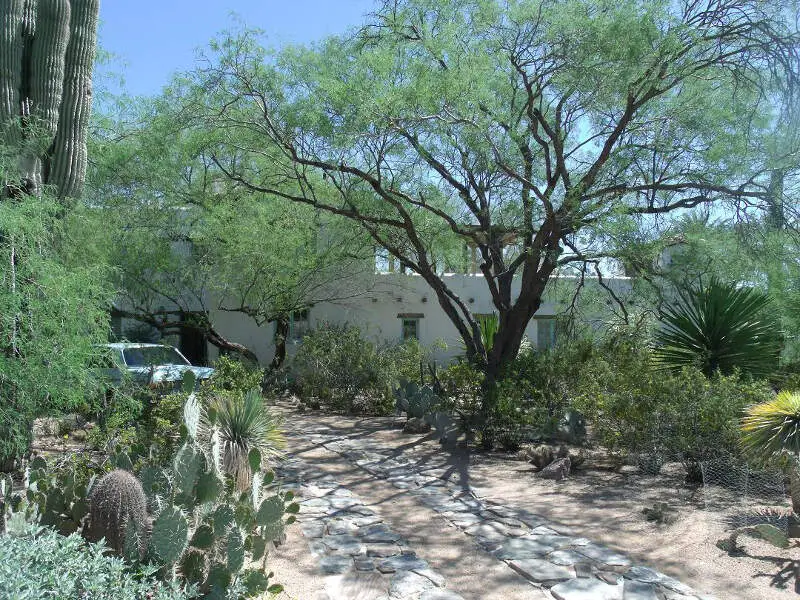 "Gilbert: Clean, Safe, Vibrant" has a new adjective to add to this motto, they are Arizona's 2nd "Best" place to live.
Once the "Hay Shipping Capital of the World," the 248,349 residents who live here know what it means to work and it shows. Besides its rapid transformation from an agriculture-based community to an economically diverse suburban center, the Gilbert's unemployment rate is 4.1% making it one of the most competitive job markets on our list.
Speaking of jobs and income, Gilbert's 3rd highest income in the state landed it on the list of the richest places in Arizona's for 2022. You're going to need to earn a median household income $99,154/year to afford Gilbert's median home price of $348,000 and the city's overall cost of living. That high income will also come in handy when you want to partake in all of the cool things that Gilbert has to offer. Yes, a high performing mountain bike to ride the expert trails at San Tan Mountain Regional Park is not only neccessary, it will cost you.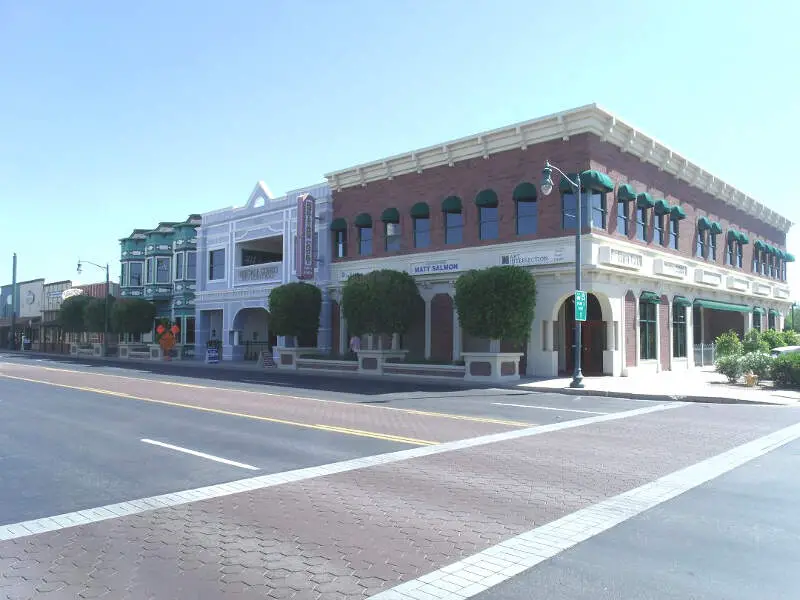 Scottsdale is not only Arizona's 3rd best place to live, it's one of Arizona's fanciest places. So, when the census reported that the median household income in "The West's Most Western Town," was the 5th in the state at $91,042/year, we did not bat an eye. So, don't be surprised if you find an eclectic mix of people who might ask you to make the 20 minute trek to Phoenix to hike Camelback Mountain during the day only to top it off with one of Scottsdale's top Michelin Star restaurants for an evening of fine dining.
To keep an affluent place of this nature safe, the city of Scottsdale has pulled out all of the stops: the crime rate here is 7% the national average and that is thanks to the efforts of the Greater Phoenix Police Department.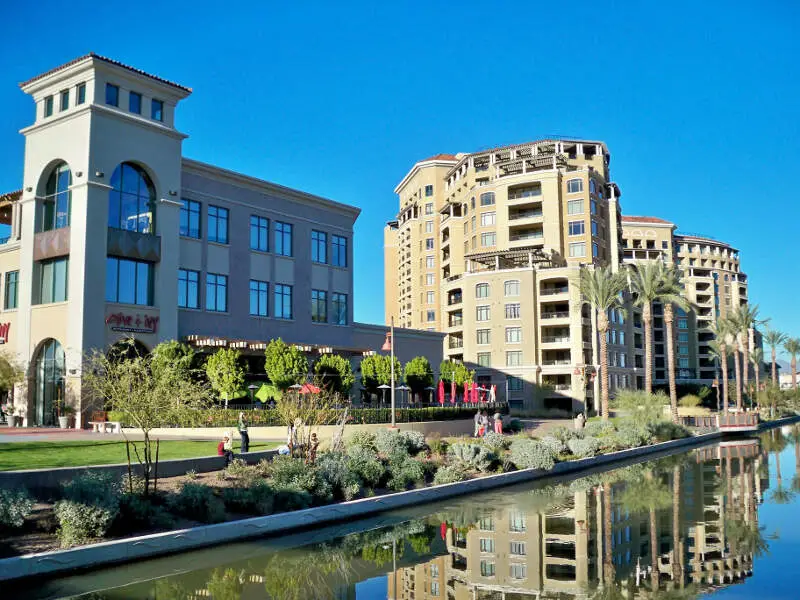 Just a stone's throw North of Tucson is Arizona's 4th best place to live, Oro Valley. This desert playground for both old and young alike is a highly sought after suburb of residents who make $86,863/year and live in homes that cost $330,400.
Incidentally, the unemployment rate in Oro Valley is quite a bit above the national average at 5.0%, so don't pack up the "fam" and move to this desert oasis until you have a direct connection to an Oro Valley job opportunity.
When you are ready to live in Oro Valley, know that your family is going to be safe, as this city in Pima County is one of the top safest places in Arizona with a crime rate 50% below the national average. And when it comes time to send your kids off to school each day, they will be going to some of the best schools in the state: Oro Valley scored a 9.5/10 for education on our SnackAbility scale.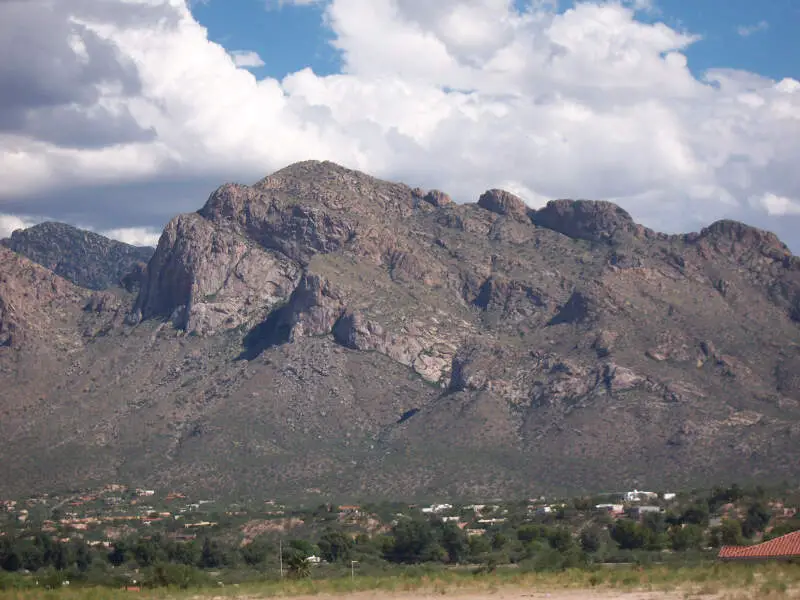 There are a bunch of reasons that Chandler is the 5th best city in Arizona. To list all of them, would require its own article.
For one, this city in Maricopa County has over 50 parks–yes, you read that right–for 257,076 residents. To put it in perspective, you could visit a different park here every month for five years. (We recommend you start with Desert Breeze Park because it has everything: bike trails, water features, and playgrounds.) However, this is not the only reason Chandler scored a 9.5/10 on our SnackAbility scale for amenities, it also has some pretty great shopping and dining.
But, what really sets Chandler apart is the number of educated residents keeping the cost of living here down. If you want to be part of the "cool Chandler kids," you better come to the table with a Bachelor's or Master's Degree as over half the residents here have a college degree. A degree will not only help you seem smart amongst your peers, it will also help you make the median household income of $85,796year. And that, friends, will help you pay Chandler's median home price of $324,500.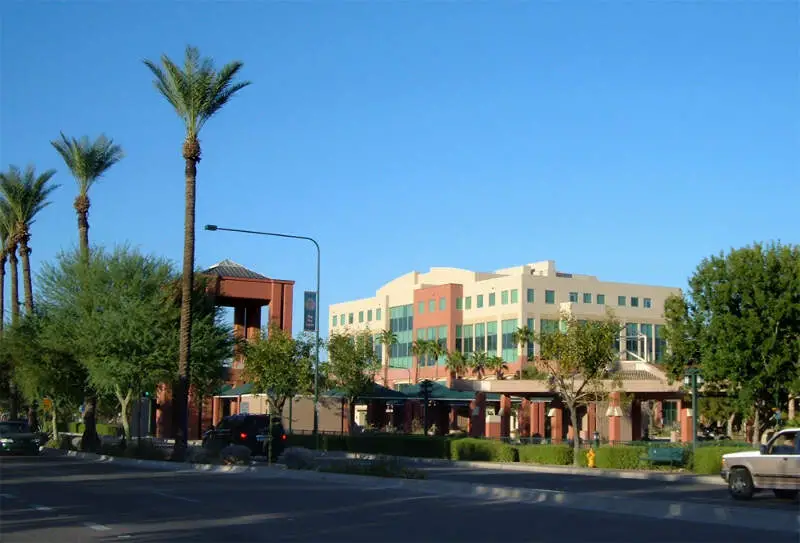 There are no complaints in the "Marana department" as this place is the 6th best place to live in Arizona. And the reason the residents in Marana are so content, their cost of living is not much higher than the national average making it the 15th best place to buy a home. If buying a home isn't in your budget, Marana's average rent is $1,295/month.
But, don't get it twisted, you're going to need to make $89,689/year to live comfortably in Marana. And while Marana's overall unemployment rate is the 15th in the state at 4.6%, the highest paying jobs are in healthcare. So, if a Professional Degree is not in your foreseeable future but living in Marana is, get to know the job market here so that you don't miss out: Marana has been one of the fastest growing cities in Arizona for the past 10 years. Its proximity to Tucson and the 10 FWY has made it very desirable and competitive for "thirty-somethings" who want to live that small town life with big city nightlife a 30 minute Uber ride away.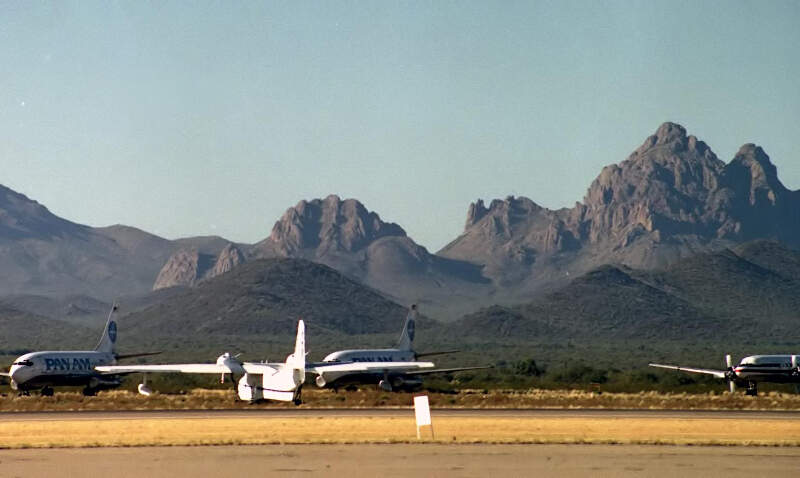 You've probably seen Prescott in the headlines for many things. Just recently, KTAR News covered the most expensive places to live in Arizona and Prescott was named one of the top cities. And since money makes the world go round, it should be no surprise that Prescott is also the 7th best place to live in The Valentine State.
Prescott residents don't just have their hands on some of the biggest piggy banks, the median household income here is $58,562/year. But, when you're done working hard for that money, you'll get to play in one of the biggest year-round playgrounds in Arizona. The Prescott National Forest is in their backyard and Flagstaff and Sedona are in their back pocket. So, if you find yourself with nothing to do in Prescott it's your own fault.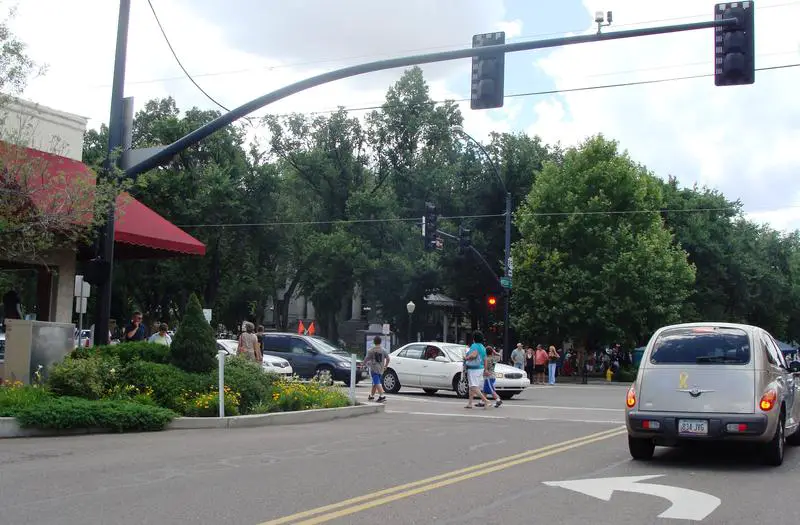 You'll be 30 minutes from the Saguaro National Park and the first class bike trails at Tucson Mountain Park if you buy your forever home in Arizona's 8th best place to live, Sahuarita. Basically, you'll never be bored in this small town of 30,679 residents. And if you do start to get bored, the unemployment rate here is 6.4%, so you shouldn't have trouble finding more than one job to keep you entertained and out of trouble. Not that you'd find trouble here: Sahuarita's crime rate is 50% below the national average.
We're not sure why Sahuarita's population isn't the size of one of Arizona's top biggest cities as this city has managed to keep its cost of living well below the national average and its median home price the 23rd most affordable in the state at $237,300.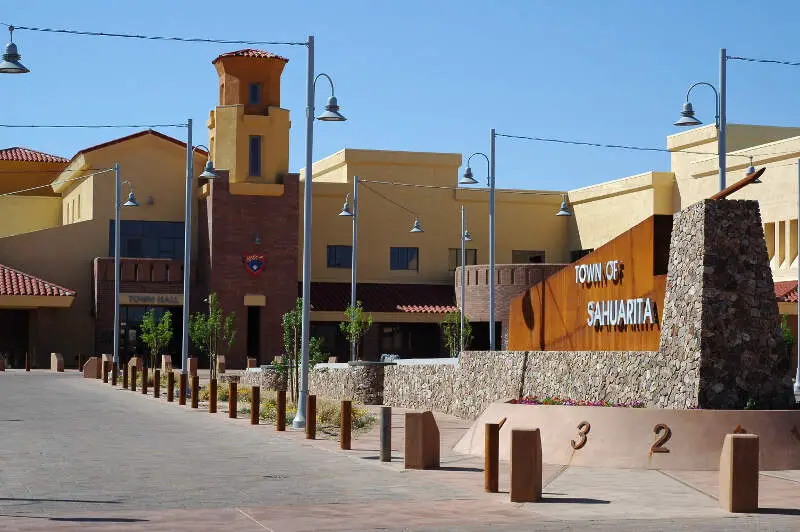 Given the story behind its name, living in Surprise, Arizona, comes with a certain amount of irony. It earned its unusual moniker after its founder said she "would be surprised if the town ever amounted to much." Well, "amounting to much" is an understatement at this point. Surprise ranks as the number 9 best place to live in Arizona.
The area has a median income of $71,192 and a median home value of $258,700. The unemployment rate comes in at 4.7%. Despite its size and proximity to the big city, the crime rate in Surprise is low, coming in well below the national average. The cost of living is about standard for the U.S. as a whole.
A suburb of Phoenix, commuters have just a 45-minute trip into the heart of the city. If they head in the other direction, though, they can enjoy some of Arizona's beautiful landscapes. The city is located near the border of the White Tank Mountain Regional Park.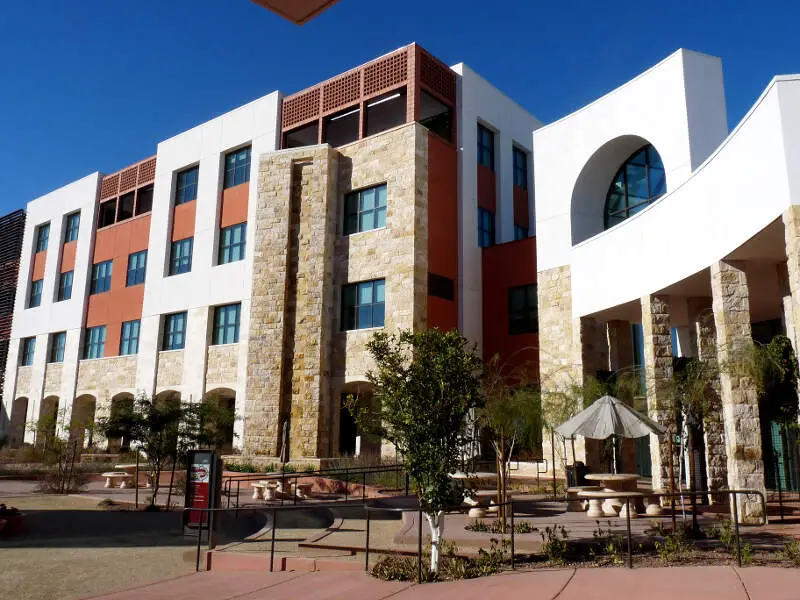 Fountain Hills is aptly named. Located in the hills of Arizona, it features one of the world's largest fountains, a massive attraction spurting a jet of water 560 feet into the air. It also sits at number 10 on the list of best places to live in Arizona.
Fountain Hills boasts one of the healthiest economies in the region. It has a median income of $87,080, the 7th highest such figure in Arizona. Home prices in the area are the 4th highest, coming in at a figure of $408,600.
Education is highly valued in the community, with 50% of adults having higher degrees. This commitment to learning is being passed on to the next generation, with Fountain Hills High School getting a rating of 7/10 from Great Schools.
The community gives its residents an excellent balance between urban and rural living. It's located just outside Phoenix, the state's largest city. Meanwhile, Fountain Hills also sits within a short drive of multiple national forests, including the Tonto National Forest.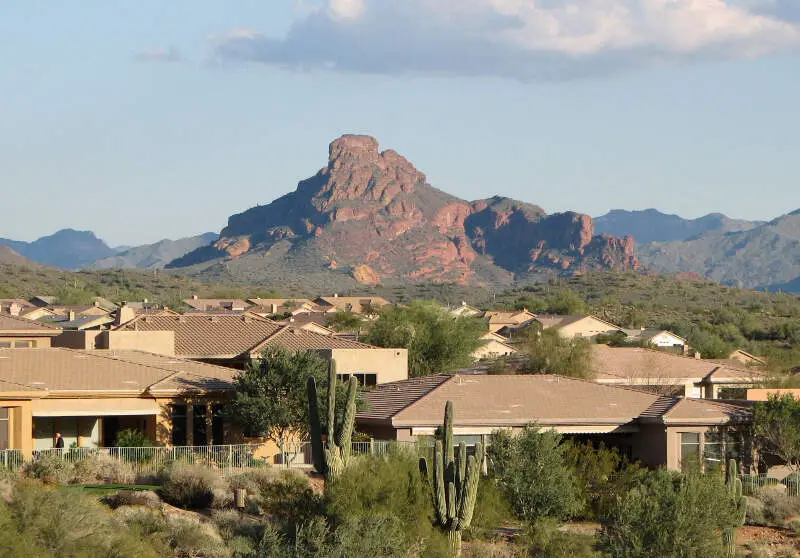 Mapping The Best And Worst Places To Live in Arizona
The Pressing Question: Size
Before we even started to collect data, we had to answer a tough question: Is it fair to pit Phoenix with a population of 1,658,422 against places with a population of 18?
We firmly decided no, that just isn't fair.
So to create our ranking, we broke places to live into three tiers:
Cities — Populations over 5,000
Towns — Populations between 1,000 and 5,000
Small Towns — Populations below 1,000
This left us with 53 cities, 107 towns, and 126 small towns.
We then decided, no matter how much anyone loves their town, the best cities to live in Arizona have more of everything and therefore you need to have over 5,000 people to truly be 'the best'.
Now we also realize that city living might not be your cup of tea, so we ran the following analysis on towns and then again for small towns.
You can see those two top tens at the bottom of the post.
Methodology: How We Calculated The Best Cities To Live In Arizona
Now that we had our set of cities, it was time to rank them.
We ranked each place in Arizona across a number of criteria from one to 53, with one being the best.
We then took the average rank across all criteria, with the city posting the lowest overall score being crowned the winner of the title "Best Place To Live In Arizona".
The criteria we looked at were:
Median Home Values
Median Income
Population Density (Higher better)
Unemployment Rate
Commute Time
Crime
Education Levels
Health Insurance Coverage
Poverty rates
Sources of criteria include the New Census Data and FBI Crime Data. You can download the data here.
After the dust settled, what was the best place to live in Arizona? That would be Paradise Valley.
If your city or town isn't among the top 10, jump down to the bottom of the post to see a detailed chart of the best places in Arizona.
Otherwise, buckle up for a ride down good living lane with Paradise Valley at the end of the cul-de-sac.

Summary: The Best Places When It Comes To Living In Arizona
If you're looking at areas in Arizona with the best economic situations, where there's lower than average crime, and a lot to do, this is an accurate list.
Paradise Valley made a strong showing to take in the overall number one spot for the best place to live in Arizona for 2022.
Best Towns To Live In Arizona
Rio Verde (Pop. 1,946)
Carefree (Pop. 3,580)
Citrus Park (Pop. 4,832)
Pinetop Country Club (Pop. 1,792)
St. David (Pop. 1,709)
Fort Valley (Pop. 1,157)
Linden (Pop. 2,525)
Eagar (Pop. 4,943)
Tubac (Pop. 1,471)
Clarkdale (Pop. 4,159)
Best Small Towns To Live In Arizona
Parker Strip (Pop. 624)
Round Valley (Pop. 580)
Littletown (Pop. 645)
Lazy Y U (Pop. 618)
Sonoita (Pop. 851)
Elgin (Pop. 148)
Washington Park (Pop. 169)
East Verde Estates (Pop. 284)
Solomon (Pop. 285)
Six Shooter Canyon (Pop. 902)
If you're curious enough, here are the worst places to live in Arizona according to the data:
Guadalupe (Pop. 6,572)
South Tucson (Pop. 5,692)
Eloy (Pop. 18,306)
For more Arizona reading, check out:
Where Are The Best Places To Live In Arizona?
| Rank | City | Population |
| --- | --- | --- |
| 1 | Paradise Valley | 14,502 |
| 2 | Gilbert | 248,349 |
| 3 | Scottsdale | 254,995 |
| 4 | Oro Valley | 45,303 |
| 5 | Chandler | 257,076 |
| 6 | Marana | 47,164 |
| 7 | Prescott | 43,463 |
| 8 | Sahuarita | 30,679 |
| 9 | Surprise | 139,007 |
| 10 | Fountain Hills | 25,167 |
| 11 | Prescott Valley | 45,592 |
| 12 | Peoria | 172,109 |
| 13 | Litchfield Park | 6,228 |
| 14 | Maricopa | 50,358 |
| 15 | Thatcher | 5,122 |
| 16 | Safford | 9,707 |
| 17 | Payson | 15,708 |
| 18 | Mesa | 508,918 |
| 19 | Goodyear | 83,519 |
| 20 | Sierra Vista | 43,756 |
| 21 | Queen Creek | 52,162 |
| 22 | Tempe | 191,607 |
| 23 | Flagstaff | 73,319 |
| 24 | Chino Valley | 11,362 |
| 25 | Wickenburg | 7,708 |
| 26 | Sedona | 10,341 |
| 27 | Florence | 26,777 |
| 28 | Bisbee | 5,199 |
| 29 | Avondale | 86,091 |
| 30 | El Mirage | 35,702 |
| 31 | Phoenix | 1,658,422 |
| 32 | Kingman | 30,433 |
| 33 | Glendale | 250,290 |
| 34 | Apache Junction | 41,863 |
| 35 | Globe | 7,351 |
| 36 | Cottonwood | 12,228 |
| 37 | Casa Grande | 57,318 |
| 38 | Yuma | 97,428 |
| 39 | Douglas | 16,292 |
| 40 | Somerton | 16,301 |
| 41 | Show Low | 11,280 |
| 42 | Holbrook | 5,073 |
| 43 | Tolleson | 7,340 |
| 44 | Tucson | 545,340 |
| 45 | Snowflake | 5,873 |
| 46 | Coolidge | 13,016 |
| 47 | Winslow | 9,505 |
| 48 | Camp Verde | 11,241 |
| 49 | Nogales | 20,182 |
| 50 | San Luis | 33,875 |
| 51 | Guadalupe | 6,572 |
| 52 | South Tucson | 5,692 |
| 53 | Eloy | 18,306 |
Editor's Note: We updated this article for 2022. This is our ninth time ranking the best places to live in Arizona.