The 10 Safest Cities In Arizona For 2021
We used data and science to determine the places in Arizona where everyone sleeps safe and sound.

Editor's Note: This article has been update for 2021. This is our sixth time rankings the
safest places to live in Arizona
. All the data comes from the
FBI's Crime In The USA 2019 report.
Article Table Of Contents   
(Skip to section)
What do 7.2 million Arizona residents know that we don't? Well, besides how cool it is that Sedona has a pretty happening art scene or how much fun can be had on the ski slopes in Flagstaff, Arizonans know that their state has some of the safest places to live in America.
Yes, there really are super safe places in the Grand Canyon State, but you're going to have to know how to navigate the state's property and violent crime heat map to find Arizona's best of the best in terms of safety. And that's where HomeSnacks comes in, folks. We took a look at the FBI data on crime for places in Arizona with more than 5,000 residents and created a list of the safest places to live in The Copper State for 2021.
Our research led us to multiple conclusions. One, there are super safe places throughout Arizona: from Tucson in the state's southern region to Page in the northern region. Two, Mother Nature is everyone's security guard in Arizona's safest places: she's added extra prickles to the cacti and extra rattles to the snakes in these places. And, third, you should probably take a look at our list of Arizona's safest places below before you make ANY decisions. There might be some on that list that surprise you.
So, want to know where can live in Arizona where you don't have to worry about thieves stealing packages from your porch when you're not home? Keep reading.
Here are the 10 safest cities to live in Arizona for 2021:
Do we think there's a direct correlation between Arizona's educated residents, strong jobs, competitive salaries, and people flocking to these safe places to live the Arizona dream? Absolutely. And this is most evident in our safest place to live in Arizona for 2021, Paradise Valley.
Holding strong the last two years at number one, were pretty sure that Paradise Valley is not only going to continue to crush Arizona's safety game, but it's going to be one of Arizona's fastest growing cities.
Want to know the other places that make safety a priority in The Valentine State? Take a look below; and if you don't find your favorite there, head to the bottom.
For more reading on safe places to live in and around Arizona, check out:
The 10 Safest Cities In Arizona For 2021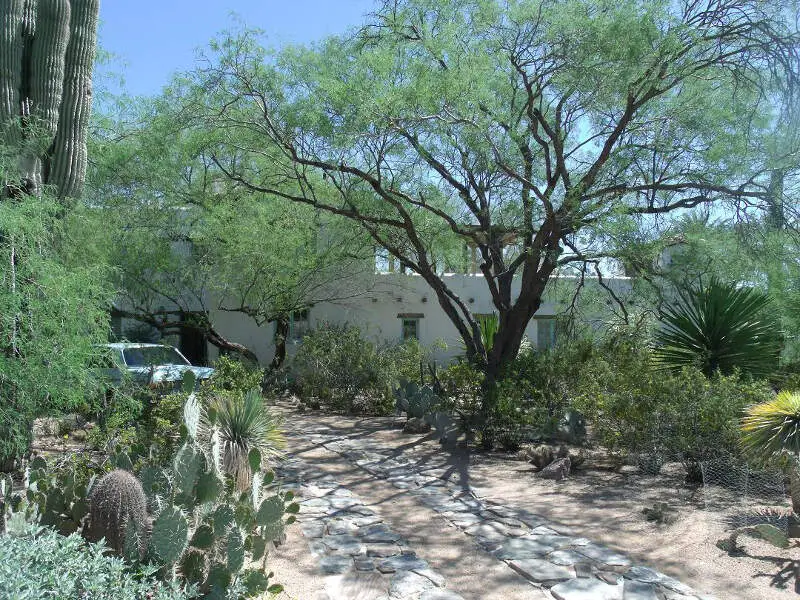 You won't have to be worried about getting a trigger warning here -- Paradise Valley is a safe haven.
And you probably won't even have to hear triggers go off as the city has the fourth safest violent crime rate. The cost of entrance to paradise is a bit on the expensive side as the town is known for its affluence. But can you really put a price on being safe?
Paradise is located on the west side of central Arizona.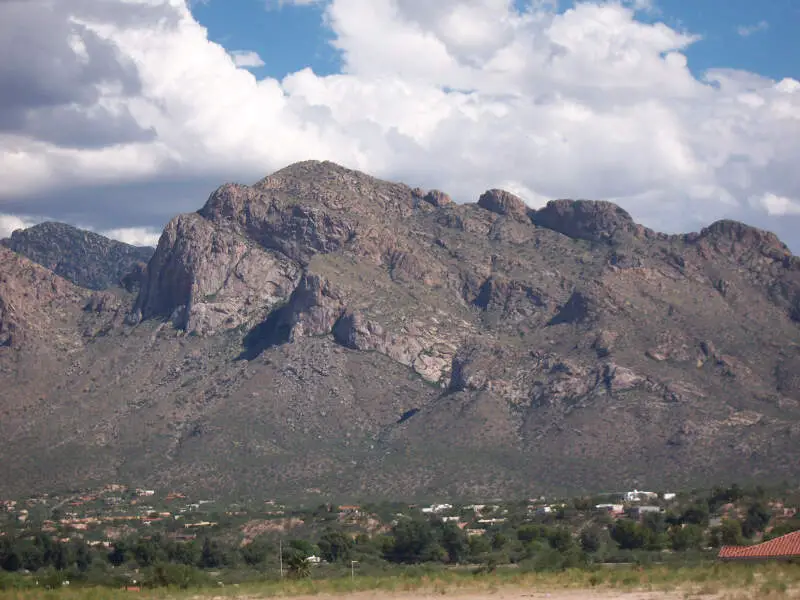 Oro Valley ranks as the second safest city in Arizona.
And to be honest, it's probably pretty hard to commit any crime when you're too busy golfing around any of the almost ten golf clubs in town.
For those ambitious people willing to put down the golf club for half second, they did manage to place Oro Valley with the safest violent crime rate in the state.
Located in southwestern Arizona, the city scores a solid 9 / 10 on our SnackAbility score -- meaning it's a great place to live all around and not just because it's safe.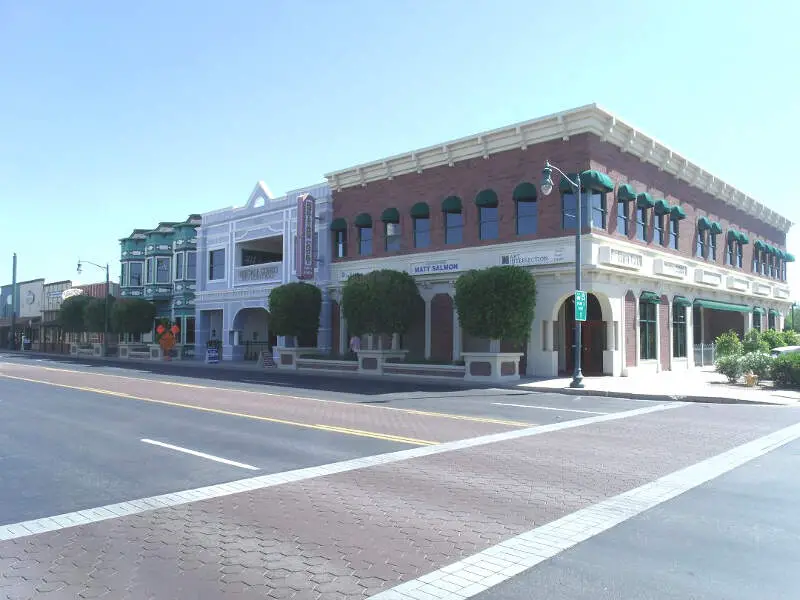 Let's go through a quick scenario -- you just finished a meal with your family, your snacking on ice cream and watching the Voice on TV. You know that feeling?
That's what everyone has in Gilbert.
The city finished in the top 20% for both violent and property crime per capita, but did manage to fall down a peg from last year's second place finish.
But don't feel sorry for Gilbert, we ranked it as the third best place to live in 2018.
Gilbert is located near Paradise Valley in Maricopa County.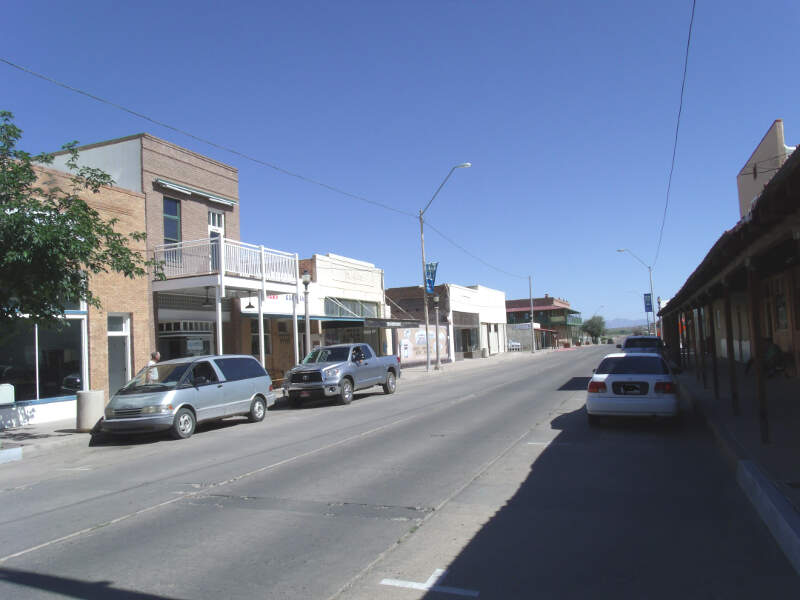 Florence ranks as the fourth safest city in Arizona.
Looking into Florence, you'll notice that there's an abnormally high number of prisons in the area. We'd propose that the people that live in town see what life in prison is like and choose to avoid it. That leads to the safest rate of property crime in the state and the 13th safest rate of violent crime. And if the prisons aren't the reason for the low levels of crime then it's probably the "Country Thunder" music festival each year that booms the crime away.
Florence is a town, 61 miles southeast of Phoenix, in Pinal County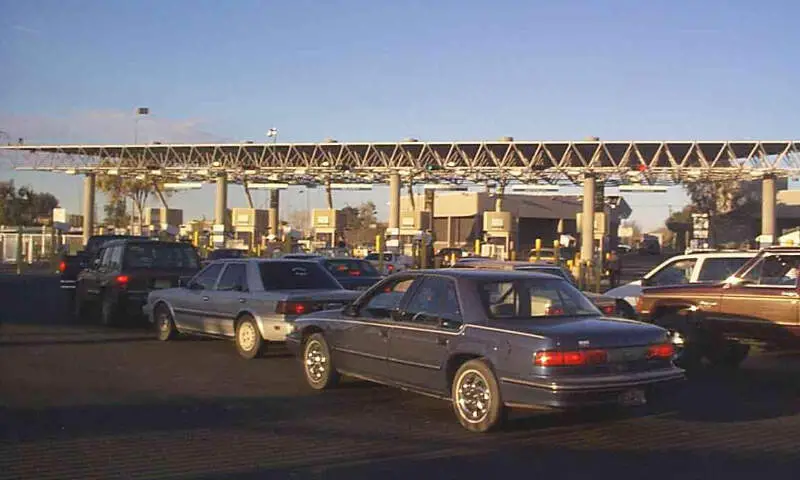 Sometimes the US-Mexico border gets a bad rap for being dangerous, but San Luis hurts that narrative by being the fifth safest place in Arizona.
What's especially impressive in San Luis is it's remarkably low rate of violent crimes -- in a city of over 30,000 residents, San Luis experienced only 8 violent crimes in the last year of data. That leaves residents with just a 1 in 4,134 chance of being the victim of a violent crime in a year, which is light years ahead of the national average.
So you can check out the Yuma Territorial Prison Museum as a visitor, but it's unlikely any San Luis residents will become full-time tenants.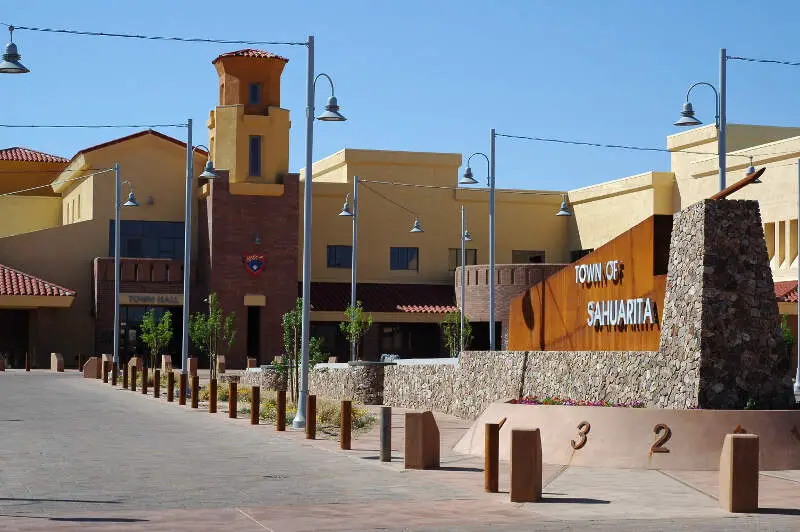 Before we get into how safe it is here, try to pronounce Sahuarita. Ready? It's pronounced swrit -- which was a surprise to my east coast sensibilities.
This city 15 miles south of Tucson cracked the top ten for both violent and property crime for 2021. You can certainly find a master planned community complete with gate here so that you never have to worry about getting robbed again.
Located in central Arizona, about an hour and a half drive outside of Phoenix, Prescott Valley originally came to prominence as a gold mining and ranching community. Lately, it has become a haven for retirees, with its population swelling from just over 2,000 in the early 1980s to a level of 46,700 now.
This kind of massive growth can often encourage criminal activity. Thankfully, Prescott Valley has largely sidestepped this danger. The city is one of the least violent major population centers in Arizona. It reported just 93 violent crimes in a year. That gives it a per-capita rate of just 199/100k people.
The crime rate is even better when it comes to property crime. The city had 474 over the course of a year. That leads to a per-capita pace of 1,014/100k people.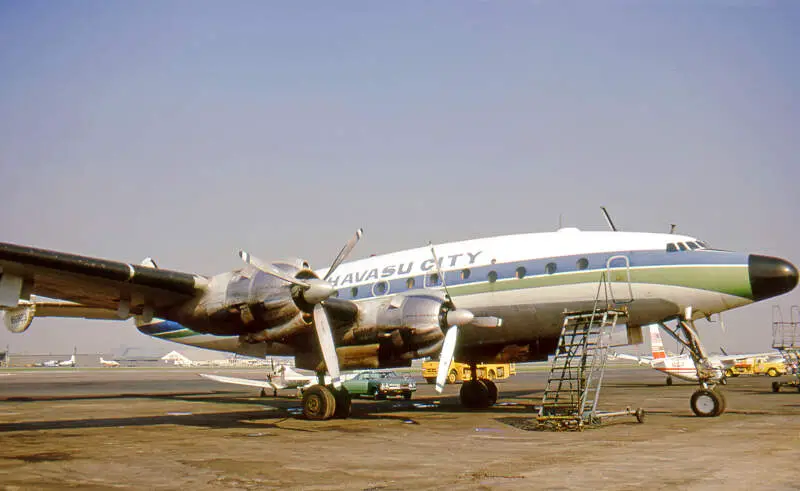 Arizona is known as a dry place, plenty of desert and cactus. Well, Lake Havasu City bucks this trend. As its name implies, it's actually known for its water.
The community is located on the shore of Lake Havasu, which straddles the border with California. This makes the area a popular resort town, getting extra tourist cred from being just 2 and a half hours from Las Vegas. The city is also the unexpected answer to the trivia question "where is London Bridge located?"
With all these attractions, Lake Havasu City gets its share of tourists. And when visitors arrive in "Arizona's Playground," they can feel secure. The area is the number 8 safest city in the state. With a population of 55,413, the community suffered just 670 property crimes and 87 violent crimes during a year.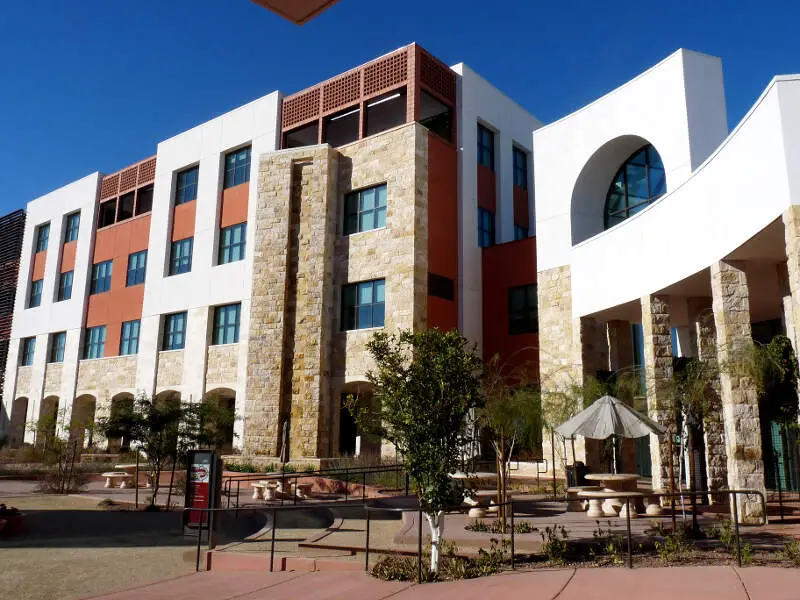 Rounding out the top ten, for the second year in a row, is no surprise to us, it's Surprise, AZ.
The largest city on our list by a wide margin, the city boasts the eighth lowest violent crime rate in the state. That ranking helped boost the city over the finish line into the top ten. People flock to this Phoenix area city because of the low crime, nice housing, and solid economy.
I wouldn't be surprised to see Surprise end up surprising you if decide to make a surprise visit in the not so distant future.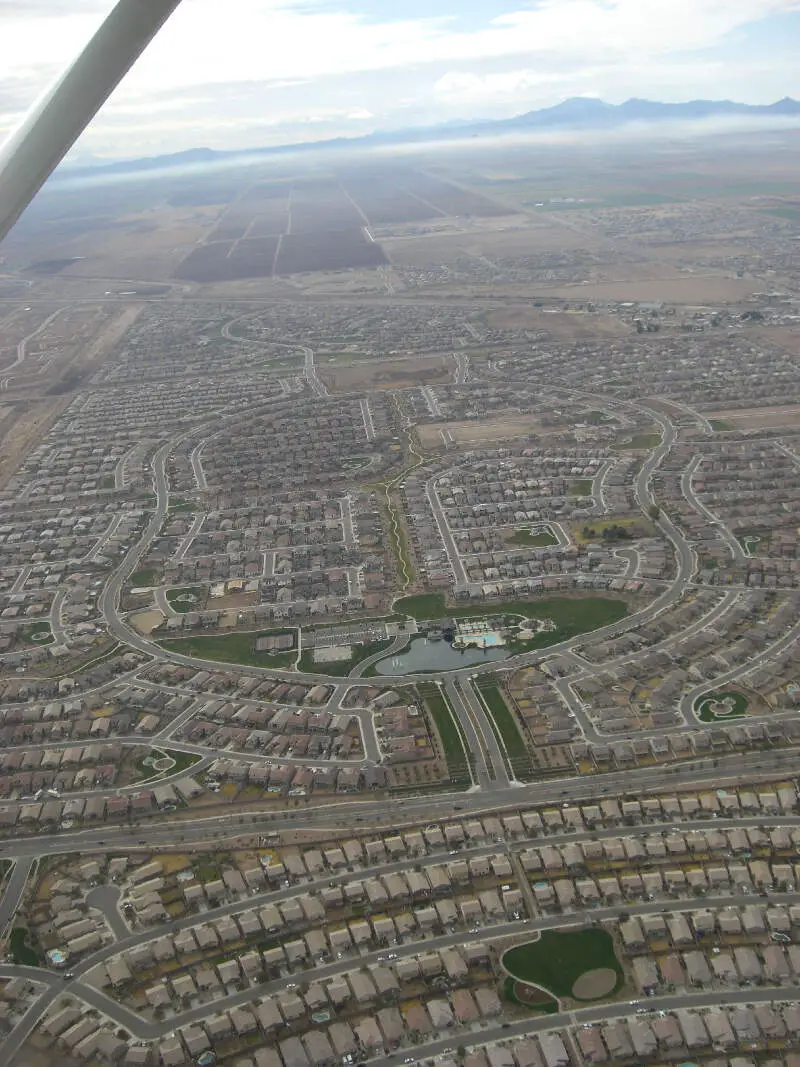 Maricopa finds itself at the same spot this year cementing itself as a safe city in Arizona.
Fun fact, Maricopa is the 18th largest city in the state. Other fun fact? It has the sixth safest property crime rate in Arizona.
A great place to raise a family, the city has a median household income of over $68,000 and a sub 10% poverty rate. So everyone gets to join in on the safety of living in Maricopa.
How we calculated the safest cities in Arizona for 2021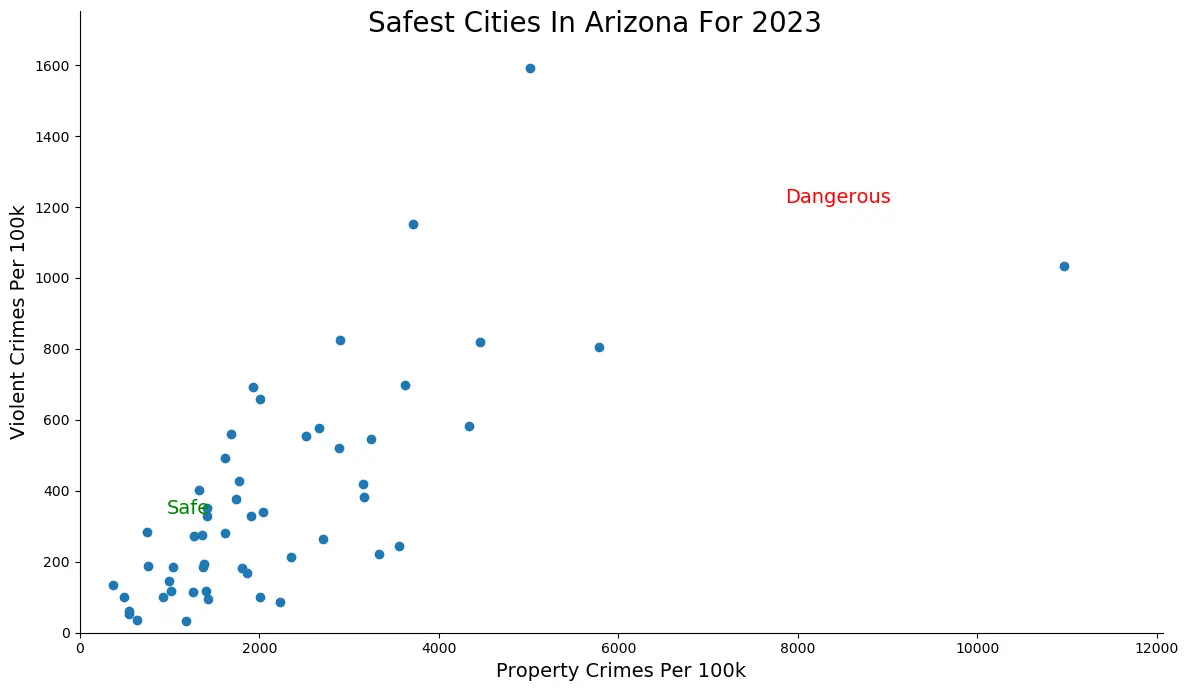 While there are surveys and public polls on what cities in a state are the safest, we didn't want to rely on speculation and opinion. Instead, we looked at the hard numbers from the FBI's most recent report of crime (Published Sept 2020) in Arizona.
Specifically, we analyzed the
FBI's Uniform Crime Report
which summarizes the number of property crimes and violent crimes in each city per year. We used two criteria:
Violent crimes per capita (murders, assaults, rapes, armed robberies)
Property crimes per capita (thefts, burglaries, motor vehicle thefts)
For example, there were a total of 171 crimes committed in Paradise Valley which had a reported population of 14,733. That means the number of crimes per capita is 0.0116 which translates into a 1 in 86 chance of being the victim of a crime.
We only looked at cities that have populations of more than 5,000 people reported to the FBI in 2019, the last reporting year. This left us with a total of 48 of the biggest cities in Arizona to rank.
We ranked each city for each criteria from 1 to 48 where 1 in any particular category is the safest.
Next, we averaged each places two criteria to create a Safety Index. We crowned the place with the lowest overall Safety Score "The Safest Place In Arizona" with any ties going to the bigger city. You can download the data here.
The safest city in Arizona, based on our criteria, is Paradise Valley. The most dangerous city in Arizona? Globe, where residents had a 1 in 11 chance of being the victim of a crime.
Note: This report is not an analysis of the effectiveness of local police departments, nor does it reflect the fact that people from out of town may come into a community and cause a crime. It simply looks at where crimes occurred most frequently, based on a city's population.
There You Have It - The Safest Cities In The Grand Canyon State
Looking at the data, you can tell that Paradise Valley is as safe as they come, according to science and data.
But as most Arizona residents would agree, almost every place here has its safe and not safe parts. So just make sure you're informed ahead of time.
Here's a look at the most dangerous cities in Arizona according to the data:
Globe
Tolleson
Page
For more reading, check out:
Breaking Down Crime In The Safest And Most Dangerous Cities In Arizona

Share on Facebook
Chris Kolmar has been in the real estate business for almost ten years now. He originally worked for Movoto Real Estate as the director of marketing before founding HomeSnacks.
He believes the key to finding the right place to live comes down to looking at the data, reading about things to do, and, most importantly, checking it out yourself before you move.
If you've been looking for a place to live in the past several years, you've probably stumbled upon his writing already.
You can find out more about him on LinkedIn.