The 10 Safest Cities In Georgia For 2021
We used data and science to determine the places in Georgia where everyone sleeps safe and sound.

Editor's Note: This article has been update for 2021. This is our sixth time rankings the
safest places to live in Georgia
. All the data comes from the
FBI's Crime In The USA 2019 report.
Article Table Of Contents   
(Skip to section)
Do you love peaches?
Southern soul food?
What about drinking a cold Coke or beer while walking through the historic streets of Savannah? Then you'll love finding a place to live in one of the safest places in Georgia.
According to U.S. News, Georgia's economy is booming, with the 5th highest GDP growth rate in the U.S. Georgia is also ranked 13th for equality and 16th for affordability. These statistics aren't surprising, as the South is notorious for it's cheap cost of living. In the Peach State, you've got Atlanta and quaint country towns, but what are the safest cities to live in in Georgia? Georgia ranks 36th for safety in America according to our most recent rankings, so what really is happening in this southern state?
It turns out that some places in the Peach State are significantly safer than others. Using the most recent FBI crime data, we figured out the safe places from the dangerous for you by analyzing all the cities in Georgia with a population of more than 5,000.
Here are the 10 safest cities to live in Georgia for 2021:
What's the safest place to live in Georgia? Milton, Georgia, placed number one on our ranking, which isn't a shocker since Milton also ranks 9.5/10 overall on our SnackAbility scale.
What's so good about Milton?
Great education and job opportunities, according to HomeSnacks.
Read on below to learn more about how we got our ranking and to see how your city ranked.
For more reading on safe places to live in and around Georgia, check out:
The 10 Safest Cities In Georgia For 2021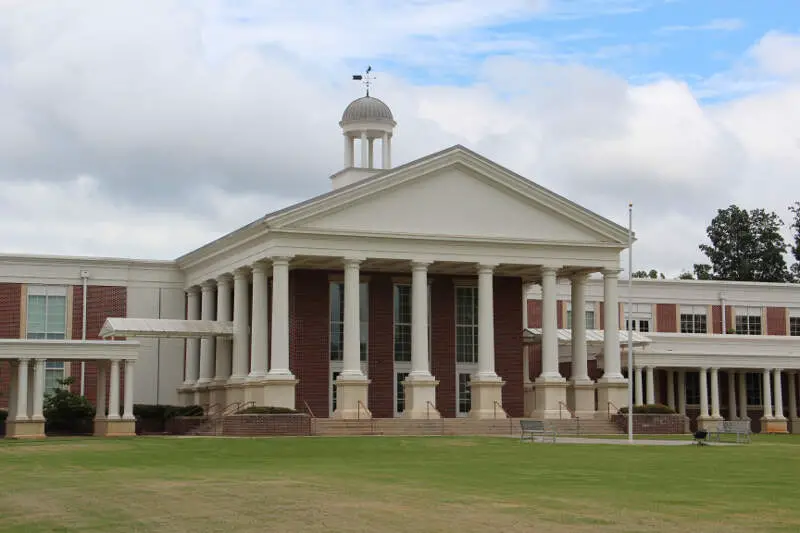 Source: Public domain
Milton has been dethroned and now takes the first spot in this year's ranking of the safest places to live in Georgia.
It boasts the safest violent crime in the state and the safest property crime rank. That's a peachy 1-2 combo.
Milton is a city and suburb in Fulton County, Georgia, It is an affluent community, with an average household income within the ZIP code 30004 of $99,412.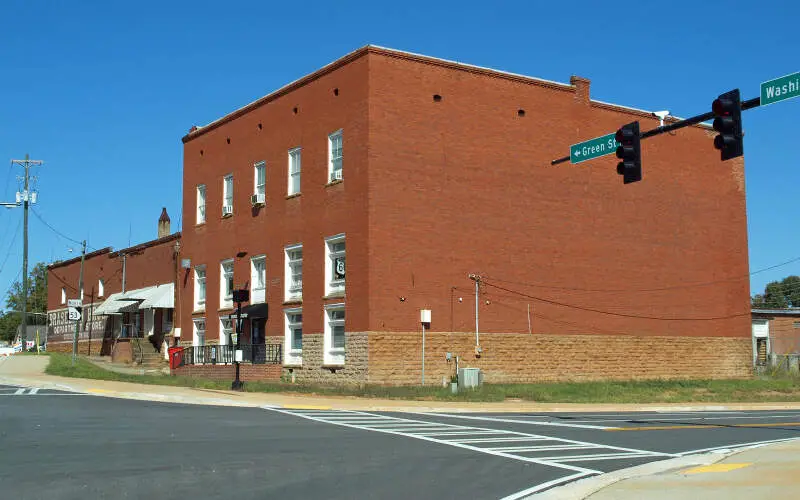 It's easy to be brazen if you live in Braselton -- it's the second safest city in Georgia.
The property crime rate here is especially low, coming in as the fourth safest in the state. You only have a 1 in 114 chance of being involved in a stolen peach incident.
You'll find Braselton approximately 53 miles northeast of Atlanta.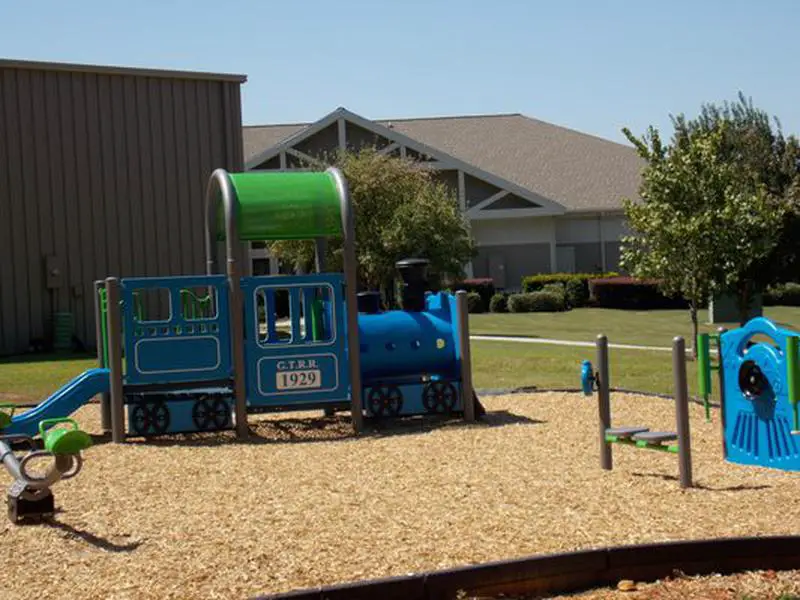 Source: Town of Tyrone, GA
Tyrone may only come in 5th place overall on this list, but the city has the second lowest rate of violent crime in the whole state. There was only 1 violent crime reported in the last year of available data, giving Tyrone a rate of violent crime about 28 times lower than the national average. So whether you find a four-leaf clover at Shamrock Park or not, you'll be pretty lucky to be in Tyrone.
Plus, being just 30 miles southwest of downtown Atlanta means you'll never be bored!
Located about 30 miles south of Atlanta, Hampton ranks as Georgia's fourth safest place to call home.
Hampton had the second safest lowest property crime rate in Georgia over the 2019 reporting year. That's a big reason Hampton ended up with the second safest lowest overall crime rate in Georgia.
Hampton hosts the annual Georgia State Fair at the local Atlanta Motor Speedway. That makes Hampton's low crime rate extra impressive -- usually, places with huge tourist venues and events have to contend with higher crime rates as a price.
Not so in Hampton, where only 8 violent crimes went down over the year.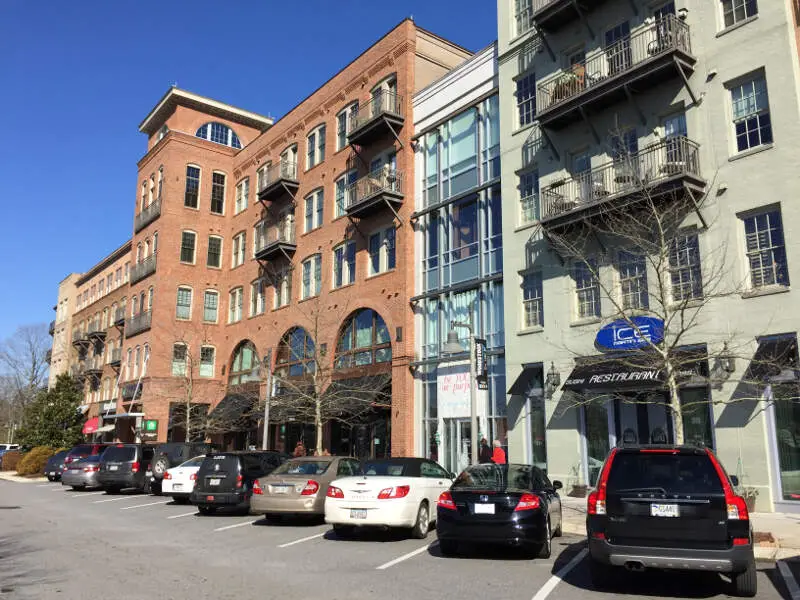 Source: Public domain
Next on our list of the top ten safest places to live in Georgia for 2021 is Woodstock.
The city rocks out to an above average showing for both property and violent crime compared to other cities of its size in Georgia. It's the kind of place where you get to know your neighbor, the cost of living is low, and everyone brings baked goods to church on Sunday.
Fun fact for when the music ends, originally a stop on the Louisville and Nashville Railroad, Woodstock is part of the Atlanta metropolitan area.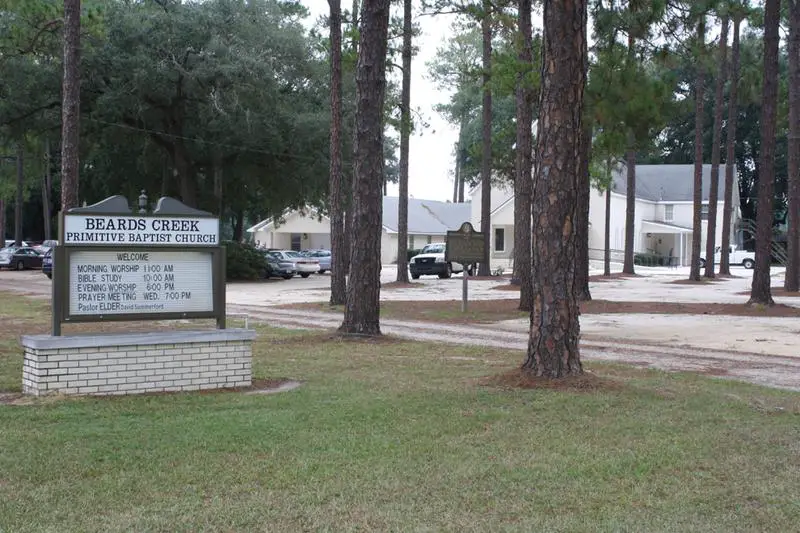 Rounding out our list of safest cities in Georgia is the city of Glennville. This small city in eastern Georgia's Tattnall County was neck and neck with Jefferson for the #9 spot on this list. Glennville ranks #10 in violent crime and #15 in property crime, the opposite of Jefferson's rankings.
And while residents go nuts for their local wine from Watermelon Creek Vineyard, nobody's beating up their neighbor for more. With only four violent crimes in the last year of available data, you can rest assured that Glennville is much too civil for all that.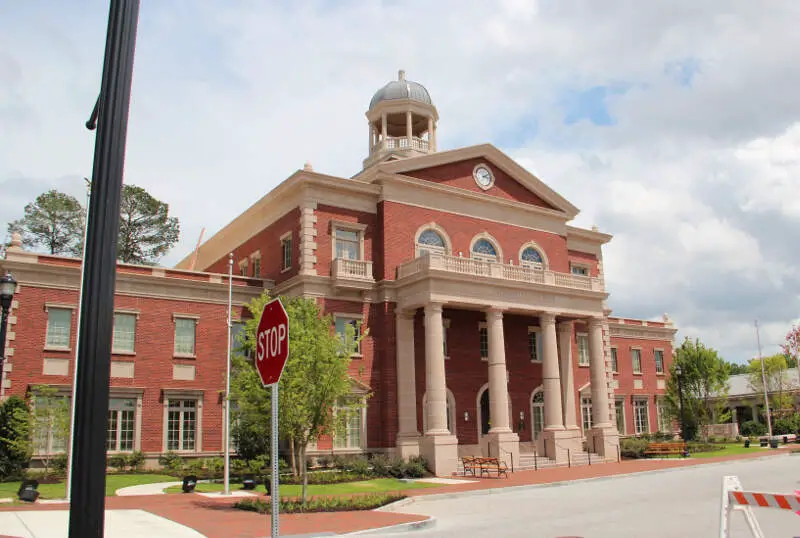 Source: Public domain
When you have been writing about places for as long as I have, some cities stand out and Alpharetta is one of them.
It's either because of how I see it on so many lists of great places to live or it's because I always read it as Alphabet the first time. Let's put on our peach colored glasses and say it's the former.
Alpharetta is a city located in north Fulton County and is a suburb of Atlanta.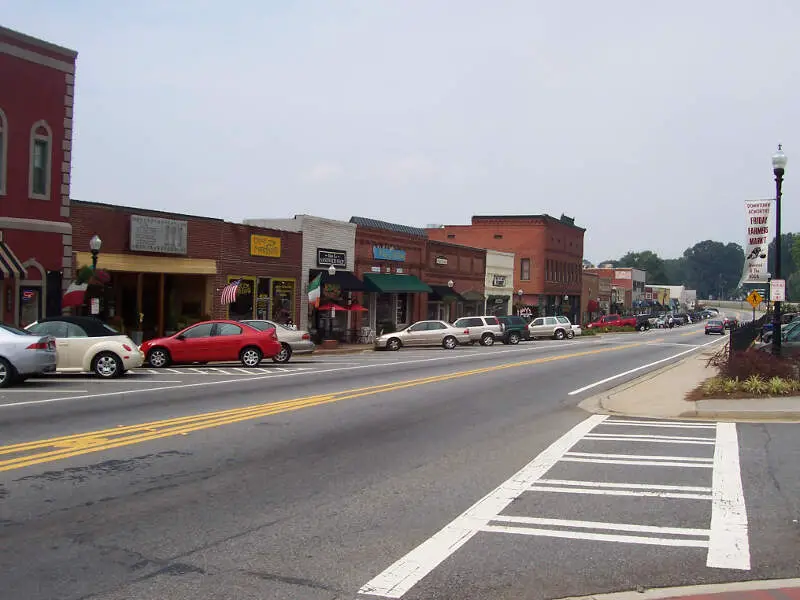 Known as "The Lake City" for all its breathtaking lakes, Acworth is as serene to live in as it is to look at.
This city of 22,921 recorded the fourth safest lowest violent crime rate in Georgia over 2019. That includes a measly 16 violent crimes over the year.
You also don't have to worry about anyone snatching your catch after a day fishing on the lake, seeing as Acworth also had the 13th safest lowest property crime in Georgia. Acworth has an average cost of living and a lot of diversity, which makes it a great place to live while being super safe.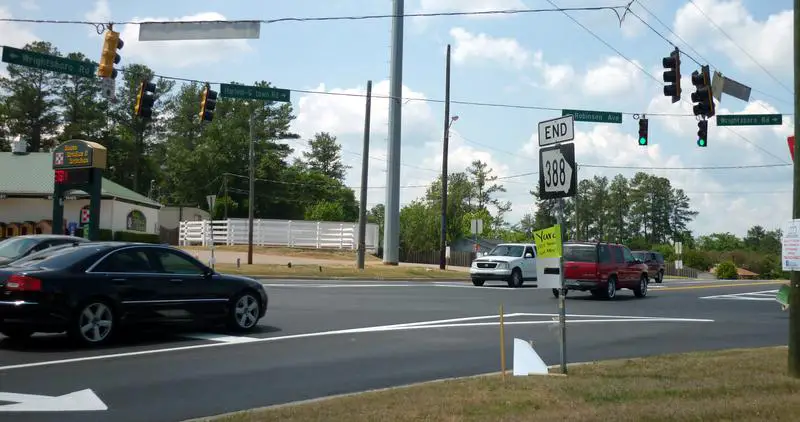 Let's take a walk through the peach grove into Grovetown -- Georgia's ninth safest city.
A low rate of violent crime lands Grovetown in this spot, but an slight uptick in property crime caused it to drop a couple of places in the ranking.
It is part of the Augusta metropolitan area and the Central Savannah River Area.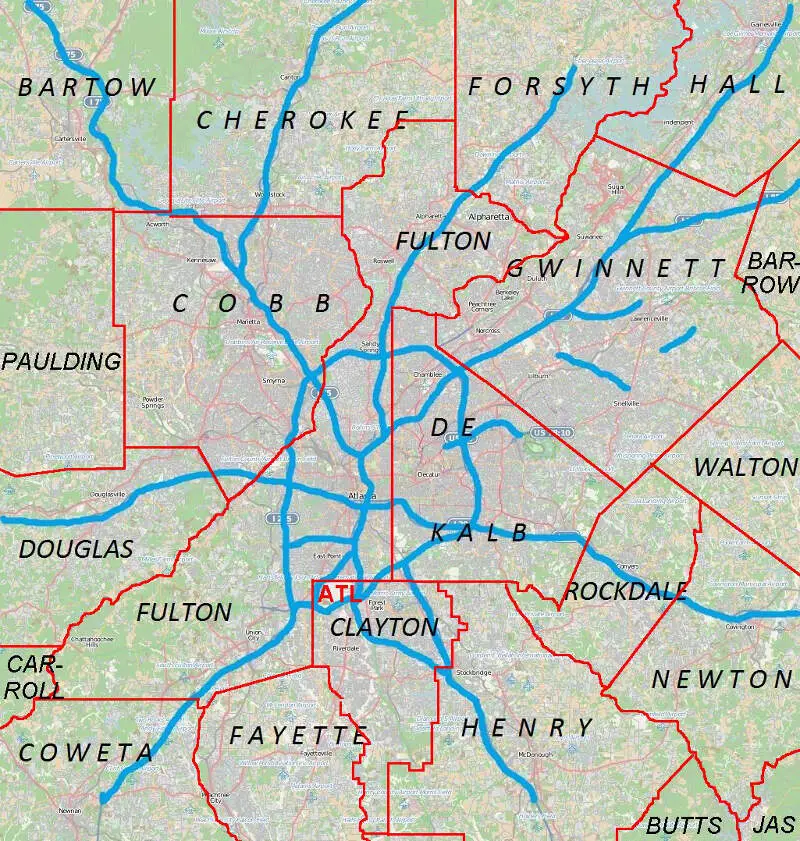 A part of the greater Atlanta metro area, Kennesaw comes in as Georgia's tenth safest city.
Home to the Kennesaw Mountain National Battlefield Park and a a Civil War museum, Kennesaw prefers to keep violence where it belongs: in the history books.
Kennesaw only experienced 48 violent crimes over 2019, quite an impressive number for a city of 34,641 residents.
Kennesaw's property crime rate is even more impressive, clocking in as the seventh safest lowest in all of Georgia. This fact probably has something to do with a lower than average poverty rate for Georgia and a highly educated populace.
How we calculated the safest cities in Georgia for 2021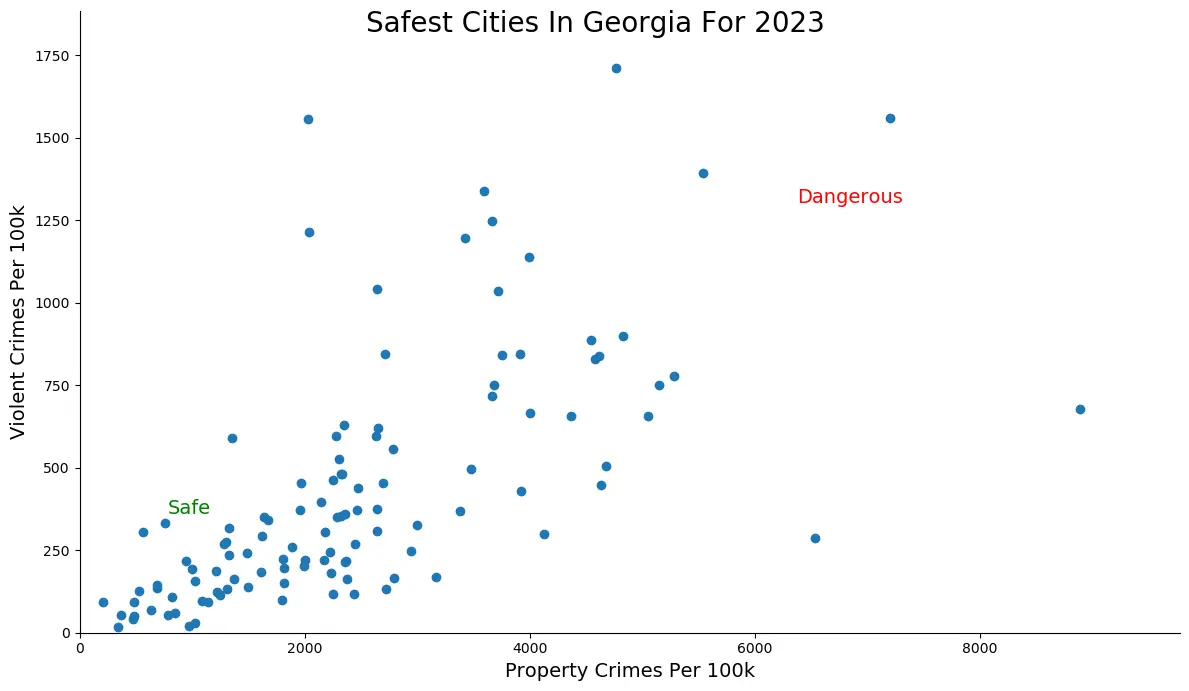 While there are surveys and public polls on what cities in a state are the safest, we didn't want to rely on speculation and opinion. Instead, we looked at the hard numbers from the FBI's most recent report of crime (Published Sept 2020) in Georgia.
Specifically, we analyzed the
FBI's Uniform Crime Report
which summarizes the number of property crimes and violent crimes in each city per year. We used two criteria:
Violent crimes per capita (murders, assaults, rapes, armed robberies)
Property crimes per capita (thefts, burglaries, motor vehicle thefts)
For example, there were a total of 306 crimes committed in Milton which had a reported population of 40,067. That means the number of crimes per capita is 0.0076 which translates into a 1 in 130 chance of being the victim of a crime.
We only looked at cities that have populations of more than 5,000 people reported to the FBI in 2019, the last reporting year. This left us with a total of 39 of the biggest cities in Georgia to rank.
We ranked each city for each criteria from 1 to 39 where 1 in any particular category is the safest.
Next, we averaged each places two criteria to create a Safety Index. We crowned the place with the lowest overall Safety Score "The Safest Place In Georgia" with any ties going to the bigger city. You can download the data here.
The safest city in Georgia, based on our criteria, is Milton. The most dangerous city in Georgia? College Park, where residents had a 1 in 12 chance of being the victim of a crime.
Note: This report is not an analysis of the effectiveness of local police departments, nor does it reflect the fact that people from out of town may come into a community and cause a crime. It simply looks at where crimes occurred most frequently, based on a city's population.
There You Have It - The Safest Cities In The Peach State
Looking at the data, you can tell that Milton is as safe as they come, according to science and data.
But as most Georgia residents would agree, almost every place here has its safe and not safe parts. So just make sure you're informed ahead of time.
Here's a look at the most dangerous cities in Georgia according to the data:
College Park
Americus
Albany
For more reading, check out:
Breaking Down Crime In The Safest And Most Dangerous Cities In Georgia

Share on Facebook
Chris Kolmar has been in the real estate business for almost ten years now. He originally worked for Movoto Real Estate as the director of marketing before founding HomeSnacks.
He believes the key to finding the right place to live comes down to looking at the data, reading about things to do, and, most importantly, checking it out yourself before you move.
If you've been looking for a place to live in the past several years, you've probably stumbled upon his writing already.
You can find out more about him on LinkedIn.