The 10 Safest Cities In Georgia For 2023
The safest cities in Georgia are Holly Springs and Johns Creek for 2023.

In the heart of the South, these places in Georgia stand out as a beacon for those seeking a warm climate, peace of mind, and safety. Despite its bustling urban regions like Atlanta and Savannah, Georgia holds treasures of tranquility and security within its many smaller cities. Safety is a prime factor when considering a place to call home, so we researched the safest places in Georgia.
Using the most recent FBI crime data, we determined the safest places in Georgia based on property and violent crime rates per capita. We limited the analysis to the cities in Georgia with a population of more than 5,000 to keep things a bit more peaches to peaches.
What are the safest cities to live in Georgia? Georgia ranks 29th for safety in America according to our most recent rankings, so let's take a look at the safest cities in the Peach State.
---
Table Of Contents:
Top Ten
|
Methodology
|
Table
|
References
---
Here are the 10 safest cities to live in Georgia for 2023:
What's the safest place to live in Georgia? The safest place to live in Georgia is Holly Springs, which isn't a shocker since Holly Springs also ranks 9.5/10 overall on our SnackAbility scale.
What's so good about Holly Springs?
Low crime, excellent schools, and job opportunities, according to HomeSnacks.
Read on below to learn more about how we ranked Georgia's safest cities and how your city ranked.
For more reading on safe places to live in and around Georgia, check out:
The 10 Safest Cities In Georgia For 2023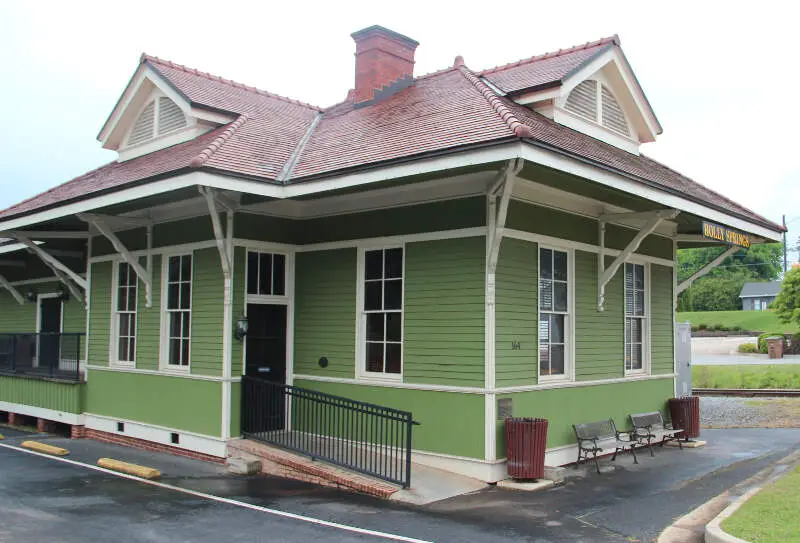 Source: Public domain
Hope springs eternal in Holly Springs -- the safest place in Georgia.
Residents here know it's safe as it has the second safest property crime rate in the state which means no one steals your holly as you kiss underneath it.
Holly Springs is located south of the center of Cherokee County.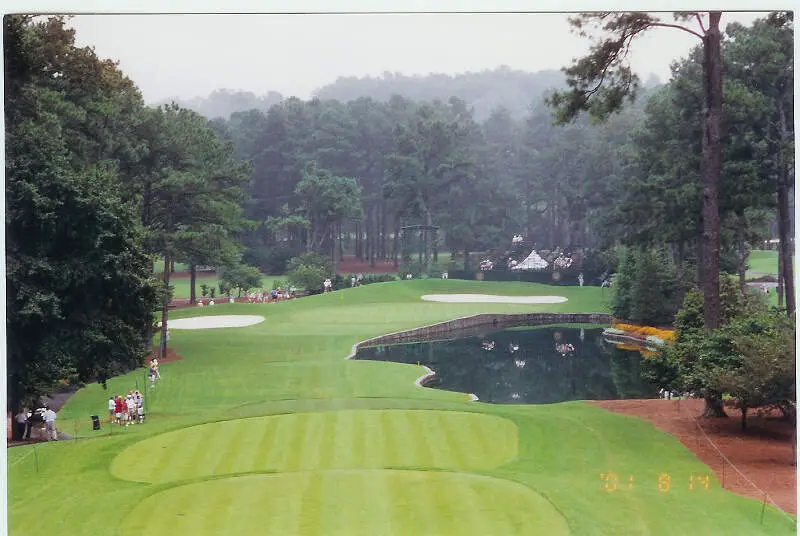 Source: Public domain
Johns Creek lost its top spot on the list -- but don't feel bad. The city of over 85,000 people has the lowest property crime rate in the state.
So even though Milton stole the top spot, it won't steal Johns wallet. See what I did there.
In 2017 Johns Creek ranked third on the USA TODAY list of "50 best cities to live in" and it earned a 9.5 on our SnackAbility Score.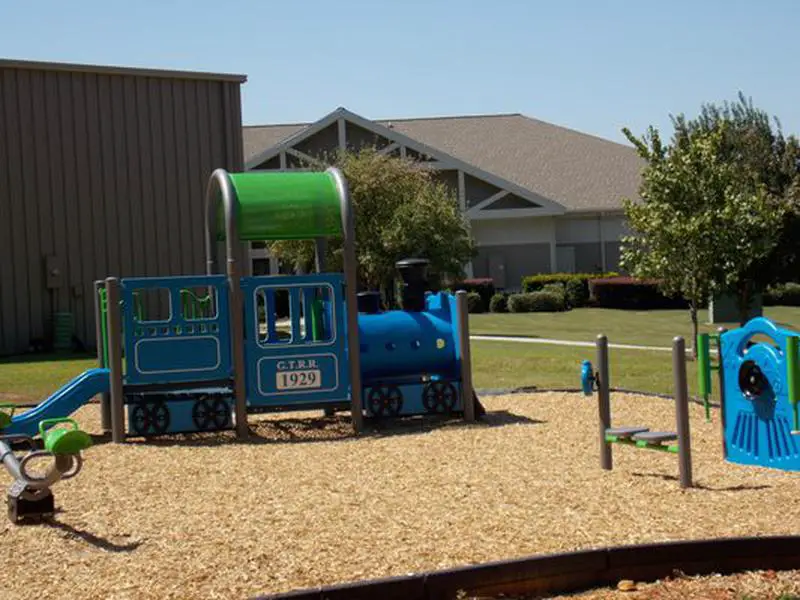 Source: Public domain
Tyrone may only come in 5th place overall on this list, but the city has the second lowest rate of violent crime in the whole state. There was only 1 violent crime reported in the last year of available data, giving Tyrone a rate of violent crime about 28 times lower than the national average. So whether you find a four-leaf clover at Shamrock Park or not, you'll be pretty lucky to be in Tyrone.
Plus, being just 30 miles southwest of downtown Atlanta means you'll never be bored!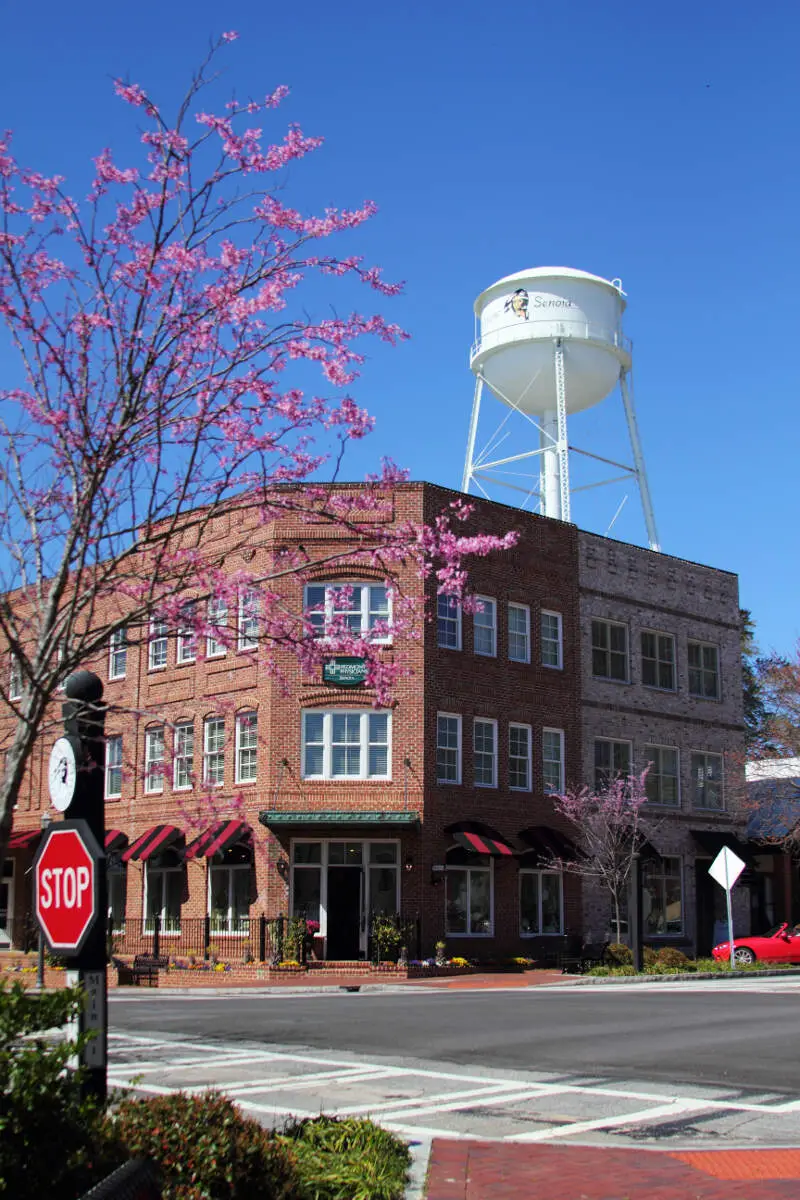 Senoia, a city with deep historical roots dating back to its establishment in the 1860s, is situated just 35 minutes south of Atlanta in Coweta County. Despite being part of the bustling Atlanta metro area, Senoia boasts a high safety rating, holding the fourth spot as one of Georgia's safest cities.
With a population of 5,497, it reports low crime rates, including a 54/100k people per capita rate for violent crimes. The city's commitment to safety is evident, with only 3 violent incidents and 20 property crimes recorded, securing its seventh safest and third safest positions for violent and property crime rates respectively statewide.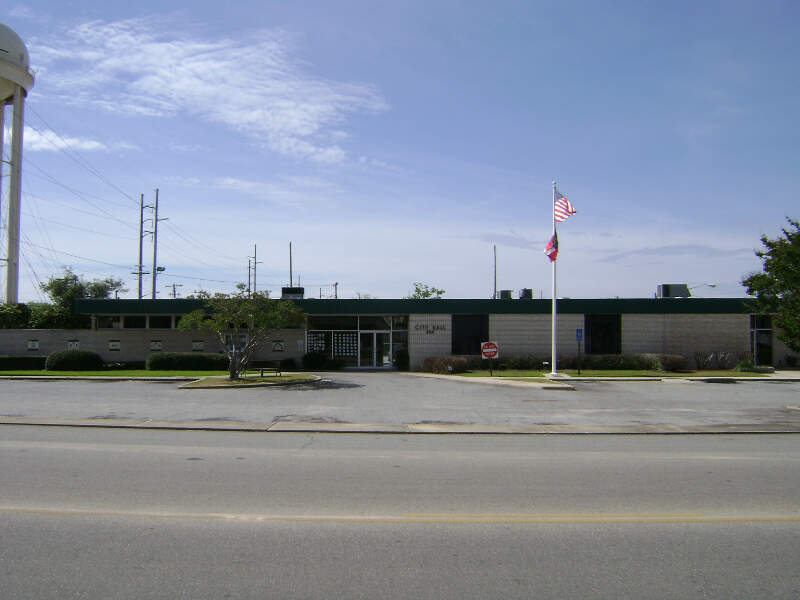 The historical city of Douglas, established in 1855 and honoring Senator Stephen A. Douglas, is celebrated as the fifth safest city in Georgia.
Located in Coffee County, Douglas reported 11 total murders, rapes, or robberies, and maintained crime rates well below state averages with its 93/100k people per capita rate for violent crime and 204/100k people per capita for property crime among its 11,762 citizens.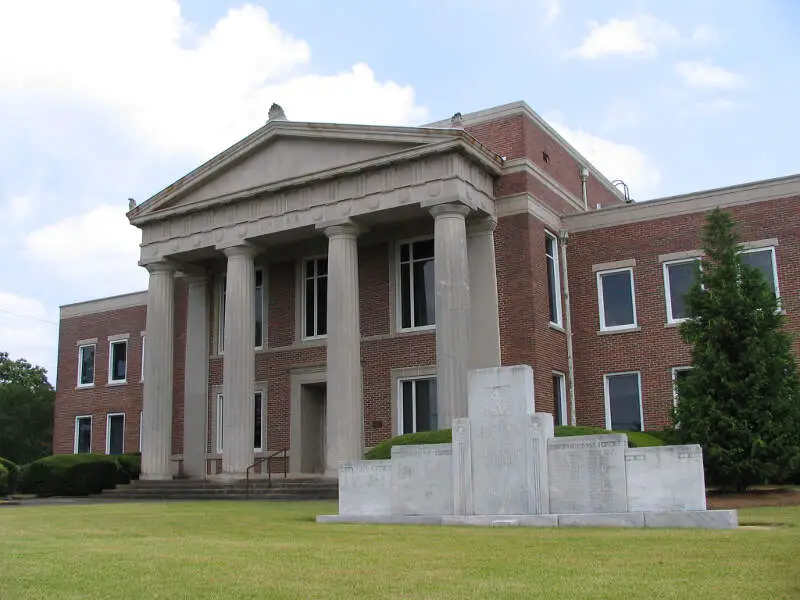 Found in Lamar County, Barnesville ranks as the sixth place in safety rankings limited occurrences of murder or rape and only 1 robbery. Its low violent and property crime rates per capita complement its past as the "Buggy Capital of the South" and a Civil War landmark just south of Atlanta.
The police force's effective work results in a mere 6 violent crimes and only 31 property crimes, securing its 11th safest and sixth safest positions in Georgia's violent and property safety rankings.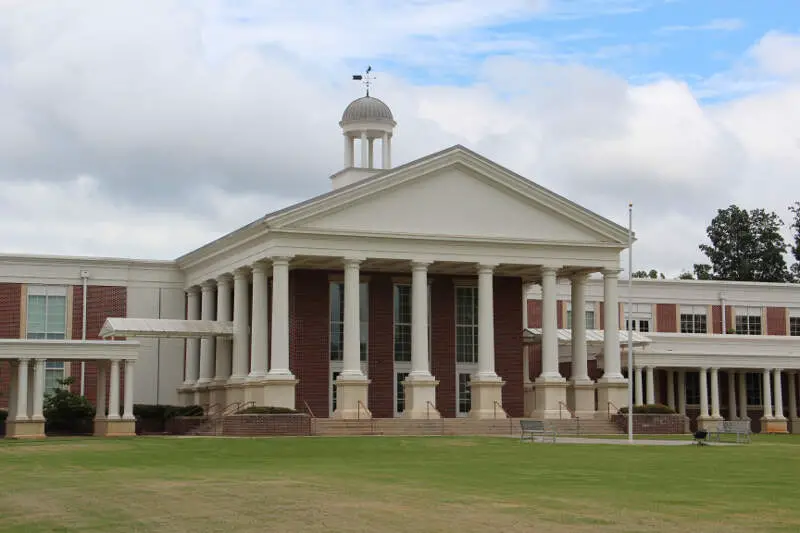 Source: Public domain
Milton has been dethroned and now takes the seventh spot in this year's ranking of the safest places to live in Georgia.
It boasts the ninth safest violent crime in the state and the ninth safest property crime rank. That's a peachy 1-2 combo.
Milton is a city and suburb in Fulton County, Georgia, It is an affluent community, with an average household income within the ZIP code 30004 of $99,412.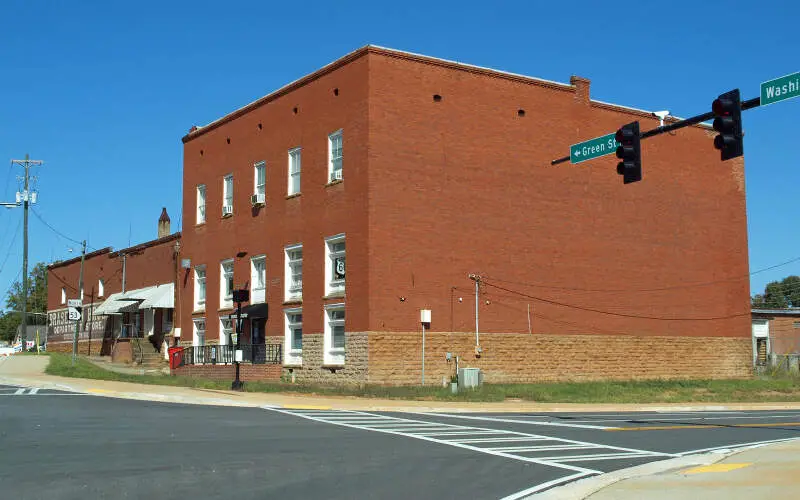 It's easy to be brazen if you live in Braselton -- it's the eighth safest city in Georgia.
The property crime rate here is especially low, coming in as the 17th safest in the state. You only have a 1 in 114 chance of being involved in a stolen peach incident.
You'll find Braselton approximately 53 miles northeast of Atlanta.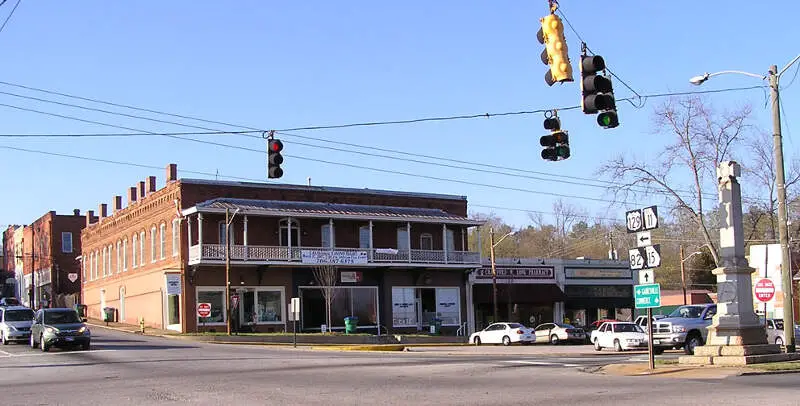 Source: Public domain
When a city is one of the safest in a state, it's no surprise that people want to live there. Well people seem to REALLY want to live in Jefferson, because the population has nearly tripled since 2000.
Jefferson ranked better in safety this year than it did the previous year, with a decently low rate of violent crime and an impressively low rate of property crime. In terms of potential for property damage or crime, Hurricane Shoals Park sounds a lot scarier than any would-be burglars.
Jefferson is located in Jackson County, about an hour drive northeast of Atlanta.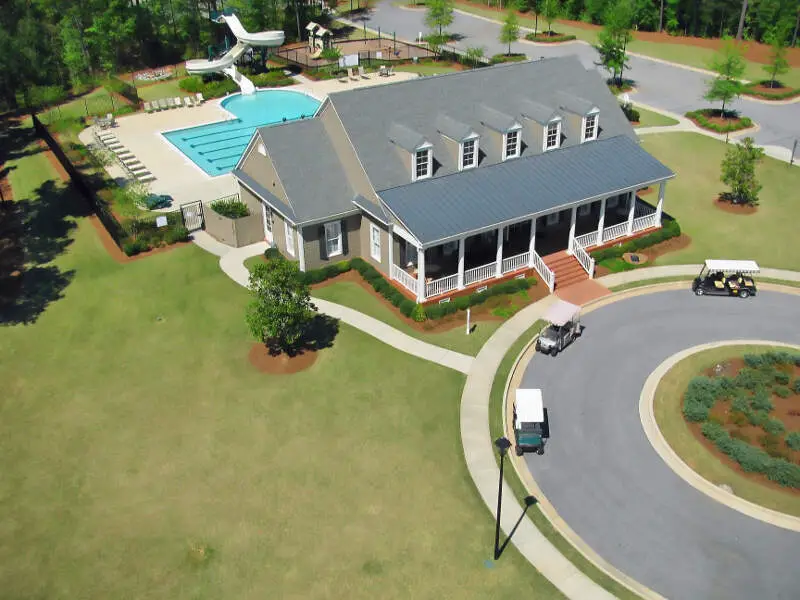 This seems like a good as any to warn you that I will be making a lot of peach puns this post.
Get ready.
Peachtree City didn't fall from the safety tree -- it's the tenth safest city in Georgia thanks to a low occurrence of violent crime. The Atlanta suburb also has peachy top ten ranking when it comes to property crime.
So your peaches can sleep safe and sound in their tree fort within Peachtree City.
Methodology: How we calculated the safest cities in Georgia for 2023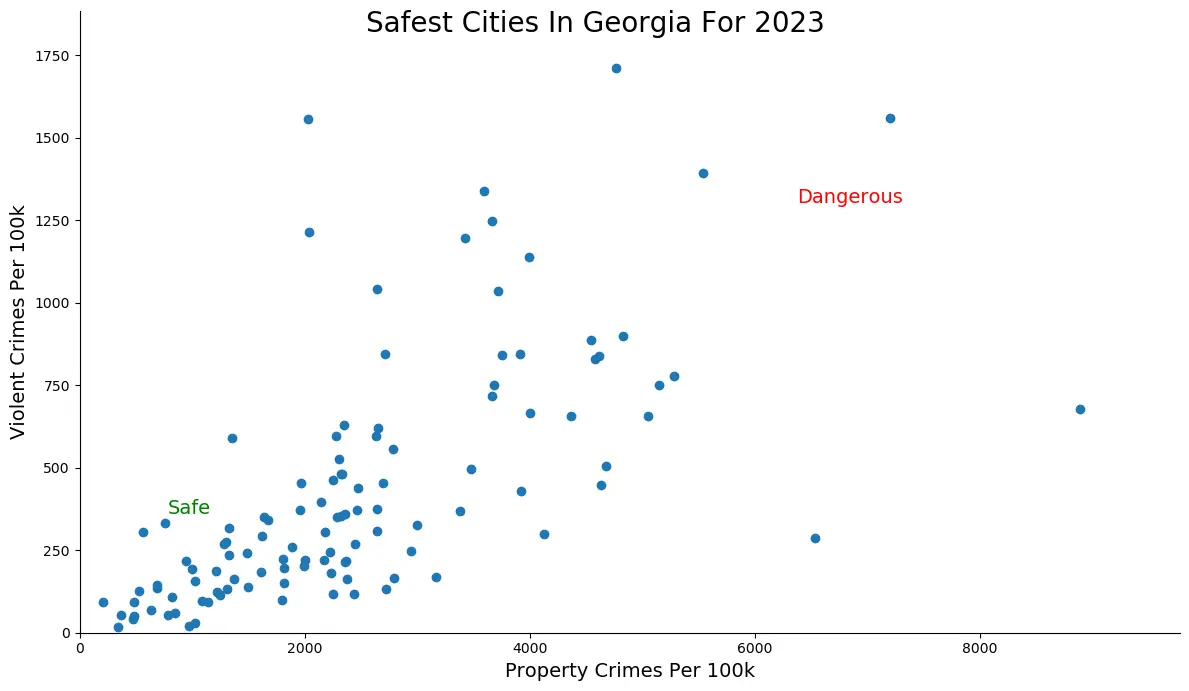 While there are surveys and public polls on what cities in Georgia are the safest, we wanted to rely on something other than speculation and opinion. Instead, we looked at the hard numbers from the FBI's most recent crime report in Georgia.
Specifically, we used Saturday Night Science to analyze the FBI's Uniform Crime Report, which summarizes the number of property and violent crimes in each city annually. We used two criteria:
Violent crimes per capita (murders, assaults, rapes, armed robberies)
Property crimes per capita (thefts, burglaries, motor vehicle thefts)
For example, there were 66 crimes committed in Holly Springs, with a reported population of 18,511. That means the number of crimes per capita is 0.0036, which translates into a 1 in 280 chance of being the victim of a crime.
We only looked at Georgia cities that have populations of more than 5,000. This filter left us with 113 of the biggest cities in Georgia to rank.
We ranked each city for each criterion from 1 to 113 where 1 in any particular category is the safest.
Next, we averaged each place's two criteria to create a Safety Index. We crowned the place with the lowest overall Safety Score, "The Safest Place In Georgia," with any ties going to the bigger city.
The safest city in Georgia, based on our criteria, is Holly Springs. The most dangerous city in Georgia? College Park, where residents had a 1 in 11 chance of being the victim of a crime.
This article has been update for 2023. This report marks our tenth time ranking the safest places to live in Georgia. All the data comes from the FBI's Crime In The USA 2022 report.
Summary: The Safest Cities In The Peach State
Looking at the data, you can tell that Holly Springs is as safe as they come in Georgia, according to science and data.
But as most Georgia residents would agree, almost every place here has its safe and not safe parts. So just make sure you're informed ahead of time.
Here's a look at the most dangerous cities in Georgia according to the data:
College Park
Brunswick
Cordele
For more reading, check out:
Breaking Down Crime In The Safest And Most Dangerous Cities In Georgia

Share on Facebook
Chris Kolmar has been in the real estate business for almost ten years now. He originally worked for Movoto Real Estate as the director of marketing before founding HomeSnacks.
He believes the key to finding the right place to live comes down to looking at the data, reading about things to do, and, most importantly, checking it out yourself before you move.
If you've been looking for a place to live in the past several years, you've probably stumbled upon his writing already.
You can find out more about him on LinkedIn.