Editor's Note: We updated this article for 2021. This is our seventh time ranking the best places to live in New York.
Article Table Of Contents   
(Skip to section)
Whether it's larger than life statues: A.K.A. the Statue of Liberty in New York City. New York knows how to do it up big.
New York's residents also know that "the big" doesn't stop there. Large groups of New Yorkers flock to the Hamptons every summer, big attitudes grace the stages on Broadway daily, and there's a reason they're called the New York 'Giants'.
With all this bigger is better lifestyle in New York, we had to ask the tough question: what makes their cities the best? In order to produce a comprehensive list of New York's best cities, we took a look at things that matter: low cost of living, gold star schools, and an above average employment rate to name a few.
Don't let New York's over-the-top demeanor scare you. New York really does rock. So much, that it was quite the challenge to reduce its best cities to just one list. The slogan "I Love New York" is stamped on every license plate and all the highway welcome signs greet you with the same love. Rightfully so, New Yorkers love their state and they want you to love it too. Even more, they want you to call its best cities home.
Grab yourself a fully loaded cup of diner coffee and a NY slice and read on to see how we did.
The 10 Best Places To Live In New York For 2021
What city is the best place to live in New York for 2021? Well according to the US Census and FBI data we crunched, East Hills is the best place to live in the Empire State if you care about home values, low crime, and a high quality of life.
If you live anywhere in or close to New York's Nassau County, consider yourself pretty lucky. Our top ten, bigger than life, best New York cities like North Hills, Rye, and Massapequa Park raise the bar for the rest of the state. The star on The Rockefeller Center Christmas Tree has nothing on these places.
However, do not fret if you don't see your hometown in the top ten. We ranked all 163 places in New York for you! Take a breath and scroll down to see where your town ranked.
If you're looking for something more national, check out the best states in America or the best places to live in America.
For more New York reading, check out:
The 10 Best Places To Live In New York For 2021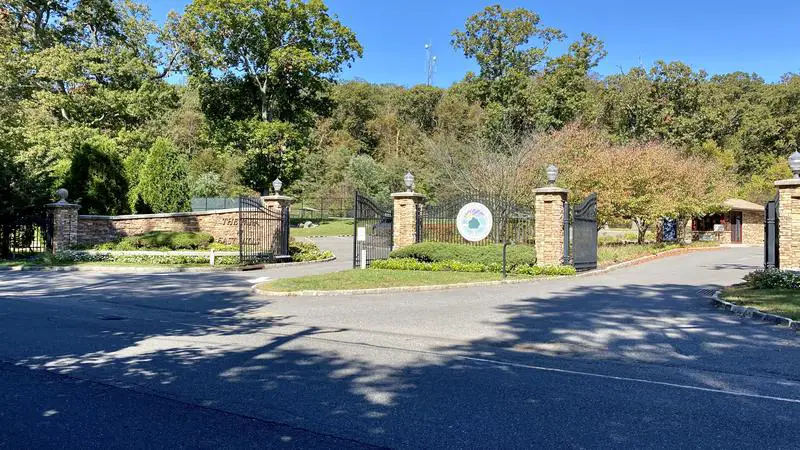 From North Hills, it's not a long drive to our best city in New York, East Hills. The data shows that East Hills is one smart village; over 40% of its residents have a master's degree or higher. You might want to do a quick study session or two before moving here, just to make sure you'll fit in. Especially when you're meeting new friends at the exquisite village green.
Life on the North Shore of Long Island isn't cheap, but folks in East Hills are the 2nd best-paid in New York, with residents pulling in a median household income of $224,583/year. With that kind of wealth, It's no surprise that East Hills has the 3rd lowest poverty level in the state, 1.4%. It also helps explain why, of all the places in New York, East Hills residents have the 6th highest rate of health insurance coverage, 99.5%.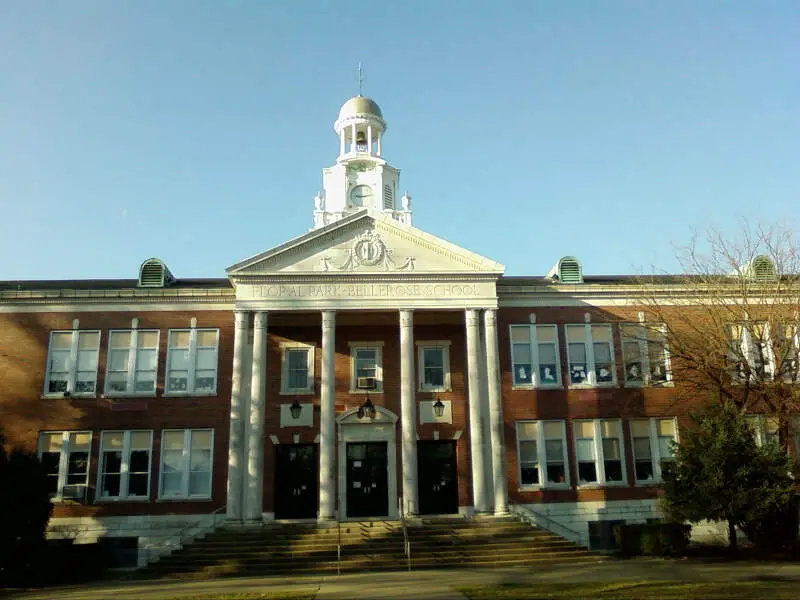 Floral Park is a village of 16,003 located in Long Island's Nassau County. Floral Park doesn't need to be told it's an awesome spot; its motto is "A Great Place to Live," after all. Schools in Floral Park got an 8/10 average rating on GreatSchools, so you can rest assured that your kids are getting off on the right foot here.
Speaking of youth, Floral Park's median age is 42, which is on the lower end of the spectrum for this list. If you combine that with the village's status as the 14th most densely populated place in New York, you can see that Floral Park is one of the more dynamic places that we're covering here. And with a poverty rate well below the 3% mark, Floral Park makes sure all its residents are along for the ride.
As a bonus, Floral Park is only fifteen minutes from JFK Airport, so far off friends and family will have a super easy time coming for a visit.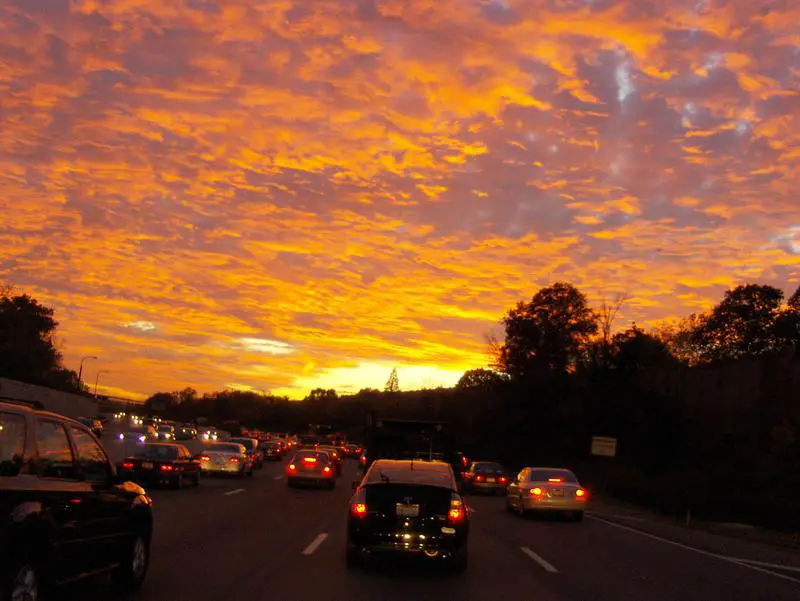 We're starting off our tour of the best places to live in New York with North Hills, a village of 5,796 located just east of New York City. Life in North Hills is fairly ritzy; I mean, the nearby Gold Coast inspired The Great Gatsby with its over-the-top opulence after all. In that spirit, we should mention that homes in North Hills are the 7th most expensive in New York, going for a median price of $1,057,000. That's not much of an issue when you're one of the richest places in New York, though, seeing as the median household income in North Hills is a cool $155,679/year.
The good news is that the economy works for more than just the hyper-wealthy here. At 0.8% unemployment and 1.8% of people living below the poverty level, North Hills has the lowest unemployment and 4th lowest poverty level in New York.
One important thing to note before moving to North Hills is that, with a median age of 58, it's far and away the oldest place to make this list. So if you're cool with a more mature, slow-paced lifestyle, North Hills should suit you just fine. But if you crave constant action, maybe consider one of the other cities listed below as an alternative.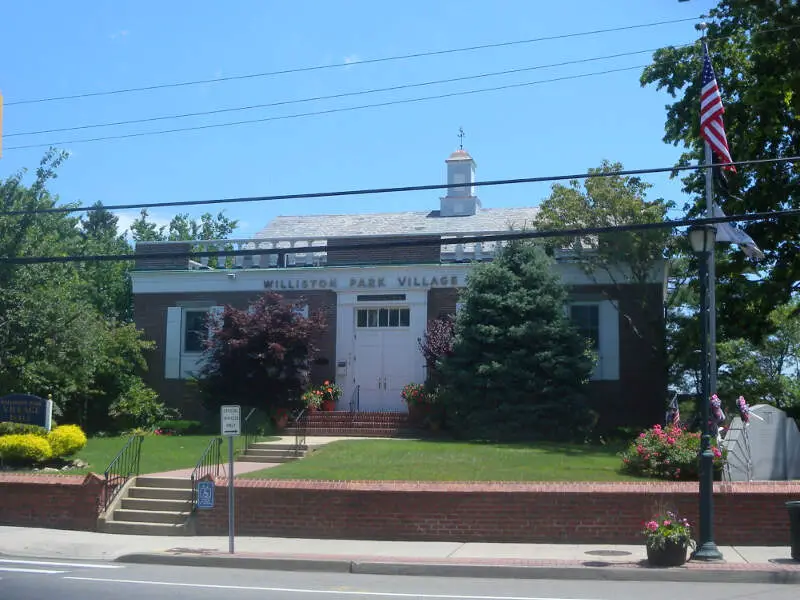 Source: Public domain
Wrapping up our list of best places to live in New York is Williston Park, another village proudly representing the Town of Hempstead. The poverty level in Williston Park is under 3%, so you know people are generally doing alright for themselves here. Williston Park is also the 12th most densely populated place in New York, and the most densely populated among cities on this list. That means there's plenty of action to keep you occupied here. Like signing up for some classes at Hofstra University or just going out for a night of high culture at the school's art museum.
Williston Park's inclusion on this list means that 90% of the best places to live in New York are on the western end of Long Island, so that's a good place to start looking if you're planning a move soon.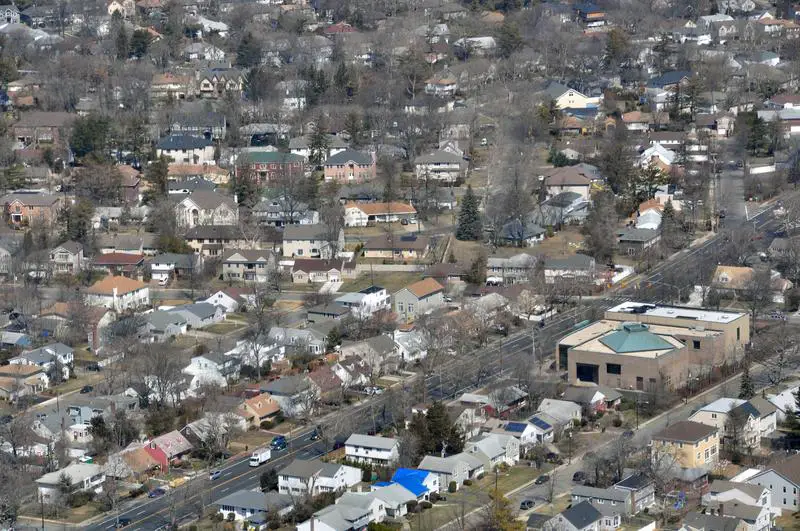 We're heading to the South Shore of Long Island to reach New York's 5th best place to call home, Cedarhurst. For starters, out-of-towners will have no problem visiting your home in Cedarhurst, considering it's just 15 minutes from John F. Kennedy Airport.
For golf and more, residents can visit the nearby North Woodmere Park. There's also Andrew J. Parise Park if you just want a local spot to spend the day with the kids.
Speaking of kids, 36.38% of Cedarhurst households have kids, and local schools are fantastic. In fact, 56% of adults in Cedarhurst are highly educated.
That explains the rock-bottom levels of unemployment and poverty. It also accounts for Cedarhurst having the 9th highest proportion of residents with health insurance in New York.
Homes in Cedarhurst sell for a median price of $571,200, and the median income is $103,846.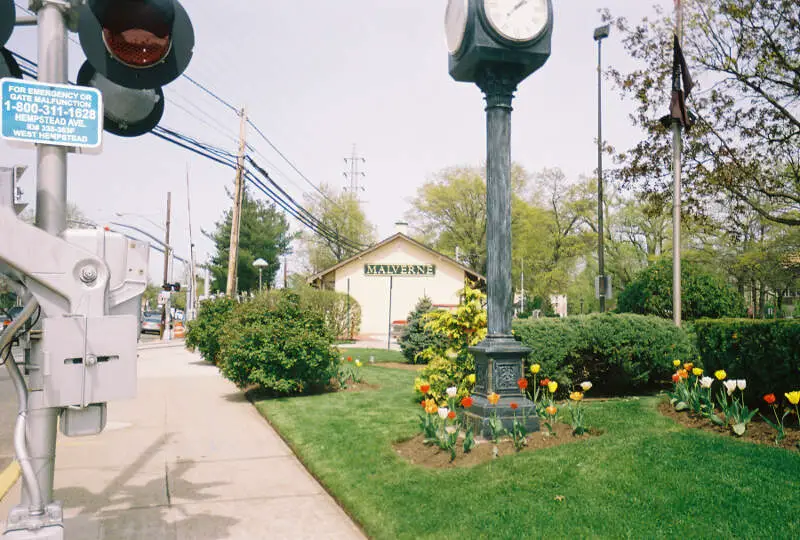 Malverne is a village of 8,517 in the Town of Hempstead. Malverne's population is on the older end of the scale for this list, with a median age of 48, so this might be a better choice for someone who doesn't prioritize constant activity and just wants to live in a friendly, relaxing community. It also might be for someone who appreciates a good deal, because despite being under an hour from all the places listed so far, Malverne has the lowest home prices of the bunch. And with folks still earning $126,964/year, Malverne's a close second for lowest cost of living among the places we're covering here.
Unemployment in Malverne is also a super low 2.6%, which is good enough to be the 15th lowest in New York. One more thing for people who value security: Malverne is among the safest places in New York, so you won't have to run back home if you forget to lock the door here.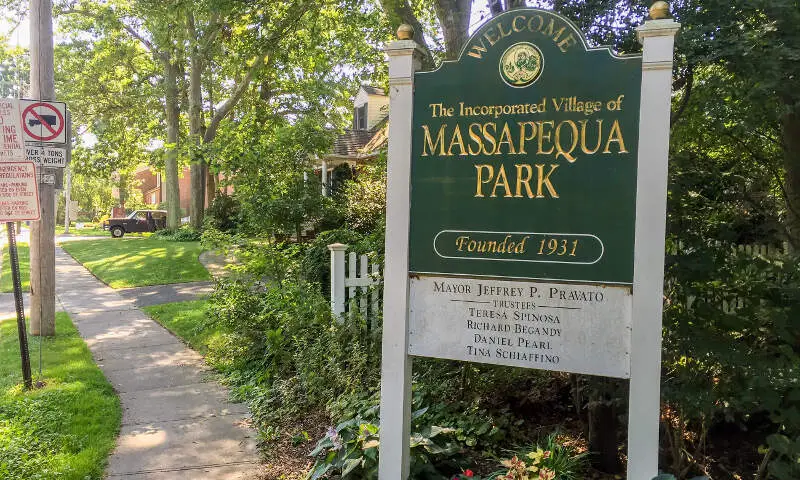 We're going down to Long Island's South Shore to reach our 7th best place to call home in New York, Massapequa Park. While Massapequa Park is fairly expensive, its combination of a lower than average median home price (for the region) and higher income of $129,525/year actually gives it the lowest cost of living of places you'll see on this list.
Affordability is an especially great thing when it reaches all levels of a community. That's what happens in Massapequa Park, where the poverty rate is a measly 2.7%, the 13th lowest in all of New York. A strong economy is great and all, but we think what Massapequa Park residents love best about their home is having the world-famous Jones Beach right in their neighborhood. It's hard to assign a statistical value to that sort of perk though!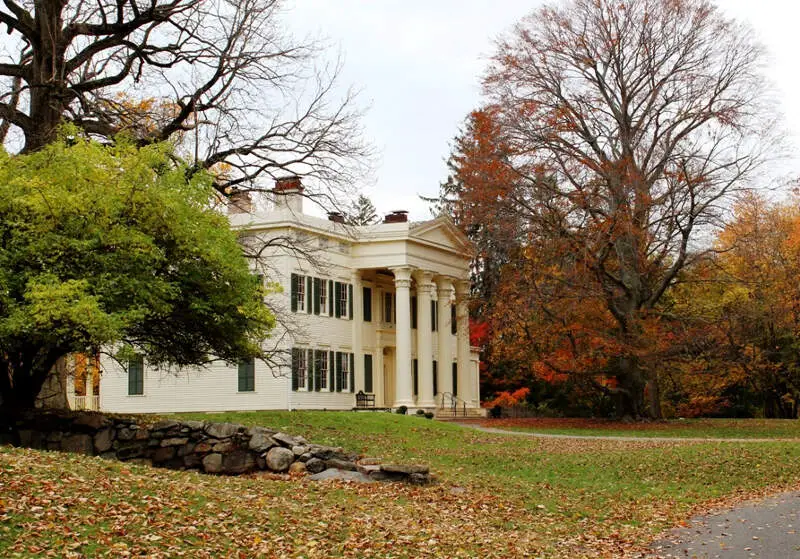 We're taking our first foray out of Long Island to reach the 8th best place to call home in New York, Rye. We named Rye the best place for families in New York, and a lot of those same factors land Rye here on this list. For example, GreatSchools gave Rye's public schools a stellar 9/10 rating. Rye also has the lowest overall crime rate in New York, with crime being about 85% less frequent here than the national average.
As far as quality of life goes, Rye residents enjoy the a median household income of $192,688/year, the 4th highest in the state. That helps explain why 98.8% of folks here have health insurance.
Rye is located just 15 minutes outside of White Plains and New Rochelle.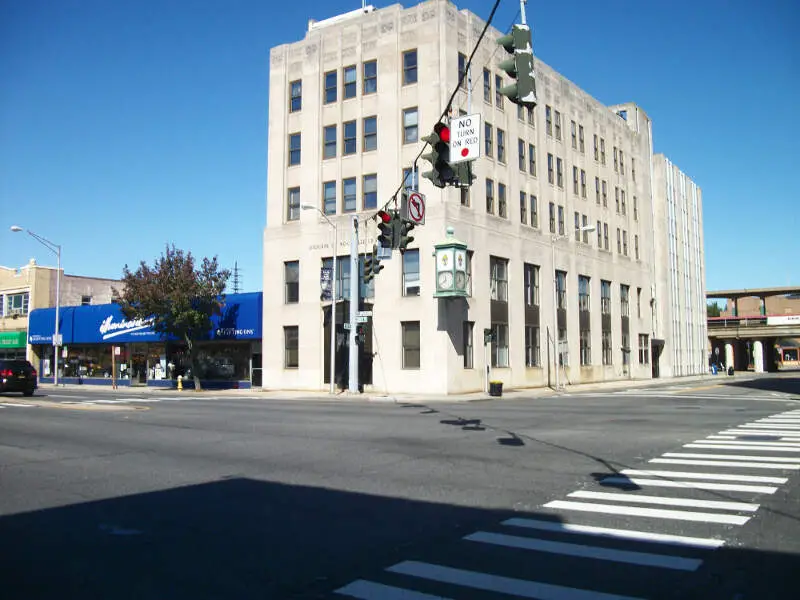 A neighbor of Malverne, Rockville Centre is a somewhat urbanized village of 24,492, making it the most populous of the places listed here. Rockville Centre doesn't stand out as the 9th place thanks to any one statistic; across the board strong numbers land it on this list. For example, 98.7% of residents have health insurance, the unemployment and poverty levels are around the top 25 statewide, as well as home prices and household incomes.
The educational system in Rockville Centre is also top-quality, with GreatSchools giving an average score of 8/10 for local public schools. And schools are more than just about learning here, because at Molloy College's Madison Theatre, big name acts put on shows all the time.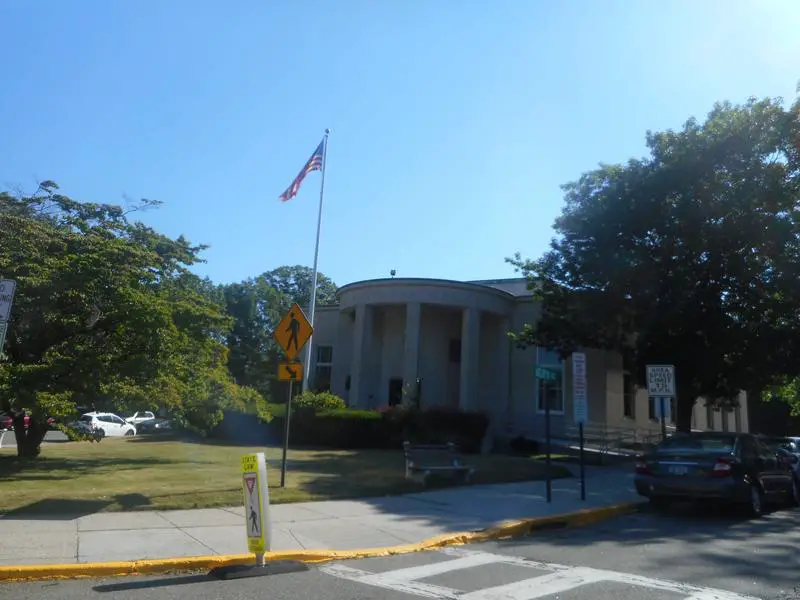 Situated just a half-hour east of New York City, Great Neck Plaza comes in as the 10th best place to live in New York. Great Neck Plaza offers easy access to Long Island's premier downtown shopping district, with over 250 shops, restaurants, and boutiques to choose from.
You can also get a nice view of Manhattan from Great Neck Steppingstone Park. While Great Neck Plaza certainly isn't cheap, the overall cost of living is high mostly due to housing costs -- homes in Great Neck Plaza sell for a median price of $364,400. On the flip side, the median household income in Great Neck Plaza is $92,260.
Over 30% of Great Neck Plaza residents have a master's degree or higher, and the local schools have achieved the 12th lowest high school dropout rate statewide. That helps explain the 18th lowest unemployment rate statewide and the safe streets Great Neck Plaza gets to enjoy.
Great Neck Plaza is also the 3rd most densely populated spot in New York, so if you dig action, this is the place to be.
Mapping The Best And Worst Places To Live in New York
The Pressing Question: Size
Before we even started to collect data, we had to answer a tough question: Is it fair to pit Albany with a population of 97,478 against places with a population of 18?
We firmly decided no, that just isn't fair.
So to create our ranking, we broke places to live into three tiers:
Cities -- Populations over 5,000
Towns -- Populations between 1,000 and 5,000
Small Towns -- Populations below 1,000
This left us with 163 cities, 465 towns, and 340 small towns.
We then decided, no matter how much anyone loves their town, the best cities to live in New York have more of everything and therefore you need to have over 5,000 people to truly be 'the best'.
Now we also realize that city living might not be your cup of tea, so we ran the following analysis on towns and then again for small towns.
You can see those two top tens at the bottom of the post.
How We Calculated The Best Cities To Live In New York
Now that we had our set of cities, it was time to rank them.
We ranked each place in New York across a number of criteria from one to 163, with one being the best.
We then took the average rank across all criteria, with the city posting the lowest overall score being crowned the winner of the title "Best Place To Live In New York".
The criteria we looked at were:
Median Home Values
Median Income
Population Density (Higher better)
Unemployment Rate
Commute Time
Crime
Education Levels
Health Insurance Coverage
Poverty rates
Sources of criteria include the New Census Data and FBI Crime Data. You can download the data here.
After the dust settled, what was the best place to live in New York? That would be East Hills.
If your city or town isn't among the top 10, jump down to the bottom of the post to see a detailed chart of the best places in New York.
Otherwise, buckle up for a ride down good living lane with East Hills at the end of the cul-de-sac.

Wrapping Up The Best Places When It Comes To Living In New York
If you're looking at areas in New York with the best economic situations, where there's lower than average crime, and a lot to do, this is an accurate list.
East Hills made a strong showing to take in the overall number one spot for the best place to live in New York for 2021.
Best Towns To Live In New York
Kensington (Pop. 1,176)
Orchard Park (Pop. 3,197)
Clarence Center (Pop. 2,341)
East Greenbush (Pop. 4,960)
Pittsford (Pop. 1,573)
Halesite (Pop. 2,504)
Katonah (Pop. 2,077)
Roslyn Estates (Pop. 1,200)
Point Lookout (Pop. 1,128)
Cayuga Heights (Pop. 3,799)
Best Small Towns To Live In New York
Copake Falls (Pop. 208)
Chautauqua (Pop. 567)
Virgil (Pop. 367)
Grand View-on-Hudson (Pop. 366)
Woodsburgh (Pop. 756)
Hewlett Neck (Pop. 363)
Malverne Park Oaks (Pop. 653)
Belle Terre (Pop. 725)
Plandome Manor (Pop. 884)
North Hornell (Pop. 763)
If you're curious enough, here are the worst places to live in New York according to the data:
Binghamton (Pop. 45,140)
Rochester (Pop. 206,848)
Monticello (Pop. 6,433)
For more New York reading, check out:
Where Are The Best Places To Live In New York?
| Rank | City | Population |
| --- | --- | --- |
| 1 | East Hills | 7,147 |
| 2 | Floral Park | 16,003 |
| 3 | North Hills | 5,796 |
| 4 | Williston Park | 7,277 |
| 5 | Cedarhurst | 6,642 |
| 6 | Malverne | 8,517 |
| 7 | Massapequa Park | 17,193 |
| 8 | Rye | 15,820 |
| 9 | Rockville Centre | 24,492 |
| 10 | Great Neck Plaza | 6,957 |