The 10 Safest Cities In New York For 2020
We used data and science to determine the places in New York where everyone sleeps safe and sound.

Editor's Note: This article has been update for 2020. This is our sixth time rankings the safest places to live in New York.
Swipe left for slideshow. Article continues below.
Article Table Of Contents   
(Skip to section)
The Big Apple. Broadway and the birthplace of Hamilton.
New Years Eve ball drops and amazing Christmas lights.
New York seems to have it all. It's no surprise that New York, specifically New York City, is one of America's top destinations. But what are the safest places to live in the Empire State?
When many people hear the words New York, they often think New York City and automatically assume that the entire state is an unsafe place to live in. But that's not true. Many people living in New York are enjoying the safest towns and cities around. If you take the time to visit New York, the state, versus just New York, the city, you will also find some great surprises there as well. New York state is full of beautiful parks and mountain ranges. If you travel up to the Finger Lakes Region, you can spend a day, or days, filling up on amazing wines from local vineyards around some amazing lakes.
Although New York isn't the cheapest place to live, they do have some major perks. New York is incredibly diverse, especially if you live in the Big City. It also is full of amenities. What else could you possibly want? Oh, right-- safety. Not to worry, HomeSnacks got that figured out for you as well. In all, we analyzed 194 cities in New York with a population of more than 5,000 using the latest FBI crime data.
What's the safest place to call home in new york? Lewisboro has once again ranked #1 on our safest cities in New York list. So if you are looking for a nice and safe small town to raise your children in, Lewisboro would be a top choice in New York.
Curious to see how your city ranked on our list? Read on to learn more about how we crunched the numbers and to see how your city stacked up.
For more reading on safe places to live in and around New York, check out:
The 10 Safest Cities In New York For 2020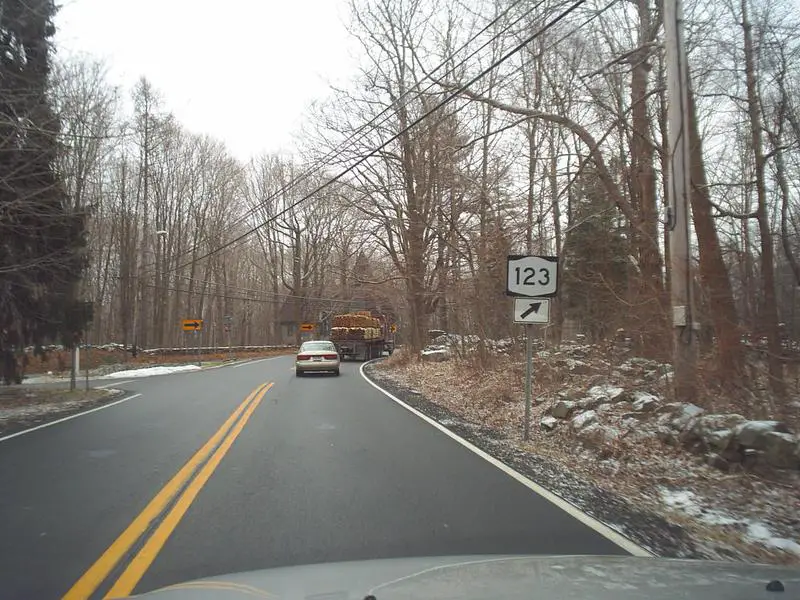 Lewisboro is all kinds of safe -- the safest place in New York to be exact.
Even more so, it's incredibly safe even on a national basis for a city of its size. There were a grand total of zero violent crimes here in the last reporting year, good for a tie for the best in the state and the overall best property crime rate.
Based on our research, the reason for this could be due to a lack of a downtown -- it's hard to rob a liquor store when there's no main street in town. Or, more to the point, there's not an abundance of easy targets walking around.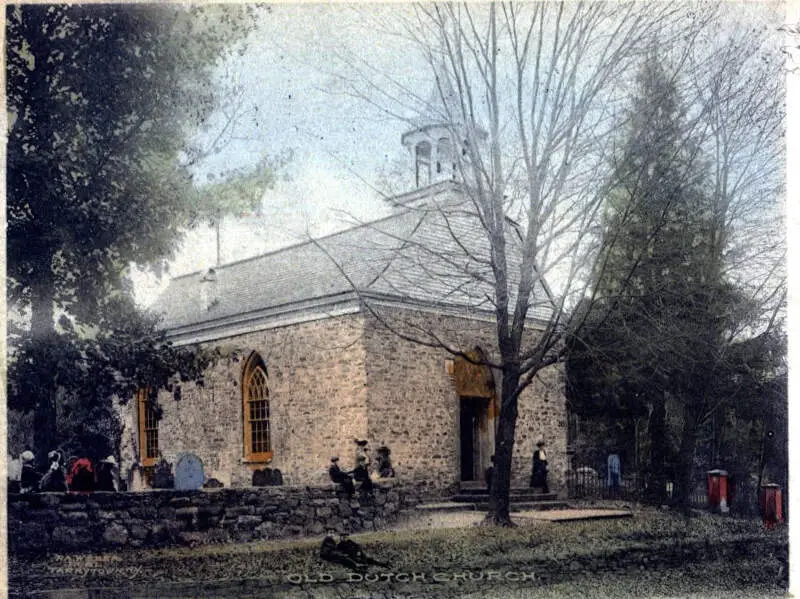 Source: Public domain
You may know Sleepy Hollow as the haunted home of the headless horseman, but don't let those old ghost stories scare you away from this safe little town. Apparently, the horseman has been on sabbatical or something, because there wasn't a single violent crime committed in Sleepy Hollow in 2018. And only ONE property crime happened during that time.
So really, it doesn't matter if you go to Sleepy Hollow Cemetery with a tour group at high noon or alone on a moonless midnight -- your chances of something spooky happening are about zilch regardless.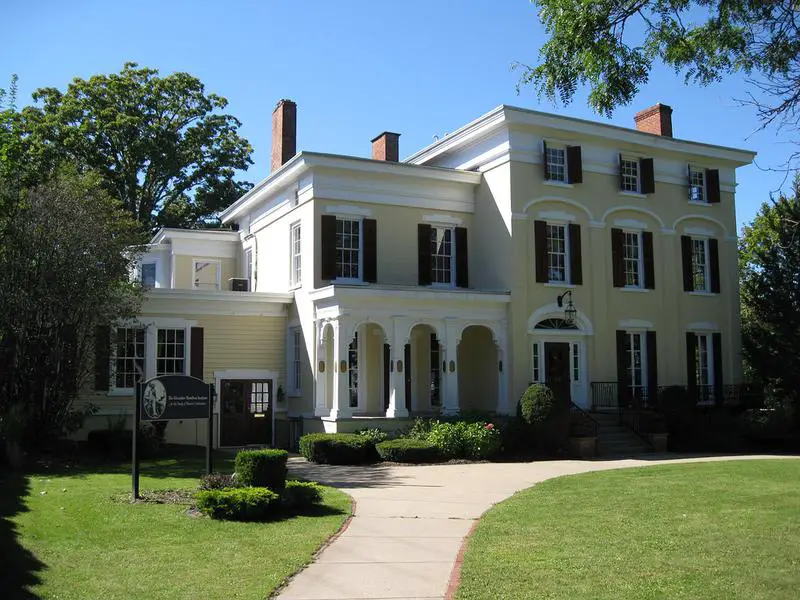 Not be confused with the Costco brand, Kirkland, NY ranks as the third safest place in New York.
In what's becoming a bit of a pattern here with the first three places on this list, Kirkland had no violent crimes reported in the last reporting year, but had slightly more property crime than the first two places on the list.
Located in the Oneida County on the western side of the state, you can buy your safety here in bulk -- just like the all too familiar Costco brand.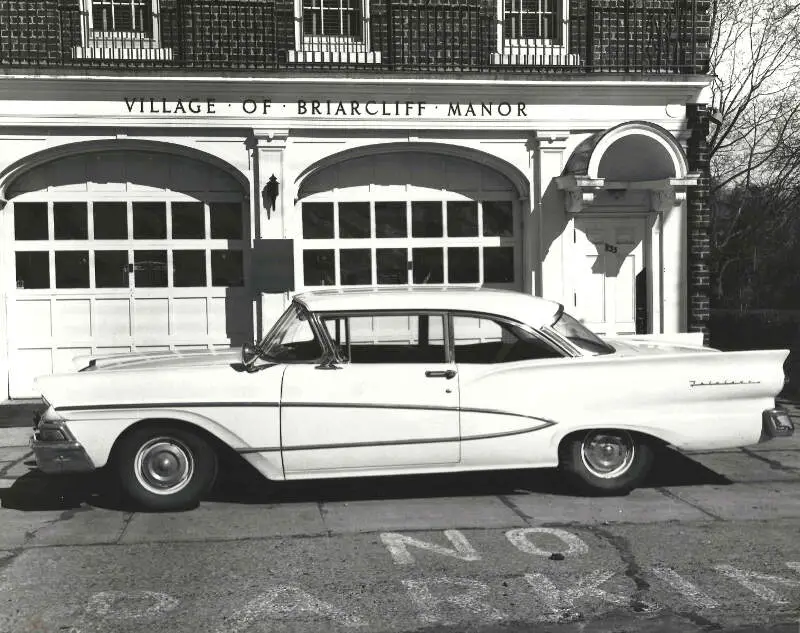 Source: Public domain
Historically known for being the home of American business magnates such as the Rockefellers, Vanderbilts, and Astors, Briarcliff Manor is a serene little village with virtually no crime. There were no violent crimes and only 16 property crimes committed in 2018, a property crime rate about 12 times lower than the national average. So don't worry if you get turned around at Rockefeller State Park Preserve; a stranger is more apt to help you than hurt you.
Briarcliff Manor's poverty rate is also around five times lower than the nationwide average. On the flipside, it's also quite an expensive place to call home, with the median home price being over $680,000. Not really unexpected when it's the historical home of big-name captains of industry (or robber barons, depending who your high school history teacher was).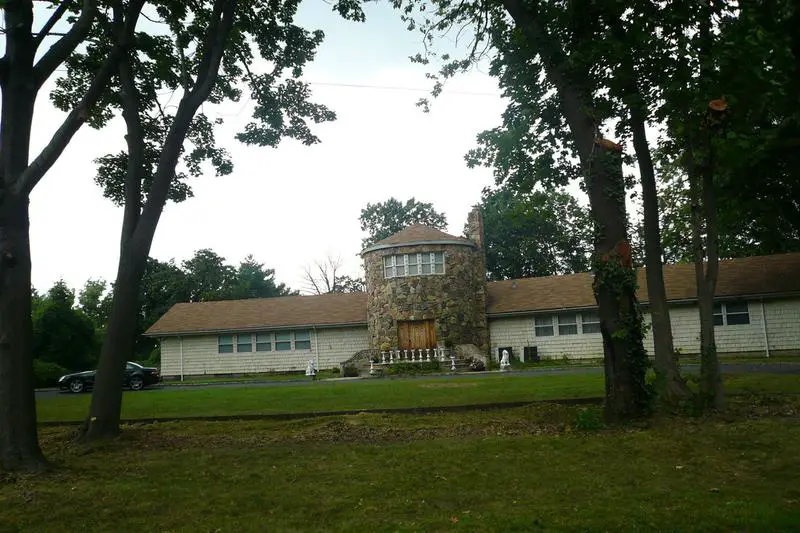 Located on the North Shore of Long Island, Kings Point provides its citizenry with safety and security normally reserved for royalty. Don't worry about your treasure getting snatched in Kings Point; according to the data, a property crime only occurs once every 33 days there. Which means there's a greater chance of a raccoon stealing your things at Kings Point Park than a person.
The catch: Kings Point is part of the Great Neck region, which ranked as the eighth most expensive place to live in New York. Hey, living like a king doesn't come cheap.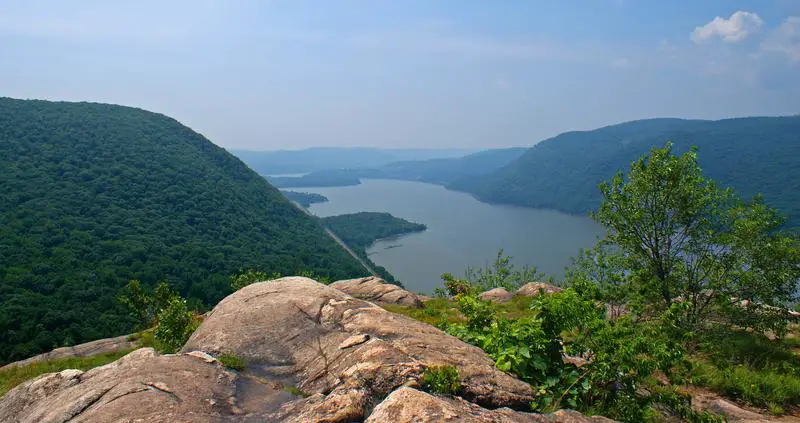 The first, what I would call statistically typical, city on the list is Highlands -- what with it actually having some violent crime unlike the angelic cities above it.
Another city in Orange County, Highlands actually improved a couple of spots from its spot last year.
But don't be worried -- you can still get a view of the safety of the land from this vantage point, even if you aren't so high up.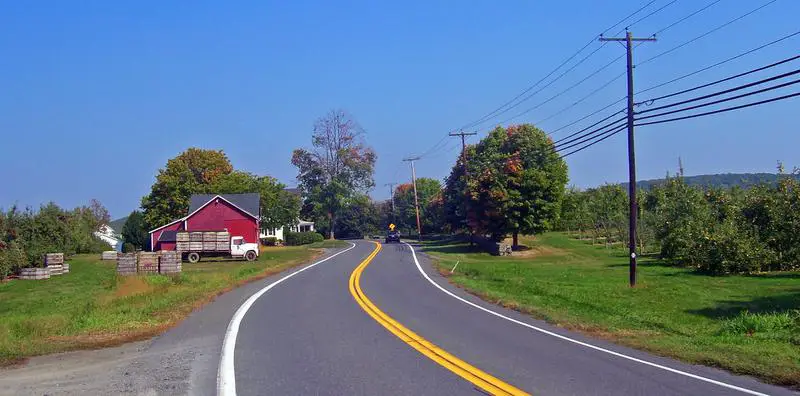 Last year, Plattekill wasn't even in the top 50 safest cities in New York, so this jump up to the #7 spot is a big achievement for this Ulster County town. What's the secret to Plattekill's success? Well, having absolutely no violent crimes and having more campgrounds at Hemlock Ridge than property crimes in 2020 certainly did the trick. Hopefully, Plattekill can keep it up and make this list again next year! Stay safe Plattekill.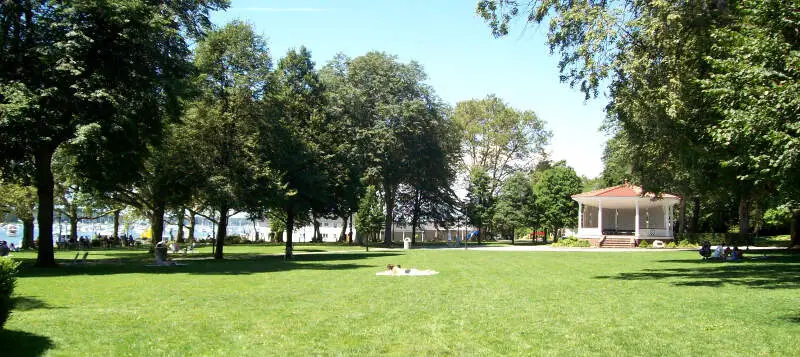 Located on Long Island, Northport is the eighth safest place in New York, with the 21st lowest rate of property crime and tying for the sixth lowest rate of violent crime.
While ants may spoil your picnic at Northport Village Park, you can rest assured that criminals won't. Northport isn't a one trick pony either; the village also got a 9.5/10 housing, 9.5/10 education, and 9/10 jobs rating on our snackability score. Northport really ticks all the boxes.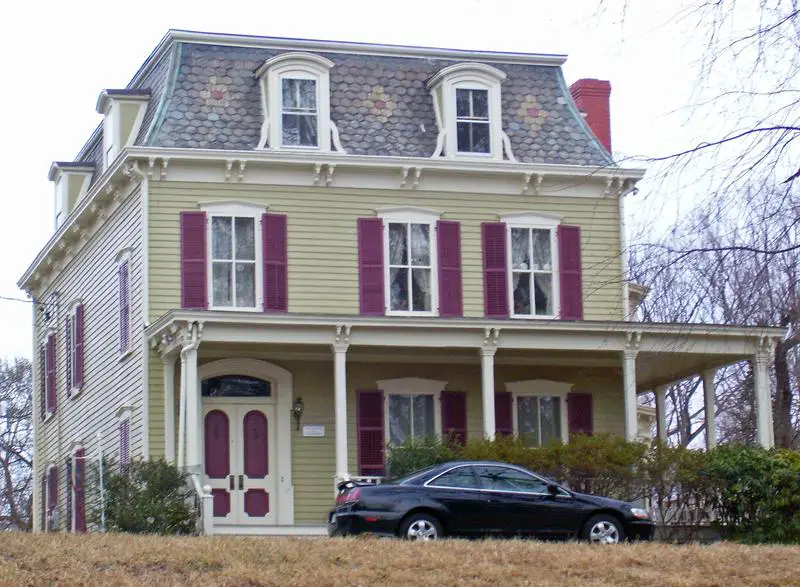 In most states, New Castle would rank much, much higher on this list. New York just has a lot of super safe places. Unfortunately, New Castle is one of only two cities on this list to have experienced a violent crime in 2018, which hurts the town's ranking.
On the bright side, it was only one crime. That guy really screwed up the safety data for New Castle. In any case, property crime rate in New Castle is eight times lower than your average American town. With all the activities going on at Teatown Lake Reservation, who's got time to nick somebody's valuables?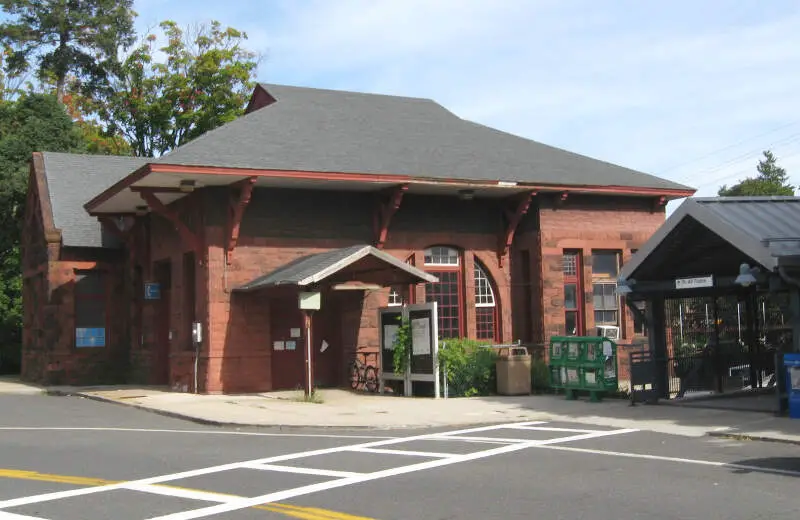 Source: Public domain
Harrison breaks into the top ten safest places in New York this year at number 10 .
Actually, this is the first time Harrison has been on the top ten of any of the more than 50 lists of New York we've generated in the last couple of years. A big improvement in violent crimes earned the city this ranking -- something they should be proud of.
Harrison is located in Westchester County, about 22 miles north of New York City.
How we calculated the safest cities in New York for 2020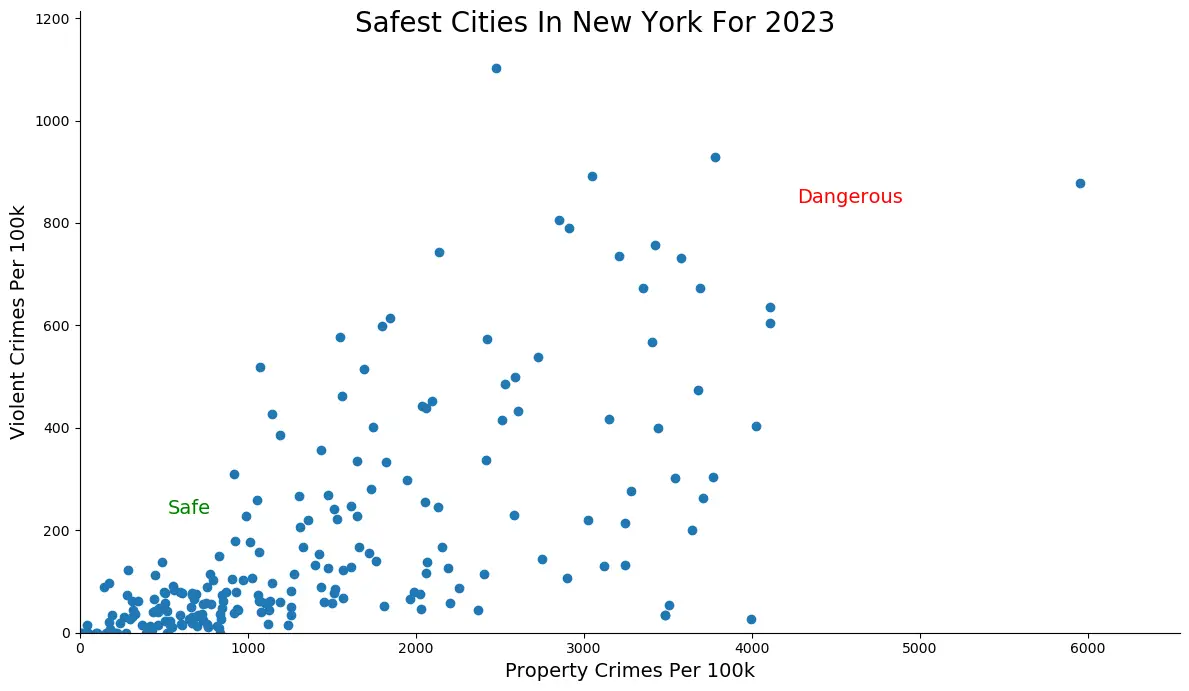 While there are surveys and public polls on what cities in a state are the safest, we didn't want to rely on speculation and opinion. Instead, we looked at the hard numbers from the FBI's most recent report of crime (Published Sept 2019) in New York.
Specifically, we analyzed the
FBI's Uniform Crime Report
which summarizes the number of property crimes and violent crimes in each city per year. We used two criteria:
Violent crimes per capita (murders, assaults, rapes, armed robberies)
Property crimes per capita (thefts, burglaries, motor vehicle thefts)
For example, there were a total of 0 crimes committed in Lewisboro which had a reported population of 12,823. That means the number of crimes per capita is 0.0 which translates into a 1 in 12000 chance of being the victim of a crime.
We only looked at cities that have populations of more than 5,000 people reported to the FBI in 2018, the last reporting year. This left us with a total of 194 of the biggest cities in New York to rank.
We ranked each city for each criteria from 1 to 194 where 1 in any particular category is the safest.
Next, we averaged each places two criteria to create a Safety Index. We crowned the place with the lowest overall Safety Score "The Safest Place In New York" with any ties going to the bigger city. You can download the data here.
The safest city in New York, based on our criteria, is Lewisboro. The most dangerous city in New York? Buffalo, where residents had a 1 in 20 chance of being the victim of a crime.
Note: This report is not an analysis of the effectiveness of local police departments, nor does it reflect the fact that people from out of town may come into a community and cause a crime. It simply looks at where crimes occurred most frequently, based on a city's population.
There You Have It - The Safest Cities In The Empire State
Looking at the data, you can tell that Lewisboro is as safe as they come, according to science and data.
But as most New York residents would agree, almost every place here has its safe and not safe parts. So just make sure you're informed ahead of time.
Here's a look at the most dangerous cities in New York according to the data:
Buffalo
Niagara Falls
Binghamton
For more reading, check out:
Breaking Down Crime In The Safest And Most Dangerous Cities In New York

Share on Facebook
Chris Kolmar has been in the real estate business for almost ten years now. He originally worked for Movoto Real Estate as the director of marketing before founding HomeSnacks.
He believes the key to finding the right place to live comes down to looking at the data, reading about things to do, and, most importantly, checking it out yourself before you move.
If you've been looking for a place to live in the past several years, you've probably stumbled upon his writing already.
You can find out more about him on LinkedIn.