What is one commodity that seems to be used all of the time but is somehow difficult to obtain? You guessed it: money. For those starting their careers or those thinking about changing careers, one worry is probably on your mind a lot, which is how will I afford the monthly expenses.
So how do you make your income last longer? Live in a cheaper place. Easy as that.
When you think of New York, you may not think of affordable. But that is likely because you are thinking of New York City, the city that never sleeps, not New York State, a place filled with mountains and cute towns and suburbia. New York State has many assets outside of the Big Apple. Ever heard of Niagara Falls? Yeah, that is in the same state as New York City.
If you want to live in Manhattan, you will probably find it difficult to find even a cheap broom closet to live in. However, if you live in suburb and commute in, you may find that your expenses plummet greatly. So the great secret to saving money is that it's not so much about where you work that matters, but rather where you live.
While most of the cheapest cities are located in Upstate New York, there are definitely some options near all the hubbub of NYC. But what were the cheapest of the cheap?
The 10 Most Affordable Places To Live In New York
We looked at the 166 largest cities in New York and ranked them based on several factors of "affordability." That is, how far does your income go in each city, in terms of rent and housing prices?
What place is the cheapest place to live in New York? The big winner is Ilion, a city determined to keep their winning spot. Ilion is a city near Seneca Falls and en route to Niagara Falls. Who wouldn't like being able to visit another country on the weekends or swim in some beautiful lakes?
But if that doesn't seem interesting to you, New York has many amazing places to offer, including other top affordable cities Ilion and Hornell. Interested to see how your favorite city in New York stacked up? Read on for more information about our top-ranked cities and our methodology.
And if you already knew these places were cheap, check out some more reading about New York and the cheapest places in the country:
The 10 Cheapest Places To Live In New York For 2022
Ilion thinks that their NY pizza is the best, we just think they're the best because they are our most affordable city in New York for 2022. Ilion residents are all about celebrating one of their most notable people: Billy the Kidd. We think they should also be celebrating the fact that they're our most affordable city in terms of home price to income ratio.
Once Great Lakes region manufacturing powerhouse, Ilion's residents now find themselves working in healthcare, logistics, and engineering to offset their cost of living. So do yourself and your wallet a favor, and get-a-movin' to this affordable Herkimer County city.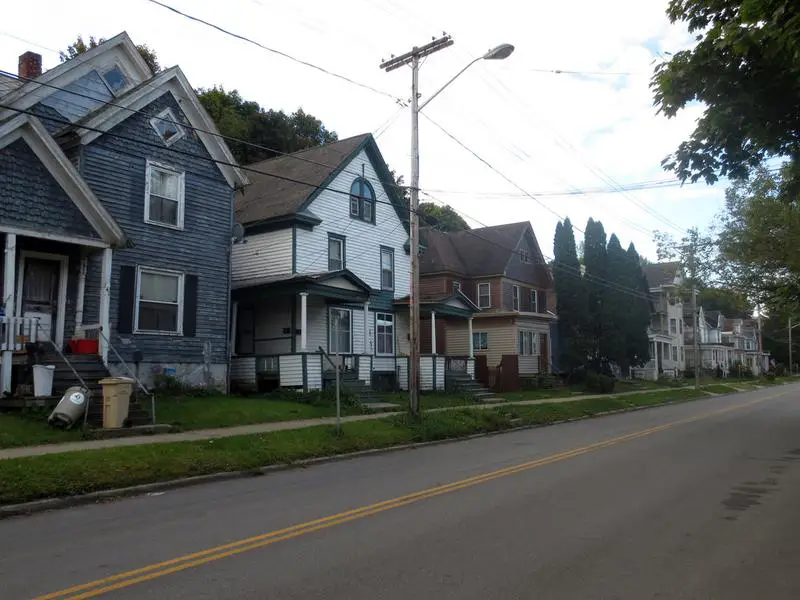 Head northeast from Hornell, towards the Canadian border, and you will run right into our second most affordable city in New York: Ogdensburg.
This city in St. Lawrence County is the second most affordable city in terms of home to income ratio and it is the 12th cheapest for rent to income ratio. Up two spots from last year, we're pretty sure the residents in border city know a good deal. More importantly, those numbers scream buy, don't rent.
We're pretty sure this is also why Ogdensburg is one of HomeSnacks' best places to retire in New York for 2022. Either way, seems like they're keeping their townies happy and their city affordable.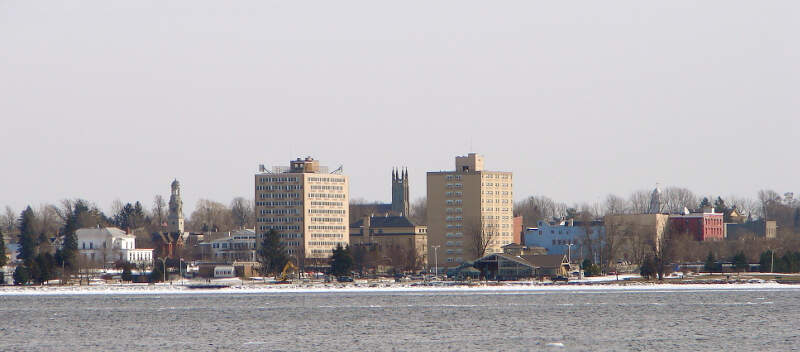 Located just south of the Canadian border, Massena is the third cheapest place to live in New York. Home prices in Massena are the 12.5 lowest in the state, about eight times lower than the statewide average. The median home price in Massena is $80,900 and the median income is $45,504, giving the town the sixth best income to home price ratio in the state. Rent is a little steeper in Massena, but if you keep your hobbies to free outdoorsy things like hiking at Robert Moses State Park, you should still have plenty left for your savings.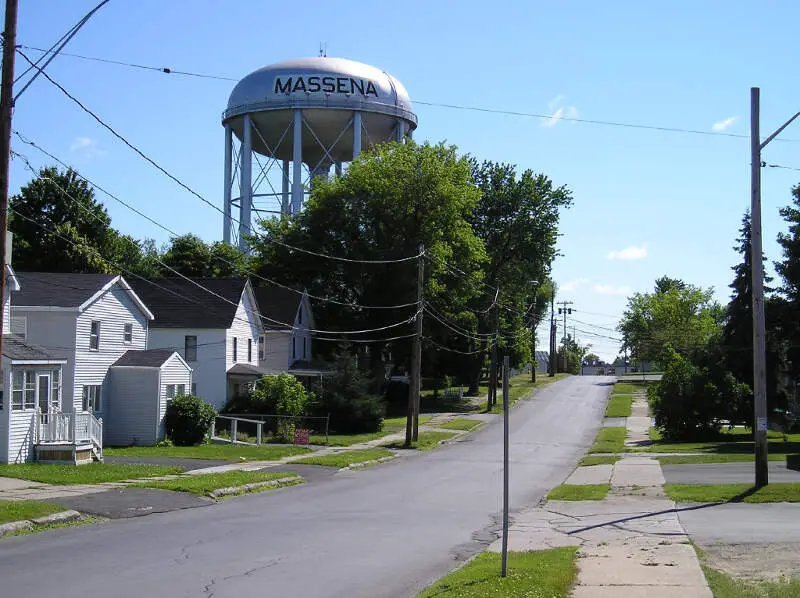 If you give us a New York minute, we'll tell you why Hornell is the Empire State's fourth most affordable city for 2022. Maple City is third when it comes to home price to income ratio. We're not surprised it's so affordable. And we definitely think it's because they have such a strong economy.
Jobs in manufacturing, healthcare, and waste management support Hornell's economy. H-Tizzle's $43,381/year median income provides stability, affordability, and some extra cheddar for a Lake Ontario beach trip or two. And if you're looking for a side hustle to make Hornell even more affordable, we hear they're always hiring dealers at the local casino.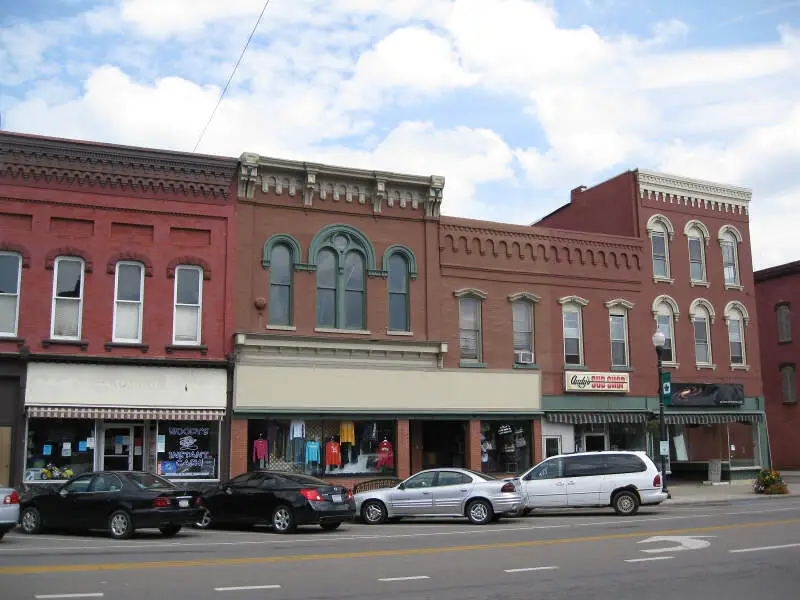 A town of 6,912 located 20 minutes southwest of Utica, Herkimer ranks as the fifth most affordable place to call home in New York.
The overall cost of living in Herkimer is about 25% lower than the New York average, so you can expect to spend less on things like transportation and groceries — but where Herkimer really stands out is low housing costs.
The median home price in Herkimer is $87,900 which, combined with a median household income of $47,941, makes for effortless mortgage payments. Rent in Herkimer is also quite low at about $684.
Locals enjoy cruising down the Mohawk River, whether they're learning about local history or drinking some cocktails. And if you want a way to make even more out of this affordable spot, check out the campgrounds or mining opportunities at Herkimer Diamond Mines.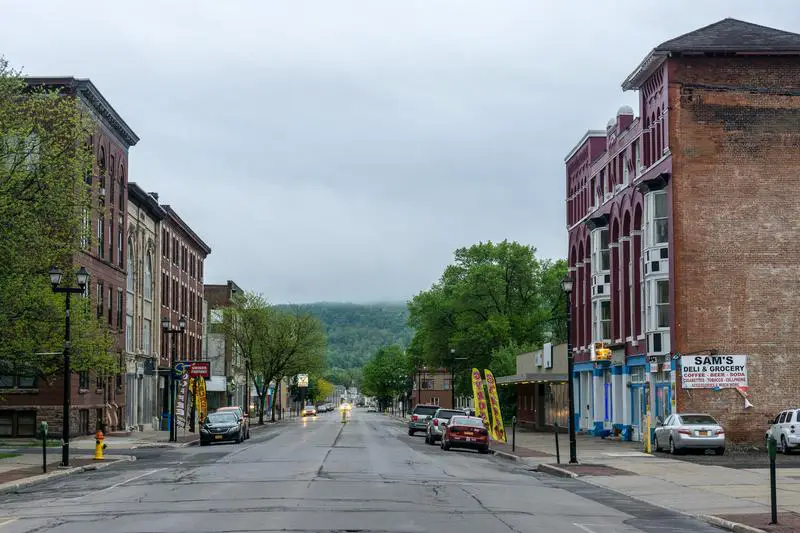 With the economy doing so well, people are moving now more than ever. Might we suggest New York's sixth most affordable city for 2022: Olean?
O-town scored an 8/10 for education on our snackability scale. And since a good education helps you make money, and money makes people happy, we're pretty sure you'll want to call the affordable Olean home.
According to our data, they should be New York's poster city for affordability, housing, and safety. And you know what else Olean's residents know? Apparently a good deal when they see it, because they are the ninth most affordable city for home price to income ratio.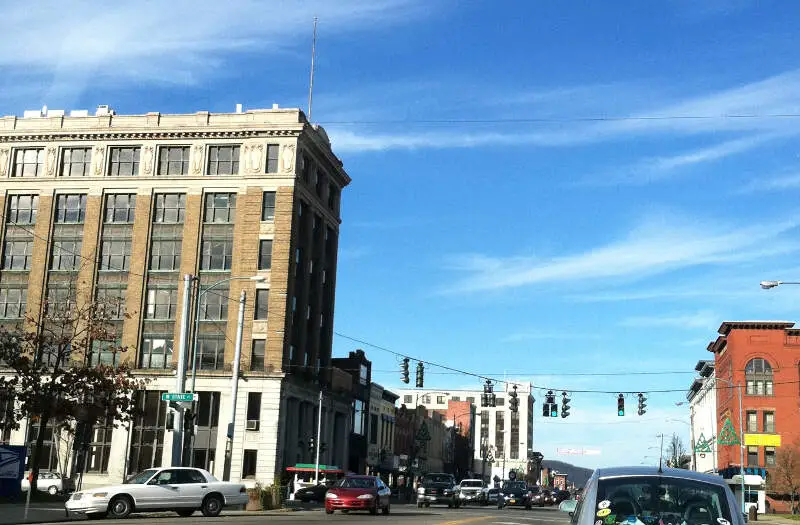 Niagara Falls is a city in Niagara County, New York, United States. As of the 2010 census, the city had a total population of 50,193, down from the 55,593 recorded in the 2000 census. It is adjacent to the Niagara River, across from the city of Niagara Falls, Ontario, and named after the famed Niagara Falls which they share. The city is within the Buffalo-Niagara Falls Metropolitan Statistical Area as well as the Western New York region.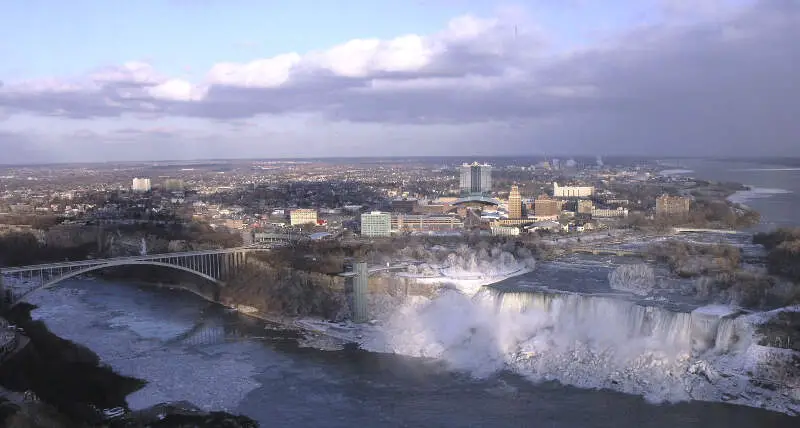 Up next on our tour of the least expensive places New York has to offer is Fulton, a city of 11,209 named after the inventor of the steamboat.
Fulton's overall cost of living score is 86, compared to New York at 117 and the national average of 100. Housing, in particular, is nearly one-third of the statewide average.
Homes in Fulton sell for a median price of $79,100, and the median cost of rent is $782. Both of which are extra impressive in light of the median household income of $46,223. And with incomes rising faster than property values, expect this affordability trend to continue and grow.
Not to mention you'll never need to worry about what to do with the family here. Between the locally-beloved Midway Drive-In Theatre and the Thunder Island Water Park, you're more than covered for local fun.
Fulton is located about 30 miles northwest of Syracuse.
Newark is a village in Wayne County, New York, U.S., 35 miles south east of Rochester and 48 miles west of Syracuse. The population was 9,145 at the 2010 census. The Village of Newark is in the south part of the Town of Arcadia and is in the south of Wayne County. It is the most populated community in Wayne County.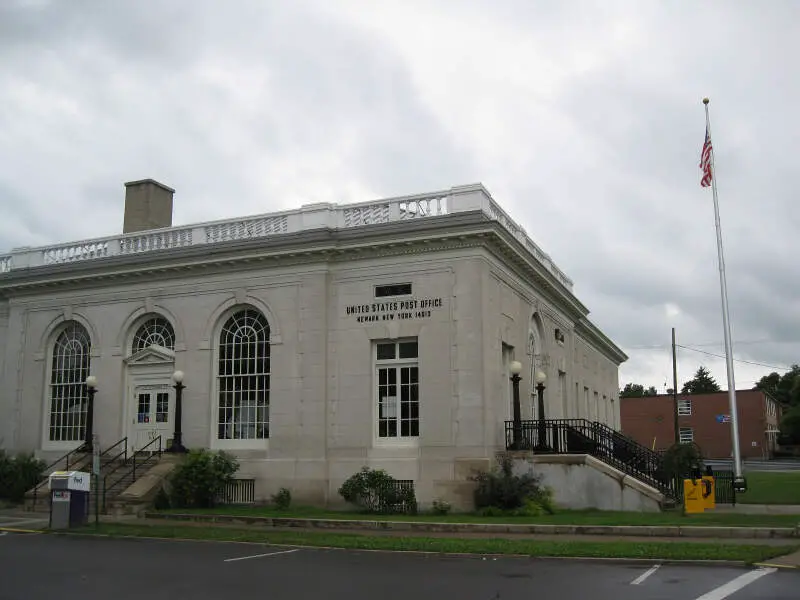 Rome is a city in Oneida County, New York, United States, located in the central part of the state. The population was 33,725 at the 2010 census. Rome is one of two principal cities in the Utica-Rome Metropolitan Statistical Area, which lies in the "Leatherstocking Country" made famous by James Fenimore Cooper's Leatherstocking Tales, set in frontier days before the American Revolutionary War. Rome is in New York's 22nd congressional district.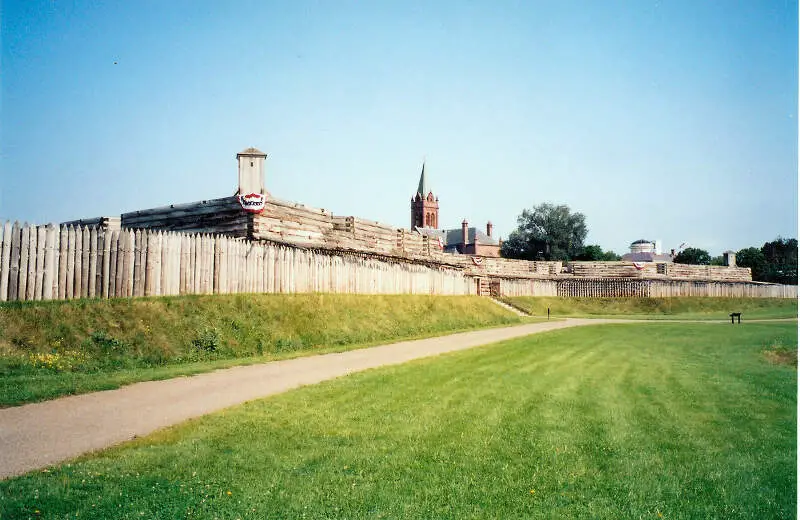 Source: Public domain
Cheapest Places To Live In New York FAQs
The county in New York with the lowest cost of living is Tompkins County. The average living wage in Tompkins County is $101,647 according to MIT data. Tompkins County has the lowest cost of living because it has relatively less expensive childcare and housing costs compared to New York as a whole. Childcare costs $20,571 a year in Tompkins County for two children compared to the New York average of $23,262. Housing costs, defined as a blend of the average rent and average mortgage payment, are $15,228 per year in Tompkins County compared to $20,091 on average in New York.
The cost of living in New York is 22.9% higher than the US average. According to MIT, the required living wage for a family of four with two working parents in New York is $110,255 vs the national average for a family of four with two working parents of $89,744. The median income of a New York household is $71,117.
The cheapest housing market in New York is Jamestown. The average home value in Jamestown is $66,400, the lowest in the state. The average home value in New York is $325,000, almost 4.9 times higher than Jamestown.
Methodology: How We Determined The Most Affordable Places To Live In The Empire State For 2022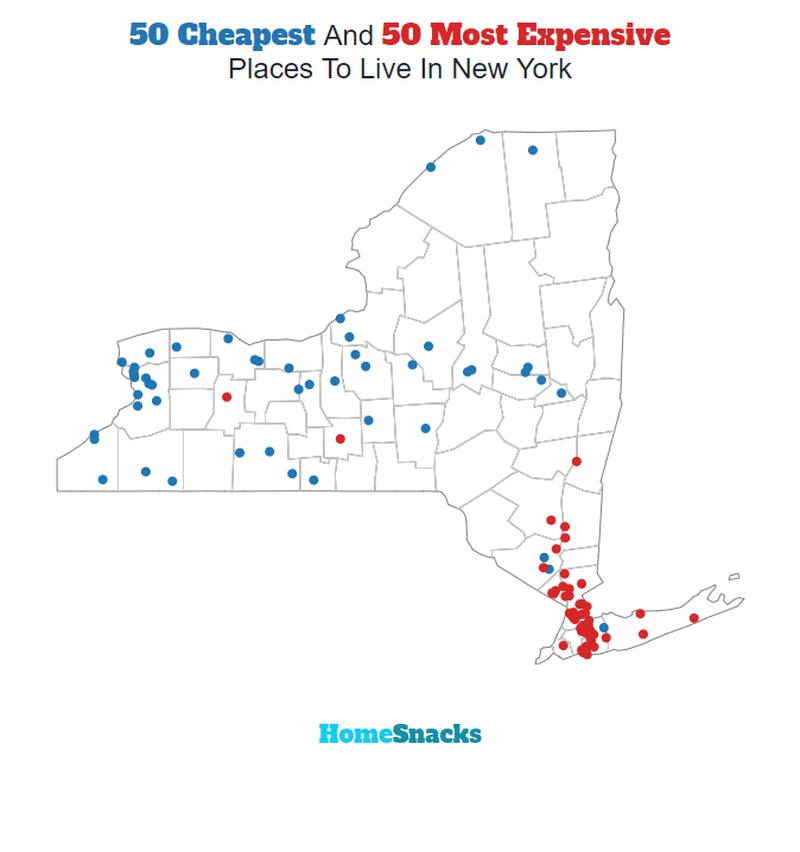 The two most important things to think about when it comes to being able to afford if you can live comes down to:
How much do money do I make?
How much do I have spend to live there?
You need to understand your costs in the context of how much money you make.
For example, if the median household earns $100,000 and spends $40,000 on housing it's actually cheaper to live there than a place with a median income of $50,000 and housing costs of $21,000. You might spend more on housing, but you have more money overall to play with.
With that example in mind, we derived several statistics from the latest Census American Community Survey 2016-2020 around incomes and costs. They are:
Median Home Price / Median Income (lower is better)
Median Income / Median Rent (Higher is better)
Median Home Price
We added simply median home price because high home prices generally correlate with higher expenses for all costs related to homes (heating, electricity, etc).
You can then compare these metrics in each of the places in New York to figure out which is the least expensive.
What you are left with is a "Cost of Living Index" by taking the average rank of each of these metrics for each city.
So we used that cost of living index in order to rank all of the 166 places in New York that have more than 5,000 people.
The place with the lowest cost of living in New York according to the data is Ilion. You can download the data here.

Summary: There You Have It Mr. Or Mrs. New York Cheapskate
If you're looking at the cost of living numbers in New York, this is an accurate list of the most affordable places to live in New York for 2022.
Here's a look at the most expensive cities in New York according to the data:
Kaser
North Hills
New Square
For more New York reading, check out:
The Most Affordable Places To Live In New York
Editor's Note: We updated this article for 2022. This is our ninth time ranking the cheapest places to live in New York.