Swipe left for slideshow
Do you live in one of the happiest places in Pennsylvania?
According to a Harris Poll taken in October of 2015, only a third of Americans say they are truly happy. That's too bad, considering that Americans – especially folks in Pennsylvania – don't really have it too bad, in the grand scheme of things.
So, we were curious – which Pennsylvania cities might be the happiest. We're about to find out, using science and data.
After analyzing the largest cities, we present the Happiest Cities In Pennsylvania:
Wyomissing
Pleasant Hills
Upper St. Clair
Lititz
St. Marys
Jefferson Hills
Plum
Mechanicsburg
Hershey
Franklin Park
Read on below to see how we crunched the numbers and how your town ranked. If you have a smile on your face, you probably live in one of these cities.
Or, you're happy, too. We're glad 🙂
Oh, and by the way, Pittsburgh is a lot happier than Philly is.
How do you decide if a city in Pennsylvania is happy or not?
In order to rank the happiest cities in PA, we had to determine what criteria makes people happy. It isn't a stretch to assume that happy people earn great salaries, are relatively stress free, have a stable home life and live where the weather is nice.
So we scraped the internet for those criteria, and it spit out the answer. Like magic.
How we crunched the numbers
We threw a lot of criteria at this one in order to get the best, most complete results possible. Using FBI crime data, the government census, Bureau of Labor Statistics, Sperling's Best Places, and Twitter, this is the criteria we used:
Percentage of residents with a college degree
Average commute times
Employment rates
Cost of living
Crime
Sunny days
% of married couples
% of home owners
For geo-located Tweets, we used #happy.
If you'd like to see the complete list of states, from happiest to most miserable, scroll to the bottom of this post to see the abridged chart.
1. Wyomissing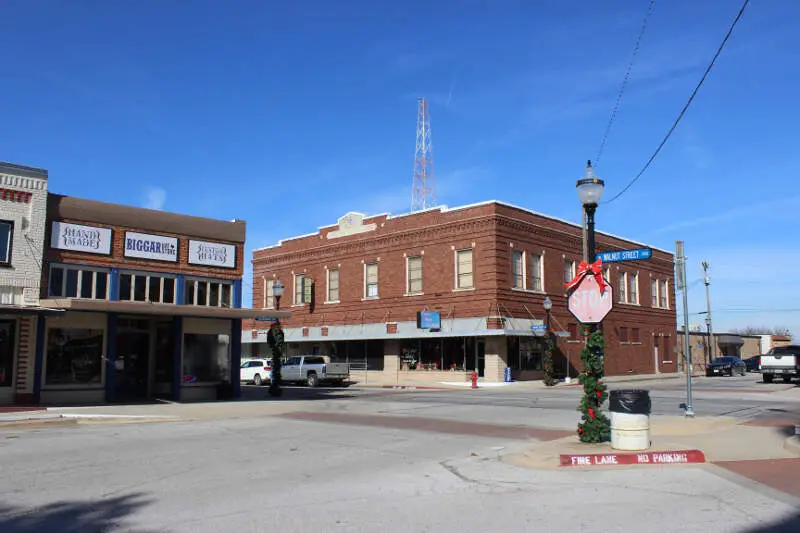 Atonement Lutheran Church, Wyomissing, PA. Wikipedia
Population: 10,489
Married rate: 6th highest in PA
It wasn't even close. Wyomissing is by far the happiest place in the state of Pennsylvania. Let's see why.
First off, having a solid family life is a good indication of how happy someone is. Lots of the residents of Wyomissing aren't missing out on love; more than 60% of them are married. Plus, the average commute time here is only about 19 minutes each way. That means a lot more time with the spouse and kids.
Wyomissing is also the 9th safest place to live, and it's 16th in the state for number of sunny days.
Wyomissing is a borough just outside of Reading. Did you know Taylor Swift grew up here? She's always in a good mood, right?
2. Pleasant Hills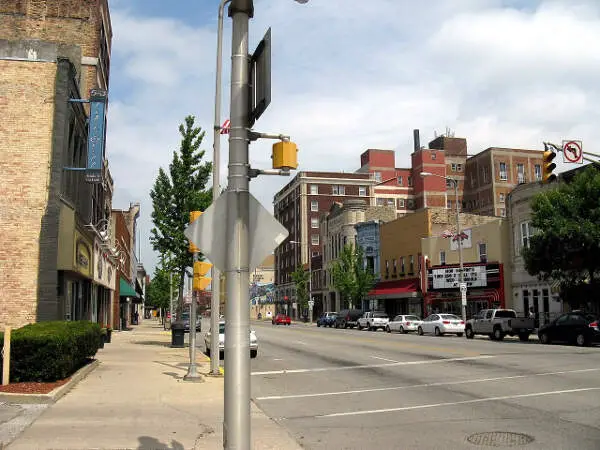 A neighborhood in Pleasant Hills, PA
Population: 8,271
Crime: 6th safest in PA
Things look to be pretty pleasant in Pleasant Hills, which is a borough in Allegheny County. Crime is really low here, and the percentage of married residents (61.7%) and homeowners (74.8%) mean there's lots of stability at home.
In addition to those factors, there is a thriving amount of community involvement. Studies have shown that a key factor to happiness is when people volunteer, especially in their own neighborhoods.
3. Upper St. Clair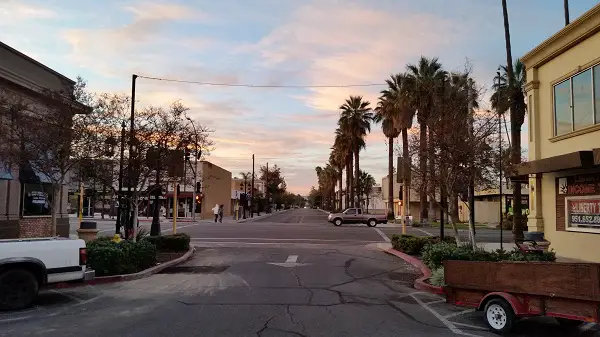 Wikipedia
Population: 20,284
% Married, intelligence: Both highest in PA
The people who live in Upper St. Clair have a lot going for them. 87% of them have college degrees, and they command some of the highest salaries in PA ($108,000 per household). Almost 70% of the people here are married.
Most of these all tops in the entire state. Plus, it's the safest place in PA, too. Wow.
The reason USC didn't top the list? The average commute time is well over a half hour, and the cost of living is almost as high as you'll see in Pennsylvania. So, while residents here have 'reached the top' so to speak, they're most likely working too hard to stay there.
4. Lititz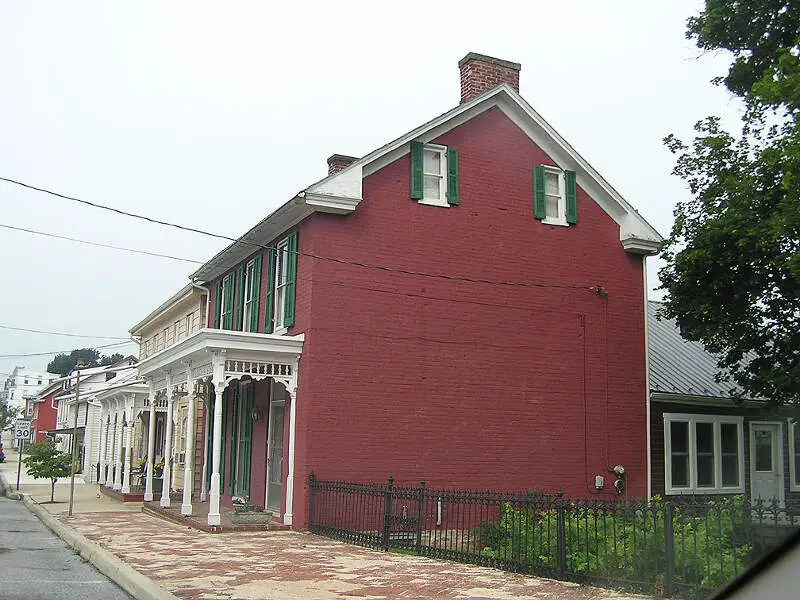 Lititz, PA. Wikipedia
Population: 9,366
Crime: 4th safest
Just north of Lancaster is the small borough of Lititz, where you can bet there are lots of smiley, happy people all over town. Crime is essentially something that just doesn't happen here very often. And when you can let your guard down and relax a little, the lack of stress really makes a difference.
Same goes on the job front. Only 4% of residents here are out of work, which is the 7th lowest in PA. Sounds like there are jobs for just about everyone who wants one. Which must be a good feeling to have.
5. St. Marys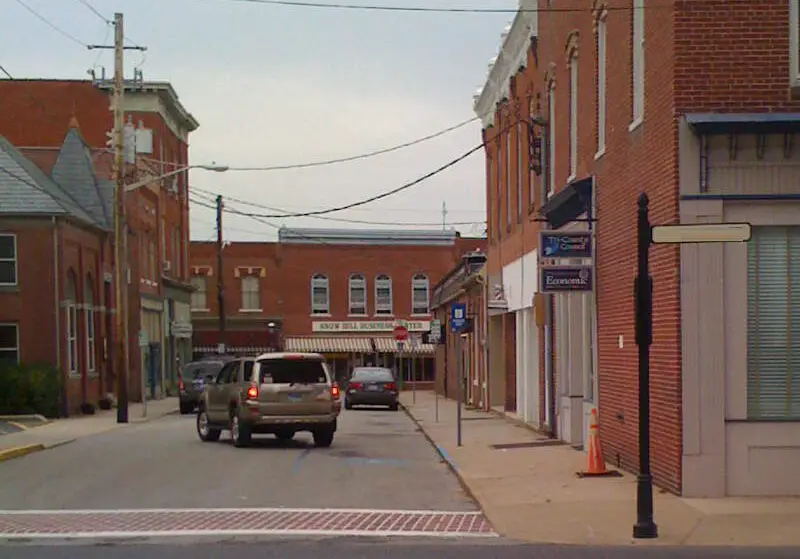 St. Marys, PA. Wikipedia
Population: 13,095
Commute time: Shortest in the state
If you want to see a bunch of happy people, go to the St. Marys home page and watch their 'about us' video. It seriously looks like something out of a commercial. There's also a live web cam on their home page, where you'll probably see a lot of people skipping through town.
The community of St. Marys is about halfway between Pittsburgh and Buffalo. They have the lowest commute times of anyone else in the state (14 minutes), which means lots more time with the kids. 73% of people here own their own home, and crime is the 11th lowest in PA.
6. Jefferson Hills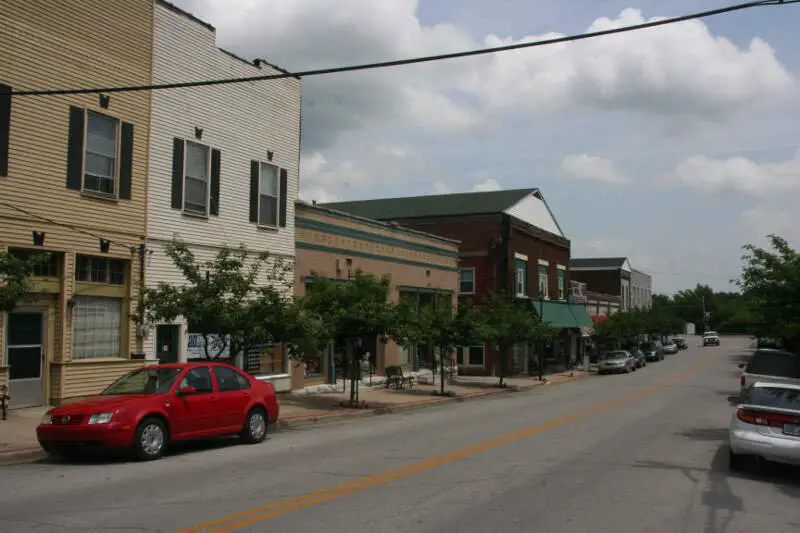 Jefferson Hills, PA neighborhood
Population: 10,679
Income: 3rd wealthiest
For those who say that money doesn't buy happiness, you're half right. Studies have shown that people are happy up to a certain point when it comes to annual salaries, somewhere around $72,000 a year. After that, it doesn't matter how much you make, you're not going to be much happier.
The residents of Jefferson Hills have that covered. Plus, three quarters of them own their homes, and 6 in 10 are married.
7. Plum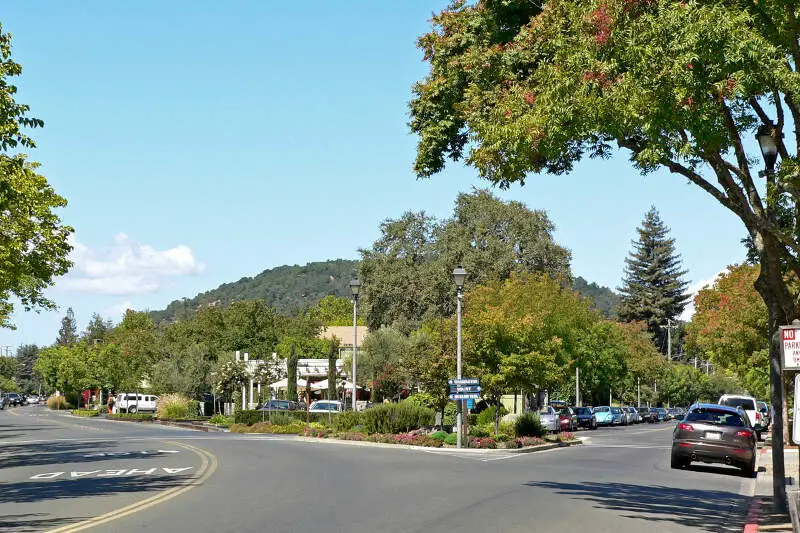 Neighborhood in Plum, PA
Population: 27,199
Homeowners: 8th most
Most of the people in Plum have to be 'plum' happy. They have the 8th highest number of homeowners, and the 8th most married people in Pennsylvania. True happiness is 'Home Sweet Home' with your kids and spouse, being reminded to do chores, run errands and fold the clothes right.
We digress…
'Plumboro' as they call themselves, is a borough in Allegheny County.
8. Mechanicsburg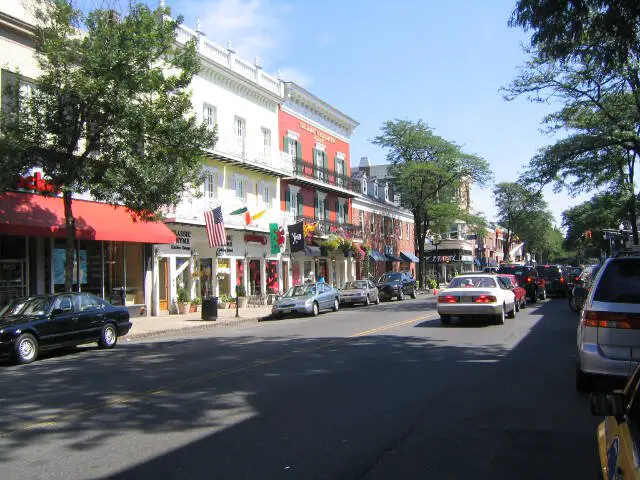 Downtown Mechanicsburg, PA
Population: 8,966
Unemployment rate: 5th lowest
Less than 4% of the residents in this small Cumberland County borough are jobless, which is just about as low as you'll see. Incomes are steady, and commute times are really low as well. That really takes away the stress factors that stop folks from relaxing and enjoying their 'down time' to do the little things that matter: Walks in the park, time alone with a book and extra face time with the children.
Believe it or not, but Mechanicsburg was in the top 10 when it came to happy-related Tweets.
9. Hershey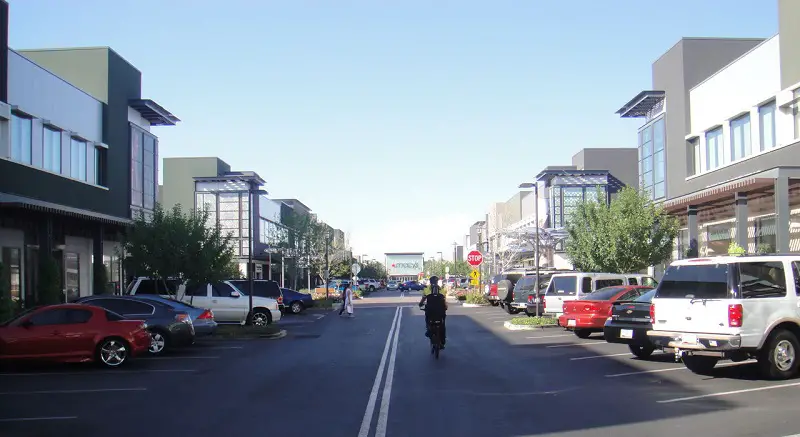 A neighborhood in Hershey, PA
Population: 13,908
Intelligence: 6th smartest
More than 7 in 10 residents of Hershey, PA have a college degree. While we've all heard the saying, 'Ignorance is bliss,' our argument is: Ignorance is also broke.
Not only are most of the residents of Hershey smart, they're safe, too. And, while the cost of living might be higher than average in Hershey, the commute times are some of the lowest in the state. So, at least they're not overworking to pay the bills.
Hershey is the only place on this list that isn't an actual city or borough. It's what's called a CDP. And we have to remind you: Who wouldn't simply be in heaven with an unlimited amount of chocolate in their own back yard?
10. Franklin Park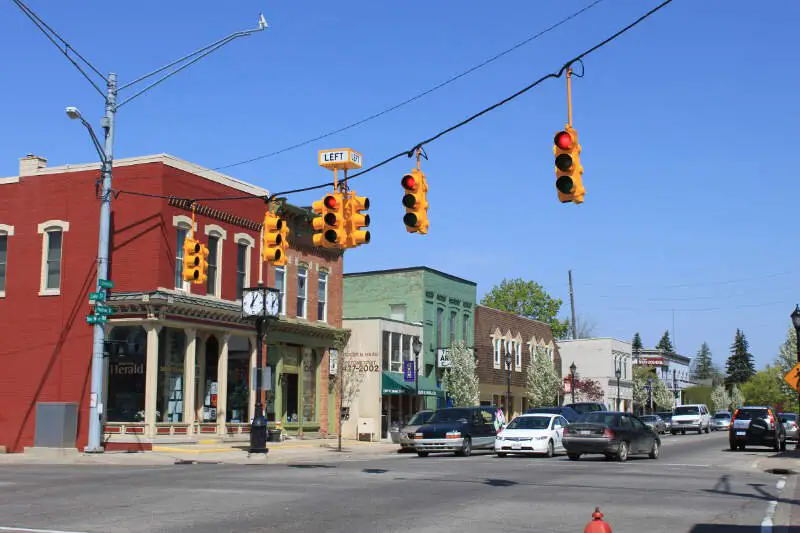 Franklin Park, PA
Population: 13,462
% Married and own home 2nd in PA
Franklin Park resembles Upper St. Clair in many ways. Both are the wealthiest places in the state, where crime is essentially a myth. Most of the population is married, and most own their own homes.
But like Upper St. Clair, the cost of living and long commute times (28 minutes each way) might eventually start to turn the corners of those smiles sideways.
But for now, it's all roses in Franklin Park.
There You Have It
Like we said earlier, trying to determine the happiest cities in Pennsylvania is usually a subjective matter. But if you're analyzing cities where people are stable, it's safe and the weather is great, this is an accurate list.
If you're curious enough, here are the most miserable cities in PA, according to science.
McKeesport (Pop. 19,877)
Chester (Pop. 34,127)
Darby (Pop. 10,648)
York (Pop. 43,677)
Reading (Pop. 87,928)
Here's a link to the complete data chart
We also wrote about the most redneck cities to live in Pennsylvania. Click here to read that one.
Desktop users, below is a chart of the happiest cities from top to bottom:
| | | |
| --- | --- | --- |
| City | Marriage Rate | Rank |
| Wyomissing | 60.64% | 1 |
| Pleasant_Hills | 61.77% | 2 |
| Upper_St._Clair | 68.89% | 3 |
| Lititz | 56.37% | 4 |
| St._Marys | 54.21% | 5 |
| Jefferson_Hills | 60.45% | 6 |
| Plum | 60.34% | 7 |
| Mechanicsburg | 49.79% | 8 |
| Hershey | 47.94% | 9 |
| Franklin_Park | 68.29% | 10 |
| Hermitage | 58.34% | 11 |
| Brookhaven | 55.38% | 12 |
| Progress | 46.11% | 13 |
| Ardmore | 47.88% | 14 |
| Mountain_Top | 65.37% | 15 |
| Perkasie | 53.16% | 16 |
| Economy | 66.14% | 17 |
| Emmaus | 54.85% | 18 |
| Old_Forge | 53.84% | 19 |
| Lower_Burrell | 55.85% | 20 |
| Drexel_Hill | 50.99% | 21 |
| Weigelstown | 58.15% | 22 |
| Millersville | 29.29% | 23 |
| Ephrata | 57.06% | 24 |
| Elizabethtown | 43.86% | 25 |
| Lansdale | 49.75% | 26 |
| Whitehall | 54.07% | 27 |
| Phoenixville | 47.79% | 27 |
| Doylestown | 47.77% | 29 |
| Northampton | 54.29% | 30 |
| Croydon | 44.53% | 31 |
| Woodlyn | 48.13% | 32 |
| Grove_City | 33.62% | 33 |
| Carlisle | 39.08% | 34 |
| Waynesboro | 52.15% | 35 |
| Lansdowne | 46.86% | 36 |
| Brentwood | 49.39% | 37 |
| Baldwin | 53.01% | 38 |
| Dunmore | 49.00% | 39 |
| Columbia | 46.39% | 40 |
| Carnot-Moon | 44.36% | 41 |
| Castle_Shannon | 50.94% | 42 |
| Canonsburg | 50.71% | 43 |
| Warren | 45.98% | 44 |
| Altoona | 47.99% | 45 |
| Jeannette | 46.03% | 46 |
| Hanover | 48.50% | 47 |
| Colonial_Park | 43.21% | 48 |
| Dormont | 43.61% | 49 |
| West_Mifflin | 48.52% | 50 |
| Fullerton | 51.93% | 51 |
| Latrobe | 47.45% | 52 |
| Quakertown | 47.58% | 53 |
| Kingston | 42.79% | 54 |
| Chambersburg | 44.53% | 55 |
| Munhall | 43.98% | 55 |
| West_Chester | 25.15% | 57 |
| New_Kensington | 46.89% | 58 |
| Oil_City | 43.76% | 59 |
| Carnegie | 42.40% | 60 |
| Greensburg | 41.77% | 61 |
| Pottstown | 43.35% | 62 |
| Indiana | 21.42% | 63 |
| Yeadon | 41.21% | 64 |
| Berwick | 48.02% | 64 |
| Pottsville | 45.63% | 66 |
| Bloomsburg | 23.54% | 67 |
| State_College | 13.19% | 68 |
| Bethlehem | 40.45% | 69 |
| Collingdale | 42.90% | 70 |
| Bellevue | 37.63% | 71 |
| Carbondale | 45.56% | 72 |
| Bristol | 44.68% | 73 |
| Sharon | 45.17% | 74 |
| Meadville | 39.25% | 75 |
| Swissvale | 33.52% | 76 |
| Scranton | 39.95% | 77 |
| Lewistown | 45.38% | 78 |
| Butler | 42.84% | 79 |
| Williamsport | 35.24% | 80 |
| Bradford | 37.18% | 81 |
| Erie | 38.97% | 82 |
| Pittsburgh | 33.41% | 83 |
| Nanticoke | 41.86% | 84 |
| Aliquippa | 42.23% | 85 |
| Washington | 33.78% | 86 |
| Wilkes-Barre | 34.68% | 86 |
| Coatesville | 38.74% | 88 |
| Lancaster | 36.29% | 89 |
| Lock_Haven | 22.90% | 90 |
| East_Stroudsburg | 29.11% | 91 |
| Sunbury | 41.51% | 92 |
| Beaver_Falls | 31.12% | 93 |
| Wilkinsburg | 27.27% | 94 |
| Easton | 36.44% | 95 |
| New_Castle | 43.53% | 96 |
| Hazleton | 44.25% | 97 |
| Lebanon | 39.37% | 98 |
| Norristown | 40.32% | 99 |
| Allentown | 40.35% | 100 |
| Harrisburg | 30.33% | 101 |
| Uniontown | 37.94% | 102 |
| Johnstown | 40.40% | 103 |
| Philadelphia | 33.16% | 104 |
| Reading | 37.57% | 105 |
| York | 35.48% | 106 |
| Darby | 29.65% | 107 |
| Chester | 27.13% | 108 |
| Mckeesport | 33.57% | 109 |