Swipe left for slideshow
Do you live in one of the happiest places in Virginia?
According to a Harris Poll taken in October of 2015, only a third of Americans say they are truly happy. That's too bad, considering that Americans – especially folks in Virginia – don't really have it too bad, in the grand scheme of things.
Plus, a study by WalletHub indicated that Virginia is the 19th happiest state in the union. Bravo!
So, we were curious – which Virginia cities might be the happiest. We're about to find out, using science and data.
After analyzing the largest cities, we happily present the Happiest Cities In Virginia:
McLean
Poquoson
Christiansburg
Vienna
Salem
Smithfield
Leesburg
Virginia Beach
Chesapeake
Herndon
Read on below to see how we crunched the numbers and how your town ranked. If you have a smile on your face, you probably live in one of these cities.
Or, you're happy, too. We're glad 🙂
Oh, and by the way, Roanoke is a lot happier than Richmond is.
How do you decide if a city in Virginia is happy or not?
In order to rank the happiest cities in VA, we had to determine what criteria makes people happy. It isn't a stretch to assume that happy people earn great salaries, are relatively stress free, have a stable home life and live where the weather is nice.
So we scraped the internet for those criteria, and it spit out the answer. Like magic.
How we crunched the numbers
We threw a lot of criteria at this one in order to get the best, most complete results possible. Using FBI crime data, the government census, Bureau of Labor Statistics, Sperling's Best Places, and Twitter, this is the criteria we used:
Percentage of residents with a college degree
Average commute times
Employment rates
Cost of living
Crime
Sunny days
% of married couples
% of home owners
For geo-located Tweets, we used #happy.
If you'd like to see the complete list of states, from happiest to most miserable, scroll to the bottom of this post to see the abridged chart.
1. McLean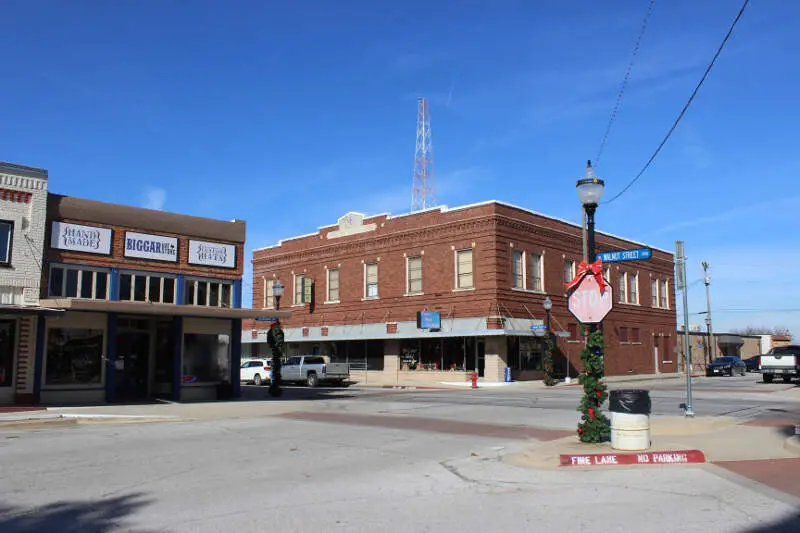 Wikipedia
Population: 48,221
Tops in: Pretty much everything under the sun
It wasn't even close. McLean is by far the happiest place in the state of Virginia. That might not be a surprise to you. Let's see why.
First off, residents in McLean are the wealthiest folks in the state. Now, before you pile on and say that money doesn't buy happiness, you're half right. Studies have indicated that salary up to a certain point (around $72,000) brings happiness, and then after that, you can earn a million bucks, and your happiness levels don't increase very much.
McLean families bring in about $172,000 a year.
Folks here are the smartest, have the highest marriage rates, and own homes at a higher percentage than anywhere else in VA.
Plus McLean is the safest place in the state.
You have to admit. It you lived in McLean, there's a good chance you'd have a big ole' grin on your face too when you look at those numbers. McLean just might be the happiest place in the country.
2. Poquoson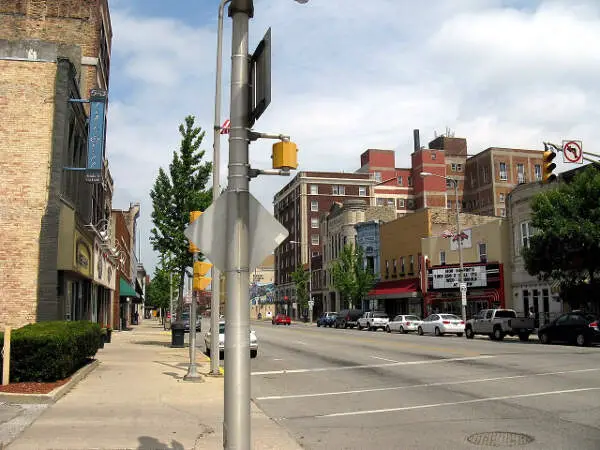 Wikipedia
Population: 12,110
Safety, homeowners, married: 2nd in VA
Little Poquoson is also a really happy place when you look at what they have going on over on the Virginia Peninsula near Newport News.
Of course, this part of the state is very wealthy. But there are other indications that Poquosonians are content with their lives. More than two-thirds are married, and more than 82% of people here own their own homes.
There's something to be said for coming home to a loving spouse at Home Sweet Home, right?
3. Christiansburg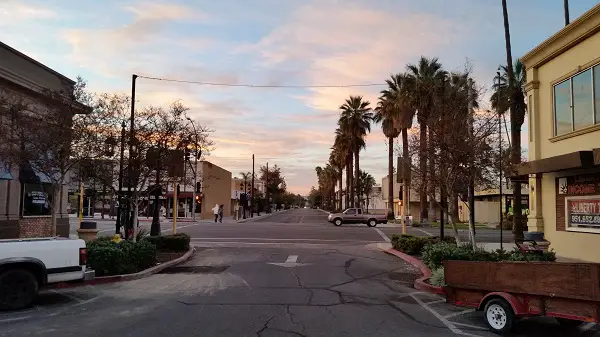 Wikipedia
Population: 20,989
Sunny days: 8th most
Believe it or not, according to the National Oceanic and Atmospheric Administration, there are areas within a state that can vary in weather, even 10 miles apart. Here in Christiansburg (near Blacksburg), they get the 8th most sunny days every year. For an average of 216 times a year, folks here can have sunshine on their shoulders.
John Denver says that makes you happy. We agree.
Other factors that make Christiansburg residents grin from ear to ear: Crime is relatively low, and the cost of living is far below average.
Twitter was pretty vocal here. This was a nice Tweet:
"Never been so happy to be in Christiansburg"
4. Vienna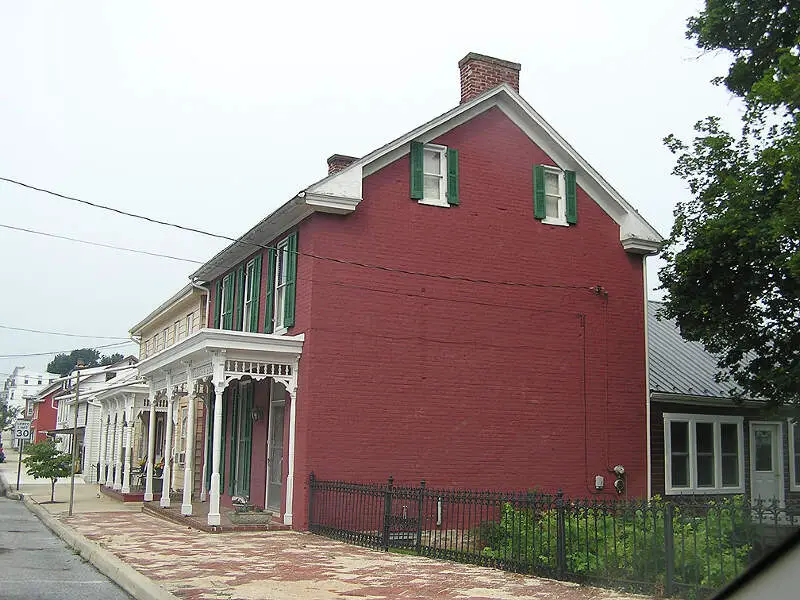 Meadowlark Botanical Gardens, Vienna, VA. Wikipedia
Population: 15,889
Unemployment: 2nd lowest
You know one way to relieve stress? Have a great, steady job. While no one wants to 'over' work, we need a steady, reliable source of employment so we can let our guards down and relax. Here in Vienna, not only are just 3.6% of folks out of work, families average more than $120,000 solid each year.
That means more vacations, more time with the kids extra activities with the in laws.
Wait, that might be more stressful.
5. Salem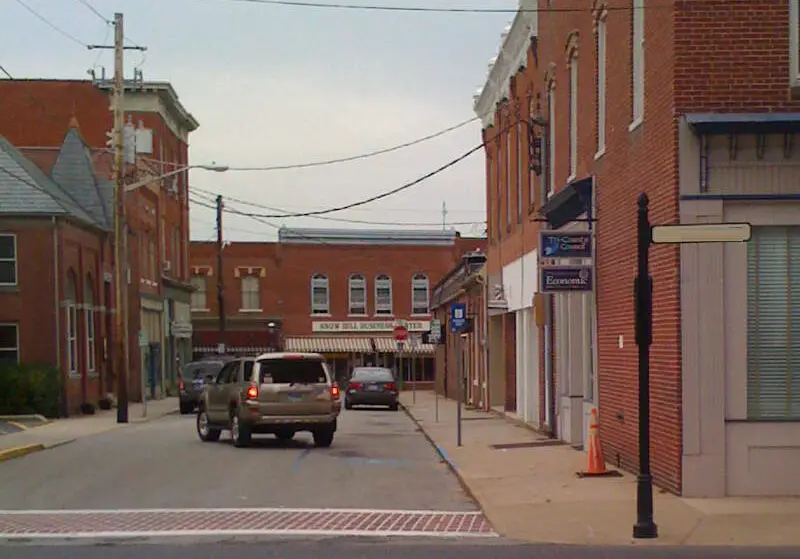 Wikipedia
Population: 25,332
Cost of living: 6th lowest
It's one thing to have a great salary and a steady job, but if you have to work to the bone to keep up, it could backfire on you. Here in Salem, families earn pretty good salaries, but the cost of living is really low. A slower pace can have real benefits to overall happiness.
Average commute times for people in Salem are just 17 minutes each way. It takes lots of people in the D.C. area 17 minutes just to get to the freeway.
Salem is also the 6th safest city in Virginia.
6. Smithfield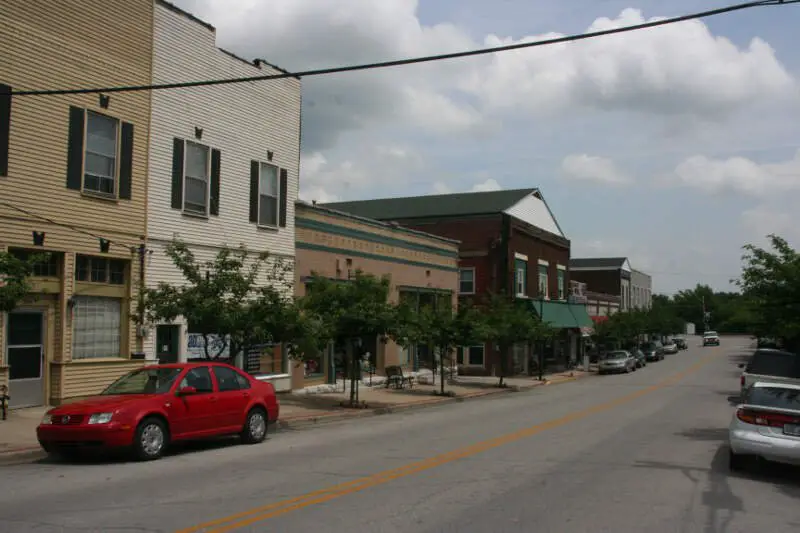 Smithfield, VA. Wikipedia
Population: 8,124
Homeowners: 6th most
The town of Smithfield is a cute, quiet place just north of Norfolk. More than 70% of families own they home they live in, and two thirds are married. Both are in the top five in the state
Smithfield is also the 5th safest place you can raise kids in the state. When you don't have to worry about violence and property theft, you can focus on more important matters, like being nice to your wife.
7. Leesburg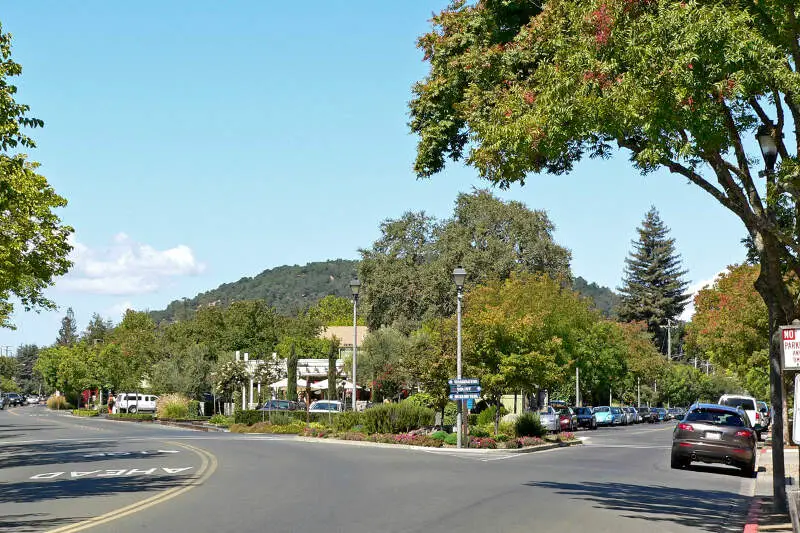 Downtown Leesburg. Wikipedia
Population: 44,293
Unemployment: 2nd lowest
Leesburg is a really safe place, located a half hour northwest of D.C. Quite a few residents most likely work in the capital, judging by the average commute times of nearly 32 minutes each. And the cost of living here is actually higher than a majority of other cities in the state.
So while people here earn great salaries, and just about everyone has a job, they might be overstretching their time a bit to be able to live here.
8. Virginia Beach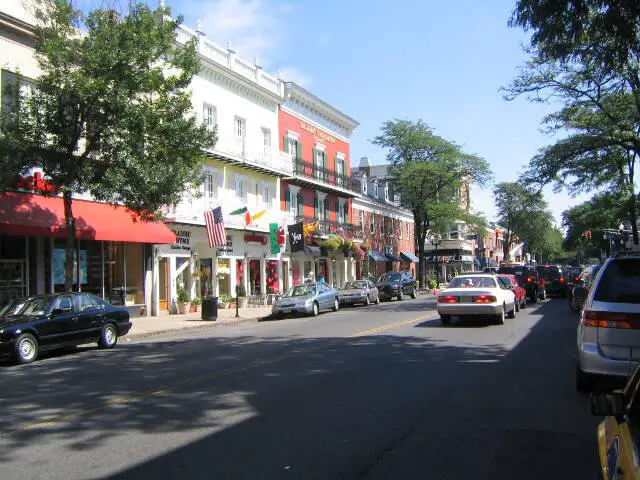 Virginia Beach, VA. Wikipedia
Population: 439,528
Sunny days: 13th most
This is the first time that we've seen the largest city in a state rank in the top 10 for happiest places. Understandably, Virginia Beach has one of the highest number of sunny days (and some of the best weather overall in the state.)
Other factors that make Virginia Beach so happy: 60% own their own home, 54% are married, and it's the 15th safest place to live in the state. All of those are in the top 20% for the cities we measured.
So, bravo to Virginia Beach. Sounds like most of you have a spring in your step.
9. Chesapeake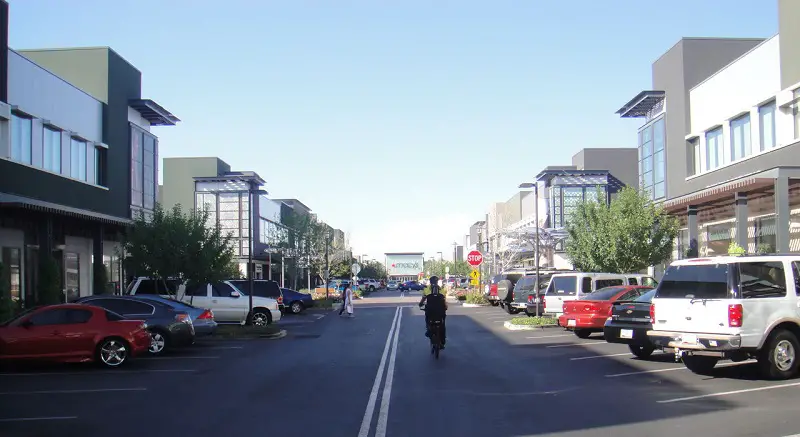 Chesapeake VA neighborhood.
Population: 224,432
Homeowners: 7th most
The overall sentiment on Twitter for Chesapeake on Twitter was overwhelmingly positive. There are lots of people Tweeting about happy this and happy that.
You can see why. For such a large place, the numbers are very smileworthy. Chesapeake has the 9th highest number of married couples, and the 7th most homeowners in the Commonwealth. That's some great warmth all around.
Plus, Forbes called it one of the best cities in America once. Grin, grin.
10. Herndon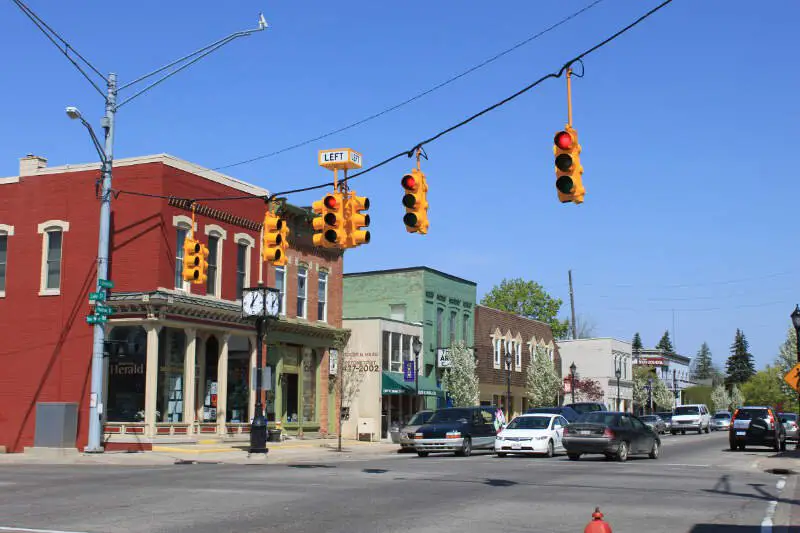 Herndon, VA
Population: 24,343
% Married: 7th most
Nearly 6 in 10 adults in Herndon have a spouse at home, which adds a certain comfort level to one's life. You know what makes for a happy marriage? Stability. Only 3.6% of the populace in Herndon is unemployed, and the families here earn really high salaries.
Herndon is in Fairfax County, one of the happiest places in the state. If you live there, take a second and count your blessings. You have it pretty good.
There You Have It
Like we said earlier, trying to determine the happiest cities in Virginia is usually a subjective matter. But if you're analyzing cities where people are stable, it's safe and the weather is great, this is an accurate list.
If you're curious enough, here are the most miserable cities in VA, according to science.
Petersburg (Pop. 32,234)
Fredericksburg (Pop. 25,405)
Hopewell (Pop. 22,987)
Hybla Valley (Pop. 23,567)
Franklin (8,466)
Here's a link to the complete data chart: https://docs.google.com/spreadsheets/d/1aZohofP4GU0a9iMp1aI2oBgUHcVeKhRpSorR5YHSRRo/edit#gid=0
We also wrote about the most redneck cities to live in Virginia. Click here to read that one.
Desktop users, below is a chart of the happiest cities from top to bottom:
| | | |
| --- | --- | --- |
| City | Marriage Rate | Rank |
| mclean | 68.10% | 1 |
| poquoson | 65.08% | 2 |
| christiansburg | 56.38% | 3 |
| vienna | 61.98% | 4 |
| salem | 49.31% | 5 |
| smithfield | 62.57% | 6 |
| leesburg | 59.96% | 7 |
| virginia_beach | 54.17% | 8 |
| Chesapeake | 56.54% | 9 |
| herndon | 58.44% | 10 |
| merrifield | 50.45% | 11 |
| annandale | 54.00% | 12 |
| springfield | 56.37% | 13 |
| dale_city | 54.16% | 14 |
| idylwood | 50.82% | 15 |
| staunton | 48.84% | 16 |
| tysons_corner | 55.24% | 17 |
| lorton | 58.51% | 18 |
| sterling | 49.61% | 19 |
| suffolk | 56.14% | 20 |
| madison_heights | 49.41% | 21 |
| fair_oaks | 50.97% | 22 |
| hampton | 47.74% | 23 |
| blacksburg | 21.25% | 24 |
| waynesboro | 52.03% | 25 |
| mcnair | 56.66% | 26 |
| chester | 48.00% | 27 |
| meadowbrook | 47.89% | 27 |
| colonial_heights | 48.19% | 29 |
| lincolnia | 51.96% | 30 |
| vinton | 50.60% | 31 |
| arlington | 43.29% | 32 |
| alexandria | 45.55% | 33 |
| lakeside | 42.38% | 34 |
| manchester | 43.84% | 35 |
| warrenton | 47.49% | 36 |
| manassas_park | 53.43% | 37 |
| abingdon | 51.31% | 38 |
| lynchburg | 40.02% | 39 |
| groveton | 55.54% | 40 |
| charlottesville | 31.33% | 41 |
| cherry_hill | 56.08% | 42 |
| manassas | 53.91% | 43 |
| newport_news | 46.21% | 44 |
| huntington | 40.40% | 45 |
| east_highland_park | 40.42% | 46 |
| bristol | 49.10% | 47 |
| martinsville | 41.80% | 48 |
| sudley | 53.18% | 49 |
| bailey's_crossroads | 46.88% | 50 |
| laurel | 40.96% | 51 |
| wytheville | 48.98% | 52 |
| danville | 45.93% | 53 |
| radford | 25.68% | 54 |
| roanoke | 41.26% | 55 |
| portsmouth | 43.83% | 55 |
| pulaski | 48.52% | 57 |
| winchester | 44.77% | 58 |
| highland_springs | 40.18% | 59 |
| triangle | 50.67% | 60 |
| south_boston | 35.32% | 61 |
| seven_corners | 51.11% | 62 |
| norfolk | 38.84% | 63 |
| harrisonburg | 31.46% | 64 |
| front_royal | 47.89% | 64 |
| richmond | 30.36% | 66 |
| marumsco | 49.31% | 67 |
| bull_run | 53.16% | 68 |
| franklin | 46.59% | 69 |
| hybla_valley | 45.87% | 70 |
| hopewell | 39.11% | 71 |
| fredericksburg | 35.35% | 72 |
| petersburg | 32.09% | 73 |