Editor's Note: We updated this article for 2021. This is our seventh time ranking the best places to live in Virginia.
Article Table Of Contents   
(Skip to section)
Where are the best places to live in Virginia?
Some might say wherever there's a college basketball team, a NASCAR track, a sunny beach, a snowy mountain, a pot of blue crab, or a hefty Brunswick Stew. When you stumble upon all, you might feel like you've won the Virginia Lottery. That's right, folks, Virginia is not only 'For Lovers,' it has some of the best cities on the East Coast. And lucky for you, HomeSnacks has calculated the top ten best places to live in Virginia for 2021.
All University of Virginia basketball and Chesapeake Bay Blue Crab aside, Virginia is the tenth oldest state in the country, so that's all the more reason that they should have the best cities. They've had some time to perfect them. And that's just what the Virginia cities on our top ten best cities list have done.
The Old Dominion cities that made our list average some of the highest median household incomes and boasts some of the most expensive homes. These cities have some of the most educated residents and safety is a priority.
So grab yourself some boiled peanuts, a shot of good 'ol Virginia whiskey, and read on.
The 10 Best Places To Live In Virginia For 2021
What does the best place to live in the Birthplace of American Spirits look like? The best place to live in Virginia for 2021 is Falls Church.
We are not at all surprised. Falls Church is beautiful, quaint, safe, and bursting at the seams with great people.
However, the competition was fierce to say the least. To see Virginia's other best of the best cities, take a look below. And if you don't find your favorite city there, head to the bottom.
If you're looking for something more national, check out the best states in America or the best places to live in America.
For more Virginia reading, check out:
The 10 Best Places To Live In Virginia For 2021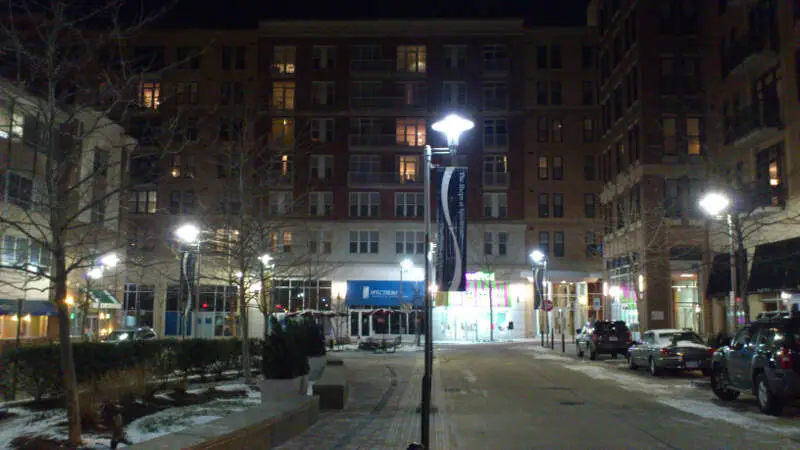 Falls Church is right where it should be--the top of our list as the best place to live in Virginia, and this is why: it's very, very nice, it has great schools, and it's super safe.
However, if you want to send your kid(s) to the best school district in the state so that they have their choice of one of the many National Blue Ribbon Schools in this small town of 14,128 residents, you will need to act fast as a lot of people want to live in Falls Church. Folks, it's a classic case of supply and demand--the median home price here is the #most expensive in the state at $789,300, and that's because everyone wants a piece of the "Falls Church Pie."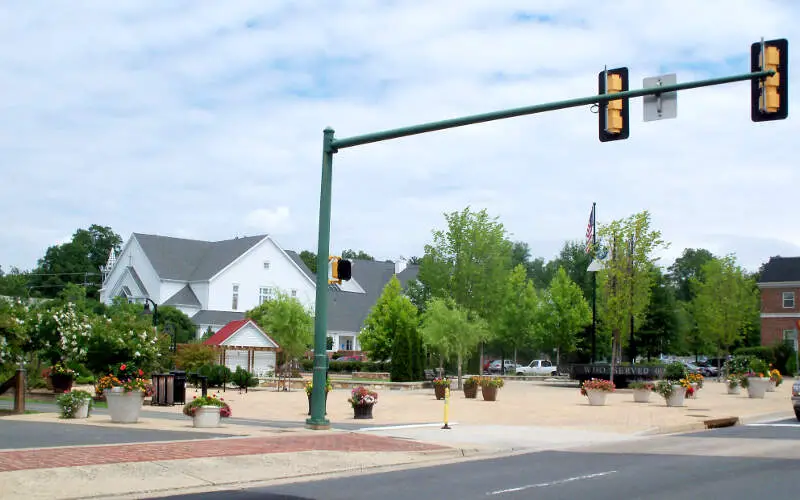 Vienna, Virginia's current status: #2 best place to live in Old Dominion for 2021.
This small town of 16,489 residents is used to being in the headlines. Not only is it located 30 minutes west from the United States Capitol in Washington D.C., but it has remained a solid fixture as Virginia's best of the best year after year. However, it's not just it's quaint village and great schools that have put Vienna on the map, it's things like the city's unemployment rate of 2.4% that tells us that the locals work hard and it's the city's median income of $161,196/year that tells us that they get paid a lot of money to do so.
And because higher incomes usually generate safer, better places that people want, this demand has increased the median home price here to the 2nd highest in the state at $743,500.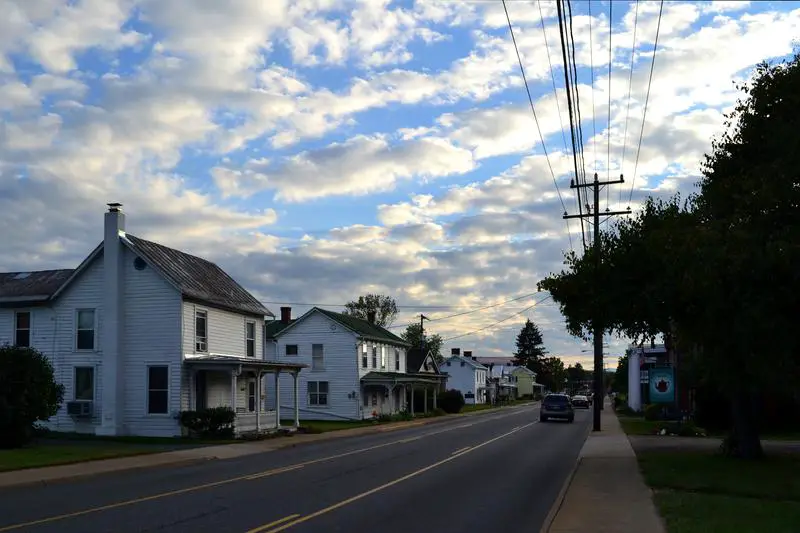 Bridgewater's tagline is "A Better Life," and we would have to agree as this city is the 3rd best place to live in Virginia. But, you can't have a motto like and be one of the best if you don't have the numbers; and, folks, we're here to tell you that Bridgewater has the numbers.
If you want to buy a home in Bridgewater, you have one of the best median home prices on our list at $234,300. Incidentally, the overall cost of living here is much less, too--like, 1x less than the state and national average. Living expenses like groceries, health, transportation, and utilities will be very manageable if you can make the city's median household income of $62,870/year.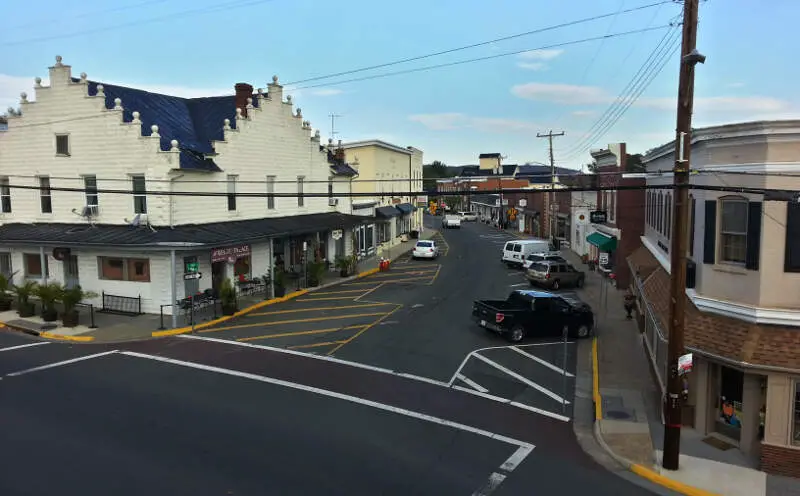 Purcellville has all of the bells and whistles of a big city without big city issues. In fact, it is the 4th best place to live in Virginia.
Purcellville is also one of three cities to make our list that received a perfect score on our SnackAbility scale with high marks in job opportunities, affordability, safety, and amenities. So, we were not surprised to find Purcellville one of the fastest growing cities in the state. However, we were surprised to find the median home price here upwards of $464,200. But, the median household income in Purcellville is $139,074/year, and that's a good thing because there are a lot of fun things to do in the small town. Word on the street, you don't want to miss the Purcellville Wine and Food Festival.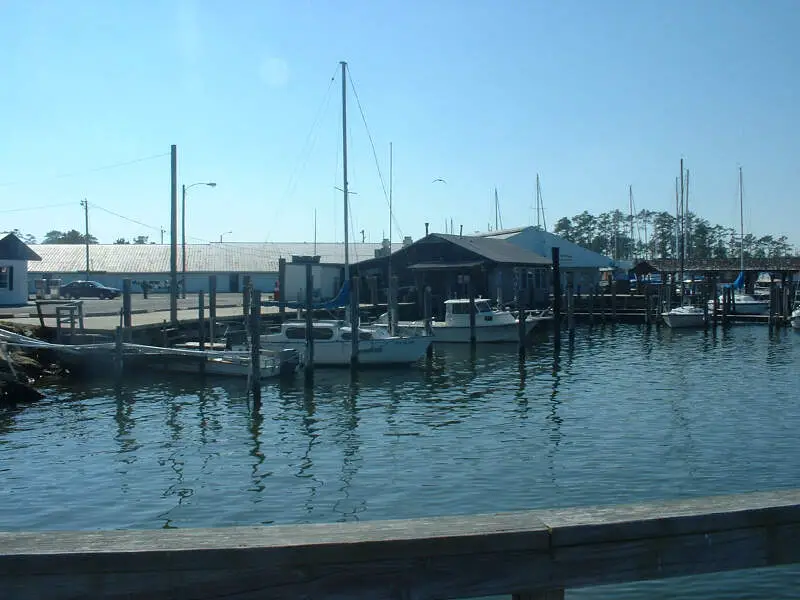 If you have a boat and you've had your heart set on living in Virginia, you're going to want to take a long hard look at the state's 5th best place to live, Poquoson, before you make any life changing decisions.
Yes, Poquoson is a great place for anyone looking to live on the Atlantic Coast, but it's also a great choice for anyone looking for stress free living. And in Poquoson, that comes in the form of low crime and an affordable cost of living. The residents here make $97,118/year and the homes cost $323,100; so, the way we look at it, the more you make and the less you have to spend on real estate and living expenses like groceries, healthcare, and utilities, the more you'll have to spend on coastal excursions.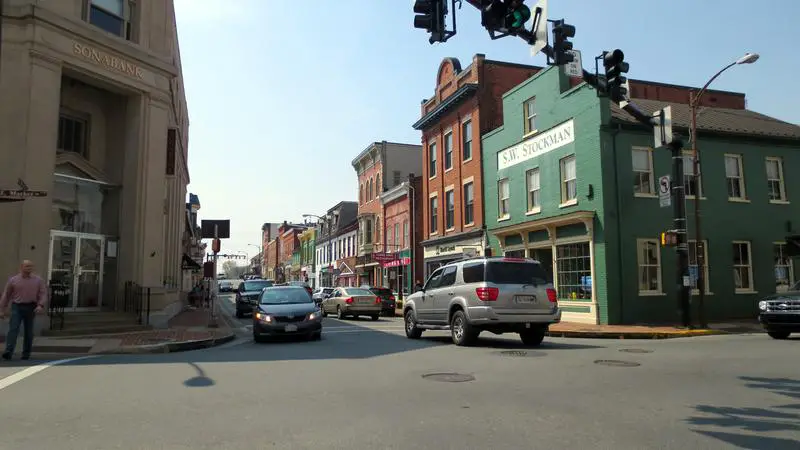 Located on the Virginia/Maryland border along the Potomac River, Leesburg is the 6th best place to live in the state.
It's almost as if time has stood still in this beautiful historic, hip city in Loudoun County. Leesburg has done a great job keeping its streets safe and its cost of living manageable. In fact, the crime rate here is below the national average. To put this in perspective, there were only 672 committed here at the time of this report. The unemployment rate is also well below the national average at 3.4%, so you should have no problem being part of the "cool kids" here who are working hard to make the median income of $114,444/year.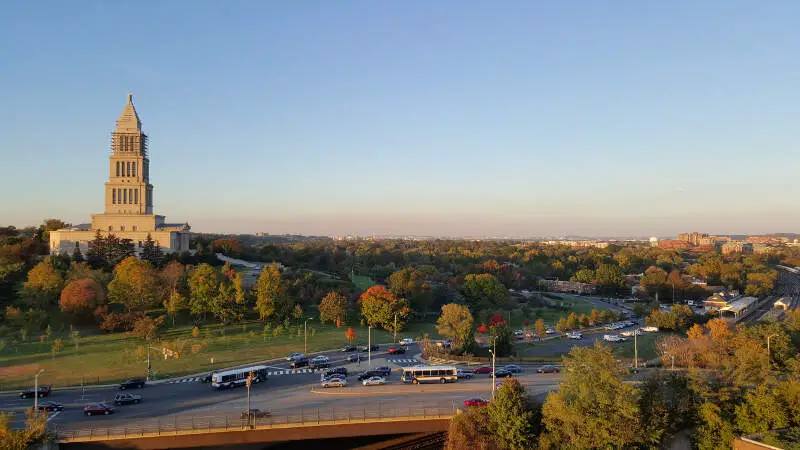 Apparently "anyone who is anyone" either already lives in Virginia's 7th best place to live, Alexandria, or is trying to get there. Alexandria is not only one of Old Dominion's best places, it's also one of the top places to live in the United States as well as one of the fastest growing cities in the country.
So, what do 157,613 Alexandria locals know that we don't? Well, the city has a low crime rate and great schools for one, but the commute times to Washington D.C. can't be beat. However, not to rain on the Alexandria's parade, you will have to pay quite a bit more for your living expenses--things like groceries and healthcare will cost you well above the state and national average. If you want to buy a home here, be prepared to pay the 3rd highest home price of $572,900.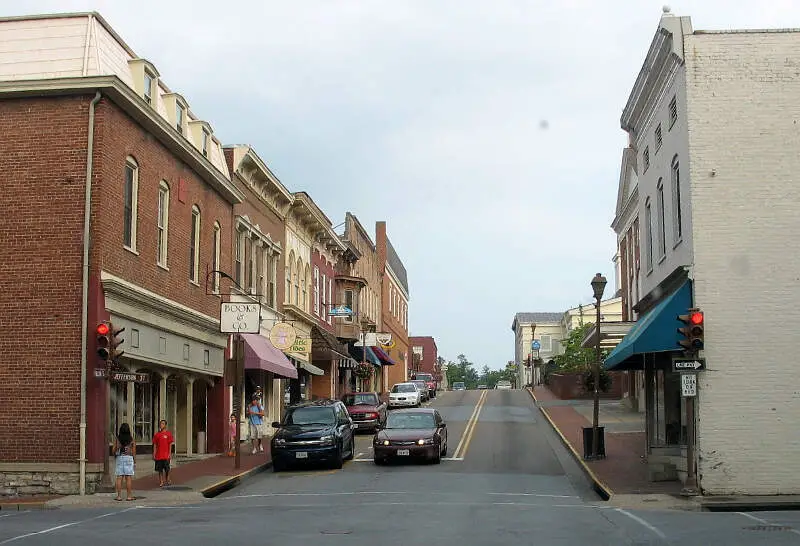 Virginia really is for lovers and those who want to hold onto the past and this is most evident in Virginia's 8th best place to live, Lexington. In fact, Lexington is a place where time has stood still with its quintessential small town vibes and idyllic Main St. and neighborhoods. So, we thought it very interesting that this city of 7,241 residents has the youngest median age (22). But, when we cranked the numbers, we soon realized that the youngsters are here because of the city's affordable cost of living and a median income of $42,632/year.
We're just confused why Lexington didn't make the best places for singles in the Old Dominion with all of these youngsters running around?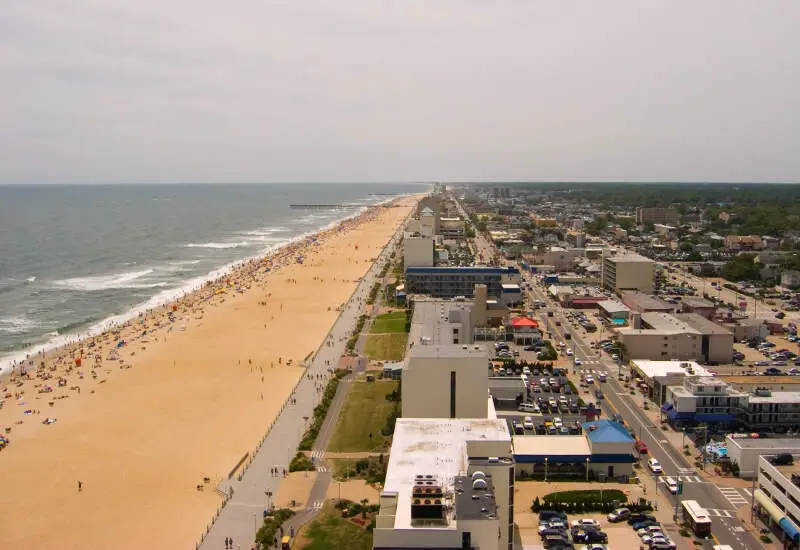 The second coastal community to make our list is Virginia's 9th best place to live, Virginia Beach. This city deserves special recognition as it has managed to hang strong in the top ten for the last two years all while housing the largest population in the state. Even more, they deserve double kudos as they have one of the lowest crime rates in the state as well -- solidly below the national average.
And, yes, "beach" is in the name, but it's not always all fun in the sun in Virginia Beach. The people here work hard--the unemployment rate is the 24th best in the state and the median income is $76,610/year. Virginia Beach has great schools and the kids work hard, too. Not only does Virginia Beach house one of the National Blue Ribbon Schools, Cape Henry Collegiate School, but it has one of the highest graduation rates in the state.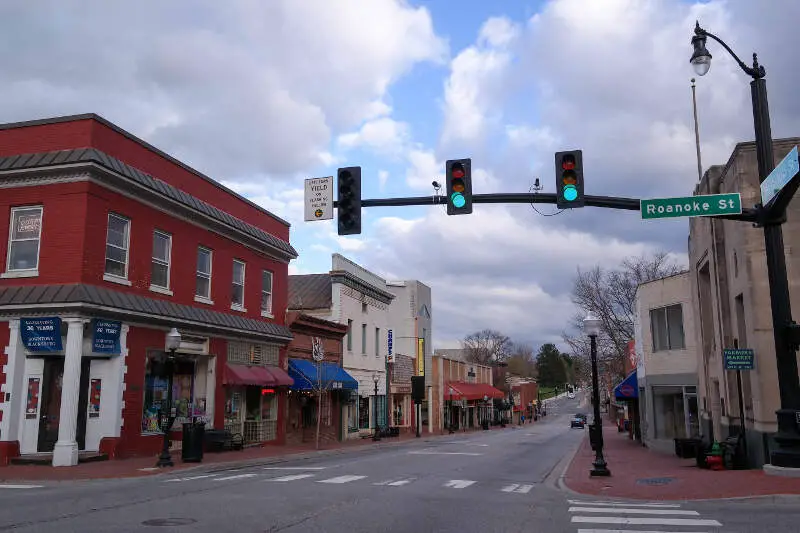 Blacksburg, Virginia, is known for education. It serves as home for Virginia Tech. But the community exists as more than a college town. It's also one of the best places to live in the state.
The city offers low crime and solid local schools. Economically speaking, the median income in the area hovers at $43,173. The cost of living is about 5%-10% above the national average. Still, home prices remain affordable, with the median home value sitting at $298,400.
Blacksburg is located in the southwest part of the state, near the West Virginia border, in a relatively rural area. Still, a 45-minute drive will get you to Roanoke, the largest city in the area. In town, you can check out VT football games and other amusements related to the college. Or you can take in the natural sites in the region, such as the nearby Pandapas Pond.
Mapping The Best And Worst Places To Live in Virginia
The Pressing Question: Size
Before we even started to collect data, we had to answer a tough question: Is it fair to pit Richmond with a population of 226,622 against places with a population of 18?
We firmly decided no, that just isn't fair.
So to create our ranking, we broke places to live into three tiers:
Cities -- Populations over 5,000
Towns -- Populations between 1,000 and 5,000
Small Towns -- Populations below 1,000
This left us with 61 cities, 168 towns, and 156 small towns.
We then decided, no matter how much anyone loves their town, the best cities to live in Virginia have more of everything and therefore you need to have over 5,000 people to truly be 'the best'.
Now we also realize that city living might not be your cup of tea, so we ran the following analysis on towns and then again for small towns.
You can see those two top tens at the bottom of the post.
How We Calculated The Best Cities To Live In Virginia
Now that we had our set of cities, it was time to rank them.
We ranked each place in Virginia across a number of criteria from one to 61, with one being the best.
We then took the average rank across all criteria, with the city posting the lowest overall score being crowned the winner of the title "Best Place To Live In Virginia".
The criteria we looked at were:
Median Home Values
Median Income
Population Density (Higher better)
Unemployment Rate
Commute Time
Crime
Education Levels
Health Insurance Coverage
Poverty rates
Sources of criteria include the New Census Data and FBI Crime Data. You can download the data here.
After the dust settled, what was the best place to live in Virginia? That would be Falls Church.
If your city or town isn't among the top 10, jump down to the bottom of the post to see a detailed chart of the best places in Virginia.
Otherwise, buckle up for a ride down good living lane with Falls Church at the end of the cul-de-sac.

Wrapping Up The Best Places When It Comes To Living In Virginia
If you're looking at areas in Virginia with the best economic situations, where there's lower than average crime, and a lot to do, this is an accurate list.
Falls Church made a strong showing to take in the overall number one spot for the best place to live in Virginia for 2021.
Best Towns To Live In Virginia
Pantops (Pop. 3,688)
Belmont Estates (Pop. 1,329)
Hayfield (Pop. 4,453)
Kings Park (Pop. 4,687)
Daleville (Pop. 3,180)
Hampden-Sydney (Pop. 1,600)
Ravensworth (Pop. 2,175)
Dayton (Pop. 1,633)
Haymarket (Pop. 1,826)
Laymantown (Pop. 2,203)
Best Small Towns To Live In Virginia
Riner (Pop. 888)
Clifton (Pop. 219)
Washington (Pop. 140)
Round Hill (Pop. 570)
Bobtown (Pop. 323)
Free Union (Pop. 291)
Mount Crawford (Pop. 419)
Occoquan (Pop. 947)
Hillsboro (Pop. 98)
Irvington (Pop. 403)
If you're curious enough, here are the worst places to live in Virginia according to the data:
Petersburg (Pop. 31,362)
Emporia (Pop. 5,442)
Galax (Pop. 6,517)
For more Virginia reading, check out:
Where Are The Best Places To Live In Virginia?
| Rank | City | Population |
| --- | --- | --- |
| 1 | Falls Church | 14,128 |
| 2 | Vienna | 16,489 |
| 3 | Bridgewater | 6,032 |
| 4 | Purcellville | 9,897 |
| 5 | Poquoson | 12,090 |
| 6 | Leesburg | 52,994 |
| 7 | Alexandria | 157,613 |
| 8 | Lexington | 7,241 |
| 9 | Virginia Beach | 450,201 |
| 10 | Blacksburg | 44,303 |