The 10 Safest Cities In Virginia For 2021
We used data and science to determine the places in Virginia where everyone sleeps safe and sound.

Editor's Note: This article has been update for 2021. This is our sixth time rankings the
safest places to live in Virginia
. All the data comes from the
FBI's Crime In The USA 2019 report.
Article Table Of Contents   
(Skip to section)
The Blue Ridge Parkway. Appalachian Trail. Skiing resorts and vineyards.
Virgina, also called the Cardinal State, has many cool attractions and historical facts to offer visitors. Also known as the "Mother of Presidents," Virginia is home to many presidential homes and national monuments and sites, such as the Arlington National Cemetery.
But what about living in Virginia? Is this just a pass-by state on your way up to Washington, D.C. from the South or a place for your weekend drive on the Blue Ridge Parkway? Well of course not, it's a great place to live. And today we have done the research into the safest places to live in Virginia.
It seems that this commonwealth state has more to offer than meets the eye, with old town Alexandria, Virginia Beach, and Charlottesville. Virginia is also pretty cheap. Compared to its neighbor, Washington, D.C., Virginia is a gold mine. In our article, Cheapest Places to Live in Virginia, Martinville ranked #1, with housing prices being nearly 50% below the national average.
Amazing historical vibes, good universities, and cheap costs of living. What else could you possibly want? Safety -- based specifically on the property and violent crimes per capita from the FBI crime data.
Here are the 10 safest cities to live in Virginia for 2021:
Looks like Bridgewater, Virginia, has safety figured out.
What's the safest place to live in Virginia? According to the most recent FBI data, Bridgewater ranked as the safest city in Virginia for 2021 based on property and violent crimes per capita.
Read on to check out how we crunched the numbers and to see where your city stacked up:
For more reading on safe places to live in and around Virginia, check out:
The 10 Safest Cities In Virginia For 2021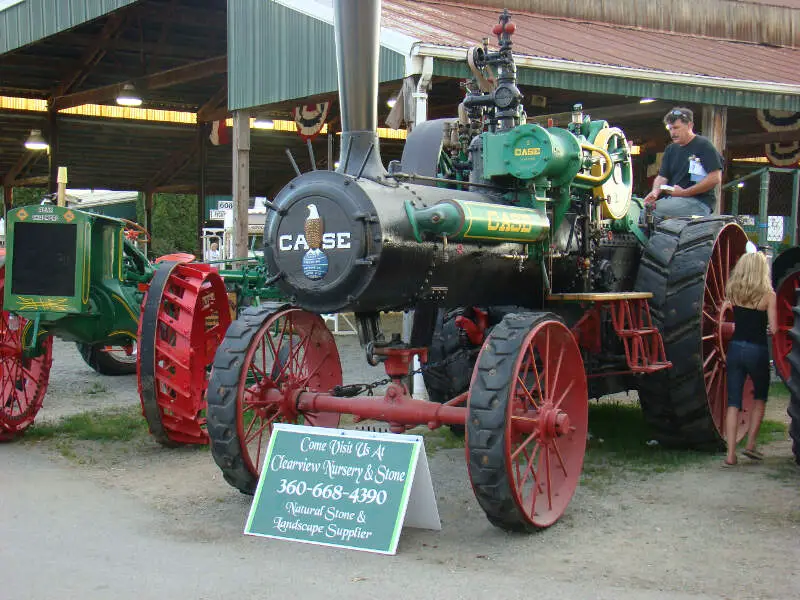 Source: Public domain
Welcome to Bridgewater, the safest place to live in Virginia for 2021 according to the most recent FBI data.
Located in Rockingham County in Northern Virginia, the town maintained its spot on the list -- it has the safest violent and third safest property crime rate of every place we measured.
Bridgewater is so safe that your grandma could leave her social security number on the driveway of her house and a good samaritan would just erase it for her and set up an automatic credit monitoring for her.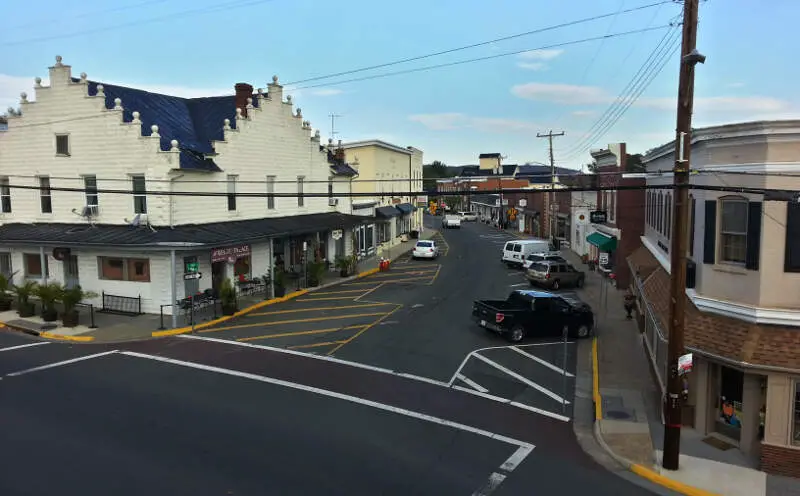 Next on our tour of the safest places to call home in Virginia takes us to Purcellville.
The property crime rate here is the second safest in the state.
Why is the property crime so low? Probably because everyone here enjoys fermented grapes or hops. According to TripAdvisor the best things to do in town include visiting the Catoctin Creek Distillery and several other vineyards. It's hard to be jealous when your always a little buzzed.
Purcellville is another burb of DC.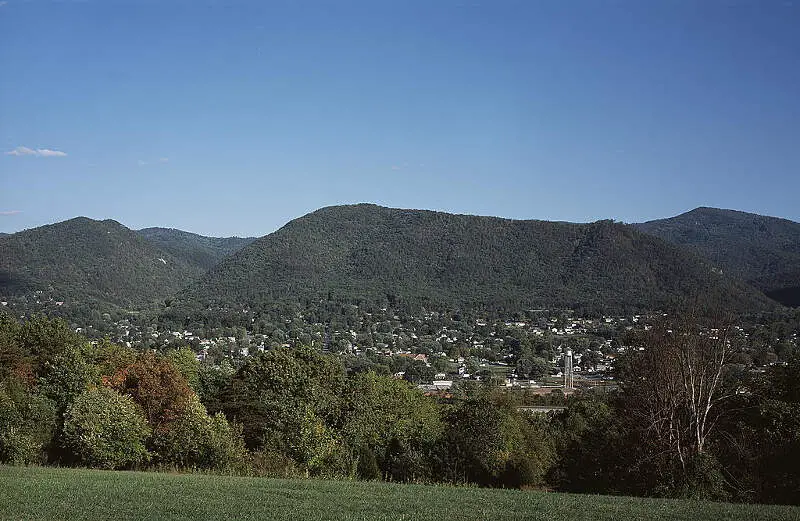 Source: Public domain
Located in the Blue Ridge Mountain region, Buena Vista ranks as the third safest city in Virginia.
Buena Vista had about five times less violent crime than the national average, with only five instances of violence in 2019. As long as you don't run into any real panthers at Panther Falls, you should have a peaceful visit to an amazing swimming hole. Buena Vista also had the safest rate of property crime in Virginia, so it's not the worst place to live if you're always forgetting to lock your doors.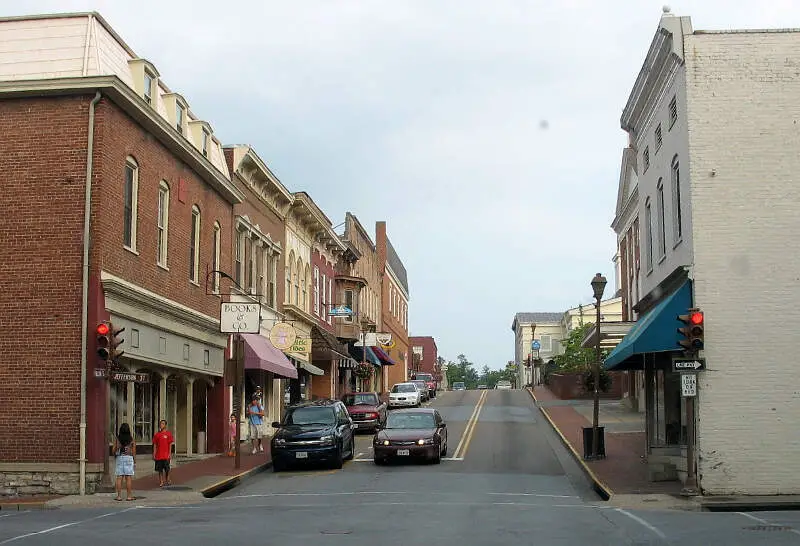 Coming in as the safest place in Virginia is Lexington. That's a big improvement for Lexington over the past several years.
Apparently Stonewall Jackson is kind of a big deal around town as it seems like everything from cemeteries to municipal buildings are named after the guy. A quick Google search reveals that Stonewall Jackson was a confederate general, so.., that's a little disconcerting. Someone might want to tell them they live in the country that won the war.
Anyway, Strasburg broke into the top ten for the second time this year after finishing just off in the number eleven spot a couple of years ago.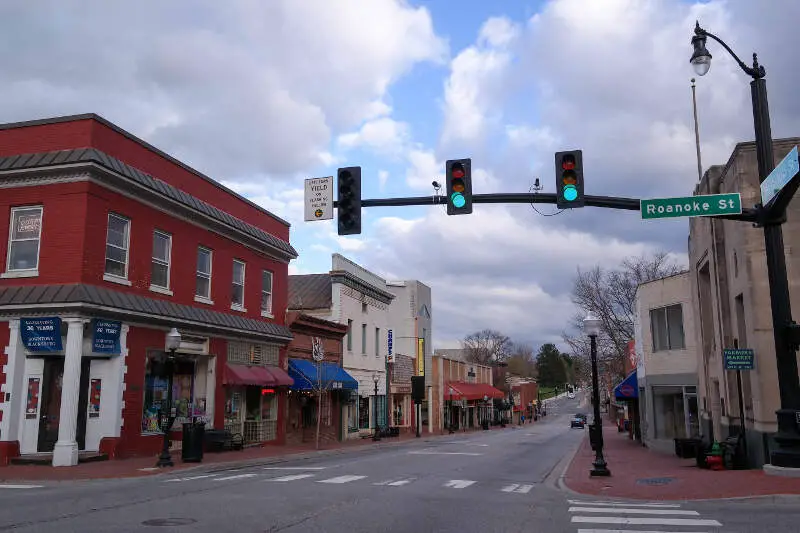 The fifth safest city in Virginia is Blacksburg.
An improvement in both violent and property crime rates gave the city of some 45,000+ the edge over its competitors this year. So it wasn't like other places got less safe -- Blacksburg just got more safe.
Blacksburg is dominated economically and demographically by the presence of Virginia Tech. It's located in the western part of the state.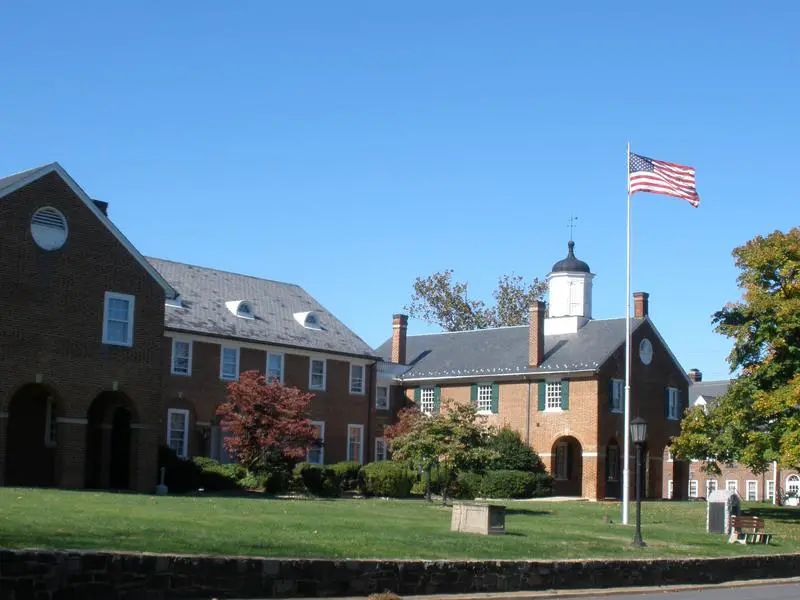 Homes in Fairfax City can come with a hefty price tag, a median value of $230849 to be exact. So, residents will be glad to know it is unlikely their beloved abode will be broken into. At least if the 2019 data is anything to go off of. People in this community reported just 11 incidents of burglary that year.
Besides a lack of criminals trying to make off with other people's possessions, a mere 11 robberies included, it appears the city has a minimal amount of violent crime as well. That means you can dance and drink the night away at Rock the Block events with ease knowing you are surrounded by far more good guys than bad.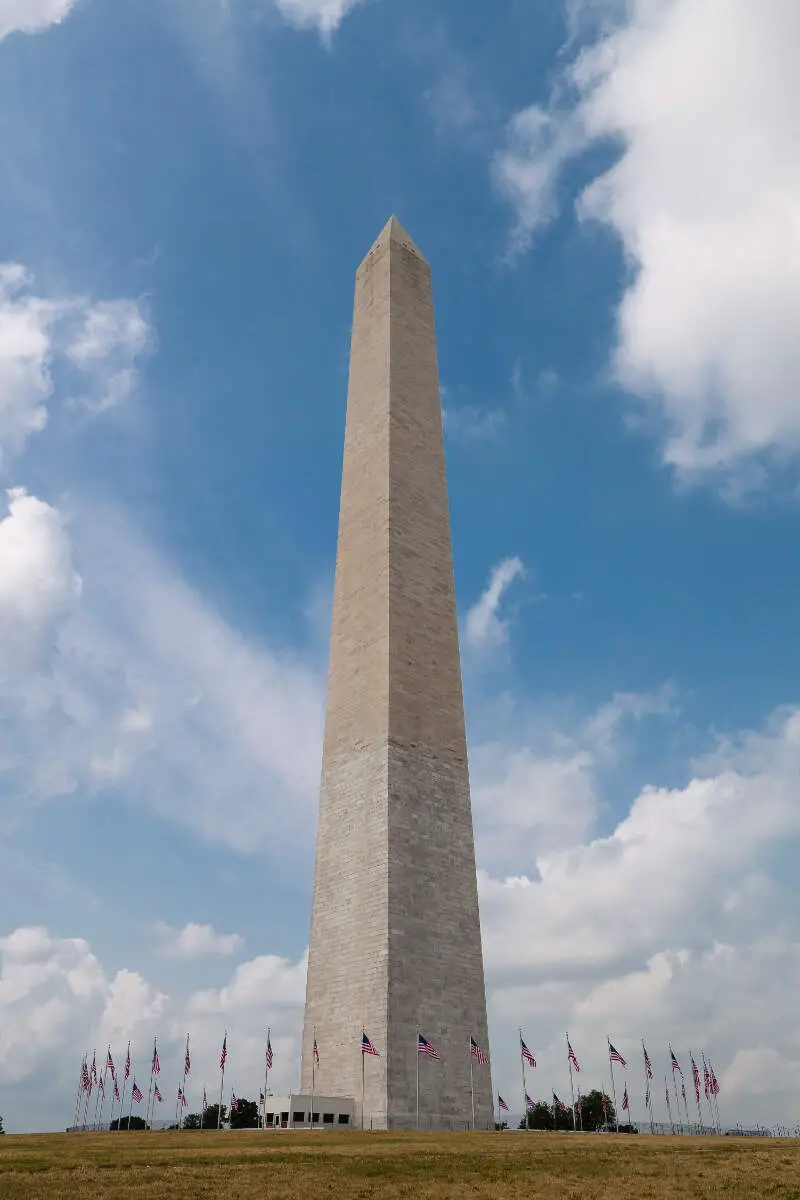 Manassas Park takes the seventh place position for our ranking of the safest cities in Virginia.
The city has top ten finishes for both violent and property crime rates which is very solid for a city of its size. However, the cost of admission is kinda high as the median income is over $75,00 and the median home value tops out at over $257,000.
But for those that put down roots here are happily rewarded with safety and, I'd Image, parks.
Manassas Park is yet another suburb of DC.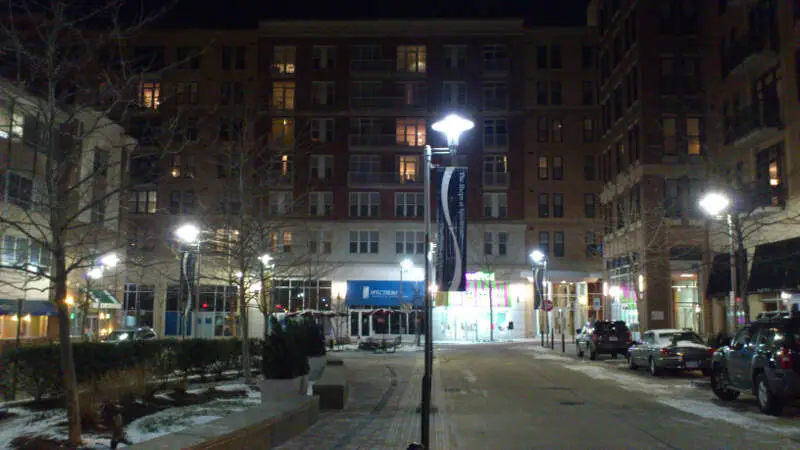 With church in the name, you'd hope that Falls Church is safe. And you can be sure no one will push you around in town and make you fall as the city ranks as the eighth safest in the state.
Falls Church has the lowest level of poverty of any independent city or county in the United States which property helps contribute to the low violent crime -- you don't covet your neighbor when they have the same stuff you do. Falls Church is another DC suburb.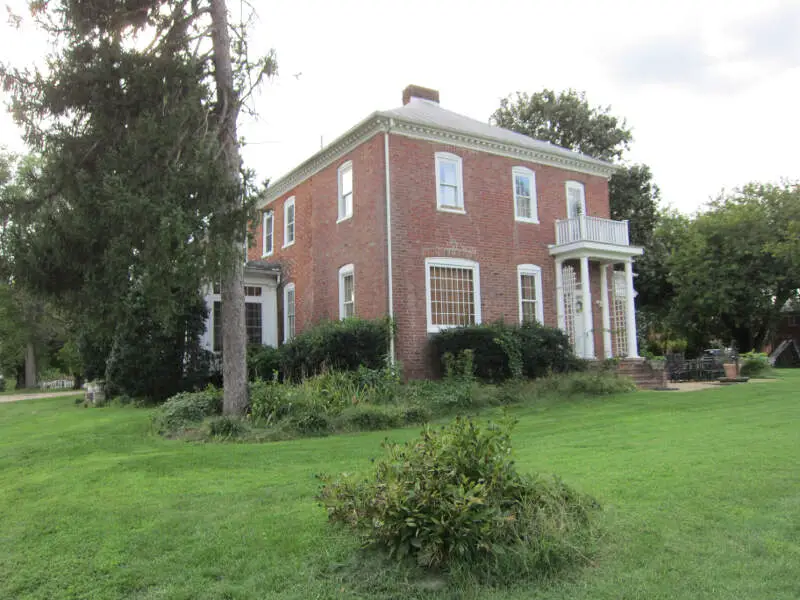 You'd have to be dumb as fries if you didn't expect to see Dumfries on the list. After taking 22nd lowest place last year it returns to the ninth spot on the list this year.
It just passed the threshold of 5,000 people to make it on the list several years ago and rightfully claimed a spot on the list ever since. It scores in the top ten for both of our crime rates of interest.
In what's becoming a little bit of a pattern, Dumfries is located in Prince William County just outside of DC.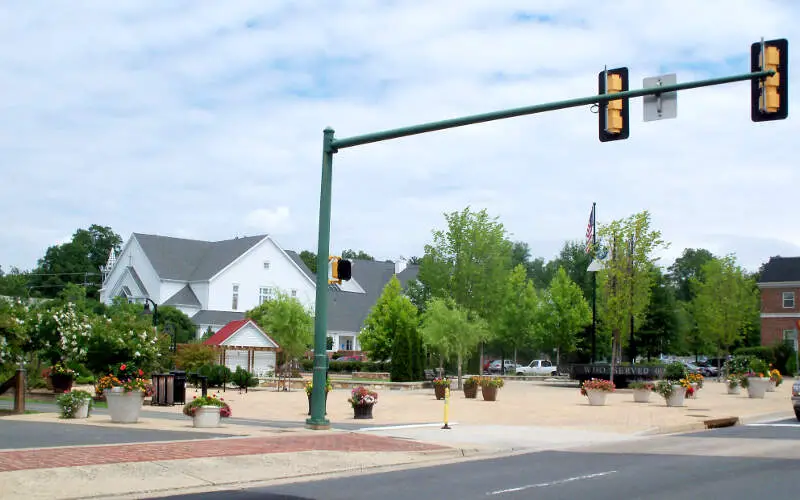 Welcome to Austria. I mean Fairfax County, Virginia, home to Vienna, one of the safest cities in the state.
But while this might not be the capital of Austria, Vienna, VA still has to going on. Its violent crime rate would make you proud to bring it home to meet your parents. Add to that a vibrant community and a superbly educated populace and you have one of the best places to live in America -- Vienna scored a 10/10 on our SnackAbility score.
Vienna is located in Northern Virginia and is a suburb of DC.
How we calculated the safest cities in Virginia for 2021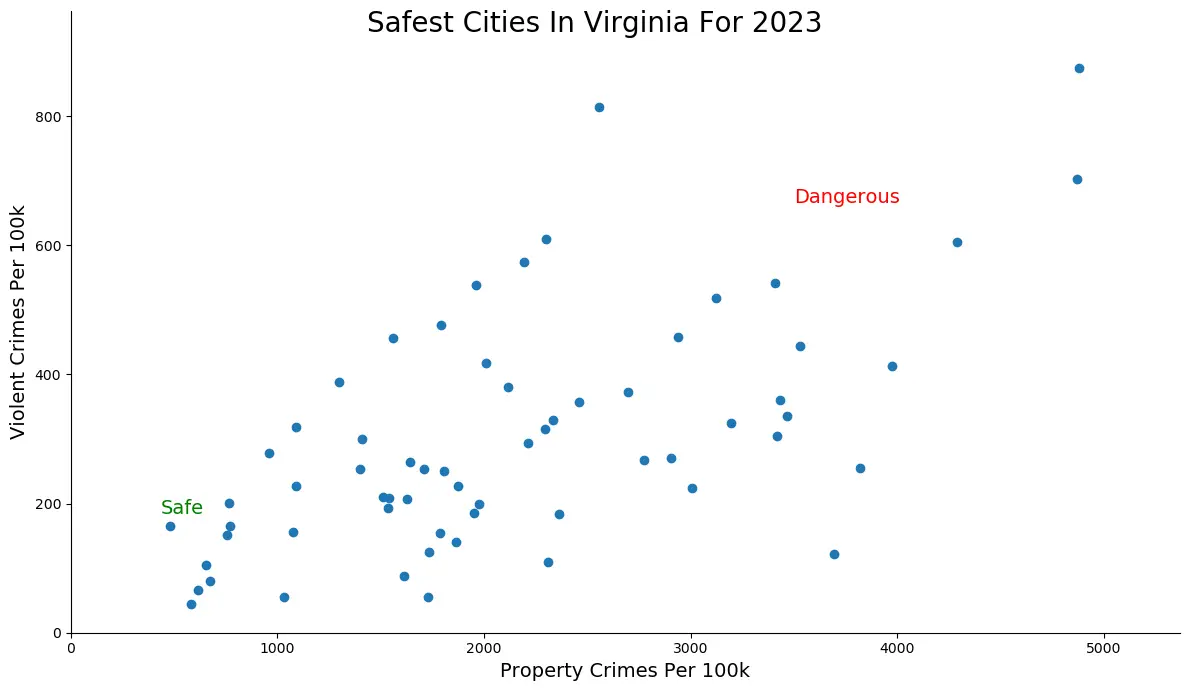 While there are surveys and public polls on what cities in a state are the safest, we didn't want to rely on speculation and opinion. Instead, we looked at the hard numbers from the FBI's most recent report of crime (Published Sept 2020) in Virginia.
Specifically, we analyzed the
FBI's Uniform Crime Report
which summarizes the number of property crimes and violent crimes in each city per year. We used two criteria:
Violent crimes per capita (murders, assaults, rapes, armed robberies)
Property crimes per capita (thefts, burglaries, motor vehicle thefts)
For example, there were a total of 23 crimes committed in Bridgewater which had a reported population of 6,167. That means the number of crimes per capita is 0.0037 which translates into a 1 in 268 chance of being the victim of a crime.
We only looked at cities that have populations of more than 5,000 people reported to the FBI in 2019, the last reporting year. This left us with a total of 62 of the biggest cities in Virginia to rank.
We ranked each city for each criteria from 1 to 62 where 1 in any particular category is the safest.
Next, we averaged each places two criteria to create a Safety Index. We crowned the place with the lowest overall Safety Score "The Safest Place In Virginia" with any ties going to the bigger city. You can download the data here.
The safest city in Virginia, based on our criteria, is Bridgewater. The most dangerous city in Virginia? Portsmouth, where residents had a 1 in 14 chance of being the victim of a crime.
Note: This report is not an analysis of the effectiveness of local police departments, nor does it reflect the fact that people from out of town may come into a community and cause a crime. It simply looks at where crimes occurred most frequently, based on a city's population.
There You Have It - The Safest Cities In The Old Dominion
Looking at the data, you can tell that Bridgewater is as safe as they come, according to science and data.
But as most Virginia residents would agree, almost every place here has its safe and not safe parts. So just make sure you're informed ahead of time.
Here's a look at the most dangerous cities in Virginia according to the data:
Portsmouth
Galax
Colonial Heights
For more reading, check out:
Breaking Down Crime In The Safest And Most Dangerous Cities In Virginia

Share on Facebook
Chris Kolmar has been in the real estate business for almost ten years now. He originally worked for Movoto Real Estate as the director of marketing before founding HomeSnacks.
He believes the key to finding the right place to live comes down to looking at the data, reading about things to do, and, most importantly, checking it out yourself before you move.
If you've been looking for a place to live in the past several years, you've probably stumbled upon his writing already.
You can find out more about him on LinkedIn.