Alabama is home to Gulf State Park in Gulf Shores, the USS Alabama in Mobile, and the US Space & Rocket Center in Huntsville, but did you know that the Heart of Dixie is also home to some of the most affordable places in the country?
The experts say that the cost of living is on the rise, so HomeSnacks thought it would be a great idea to give Alabamans one of the best life hacks: we compiled a list of the most affordable places to live in Alabama for 2021.
How did we determine the most affordable places to live in Alabama for 2021? We consulted the latest Census data on cost of living.
It simple economics, folks. The folks in our most affordable Alabama places know that the less they spend on their cost of living, the more they have to spend on the fun things that Alabama has to offer. Like, swamp boat tours in Spanish Fort, the Birmingham Zoo, or Alabama Adventure & Splash Adventure in Bessemer. you know, great, affordable Alabama staycations. Do we think it's a coincidence that several of our top ten best places in Alabama to retire are also on our most affordable list? Absolutely not. The good 'ol Alabamans that live in these places know the value of the Alabama dollar.
So, want to know where you can find a safe, affordable Alabama home? Keep reading.
To produce a comprehensive list of the most affordable places in Alabama for 2021, we took a look at the things that matter: low cost of living, blue ribbon schools, and an above average employment rate to name a few.
The cheapest place to live in Alabama? Drum roll… the number one most affordable place to live in Alabama is Attalla.
If you're already in one of the most affordable Alabama places we're about to highlight, odds are you don't want to go anywhere. You should, however, scroll on down and see how your city compared.
And if you already knew these places were cheap, check out some more reading about Alabama and the cheapest places in the country:
The 10 Cheapest Places To Live In Alabama For 2021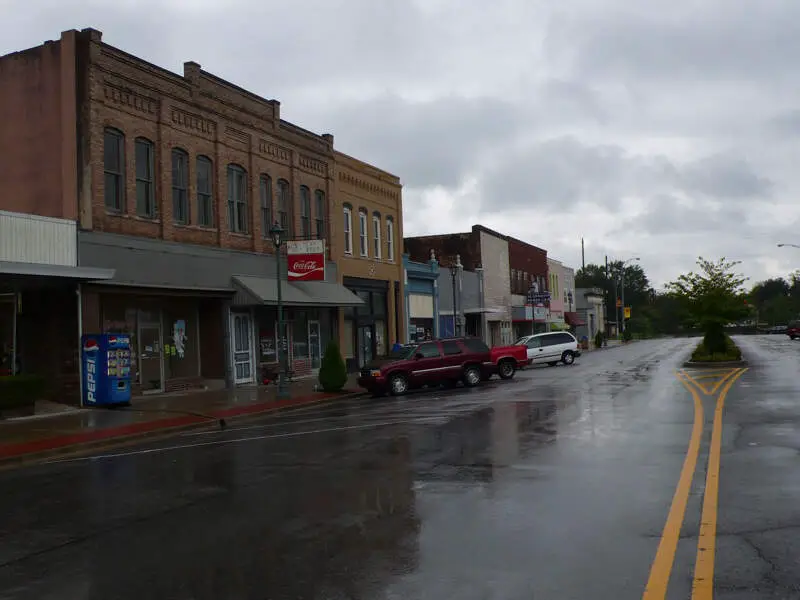 Alabama's most affordable place to live for 2021 is Attalla. Also, fun fact, Attalla is one of the city's that made this list that is located closest to an airport.
Why is that a fun fact? Because when you save a bunch of money on your home purchase, you can use that money to purchase a private jet and leave it at the The Northeast Alabama Regional Airport.
Attalla is the cheapest place to buy a home relative to its median income in the state and offers an oveall cost of living well below the national, and state, average.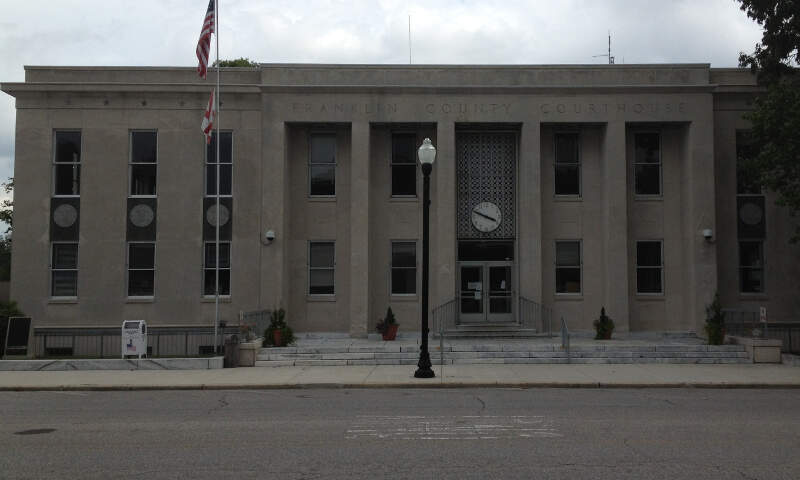 Where Alabama's HWY 43 crosses HWY 24 is the second cheapest place to live in The Yellowhammer State. The beauty of Russellville is that it is the ninth most affordable place to buy a home or rent based on the median income at $43,358 for this area. So, if you're not sure if buying a home, let alone living, in this little city in Franklin County, you can try it out with a rental.
Source: Public domain
Our affordability index says that the third most affordable place in Alabama, Roanoke, knows how to balance affordability with fun. Located in the Piedmont region of eastern Alabama, Roanoke is the sixth cheapest place to buy a home based on median income. So, what do the good people in Roanoke do with all the money they save on their home purchase? They enjoy the best of Roanoke. And that, folks, can be a day spent tasting wine at Roanoke's very own Trillium Vineyard.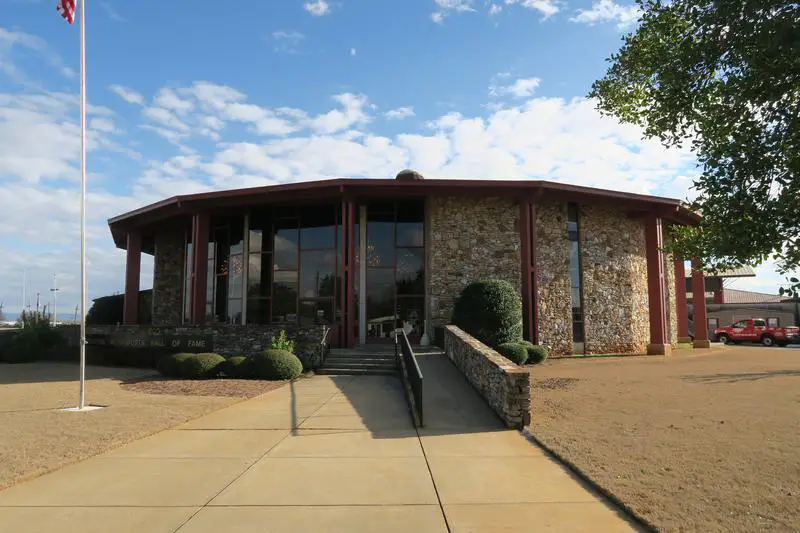 You won't have to sacrifice class for affordability if you choose to live in Alabama's fourth most affordable place, Lincoln. Matter of fact, you won't have to sacrifice anything. Lincoln is the fifth best place to buy a home based on home price to income ratio; and economically speaking, the less you have to spend on your home, the more money you will for the fun things to do in the place that wants you to "Come Grow With Them." Like, catching a NASCAR race at the famous Talladega SuperSpeedway.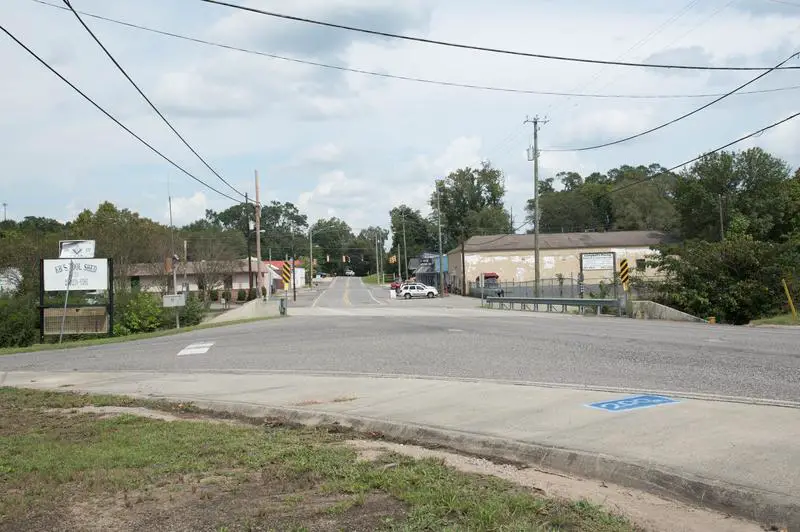 Located slightly northeast of Birmingham is Alabama's fifth least expensive place to live. This little gem from Jefferson County earned its ranking because it is the fourth cheapest place in terms of home price to income ratio. But, you're going to have to make at least $69,764/year if you want to buy a home here.
So, if you're looking for that one of a kind Alabama place that won't break your bank, Pinson is it.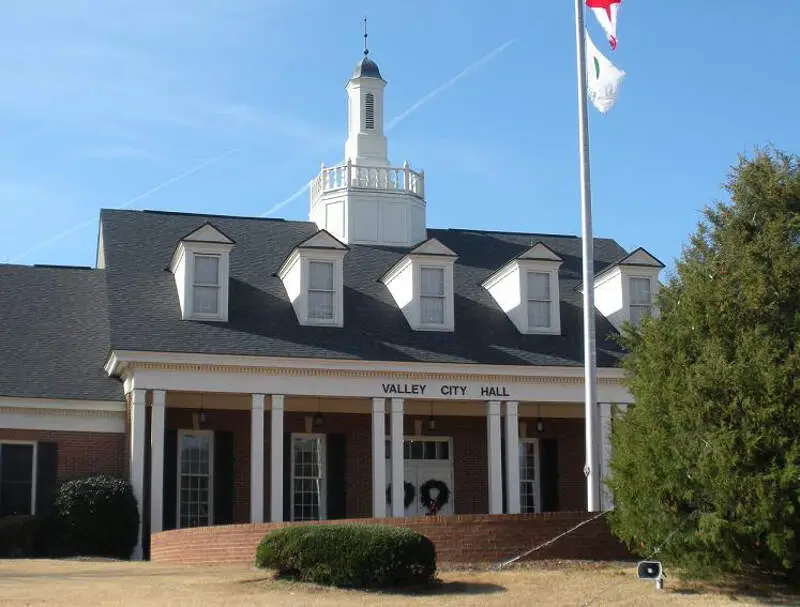 Source: Public domain
As an official town, Valley has only existed for a relatively short period of time. It was first incorporated in 1980, a merger of a set of smaller communities. The area has gained a major distinction in its short time: it ranks as the number 6 most affordable city in the state.
Valley sits along the Chattahoochee River, right at the border with Georgia. This gives residents access to loads of scenic outdoors activities around nearby West Point Lake. With a population of 9,286 residents, Valley exists in a relatively rural part of the state. It takes more than an hour to get either to the state capital of Montgomery or to Atlanta, the nearest major metropolis.
This small-town, outdoorsy charm helps to keep expenses in the community under control. The median income in the area only comes in at $47,747. But those dollars go a long way. The median home value is an affordable $88,700, while the median rent hovers at $799 per month. Meanwhile, the overall cost of living is only about 80% of the national average.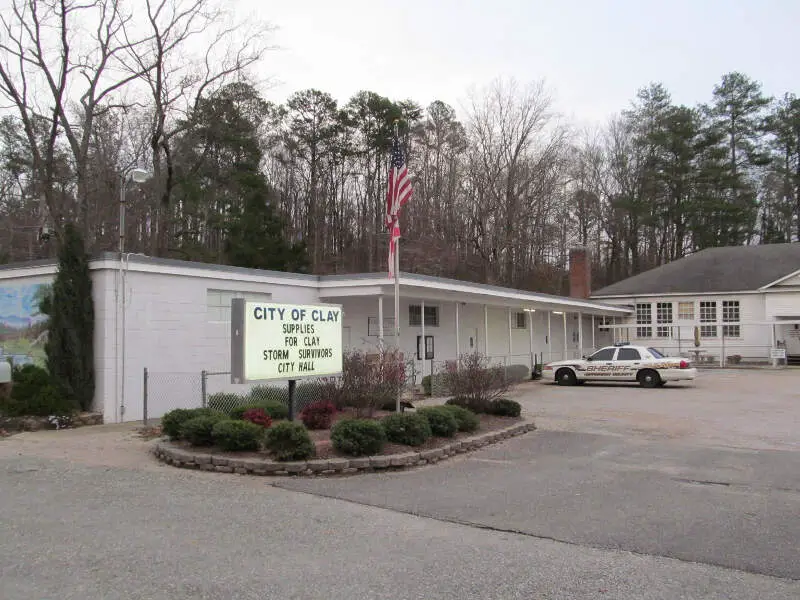 Alabama's seventh most affordable city, Clay, is a great place to live for those working with a tight budget. This city in Jefferson County might be tiny with only 9,888 residents, but it's a pretty big deal on this list: it is currently the seventh cheapest place in terms of home price to income ratio. Clay has some pretty good deals for rentals, also, as it is the fifth best place to rent a place based on income.
Basically, Clay has made it super easy and super affordable to live in their corner of Alabama.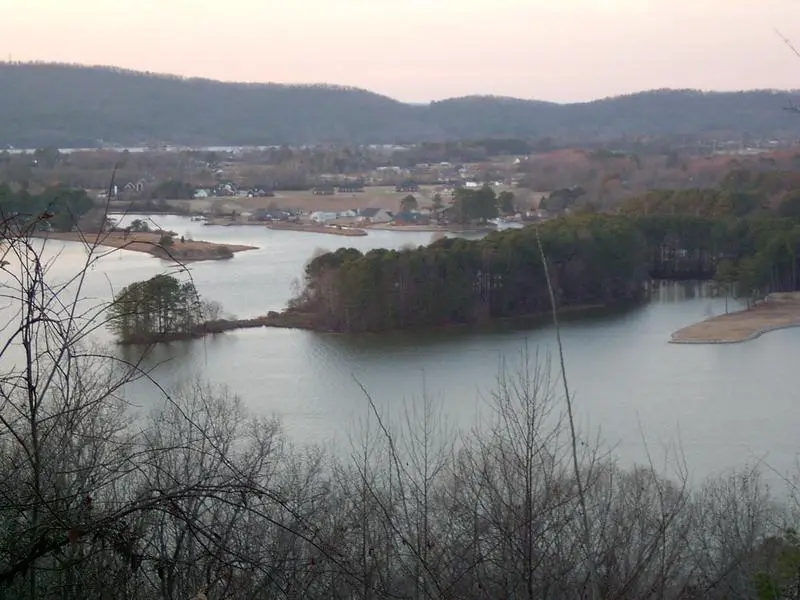 Southside, Alabama, actually sits in the northeast part of the state. Kind of strange huh? Rather than its position within the Heart of Dixie, the community gets its name from its location on the south side of Coosa River. Maybe it's time for a less confusing name. How about "Affordable, Alabama?"
The town earns this name thanks to its distinction as the number 8 most reasonable places in Alabama to put down roots. Rents and home prices are actually kind of high for the state. The median rent stands at $942 per month and the median home value comes in at $153,100.
However, residents in the community also enjoy relatively strong earning power, with the median income coming in at a lofty $72,687. In context, then, Southside has one of the best home price-to-income ratios in Alabama…meaning you can afford a lot for the paycheck you receive.
Overall, the cost of living in Southside comes in at 90% of the U.S. standard. The town has other selling points as well. Crime is more than 60% below the national average. Meanwhile, the quality of life is high, with above-average schools and gorgeous views of the Coosa River.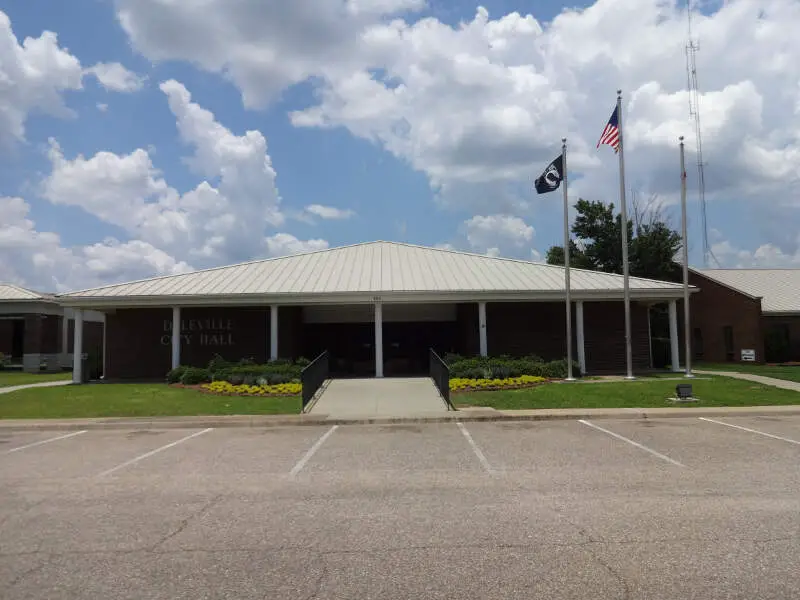 Daleville has a long history with the military. It was originally founded in the 1820s by veterans of the Creek Indian War. Nowadays, it provides an inexpensive place to live in the shadow of Fort Rucker, the primary training site for U.S. Army aviators.
Those pilots will get excellent value living in Daleville. The median home value sits at $92,600, while the median rent comes in at a scanty $660 per month. The general cost of living in the community comes in about 15% below the national average.
Daleville, located in the southeast corner of the state, hosts a population of 5,123 residents. This puts it in a rural area, with Fort Rucker as the major economic force in the area. The crime rate is more than 50% below the national average. The unemployment rate sits at 9.09%.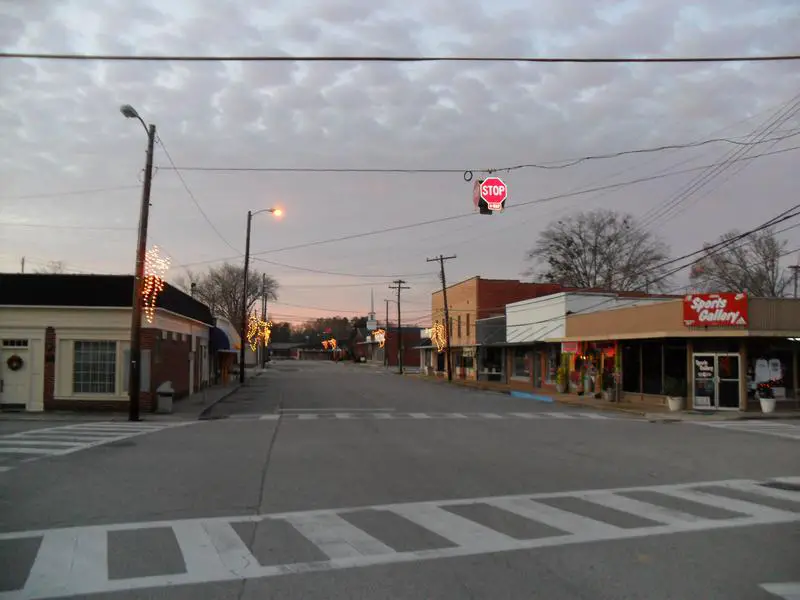 For many, Hamilton's claim to fame is that they are the home to the former Minnesota Vikings lineman Bookie Bolin; but, for HomeSnacks, this city of 6,682 in Marion County is the tenth best place in Alabama if you are looking for affordable living.
Yes, the median income in Hamilton is $39,357 and the median home price is $106,700; so, for all of the economically savvy out there, we're pretty sure we can agree that this a Hamilton win.
How We Determined The Most Affordable Places To Live In The Heart of Dixie For 2021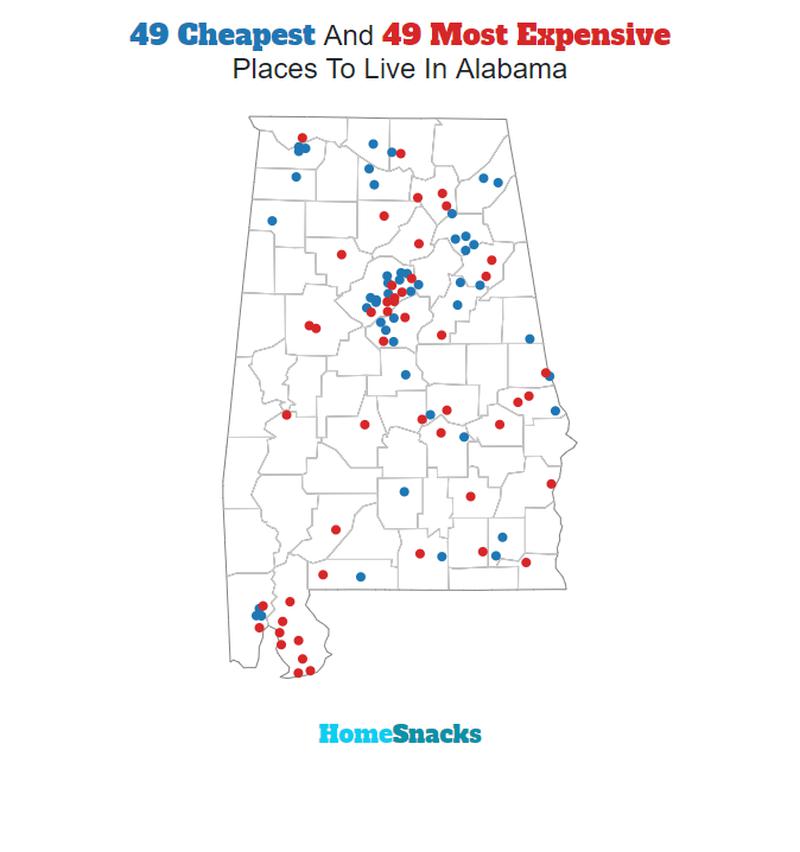 The two most important things to think about when it comes to being able to afford if you can live comes down to:
How much do money do I make?
How much do I have spend to live there?
You need to understand your costs in the context of how much money you make.
For example, if the median household earns $100,000 and spends $40,000 on housing it's actually cheaper to live there than a place with a median income of $50,000 and housing costs of $21,000. You might spend more on housing, but you have more money overall to play with.
With that example in mind, we derived several statistics from the latest Census American Community Survey 2015-2019 around incomes and costs. They are:
Median Home Price / Median Income (lower is better)
Median Income / Median Rent (Higher is better)
Median Home Price
We added simply median home price because high home prices generally correlate with higher expenses for all costs related to homes (heating, electricity, etc).
You can then compare these metrics in each of the places in Alabama to figure out which is the least expensive.
What you are left with is a "Cost of Living Index" by taking the average rank of each of these metrics for each city.
So we used that cost of living index in order to rank all of the 104 places in Alabama that have more than 5,000 people.
The place with the lowest cost of living in Alabama according to the data is Attalla. You can download the data here.

There You Have It Mr. Or Mrs. Alabama Cheapskate
If you're looking at the cost of living numbers in Alabama, this is an accurate list of the most affordable places to live in Alabama for 2021.
Here's a look at the most expensive cities in Alabama according to the data:
Gulf Shores
Auburn
Foley
For more Alabama reading, check out:
The Most Affordable Places To Live In Alabama
Editor's Note: We updated this article for 2021. This is our seventh time ranking the cheapest places to live in Alabama.