Editor's Note: We updated this article for 2021. This is our seventh time ranking the best places to live in Alabama.
Article Table Of Contents   
(Skip to section)
Sweet Home Alabama is a pretty fitting saying for a state that surpasses most other Southern states for its beauty and all-around charm.
When you have the Gulf Shores and the Talladega National Forests in your backyard, it's quite a super place to live.
But where is the best place to live in Alabama? That's what we set to find out based on the most recent FBI and Census data.
Using science, we analyzed everything from crime, education, weather and amount of income per household to find out, once and for all, the best cities to make a home in the Yellowhammer State. Apparently, living in the greater Birmingham region is a little slice of heaven.
And since Alabama is one of the cheapest states to live in America, you'll definitely be able to afford a great place to live.
After analyzing almost 100 places, we came up with this list as the top ten places to live in Alabama. So grab some fried catfish and bbq and read on.
The 10 Best Places To Live In Alabama For 2021
What's the best place to live in Alabama for 2021? According to the most recent FBI and Census data, Madison ranks as the best place to live in Alabama for 2021 based on general quality of life factors.
It seems that none of the largest cities in Alabama made the top ten, but their suburbs are apparently more desirable, according to scientific data.
No one can argue that, overall, almost every nook and cranny in Alabama has something special and awesome about it.
If you're looking for something more national, check out the best states in America or the best places to live in America.
For more Alabama reading, check out:
The 10 Best Places To Live In Alabama For 2021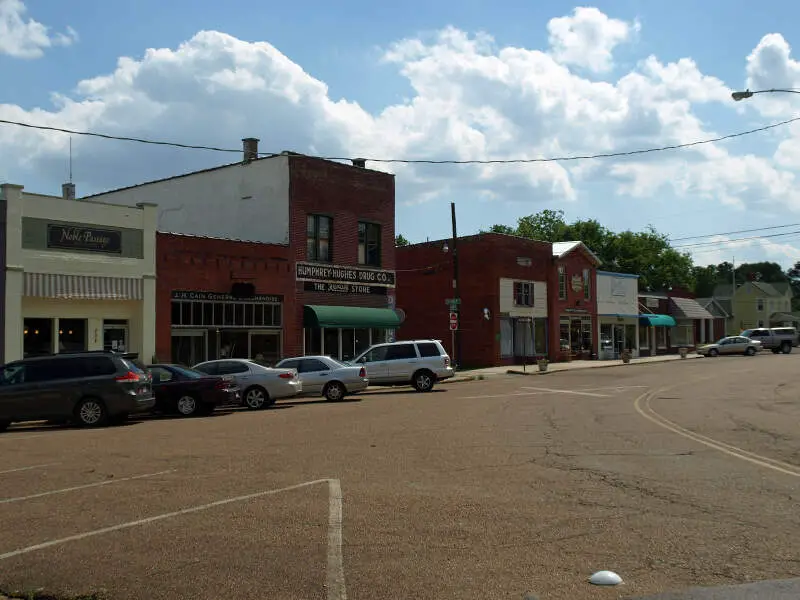 We're taking our first foray outside of the Birmingham area to reach our best city in Alabama, Madison. A suburb of Huntsville, Madison has a much lower cost of living than the top three cities on this list, making it an attractive budget choice. Homes are a tad cheaper, but the median household income in Madison is still the 4th highest in Alabama at $99,188/year.
You may want to brush up on your trivia before making the move to Madison, though, because people here are no dummies. About a quarter of the population has a master's degree, PhD, or professional degree, which does help explain the high pay here. In terms of entertainment, being surrounded by the rapidly growing economic hub of Huntsville does a lot for your choices. But between Rainbow Mountain and a top-notch local farmer's market, you don't have to leave Madison for a good time.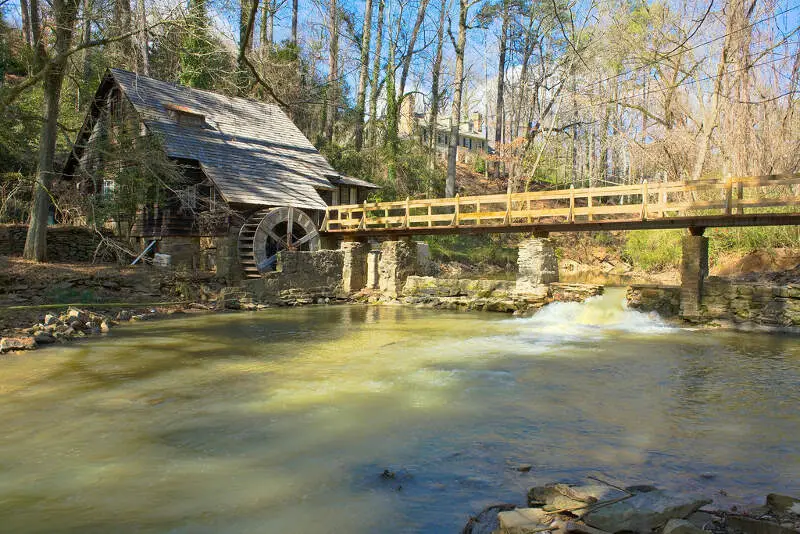 It's hard to know where to begin with a city as awesome as Mountain Brook, which appears in the top five statewide for just about every category we measured. The economy of Mountain Brook is as solid as it gets, with the 3rd lowest unemployment rate and lowest poverty in Alabama, at 1.7% and 3.0% respectively. There's also very little to fear in terms of criminal activity, seeing as Mountain Brook has the 90th lowest crime rate in the state. And if you do run into an unfortunate situation, you should be just fine, seeing as Mountain Brook has the highest rate of health insurance coverage in Alabama at 98.4%.
Education is also taken very seriously in Mountain Brook. The city spends about 20% more than the statewide average per student and it shows. Of the six schools in Mountain Brook's district, half have received a Blue Ribbon award. And that love of learning isn't just for the kids; over 40% of adults living in Mountain Brook have a master's degree or higher. This obviously raises the earning potential of residents, who enjoy the highest median household income in the state, $152,355/year. Which is good when homes cost about $628,800, the 1st costliest in Alabama.
There are some other perks that come along with being a Birmingham 'burb. The first of which is that Mountain Brook employees enjoy the 5th shortest commute time in the state at just 17 minutes. The other is having access to the best of B-ham, like the Vulcan Park and Museum, without having a weaker economy and more crime.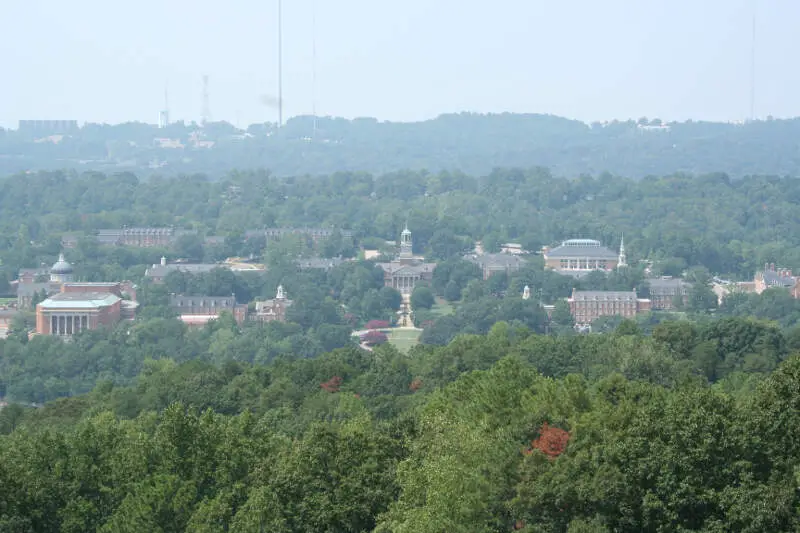 Source: Public domain
Our 3rd best city in Alabama, Homewood, is a suburb of 25,534 located between Mountain Brook and Vestavia Hills. The median age in Homewood is 30, making it the youngest city we'll be covering. That's part of the reason we named Homewood one of the best cities for singles in Alabama. It also helps to have great things to do around, like hiking in nearby Red Mountain Park.
Homewood is also the 2nd most densely populated city in Alabama, so you know you'll never lack for action here. It also cuts down on commute times, seeing as Homewood residents have an average commute of just 17 minutes, the 3rd shortest in the state. Just be warned that Homewood comes with a steep price tag; by housing costs, Homewood's cost of living is nearly triple the Alabama average.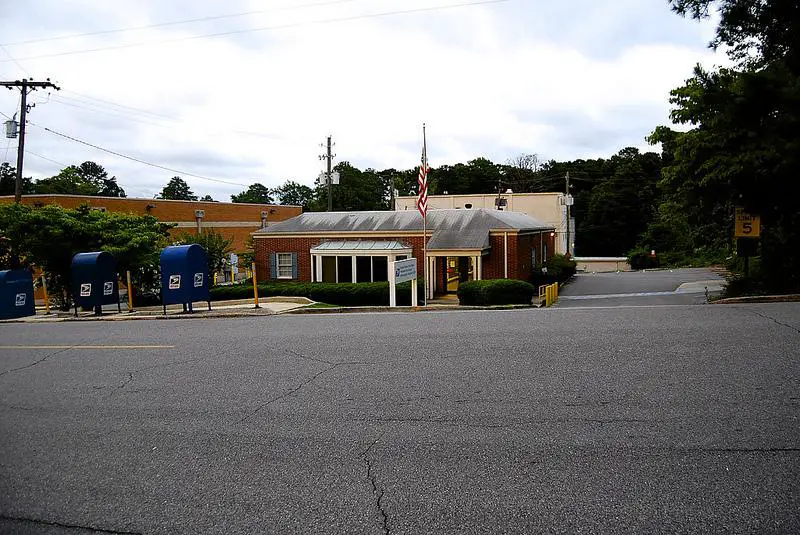 Another affluent Birmingham suburb, Vestavia Hills has held the top spot on this list more than once over the years. For starters, it's one the safest places in Alabama, so there's no need to fear Amazon porch pirates here. If you're moving here with children, you're in luck, because GreatSchools gave Vestavia Hills public schools an average score of 9/10.
Of course, all these awesome things don't come free of charge. Homes in Vestavia Hills are the 2nd most expensive in Alabama at $376,200. Residents don't sweat it much, though, since they also earn a median household income of $109,485/year, the 2nd highest in the state. And it's not like Vestavia Hills leaves some people in the dust while the 1% celebrate, because at 3.9%, it has the 5th lowest poverty level in Alabama.
Not to mention that, with the Birmingham Zoo right down the road, you'll always have something to do when out-of-towners come for a visit.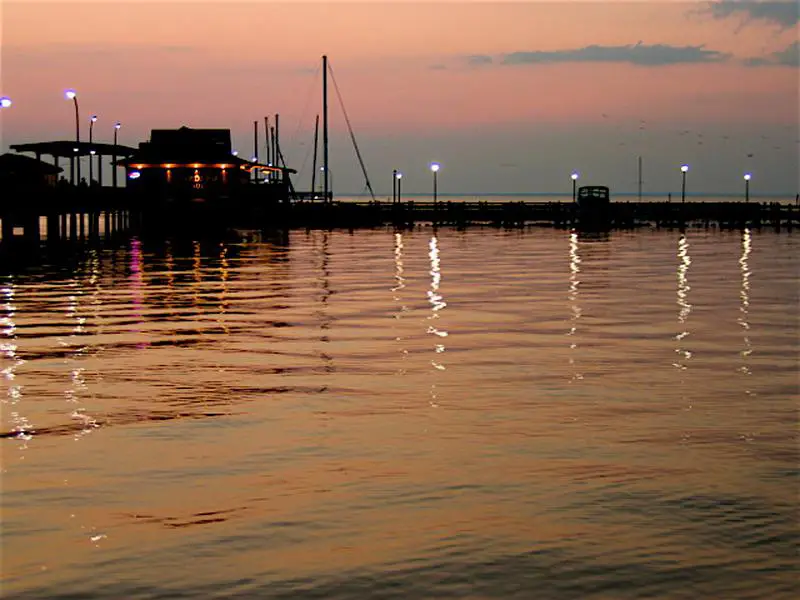 Let's take a trip down the Gulf Shore for our 5th best city in Alabama, Fairhope. The median age in Fairhope is 43, making it the oldest city on this list. Depending on your priorities, this might be a positive or a negative thing. Living on Mobile Bay, however, is a positive for anyone and everyone. Who wouldn't like shopping and strolling down Fairhope Avenue, grabbing a pint from the local brewery, followed up by catching a gorgeous sunset from the pier?
Word to the wise, though; Fairhope ranks among the most expensive cities in Alabama, so you might want to make sure you lock down a job paying $75,197/year before packing your bags. But Fairhope is worth every penny in our opinion. Evidently, people agree, because Fairhope is one of the fastest growing places in Alabama. Safe streets, top schools, and a job market that works for everyone -- it's hard to put a price tag on all that.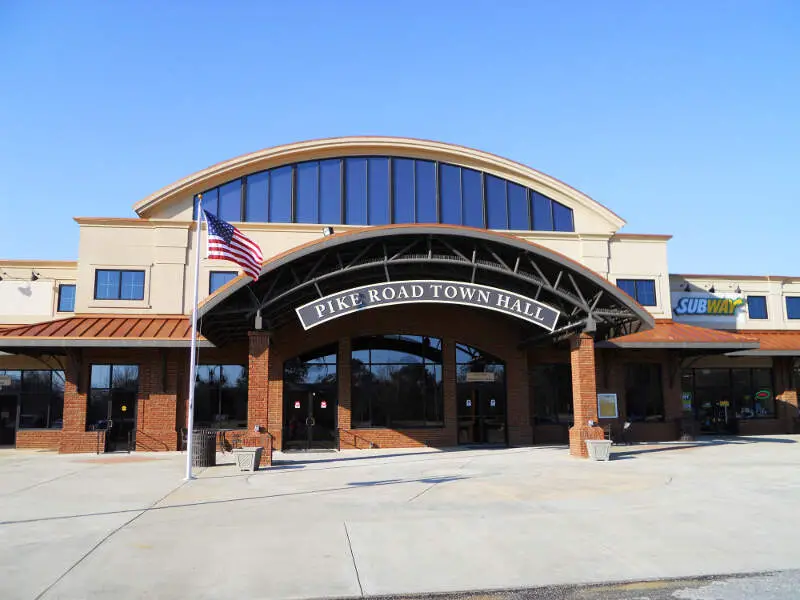 A relatively new community, the current version of Pike Road, Alabama, was first incorporated in 1997. However, it's quickly become a premier suburb of the state capital of Montgomery. The town now ranks as the number 6 best place to live in Alabama.
Pike Road has grown quickly since its founding. From a population of just over 300 in 2000, it now boasts 9,320 inhabitants. It provides an excellent home base for commuters, located about 25 minutes from Montgomery's city center.
Median income is high for Alabama, coming in at $102,734. This places the town at number 3.0 in the state for household earnings. The unemployment rate hovers at 2.5%, the 8th best pace in Alabama. The median home value sits at $300,000.
Pike Road provides a haven for young professionals looking to raise a family. The median age in the community stands at 36 and 43.66 of households have kids.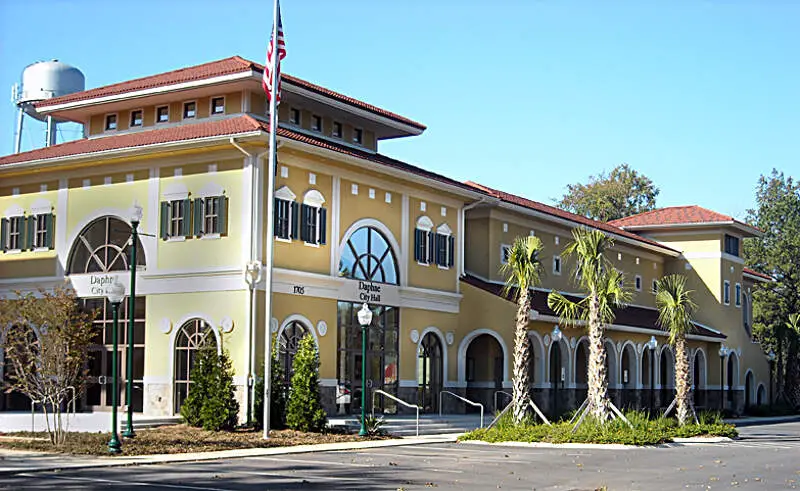 Source: Public domain
We're heading back to the Mobile suburbs to reach our 7th best place to call home in Alabama, Daphne. Here you'll find Blue Ribbon schools, low unemployment, and streets that are safe for everyone. In fact, Daphne experienced the 40th least amount of violent crime in Alabama for 2021. At $71,882/year, Daphne has the lowest median household income on this list, but that's still about 40% higher than the Alabama average.
Daphne also has the good fortune to be on the eastern shoreline of Mobile Bay, meaning that the sunsets from Daphne Bayfront Park are truly a sight to behold. One last thing to note is that Daphne's median age is 37, making it the second youngest city on this list. So if living in a vibrant, youthful city is a priority, Daphne might make an excellent choice.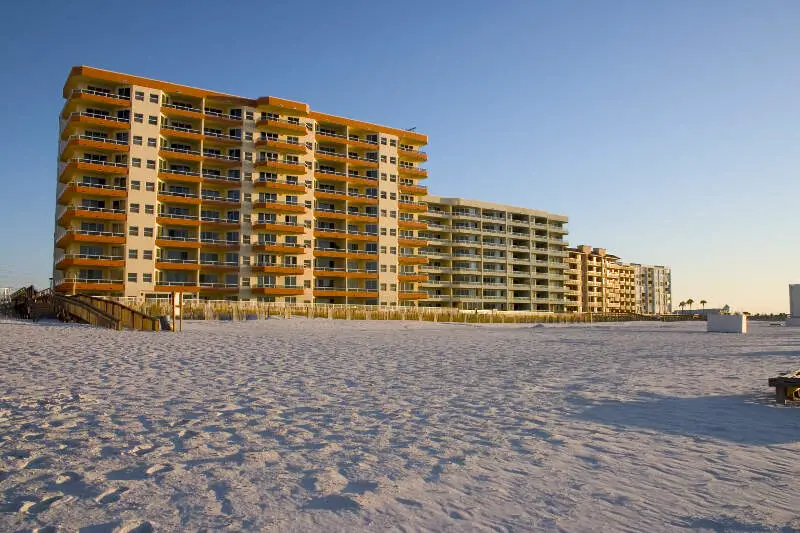 Just like its name suggests, Orange Beach, Alabama, sits right along the water, almost in sight of the Florida border. The community provides a gorgeous resort experience, with plenty of access to beautiful beaches along the Gulf of Mexico. More than just a draw for tourists, though, Orange Beach stands as the number 8 best places to live in the state.
For its 6,019 residents, Orange Beach provides a perfect place to retire. No surprise, then, that the median age is relatively high at 56. Only 12.31% of households in the community have kids living with them...though we assume the grandkids probably visit every summer.
Median incomes in the area are a healthy $81,883, while home prices are among the highest in the state. The median home value sits at $297,800, ranking at number 6.0 in all of Alabama.
Of course, Orange Beach is known for its outdoor activities. You can hit the beach, take a kayak out to the Islands of Perdido Pass, or ride the Ferris Wheel on the wharf.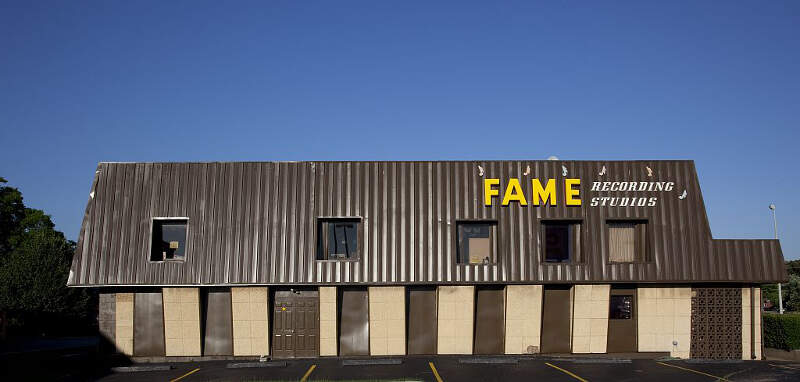 Source: Public domain
Muscle Shoals is one of the most famous cities in Alabama. Its vibrant music scene, especially during the 1960s and 1970s, led to hits for the likes of Wilson Pickett, Aretha Franklin, and The Rolling Stones. These days, it also ranks as the number 9 best place in Alabama to call home.
The median income for Muscle Shoals is relatively modest at $60,629, just the 3highest level in the state. However, home prices are extremely affordable. The median home value sits at $147,100.
As a result of its budget-friendly living standards, the area has become a prime destination for families. In Muscle Shoals, 40.0 of households consist of married couples, and 33.98% of households have kids living with them.
Located along the Tennessee River in the northwest part of the state, Muscle Shoals sits in a relatively rural area. Still, if you're looking to put together a music-history road trip, Nashville, Tennessee, is just two hours away. You can also get to Birmingham, Alabama's biggest city, in a couple of hours.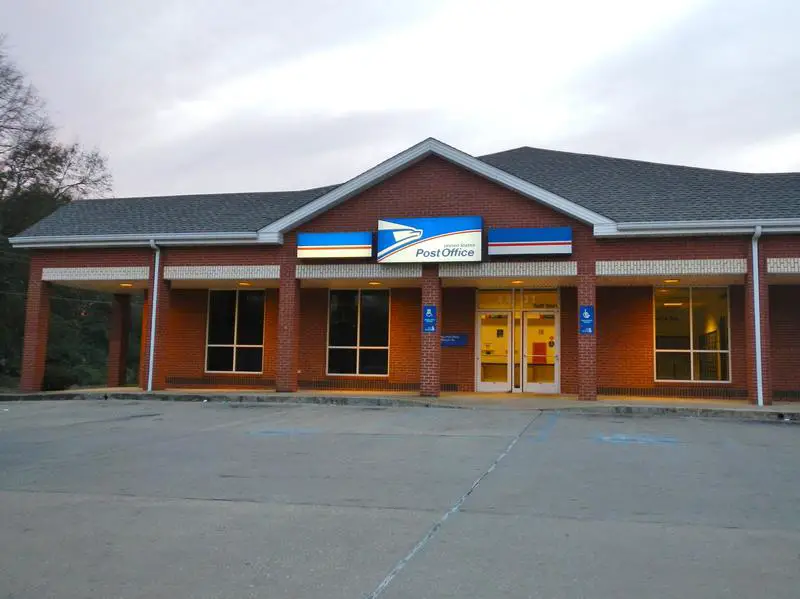 Millbrook, part of the Montgomery metro area, rank as the 10th best place to live in Alabama for 2021. According to the town website, it's a safe and prosperous community -- and the data agrees. The city has a crime rate about half as high as the state average and the median income ranks 24th highest in the state.
You can have a relaxed way of life in the city as you continue to grow your family. You get the convience of being a short drive to a city center without all the hussle and bussle that comes with it. In town, you can take advantage of the public golf course and the public library. All for a reasonable price seeing as the cost of living in Millbrook is below average for Alabama as a whole.
Mapping The Best And Worst Places To Live in Alabama
The Pressing Question: Size
Before we even started to collect data, we had to answer a tough question: Is it fair to pit Montgomery with a population of 199,783 against places with a population of 18?
We firmly decided no, that just isn't fair.
So to create our ranking, we broke places to live into three tiers:
Cities -- Populations over 5,000
Towns -- Populations between 1,000 and 5,000
Small Towns -- Populations below 1,000
This left us with 100 cities, 198 towns, and 214 small towns.
We then decided, no matter how much anyone loves their town, the best cities to live in Alabama have more of everything and therefore you need to have over 5,000 people to truly be 'the best'.
Now we also realize that city living might not be your cup of tea, so we ran the following analysis on towns and then again for small towns.
You can see those two top tens at the bottom of the post.
How We Calculated The Best Cities To Live In Alabama
Now that we had our set of cities, it was time to rank them.
We ranked each place in Alabama across a number of criteria from one to 100, with one being the best.
We then took the average rank across all criteria, with the city posting the lowest overall score being crowned the winner of the title "Best Place To Live In Alabama".
The criteria we looked at were:
Median Home Values
Median Income
Population Density (Higher better)
Unemployment Rate
Commute Time
Crime
Education Levels
Health Insurance Coverage
Poverty rates
Sources of criteria include the New Census Data and FBI Crime Data. You can download the data here.
After the dust settled, what was the best place to live in Alabama? That would be Madison.
If your city or town isn't among the top 10, jump down to the bottom of the post to see a detailed chart of the best places in Alabama.
Otherwise, buckle up for a ride down good living lane with Madison at the end of the cul-de-sac.

Wrapping Up The Best Places When It Comes To Living In Alabama
If you're looking at areas in Alabama with the best economic situations, where there's lower than average crime, and a lot to do, this is an accurate list.
Madison made a strong showing to take in the overall number one spot for the best place to live in Alabama for 2021.
Best Towns To Live In Alabama
Highland Lakes (Pop. 4,860)
Indian Springs Village (Pop. 2,529)
Lake View (Pop. 2,801)
Priceville (Pop. 3,060)
Mount Olive CDP (Jefferson (Pop. 4,237)
Kimberly (Pop. 2,840)
Shoal Creek (Pop. 1,448)
Blue Ridge (Pop. 1,414)
Trinity (Pop. 2,110)
Springville (Pop. 4,199)
Best Small Towns To Live In Alabama
Stockton (Pop. 687)
Mooresville (Pop. 69)
Sweet Water (Pop. 332)
Lowndesboro (Pop. 95)
Magnolia Springs (Pop. 740)
McIntosh (Pop. 339)
Eunola (Pop. 362)
St. Florian (Pop. 429)
Coker (Pop. 817)
Grant (Pop. 961)
If you're curious enough, here are the worst places to live in Alabama according to the data:
Atmore (Pop. 9,495)
Bessemer (Pop. 26,680)
Tarrant (Pop. 6,174)
For more Alabama reading, check out:
Where Are The Best Places To Live In Alabama?
| Rank | City | Population |
| --- | --- | --- |
| 1 | Madison | 49,327 |
| 2 | Mountain Brook | 20,436 |
| 3 | Homewood | 25,534 |
| 4 | Vestavia Hills | 34,307 |
| 5 | Fairhope | 21,083 |
| 6 | Pike Road | 9,320 |
| 7 | Daphne | 25,901 |
| 8 | Orange Beach | 6,019 |
| 9 | Muscle Shoals | 14,103 |
| 10 | Millbrook | 15,645 |