Fire season. Tornado season. Hurricane season. Flooding season. Riot season. Seems like there's a season for everything here in America, doesn't it?
Because of our unique geographical and meteorological situation, the United States is a sitting duck for natural weather phenomena. Tornadoes thrive here, hurricanes steer here, it rains a ton, and the west coast is set up perfectly for hot, windy fire seasons every fall.
Of all countries with the MOST natural disasters, only China and India have more of them. Why? Just like us, these countries have large populations on the coast, and are prone to earthquakes, tropical storms, and flooding.
Sort of just bad luck in terms of where you're located on the planet I suppose.
Anyways, we're talking about America, so back to that. Here in the US, when you're measuring the total number of natural disasters, there are ten states which are responsible for a third of disasters and damages. Of course, many of these will be the biggest states and the most populated states, but there's some surprises in here too.
So, grab your get out bag and get the insurance company on speed dial, we're going to talk about the disaster capitals of America.
For more reading, check out:
The 10 States With The Most Natural Disasters In America For 2020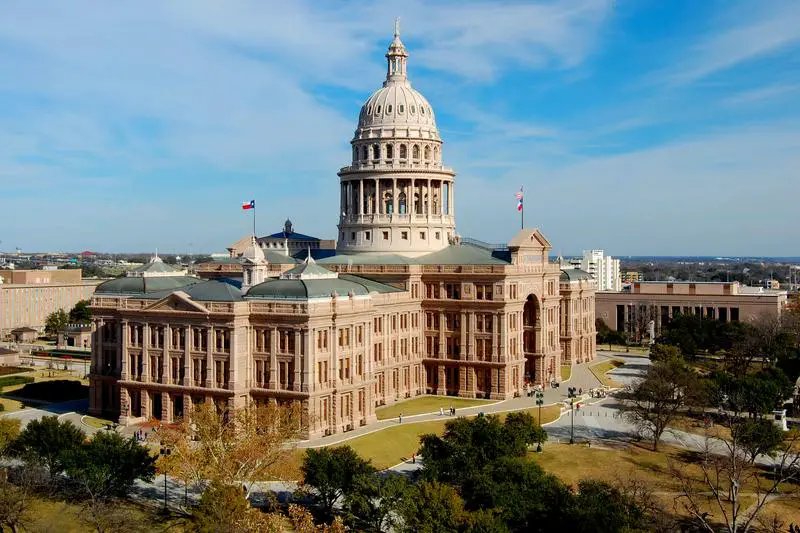 Which state is the most natural disastery? Texas is. The Lone Star state has seen 358 natural disasters since 1953 alone, and 86 of em were MAJOR disaster declarations.
Moments Texans would love to forget go way back to 1900 when the Galveston hurricane came on land and wiped out a ton of stuff. There was the 1953 Waco tornado, the 1950s Texas draught, the 2004 Christmas Eve blizzard, the 2009 Christmas blizzard (why are all of these blizzards on Christmas?), the Black Sunday storm, and of course hurricane after hurricane and tropical storms after tropical storms.
Then there's hurricane Harvey. Hurricane Harvey dumped 60 inches of rain in some parts of Texas, and some areas have not and will not ever recover from that.
But, despite all of this, Americans have decided Texas is the bees knees, and more people flock here than any other state right now. And more people means more devastation when these natural disasters inevitably come this way.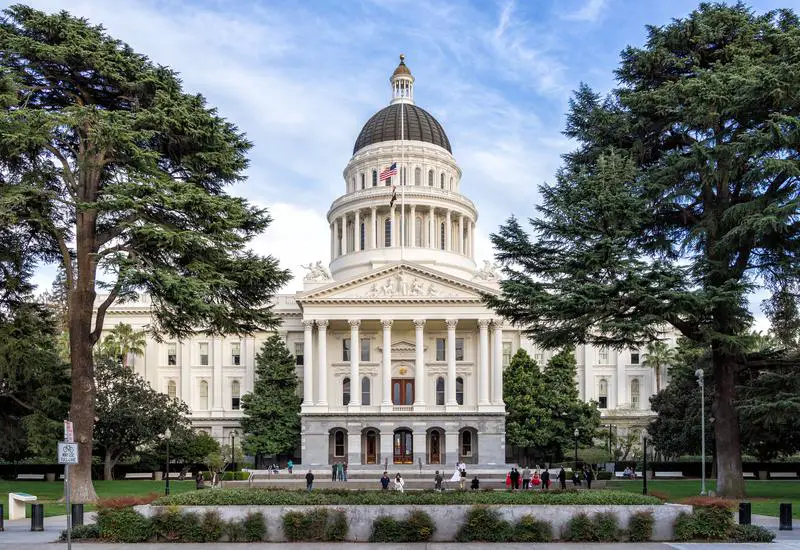 Speaking of earthquakes – you can't talk about those without talking about California.
Now I grew up here, and as a kid, there were earthquakes all the time – usually in the middle of the night. And they were big – enough to scare you into running out into the front yard. They've had some really big ones here – the most memorable of which were both in San Francisco – in 1906, which pretty much wiped out like the whole city, and in 1989, which happened during the World Series.
I actually felt that one all the way down in my hometown of Highland, which is a long long way away.
Now, the ground's been eerily quiet. California's going through an earthquake drought in case you didn't know. Well, if you live there you know, cause you're getting ready for the BIG ONE.
But it's not just earthquakes. It's floods and dam breakings and freezing and biological warfare and droughts and fishing losses and a hurricane. And tsunamis.
And of course fires. This state goes up in flames every fall.
No wonder everyone's leaving this state.
More On California: Photos | Rent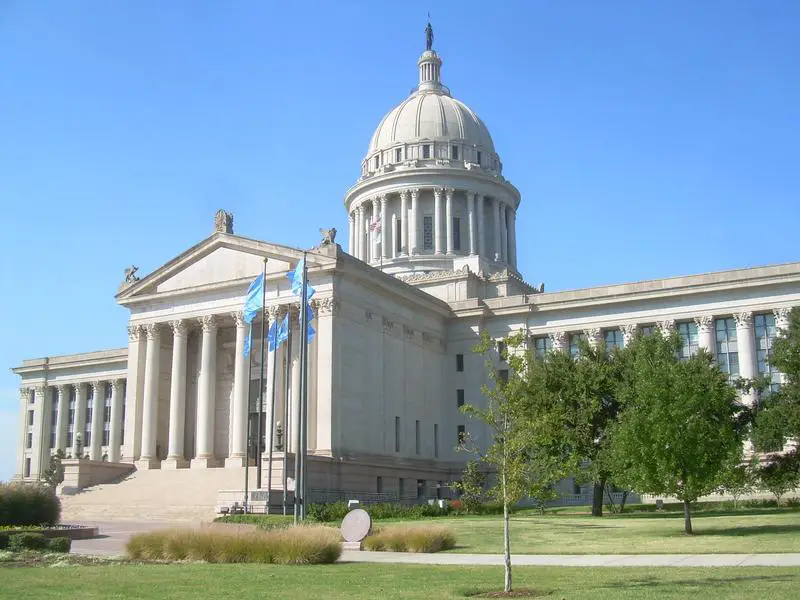 This is a disaster magnet, at least according to the Washington Post. Fires, tornadoes and earthquakes all at the same time? That's terrible. A little over the top hyperbole. But it gets so hot and dry in western Oklahoma, they say don't even blink your eyeballs cause the friction could start a fire here.
If it's not hot and dry it's hailing here. Or it's windy. An average of 55 twisters hits the Sooner state every year. Remember the tornado that hit Oklahoma City in 1999 with 300 mile an hour winds? That killed 36 people, which is terrible.
And, since 2009, believe it or don't, earthquakes have become a more common event in Oklahoma. These earthquakes have increased in number, frequency, and in magnitude. According to some sources, they are man made – many of them are caused by fracking, which is sort of like drilling for oil. They actually had a 5.8 in 2016.
More On Oklahoma: Photos | Rent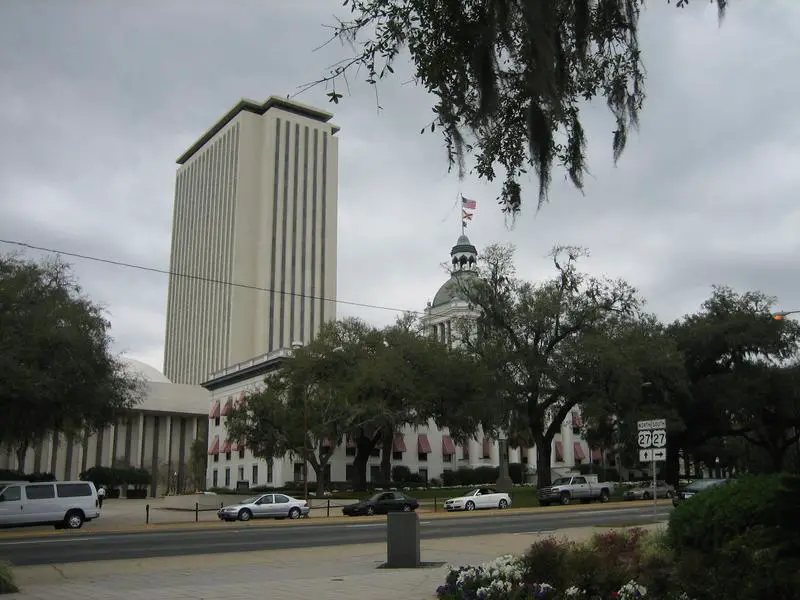 Florida has FEMA on speed dial. The weather here is almost as crazy as the people.
Many of this state's natural disasters have been fires, but 44 of them have been hurricanes, by far the most of any other state. Dozens of tropical systems have destroyed this state over the past 60 years. Hurricane Andrew in 1992 was a category 5 (look at this thing) which had gusts of 200 miles an hour, which at the time, was the most expensive natural disaster in US history, up until Katrina.
For a long time, hurricanes didn't even have names. And then they started naming them. Easy was a name of a hurricane. That probably didn't scare people – why would you name a hurricane Easy? You want people to get prepared, right? Eloise, Opal, Wilma – why do they name these after old ladies.
And they count severe freezes as natural disasters because they wreck such havoc on the state's citrus crops. In 1985, Florida saw the 'Freeze of the Century' which damaged 90% of the state's oranges and grapefruits. Grapefruit I'm okay with those are gross. But orranges – those are a shame to lose.
Anyways, Florida has gone through a lot over the years, and will undoubtedly go through many, many more disasters over time, so stay on your toes Florida.
More On Florida: Photos | Rent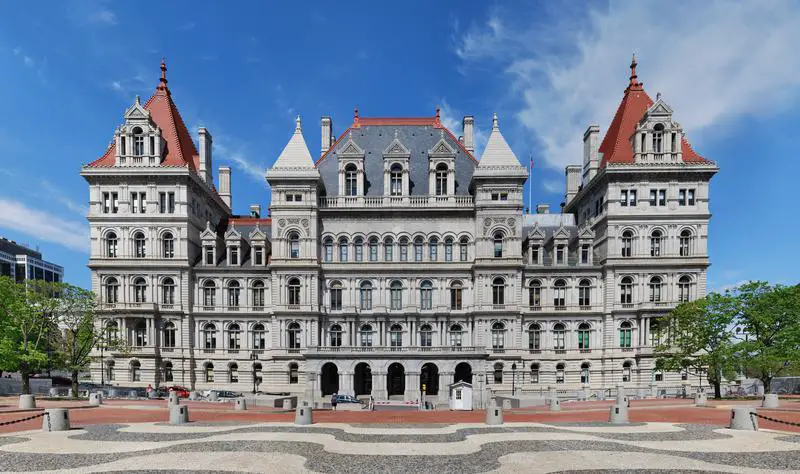 New York has sure been beat up by mother nature. It's mostly blizzards and tropical storms here, though this state has seen other natural disasters including an earthquake.
In 2012 Superstorm Sandy killed nearly 50 people and caused $40 billion in damage. Sometimes, hurricanes make their way all the way up the east coast. And then there's nor'easters, which are sort of like hurricanes, but they like cold air, as opposed to hurricanes, which love warm air. Noreasters are mean. They can really wreck a place in a bad way, with the blizzards and heavy winds they carry in. You don't want to get stuck in one of these suckers.
More On New York: Photos | Rent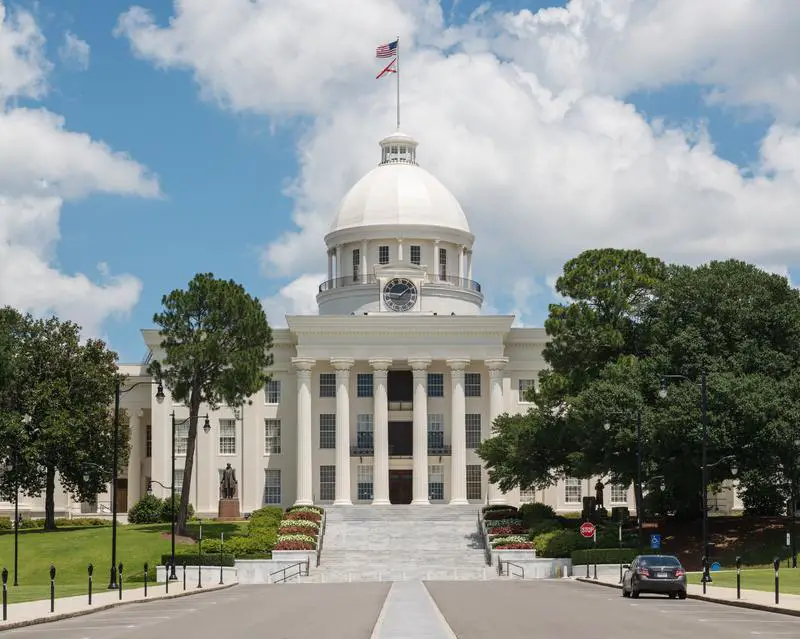 Alabama has been battered by hurricanes, including many of the same ones we mentioned already. But tornadoes are a big deal here now as well – in April 2011 alone, a series of tornado outbreaks lashed this state and killed 250 people and caused a bunch of damage.
You see, tornadoes are a big deal here now. Tornado alley used to be in Oklahoma and Kansas. But it's moving. Now it's more Alabama and Mississippi. They call this Dixie Alley. Tornadoes suck. If you have a lot of stuff…they'll take it. If you don't have a lot of stuff, they'll take IT.
More On Alabama: Photos | Rent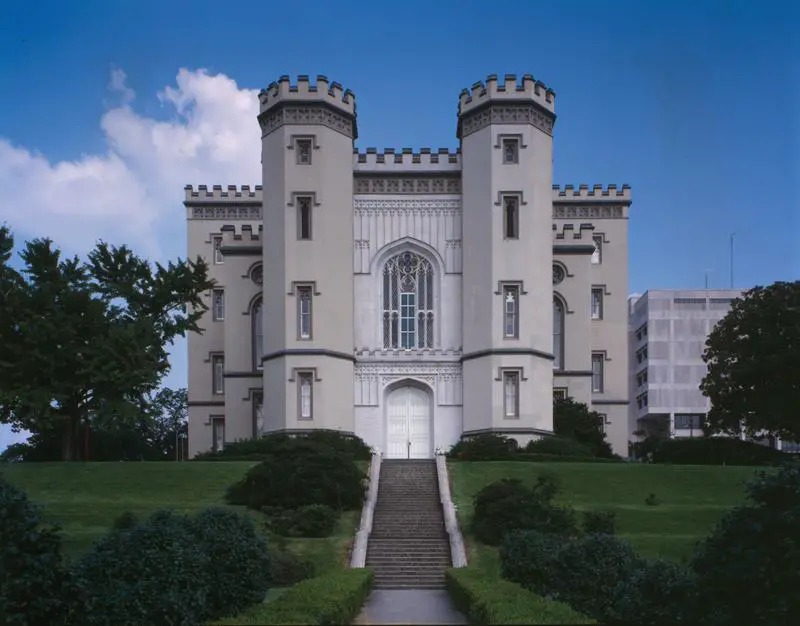 Source: Public domain
Of course Louisiana is on here. This is home to Hurricane Katrina, which will live as the most infamous hurricane in American history until another one comes that's even bigger. Katrina smacked this state like it owed her money. Louisiana still hasn't recovered from Hurricane Katrina, which killed almost 1,000 people and caused tens of billions in damage and sent residents fleeing all the way to Alaska. Many still live in the Houston metro area.
This gulf state has been hit by numerous hurricanes over the years. Rita, Ike, Betsy, Juan, Camille, Flossy (that's a real hurricane – isn't that a dance?), Florence, Florence again, Nate, Isidore, Ida, Hilda, Humberto, okay there's been a lot.
And, apparently, two snow-related natural disasters messed up Louisiana, although I bet those were probably like two inch storms? Cause people in the south can't drive in the snow and you can't blame them for that.
In all, Louisiana has had 87 natural disasters in her recorded history, which is far more than once a year.
More On Louisiana: Photos | Rent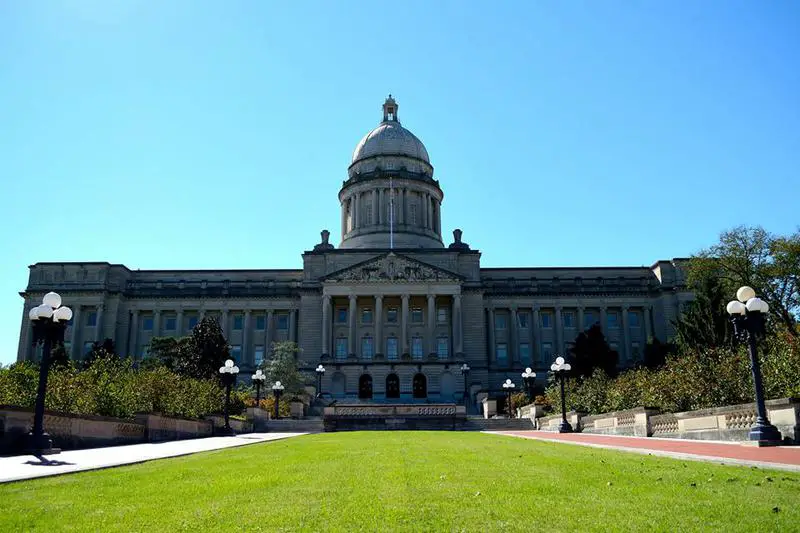 The disaster roster in Kentucky is pretty diverse, and includes landslides, mudslides, rockslides, flooding and tornadoes. And also includes biological, toxic substances and 'other' which is kinda of scary. I don't know what other would be but it sounds bad. But clearly, Kentucky has some pollution issues.
Notable disasters here that Kentuckians remember – way back in 2008, the remnants of Hurricane Ike made this a miserable place for weeks. That sucked.
But snow storms have caused huge issues here, too. In 2004, a record snowfall hit the area before Christmas and it was such a big deal two guys wrote this GIANT report on it which is way too long to read, but after skimming it, I can tell you it was a big deal. I'm guessing many people died and had their cars buried and that many people lost power and missed work and I bet that was a terrible terrible time.
More On Kentucky: Photos | Rent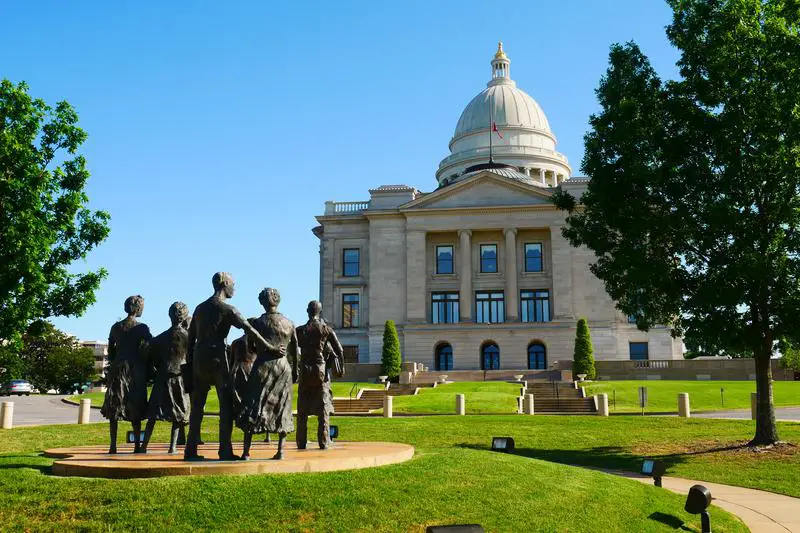 Our next state that suffers from the most natural disasters is Arkansas as if they don't have enough to deal with here. And by the way, that number here stands for the number of natural disaster declarations that have happened here since records began in 1953. So, Arkansas has seen 76 natural disasters.
Heavy rain and flooding has been a nightmare here. That's because Arkansas is towards the bottom of the Mississippi River, and takes the brunt of that river's overflows every year when torrential rains slam the upper midwest like an angry God. All that water has to go somewhere people, and sometimes, it winds up in Arkansas' Walmarts and in its trailer parks. And other places too.
And the rain doesn't happen just upstream. Nooo. Being inland from the gulf, Arkansas has sort of a bullseye on it for tropical storm remnants. When hurricanes slam the coast, they have to go somewhere, and a lot of times, they inundate Arkansas with days and days of torrential rain and it's just miserable here.
Before we move on, for some perspective, let's compare Arkansas to the state with the least number of natural disasters, Delaware and Rhode Island, which have had 22 each. Maybe because they're so small. Wyoming has only had 36, but 20 of those were from fires. South Carolina, surprisingly hasn't had that many, despite being right in the bullseye of hurricane season.
More On Arkansas: Photos | Rent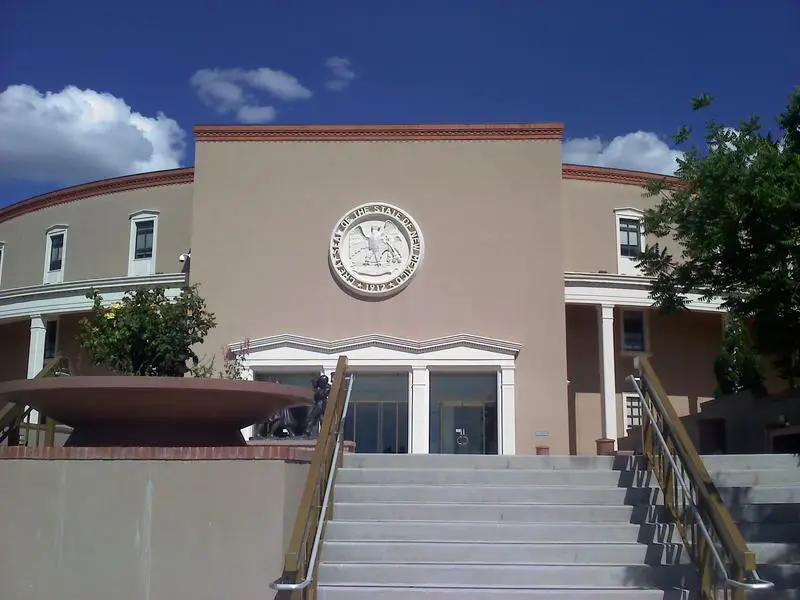 Source: Public domain
We're in New Mexico, a state that you might not think of when you think of natural disasters. But they have a lot of them here – the tenth most, on average every year. New Mexico just edges out Oregon and Washington for the 10th most natural disasters.
Monsoons hit the southwestern US every summer, particularly in Arizona and in New Mexico. These are huge thunderstorms caused by a bunch of complicated weather terms and patterns that I won't bore you with. But the damage is quite extensive. Monsoon flooding takes out entire small towns, and the lightning kills people.
This is not to be confused with a haboob, or intense dust storm.
Besides monsoons, New Mexico gets its fair share of earthquakes and tornadoes.
Wrapping Up The States With The Most Natural Disasters
That's a small rundown of the natural disasters which have made their mark on the United States, and the states in which they happen most often. If you live in one of these states, then you should probably leave right now because you are not safe, mister.
If you're in areas like Michigan or Montana or North Dakota, where you hardly get any fires or earthquakes or tornadoes, or hurricanes, you're lucky. You can live your quiet peaceful life knowing nothing is going to sneak up on you and make your life miserable – or end it.
In just about every pocket of this country though, you're at risk for a disaster. Manmade or otherwise.
For more reading, check out:
Detailed List Of The States With The Most Natural Disasters In The US For 2020