Indiana is home to the Indianapolis Colts, some pretty nice people, and a bunch of super great, super affordable places to live.
How did we determine the most affordable places to live in Indiana for 2021? We consulted the latest Census data on cost of living.
Most Hoosiers have never really experienced unemployment. The Crossroads of America has managed to stay ahead of the national unemployment rate holding strong at 3.9%. We think it has something to do with the surge in companies that have set up shop in this MIdwest region over the last ten years. We can thank Indiana for Subaru, Angie's List, and Vera Bradley. And we can thank Indiana's higher education institutions like Purdue and the University of Indiana for producing smart, hard-working individuals who want to make Indiana available and affordable for all.
If you know anything about economics, good jobs increase median incomes which translates to most people being able to live in our top most affordable Indiana places. That's a good thing because Indiana has a lot to offer. They have hip millennial cities like Indianapolis, cool college cities like West Lafayette, and cities like Hillsboro where you can escape life.
So, crank a little Jack and Diane, grab a fried tenderloin the size of your head, and read on as we uncover Indiana's most affordable places to live for 2021.
The 10 Most Affordable Places To Live In Indiana
It's simple economics, people. The less you have to spend on bills, the more you will have to spend on things that matter: like your home, good food, and just overall good fun.
What's the cheapest place to live in Indiana? Kudos to the good people of our number one most affordable place to live in Indiana, New Whiteland. They definitely have it figured out.
If you care about home values, cost of living, and great jobs, take a look at the list below to find the most affordable places in Indiana.
And if you already knew these places were cheap, check out some more reading about Indiana and the cheapest places in the country:
The 10 Cheapest Places To Live In Indiana For 2021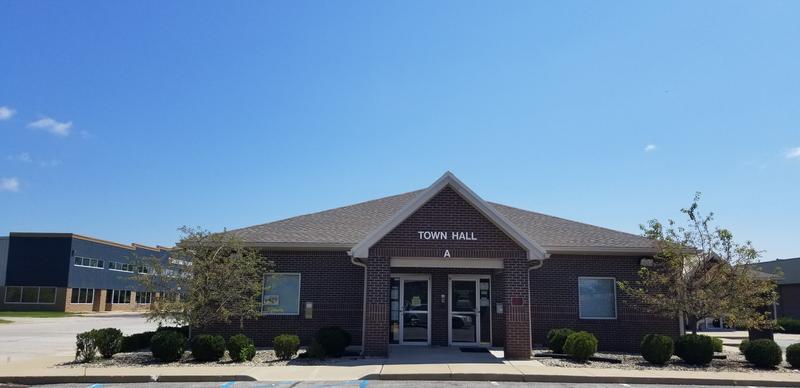 New Whiteland already featured on our list of the best places to live in Indiana, so finding out it's also the most affordable place is like winning the lottery.
This Indianapolis suburb has a lot going for it: its crime rate is 70% below the national average and it's one of the richest places in Indiana.
Residents earn a median household income of $70,975, contributing to its "cheap score." After all, when you make that much, a median home price of $97,100 is a crazy good deal. If you just want to give New Whiteland a try, the median price of rent is $884.
It's also nice having Indy down the road — in just a half-hour, you could be watching a Colts game or some other event at Lucas Oil Stadium or strolling down the Indianapolis Canal Walk. But you don't need to travel far for a good time; the local Proctor Park is a relaxing spot for families and anglers.
New Whiteland offers a low cost of living with a high quality of life: what more could you want?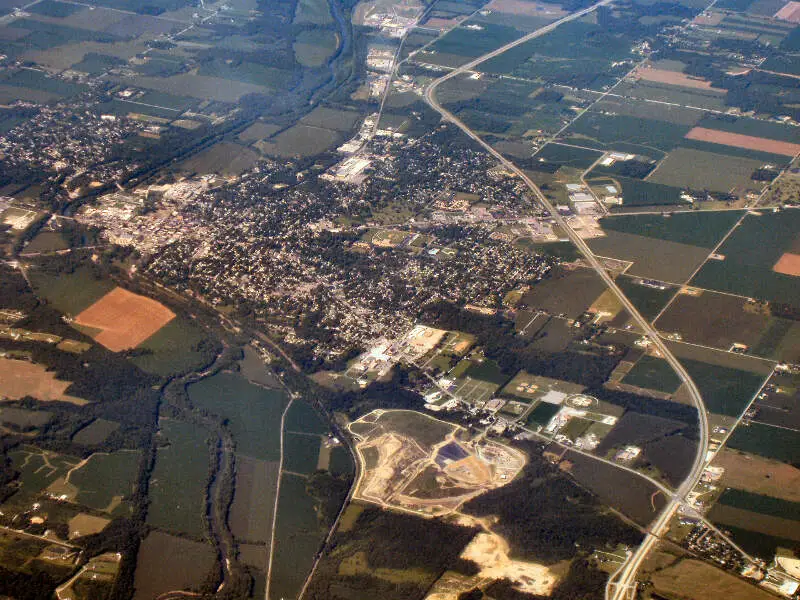 Source: Public domain
Located just 20 miles west of Huntington, Wabash comes in as the second cheapest city in Indiana. The median income in Wabash is $44,973 and the median home price is $82,400, so paying of the mortgage here takes no time at all.
Once the renovations are complete on Eagles Theatre, a 114-year old historic theatre complete with two balconies and a ball room, you'll be able to have a seriously lavish night out on the town in Wabash. You'll have the money for it after the bills are paid anyway.
Source: Public domain
Situated between Indianapolis and Cincinnati, Rushville ranks as the third cheapest place to live in Indiana for 2021.
For starters, Rushville has an incredibly low overall cost of living; about 15% below Indiana and 25% below the national average. A lot of that is down to the cheap housing options Rushville has.
The median home price in Rushville is $88,900. The unemployment rate is low, and Rushville's median household income of $48,648 has been steadily growing recently. If that trend continues, it'll only become more affordable to live in Rushville.
If you just want to try Rushville out, rent won't set you back too much either — the median price here is $699. For fun and cheap things to do, check out the Riverside Park Amphitheater, where shows are constantly going on.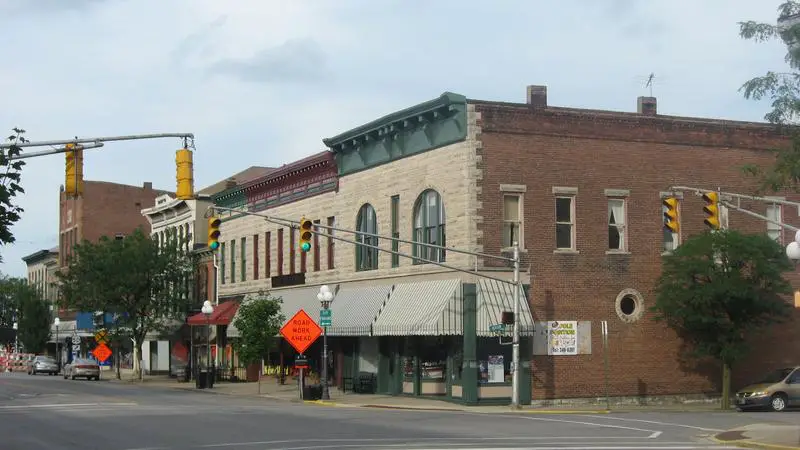 Source: Public domain
Up next on our review of Indiana's most affordable cities is North Vernon, located in the southeastern part of the state. While most elements of North Vernon's cost of living are on par with the rest of the state, housing is about 28% cheaper here.
Homes in North Vernon go for a median price of $93,500, while a typical rental will only cost you about $689.
Another thing to note about
North Vernon is its rock-solid economy — the unemployment rate here sits at an extremely low 3.34%, and the median household income is $49,178.
If you're looking for a way to pass the time without spending a dime, then Muscatatuck Park might just be the answer. There are campgrounds, hiking trails, and even a playground with a splash pad. If you're looking for something a bit more exciting, you can catch a show at the local Park Theatre Civic Center.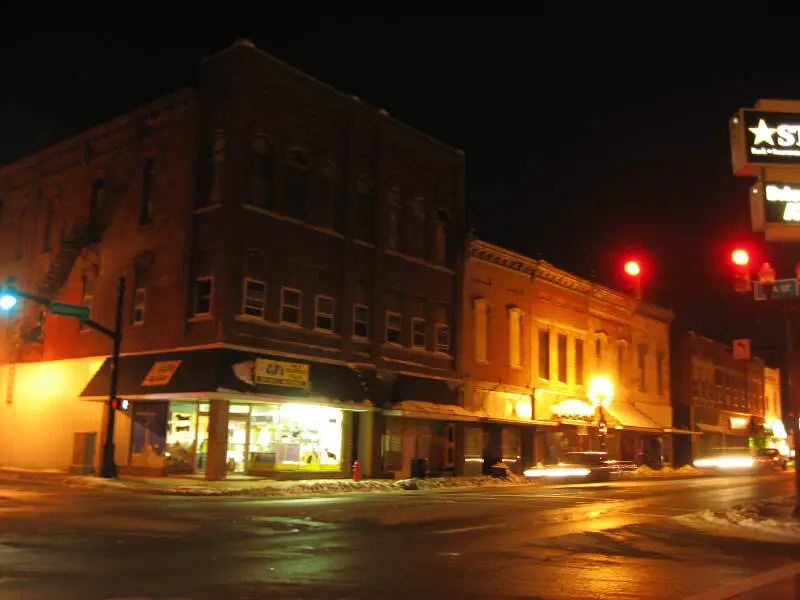 Source: Public domain
We're heading an hour north of Indianapolis to reach Indiana's fifth cheapest place to live. Elwood has safe streets and good employment numbers, but it really shines in terms of affordability.
Homes in Elwood have a median price of $68,800, the seventh cheapest in Indiana. And the median income in Elwood jumped by 10% from last year to $41,777, so you'd better believe things are looking up here.
Having fun on a budget is pretty easy in Elwood, too. There are plenty of great parks to choose from, no matter if you're going for a picnic or playing softball. The city also hosts the annual Elwood Glass Festival, complete with crafts, local food stands, and carnival rides.
If you're not sold, don't worry — you can try out Elwood without much commitment or cash on hand, considering that the median price of rent is a measly $697.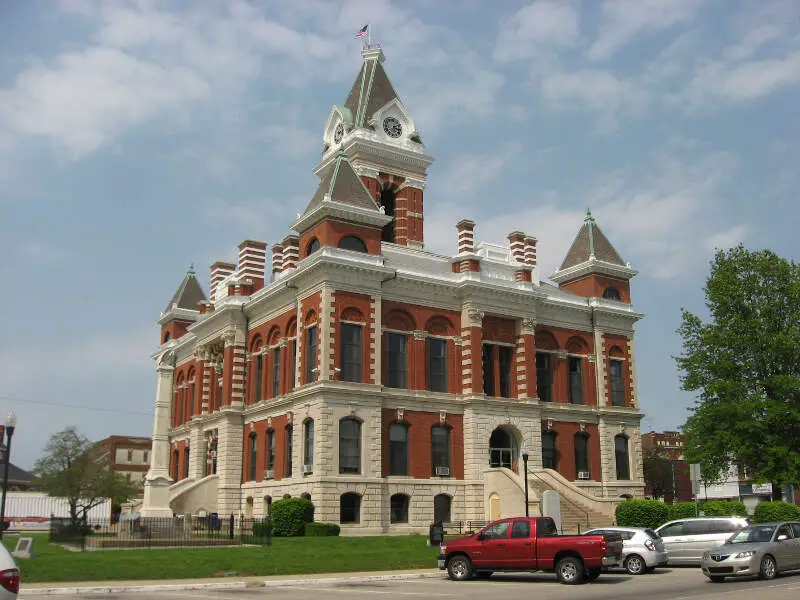 Source: Public domain
Known as "The Heart of Southwestern Indiana," Princeton is the sixth least expensive city in the state. With Princeton's many parks and conservation areas, there's loads to keep you occupied without needing to break out the wallet. Princeton's about equally affordable for renters as it is for those looking to buy, with a median rent of $626 and a median home price of $96,900. Since residents earn a median income of $47,091, paying for housing in Princeton is just a little annoyance, not a bank-breaker.
Source: Public domain
Located about 35 miles west of Fort Wayne, North Manchester is the seventh most affordable city in Indiana. At a median price of $94,900, homes in North Manchester are some of the most expensive you'll see on this list. But because residents earn a median income of $52,319, the town has one of the lowest home price to income ratios in the state. North Manchester is home to Manchester University, a private liberal arts school with a fairly low tuition.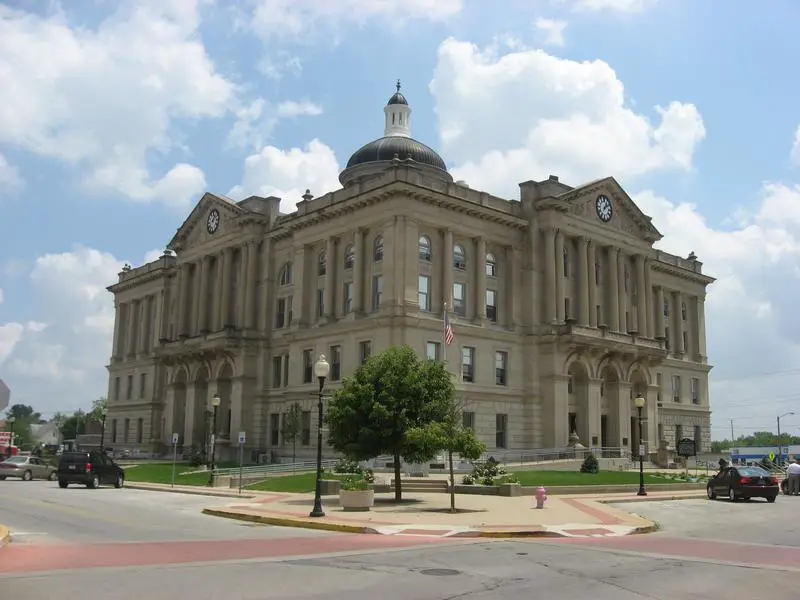 Source: Public domain
Thanks to a combination of cheap homes and high earners, Huntington ranks as the eighth least expensive city in Indiana. But don't let the low price fool you; when you're appreciating the ritzy 19th century architecture in Drover Town Historic District, Huntington certainly won't LOOK cheap. The median home price in Huntington is $81,800 and the median income is $43,955, putting the city in the top ten statewide for best home price to income ratio.
Huntington is about 25 miles southwest of Fort Wayne.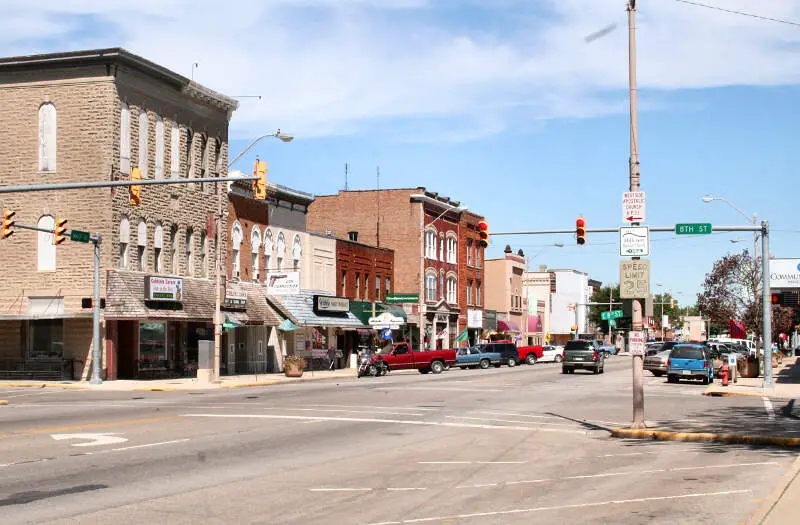 Rochester ranks as the ninth most affordable city in Indiana and is towards the top for cheapest place for renters on this list. The median rent in Rochester is $680, which combined with a median income of $51,389 gives the city a very affordable market for those looking to rent. Rochester's median home price of $103,100 is also quite easy for residents to afford. And you can't put a price tag on the awesome largemouth bass fishing at Lake Manitou.
Rochester is located about an hour south of South Bend.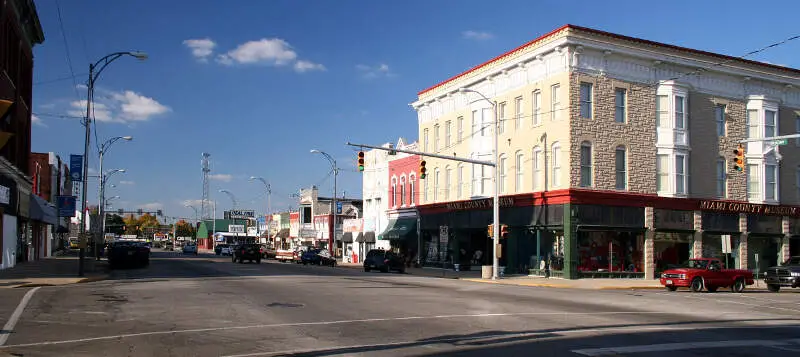 Source: Public domain
Situated about 60 miles southwest of Fort Wayne, Peru ranks as the tenth most affordable place to call home in Indiana.
Peru was once the winter headquarters for several famous circuses, like the Ringling Brothers and Buffalo Bill's Wild West Show. It's maintained that heritage into the 21st century with the annual Peru Circus City Festival and Parade, amateur circus performances, and the Circus Hall of Fame.
That's not the only outside-the-box entertainment option in Peru, though; there's also the Grissom Air Museum for folks interested in learning more about military aircraft. For more standard activities, there's always fishing or kayaking on Mississinewa Lake.
Homes in Peru are the second cheapest in Indiana at $61,200, which is a big contributor to the city's low cost of living. The median income in Peru is $39,267 and the media rent is $683.
How We Determined The Most Affordable Places To Live In The Hoosier State For 2021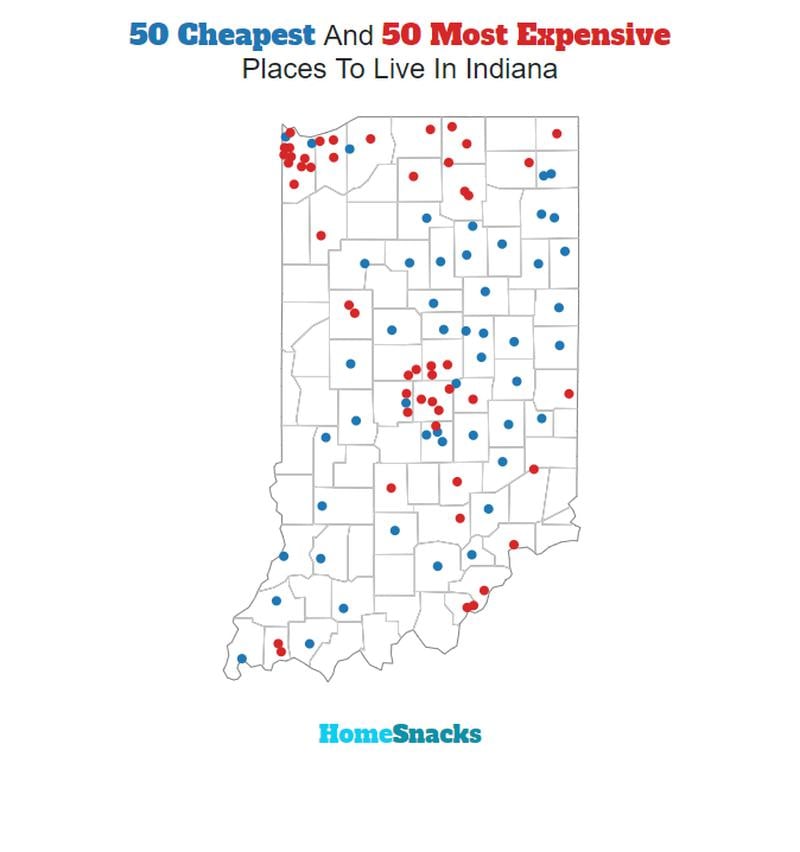 The two most important things to think about when it comes to being able to afford if you can live comes down to:
How much do money do I make?
How much do I have spend to live there?
You need to understand your costs in the context of how much money you make.
For example, if the median household earns $100,000 and spends $40,000 on housing it's actually cheaper to live there than a place with a median income of $50,000 and housing costs of $21,000. You might spend more on housing, but you have more money overall to play with.
With that example in mind, we derived several statistics from the latest Census American Community Survey 2015-2019 around incomes and costs. They are:
Median Home Price / Median Income (lower is better)
Median Income / Median Rent (Higher is better)
Median Home Price
We added simply median home price because high home prices generally correlate with higher expenses for all costs related to homes (heating, electricity, etc).
You can then compare these metrics in each of the places in Indiana to figure out which is the least expensive.
What you are left with is a "Cost of Living Index" by taking the average rank of each of these metrics for each city.
So we used that cost of living index in order to rank all of the 117 places in Indiana that have more than 5,000 people.
The place with the lowest cost of living in Indiana according to the data is New Whiteland. You can download the data here.

There You Have It Mr. Or Mrs. Indiana Cheapskate
If you're looking at the cost of living numbers in Indiana, this is an accurate list of the most affordable places to live in Indiana for 2021.
Here's a look at the most expensive cities in Indiana according to the data:
West Lafayette
Bloomington
Indianapolis
For more Indiana reading, check out:
The Most Affordable Places To Live In Indiana
Editor's Note: We updated this article for 2021. This is our seventh time ranking the cheapest places to live in Indiana.