Editor's Note: We updated this article for 2021. This is our seventh time ranking the best places to live in Washington.
Article Table Of Contents   
(Skip to section)
Ah Washington, home of Starbucks, Grunge music, soaring mountains and enough rain to make California extremely jealous.
But what makes Washington really great is its down-to-earth people and creative, friendly communities. While the whole place is downright lovely, some spots in the Evergreen State deserve special attention for standing out as truly extraordinary. This is why HomeSnacks created a list of the top ten best places to live in Washington for 2021.
We are not surprised that Washington has a huge demand for people moving to it as it ranks in the top 20 states to live in America. So Mercer Island has a ton of people knocking down the door to get in.
After analyzing 120 of the state's most populous cities, we came up with this list of the top ten best places to live in Washington in 2021 based on crime, quality of life, and things to do.
The 10 Best Places To Live In Washington For 2021
What's the best place to live in Washington state? According to the most recent FBI and Census data, Mercer Island ranks as the best place to live in Washington for 2021.
To be fair, any place mentioned in the top ten would be a great place to call home, although some places are definitely on the pricer side of Seattle. But that's what you get for your money: a safe, awesome place to live.
Read on for a detailed take on the top ten and a thorough explanation of how we figured out where to live in Washington.
If you're looking for something more national, check out the best states in America or the best places to live in America.
For more Washington reading, check out:
The 10 Best Places To Live In Washington For 2021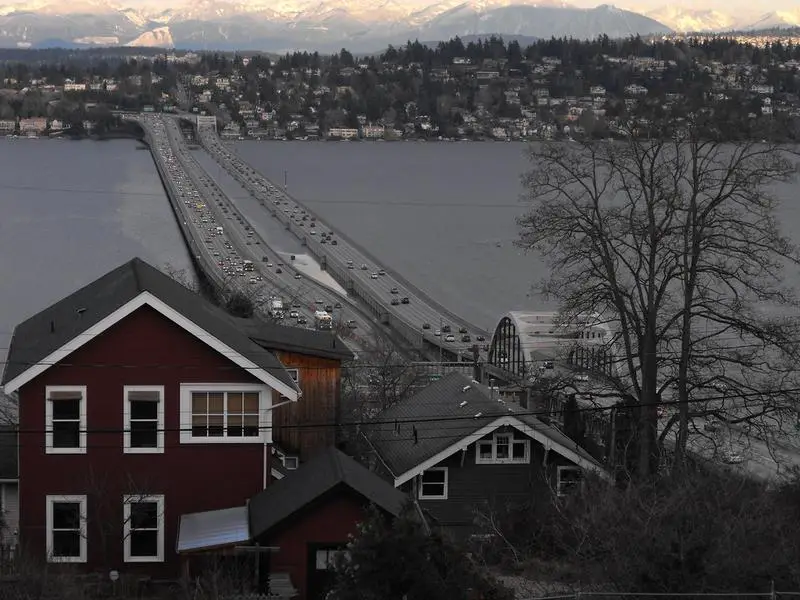 Big congratulations to Mercer Island for holding onto the title of best place to live in Washington for the second year running. Located smack dab in the middle of Lake Washington between Seattle and Bellevue, Mercer Island has a lot going for it. Like the 3rd highest median household income in the state at $147,566/year. And the 4th lowest rate of violent crime in Washington.
People in Mercer Island didn't wind up so awesome accidentally. The local public school system scored a 9/10 on GreatSchools, so you know the next generation is well-situated to pick up the mantle of excellence Mercer Island has established. And with over 40% of adults having a master's degree or higher, this early insistence on the importance of education definitely has an impact later in life. One thing to note about Mercer Island though is that the cost of living here is nearly three times as high as the Washington average, so you might want some savings and/or a lucrative job lined up before starting your island life.
Speaking of island life, an extra thing that makes Mercer Island special is the access to awesome beaches. The one at Luther Burbank Park is the most popular, but the west-coast Groveland Beach is the spot to be if you're hunting gorgeous sunsets.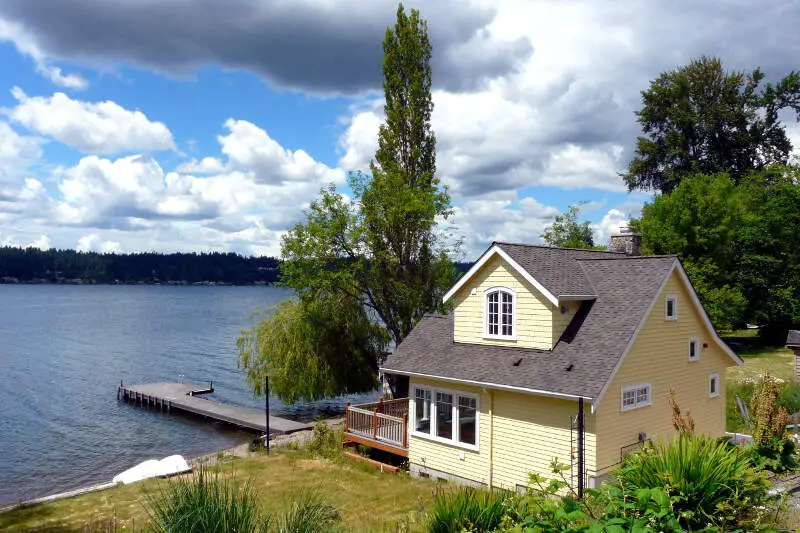 Sammamish is no stranger to the Homesnacks spotlight -- we've already named it the best city for families in Washington for 2021, and a lot of those same factors come into play here. Like having a perfect 10/10 education score on our SnackAbility ratings. And being the place with the 2nd lowest crime rate in the state, with the 5th lowest incidence of violent crime. Or having awesome family-friendly activities around like camping and boating at Lake Sammamish.
Word to the wise though, Sammamish is also the richest place in Washington, so we hope you're comfortable rubbing elbows with the state's elite. Homes in Sammamish are the 2nd most expensive in the state at $830,000. That's no biggie for most residents though since Sammamish also has the highest median household income in Washington at $174,003/year. Along with the normal perks of wealth, Sammamish also has the 6th highest rate of health insurance coverage in the state at 98.5%. And it's not like some people are getting left in the dust here, because Sammamish has a poverty level of just 2.4%, the 3rd lowest in the state.
The secret is out on Sammamish and the city's population has grown by almost 50% since 2010, so be sure to move quickly if you want to get in on the good times.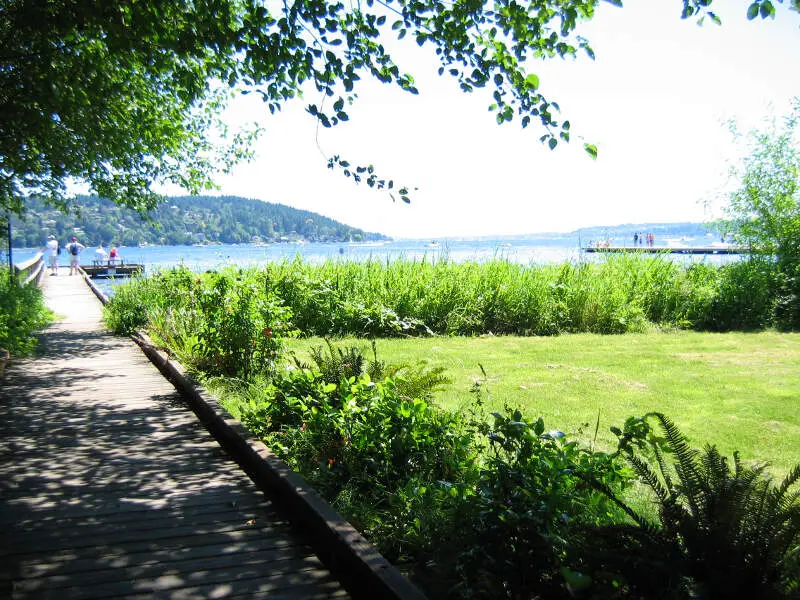 We're sticking around Lake Washington but heading to the north shore to visit the 3rd best place in Washington, Lake Forest Park. Here you'll find the 6th lowest poverty level in the state at 3.4%. Lake Forest Park also has the 19th lowest crime rate in Washington, so safety is hardly an issue.
Just know that to keep up with the Joneses in Lake Forest Park, you'll want your household to earn at least $126,750/year. Especially with home prices up around $623,500. If you do decide to settle down here, you can get great views from the city's highest point at Horizon View Park. And if that's not cutting it, the Space Needle is just 20 minutes down the road.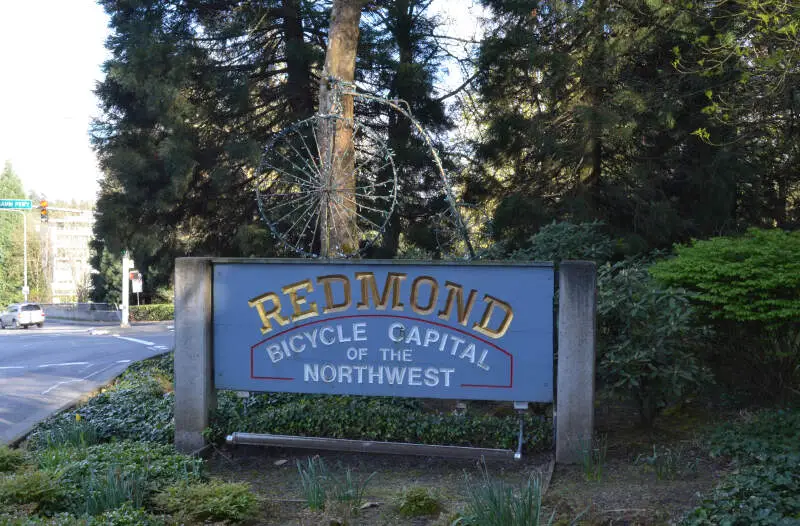 Source: Public domain
We're sticking around King County for our 4th best city in Washington, Redmond. Known as the home to both Microsoft and Nintendo of America, Redmond has a rock-solid economic base to work with. Which helps explain why Redmond residents earn the 5th highest median household income in Washington, $132,188/year. You kind of need to be earning big bucks to get by here, though, because homes go for around $703,000.
Redmond is also the youngest city we'll be covering, with a median age of 34. These young-uns don't have to go far to get to work, because at 24 minutes, Redmond also has the shortest commute of cities on this list. And if you'd rather do your part for the environment, Redmond is a highly-bikeable community and has been described as "the bicycle capital of the Northwest."
Feel free to ride your bike down the Sammamish River Trail and return to a concert at Maymoor Park after you're done.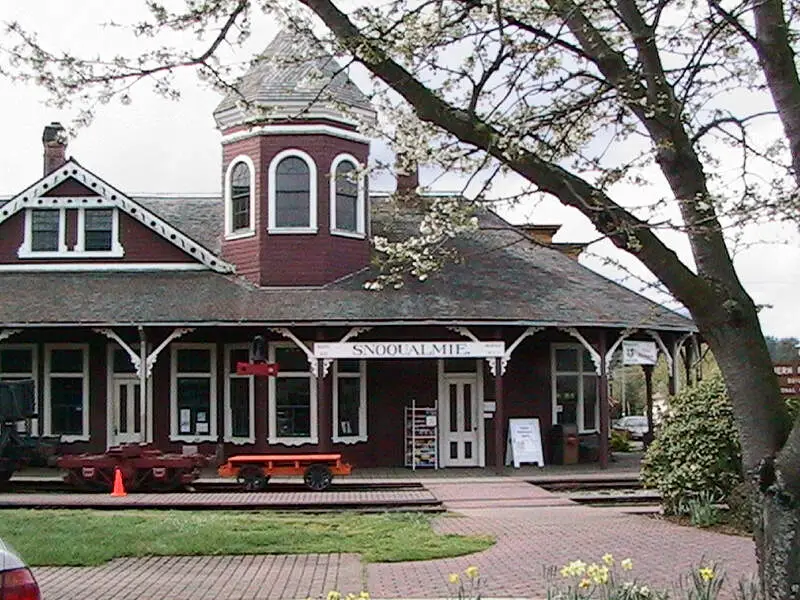 Snoqualmie is a King County city of 13,480 located about 30 miles east of Seattle. If you're moving here, expect a lot of random visitors, because Snoqualmie Falls draws more than 1.5 million tourists each year. Those visitors are pretty respectful though because even with all the randoms coming and going, Snoqualmie experienced only 6 violent crimes in 2021, the 8th lowest in the state.
Aside from crime, the economy of Snoqualmie is cause for considerable envy for other Washingtonians. The absurdly teeny poverty level of 1.5% is the lowest in the state. Unemployment is at incredibly low levels and 98.6% of residents have health insurance, the 5th highest rate in Washington. Lastly, Snoqualmie's median household income of $145,580/year is the 4th highest statewide.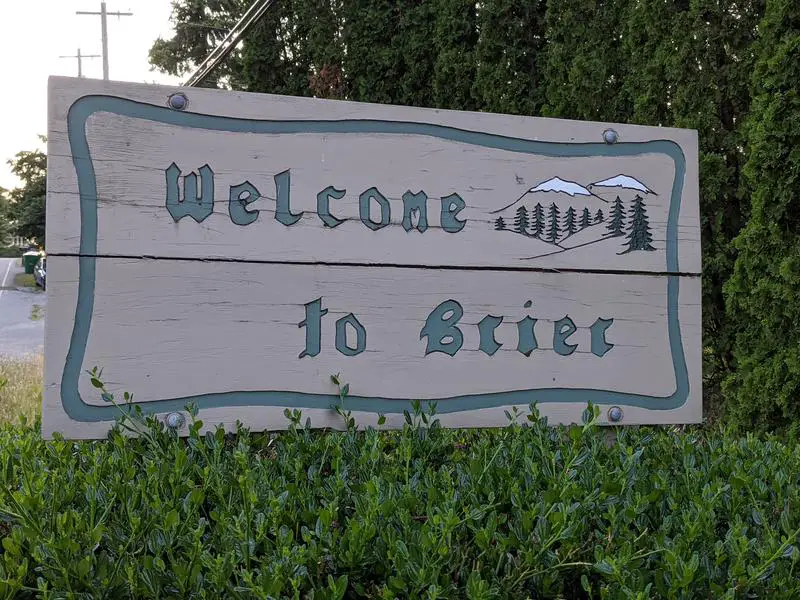 Located about 15 miles north of Seattle, Brier comes in as the 6th best place to call home in Washington. Brier is one of the safest places in Washington, with a crime rate roughly 80% lower than the statewide average.
Brier residents enjoy the 6th highest median household income in Washington at $131,293/year. And with home prices at a relatively reasonable $525,900, the cost of living in Brier only about 25% higher than the Washington average. Not to mention that, with an unemployment rate at 3.5%, the 16th lowest in the state, you shouldn't have any trouble locking down a job here.
One thing to note is that, at 47, Brier is the oldest place we're covering, which can be a positive or a negative depending on your priorities. One definite positive, though, is having easy access to Saint Edward State Park, a popular picnic destination for Seattleites.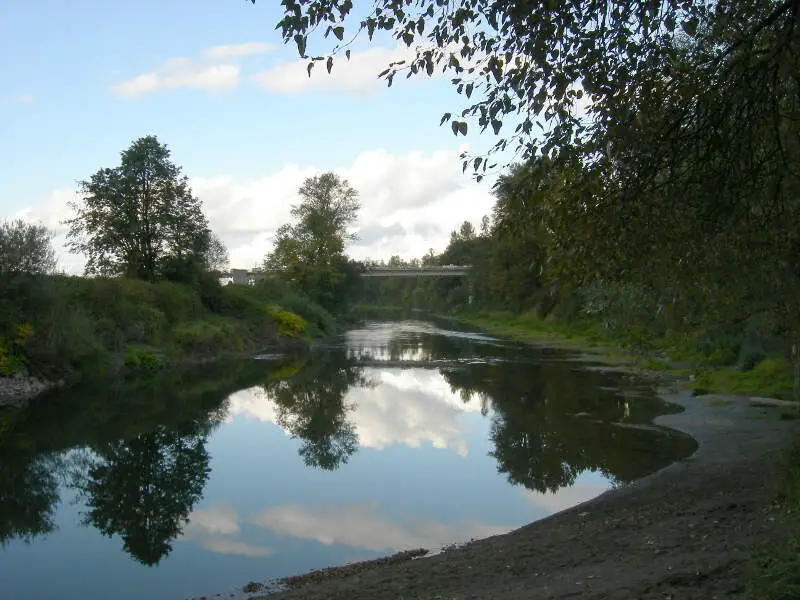 The first thing to know before moving to Duvall is that people here like to celebrate. Between the June Duvall Days celebration, the weekly SummerStage concerts in McCormick Park every summer, and the annual Sandblast Festival of the Arts, it's fair to say you'll never be bored in Duvall during the summer months.
Partying is great and all, but it's not what lands Duvall in the #7 spot for best places to live in Washington. That would be thanks to having the lowest crime rate, the 2nd lowest poverty level (1.8%), and the 10th lowest high school dropout rate in Washington.
Here's the really sweet thing about Duvall: it has the 2nd highest median household income in the state at $159,597/year, but only the 22nd priciest homes. That combination of statistics is part of the reason why the cost of living in Duvall is on the lower end of cities listed here.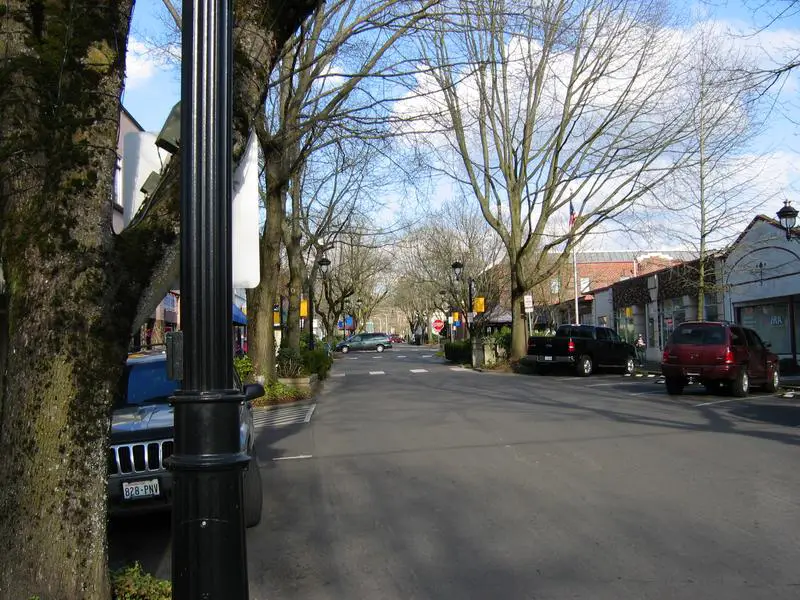 Source: Public domain
Camas, Washington, lies on the north bank of the Columbia River, in the southwest portion of the state. Though it sits in Washington, it actually forms a suburb of Portland, Oregon, located on the other side of the river. A half hour drive takes you to the center of one of the most thriving cities in the Pacific Northwest.
However, Camas gives its 23,200 residents more than access to a major metropolitan area. It provides the number 8 best home town in Washington.
An excellent economy offers one of the main draws of the area. The median income sits at $111,584, while the unemployment rate comes in at 3.3%. Crime is well below the national average. One thing to look out for, though: living in Camas can get expensive. The cost of living is about 30% above the typical U.S. standard. Meanwhile, the median home value in town is $441,400.
Beyond the city fun you can find in nearby Portland, Camas has its share of natural wonders as well. Check out Prune Hill, a one-time volcanic vent that gives shape to the town. Or take a day trip to Mt. Hood, about 2 hours down the road.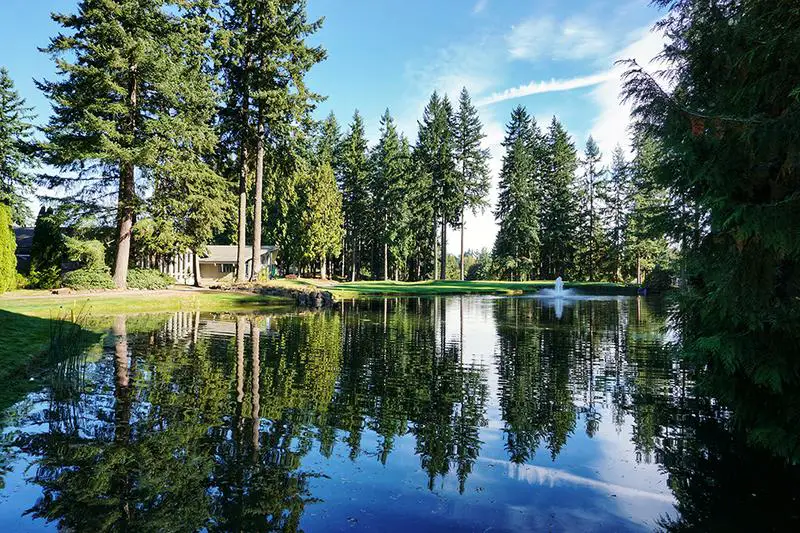 Source: City Of Mill Creek
We turn now to our second and final Snohomish County representative, Mill Creek. This city got its start as a planned community centered around a country club and a golf course, so you can imagine it's one of the wealthiest of the Seattle 'burbs. It also has the 9th lowest unemployment rate in Washington, sitting at just 3.2%. If you're part of the employed population, you can expect big paychecks every week, because Mill Creek's median household income is $103,750.
Mill Creek is also known for its safety. It has a crime rate around 50% lower than the statewide average. So you won't have to worry about unsavory characters spoiling your good time when you're out watching one of many shows put on during Mill Creek's summer concert series.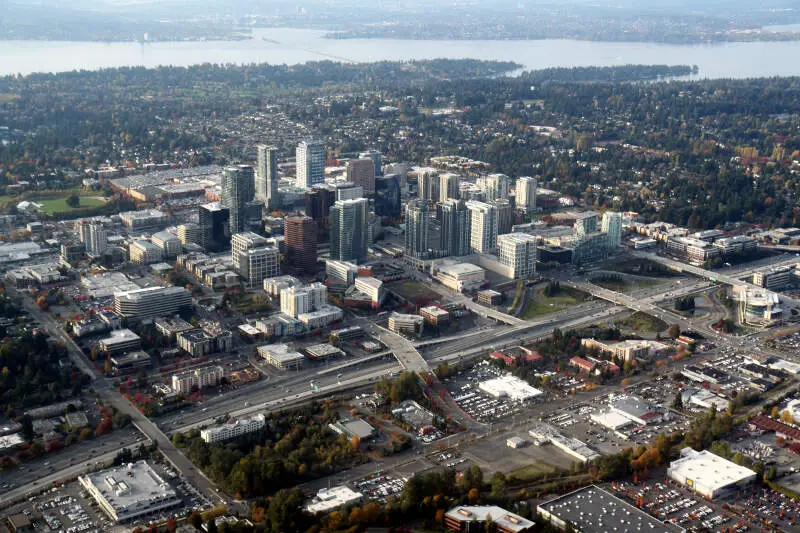 Coming in as the 10th best place to live in Washington is Bellevue, one of the state's biggest cities. The downtown area is the second largest in Washington, and if you move here, you'll probably spend plenty of time in the gorgeous Downtown Park. Bellevue's steady rise in recent years is due to it being the economic hub of Seattle's Eastside and home to major companies like T-Mobile and Expedia, with big names like Facebook and Google planning new local centers for the near future.
Given the techy nature of Bellevue's economy, it's no surprise that over 30% of residents have a master's degree or higher. It's also easy to believe that folks here enjoy the 9th highest median household income in Washington, $120,456/year. You'll want a job paying somewhere in that region before making the move, because Bellevue is one of the most expensive cities in Washington, with a cost of living about 65% higher than the statewide average.
Mapping The Best And Worst Places To Live in Washington
The Pressing Question: Size
Before we even started to collect data, we had to answer a tough question: Is it fair to pit Olympia with a population of 51,534 against places with a population of 18?
We firmly decided no, that just isn't fair.
So to create our ranking, we broke places to live into three tiers:
Cities -- Populations over 5,000
Towns -- Populations between 1,000 and 5,000
Small Towns -- Populations below 1,000
This left us with 120 cities, 194 towns, and 169 small towns.
We then decided, no matter how much anyone loves their town, the best cities to live in Washington have more of everything and therefore you need to have over 5,000 people to truly be 'the best'.
Now we also realize that city living might not be your cup of tea, so we ran the following analysis on towns and then again for small towns.
You can see those two top tens at the bottom of the post.
How We Calculated The Best Cities To Live In Washington
Now that we had our set of cities, it was time to rank them.
We ranked each place in Washington across a number of criteria from one to 120, with one being the best.
We then took the average rank across all criteria, with the city posting the lowest overall score being crowned the winner of the title "Best Place To Live In Washington".
The criteria we looked at were:
Median Home Values
Median Income
Population Density (Higher better)
Unemployment Rate
Commute Time
Crime
Education Levels
Health Insurance Coverage
Poverty rates
Sources of criteria include the New Census Data and FBI Crime Data. You can download the data here.
After the dust settled, what was the best place to live in Washington? That would be Mercer Island.
If your city or town isn't among the top 10, jump down to the bottom of the post to see a detailed chart of the best places in Washington.
Otherwise, buckle up for a ride down good living lane with Mercer Island at the end of the cul-de-sac.

Wrapping Up The Best Places When It Comes To Living In Washington
If you're looking at areas in Washington with the best economic situations, where there's lower than average crime, and a lot to do, this is an accurate list.
Mercer Island made a strong showing to take in the overall number one spot for the best place to live in Washington for 2021.
Best Towns To Live In Washington
Yarrow Point (Pop. 1,149)
Medina (Pop. 3,169)
Clyde Hill (Pop. 3,197)
Woodway (Pop. 1,367)
Walla Walla East (Pop. 1,729)
Wilderness Rim (Pop. 1,332)
Monroe North (Pop. 1,784)
Chico (Pop. 2,463)
Browns Point (Pop. 1,187)
Canterwood (Pop. 3,409)
Best Small Towns To Live In Washington
Raft Island (Pop. 342)
Keyport (Pop. 442)
Beaux Arts Village (Pop. 368)
Hunts Point (Pop. 461)
Colton (Pop. 418)
Ruston (Pop. 969)
Bay View (Pop. 700)
Cherry Grove (Pop. 447)
Uniontown (Pop. 377)
Dollars Corner (Pop. 798)
If you're curious enough, here are the worst places to live in Washington according to the data:
Union Gap (Pop. 6,163)
Aberdeen (Pop. 16,456)
Shelton (Pop. 10,167)
For more Washington reading, check out:
Where Are The Best Places To Live In Washington?
| Rank | City | Population |
| --- | --- | --- |
| 1 | Mercer Island | 25,675 |
| 2 | Sammamish | 64,674 |
| 3 | Lake Forest Park | 13,430 |
| 4 | Redmond | 65,558 |
| 5 | Snoqualmie | 13,480 |
| 6 | Brier | 6,843 |
| 7 | Duvall | 7,901 |
| 8 | Camas | 23,200 |
| 9 | Mill Creek | 20,553 |
| 10 | Bellevue | 144,403 |