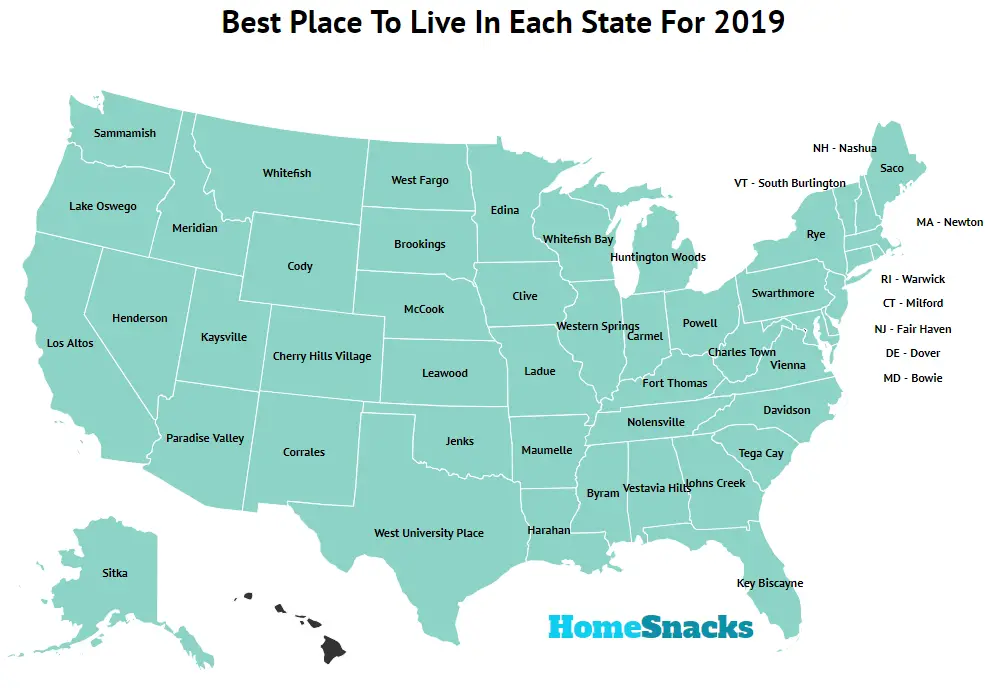 Click to enlarge
Three new cities moved into the Best of the Best places to live in each state in America, according to the HomeSnacks 2019 report.
Each year we analyze what we feel are the best cities to live in each state. We take into account categories that we all agree make a city desirable: Great food, quality shopping, amazing people, and safe, clean neighborhoods.
More importantly, we looked at the places with low crime, great jobs, worthy salaries, affordable housing, and solid schools.
We even looked at short commute times.
According to the Happiness Research Institute, most people do not like where they live and wish they lived somewhere that had more to offer.
But not the folks who live in these cities.
Are you surprised by this year's results? Pull up a chair and put a smile on your face as we look at U.S.A.'s best of the best cities.
Here are the 10 best of the best places to live in America for 2019:
To produce a comprehensive list of the best cities in the U.S. for 2019, we took a look at the things that matter: low cost of living, blue ribbon schools, and an above average employment rate to name a few.
To see how your city compared, we have compiled a detailed list of the the best of the best cities that the U.S. has to offer.
And if you're already in one of the best of the best cities we're about to highlight, odds are you don't want to go anywhere. You should, however, scroll on down and see how your city compared.
For more reading check out:
How We Determined The Best Of The Best
Now that we have our set of cities, it's time to rank them.
How did we do this? Easy peasy. We ranked each U.S. city across a number of criteria from one to 50, with one being the best.
We then took the average rank across all criteria, with the city posting the highest overall score being crowned the winner of the title "Best of the Best City to Live in the USA for 2019".
The criteria we looked at were:
Median Home Values
Median Income
Population Density (Higher better)
Unemployment Rate
Commute Time
Crime
Education Levels
Health Insurance Coverage
Poverty rates
Where did we get the numbers? We consulted the New Census Data and FBI Crime Data.
After we pushed some buttons, pulled a lever or two, and cranked out the data, we determined the Best City in the U.S.A. for 2019 is West University Place, Texas.
If your city or town isn't among the top 10, head on down to the bottom of the post to see a detailed chart of the best cities that almost made the top ten.
Otherwise, keep on reading to see the cities that make being the best of the best seem easy.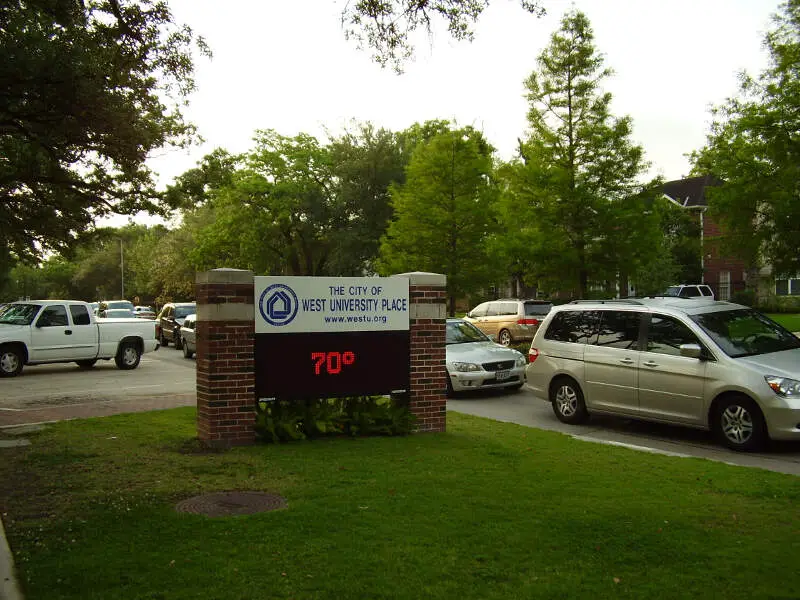 Source: Public domain
We all know that everything is bigger and better in Texas, so we were not surprised that the best city in the U.S. hails from the Lone Star State.
However, if you want to plant some roots in West University Place, you're going to have to get a job that pays big time. WUP's median home price is $987,400.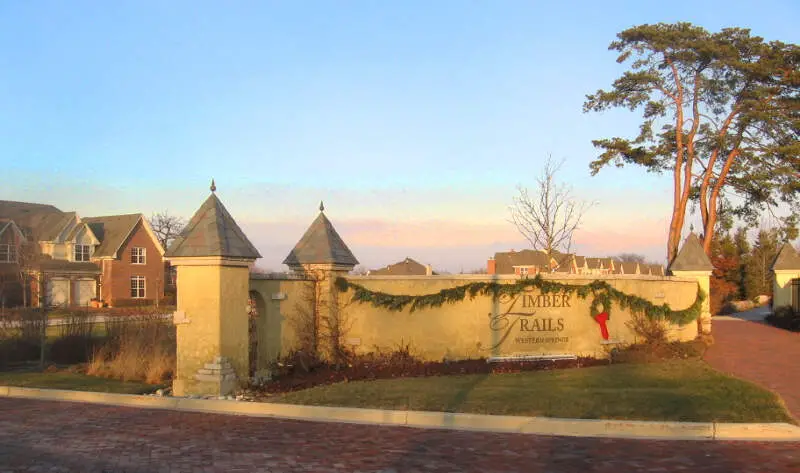 Some people knock Illinois for being the center of the midwest, but they do have the second best city in the U.S.: Western Springs.
This city in Cook County crushed our snackability scale with an emphasis on jobs and low crime. It just goes to show that busy people have less time to be naughty.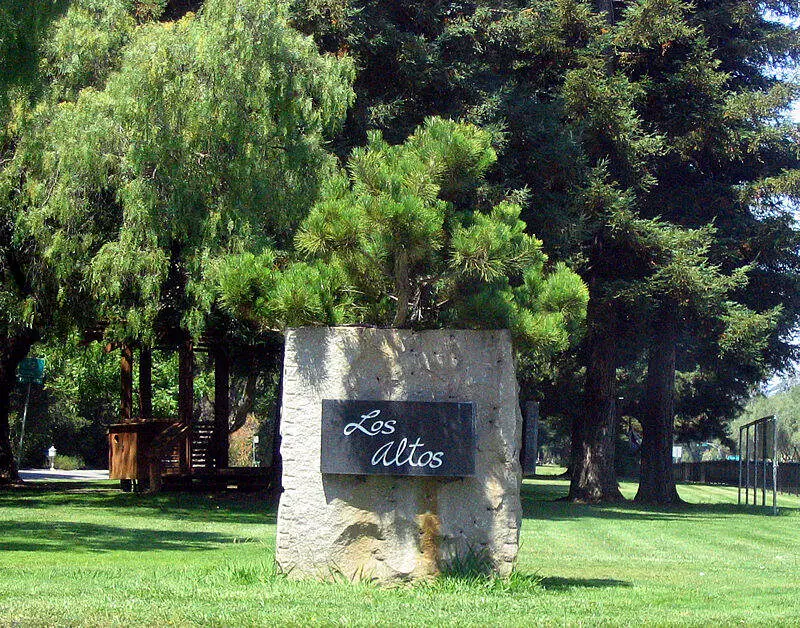 We could not have a best of the best list without a California city.
Los Altos has the best of every world: Great food, amazing people, wonderful weather, and gold star neighborhoods.
This city in Santa Clara County should be the poster city for best cities with its unemployment rate (3.8%) and poverty rate (3.2%) coming in below four percent.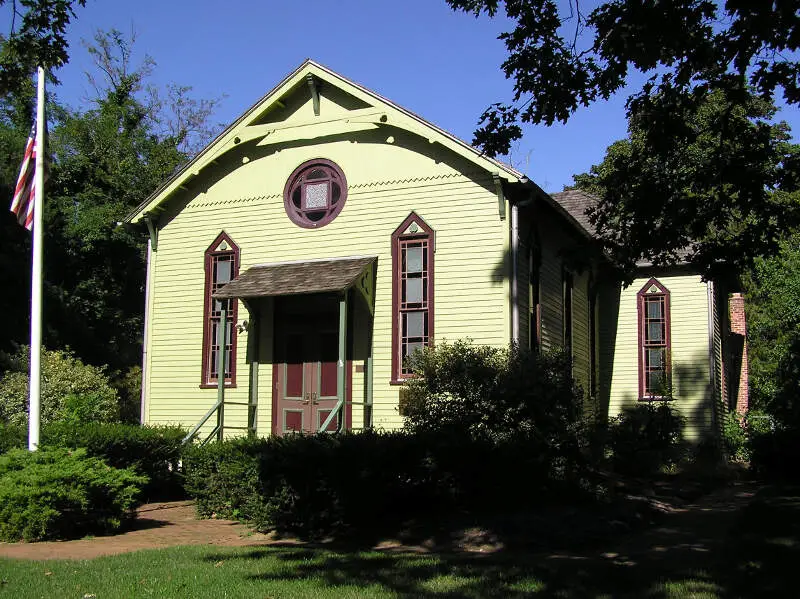 Our fourth best of the best U.S. cities, Fair Haven, New Jersey, does not disappoint.
It's all in the name. Fair 'Haven' is a haven for highly educated, motivated individuals. Currently 98% of the residents have a high school diploma and 73% have a college diploma.
And if you live in Fair Haven, you get the added bonus of fresh bagels every day. #Score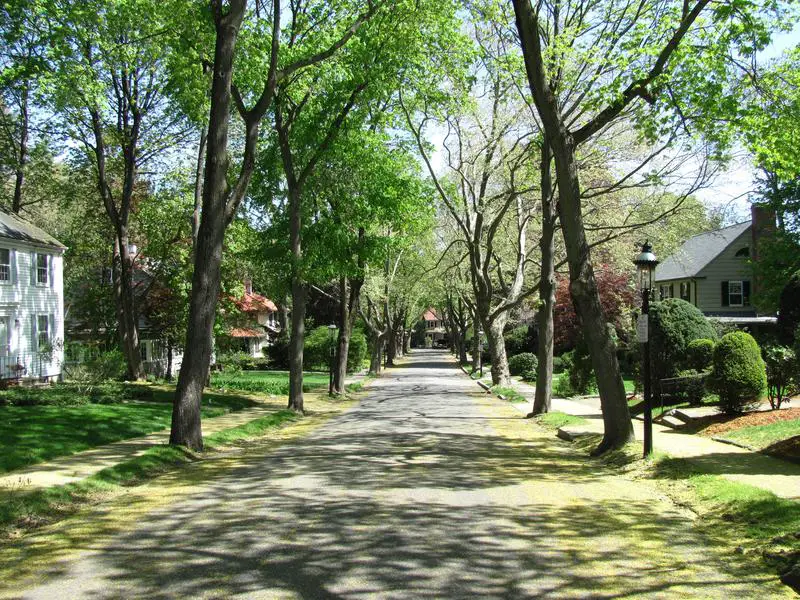 It might not be Boston, but that's okay, because Newton, Massachusetts is the fifth best city in America.
Fun fact: Newton is also one of the oldest cities in the country. So, it would make sense that they are so great: they've had a lot of time to perfect this top ten win.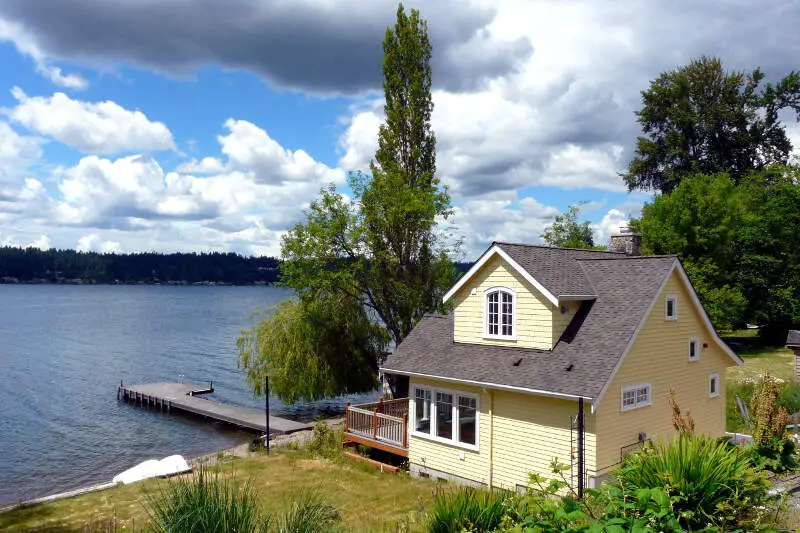 Located between Lake Sammamish and Snoqualmie Valley, they put the 'King' in King county with their low unemployment rate (3.7%) and their percentage of adults with high school diploma (97%).
The people in Sammamish are also super active and quality shopping is a priority. Sammamish residents will probably live forever.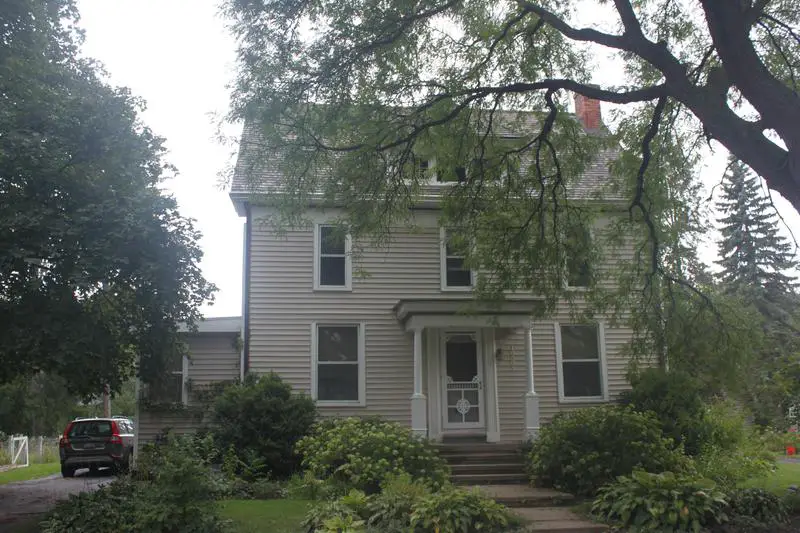 Great lakes, low unemployment (3.3%), and a barely there crime rate, in our seventh best city in the U.S., Huntington Woods, Michigan, is why we're 'smitten with the mitten'.
This Oakland County city has many great amenities. It's located just outside the big city of Detroit, minutes from Lake St. Clair, and commute times are at a minimum. #Winning
So, we're pretty sure you'll be happy with any home that you find in "The City of Homes".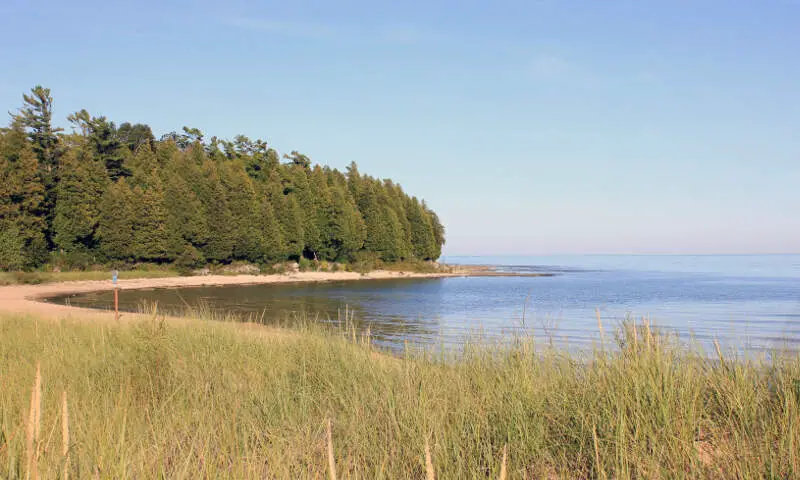 Source: Public domain
Our eighth best city in the US, Whitefish Bay, Wisconsin, has one of the lowest unemployment rates (2.2%) on our list.
With a median income close to $112,000, you are sure to find a great job with a great company.
And if you're lucky, maybe you can find an amazing home and job close to the bay and work.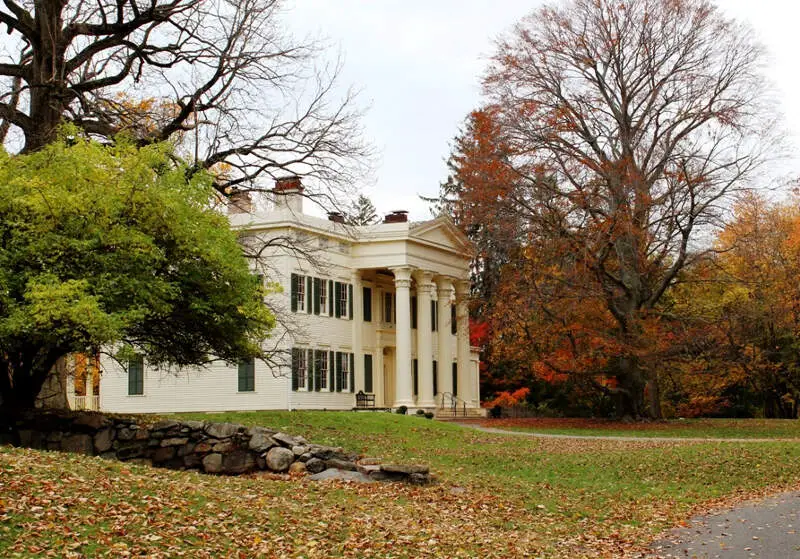 Why Rye? The data doesn't lie. This New York city is our ninth best city in the US for 2019.
Rye crushed our snackability scale with an emphasis on number of residents who have health insurance as well as those who have secondary degrees.
Now don't let that so called New York attitude scare you, the people in Rye are super friendly, too.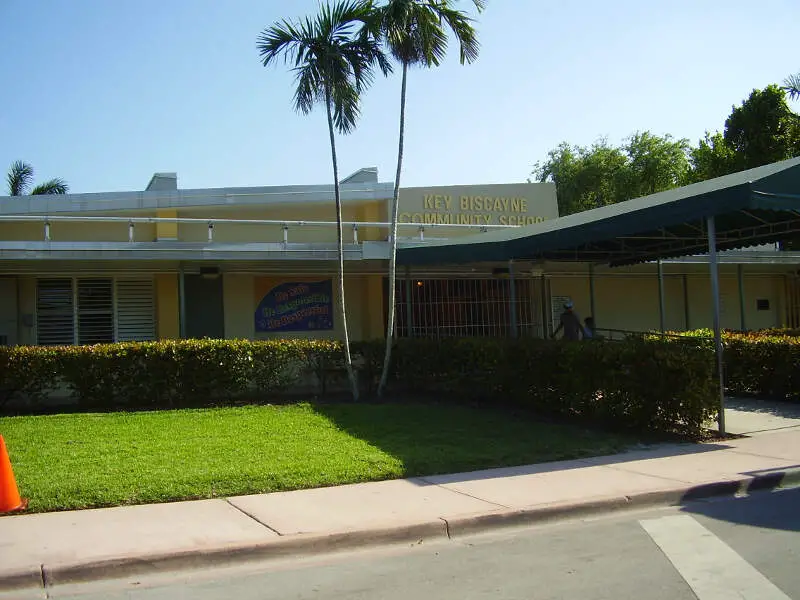 Source: Public domain
Our tenth best city hails from East Coast of the Sunshine State.
Key Biscayne, Florida scored strong across all criteria on our snackability scale, but they made the most magic happen with percentage of educated residents.
Key Biscayne proves that when you live on your own private peninsula, you get the job done.
Putting A Bow On The Best Of The Best
There you have it, folks. HomeSnacks has done it again with our comprehensive list of the Top 10 Best Cities to Live in America for 2019.
To see what city made the best of the best list in your state, take a look below.
For more reading about America, check out:
Best Places To Live In Each State In America
| State | City | Population |
| --- | --- | --- |
| Texas | West University Place, TX | 15,477 |
| Illinois | Western Springs, IL | 13,187 |
| California | Los Altos, CA | 30,527 |
| New Jersey | Fair Haven, NJ | 6,015 |
| Massachusetts | Newton, MA | 88,479 |
| Washington | Sammamish, WA | 62,877 |
| Michigan | Huntington Woods, MI | 6,347 |
| Wisconsin | Whitefish Bay, WI | 14,099 |
| New York | Rye, NY | 16,004 |
| Florida | Key Biscayne, FL | 13,074 |
| Ohio | Powell, OH | 12,658 |
| Virginia | Vienna, VA | 16,474 |
| Colorado | Cherry Hills Village, CO | 6,542 |
| Kansas | Leawood, KS | 34,195 |
| Oregon | Lake Oswego, OR | 38,212 |
| Indiana | Carmel, IN | 88,595 |
| Missouri | Ladue, MO | 8,591 |
| Pennsylvania | Swarthmore, PA | 6,243 |
| Utah | Kaysville, UT | 30,328 |
| Minnesota | Edina, MN | 50,603 |
| North Carolina | Davidson, NC | 12,325 |
| Alabama | Vestavia Hills, AL | 34,003 |
| Arizona | Paradise Valley, AZ | 13,961 |
| Georgia | Johns Creek, GA | 83,397 |
| Tennessee | Nolensville, TN | 7,119 |
| Iowa | Clive, IA | 17,134 |
| Kentucky | Fort Thomas, KY | 16,254 |
| South Carolina | Tega Cay, SC | 9,464 |
| Maryland | Bowie, MD | 58,290 |
| North Dakota | West Fargo, ND | 33,089 |
| Connecticut | Milford, CT | 52,331 |
| New Mexico | Corrales, NM | 8,463 |
| Louisiana | Harahan, LA | 9,367 |
| Arkansas | Maumelle, AR | 17,967 |
| Idaho | Meridian, ID | 91,917 |
| Oklahoma | Jenks, OK | 20,836 |
| Vermont | South Burlington, VT | 18,773 |
| Rhode Island | Warwick, RI | 81,218 |
| Wyoming | Cody, WY | 9,826 |
| New Hampshire | Nashua, NH | 87,642 |
| Montana | Whitefish, MT | 7,070 |
| South Dakota | Brookings, SD | 23,471 |
| Nevada | Henderson, NV | 284,817 |
| Maine | Saco, ME | 19,127 |
| Mississippi | Byram, MS | 11,660 |
| Alaska | Sitka, AK | 8,810 |
| West Virginia | Charles Town, WV | 5,766 |
| Nebraska | McCook, NE | 7,622 |
| Delaware | Dover, DE | 37,109 |