Article continues below.
When it comes to average snowfall in America, we rank third overall for the amount of snowfall we get every year, behind Japan and Canada. Some places in America hardly get any snow at all. And some areas of the US get A TON.
Snow can be a lot of fun. The kids don't have to go to school, you don't have to go to work. And then, when the party's over, snow is really fun to clean up, too.
You should actually probably enjoy the snow now, because, you know, global warming means that we might not see much snowfall in the future.
Since winter is coming, and lots of places are starting to get snowfall, we thought we'd get out the tape measure and see which states get the most snowfall of all.
Here are the 10 snowiest states in the US.
The 10 Snowiest States In America
So join us as we brave the brutal weather and bring you America's Snowiest States.
For more reading, check out: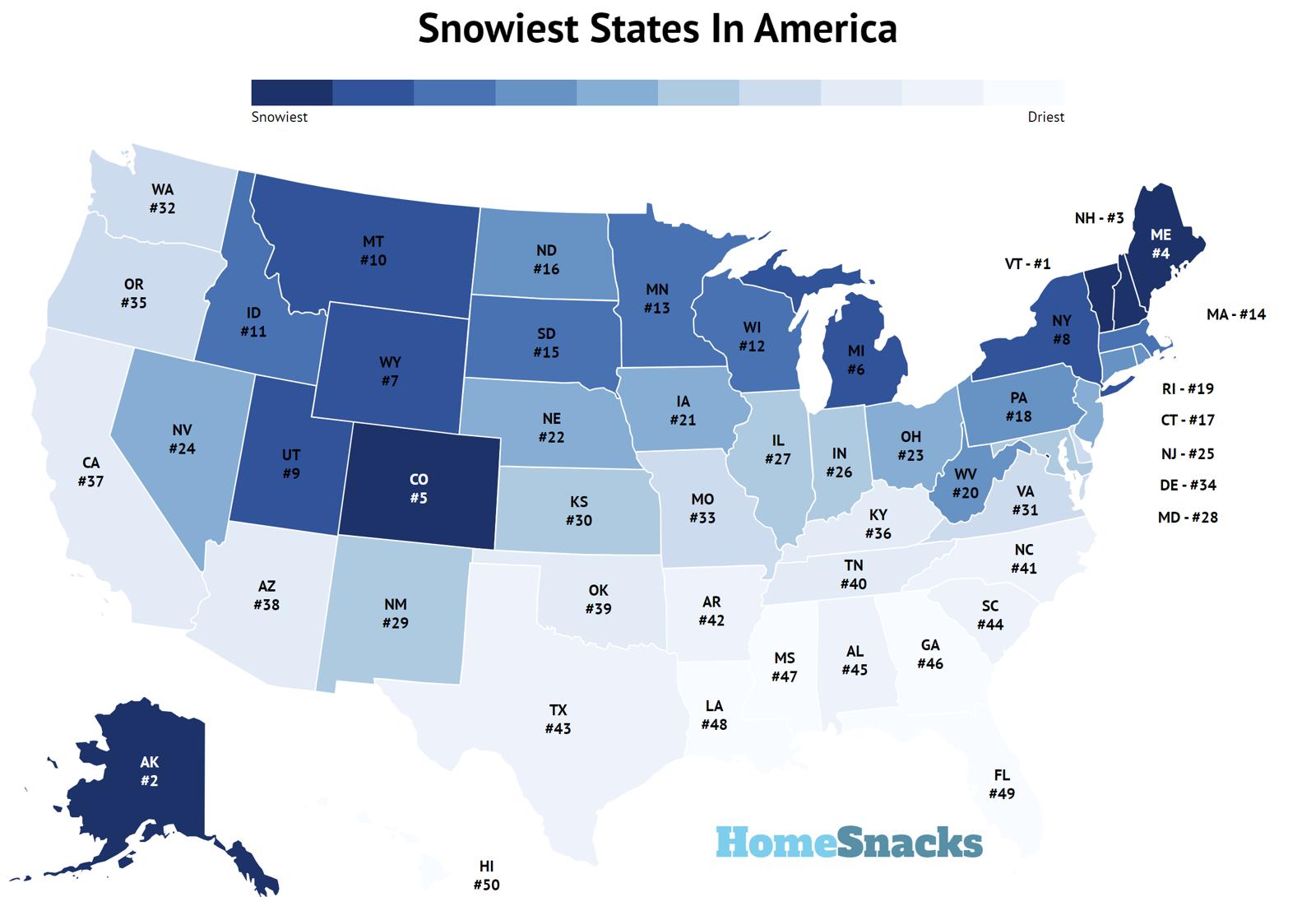 The 10 Snowiest States In America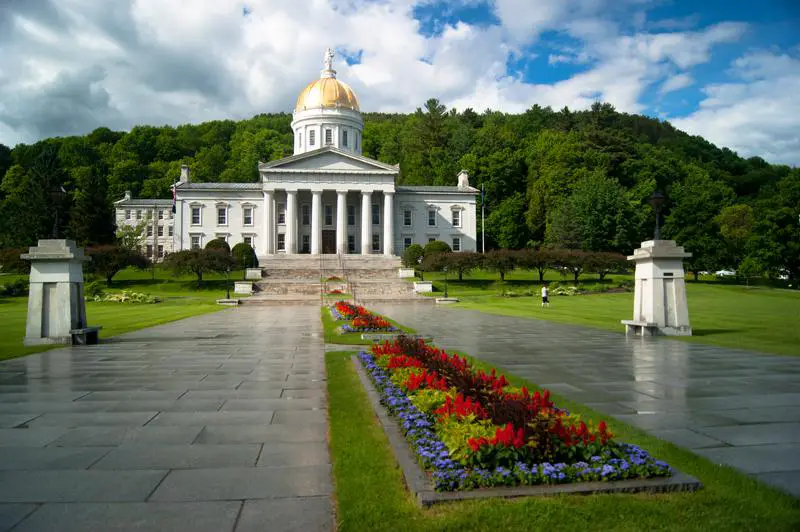 Annual Snowfall: 89.25 inches
More On Vermont: Biggest Cities | Photos
We're going to take our snowmobile from Maine and head east, where eventually we come to Vermont, our snowiest state, where about 90 inches of snow comes down every year. It's not even close. Vermont's the snow king of America.
In 1970 – the whole state of Vermont averaged 318 inches of snow. For the whole state! That's 26 feet! Even as late as Memorial Day, it's not untypical for Vermont to get a dusting.
Here's a typical Saturday morning in Vermont. And here's that same afternoon.
Yes, Vermont takes the prize for the snowiest of all snows.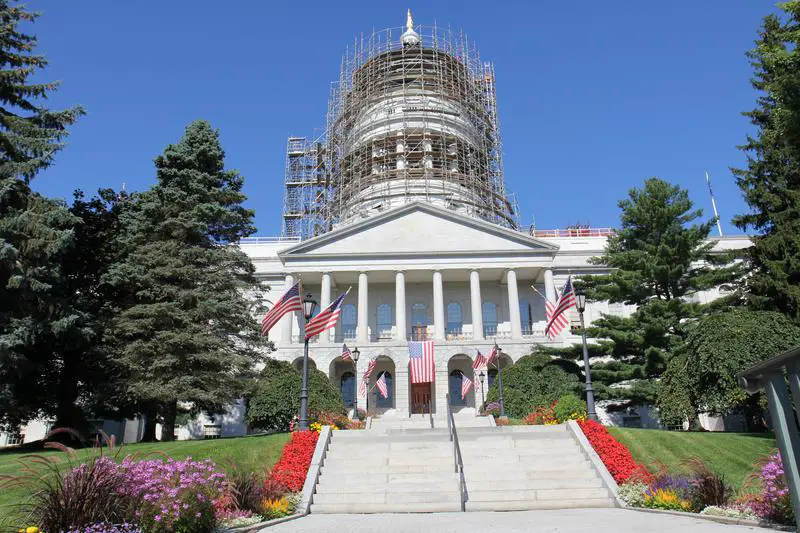 Annual Snowfall: 77.28 inches
More On Maine: Biggest Cities | Photos | Average Rent
We can barely see snow the snow is so deep. But we're almost done with our journey. Just to the east of New Hampshire is Maine, which gets on average, 77 inches of snow every year. That's a lot.
You can bet that every winter day, all 1 million people here in Maine are just waiting in anticipation for the next 12 incher that's bound to come in the next few weeks.
You know you're in Maine when you see insanely high stop signs around town. That's because the snow gets so deep here, they have to make road signs taller.
Here's a fun fact: Each winter in the US, one septillion snowflakes fall to the ground. That's 26 zeroes!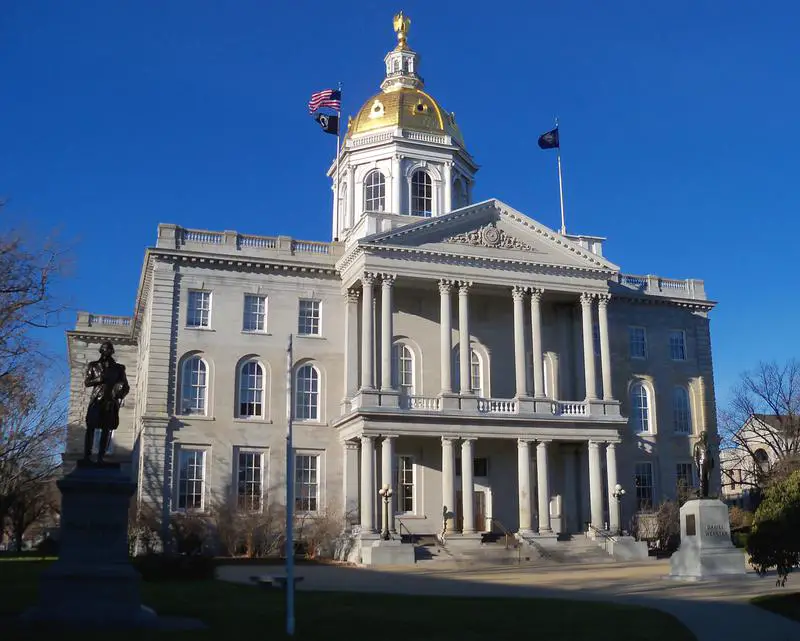 Annual Snowfall: 71.44 inches
More On New Hampshire: Biggest Cities | Photos | Average Rent
We're back in the northeast once again, and this is where we will remain for the rest of this informative-and somewhat racy video. Here in New Hampshire, 71 inches of snow falls every year.
You can always tell when someone's from New Hampshire. They have a huge coat on, big ugly boots, a snowblower and a Subaru.
One thing you have to really worry about here in New Hampshire – and in all of the New England states – are noreaster snowstorms. These are tropical storms that form in the Atlantic and move up the east coast, where they meet cold air. The amount of snow that results can be crippling.
Mt. Washington in New Hampshire is a notoriously dangerous place, where snowfalls can be 25 feet deep each winter, and where snow gusts can be up to 161 miles an hour. You don't want to be at the top of Mt Washington when a storm hits.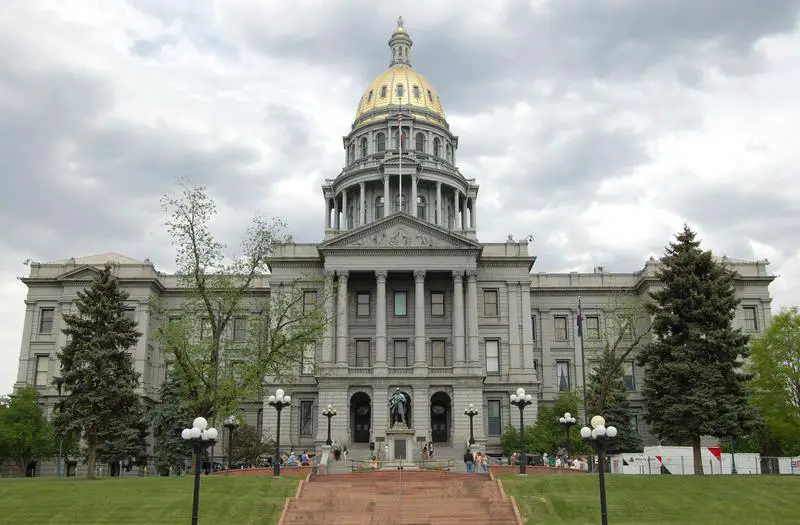 Annual Snowfall: 67.3 inches
More On Colorado: Biggest Cities | Photos | Average Rent
Movin on, we come to our 4th snowiest state in the USA, Colorado, which gets an average of 67 inches of snow accumulation each year.
But they're used to it here. People in Colorado will wear snowboots to funerals, so you know they'll wear them to job interviews.
Colorado's biggest blizzard came in 1913, when 45 inches of snow fell in Denver alone, and unknown amounts fell in the highest elevations of the Rockies.
Colorado snow is actually different than the snow in other regions. Because of the unique Rocky Mountain landscape, and the nearby desert climate, snowfall here is drier and more powdery than snow in other states, which is typically wetter and heavier. Hence, every day in Colorado…is a powder day.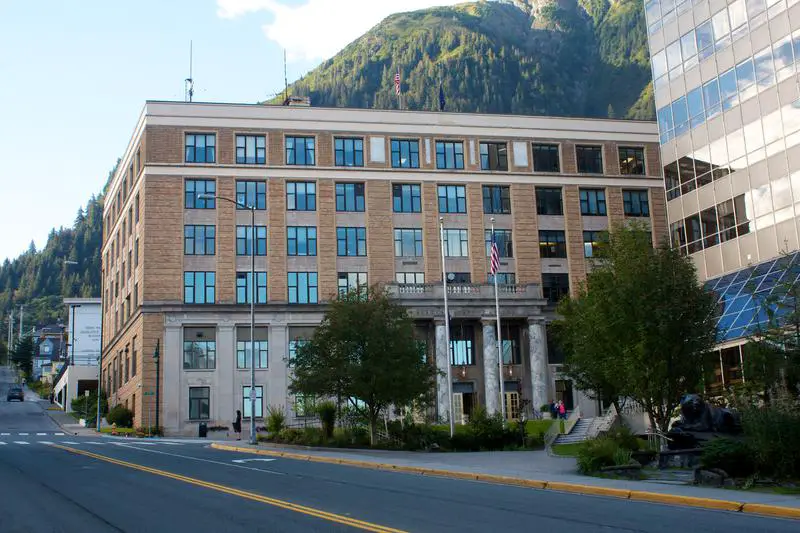 Annual Snowfall: 64.46 inches
More On Alaska: Biggest Cities | Photos | Average Rent
Now we're getting to some deep stuff. Alaska is our 5th snowiest state, where the average depth every year is about 65 inches.
Did you know native eskimos here have more than 50 words for snow? It's true. But don't get all full of yourself snow. They also have 1,000 words for reindeer.
Valdez, Alaska, a small town, is the second snowiest town in America – where, because of a weird weather phenomena that involves cold air rushing south and moist air from the Gulf of Alaska – they get about 326 inches of snow every year.
But drive 30 minutes east of Valdez to Thompson Pass, and you'll find one of the snowiest places on the planet. Thompson Pass gets 550 inches of snow per year and in the winter of 1952, this region got 974 inches – or 81 feet of snow.
That's the snowiest town in the USA. But the snowiest PLACE in the nation is a teeny Ranger station on Mt. Rainier in Washington State which gets an astounding 671 inches, or nearly 56 feet, per year. During the winter of 1971, the Paradise Ranger Station recorded 93.5 feet of snow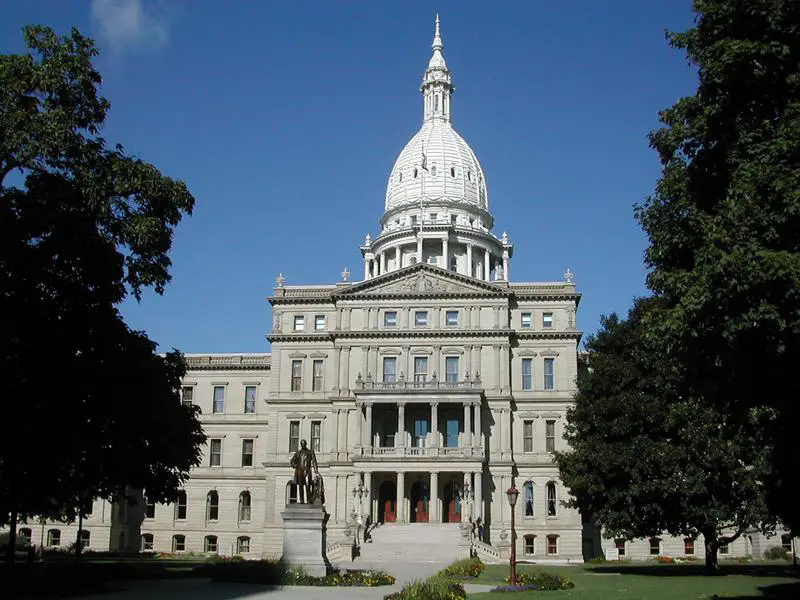 Annual Snowfall: 60.66 inches
More On Michigan: Biggest Cities | Photos | Average Rent
We're off to the winter wonderland that is the state of Michigan, which gets an average of 61 inches of snow each and every year.
While this is life in Miami each winter, this is life in Michigan. Yuck.
Here's a fun fact – it's said that no two snowflakes are alike. But that's not true. Because in 1988, a scientist in Michigan found two identical snow crystals. That's fabulous!
While the lower part of the state gets a lot of snow, the Upper Peninsula might as well be the north pole. Actually, that's not even true, because most of Michigan gets more snow than the north pole does each year – by about 3 inches.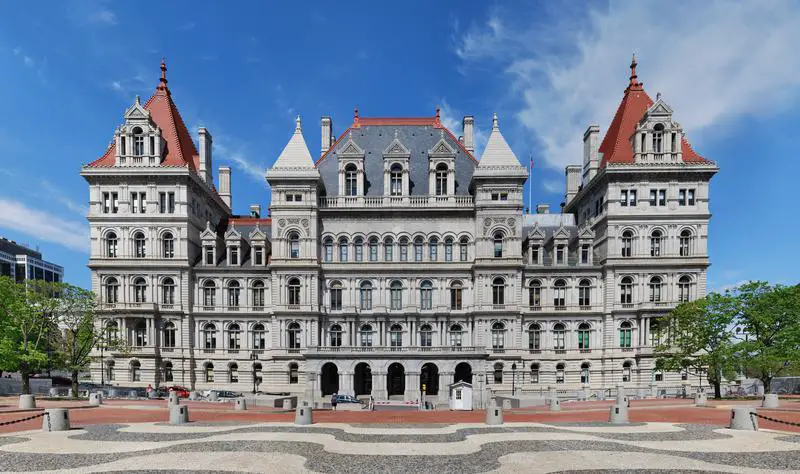 Annual Snowfall: 55.32 inches
More On New York: Biggest Cities | Photos | Average Rent
We're going to cross over Connecticut and take this thing down to New York State. It's interesting that Connecticut is surrounded by states that get a lot of snow, but they don't get that much themselves.
It seems that on any given day during winter, somewhere in New York, snow is coming down. Syracuse is the snowiest of all of New York's cities – and is 5th in the world for major cities in terms of average snowfall every year. Syracuse gets about 123 inches, or 10 feet every year. That's because it's so close to Lake Ontario, which produces lake effect snow.
It had snowed so much in Syracuse in 1992, that the city approved a resolution that all snowfall would be illegal for the rest of the year. It…snowed two days later.
Buffalo, located next to Lake Erie, gets a lot of snow every year, too. In 2004, Buffalo got 7 feet in one day, the third highest amount in the city's history.
The Blizzard of 1966 hit Rochester New York like a ton of ice bricks. Show it
If you're old enough to remember that blizzard…then you're kinda old.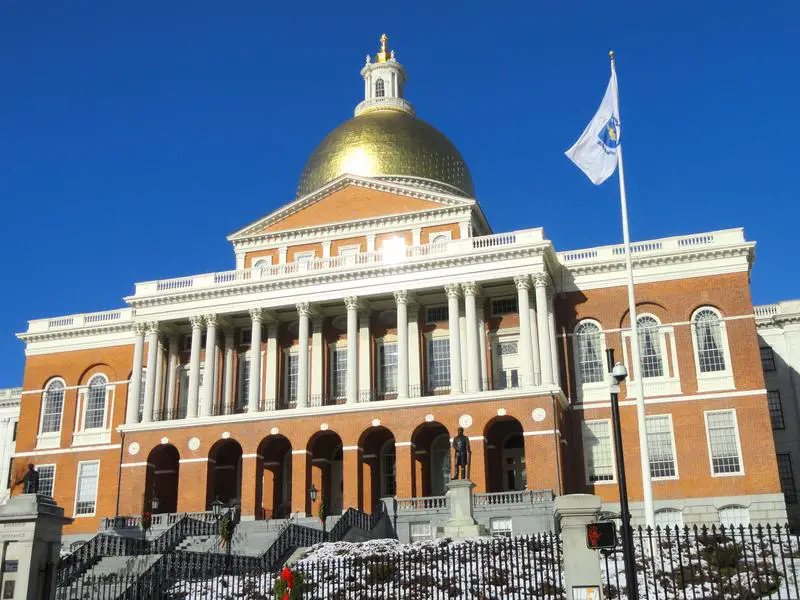 Source: Public domain
Annual Snowfall: 51.05 inches
More On Massachusetts: Biggest Cities | Photos | Average Rent
Sorry to get so intense. This is supposed to be a lighthearted video. But off we go, to Massachusetts, our 8th snowiest state, which gets just a teeny bit more snow each year than Wyoming does.
Signs you're from Massachusetts: People fight over parking spaces on your streets. Your dog has trouble going pee all winter. And your Netflix usage spikes during a blizzard.
Some parts of this state get a couple feet. But other parts of the state get up to 80 inches.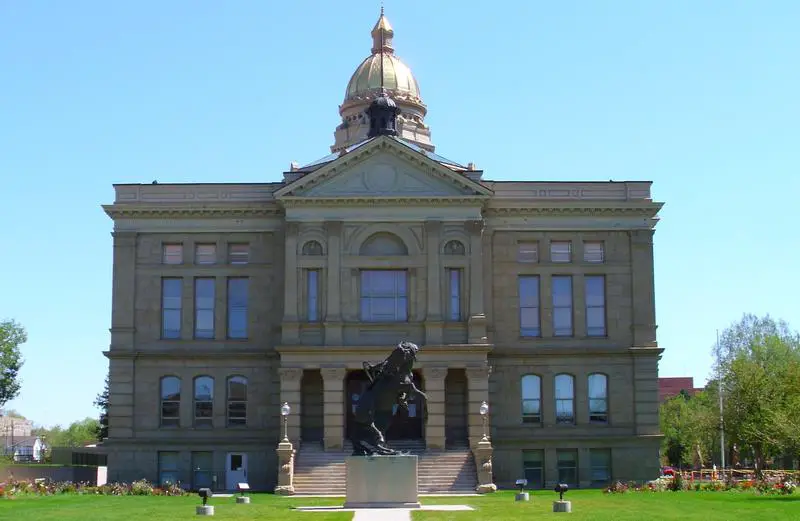 Annual Snowfall: 51.0 inches
More On Wyoming: Biggest Cities | Photos | Average Rent
We're gonna hop back on the sled to go to our next stop along our snow tour of America and arrive in Wyoming.
Here in the Cowboy state, they get about 51 inches of the wet stuff each year.
Most of the snowfall in Wyoming happens along the western side of the state, since the Rocky Mountains – and specifically, Grand Teton section of the Rockies, blocks most of the snow from reaching the state's high plains to the east. In these mountains, they might get 200 inches of snow a year. On the plains, it's closer to 30 inches.
But it's the wind that's the big problem in Wyoming. Sometimes, the wind is so bad during snowfalls that large drifts form, and it's hard to measure how deep the snow really is.
In 1949, Wyoming experienced one of the worst blizzards of all time. It started on January 2nd – as a really nice day. But a surprise three-day snowstorm hit, and it was so windy, and so intense, that entire communities were separated from one another for weeks. Several other blizzards followed throughout that winter.
76 people died that year, and the snow was so deep and packed in that they had to use dynamite to clear the roads.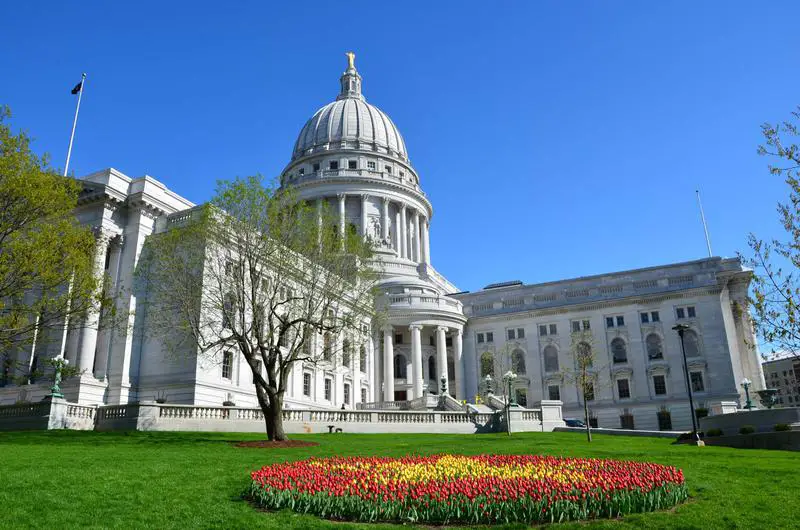 Annual Snowfall: 45.79 inches
More On Wisconsin: Biggest Cities | Photos | Average Rent
The Badger State gets 45 inches of snow a year. That's almost 4 feet. To put that into perspective go get a ruler and hold it up 4 times. That's 4 feet!
For additional perspective, the state with the least amount of snowfall each year is Florida, which gets 0.01 inches of snow a year.
A lot of people think Hawaii doesn't get any snow, but that's not true. Some parts of Hawaii get a decent amount of the white stuff. There's a handful of 10,000 foot tall volcanoes here which get up to 8 inches of snow every year. But it melts after a few days.
However, most of Hawaii hasn't seen snow in decades, and many areas here may never see snow again for a long long time.
Here in Wisconsin, it's not uncommon for kids to be trick or treating in snow. Happens all the time. The average snowfall hits here on November 9th, and sometimes, snow begins in mid September.
Of course, the Green Bay Packers are used to it. They always play important games in snow.
But if you live in Wisconsin, you're not immune to large amounts of snowfall. It's just a part of living in…Wisconsin.
Shoveling Our Way Out Of The Snowiest States In The US
There they are, the snowiest states in America. The places where people throw snowballs and build snowmen and fall down and break their arms more than anywhere else. And here are the states in America that get the least amount of snowfall every year, and where they don't have to pour salt on their sidewalks or put chains on their tires: Florida .01, LA, .2 AL .5. No surprises here.
If you live in Maine, or in any of the states we talked about, you have it pretty rough for long stretches every year. And if you don't live in a very snowy state, why not lend em a hand and help them dig out every now and then?
No? Okay then.
For more reading, check out:
Detailed List Of The Snowiest States In The US