The Centennial State one shirt at a time.
1. Colorado is a much higher state.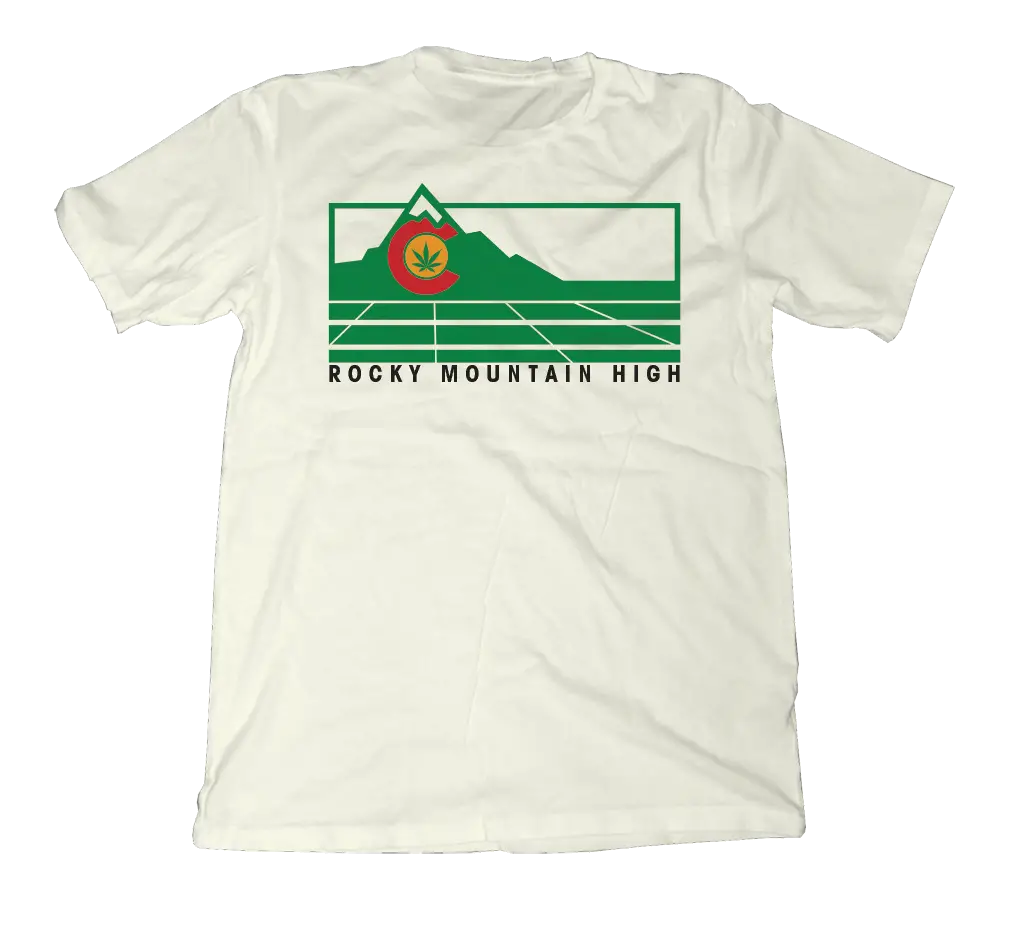 Source: Mericamade.com
Colorado is one of 15 states that is allowed to sell marijuana legally. Last year, alone, this industry made Colorado $700 million. The industry is projected to make the state $1 billion by 2016. People flood here from Kansas and Utah to buy legal weed in droves.
2. It's home to the best (and largest) brewery in the nation.
Source: WearYourBeer.com
Golden, Colorado has been the home to the Coors Brewery since 1873. It reigns as the largest single brewery in the world. Budweiser sucks in comparison.
3. Most people love the Rockies…
Source: MLB.imageg.net
Despite the fact that the Rockies haven't won anything in…oh…many years now, they are still well followed throughout the state. It's still six bucks a beer, which is about league average. (Beers at a Marlins game are $8 a pop). They've done a great job of making the stadium experience worth the price of admission…even if the quality on the field is currently lousy.
4. But EVERYONE loves the Broncos.
Source: Images.Shirts.com
They've been frustratingly close to a Super Bowl title over the last few years. Mile High is packed every Sunday game, and orange and blue is the color you'll see in every pub all autumn long.
5. Almost everyone here can ski the black diamond runs.

With well over 25 ski resorts in Colorado, it is no surprise that there would be over 400 black diamond runs. One of the best places to catch a black diamond run is Snowmass Mountain. Just remember, if you are wearing a black diamond shirt, you better be able to ski a black diamond–no one likes a poser. I'm talking to you, Utah.
6. The best TV show of all time is set here.
Source: Wanelo.com
Yes, South Park is real place in Colorado. However, the South Park that is portrayed in the show bears no resemblance to that of South Park, Colorado. It's a large grassy flat land in a basin between the Rocky Mountains' Mosquito and Park Mountain Ranges.
7. There are famous taverns all over Colorado
Source: WoodyCreekTavern.com
The Woody Creek Tavern in Woody Creek, Colorado is a local favorite. This used to be a local hangout for the famous writer Hunter S. Thompson, so if you ever get a chance to visit, make sure you take a peek at his pictures on the the walls.
8. Colorado inspires the best artists in the country.
Source: StanleyHotel.com
Estes Park's Stanley Hotel was rumored to be haunted and it inspired Stephen King to write the bestselling novel, 'The Shining' during one of his stays. And, Stanley Kubrick did film some external shots for the movie, 'The Shining', here.
9. Red Rocks is the best place on earth to watch a concert.
Source: CollectorsTradingCompany.com
From the Doobie Brothers to The Grateful Dead, anyone who is anyone has played at Red Rocks Amphitheater in Morrison, Colorado (just outside of Denver). And to be honest, there might not be a better place to catch a show on the planet.
10. Colorado Springs is a little slice of heaven.

With over 300 days of sunshine annually, it would be very easy to fall in love with this city. It helps that the United States Air Force Academy is located there as well. Who can resist a person in uniform?
11. The wilderness here is vast. Maybe too vast?
Source: Zazzle.com
It goes by Bigfoot, Sasquatch, and Yeti in Colorado. While relatively lower on the sighting spectrum in the U.S., there have been over 25 sasquatch encounters in the last 50 years. It would probably be a lot more, except there are tons of places for a sasquatch to hide here.
12. There's a lot of wild west tradition here. Step aside, Arizona.
Source: Zazzle.com
The infamous Doc Holliday came to Glenwood Springs, CO because he thought that the town's vapor caves and hot springs had healing powers. This, however, was the end to his rather tumultuous existence after succumbing to the tuberculosis that plagued him. He is buried in Glenwood Springs, too.
13. Denver is quite possibly the best city on the planet.
Source: Zazzle.com
Enough said.
14. The boarders here are better than anywhere else.
Source: Zazzle.com
All of Colorado's ski resorts have some sort of snowboarding park. Keystone was named number one in the nation by Transworld Snowboarding Magazine. Shredders and shred betties can see the best competitions at Buttermilk Mountain in Aspen.
15. Even the tiny mountain towns in Colorado rock.
Source: Zazzle.com
Nestled in the San Juan Mountains just northeast of Telluride, Colorado is the little town of Ouray. It might be small in size and population (just over 1,000 locals), but it packs a big punch with its hot springs, scenic views, and above all, its jeep tours.
16. White water rafting is supreme in Colorado.
Source: Zazzle.com
There are at least 20 rivers in the states whose headwaters begin in Colorado, which makes it a likely choice for some of the best whitewater rafting in the west. And Buena Vista is home to some of the best whitewater rafting in the state. A typical day trip would begin in Buena Vista and take you down the Arkansas River through the scenic Browns Canyon.
17. Locals know the best mountain biking in the country is here.
Source: Zazzle.com
Crested Butte is one of Colorado's best kept secrets. This former coal mining town might be called 'the last great Colorado ski town' by Wikipedia. It is also one of the best places to mountain bike according to Singletracks.com.
18. The mountains seem to reach up to heaven in Colorado.
Source: Zazzle.com
The tallest Peak in Colorado–and the The Rockies– is Mt. Elbert at 14,400 feet. Often visible from a distance because it maintains its snowcapped peak year round, this 14,440 foot mountain is located in Lake County just southwest of Leadville.
19. The microbreweries are second to none. Literally.
Source: ShirtsOfLegend.com
Colorado has more microbreweries per capita than any other state. As of this past January, there are over 140 microbreweries in here, and the New Belgium Brewing Company (NBBC) has seen a consistent spot at the top for the 10 years. Located in Fort Collins, New Belgium brews Fat Tire, Sunshine Wheat, Somersault, and more.
New Belgium also gets 90% of its power from wind energy.
20. Everyone in Colorado is proud of their home state.
Source: Zazzle.com
With a population of over 5 million, there is good reason why Colorado is considered internally as "the only state that matters.' How can that many people be wrong?