Editor's Note: We updated this article for 2019.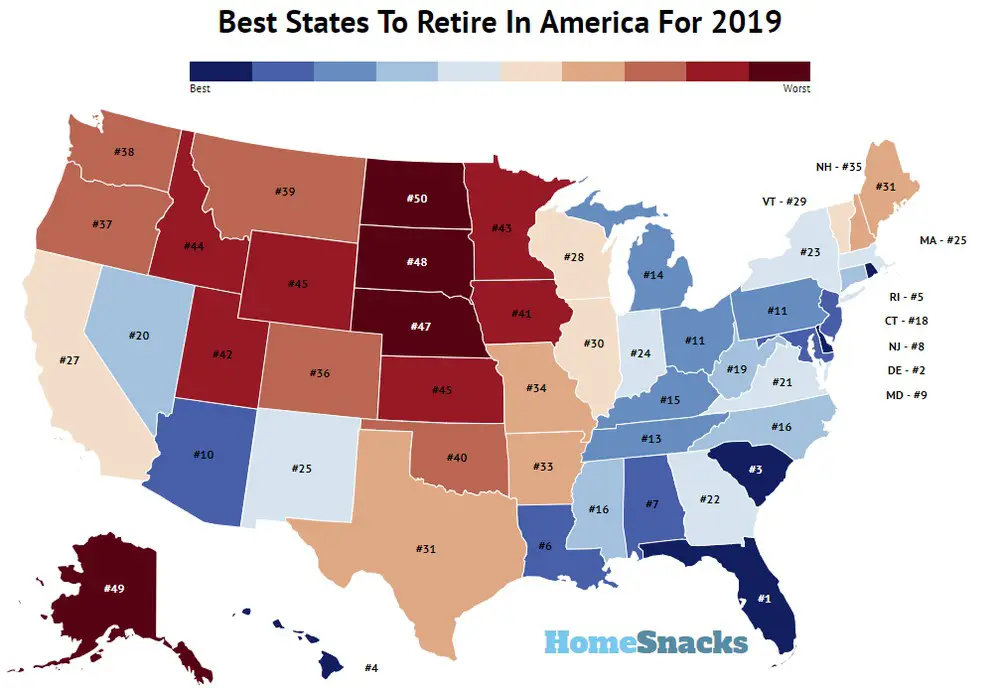 Click to enlarge
Getting tired of the never-ending work grind? Does Friday seem to take forever to get to but the weekend passes quicker than any top-level NFL player?
We hear you. Having a career seems like a dream come true when you are in college, but once real life really starts, you look forward to breaks every once in a while. But what about a break that lasts longer than your 10 days of paid time off?
Retirement. Those years every hard worker yearns for, but retirement age seems to be some far off number.
When you dream of your retirement years, what comes to mind? Sitting on the beaches of North Carolina, eating a BBQ sandwich? Hiking through the Garden of the Gods in Colorado? Volunteering at your favorite nonprofit?
Would you retire only to start a smaller job, like working in a bike shop, tutoring kids, or selling your crafts on Etsy? Would you become a socialite and make the next best book club or networking events?
Whatever it may be, the hardest part about retirement is deciding what to do with it. While we can't help you find your passion, we can help you with one decision: where to live.
Perhaps you planned to live in the city you currently reside or move to be closer to your family. But maybe you are an adventurer and want to live life to the fullest in a new place after you stop working those 40+ hour work weeks. If so, where would you go?
You might think of Florida or California when you think of "retirement" states, but would Alabama come to mind?
Find out where the best of the best states to retire are in the U.S.
Of course, Florida would come up on our ranking, because who doesn't like warm weather, beautiful beaches, Disney, and affordability? Its place as champion of retirement states is unquestionable.
But what about Delaware or South Carolina?
What makes these states so great for the post-career life? Maybe you want to live closer to Washington, D.C. without paying the premiums? Perhaps all you want in life is to sit on your porch, sipping iced tea and reading a good book.
Curious about our rankings? Read on to learn more about our methodology and to see what makes each of these states the best of the best for retirement.
How We Determined The Best States To Retire In The US For 2019
To create our list of the best states in America to retire, we first used the most recent American Community Survey Data from the Census combined with data on colleges from the CollegeScorecard to get our universe of data.For each state excluding DC, we looked at the following criteria:
Colleges per capita
Density (Things to do)
Latitude (The further south the better)
Median age (higher is better)
Households with kids(lower is better)
We then ranked each state on each criteria from one to 50, with the lowest number being the best.
Finally, we took the average rank across these criteria. The state, in this case Florida, with the lowest average rank was crowned the best of the state to retire — a place for you to start your second career.
And it definitely confirmed the obvious which gave us faith in the data.
Read on for details on the top ten states.
These Are The 10 Best States To Retire In America For 2019
Population: 20,278,447
Median Age: 41.8
Median Income: $50,883
Florida, the king of retirement. Florida is best known for its status as the retirement capital of the U.S. and for a good reason: this is a baller state for retirement. Say goodbye to high rent prices and frigid winters. Say hello to shorts weather year-round, beach houses, and Disney.
It ranks first for percent of households with kids so you can be sure this is a family-oriented state.
Source: Public domain
Population: 943,732
Median Age: 39.8
Median Income: $63,036
This state may come as a surprise for those looking for the best state ever to retire in. Perhaps Delaware isn't a state you dream about when you are working a long shift at work. Yet, Delaware ranks second in best states to retire and the data supports it.
Delaware ranks 6th in density, 9th in percent of households with kids, and 9.5th for median age. Delaware also has a major perk of being close to Washington, D.C. so you can have a calm weekend or a rocking one out on the town.
Source: Public domain
Population: 4,893,444
Median Age: 39.0
Median Income: $48,781
South Carolina… a southern state for retirement? (As in, why choose any place south that isn't Florida?). We get it, South Carolina doesn't usually come to mind for just about anything. But, it is still a great place for retirement. If you are wanting an affordable state with lots of beaches, mountains, and everything in between, South Carolina is the state for you.
It also ranks 9th in latitude (so you've got that nice, warm weather) and 8th in percentage of households with kids. What more could you ask for?
Source: Public domain
Population: 1,421,658
Median Age: 38.8
Median Income: $74,923
This state often slips people's minds because of its distance from the mainland, but it should not be forgotten as a majorly popular retirement state. If you fancy the island life, Hawaii has much to offer. If you don't like having to fly somewhere to get affordable Cheerios, then perhaps another state would be a better match.
Hawaii is a tropical paradise of a retirement state, so naturally, it ranks first in latitude. It also is a state that has low crime and the best waves.
Population: 1,056,138
Median Age: 39.9
Median Income: $61,043
The smallest state in the U.S. has a big heart for retirement folks. Rhode Island is a state made for the academically-inclined, those who enjoy sailing, small towns, and colonial architecture. It's also close enough for weekend trips to New York City or Boston so you can have the nightlife without living in it.
Rhode Island ranks 2nd in density, has low crime rates, and is a family-friendly state.
Source: Public domain
Population: 4,663,461
Median Age: 36.4
Median Income: $46,710
This state is a load of fun in the South. You can fill up on good cajun creole food in New Orleans, listen to jazz bands, fish in the Gulf of Mexico, bask in the sun on the beaches, and bravely hike through swampy forests. This state is also one of the most affordable so you can be sure to make your pension last.
Louisiana ranks 4th in latitude (Gulf of Mexico goodness) and 6th in percentage of households with kids. So head down south for a family-friendly good time.
Population: 4,850,771
Median Age: 38.7
Median Income: $46,472
Like Louisiana, Alabama is one of those southern states that often gets overlooked. Many people incorrectly assume that the South is a zone of the U.S. that everyone avoids, but that's because those people have obviously never been to the South.
Alabama is a state bursting with pride for their football teams, is home to one of NASA's centers, and even has beaches along the coast. It also has beautiful weather year-round and is incredibly cheap. What else could you ask for?
Population: 8,960,161
Median Age: 39.6
Median Income: $76,475
Going up north for number 8 on our list. New Jersey is a state that many people feel are inferior to its neighbor, New York. However, New Jersey has its own perks. Like affordability. In New Jersey, you can eat Hershey's chocolates all you want fresh from the factory. You can also visit New York City without spending an arm and a leg on rent that will drain your pension and ending your retirement early.
New Jersey has low crime and is filled with people for you to socialize with that are outside of the office life.
Population: 5,996,079
Median Age: 38.5
Median Income: $78,916
Maryland is a state known for its proximity to Washington, D.C. You can reap the affordability of Maryland and use those savings for nights out in D.C. But Maryland has its own great cities to explore as well. Baltimore is a bustling city ready for adventure–just look up its famous boardwalk.
Maryland has high density, meaning you can find loads of people who share your hobbies and interests. And if you want to spend your retirement helping with local universities, Maryland has one of the highest colleges per capita ranks in the country.
Population: 6,809,946
Median Age: 37.2
Median Income: $53,510
Last but not least comes Arizona. Perhaps the warm, humid weather is not for you and you are looking for a more desert climate. Arizona is the land of cacti, cowboys, and heat. You can enjoy summer weather year-round here and probably won't need to buy expensive in-home saunas in this state. Arizona is home to great trails and desert nature reserves.
And, if you miss the cold, you can even check out an ice hockey game or two for the Phoenix Coyotes. Arizona is great for those looking for university connects during retirement and ranks 2nd in colleges per capita.
Hanging Up The Cleats On The Best States To Retire In America For 2019
So where do you envision yourself? Are you a New Yorker searching for a calmer place than Manhattan, but not willing to move too far away? Perhaps Rhode Island is your retirement state of choice. If you are looking for a quiet nook to write a book or fish for hours a day, maybe you should think about the South.
No matter where you choose, you can be sure that any state on this ranking will give you an exciting place to spend your retirement. Whether you are a city-dweller or country farmer, there is a state perfect for you.
Motivated to work towards your dream retirement? Hopefully, the weeks will be easier knowing that there are states for everyone that can be affordable and fun.
Here's a quick look at the bottom of the list of the best states to retire:
North Dakota
Alaska
South Dakota
For more reading, check out:
Detailed List Of The Best States To Retire In The US For 2019