The 10 Safest Cities In Massachusetts For 2020
We used data and science to determine the places in Massachusetts where everyone sleeps safe and sound.

Editor's Note: This article has been update for 2020. This is our sixth time rankings the safest places to live in Massachusetts.
Swipe left for slideshow. Article continues below.
Article Table Of Contents   
(Skip to section)
When the good people of Massachusetts aren't rooting for Harvard's Pilgrims in Cambridge or enjoying a piping hot bowl of 'chowdah' in Boston, they can be found keeping some of the coolest places in Massachusetts safe.
While the whole place is downright lovely, some spots in The Bay State deserve special attention for standing out as truly extraordinary and crazy safe. This is why HomeSnacks created a list of the top ten safest places to live in Massachusetts for 2020.
But how exactly is one to tell where the safest places are to live in Massachusetts? Well, data of course.
And that's where HomeSnacks comes in: we've broken down the safest cities in The Baked Bean State based on the most recent FBI data on property and violent crime in places with more than 5,000 residents. And at this point we're quite the experts on ranking safe cities, it's the sixth time we've ranked the safest places in Massachusetts to date.
Whether your looking to move to a quintessential "Old World" type place like New Bedford, a family friendly place like Wellesley, or a place for young professionals like Waltham, there is a safe place for everyone.
So, want to know where your kids can play outside safely until the street lights come on in Massachusetts? Keep reading.
Here are the 10 safest cities to live in Massachusetts for 2020:
All chowdah' and crazy Boston Red Sox fans aside, Massachusetts is the 12th oldest state in the country, so that's all the more reason that they should have the safest cities. They've had some time to perfect their safety standards. And, folks, that's just what the Massachusetts places on our top ten safest list have done.
So, what city is the safest place to live in Massachusetts for 2020? Well, according to the most recent FBI data we crunched, Wayland is the safest place to live in The Pilgrim State. It's not surprising considering Wayland scored a 9/10 snackability safety score with an emphasis on jobs and education.
More jobs = less time to be naughty, right?
Check out the rest of our not so naughty, very safe Massachusetts' cities to see how your city ranked. And if you don't find your favorite there, head to the bottom.
For more reading on safe places to live in and around Massachusetts, check out:
The 10 Safest Cities In Massachusetts For 2020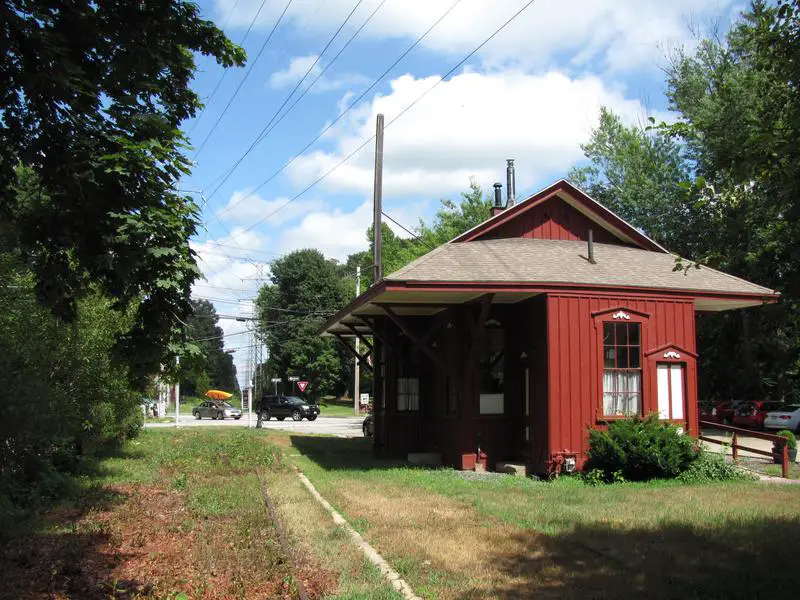 The first stop on our trip around the safest places to live in Massachusetts takes us to Wayland.
The city of some 13,000 people had the lowest property crime rate in the state and fifth lowest violent crime rate .
Wayland is a town in Middlesex County and Wikipedia names like 20 to 30 people of note who called the town home at point or another. So it packs a big (safe) punch for a city of its size.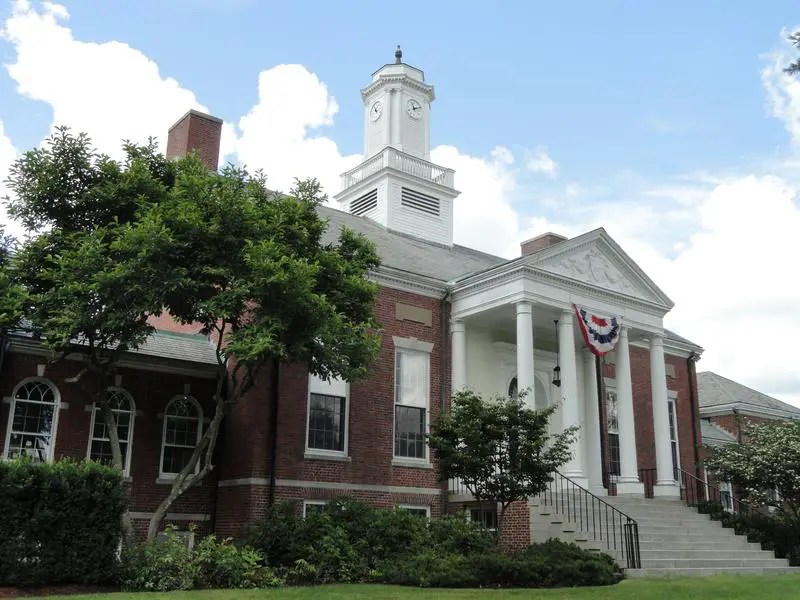 Source: Public domain
Dover is the second safest city in The Bay State for 2020, up a solid five spots from last year. The poverty rate here is low; median incomes are high; and the population is highly educated -- all traits we would expect to result in a violent crime rate that's one of the lowest in the state.
Located about 15 miles southwest of downtown Boston, Dover is a residential town nestled on the south banks of the Charles River where almost all of the residential zoning requires 1-acre or larger. So it's pretty hard to commit crimes when everyone lives so far apart.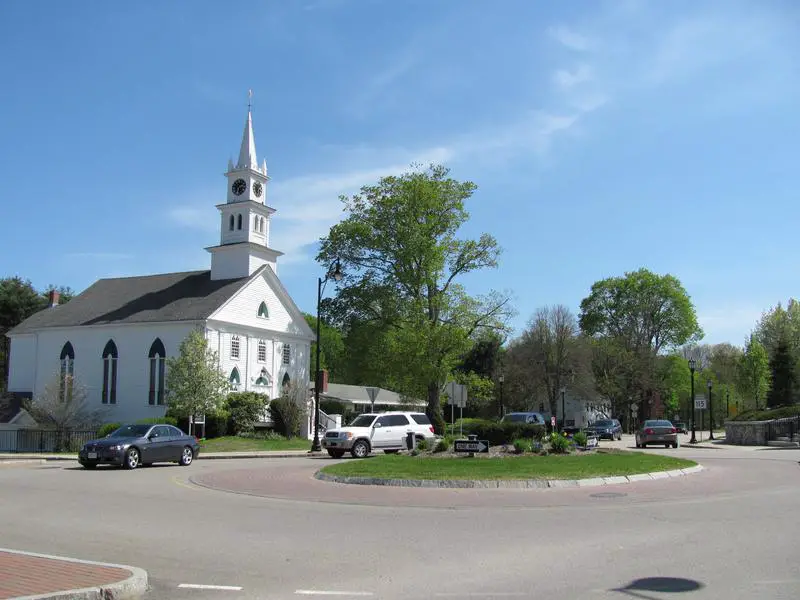 Norfolk broke into the top five safest places in Massachusetts for the second time this year -- moving up two spots from last year.
The crime rate is probably so low in town because of the presence of several prisons. When you see that on your drive to work or on the weekend, you realize that stealing a hamburger probably isn't worth the time you'd have to spend in prison for it.
That or people just take pride in living in such a great town.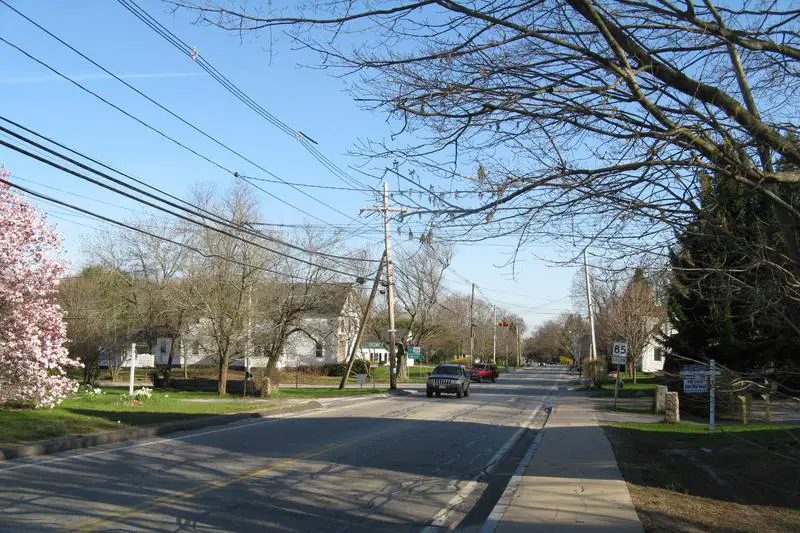 We suggest you hop, skip, or jump your way to Hopkinton as it's one of the safest places around.
There was virtually no violent crime reported here in the last year, but property crime is only kind of better than average.
The city of 17,000 people is located halfway between Boston and Worcester. The town is best known as the starting point of the Boston Marathon and as the headquarters for the enterprise-oriented Dell EMC.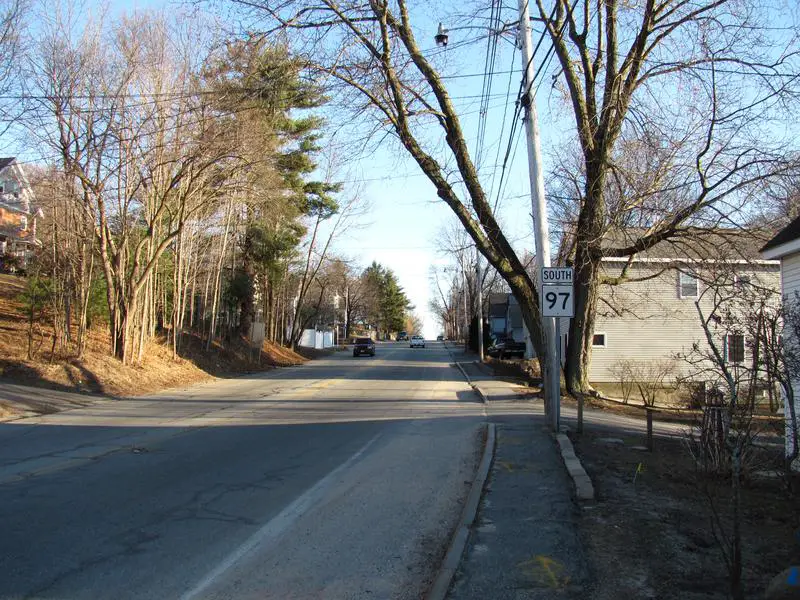 Groveland may only place fifth on this list, but if violent crime is especially worrisome to you, then Groveland is definitely the place to be. The town had zilch in terms of violence in the last year of available data. Nada. Everyone's too tired from action-packed weekends at Pines Recreation Area to start an underground fight club.
Now if Groveland can improve its property crime numbers (which are, admittedly, already pretty solid), it can definitely work its way up this list.
Groveland is about an hour north of Boston (depending on the I-95 traffic).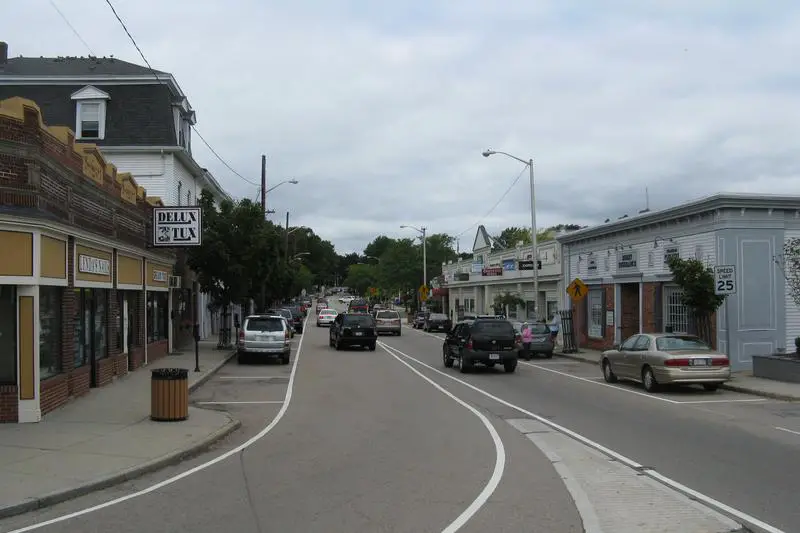 Franklin clocks in as the sixth safest city in MA for 2020, down two tics from last year, but still a strong showing.
The city has better than average violent crime rates, but really shines when it comes to property crime rates. The place has such low property crime, if a resident finds a twenty on the ground they probably just bring it to the police station instead of keep it.
Their safety may go back to their founding. The Franklin Public Library is the first public library in America, the original books of which were donated by Benjamin Franklin.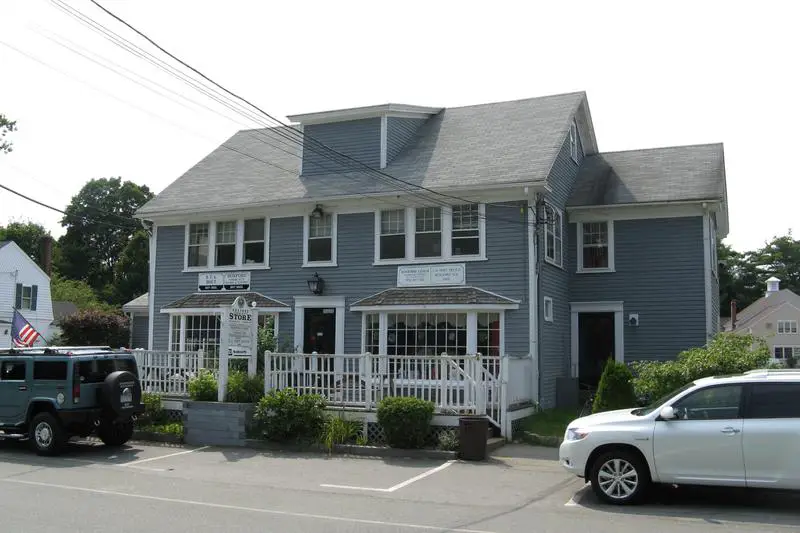 The seventh safest city in Massachusetts is Boxford.
Believe it or not, coming in seventh is actually a bit of tumble for the city as it topped the list last year. There is still basically no violent crime in town, which is the best in the state, but property crime climb a small tick.
Boxford's population is extremely well educated with a good 40% plus of the residents having at least a bachelor's. That probably has something to do with the whole no violent crime thing.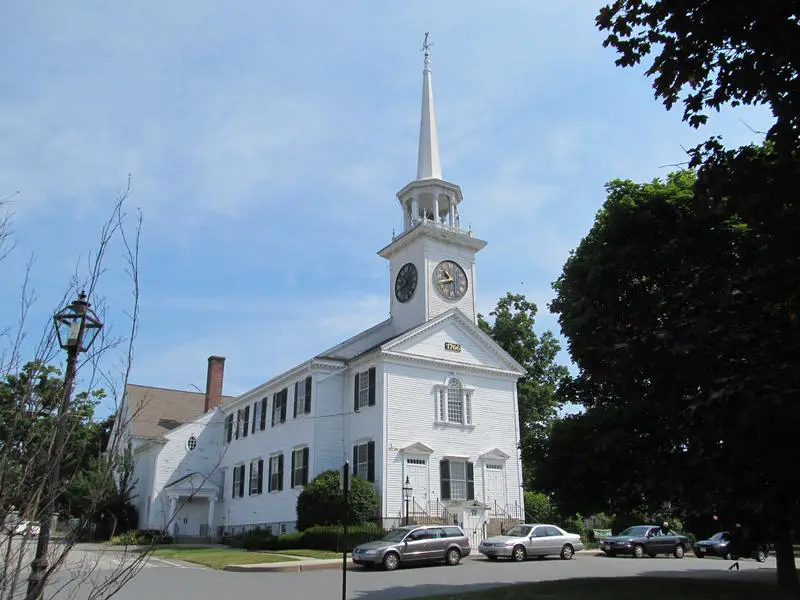 This shrewsberry tastes like Shrewsbury. And everyone knows shrewsberries taste like safety.
Shrewsbury is the largest city on the list and serious better than average property and violent crime rates for a city of its size.
TripAdvisor suggests checking out Ski Ward and Broken Creek Winery. Just remember to stay safe by wearing your helmet and not drinking and driving -- that's the Shrewsbury way to do it.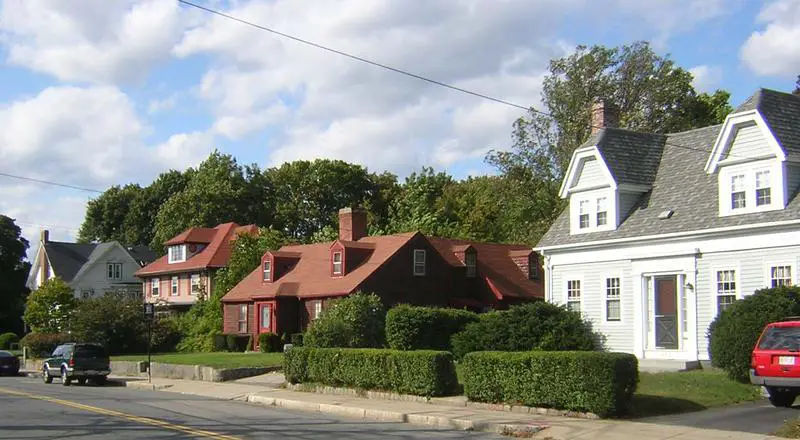 Milton is an affluent suburb of Boston that frequently appears at the top of lists dedicated to the best places to live in the country. And with 9/10+ ratings in jobs, housing, safety, and education on our snackability scale, it's not hard to see why.
And while Bostonians might feel privileged that Blue Hills Reservation is just a short drive away, it's literally Milton's backyard. Couple that with the fact that this town of over 27,000 experienced just one violent crime and five property crimes a month in the last year of available data, and you've got yourself one sweet place to live.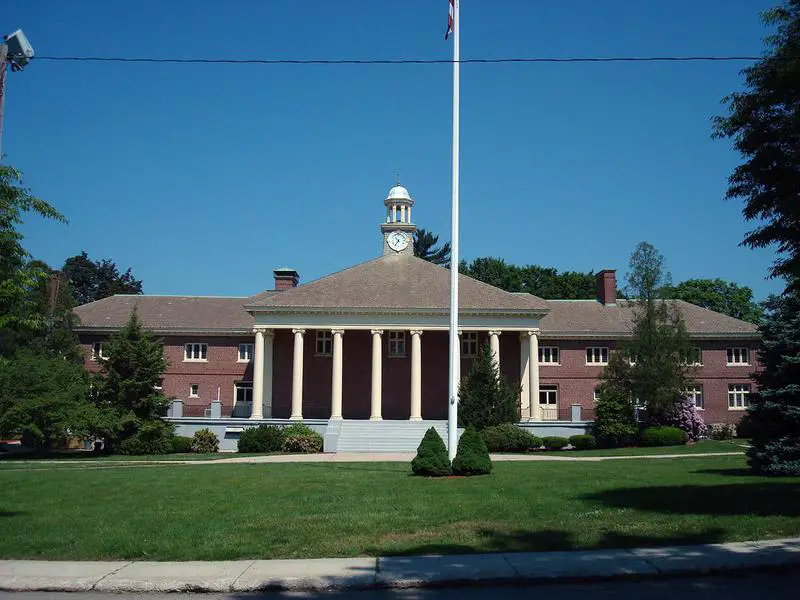 Well Hopedale might not be at the top of this list, this Worcester County town wasn't even close to being in the running last year -- it was ranked 50th! While Hopedale has middle-of-the-road rankings in both property and violent crime compared to other places in Mass, it's still a much safer than your average American town. Violent crime rates in Hopedale were roughly nine times lower than the national average, and you could count the number of property crimes on your fingers and toes.
However, a word of warning: the town does have a debilitating problem with Chocoholism. But really, who can blame Hopedale residents? When you're the home to Green Mountain Chocolate, it's hard to just say no. Luckily, this hasn't affected the safety in Hopedale.
How we calculated the safest cities in Massachusetts for 2020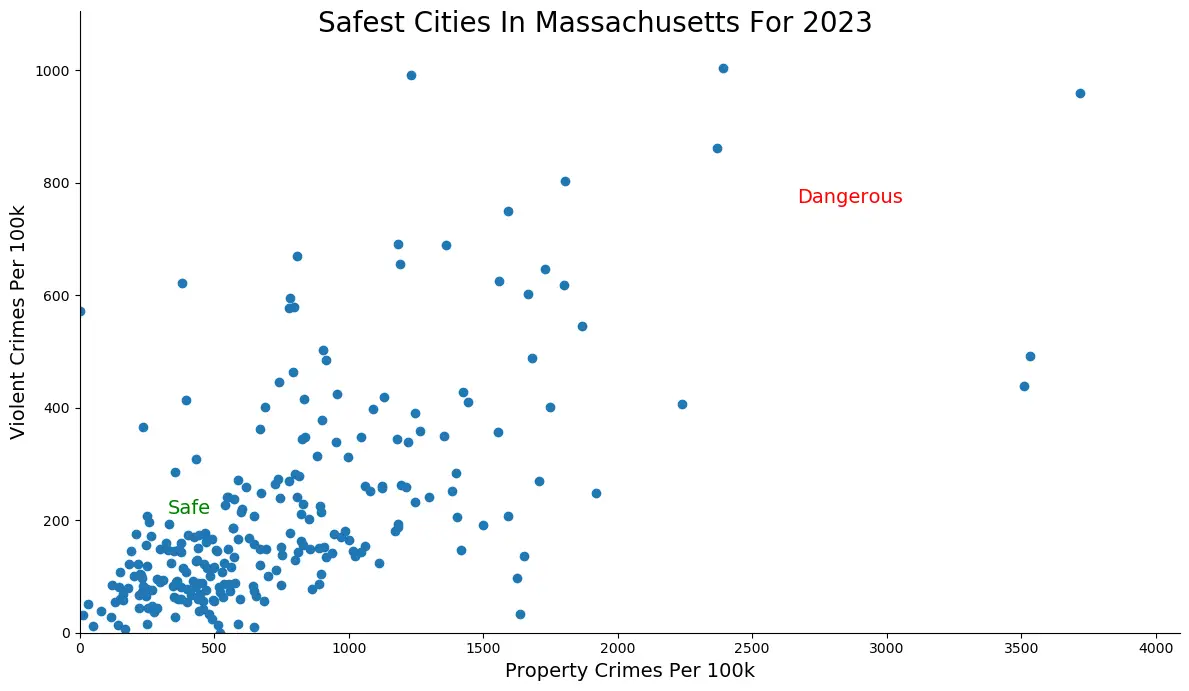 While there are surveys and public polls on what cities in a state are the safest, we didn't want to rely on speculation and opinion. Instead, we looked at the hard numbers from the FBI's most recent report of crime (Published Sept 2019) in Massachusetts.
Specifically, we analyzed the
FBI's Uniform Crime Report
which summarizes the number of property crimes and violent crimes in each city per year. We used two criteria:
Violent crimes per capita (murders, assaults, rapes, armed robberies)
Property crimes per capita (thefts, burglaries, motor vehicle thefts)
For example, there were a total of 2 crimes committed in Wayland which had a reported population of 14,088. That means the number of crimes per capita is 0.0001 which translates into a 1 in 7,044 chance of being the victim of a crime.
We only looked at cities that have populations of more than 5,000 people reported to the FBI in 2018, the last reporting year. This left us with a total of 238 of the biggest cities in Massachusetts to rank.
We ranked each city for each criteria from 1 to 238 where 1 in any particular category is the safest.
Next, we averaged each places two criteria to create a Safety Index. We crowned the place with the lowest overall Safety Score "The Safest Place In Massachusetts" with any ties going to the bigger city. You can download the data here.
The safest city in Massachusetts, based on our criteria, is Wayland. The most dangerous city in Massachusetts? Holyoke, where residents had a 1 in 19 chance of being the victim of a crime.
Note: This report is not an analysis of the effectiveness of local police departments, nor does it reflect the fact that people from out of town may come into a community and cause a crime. It simply looks at where crimes occurred most frequently, based on a city's population.
There You Have It - The Safest Cities In The Bay State
Looking at the data, you can tell that Wayland is as safe as they come, according to science and data.
But as most Massachusetts residents would agree, almost every place here has its safe and not safe parts. So just make sure you're informed ahead of time.
Here's a look at the most dangerous cities in Massachusetts according to the data:
Holyoke
Springfield
North Adams
For more reading, check out:
Breaking Down Crime In The Safest And Most Dangerous Cities In Massachusetts

Share on Facebook
Chris Kolmar has been in the real estate business for almost ten years now. He originally worked for Movoto Real Estate as the director of marketing before founding HomeSnacks.
He believes the key to finding the right place to live comes down to looking at the data, reading about things to do, and, most importantly, checking it out yourself before you move.
If you've been looking for a place to live in the past several years, you've probably stumbled upon his writing already.
You can find out more about him on LinkedIn.