The 10 Safest Cities In South Carolina For 2021
We used data and science to determine the places in South Carolina where everyone sleeps safe and sound.

Editor's Note: This article has been update for 2021. This is our sixth time rankings the
safest places to live in South Carolina
. All the data comes from the
FBI's Crime In The USA 2019 report.
Article Table Of Contents   
(Skip to section)
Yes, there is more to South Carolina than Charleston, NASCAR, and Myrtle Beach.
If you're from The Palmetto State, you know that there are a ton of fun facts that keep this southern charm ranked as one of the safest places to live in the headlines. More importantly, it has some of the safest cities to call home.
South Carolina safety standards are magical. Word on the street, the locals asked the biting bugs, snakes, and gators to steer clear of humans and they've listened. Don't worry parents, the fireflies are still around to entertain your kids and provide safe nighttime lighting. South Carolina is so safe that they made a law that dogs have to ride in safety seats, like kids. And don't get stuck at a 4-way stop, here, it takes forever because the people are so nice and safe that everyone wants to let everyone go first.
South Carolina is the 23rd most populous U.S. state and the 40th largest state in terms of land area. It has everything one needs: big cities, like Charleston that border the Atlantic Ocean, quaint farming communities like Columbia, and cities like Charlotte that share their roots with North Carolina. Safety in numbers, right?
We took a look at the FBI crime data for 57 cities with a population of more than 5,000 to determine which cities are the safest that South Carolina has to offer.
Here are the 10 safest cities to live in South Carolina for 2021:
So, grab yourself some of great granny's sweet tea and a basket of hush puppies and read on to see how we ranked the safest places to live in South Carolina for 2021.
How did we determine the safest cities to call home in The Palmetto State? We looked at crime in each city.
What's the safest place to live in South Carolina? According to data from the FBI UCR, Fort Mill came out on top as the safest in South Carolina. Kudos!
Read on to learn how Fort Mill brought home the gold and how your city ranked.
For more reading on safe places to live in and around South Carolina, check out:
The 10 Safest Cities In South Carolina For 2021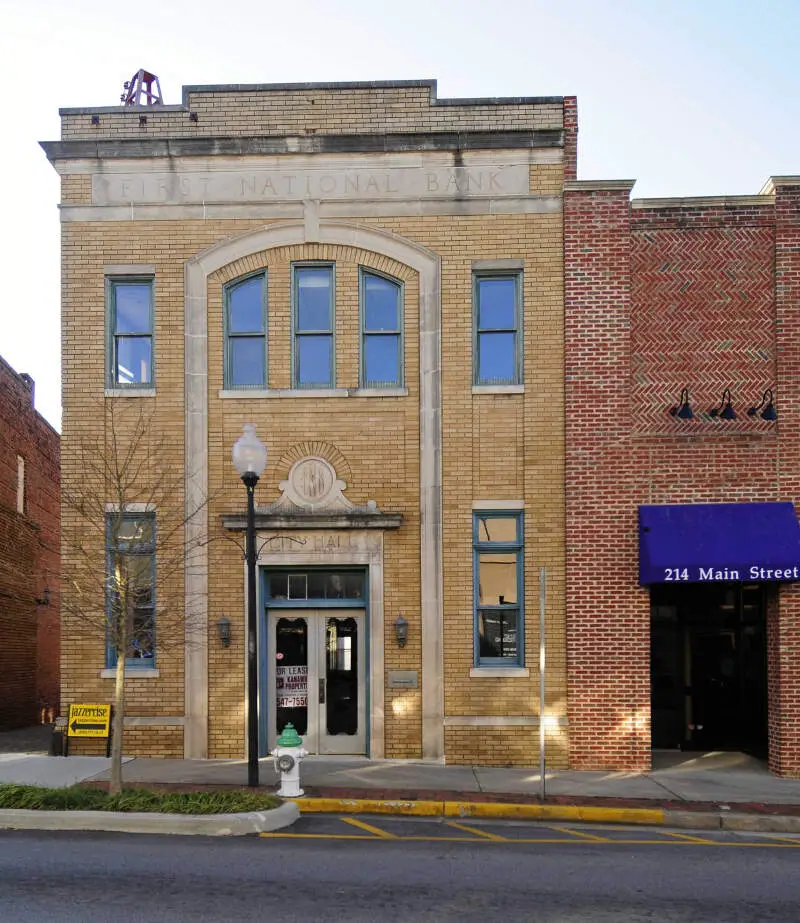 We would be happy to hunker down in Fort Mill and you should be too as it ranks as one of the safest places to call home in the Palmetto State.
Top ten finishes in both property crime rates and violent crime rates makes this city a great place to live -- as evidenced by the rocking 40%+ increase in population the city has seen since the beginning of the decade.
In addition to being safe, Fort Mill is one of the richest cities in the state and the best to start a family. So get in before the prices get even higher if you can afford to.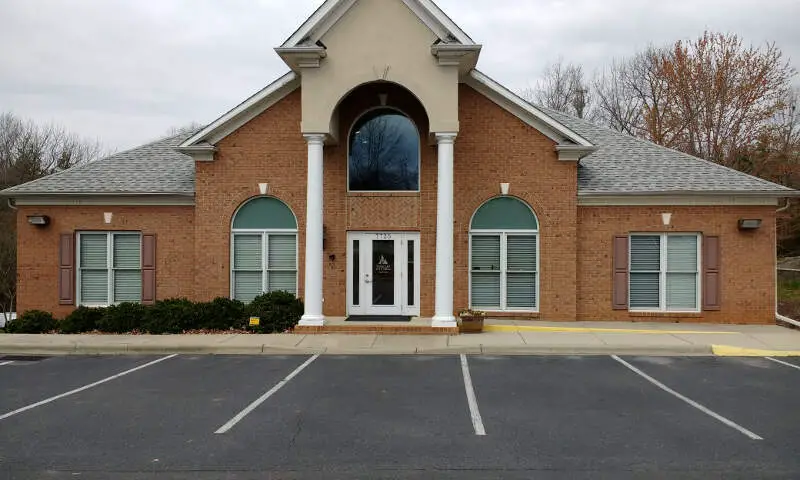 Source: Public domain
Always the bridesmaid and never the bride in 2021, Tega Cay ranks as the second safest place to live in South Carolina.
Tega Cay has the second safest violent crime rate in the state which means you probably have a better chance of winning the lottery than getting mugged.
Oh and we said always the bridesmaid because the city located on the North Carolina border near Charlotte finished second for safest and best this year. Still awesome, just not quite awesome enough.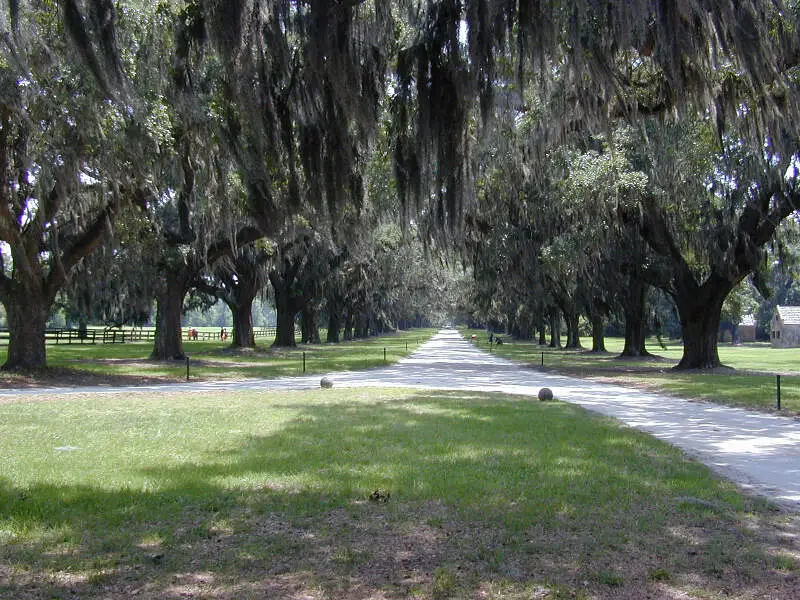 Well isn't this a pleasant surprise? The throne of the pleasant, the crown of the peaceful, the pinnacle of safety -- Mount Pleasant ranks as the third safest city in South Carolina for 2021.
It moved down one spot from last year, but still boasts one of the lowest property crime ranks in the state.
Furthermore, Mount Pleasant is basically the cream of the crop in South Carolina as it also ranks as the best and richest city in the state according to our most recent rankings. So I'm running out of kingly adjectives to describe it at this point.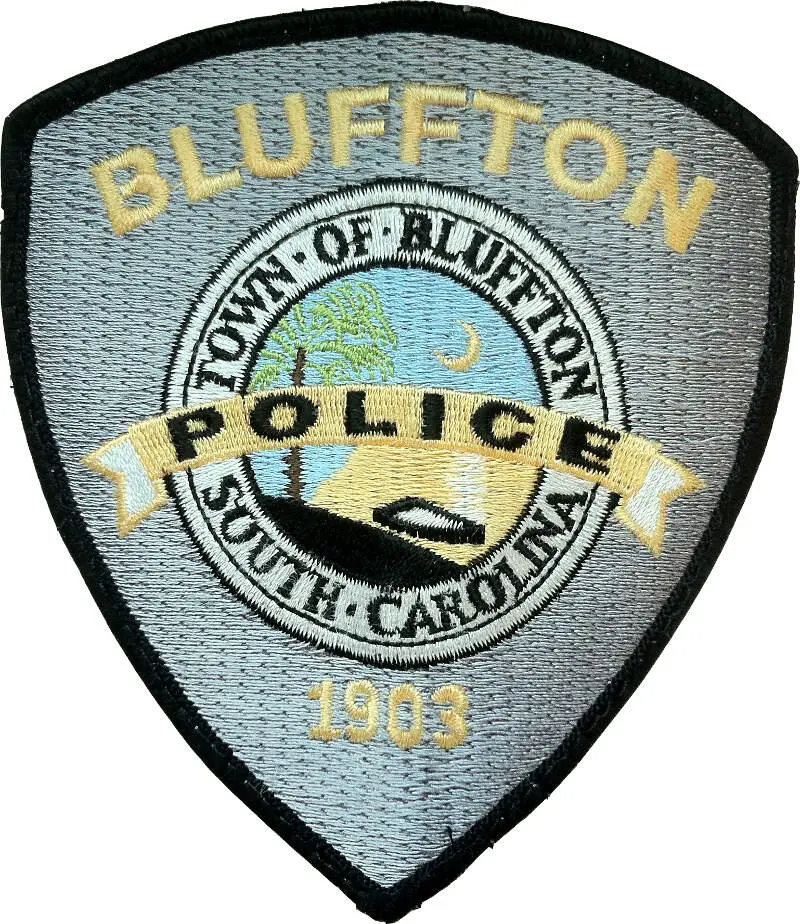 Living in Bluffton is like drawing a full house on the flop and playing it off like you have deuce and seven -- the opposite of a bluff, it's the fourth safest city in South Carolina according to the most recent FBI data.
While it was knocked down a peg over the years, it still has the safest property crime and the seventh safest violent crime rates in the state.
And you don't have to take our word for it, look at his excerpt from a sparkling review a user left:
Bluffton is a coastal community with a very rich history. It's just a few minutes drive from Hilton Head Island and not much further to drive to Savannah GA. The weather is just about perfect year round. The people are friendly, kind, and genuine. There is a fantastic artists colony here in Old Town Bluffton and there are more restaurants than you could get to in a year.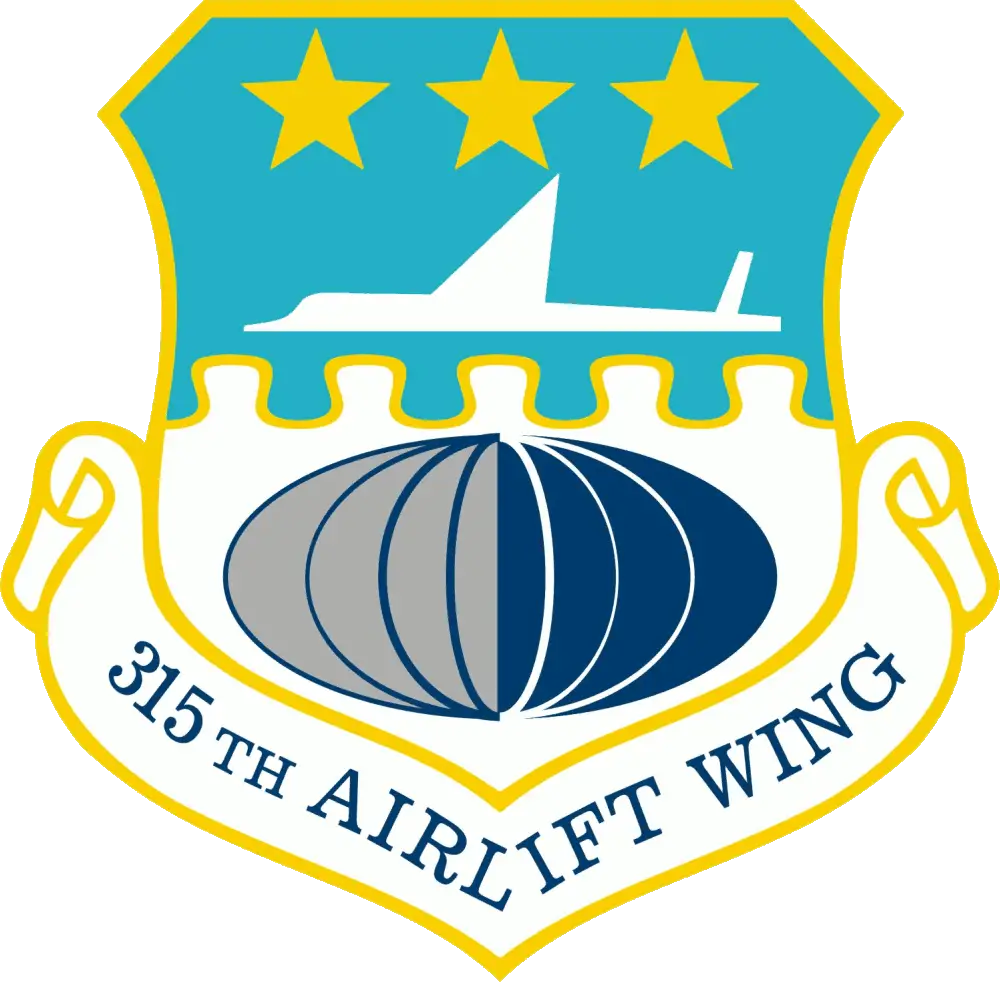 Source: Public domain
While the city of some 25,000 people has fallen a bit in the rankings this year, Hanahan still ranks as one of the safest. Furthermore, the city has stayed about the same in terms of rates as last year, it's just that other cities became safer.
Hanahan has the fourth safest property crime rate in SC and a violent crime rate that's considerably better than average.
Located in the southeastern portion of the state, I like to add a bunch of ana's to the name in my head. Give it a try, it's a lot of fun.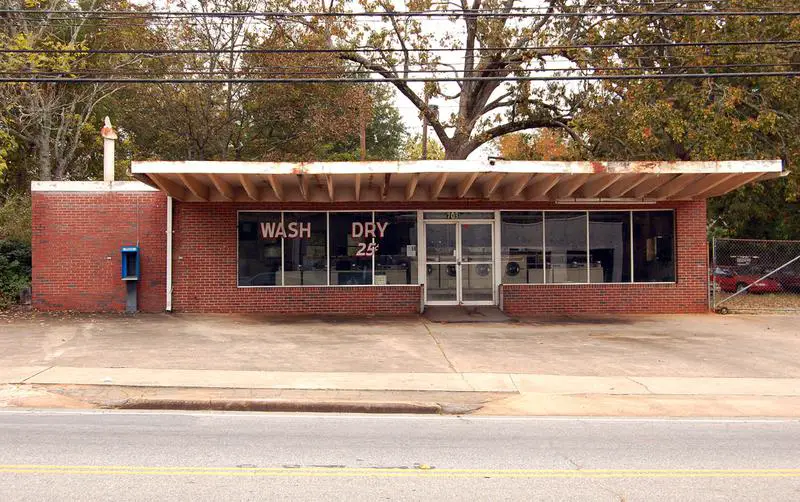 The next safe city on our tour of South Carolina brings us to Central.
And the first thing that pops into my mind besides the unbelievable safety of the city is Ironic by Alanis Morissette -- Central isn't even kinda located in the center of the state.
But maybe that's all part of the plan to keep the bad doers out -- if you can't find the city then you can't commit a crime there.
Now Central is big enough to make it on the list as it just crossed the 5,000 person threshold, we expect it to become a mainstay for the coming years.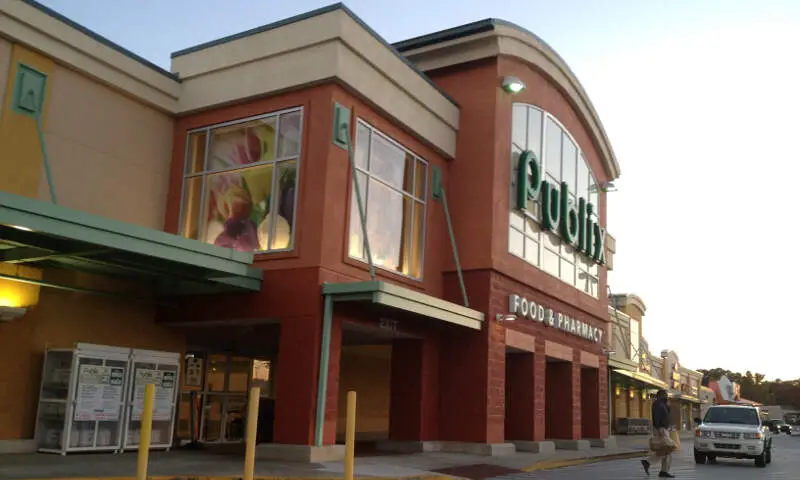 Another city to make a move this year, Mauldin cracks the top five safest cities in South Carolina for 2021. The real mover behind this shaker is the sixth safest property crime rate in the state -- the property crime rate is 50% lower than an average city in South Carolina. And while that's super low, the violent crime is nothing to sneeze at -- it's also 50% lower than average.
Mauldin is located in the northwest corner of the state is a principal city of the Greenville-Anderson-Mauldin Metropolitan Statistical Area for those playing South Carolina Jeopardy.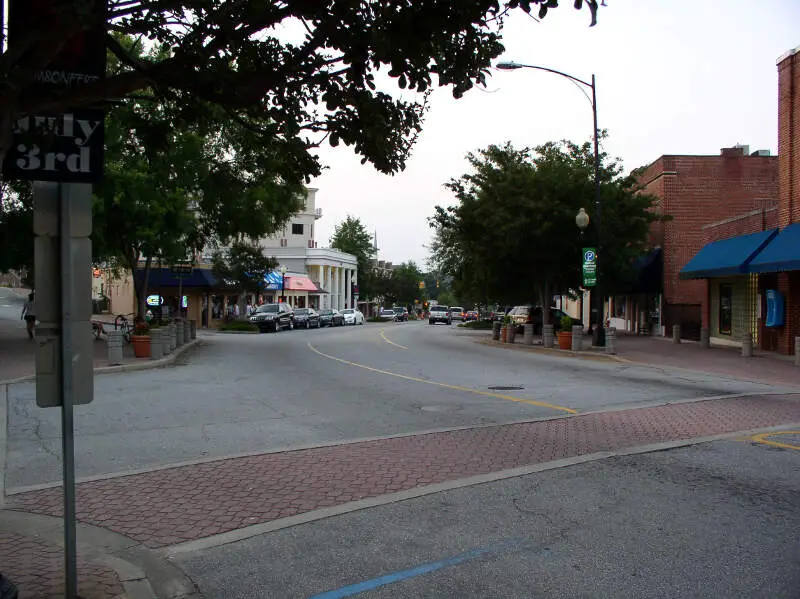 Clemson ranks as the eighth safest place to live in South Carolina for 2021. There's always something to be said for being in the top ten of anything -- whether it's sports, safety, or even a hot air balloon festival.
The city has the sixth safest lowest violent crime rate in the state and with a grand total of 0 murders it's probably ok to stand out on the side of the street at midnight with your wallet hanging out.
Besides being home to Clemson University, Clemson is also home to some beautiful plantations and botanical gardens. A good place to stop and smell the roses if you will.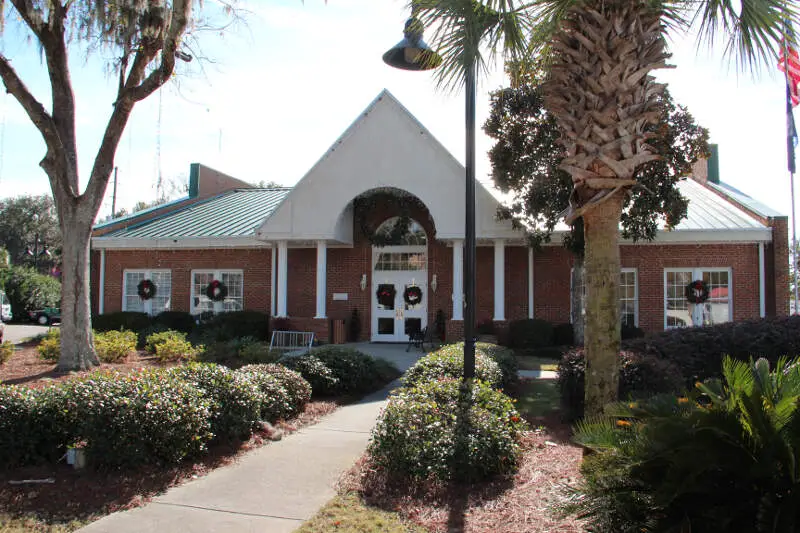 Source: Public domain
You don't need to be royalty to enjoy a life of peace and safety in Port Royal. All of Port Royal's residents can enjoy being the ninth safest city in South Carolina. While Port Royal didn't achieve a #1 ranking in either property or violent crime, its solid fourth place finish in each category earned it the gold medal overall. Port Royal was just shy of making this list last year, so the jump up to the #9 spot this year is quite impressive. There is a small catch though; Port Royal also ranked as the most expensive town in South Carolina. But hey, being the best in safety is worth every penny.
Port Royal is also home to the Cypress Wetlands, where you can go bird-watching as you stroll down the boardwalk. Port Royal is located in Beaufort County in the southern part of the state.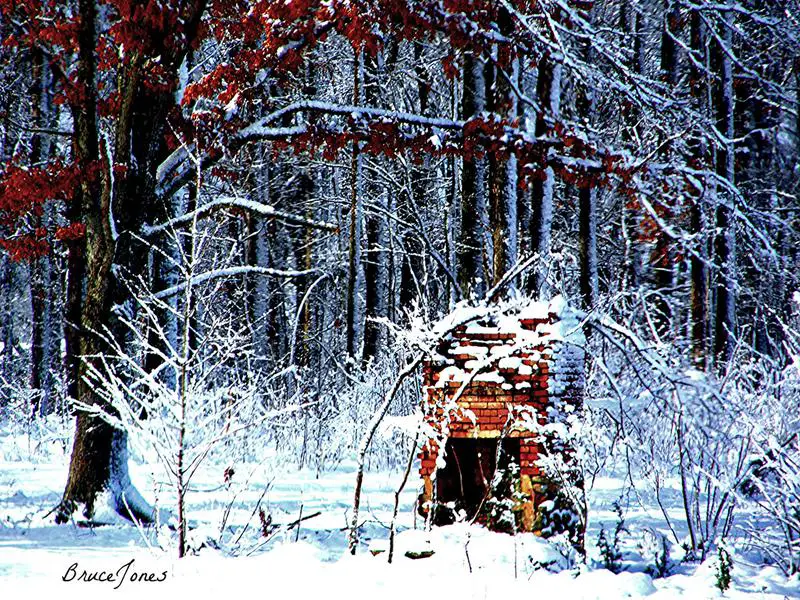 Known as "the town with love in the middle," Clover certainly lives up to its motto. Clover had the tenth safest rate of both violent and property crime in the state, earning it the rank of tenth safest town in South Carolina. On average, there was only one violent crime each month in Clover. Maybe it was the same werewolf every time. In any case, you have more to fear from werewolves than criminals if you're planning a picnic at Clover Community Park.
Clover is located near the border of North Carolina, less than an hour southwest of Charlotte.
How we calculated the safest cities in South Carolina for 2021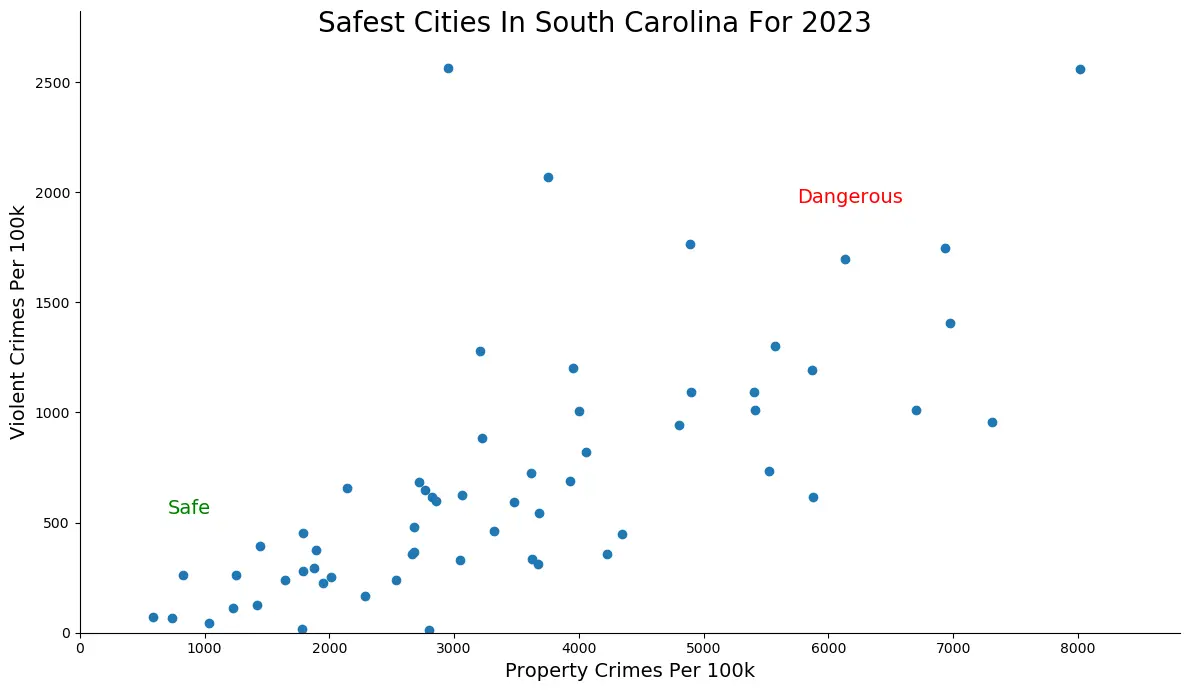 While there are surveys and public polls on what cities in a state are the safest, we didn't want to rely on speculation and opinion. Instead, we looked at the hard numbers from the FBI's most recent report of crime (Published Sept 2020) in South Carolina.
Specifically, we analyzed the
FBI's Uniform Crime Report
which summarizes the number of property crimes and violent crimes in each city per year. We used two criteria:
Violent crimes per capita (murders, assaults, rapes, armed robberies)
Property crimes per capita (thefts, burglaries, motor vehicle thefts)
For example, there were a total of 255 crimes committed in Fort Mill which had a reported population of 21,219. That means the number of crimes per capita is 0.012 which translates into a 1 in 83 chance of being the victim of a crime.
We only looked at cities that have populations of more than 5,000 people reported to the FBI in 2019, the last reporting year. This left us with a total of 57 of the biggest cities in South Carolina to rank.
We ranked each city for each criteria from 1 to 57 where 1 in any particular category is the safest.
Next, we averaged each places two criteria to create a Safety Index. We crowned the place with the lowest overall Safety Score "The Safest Place In South Carolina" with any ties going to the bigger city. You can download the data here.
The safest city in South Carolina, based on our criteria, is Fort Mill. The most dangerous city in South Carolina? Darlington, where residents had a 1 in 9 chance of being the victim of a crime.
Note: This report is not an analysis of the effectiveness of local police departments, nor does it reflect the fact that people from out of town may come into a community and cause a crime. It simply looks at where crimes occurred most frequently, based on a city's population.
There You Have It - The Safest Cities In The Palmetto State
Looking at the data, you can tell that Fort Mill is as safe as they come, according to science and data.
But as most South Carolina residents would agree, almost every place here has its safe and not safe parts. So just make sure you're informed ahead of time.
Here's a look at the most dangerous cities in South Carolina according to the data:
Darlington
Hartsville
Myrtle Beach
For more reading, check out:
Breaking Down Crime In The Safest And Most Dangerous Cities In South Carolina

Share on Facebook
Chris Kolmar has been in the real estate business for almost ten years now. He originally worked for Movoto Real Estate as the director of marketing before founding HomeSnacks.
He believes the key to finding the right place to live comes down to looking at the data, reading about things to do, and, most importantly, checking it out yourself before you move.
If you've been looking for a place to live in the past several years, you've probably stumbled upon his writing already.
You can find out more about him on LinkedIn.